This post may contain affiliate links. Read our disclosure page for full details.
When I proposed a spur-of-the-moment road trip to my husband at 9:30 the night before, all I knew was I was dying to see the San Antonio River Walk, and this is where I wanted us to stay: Omni La Mansión del Rio.
I had come across the website for this gorgeous San Antonio hotel time and time again when I searched for where to stay on the San Antonio River Walk, and I just couldn't pass up the opportunity to stay there.
My husband said he'd be down for an 8-hour road trip the next morning, so I booked our room, and at 5am we were heading south for a San Antonio getaway.
The first thing that we noticed as we pulled up to the entrance of Omni La Mansión del Rio was how utterly beautiful this historic San Antonio hotel is, with its black wrought iron balconies and creamy stucco walls.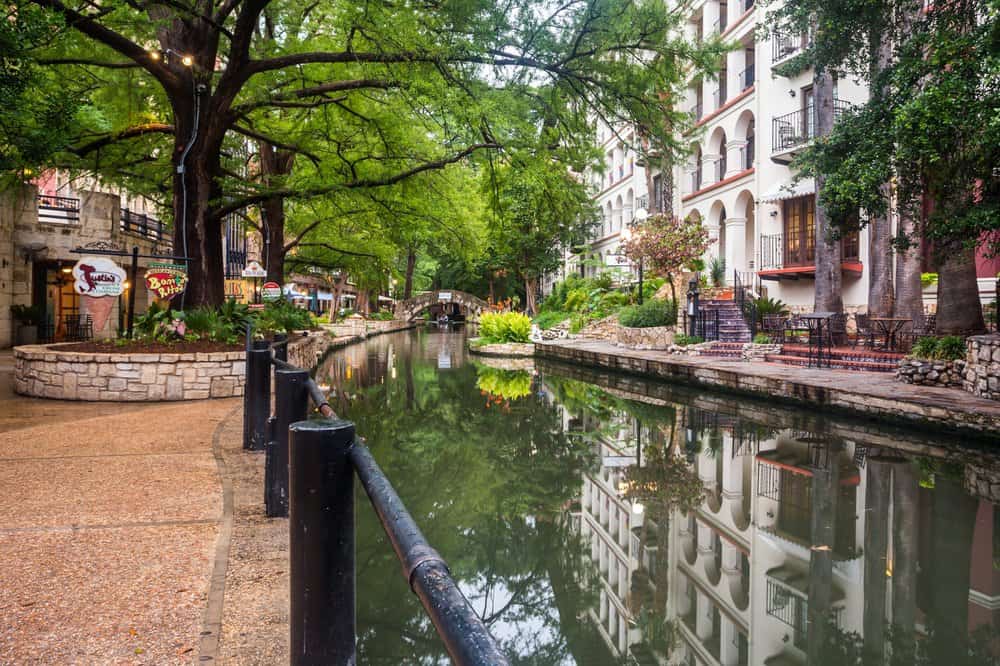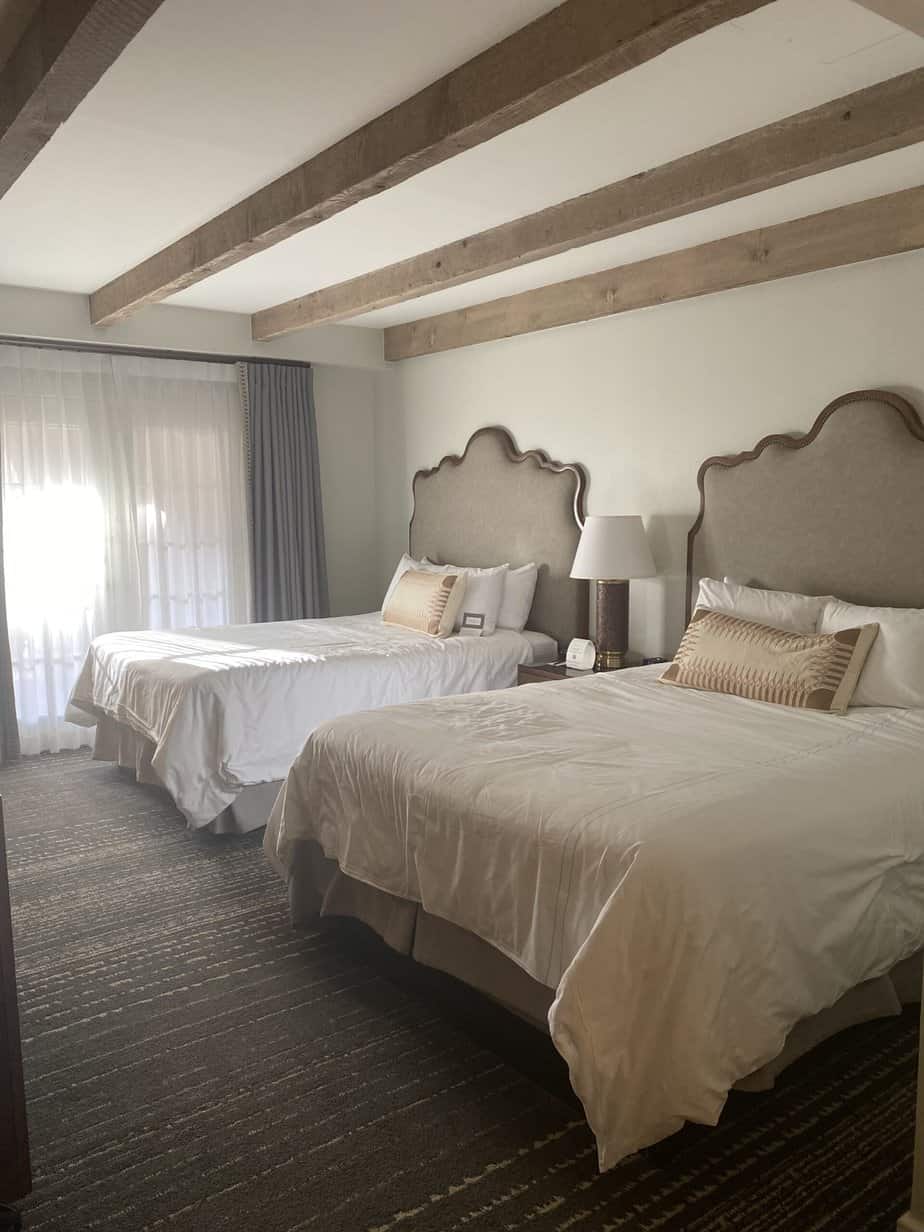 PS The beds are a little mussed because the very first thing we all did upon arrival was to flop onto the beds before I insisted we get up so I could grab at least one photo of the room pre-family of 4!
Acquired by the Omni brand in the early 2000s, the aesthetic of this historic hotel is Spanish Colonial Revival with modern luxury touches throughout, from the guest rooms with their exposed beams (probably not structural, but absolutely gorgeous!) to the courtyard with the pool and Spanish fountain, and beyond.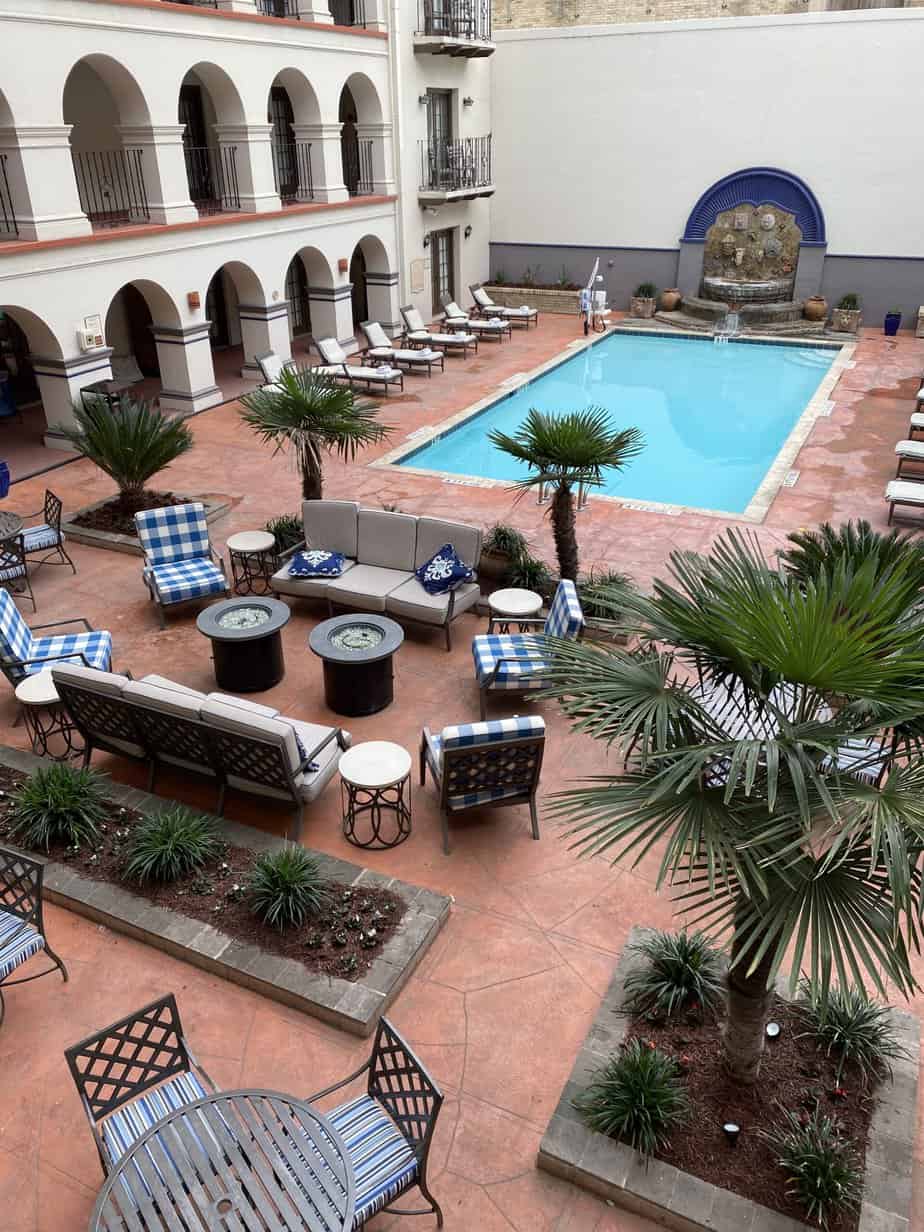 Oh, and that pool is heated, too. I'm pretty sure that was my kids' favorite amenity at Omni La Mansión del Rio! I personally appreciated the generously appointed amenities found in the room like the Nest New York skincare items that I fell in love with… Sicilian Tangerine is my new favorite scent!
Beautifully located right on the river, this is on all of the lists of best places to stay on the San Antonio River Walk. Not only was it conveniently located to the two sights we wanted to see most in San Antonio – the River Walk and the Alamo – but it's literally a fixture of this popular tourist area.
I personally think it's the most gorgeous building that you see on the River Walk cruise, and I'm sure I'm not alone here.
We walked up and down the River Walk as the late afternoon turned to early evening, taking in the sights of this dreamy stretch of water and the cute shops and restaurants that surround it. There was even live music!
From our vantage point coming from the desert of El Paso, we might as well have been on a nature walk as we ducked under the cascading leaves of the trees as we meandered beside the river.
Truly, the River Walk is an enchanting part of this historic district in San Antonio.
We foolishly had imagined we would be able to walk into a restaurant along the San Antonio River Walk and get a table, but everywhere was a minimum two-hour wait. Lesson learned there for next time!
This wasn't a problem, however, because Omni La Mansión del Rio has multiple onsite restaurants and we found the perfect solution: my husband took the kids to the heated pool for some fun nighttime swimming, and I ordered takeout at the bar of Four Brothers.
As an added bonus, I was able to enjoy a lovely craft cocktail as I waited for our food.
It basically worked out very well for all of us, I'd say. Anytime there are fresh herbs on the bar, I'm going to need to see what they can whip up!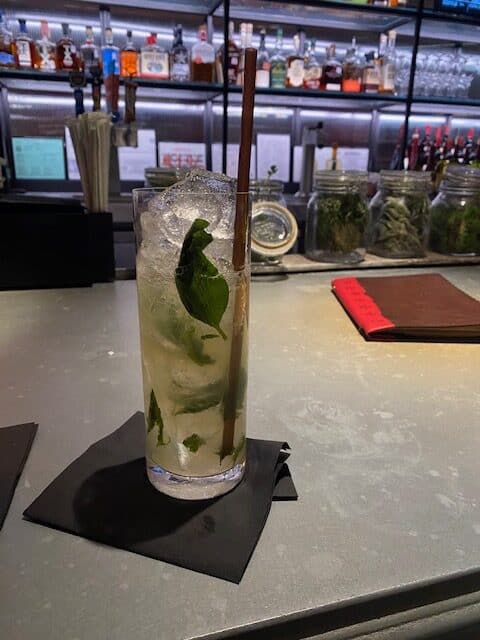 We had our dinner poolside in the stunning Omni La Mansión del Rio courtyard, with the firepit quietly blazing just a few feet away, making our late night dinner extra cozy.
Dinner was delicious, but expensive, of course. I mean, it is a hotel restaurant, and a very nice one, at that. For the convenience and quality, it was worth it to us that evening!
My husband could not stop raving about the Texas Food & Wine Burger from Four Brothers, and if you know my husband, you know this is high praise, indeed.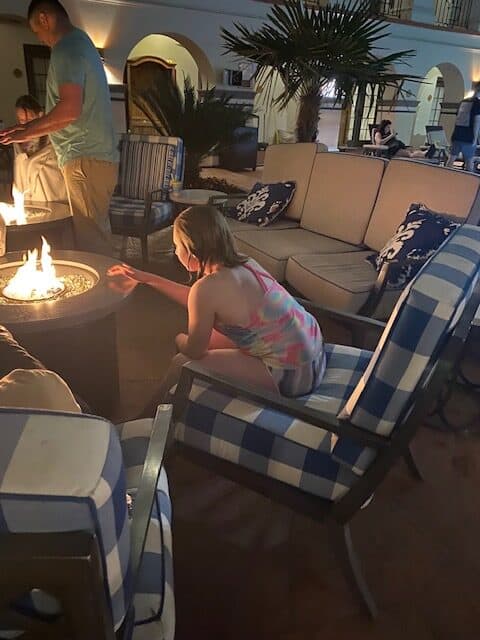 Once we'd finished dinner, it was time to tuck ourselves into those spacious queen beds for the night. (After an absolutely luxurious shower under the rainfall showerhead… fantástica!)
The beds were just as comfy as they were pretty to look at, so we were able to get a good night's sleep for our next day of family vacation in San Antonio.
When we awoke the next morning, the pool was the only thing on our girls' minds, so we suited up and headed back out again!
The courtyard of this beautiful San Antonio River Walk hotel is such a peaceful place to lounge and relax, so while I never dipped a toe in the water, I still enjoyed my time poolside very, very much.
With San Antonio adventures to be had and the clock ticking towards check out, I went to the front desk to enquire about options and was met with phenomenal customer service.
Truly, everyone we encountered on staff at Omni La Mansión del Rio from the valet to housekeeping and everyone in between was pleasant and customer service oriented, but the front desk agent that morning was absolutely marvelous – thank you, Ms Carrie Wright!
We peeked into one of the onsite restaurants, El Colegio, to buy muffins to tide us over until lunch, and the banana nut deliciousness was enough to convince us that next time, we'll need to try more from this spot.
We continued our spur of the moment family vacation in San Antonio with one of the popular Go Rio San Antonio River Cruises, learning more about the history of this San Antonio must visit spot.
They also offer a nighttime river cruise, and it's already on my list for next time!
After having worked up quite the appetite waiting in that veeery long line for the river cruise, it was time for lunch!
Lunch wait times weren't anywhere near as long as our dinner wait time the night before, so that was a very happy realization for us! We ended up enjoying lunch at the River Walk Rainforest Cafe, because kids, of course.
If you've got kids, you already know that those animatronic animals and the jungle theme are really hard to top for the younger crowd.
Who am I kidding, I was also pretty psyched about a visit to Rainforest Cafe because I have my own very near and dear memories of this kitschy restaurant from when I was a kid! I'll just say the food hit different back in 1995, I swear it did.
Our final must visit item for this quick San Antonio getaway was the Alamo, located just across the street and around the corner from Omni La Mansión del Rio.
I knew we couldn't leave without seeing this historic landmark, and I'm glad we visited in March when the southern Texas sun wasn't so unbearable as to make exploring this cool spot difficult.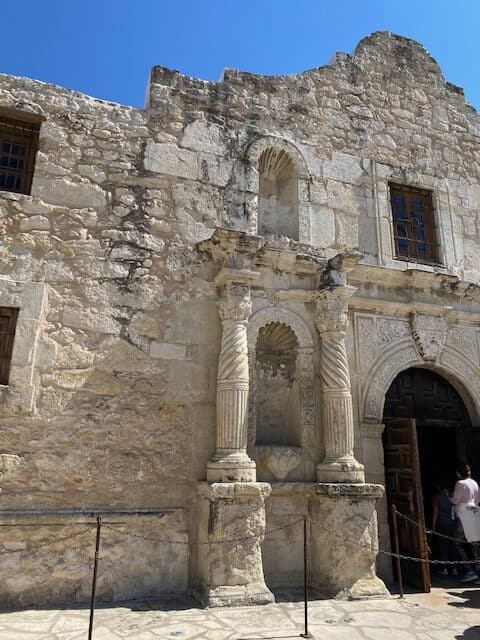 We all found it interesting, and there were even several reenactment actors on the grounds telling interesting stories and showing off their historic props.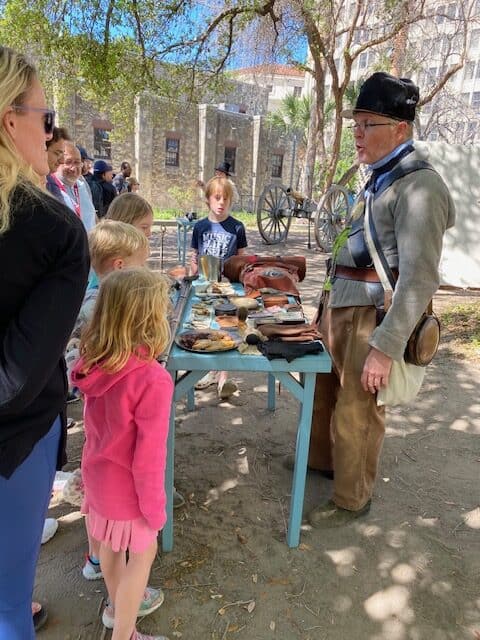 Sometimes kids don't find historic stuff like this as engaging as adults, but my kids loved this! They enjoyed asking a lot of questions and getting some great answers from these knowledgeable Alamo historians.
We had two local recommendations for must-visit restaurants nearby, but we were sadly unable to get to either one this trip: Voodoo Doughnuts & Alfredo's Pizza.
Voodoo Doughnuts had an hour-long wait to even get in the door, and we simply ran out of time/stomach space to visit it or Alfredo's Pizza, but we heard it on good authority that if you're not ordering the tiramisu during a visit to Alfredo's, you're doing it wrong.
This was just a quick overnight trip for our family, but we've got an ever-growing list of places we will see and things we will do during our next San Antonio getaway, and as for where we'll stay?
I can't imagine staying anywhere other than the gorgeous Omni La Mansión del Rio, and next visit, I'm going to make sure there's time for Voodoo Doughnuts, Alfredo's Pizza, and a treatment or two in La Mansión del Rio's beautiful spa.
Writing out this La Mansión del Rio Review has only solidified how impressed I was with this beautiful River Walk gem, a member of the Historic Hotels of America. From check in to check out, this River Walk hotel received a 10/10 rating from us.
And San Antonio, Texas? You weren't so bad, either. We'll see ya again real soon!
Click Here to Check Prices & Book!
You Might Also Like: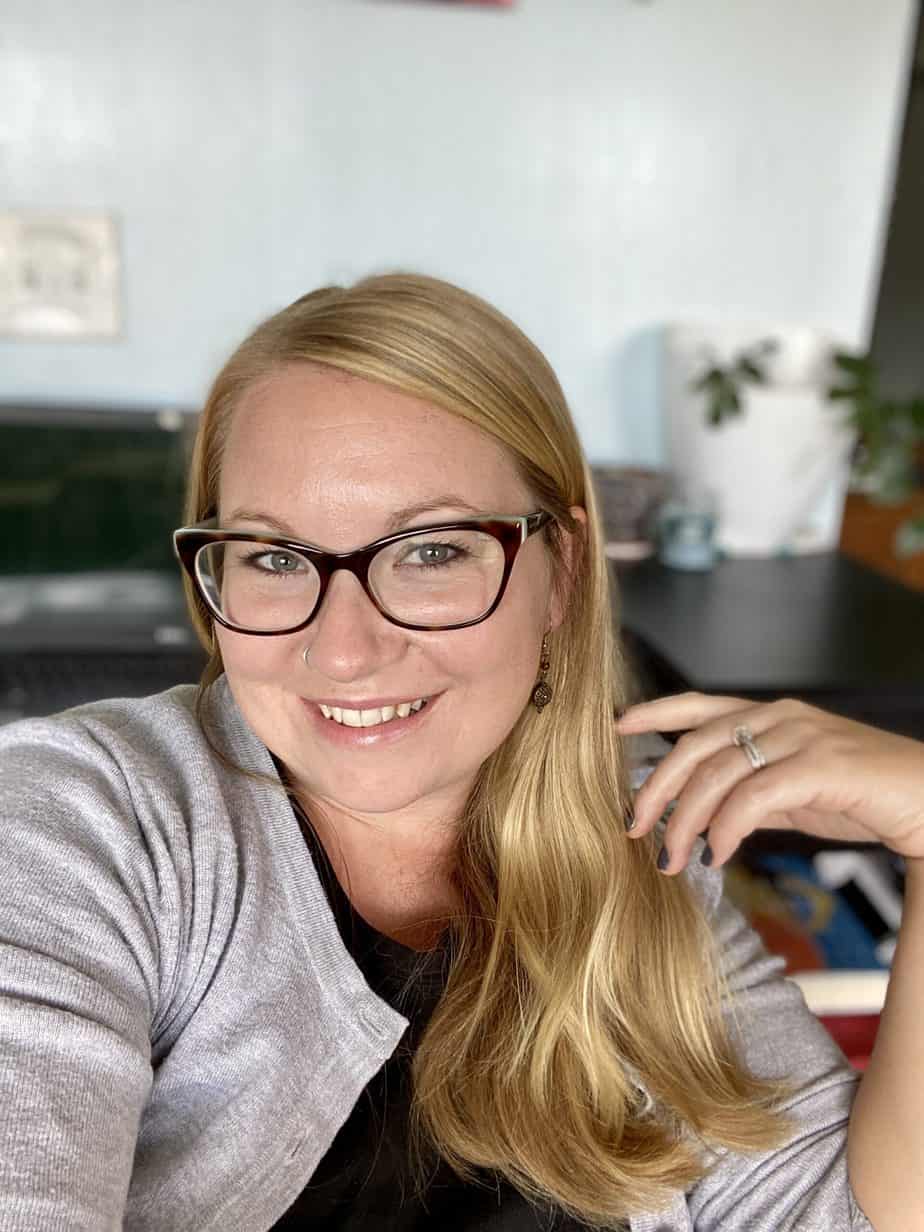 Kendra Paulson is the writer behind the content on Has Baggage, Still Travels on IG and FB, where she creates personal growth content. She loves to travel and explore new places with her husband and two kids, which is a good thing because their military family moves every couple of years to a new place for a new adventure! A mix of every place she's ever lived, Kendra likes to think she brings a little taste of the plains of the Midwest, the coastal Southeast, the desert of the Southwest, and the lush Hawaiian Islands to everything she works on.