This post may contain affiliate links. Read our disclosure page for full details.
From wining and dining to sharing the joy of nature or a beautiful landscape, South Australia is the perfect location for couples looking for a romantic holiday location. If you find romance in adventure, South Australia has some road trips that showcase not only some of Australia best scenery but also have experiences you must do as a couple so you can share the magic of the moment. Here are 13 super romantic things to do in South Australia.
Sunset at the beach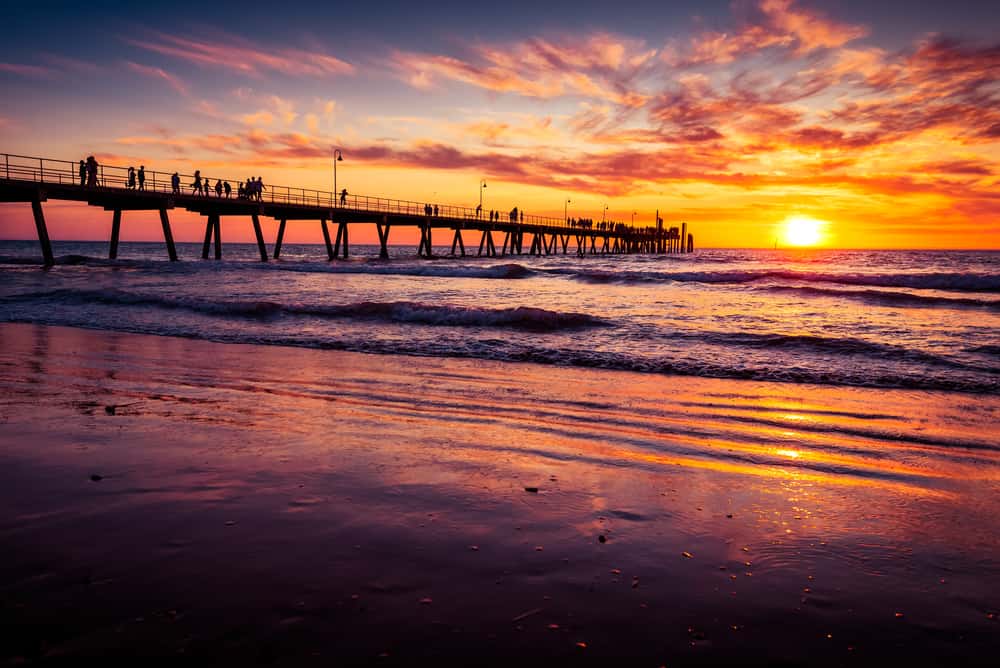 South Australia's capital, Adelaide, is a city of beaches with over 20 along the metropolitan coastline. They all face west giving you a front row seat to the quintessential romantic experience – a beach sunset.
Adelaide's beachscape has something for everyone. If you like a buzzing café and bar scene end your day Henley Beach or Glenelg. For a more natural setting try Port Willunga or Maslin Beach where the west facing cliffs glow as the sun dips below the horizon. Keep an eye on the water, you're a good chance of seeing the silhouette of a dolphin cruising past too – perfect!
Mt Lofty Gardens magic
There's no bad time to visit these gardens. Located in the Adelaide Hills, every season brings a new reason to visit. In summer, the green and cool of the hills is an oasis from the heat. The gardens are ablaze with red, orange foliage in autumn. And who can resist kicking through knee-deep piles of leaves? In winter, explore the mist covered hill tops and creeks. Magnolia and Rhododendron Gullies come alive with spectacular blossoms in spring. It's a stunning place. Bring a lunch, find a secluded spot and enjoy one of the most romantic locations in South Australia.
Walks and Wildlife
If you love the outdoors, you have to do a couples trip to Deep Creek Conservation Park. The park is on the Fleurieu Peninsula 2 hours south of Adelaide and has over a dozen hikes that take you through rugged coastline, forests, waterfalls and creeks. The park is bursting with wildlife – kangaroos, wallabies, echidnas, lizards and heaps of birds. You can stay at one of the campgrounds but for a romantic touch, stay in one of the bush cottages or luxury eco-villas.
Wine tasting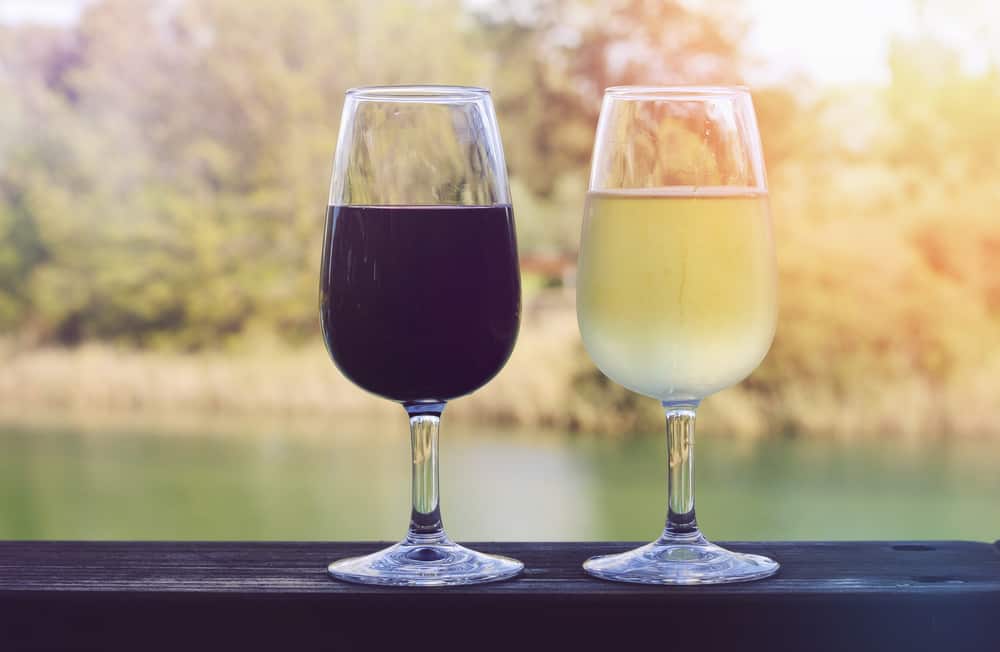 Sharing a bottle of fine wine is as romantic as it gets and in South Australia you are spoilt for choice. The state has several famous wine regions that all offer lovely wine tasting experiences and luxury glamping accommodation. Our pick is organic wine maker White Feather Red Winery in McLaren Vale.
The warmth, quirkiness and passion of the owners is infused in every aspect of the place from the tasting rooms and wines to the geese that roam the property. The winery has a wonderful heart and soul, when you visit, it will be love at first sight!
Oyster tasting at Coffin Bay
Ah, the food of love… and what could be more romantic than wading around an oyster farm, learning how the oysters are grown and tasting them right there at a table in the crystal clear water of Coffin Bay. You'll even get the chance to shuck your own oyster. Coffin Bay oysters are known worldwide for their quality. The only thing better is the beautiful coastline; between the oysters and the beaches you'll think you're in paradise.
Whale watching on the Great Australian Bight
This is no ordinary whale watching activity; its road trip meets awesome nature experience. First there is the location. The Great Australian Bight is on the Nullarbor Plain – a vast, desolate space in the far west of South Australia. You'll need two days to get there from Adelaide but it's worth it to see this iconic landscape.
Then there are the whales. Between June and October dozens of whales arrive at the base of the cliffs along the Great Australian Bight. At the Head of the Bight Lookout there is a viewing platform where you'll see whales and their calves resting and playing. We stood there for hours watching them, they are a glorious site, and you get a great view of them. You'll will need to plan this activity, but it is well worth the effort.
Granite Island sculpture trail
Nature meets art on this rugged little island just over an hour from Adelaide. From the mainland you can take an old-style horse drawn tram across to Granite Island. From there, a 3km loop trail takes you past a couple of dozen sculptures. Spanning the weird and wonderful, while you might not agree on which one is your favourite, walking the sculpture trail and seeing the art against the backdrop of the coastline and water is a wonderful experience.
Flinders Ranges road trip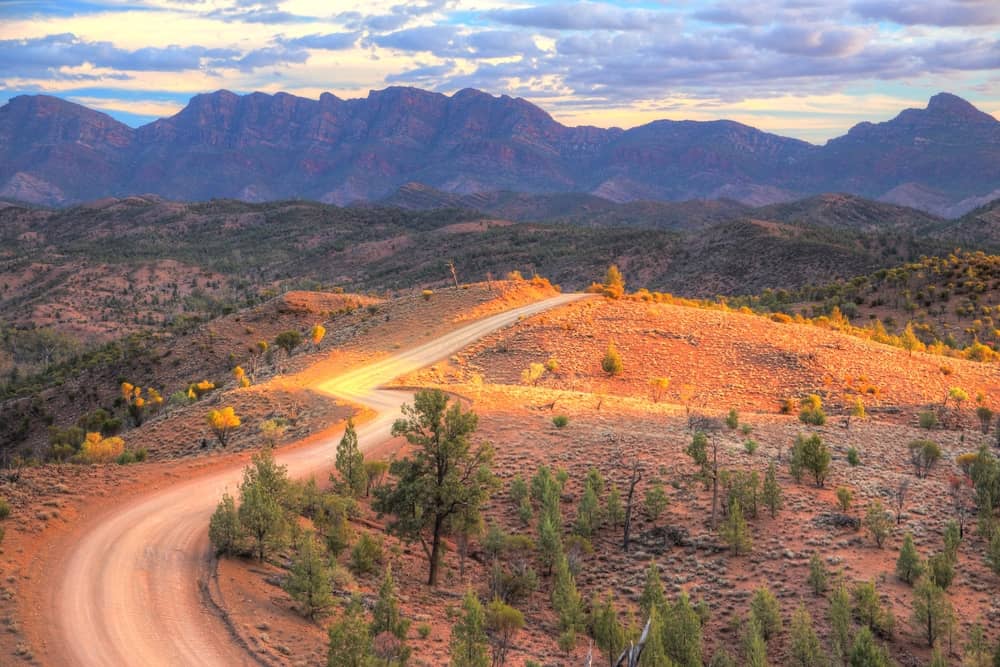 There is an inescapable romance to a road trip and one of the best in South Australia is to the Flinders Ranges in the states mid-north. The centrepiece of the area is the bowl-shaped Wilpena Pound but in every direction, there are dramatic ranges and escarpments set against the beauty of the Australian outback.
Walk to the top of Wilpena Pound for great views or go for a drive through Brachina or Parachilna Gorge for jaw dropping scenery. Have lunch at an outback pub in Parachilna or Blinman. Keep an eye out for wildlife; emus and kangaroos are common. In the gorges, you might even spot an adorable yellow footed rock wallaby.
For an unforgettably romantic experience try heli-camping. A helicopter drops you on top of a mountain range. Guides set up your accommodation and get your food organised then you're left there for the night. The only thing more amazing than the views is the star-packed night sky.
Adelaide Oval roof climb
Not many sporting arenas are described as beautiful, but the Adelaide Oval has that rare distinction. Located in the heart of the city, it is surrounded by parklands and cathedrals. Over time it has been redeveloped but has managed to blend its old world charm with modern design. Exploring the oval from the roof of the grandstand 60 metres in the air is one of the best experiences you can have in Adelaide.
Guides tell you about the history of the ground and city. If you go on a dusk or evening tour, there are great sunset views across the city and cocktails in the Roof Climb Lounge afterwards. Don't be fooled by the harness and overalls you need wear. Despite the attire, seeing the city and oval from such a unique vantage point is a fun and romantic experience.
Swim with sharks
Sure, seeing a great white shark hurtle towards you isn't 'romantic' romantic, but it is certainly thrilling and what relationship doesn't benefit from a dose of excitement every so often? Sharing an adrenaline filled day in a cage being circled by sharks will definitely create the sort of life-long memories that great relationships are built on. This incredible experience is based in Port Lincoln on South Australia's west coast.
Cuddle cute animals at Cleland wildlife park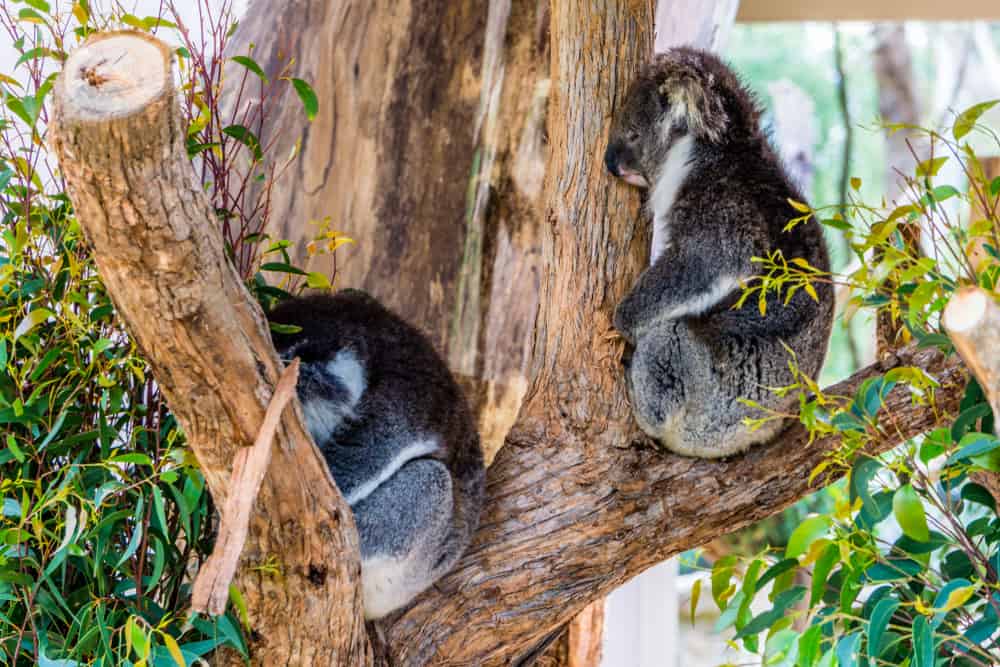 Feeding and holding cute wildlife literally gives you that warm, fuzzy feeling. Only 20 minutes from the city, Cleland Wildlife Park in the Adelaide Hills features a wide range of Australian native animals. Highlights include hand feeding kangaroos and getting to cuddle a koala. Also look out for the doe-eyed tammar wallabies and the adorable little potoroos that line the paths around the park. Make sure your camera is charged up, you'll be taking lots of 'cutest thing ever' pictures.
Festival Fun
Good times make great memories so grab your partner, and let's party! Adelaide is known as the festival state. It doesn't matter when you visit, if there is not some kind of festival on when you arrive, one isn't far away. They cover the arts, food and sport.
Foodies should check out the Crush and Winter Reds Festivals and Tasting Australia. For performance, you have to be in town over March for the Adelaide Fringe and WOMADelaide. There are the Guitar, Film and Cabaret festivals throughout the year too. And if you love sport, the Tour Down Under is a weeklong bike race/party that gets towns across the state jumping.
Haigh's Chocolate tour
Sweets for the sweet? Haigh's Chocolates has been an Adelaide institution for over 100 years. Located on the fringe of the city centre, you can take a tour of the factory, see how the delicious treats are made and, of course, try some samples. You won't be able to leave without a bag full of yummy truffles. It won't matter what do for the rest of the day, so long as you're eating fine chocolate as you do, it will take on a romantic flavour!
Romantic Places to Stay in South Australia
Overlooking Piccadilly Valley from one of the highest points in Adelaide, Mount Lofty house is a 100 year old country mansion that offers couples the ultimate in luxury boutique accommodation and dining. It is the perfect base for the exploring the Adelaide Hills and is only 15 minutes from the middle of Adelaide.
The Vineyard, McLaren Vale
In the heart of one of South Australia's premier wine regions, The Vineyard offers five star self-contained luxury accommodation. The retreat combines vineyard views in an Australian bush setting. It's the perfect romantic getaway.
If looking out over rugged coastline or watching dolphins swim around a bay sounds like your style, then this is the place for you. With views like this you might not to leave your accommodation but if do, the fun holiday town of Victor Harbour or beautiful Deep Creek Conservation Park are nearby.
Set on one of Adelaide's most popular beaches at Glenelg, 'The Grand' is only 15 minutes from the city centre and a great base for exploring Adelaide. There are lots of cafes and bars in the area. If you can get yourself a west facing room you can sit on your balcony for sunset views each evening.
---
About the authors: Natalie and Steve manage Curious Campers, a travel website featuring experiences and wildlife encounters for people looking for inspiration while travelling Australia. You can follow Curious Campers on Facebook, Pinterest and at their Facebook Group Experience Australia.
---
You might also like:
---