This post may contain affiliate links. Read our disclosure page for full details.
Prague is one of the most beautiful and most romantic cities in Europe, bursting with history, culture, life, and awe-inspiring architecture. Quaint cobbled streets add to its charm, and just one mention of the Czech capital conjures up all the romantic feels. In this guide, we will be delving into the 10 most romantic things to do in Prague for couples.
Disclaimer: Prague is a magical city. I guarantee a weekend here with your loved one will leave you both spellbound and more in love than ever. That said, unfortunately, the spell cannot last forever. So upon leaving Prague, your partner will likely drive you stir crazy once again. So enjoy the romance why you can, and have a wonderful time in the enchanting city of Bohemia.
This is a guest post by Charlotte and Natalie of Our Taste for Life
When to Visit Prague as a Couple
Prague is an all year round destination, and regardless of when you visit, there are plenty of romantic things to do with your significant other. Of course, if you plan on doing a lot of outdoor activities, the Spring and Summer months are an obvious choice. However, July and August is peak season, and it can get incredibly busy and hot. Bearing in mind that Prague is very much a walking city, I would advise avoiding those months entirely. Autumn is when Prague's abundant nature is most picturesque, and during December the city is incredibly festive – both periods can be equally romantic. Either way, you can't fail to fall in love in, and with, the enchanting city.
10 Super Romantic Things to do in Prague
From idyllic river cruises and medieval dinners to fairy tale castles in the Bohemia countryside, here are 10 of the most romantic things for couples to do in Prague.
River Cruise on Vltava River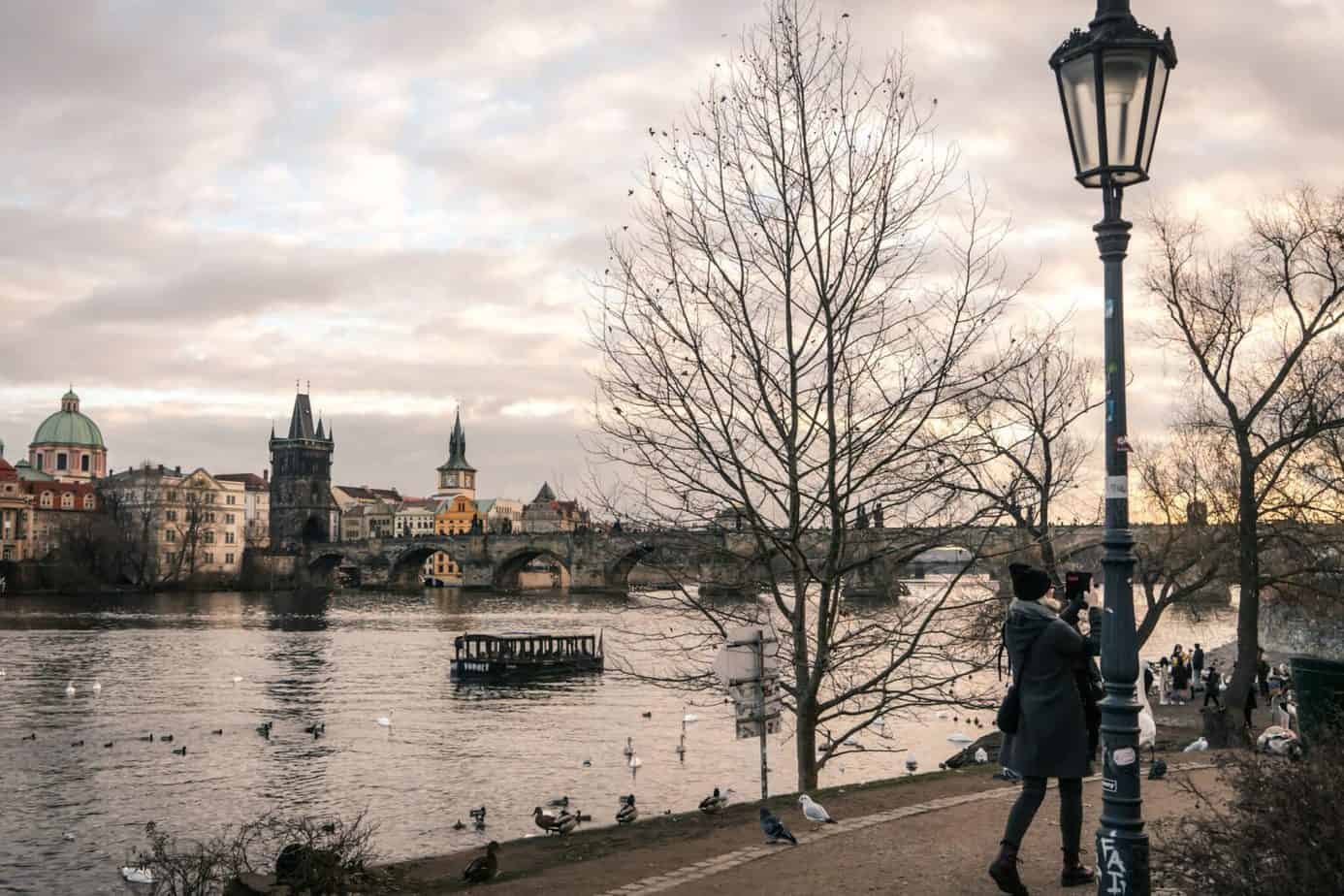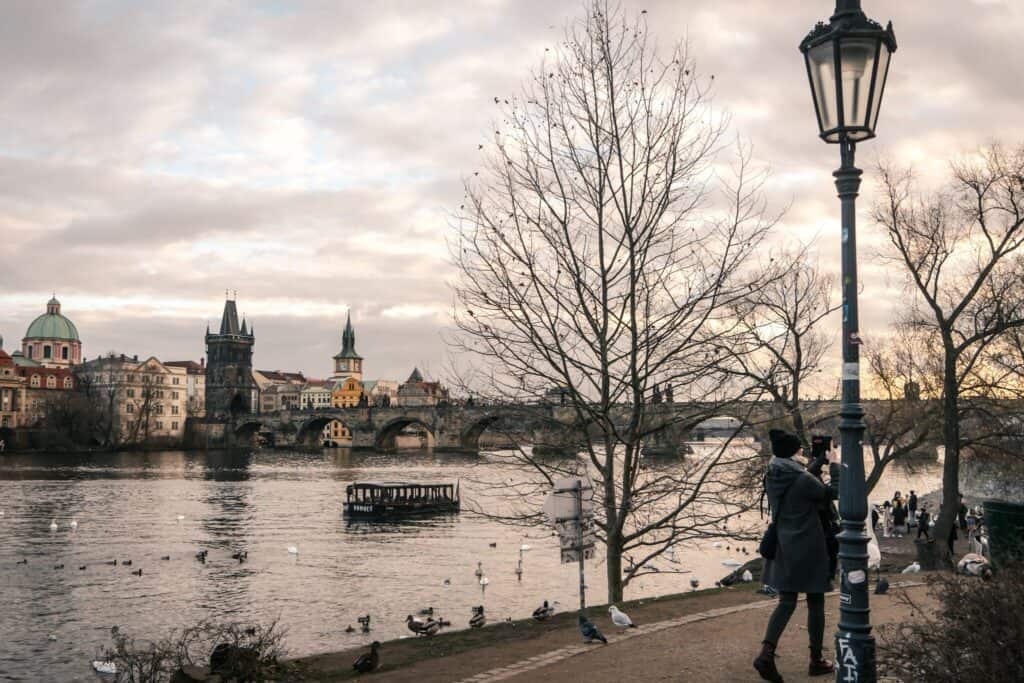 We kick off our list of romantic things to do in Prague with a peaceful river cruise on the Vltava River. The Vltava is the Czech Republic's longest river, dividing Prague into two parts. On one side is Prague's Old Town and New Town, and on the other is the Mala Strava and Castle districts. River cruises allow you a great view of various landmarks on both sides, including Prague Castle and the legendary Charles Bridge.
River Cruises run throughout the day, but for a truly romantic experience, we suggest taking one during sunset or at night. Naturally, some cruises are more luxurious than others, varying from 3-hour dinner cruises to 1-hour sightseeing tours. But whichever you choose, the breathtaking views are always the same.
Feed the Swans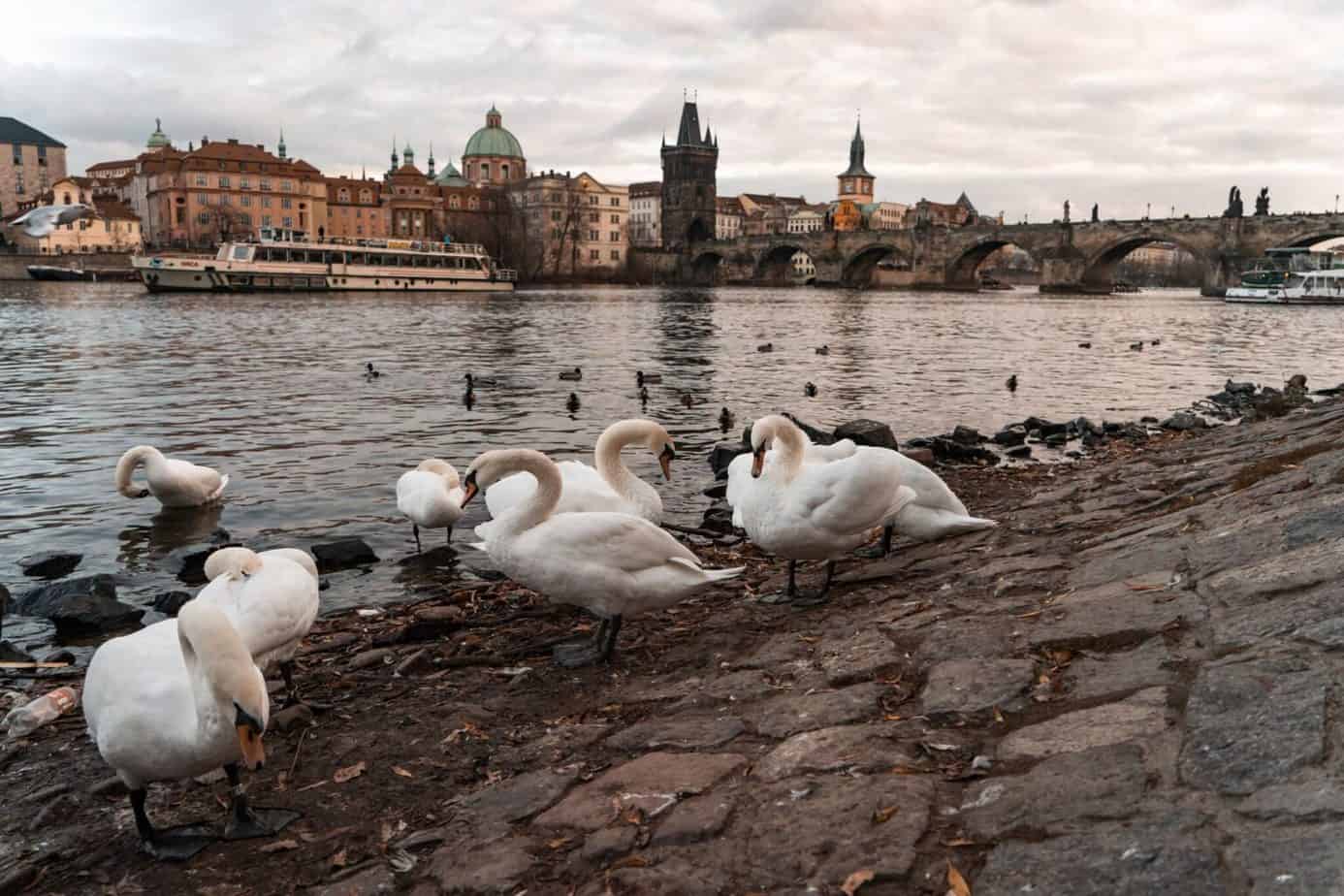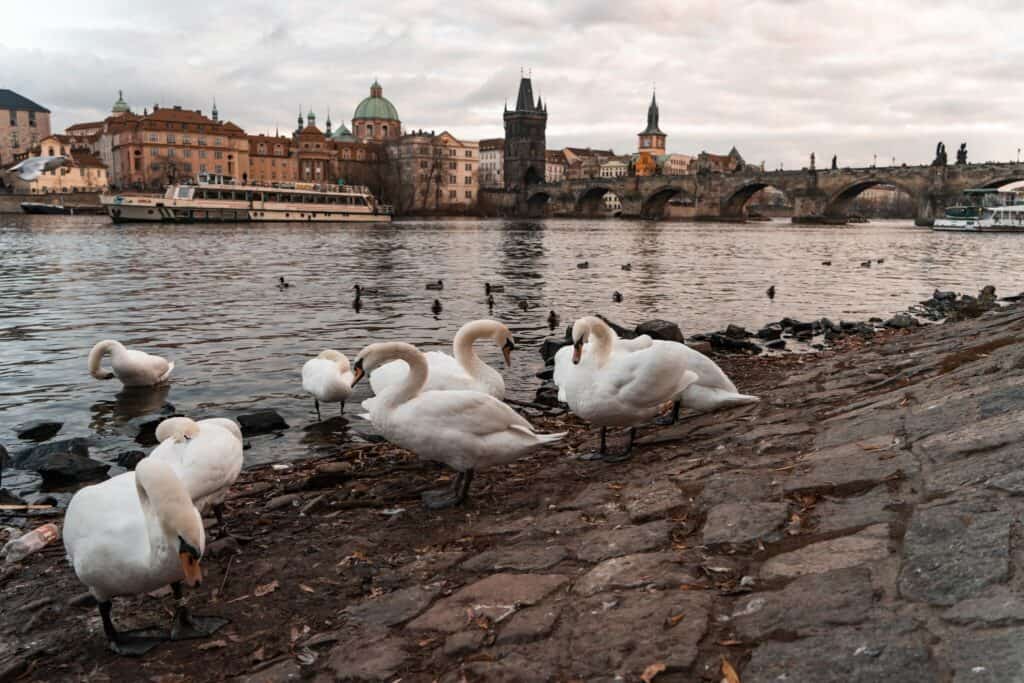 Even if you're a travel couple on a budget, there are still plenty of romantic things for you to do in Prague. One of them is feeding the swans down by the Vltava River. It may sound like a simple, no-frills activity, but if you do it around sunset, it's a beautiful way to end the day. The best place for swan spotting is beside the Mánes Bridge just across the river from the Old Town. With Charles Bridge looming in the distance, you can create a memorable moment with your significant other.
Sunrise Stroll on Charles Bridge
One of our favourite things to do in Prague as a couple is to take a sunrise stroll on Charles Bridge. During the day, this famous landmark is not only heaving with tourists, but artists and performers too. While we love the energetic atmosphere, it's nice to be able to marvel the medieval build with nobody else around.
One of our favourite characteristics of Prague is the old iron lamp posts dotted around the city. They are especially majestic on the Charles Bridge, enhancing the gothic mood of the structure. If you're looking for unique photography spots in Prague, this is one of them. Particularly just before sunrise when the lamps are still on, and dramatic colours begin to adorn the sky.
Read Next: 7 Things Not to Do in Prague
Walk Hand in Hand in Prague's Old Town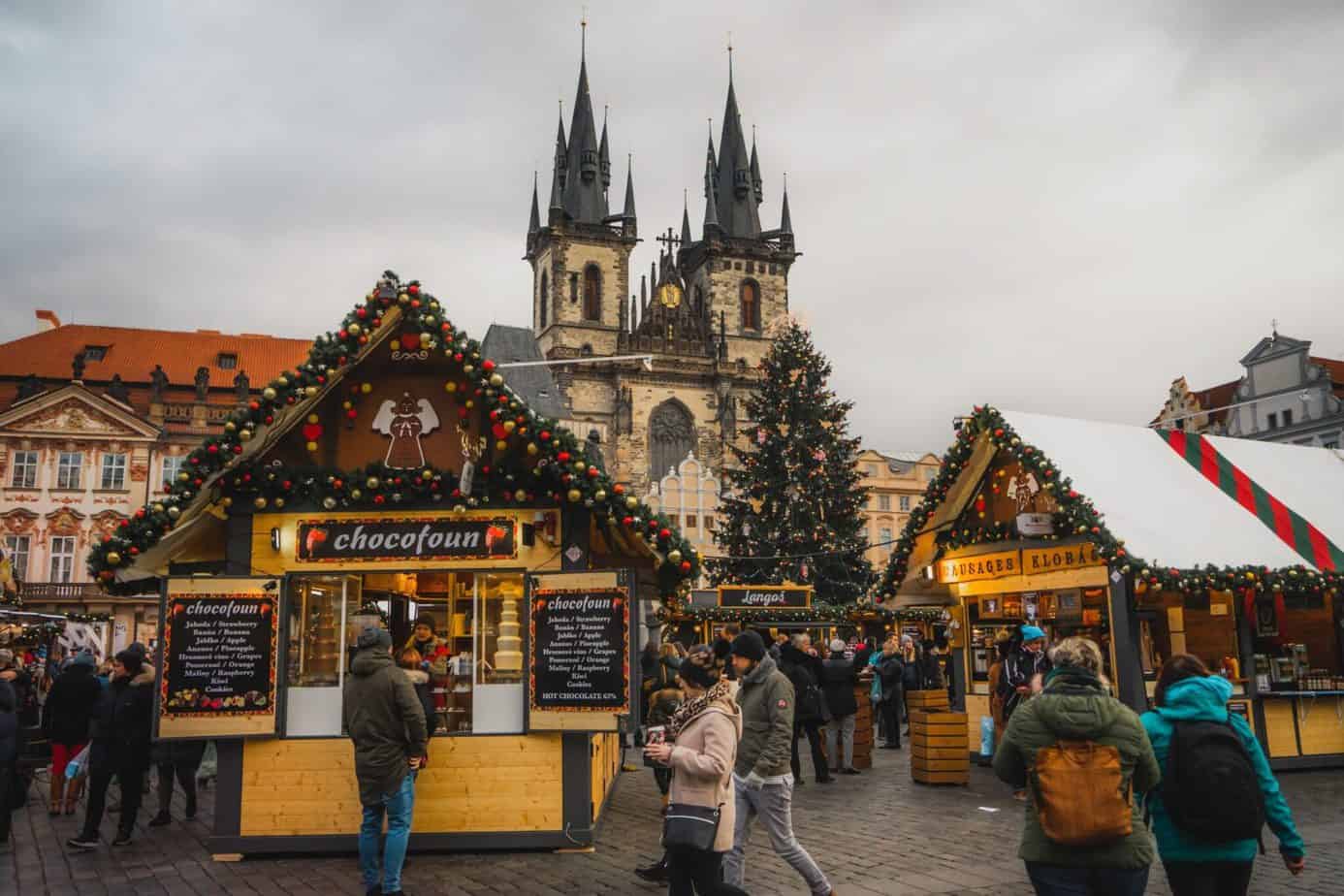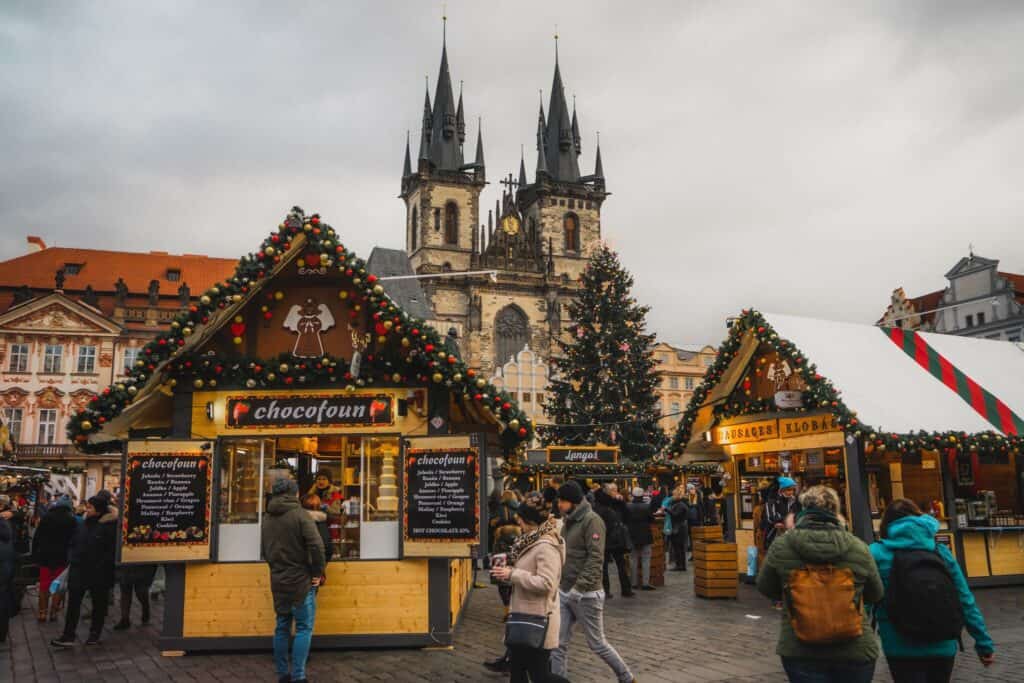 With its quaint cobbled streets, fairytale architecture, and mysterious history, Prague's Old Town is the epitome of romantic. Not only that, but it's also the beating heart of the city, concentrating many of Prague's significant landmarks.
The centre point of the Old Town is Old Town Square or Staroměstské náměstí as the locals know it. You'll find various architectural gems here such as the Astronomical Clock, Old Town Hall, and Church of Our Lady Before Tyn. The latter is said to have inspired the palace in Disney's Beauty & the Beast, and once you see it, you can't unsee it.
Exploring this part of the city should be the number one thing on your Prague Itinerary. It's such a dreamy place to explore with your loved one, and will leave you with loads to talk about over a romantic dinner later on in the day.
Cocktails at Hemingway Bar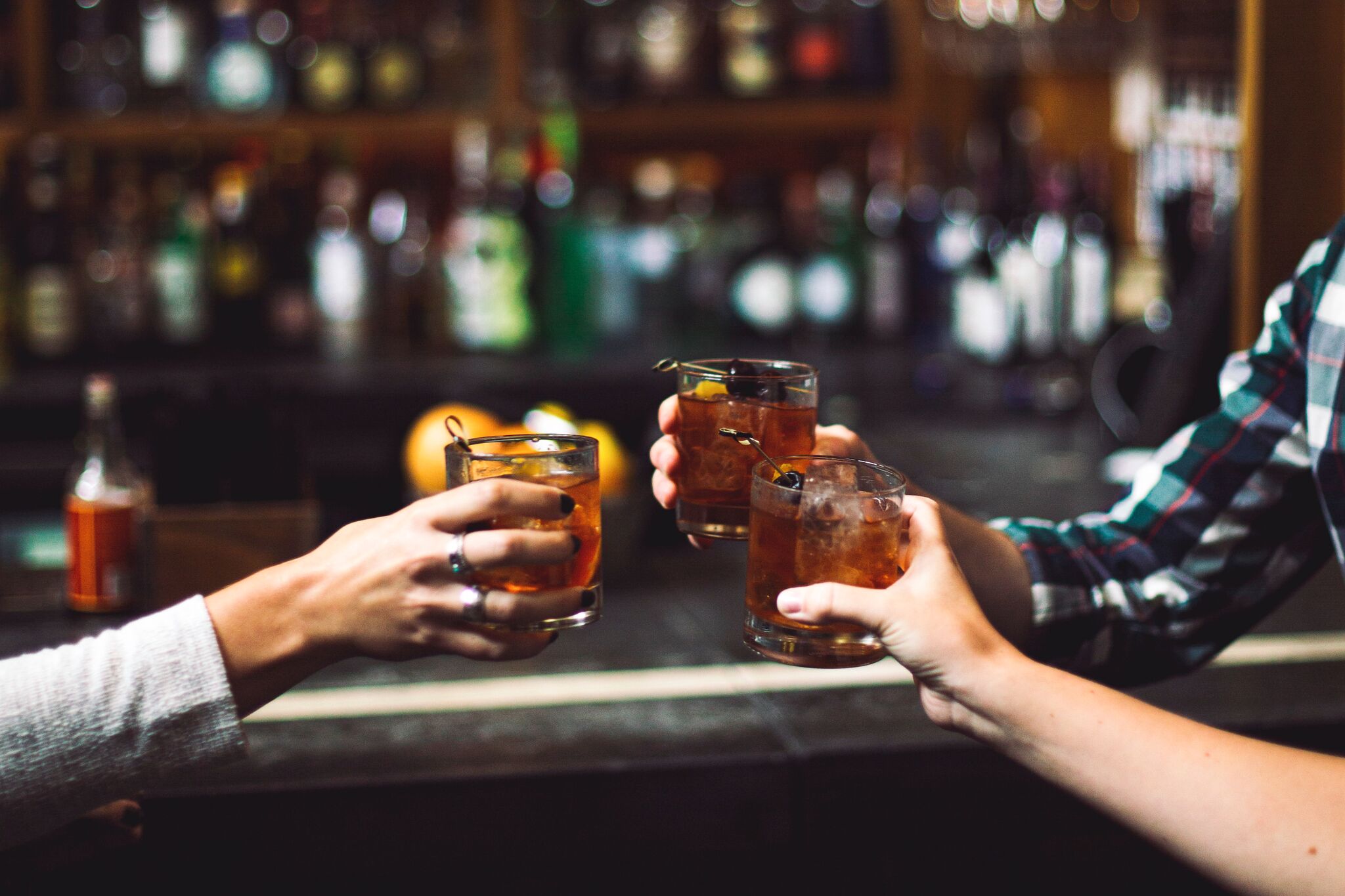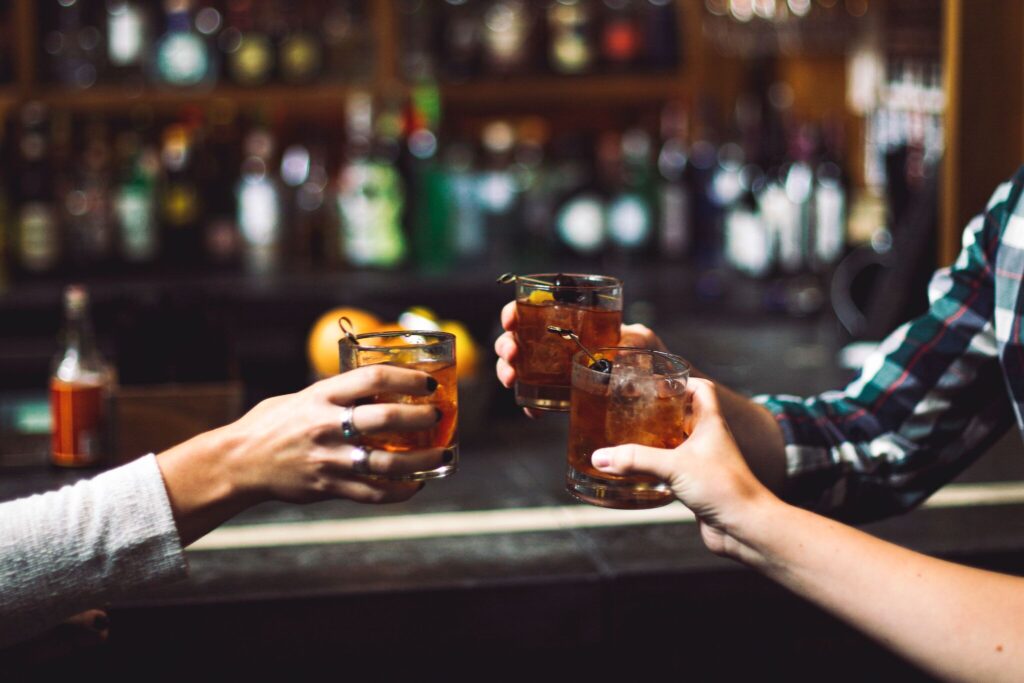 Depending on who you talk to, Prague has quite the reputation for being one of Europe's party capitals. While that may be true to an extent, it's only apparent if you go looking for it. Prague can be a variety of things to a variety of people, and that's what we love about it. We've visited both on a boozy weekend with our friends and a romantic weekend as a couple. On both occasions, we've not been disappointed.
A perfect thing to do in Prague for couples is a cocktail date night. It's one of those quintessential couple experiences that you should have in any new city. And no place in Prague does cocktails quite like Hemingway Bar – A classy cocktail lounge inspired by hard-drinking Ernest Hemingway himself. The incredible concoctions here set the bar high for cocktail lovers everywhere.
Day Trip to Karlstejn Castle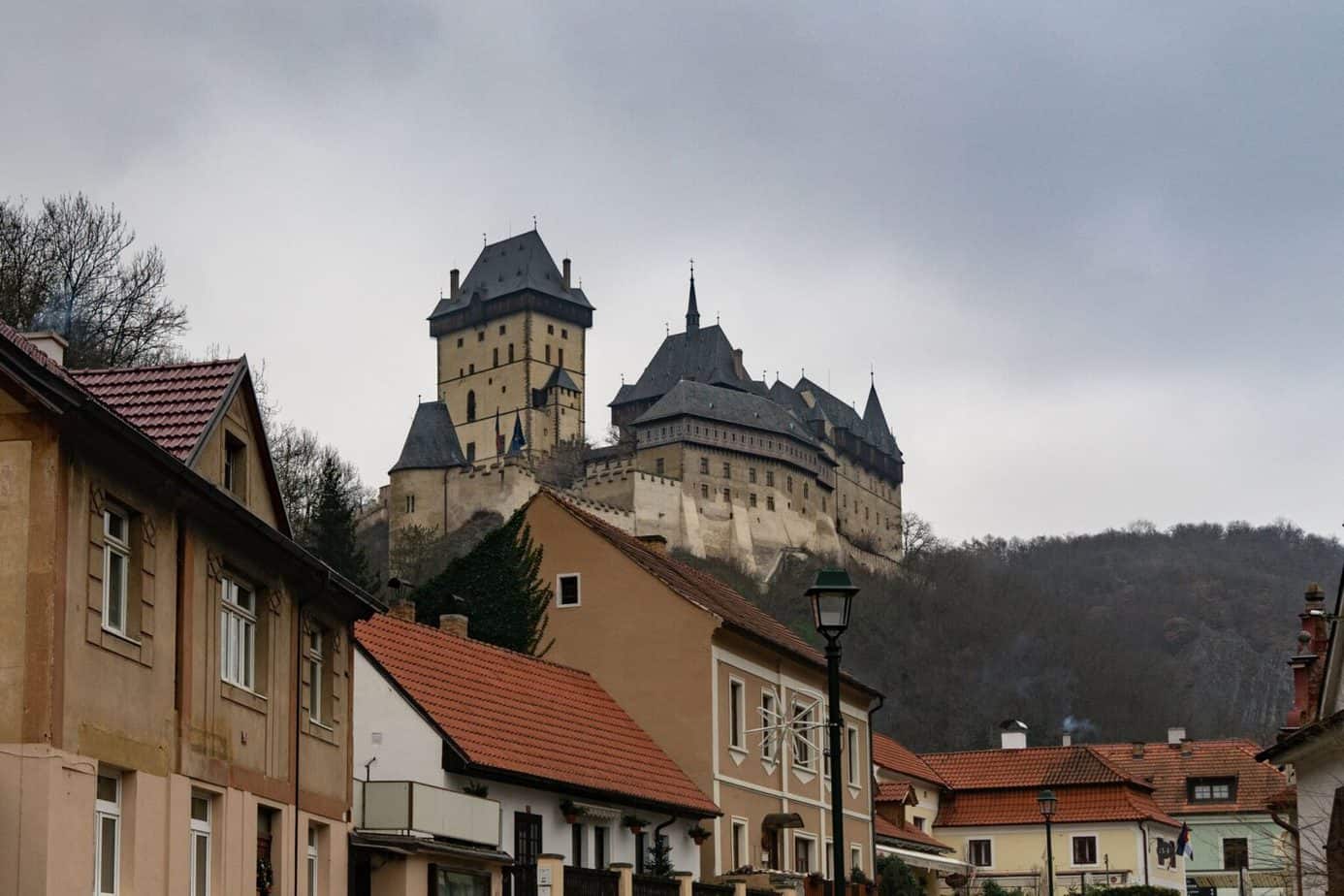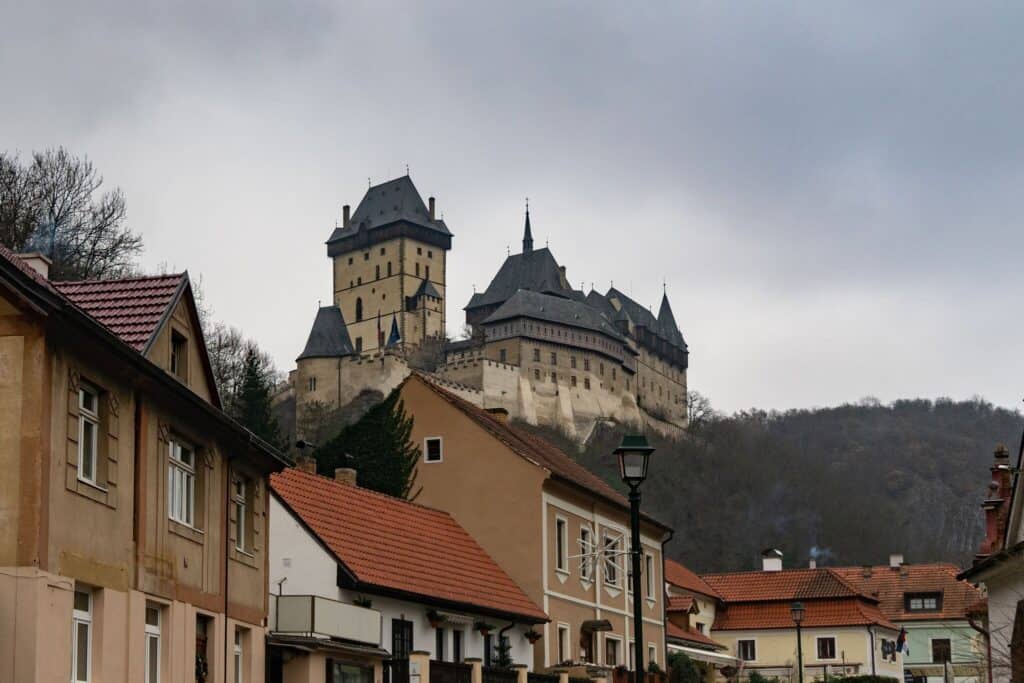 The Old Town may be jam-packed with fun and romantic things to do for couples, but it's Prague's hidden gems that make the city so unique. One of our favourites is Karlstejn, a quaint village set in the hills of the Bohemia countryside. Located 20km west of Prague, the pinnacle of Karlstejn is the stunning gothic castle. Surrounded by enchanting forest, it appears to have landed straight out of a storybook.
In addition to the castle, there are some beautiful hikes in the area. If you find yourself craving some nature, it makes for an ideal day trip away from the hustle and bustle. By the end of the day, I guarantee you'll feel revitalised and more lovey-dovey than ever.
Romantic Stroll on Petrin Hill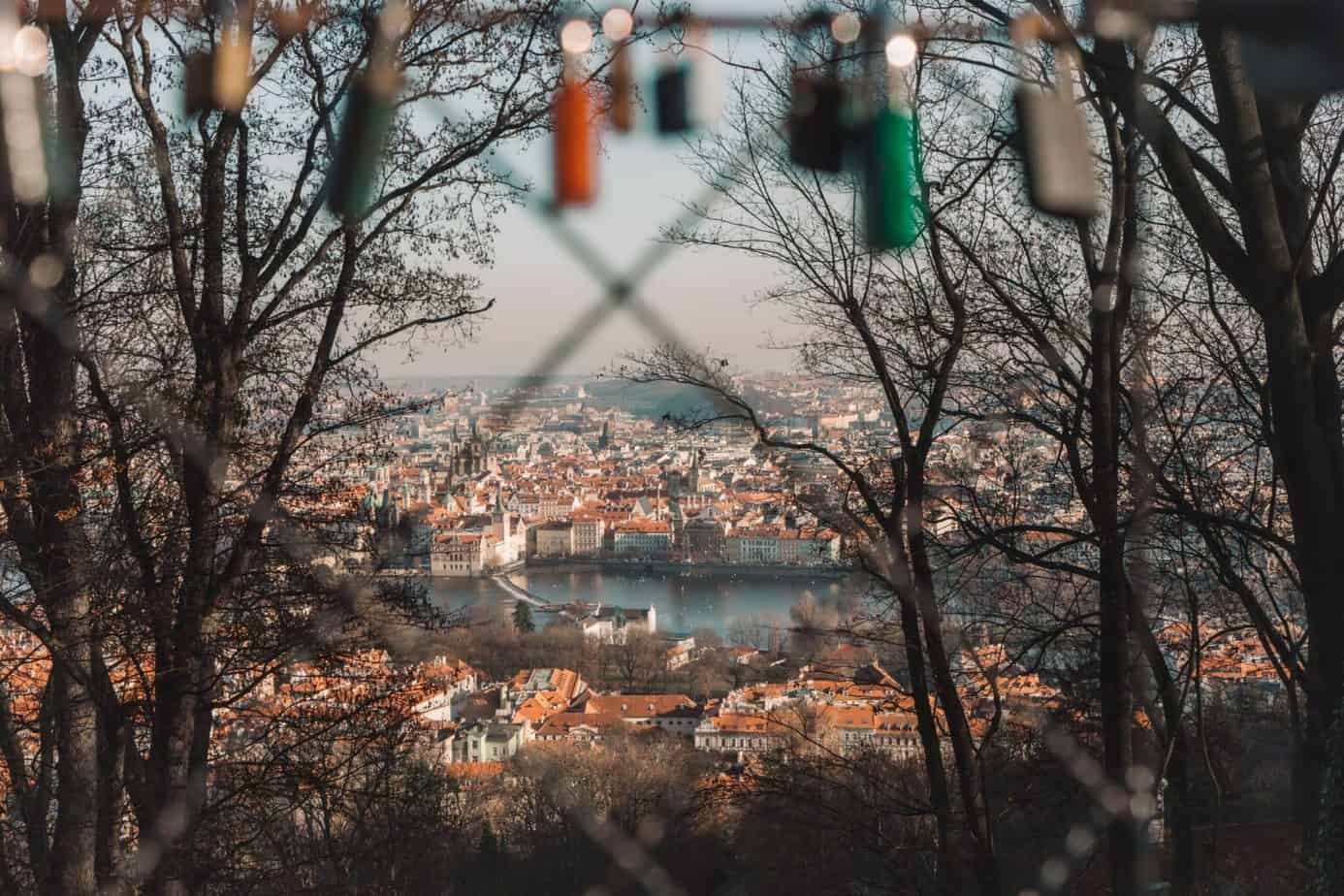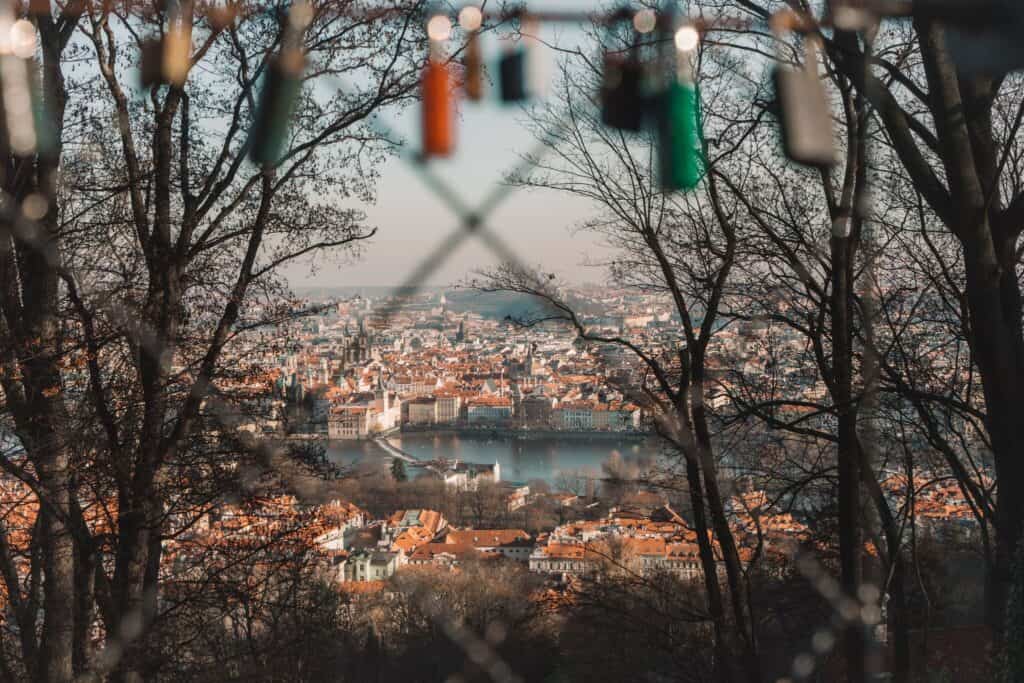 If you're only visiting Prague for a short time, you may wish to take advantage of the nature areas within the city instead. Petrin Park is the ideal spot for a romantic stroll. A vast open space, featuring various nature trails, outdoor attractions, viewpoints, and beautiful old trees.
The most popular point of Petrin Hill is the Petrin Lookout Tower. At 64-metres high, the tower is Prague's miniature answer to the Eiffel Tower. However, its prime hilltop position allows unrivalled views of the city below. At CZK 150 (£5), the entrance fee isn't all that expensive, but quite honestly you get just as great of view at Prague Castle.
Enjoy a Local Beer at Letna Beer Garden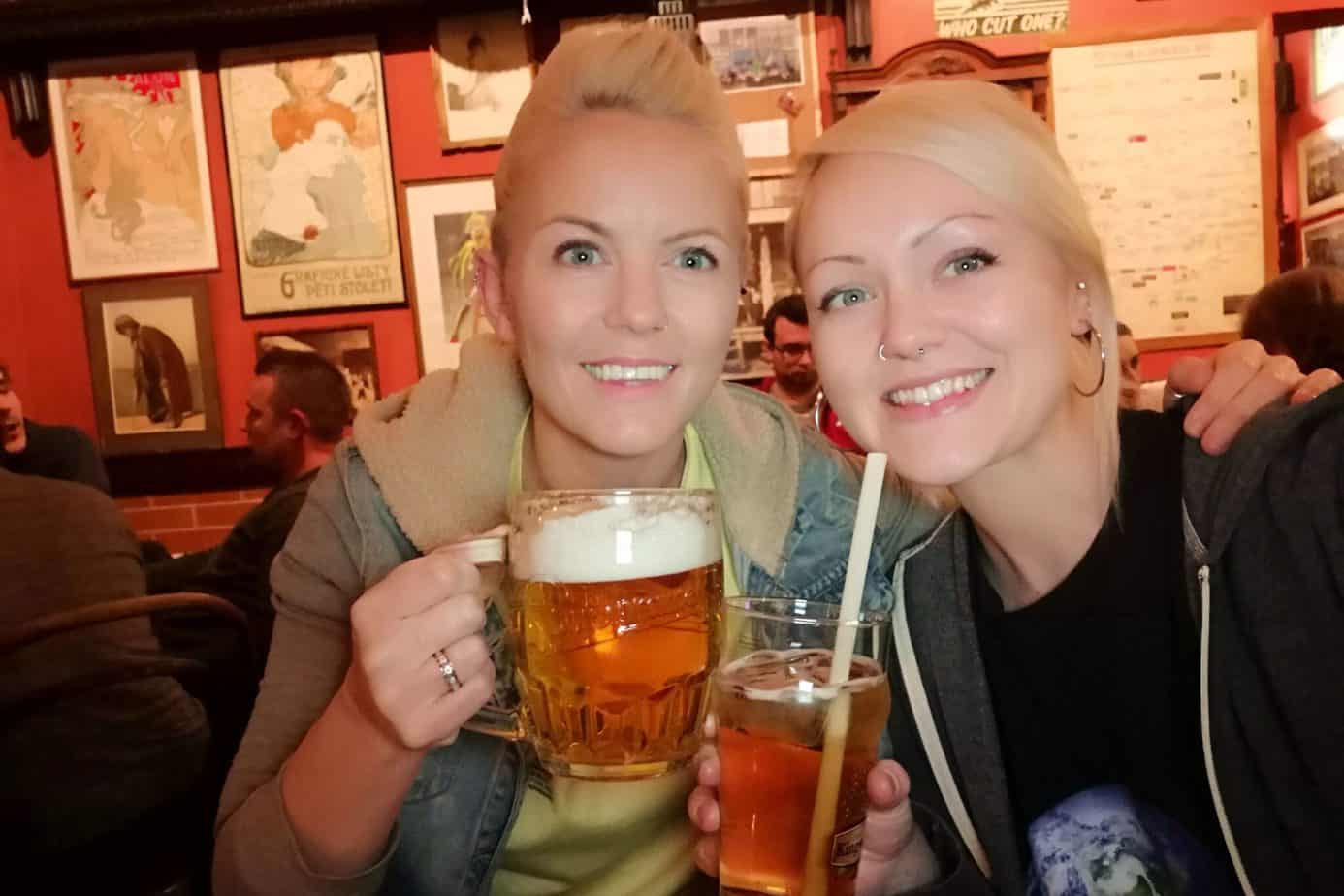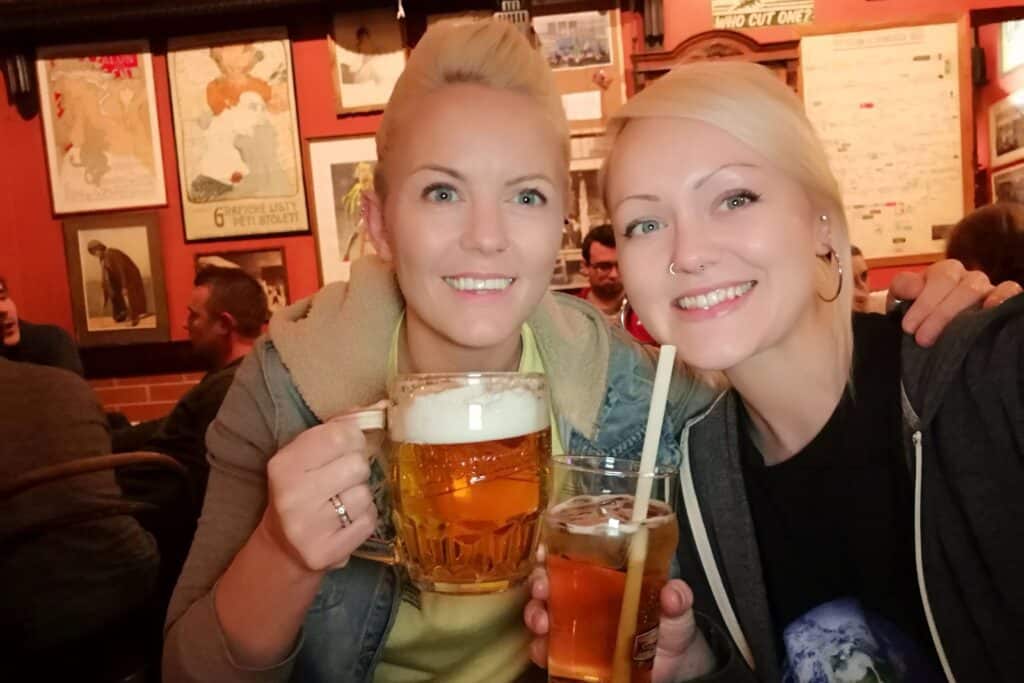 Beer is a huge part of the Czech culture, and sinking a few in the capital city is an unmissable Prague experience. I know it's a tough job, but somebody has got to do it right?
Naturally, there is no shortage of drinking holes in Prague. From traditional Czech pubs and beer museums, and even full-on beer spas. However, arguably the best spot for a beverage is at one of the city's plentiful beer gardens.
You'll find Letna Beer Garden in Letna Park – A sprawling open space set upon a plateau known as Letna Hill. Providing jaw-dropping views over the city, it's set to be one of the most romantic beers of your entire trip.
Old-Fashioned Romantic Medieval Dinner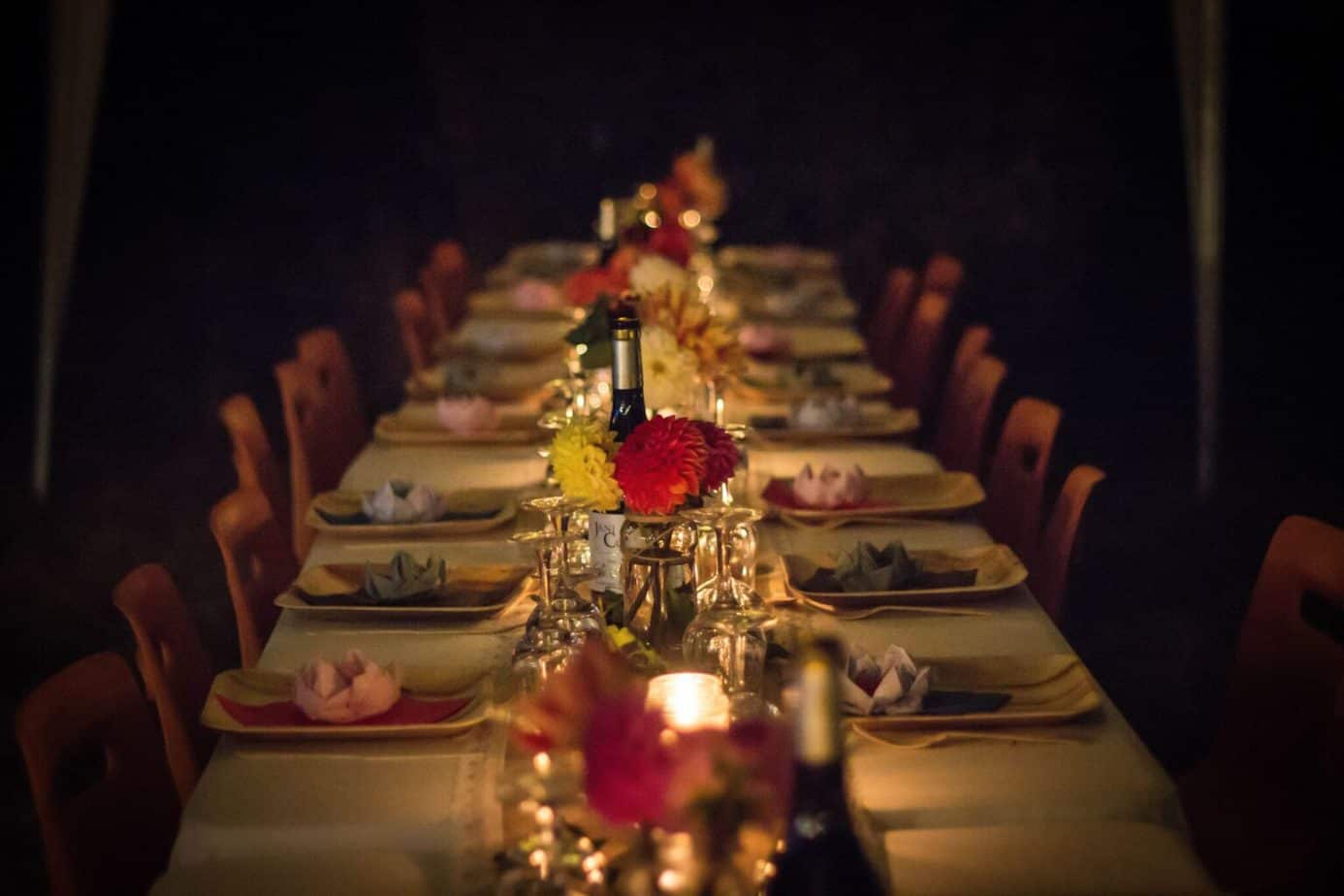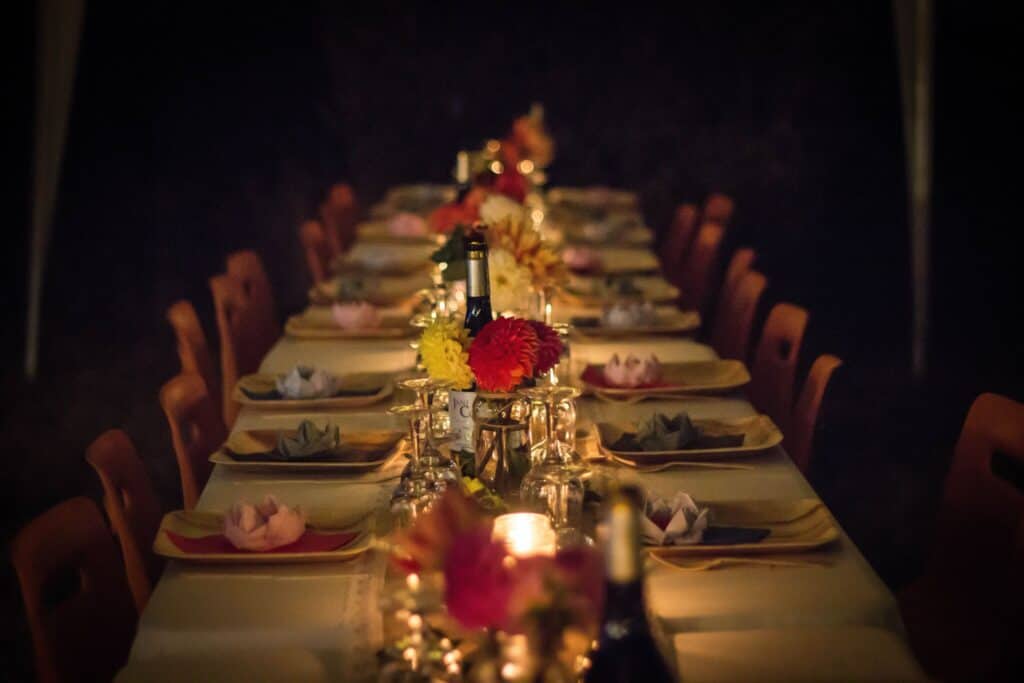 Do you consider yourself an old fashioned romantic? Perhaps a traditional medieval dinner will ignite the spark between you and your other half. Enjoy an atmospheric evening in an authentic medieval tavern, a fantastic 5-course dinner with unlimited drinks, and incredible entertainment. Featuring a unique performance including swordsmen, jugglers, belly dancers, and music, this is an experience in Prague you're unlikely to forget.
Brave the Ghosts & Legends of Prague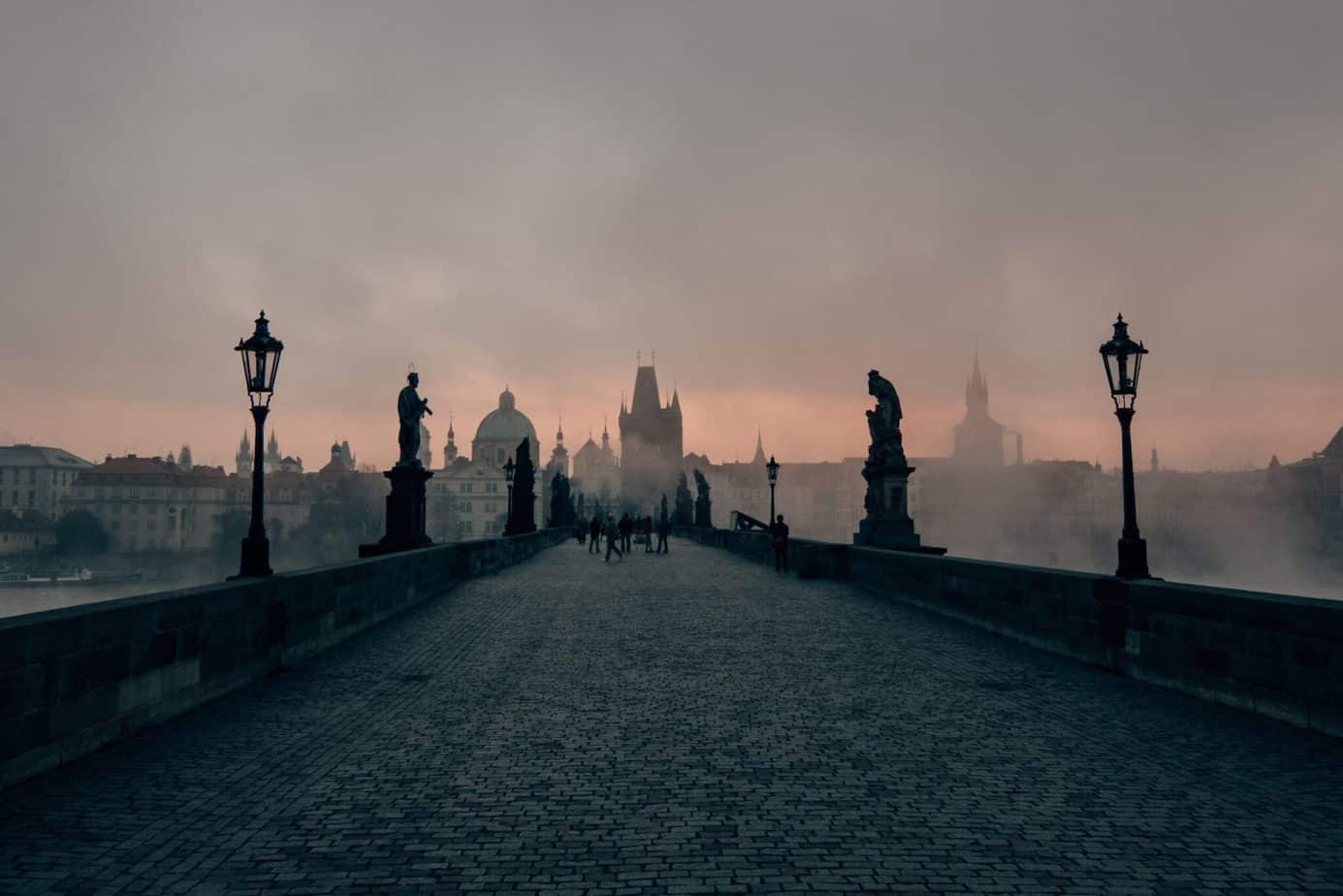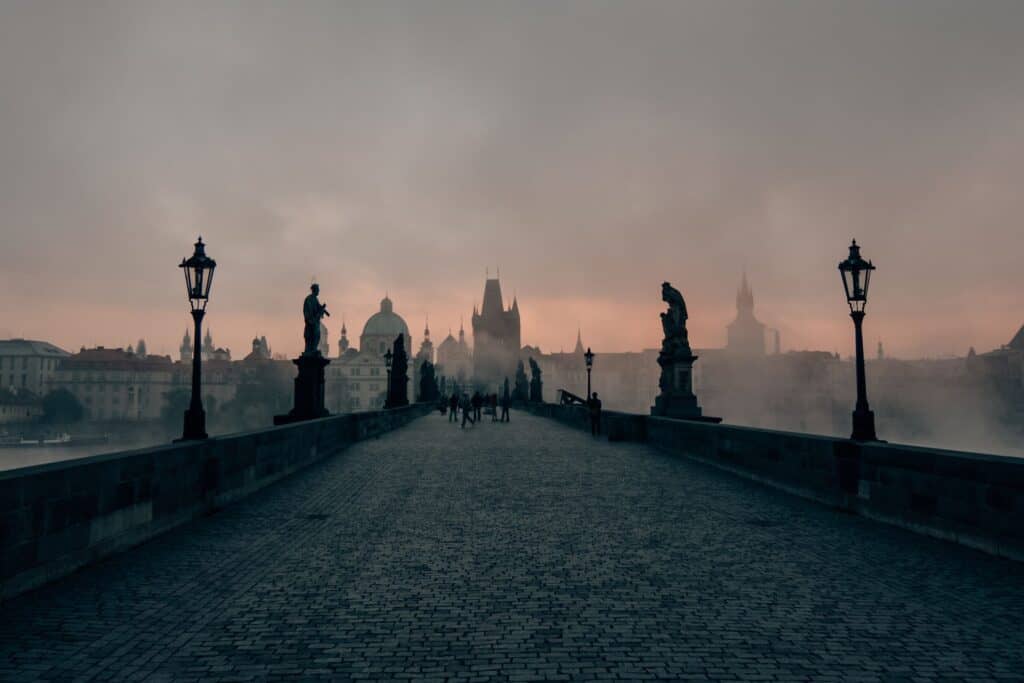 It's no secret that Prague is a city steeped in history, but unbeknown to some, a lot of its history is a little out of the ordinary. In fact, some myths and legends suggest ghosts are haunting the streets of Prague.
When you imagine romantic things to do in Prague, hunting for ghosts is probably the last thing that comes to mind. But if you're looking to get closer to your other half on this city break, it could actually be a genius idea.
Think about it; you're strolling the city at night, arm in arm hearing the gory tales of times gone by. You're guaranteed a cosy night of cuddles – even if it means never wanting to roam the streets of Prague at night again!
On the infamous Prague Ghost & Legends Tour, you'll learn about the myths and legends of the city through the ages.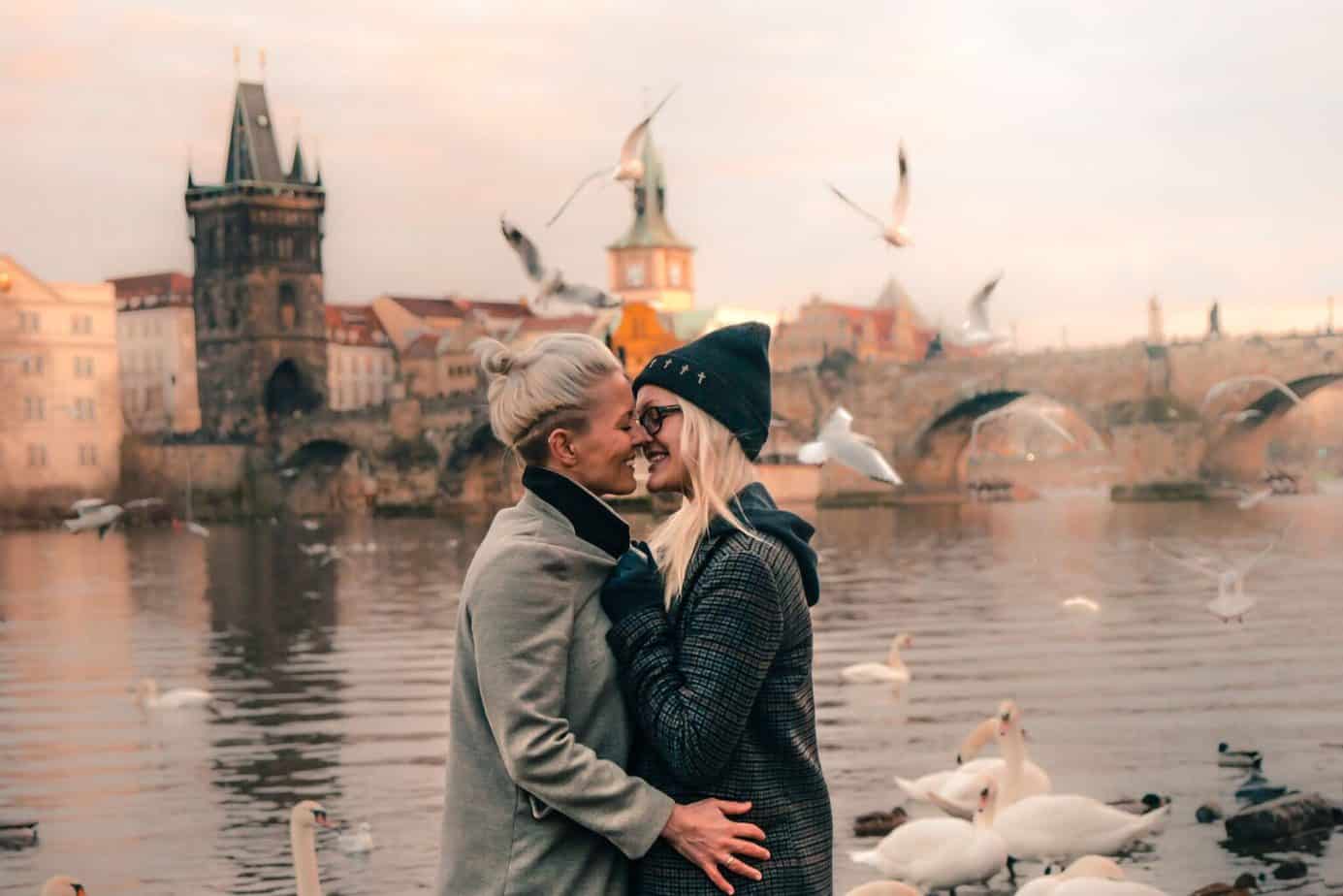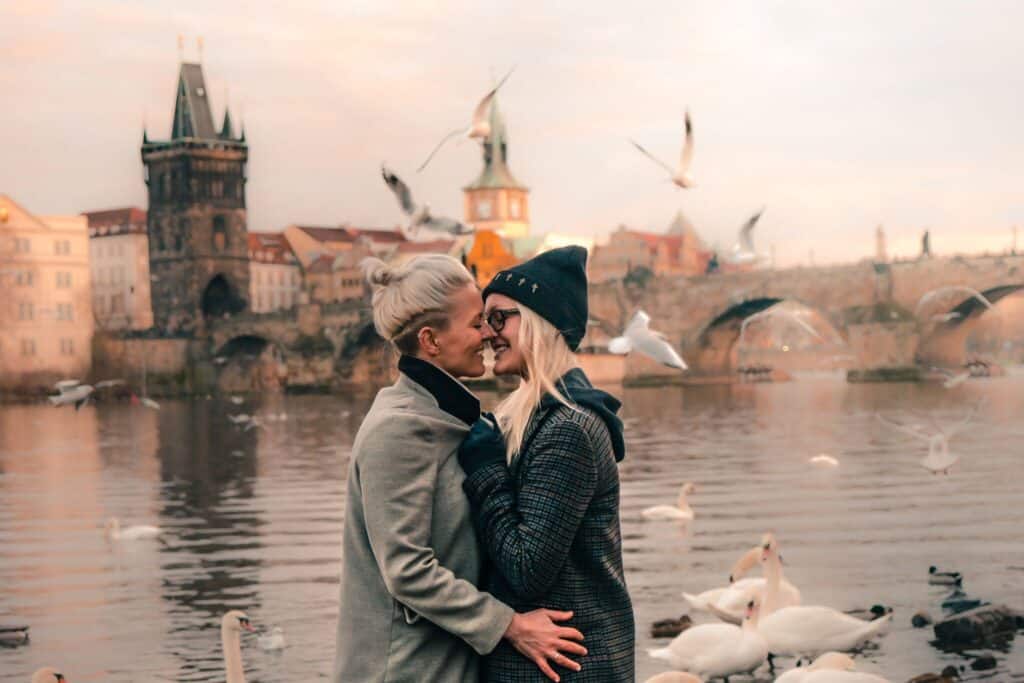 ---
About the authors: Charlotte and Natalie are the explorers and adventurers behind the LGBT+ & Adventure Travel Blog Our Taste For Life. You will often find them wandering off the beaten path, immersed in nature, or enjoying authentic cultural experiences. The rest of the time, you will find them eating. Follow their journey on their blog or Instagram.
---
Check out these articles next:
---