This post may contain affiliate links. Read our disclosure page for full details.
There are so many romantic things to do in Vienna, Austria. In this guest post by Alice of Adventures of Alice, we'll learn about 11 wonderful activities for couples.
An incredible imperial city in the heart of Europe, Vienna is a great place to go for a city break or as part of a multi-city Europe itinerary. Lying on the east of the Danube river, it's certainly one of the most beautiful cities in Europe as well as one of the most romantic cities in Europe.
Known for its imperial buildings and fancy palaces, Vienna kind of looks like the film set of a romantic period drama. But despite its majestic exterior, there's much more to Vienna that meets the eye. (Check out some cool fun facts about Vienna!)
If you look between the lines of the city's cobbled streets and historic monuments, you'll find a maze of Michelin Star restaurants, sophisticated wineries and a dynamic social scene. Particularly in the summer months when outdoor bars and food markets start to pop up all over the capital.
This brilliant clash of stylish elegance and charming antiquity makes Vienna the perfect central European couples escape. So, if you are thinking of visiting the Austrian capital with your significant other, here are the most romantic things to do in Vienna.
Visit the Hofburg Palace
You almost can't visit Vienna and not see the Hofburg Palace. This impressive imperial complex was once the winter palace for the Austria-Hungarian royalty and is one of the most significant buildings in Vienna. It's also one of the most physically appealing with its charming Baroque architecture and beautiful European style.
Although it was built many years ago in the 13th century, the palace is still in use and serves as the headquarters for the Austrian presidency. Since its creation, it has been extended many times and you can now enter the Museum, the Imperial Apartments and the stately Silver Collection. The entrance tickets cost €18 with a guided tour.
Watch a Ballet at Vienna State Opera
Vienna State Opera is often said to be the most impressive Opera House in Europe. What better way to show your loved-one you care, than to take them out for a memorable date to watch an incredible performance?
As well as the lavish class of the Opera House, the architecture of the building is sublime. The exterior is surrounded by arched windows in a Neo-Renaissance style and finished with a bright green roof. The interior is just as lavish, decked out with plush red velvet chairs and a gold ornamental decoration.
If you don't fancy seeing a performance, you can still get a 40-minute guided tour of the Opera House, which will explain a lot of the history of the building. But, if you do fancy a romantic evening you won't forget, make sure to book tickets in advance because they sell out pretty quickly!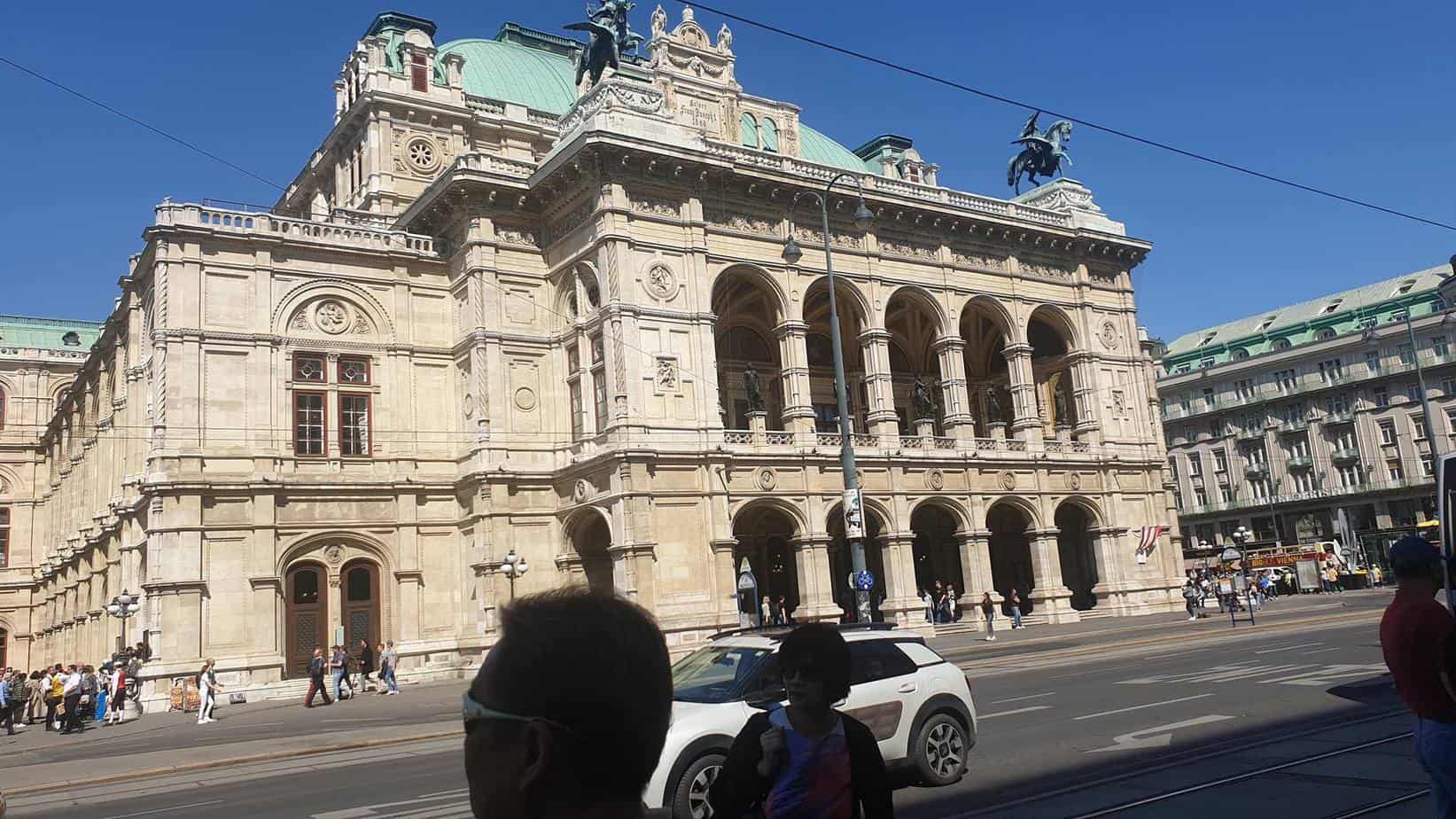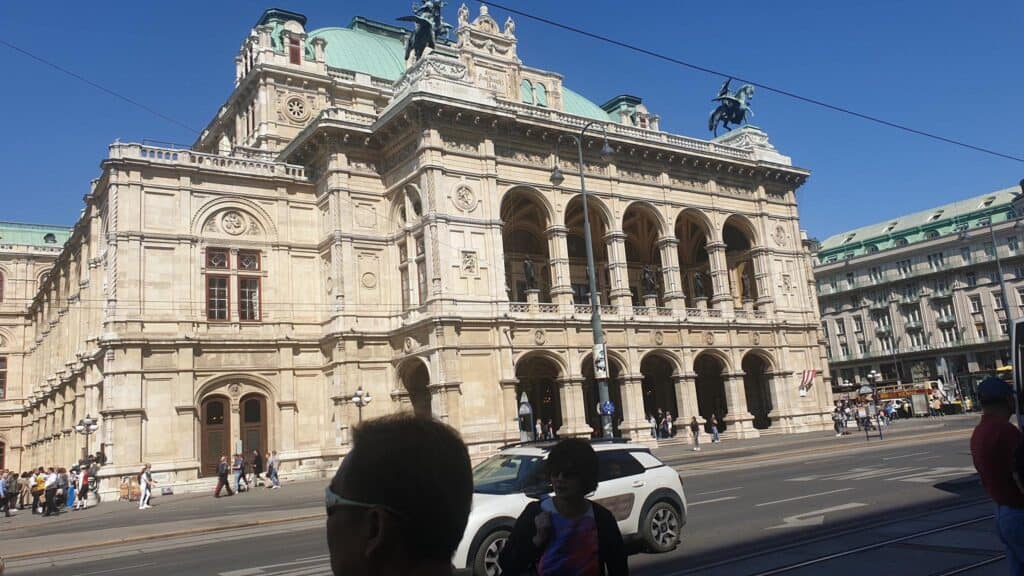 Explore Naschmarkt
Romantic or not, exploring Naschmarkt is without a doubt one of the best things to do in Vienna. If you enjoy a lively atmosphere, freshly cooked food and enticing scents, then you'll have a wonderful time here.
Perfect for getting stuck into the local life, markets can really give you a taste of what it's like to live in Vienna. Plus, with Vienna topping every quality of life survey in recent years, you're certainly going to find a lot of happy people here! The Naschmarkt stretches for 1.5 miles on Wienseile Street and sells just about every type of food imaginable. Be sure to find a baked good stall and taste a slice of Vienna's famous Sachertort, a delicious chocolate tart with a layer of apricot jam.
See 'The Kiss' at the Upper Belvedere Palace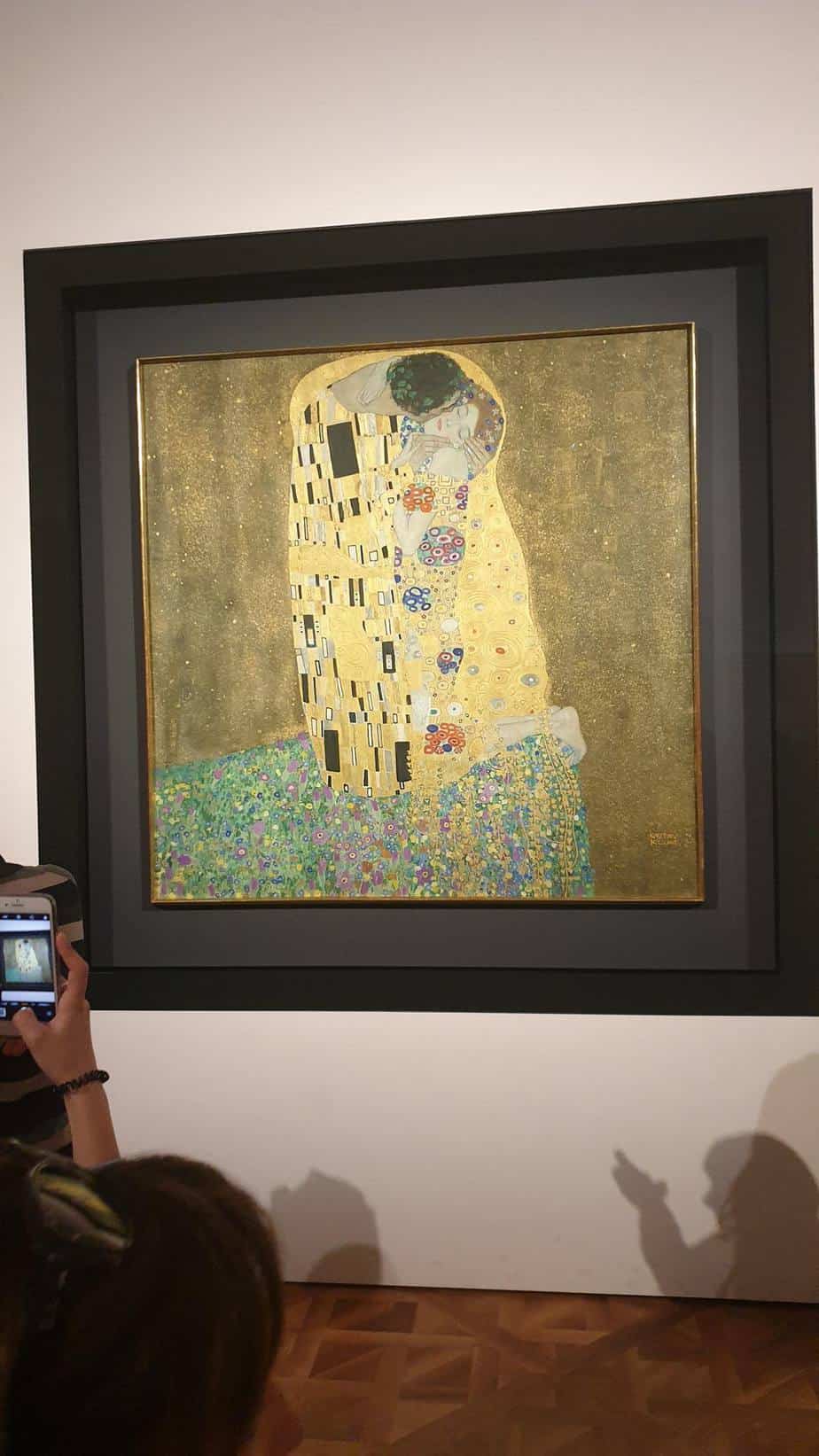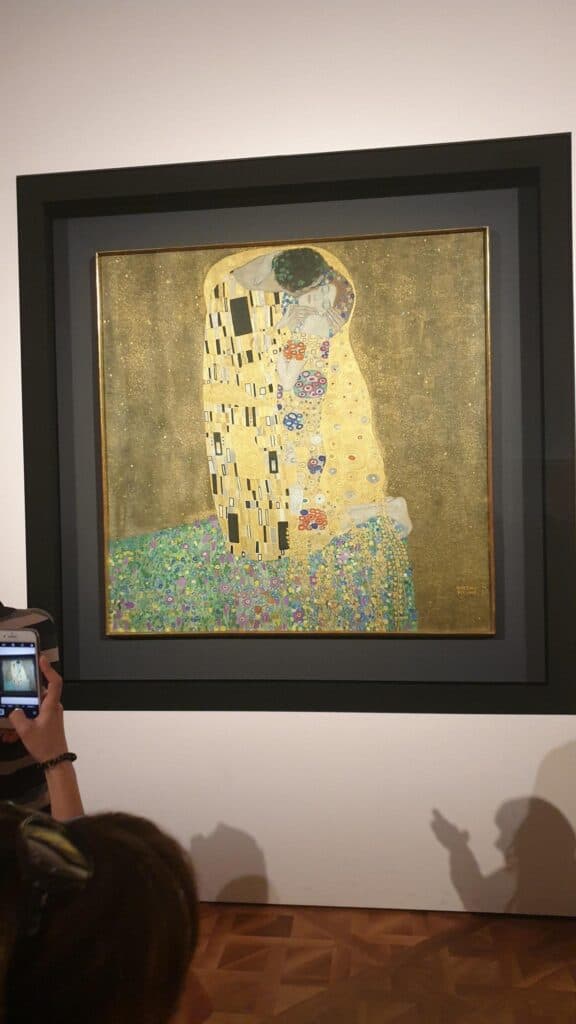 The famous Kiss is Vienna's most famous painting and a trip to the Belvedere Palace to see it is certainly one of the most romantic things to do in Vienna. Created by Viennese painter Gustav Klimt, The Kiss is displayed inside the Upper Belvedere's galleries, which is also home to many other fabulous masterpieces.
With a background infused with gold, the painting has an almost mosaic effect and it depicts a couple locked in an embrace in a meadow of flowers. If you wanted to learn more about the painting, you can arrange a private tour which will teach you all about the history and hidden meanings.


Swim in Vienna's Outdoor Pools
One of the lesser-known things to do in Vienna, but certainly not one to be overlooked are Vienna's outdoor pools. Most of the summer pools are open from mid-May to September and certainly offer a refreshing escape from the hot summer heat. Schönbrunner has a delightful open-air pool that was artfully restored in the 1920. Alternately, if you prefer stunning views over the city, head to the Krapfenwaldl Pool on the edge of the Vienna woods.
However, if you're not a fan of chlorine-filled waters and prefer something more natural, head to Danube Island where you'll find perfect beachy pleasure! Admittedly, it's not quite a Caribbean island, but you can easily enjoy a day on one of the lesser-known but still beautiful beaches in Europe. After you've had your fill of sand-induced fun, head to one of the island's many fresh seafood restaurants for a delicious supper. Easily one of the most romantic things to do in Vienna and unmistakably an unexpected delight in the city.
Admire St. Stephen's Cathedral
Known for its incredible buildings and architecture, Vienna's churches are just as impressive as her palaces! Standing nobly in the heart of Stephensplatz, St Stephen's Cathedral is not just the most important church in Vienna, but the whole of Austria as well. Plus, the rather splendid Pummerin, is the second-largest free-swinging chimed church bell in all of Europe.
The exterior of the cathedral is decorated with multi-coloured tiles, arranged in one of the most unique roof mosaics you'll have seen. A sublime example of intricate Romanesque and Gothic design, the main pointed tower pierces the skyline of Vienna at a colossal 136.44 meters. The inside of the cathedral is just as magnificent as the outside, with 18 alters, several tombs and catacombs and a few smaller chapels as well. Certainly not a building to be missed and definitely one of the best romantic things to do in Vienna.
Ride Wiener Riesenrad
Another of the most enjoyable things to do in Vienna, a visit to the Prater Amusement park is a wonderful way to spend a day in the city. And a visit to Prater wouldn't be complete without a ride on Vienna's famous Giant Ferris Wheel. Built in 1897, the wheel is the equivalent to Vienna of what the London Eye is to London. Aside from being one of the city's most iconic landmarks, you cannot deny the charm of the old wheel, plus the views of the city below, are truly spectacular.
After a ride on the wheel, why not explore the rest of the Prater Amusement Park? Bump each other on bumper cars, ride on rickety wooden rollercoasters and take an old steam train around the park. Afterwards, grab a stick of candyfloss or a Wienerschnitzel for the perfect end to a, perhaps a little childish, but delightfully romantic day in Vienna!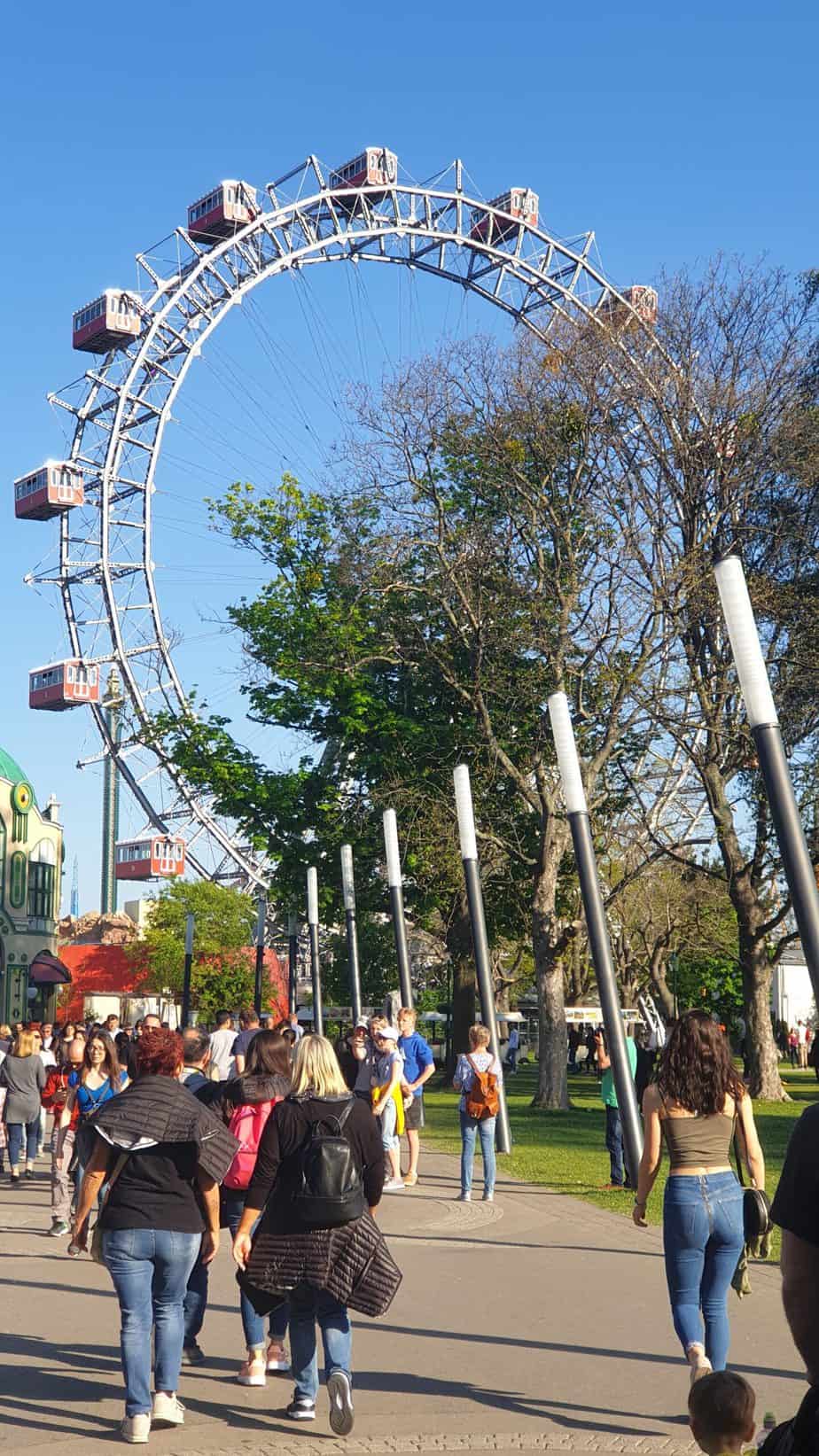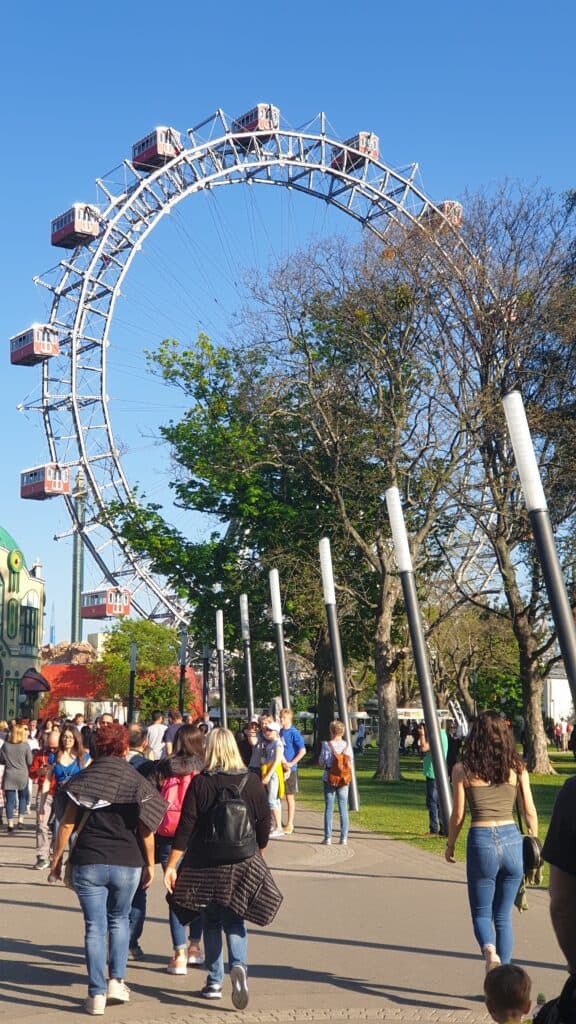 Go boating on the Danube
Most certainty one of the most fairy-tale things to do in Vienna, or any city for that matter, is to go on a river cruise. Vienna has some great options from a candlelight dinner cruise to a day-time cruise with champagne. For something even more intimate, you can actually rent out paddle boats for two from Danube Island, if you want to wander the waterways at your own pace.
The Danube has a sort of serene charm and there's something so peaceful about viewing Vienna from the water. After your boat trip, meander along the riverbanks on foot, see the true beauty of the Danube as it snakes its way through the heart of Vienna.
Visit an Austrian Winery
Do you know how many hectares of vines there are in Vienna? A whopping 700! And if that doesn't tell you that Austria knows a thing or two about great wine, then I don't know what will! One of the most wonderful romantic things to do in Vienna is to sip on the fruity and flavoursome homegrown wines at one of Vienna's best wineries. Weingut Cobenzl offers a great tasting tour and Esterházykeller, a small tavern with historical flair in the heart of the city, is also known for its great wines. Regardless of your preferred beverage, you'll love a wine tasting in Vienna – just be sure to work out the tram route back to your hotel before you arrive!
Watch the Animals at Schönbrunn Zoo
I utterly love going on a day trip to the zoo. It's one of my favourite things to do with my fiancé and I'm sure you'll agree that it's certainly a romantic day trip. Tiergarten Schonbrunn, or Vienna Zoo, is located on the grounds of the Schonbrunn Palace. It's actually the oldest zoo in the world and was originally created as an imperial menagerie to house the Emporer's collection of exotic creatures.
However, from when it was created in 1752, to now, it's gained many more animals such as giant Pandas, Giraffes, Sloths and Elephants. With several authentic buildings from that era and coupled with more contemporary structures and statues, Vienna Zoo is a very pleasant place to walk through and is often regarded as one of the finest zoos in the world.
See a Panoramic View at the Donauturm Tower
There quite often isn't a more perfect end to a day's exploring a new city that to watch the sunset over a panoramic city scape from the sky. The Donauturm Tower will give you just that – if you arrive at the right time of course!
The tallest structure in Austria and among the 75 tallest in the world, the Donauturm Tower stands proud at a magnificent 252 meters high – almost as tall as the Rockerfeller Centre in New York City. Easily visible against the fairly low Vienna skyline the tower provides a completely different angle to Vienna and is most definitely one of the most romantic things to do in the city.
If you want to really impress your significant other, why not book a table at one of the two revolving restaurants? A glass of champagne against the sunset will certainly end the day on a high – if you'll pardon the pun!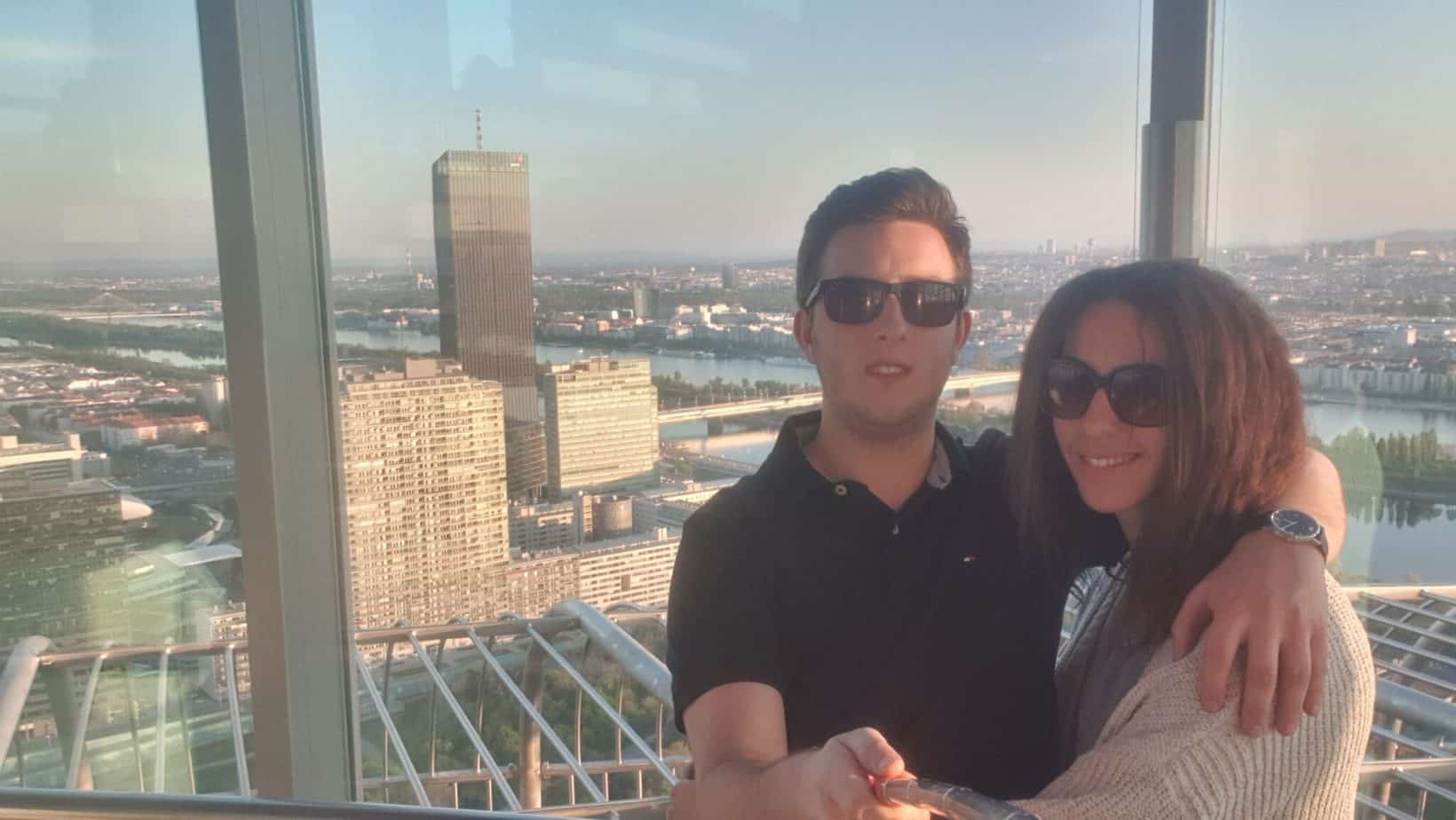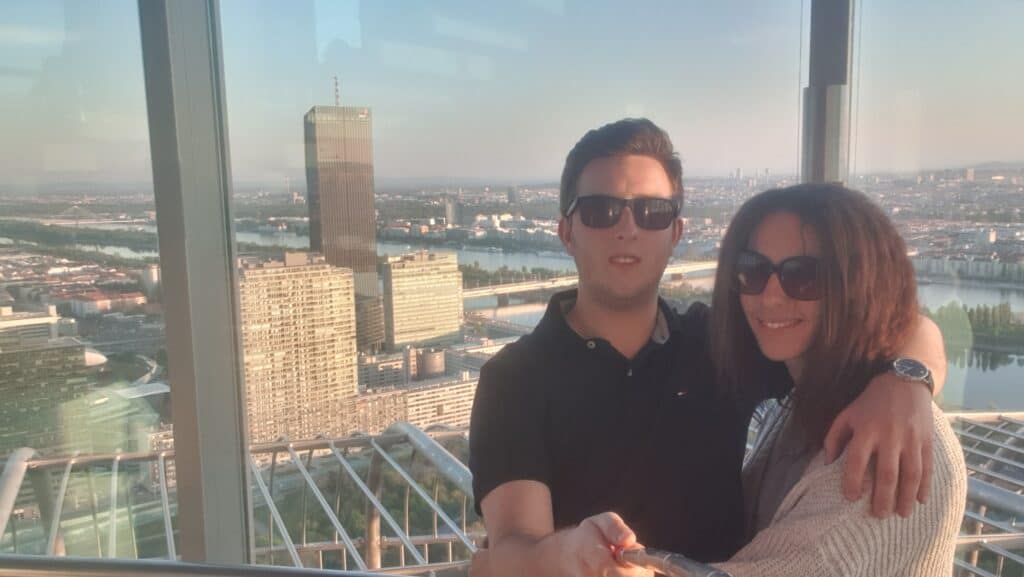 ---
About the Author: Wanderluster, freelance writer and author of The Ultimate Guide to Affordable Luxury Travel, Alice is an avid adventurer. Based in England, she gave up her soul-sucking career in IT sales to chase her dreams of travelling and writing stories. Now, she helps people save money and travel the world and has helped hundreds travel longer, cheaper and in style!
---
Read these next:
---