This post may contain affiliate links. Read our disclosure page for full details.
It's easy to discover many romantic things to do in Budapest, and Kate of Our Escape Clause is going to share them with us.th
Budapest: This epic European city is full of sweeping views, dramatic architecture, and fun things to do– in other words, it's the perfect place to escape to with that special someone. If you're looking for the enchanting side of the city, be sure to check out these romantic things to do in Budapest!
Visit the Szabo Ervin Library
I have to start with this one because the Szabo Ervin Library is one of our favorite romantic places in Budapest!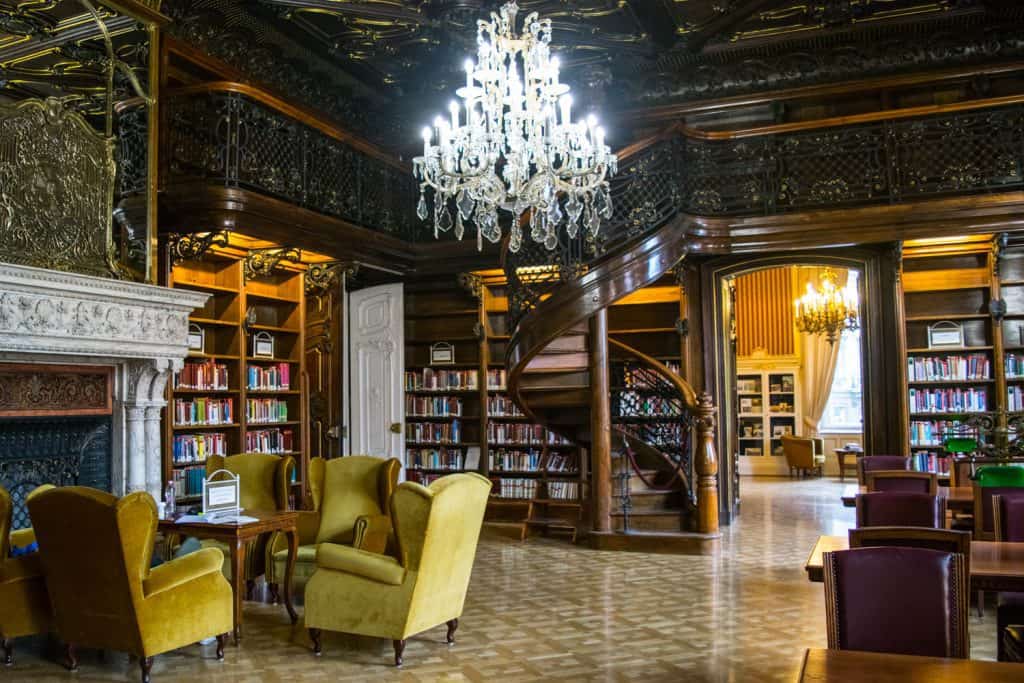 On the fourth floor of this otherwise pretty-but- fairly-unremarkable library sits a treasure trove of beauty: an entire wing preserved in all of its original glory– think Versailles meets the library from Beauty and the Beast.
Be sure to curl up in a corner with your partner and spend plenty of time admiring the views!
Stroll across the Chain Bridge
No visit to Budapest would be complete without a walk across the famous Chain Bridge, but the views and experience are even better when you are walking hand-in-hand with the one you love!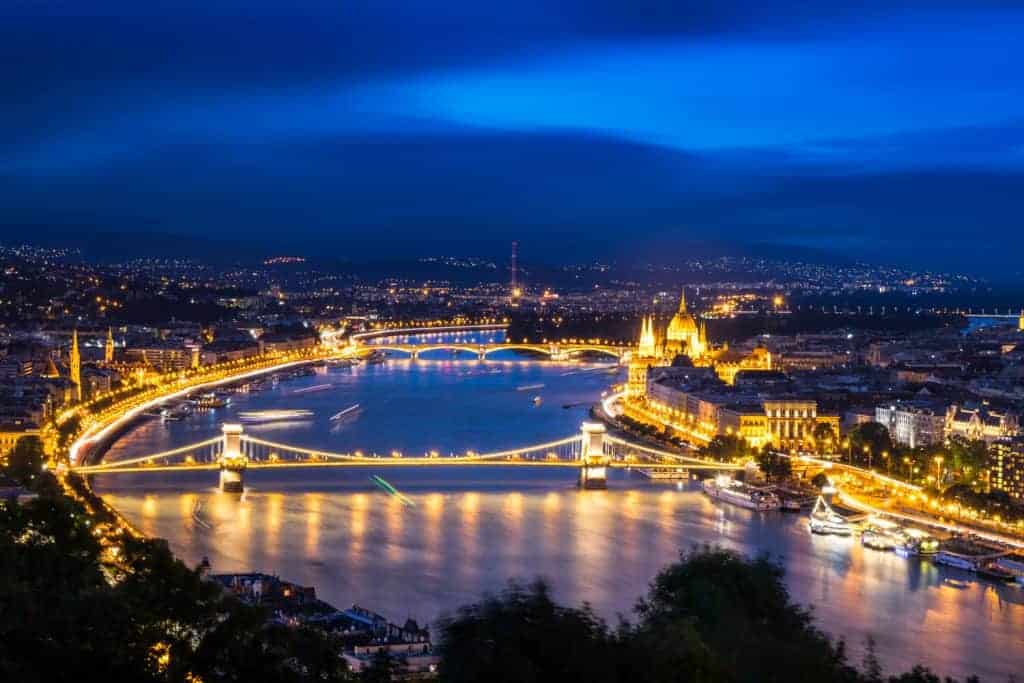 For maximum romance, we definitely recommend taking this walk at night, when the city lights are showing off Budapest's bridges and prettiest buildings to their full advantage.
Take a soak in the thermal baths
Budapest's thermal baths are the perfect spot for romance: a warm soak in a beautiful bath is the perfect way to spend a long afternoon in the city.
The Szechenyi and Gellert Baths are both very popular, but if your aim is romance, definitely pick Gellert! The opulence of their indoor baths will make you feel like you have walked into the The Great Gatsby.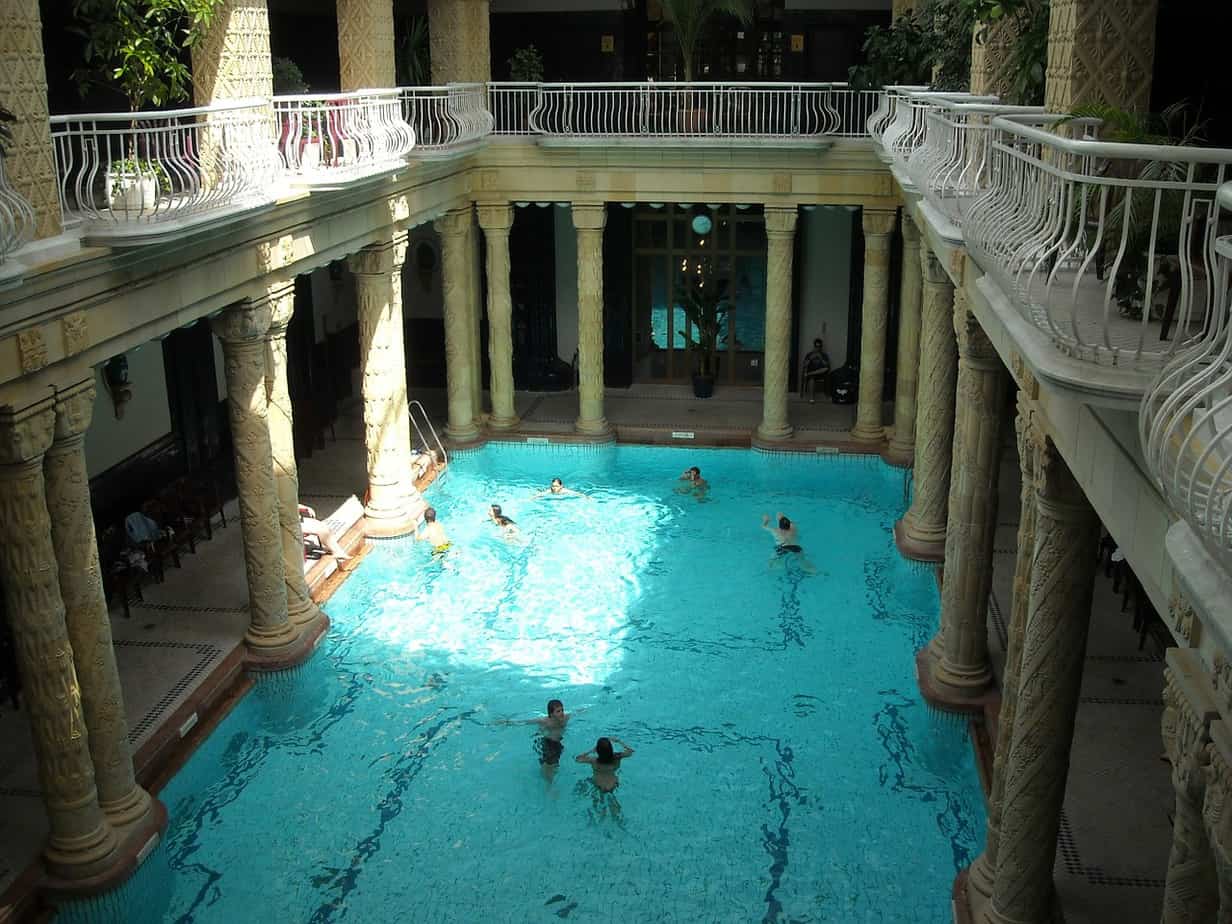 Go caving
Get your adrenaline pumping: an adventurous cave tour under Budapest will have you and your loved one problem solving, laughing, and testing your boundaries together– the perfect way to strengthen your bond!
Our tour guide when we visited the caves under Budapest literally referred to the cave as "an adult playground"– it will definitely have you guys feeling like kids again to slide, slither, and climb your way through the Earth together.
Enjoy Budapest's cafe culture
Budapest is known for its cafe culture– grand cafes and salons were all the rage in the city toward the end of the 19th century, and you can still see vestiges of the culture today.
The famous New York Cafe is often lauded as one of the most beautiful cafes in the world, but we preferred the lesser-known but still popular Central Cafe. True, it's not quite as ornate inside (though it is still incredibly beautiful), but it is far less crowded– much easier to grab a table in the corner and spend some romantic time with the one you love.
Whichever cafe you land on, be sure to try some Esterhazy Cake for us– we fell in love with Budapest's famous cake while in the city!
There's plenty of yummy places to drink (and eat) in Budapest.
See a show at the Opera House
The interior of Budapest's Opera House is magnificent, with gorgeous details and luxurious decor everywhere you look. What better way to spend a romantic evening in Budapest than by taking in a show with your special someone?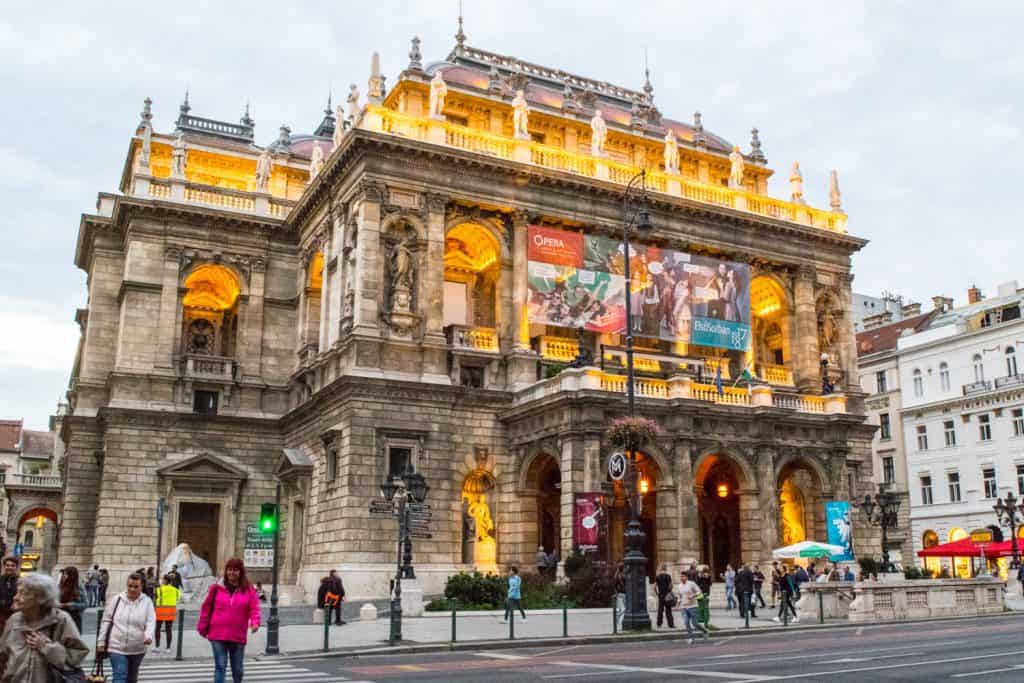 Explore the Labyrinth at Buda Castle
A chance to learn some of the sordid history of Budapest, Vlad the Impaler (aka the real life "Dracula"), and to cling to your partner as you wander through pitch-black hallways– how's that for a little romance and adrenaline rolled into one? This is one of the great date ideas Budapest has to offer for couples.
The Labyrinth at Buda Castle will definitely bring you closer together (literally!)– just be sure to hold hands when you approach the darkest sections!
Admire the views at Fisherman's Bastion
Budapest's famous Fisherman's Bastion is home to one of the best views of Budapest, and some of the prettiest spots to take those couple's souvenir photos that any romantic trip requires.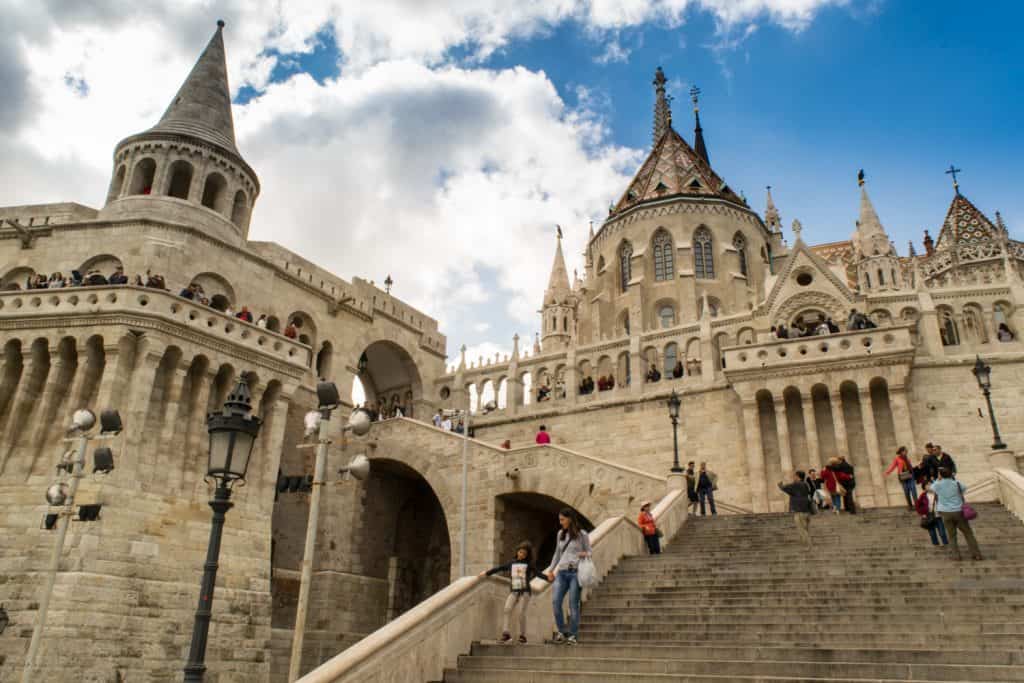 If you can swing it, rouse your partner early with some coffee and get to Fisherman's Bastion ASAP– the view is always wonderful, but it's far more romantic to admire it without the giant crowds that tend to appear later in the day.
Check out more free things to do in Budapest here.
Cruise the Danube River
Budapest's famous landmarks like the Parliament, Buda Castle, Matthias Church and more are absolutely stunning when admired from the water, and there's no better way to do that than on a river cruise.
Whether you choose an affordable group cruise, an intimate dinner cruise, or something in between, be sure to hit the river with your partner while in Budapest!
Schedule your cruise around sunset for the best views and maximum romantic impact.
Read Next: The Most Romantic Destinations in Europe
Watch the sunset from the Citadel
The best sunset spot in romantic Budapest is as high up as you can climb: head to the Citadel at the top of Buda Hill for sweeping views over both sides of the city, as well as a great view of the Danube River.
It can get cold up there, but be sure to stay until the lights come on: Budapest's bridges and famous landmarks lit up are absolutely majestic when seen from above.
If you get chilly, well– all the more reason to snuggle with your partner! Depending on the season, you may be able to find some hot chocolate or mulled wine for sale at a stall on top of the hill as well.
Pro tip: You can see some of the top sites of Budapest by hopping on a tour with Big Bus Tours.
Ride the Budapest Eye
One of the most romantic places in Budapest may be way up in the air!
Head up, up, up and away on Budapest's Ferris wheel for gorgeous views over the city and an excuse to sit close to the one you love! The Budapest Eye is tall enough to see most of the famous landmarks in the city, and includes a fantastic overhead view of St. Stephen's Basilica. If you're lucky (or go at an "off" time of day), you may even get a car all to yourselves– we did!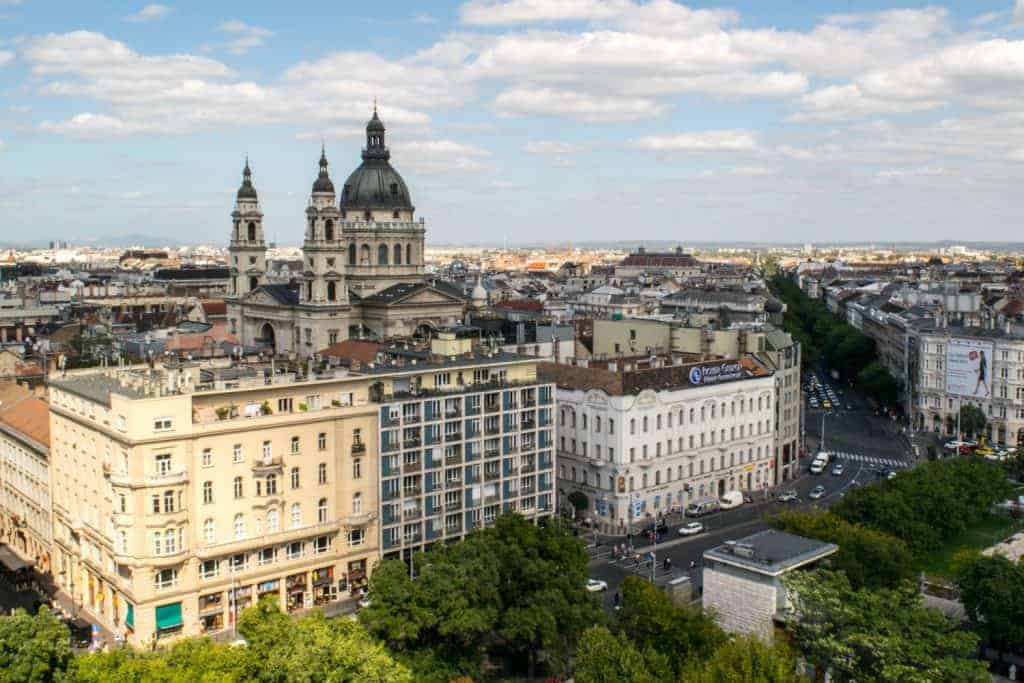 Budapest remains one of our favorite cities in Europe, for romance and for everything else. There are fabulous (and romantic) things to do in Budapest around every corner– which is one of the reasons we've visited twice, with more visits still to come in the future!
---
Author Bio: Kate Storm is busy traveling the world with her husband and documenting all the adventures (and how to pay for them) on her blog, Our Escape Clause. When she's not writing, you can normally find her on a hike somewhere gorgeous, swimming in a beautiful sea, wandering around a city, or planning one of the next thousand trips she plans to take.
Follow Our Escape Clause on Social!
---
Read Next:
---