Backpacking through Europe is something of a travel right of passage. Whether you're exploring the continent in your 20s or later in life, you'll want to make the most of this incredible, once-in-a-lifetime adventure. From firsthand experience, I can tell you there's nothing quite like backpacking in Europe.
I want to help you create the perfect trip. Combining my own trip experiences with additional research and up-to-date information, here is your ultimate Europe backpacking itinerary. The itinerary laid out below is designed to fill approximately 6 weeks of adventuring. However, you can easily adapt it to fit your needs, cutting out destinations that don't interest you, or shortening or extending your time in places you most want to see.
My European Backpacking Story
Let me start by telling you about my European backpacking trip. I'll be interspersing this Europe backpacking guide with my own stories, so it's important that you know where it begins.
The day after my 25th birthday, I decided I would fulfill a dream. I was going to backpack Europe. When my best friend Ryan agreed to come backpack Europe with me, I knew I was in for an unforgettable adventure. I was right.
We spent 45 days on a Europe backpacking route, exploring some of Europe's most famous cities. It was both of our first time on the continent, so we wanted to see as much as possible.
As 20-something backpackers, we were also looking to do so for as little money as possible (which means I'm going to pass on some of those budgeting tips to you!) Reflecting on it, I realized that Ryan and I were able to do and see A LOT for a very reasonable amount of money.
It's been more than 7 years since I eagerly boarded that flight to London. It's a trip that changed my life and spurred me on to continue pursuing travel.
Now I'm going to lay it all out for you: my 45 day European backpacking itinerary which cost roughly $3500.
Hopefully this will help any first-time European backpackers might benefit from our tips (as well as our mistakes).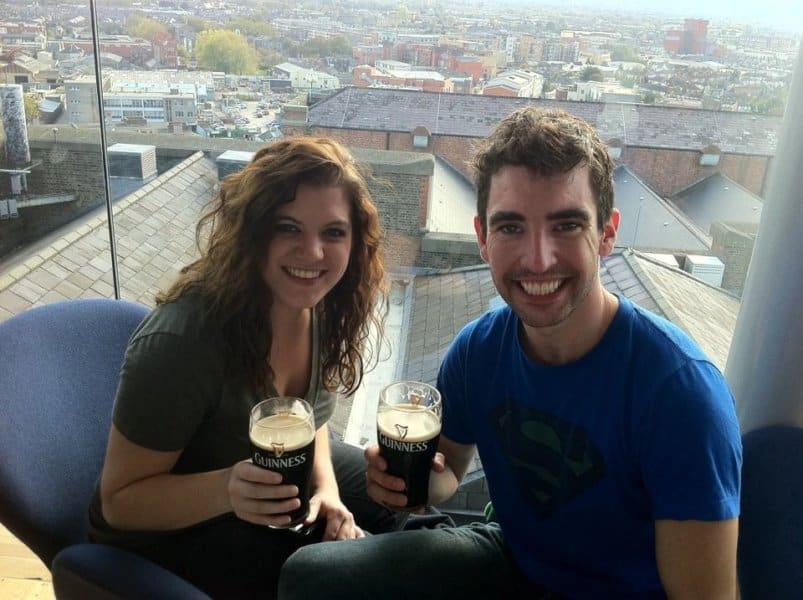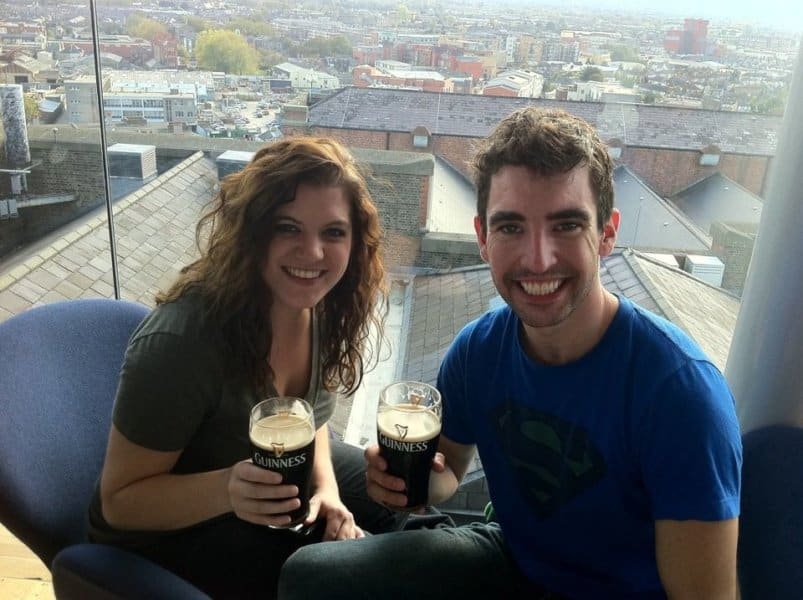 *Check out these other great resources, 60+ tips for backpacking Europe and a complete guide to backpacking Europe, which has additional tips, and showcases other destinations not mentioned here.
The General Budget for Backpacking Europe
Wondering how much it costs to backpack Europe? In 2011, I spent $3500 on this trip. I can imagine that pricing remains largely equivalent in 2019, and there are always additional ways to save.
I saved my money for 3 months before my adventure. Working as a waitress at the time, I took as many shifts as possible, often doubles. I worked at a really nice resort and often worked from 6am on room service duty until 11pm. My feet hurt.
In the end, this hard work really paid off, and I was some $3500 richer. A perfect amount for a quality, yet budget, backpacking trip.
First things first. A lot of my budget went to pre-trip necessities.
I needed a backpack (of course!), some travel essentials that I couldn't have lived without, like an electrical adapter and a quick-drying towel, and one very important item: my passport. I'd never been outside of the USA prior to this trip, aside from a quick Canada visit when passports weren't yet required.
Before we even left for Europe, I'd spent $100+ for the passport, $200 on supplies, and roughly $800 for my flights.
I got great deals on flights through Student Universe. At the time, as an under 27, I still qualified for a "youth" rate. My outgoing flight from Boston to London was around $300, while my return flight, Paris to Montreal, was closer to $500.
As I was living in Vermont at the time, I was planning to bookend my trip with bus rides. Megabus had just started offering services from Burlington at that time, and I was chuffed to nab a $1 ticket to Boston. Best deal ever.
Getting Around Europe
My Europe trip involved planes, trains, buses, and trams. Train travel is so wonderful in Europe, and it is extremely convenient and comfortable. Since we changed plans as we went, we purchased our train tickets individually. Alternately, you may want to purchase the popular Eurail train pass. A lot of people do this and it can be a good way to save money in Europe.
The Eurail Pass lets you have access to a set number of train journeys, for an all-in-one price. If you have a very firmly set Europe itinerary, the pass could be very advantageous to you. Learn more or get your Eurail Pass here.
The Best of Backpacking Europe Routes: Our Trip
While I will detail our precise itinerary below, our trip centered around 4-5 days in each city, with a plan to visit only one major city in each country. Our longest stint in any one place was Ireland, where we spent about 10 days. Our overall route was as follows:
London –> Edinburgh –> Dublin –> Killarney –> Galway –> Dublin –> Munich –> Prague –> Vienna –> Venice –> Paris
However, in my suggested itinerary, I'm adding two cities into the mix that I think you should not miss.
London –> Edinburgh –> Dublin –> Killarney –> Galway –> Dublin –> Munich –> Innsbruck —> Prague –> Vienna –> Venice –> Rome —> Paris
London
I'll never forget my flight to London. Because I was awake for the ENTIRE TRIP. Wide-eyed and eager, I did not sleep a wink on my overnight flight to London. Free drinks? 3 meals? I had amazing service on my British Airways flight and it got me even more hyped up to go overseas. The feeling of that first big travel experience can never be replaced.
Ryan had flown from NYC, so we met in Heathrow airport. The trip was beginning! That first day is a blur of Big Ben, pubs, the tube, and a massive headache that came on later in the day (due to lack of sleep and jet lag).
London Basics
Time: 3 Days
Where to Stay: Astor Victoria Hostel (on the cheaper side, though no hostels in London were less than $20 per night). It was comfy and perfectly adequate for our needs. Pick the perfect place with this list of best hostels in London.
What to Do: British Museum & British Library (both free!), strolling through several parks, walked through Mayfair, took many photos of famous sites, Platform 9 3/4!
What and Where to Eat: We saved money by having free breakfast at our hostel, takeaway sandwiches and fruit from Sainsbury's, and splurged on some dinners at The Blackfriar, and drinks at Ye Old Mitre (one of London's oldest pubs).
*Notes on London- There's way more to do in London that we never even touched. But with only a few days and being totally thrilled to simply be there, we were pretty content just exploring. As would become a trend for our trip, we had one nice meal out in the city, and saved money the remainder of the time eating in our hostel or on the go. We always allocated funds for drinks, however!
Edinburgh, Scotland
We hopped a Megabus to Edinburgh for $29 per person. A way longer ride than by train, but also far more affordable.
We arrived in Edinburgh the evening of October 6th. Edinburgh was an absolute dream, and remains one of my favorite places in the world to this day. I ended up returning the next year to do a Master's abroad.
I might be biased about Scotland because I met my husband there, but aside from that, it is a magical, historical place that will wrap you up and make you never want to leave.
Edinburgh Basics
Time: 6 days
Where to Stay: On a budget? Consider The Belford Hostel (super cheap at the time, and in an old converted church). In other visits to Edinburgh, AirBnb has been a great option.
What to Do: Stroll through Edinburgh Old Town, hike Arthur's Seat, take a free walking tour (*nearly all of the free walking tours we took were through Sandemans & we enjoyed them all very much), visit the science museum (free), drink whisky, take a fun (tips only) bus tour to St. Andrew's & a whiskey distillery with The Hairy Coo, go on a backpacker pub crawl.
What and Where to Eat: Haggis, of course! Also try Scotland's favorite soda, Irn Bru. For dining out in Edinburgh, I suggest dinner at Maggie Dicksons (delicious, but tourist prices), a meal at Deacon Brodie's Tavern, dinner at Whiski Bar & Restaurant, drinks at The Fiddler's Arms.
The pub crawl we joined took us to several bars and pubs of varying repute, most memorably, one known as Frankenstein.
*Notes on Edinburgh: I'd recommend all the tours and places mentioned above as none were a bad experience. Generally, however, to save money, avoid restaurants or pubs along the Royal Mile or in the Grassmarket area. I also wish we'd visited Edinburgh Castle, but at more than £20 per person, it was too pricey for us budget backpackers.
I've also been told since then that Stirling Castle is much more interesting inside. (Stirling is only 50 minutes by train and the castle is around half the price.) Also note, our food and drink budget got reigned way in after Scotland, when we ate and drink far too much for our modest wallets.
Dublin, Ireland
Next up is Ireland. On my trip, we had initially planned to take a ferry, but found that flights were cheaper. We purchased RyanAir tickets on a whim and got a good deal to fly easily from Edinburgh to Dublin.
We couldn't wait to see Ireland, and planned to spend 10 days there exploring a few areas of the country. We visited Dublin, Killarney, and Galway.
Dublin Basics
Time: 4 days
Where to Stay: Plenty of hostels to choose from in Dublin. Abbey Court Hostel and Generator are two popular, well-rated Dublin Hostels. For those on a higher budget, the Westin Hotel is absolutely lovely. Click here to search for affordable accommodation in Dublin.
What to Do: You can't miss the Guinness Storehouse– you'll get a fun factory tour with a free pint of heaven's nectar (AKA Guinness) in a 360-degree view tower bar. Also recommend: a free walking tour, visiting Trinity College (be sure to check out The Book of Kells and the phenomenal old library), the National Museum of Ireland, enjoying pints and live music in the Temple Bar district, strolling through parks, and much more. Dublin is a great spot to take a hop-on, hop-off bus tour of the city.
Where and what to eat: Guinness. Fish and chips. So many good pubs to choose from, you can't go wrong. We enjoyed a meal at the historic Brazen Head, one of the oldest pubs in Ireland. But you're on a backpacking budget, your go-to meal is likely to be dinner in the hostel!
Killarney, Ireland
Bus travel in Ireland is the way to go. Affordable and reliable, this is how we traveled from Dublin to Killarney to Galway and back. And some of the busses even had free Wi-Fi.
After spending so much time in the cities, we wanted to explore the Irish countryside, so we traveled to the quaint town of Killarney.
Killarney Basics
Time: 3 days
Where to Stay: Killarney Railway Hostel (wonderful hostel, would highly recommend!) Click here to search for the best hostels and guest houses in Killarney. For even more ideas all over the country, check out this big list of Irish hostels by our friend Janet of Journalist on the Run.
What to do: Walk through Killarney National Park , spot Red Deer, visit Ross Castle, go out for live music, take an amazing bus tour around the Ring of Kerry.
What and where to eat: Dinners in the hostel always go well (lots of pasta and storebought wine!), drinks at Murphy's Bar.
*Notes on Killarney: Very friendly people. Killarney was a sleepy little town, and it was a place we rested and relaxed. It also poured rain most of our time there–typical Ireland. I'd recommend it perhaps less for backpackers and more for couples seeking a romantic Irish countryside getaway.
Galway, Ireland
Then we went to Galway, my absolute favorite part of our Ireland trip, and really one of my favorite destinations on the whole European backpacking itinerary.
Galway is a small city, my favorite kind, and felt, to me, the most quintessentially Irish. I loved the combination of culture, art, and history.
We enjoyed so much live music and many fun nights out in Galway, of course, with the "Galway Girl" song playing in some pub or bar just about every single night. I felt like Galway was sort of a secret city, a hidden gem. Turns out Ireland is full of amazing secrets everywhere you go.
Galway Basics
Time: 6 days
Stayed: Woodquay Hostel (this hostel was so odd. It was a crazy mix of ages and residents who seemed to be long term boarders. It was an unusual lodging house feel but met our needs. We had the top floor dorm all to ourselves, which was great.) – Click here to search for affordable hostels in Galway.
What to do: Catch live music or attend a silent disco at a cool music venue call Roisin Dubh, explore churches, walk along the coast and the Sandhill Prom, take a DIY self-guided walking tour (or a free guided tour), check out the beautiful and famous Claddagh rings, listen to talented buskers, go dancing, and take a bus tour to the famous Cliffs of Moher.
What and where to eat:: Guinness of course. Dinner at Front Door Pub, drinks and live music at The Kings Head.
*Galway notes: Simply put, I had the best time here. From the Cliffs of Moher to seeing small towns and Dunguaire Castle along the tour to our nights out in Galway, it was awesome. I can't wait to take Nathan here someday soon!
Munich, Germany
At a horrible 5am in a downpour, we waited at a Dublin bus stop for the bus that would take us to the airport. Freezing and exhausted, we were not in our best spirits. Upon arrival to the airport, we headed through security.
I opened my bag to find my hair gel had exploded inside. 'Twas a rough start.
But off we were to the "real Europe," or at least that's what it felt like to us at the time. We were heading to Munich for a few days of German food and fun.
Munich Basics
Time: 4 days
Where to stay: Smart Stay Munich City (cleanest hostel I've been to) – Click here to search for affordable accommodation in Munich.
What to do: Take a free walking tour, take a humbling daytrip to Dachau concentration camp site, shop at local markets, visit the great pubs with fellow travelers.
What and where to eat: Best Schnitzel ever at Steinheil 16, drinks and pretzels at the famed Hofbrauhaus, delicious street food.
The Steinheil 16 restaurant that I recommended was AMAZING. Huge portions of delicious schnitzel at amazing prices. And the place is definitely not touristy. I highly suggest you go there!
I visited Munich a few years later with my family and we took a walking tour focusing on Hitler and the Third Reich. It was such a fascinating tour that gave us incredible insight into the (often dark) history of the city of Munich. I can't recommend it enough. For only €15 or 12 for a student, this 3 hours is 100% worth it. Check out New Munich Tours for more info.
Need more ideas? Here's a list of things to do in Munich.
Prague, Czech Republic
In Prague, we hit hard times. We had overspent a bit in the previous countries and money was running low. But, we still made the most of this wonderful Eastern European gem.
Prague Basics
Time: 5 days
Where to stay: Clown & Bard Hostel (very cheap, but a liiiittle sketchy, not gonna lie, don't know if I'd stay there now that I'm no longer on a European backpacking budget!) – Click here to search for affordable accommodation in Prague.
What to do: Take a free walking tour, wander through little markets, visit the Lennon Wall, explore the many gorgeous churches, climb the hill to Prague castle, admire the architecture, sample absinthe at Absinthe Time,.
What to eat: Fried cheese and sausages from street food carts, and lots and lots of plain pasta. Also, absinthe!
*Prague Notes: For the best photos, hit up Charles Bridge in the early mornings, before the majority of tourists are up. Also, Prague McDonald's: best McDonald's cheeseburger of my life.
Vienna, Austria
Vienna was next. We arrived via a Prague to Vienna bus, which was longer, but far cheaper than the train options. Vienna is beautiful. A pastel candy-colored city that is clean and pleasant.
It was a nice place for walking around, shopping, and enjoying cafes. Highly recommend visiting Vienna in winter. It's cozy and romantic….perfect for the holidays.
Vienna Basics
Time: 6 days
Where to stay: Seven Vienna hostel | Click here to search for affordable Vienna accommodation.
What to do: Explore St. Stephen's Cathedral, stroll around Zentralfriedhof, visit famous graves of Beethoven, Schubert, etc., visite the Palace Schonbrunn, stop by amusement park in the Prater, spend Saturday morning at the Naschmarkt.
What and where to eat:: Tea & omelettes at the gorgeous Cafe Sperl, dinner at small local restaurant, and if it's winter time, drink Gluhwein (hot mulled wine).
*Notes on Vienna: Vienna doesn't seem to be right for budget backpacking. With more money, we could have enjoyed a lot more that it had to offer. However, there are ways to get cheap tickets to the Vienna Opera!
Since that trip, I've been to Salzburg and Innsbruck and ultimately preferred those cities more. If you have one choice in Austria, I'd suggest one of those two for your European backpacking itinerary.
Venice, Italy
My first visit to Europe was not to Rome, but to Venice. I wouldn't visit Rome until a later trip.
We took a night train from Vienna to Venice which was a brilliant idea: it took care of accommodation and transport in one fell swoop. On a budget of course, we didn't pay for sleeping cabins but just for seats.
However, we were super lucky and had the compartment all to ourselves, so we stretched out to catch a few hours' rest.
I was wholly unprepared for how beautiful I found Venice. I had no expectations about the city (it was primarily Ryan's desire to come here), but stepping out in front of the grand canal literally took my breath away.
That might be the only time that has ever happened to me.
Venice was such a great time. I remember it very fondly. We ate and drank delicious (but cheap) food while sitting and admiring the canals, buildings, and atmosphere.
A gondola ride was out of the question (very pricey) but probably better for a romantic getaway anyway.
Venice Basics
Time: 5 days
Where to stay: We stayed at a budget hotel in Mestre, the city on the mainland that leads to Venice. This is cheaper than staying on the island. Click here to search for affordable accommodation in Venice.
What to do: Wander and get wonderfully lost on the main island, take vaporetti (water taxis) out to all the other islands (Burano, Murano, Torcello, etc.), eat pizza, drink wine, take a gondola ride if you want to check this romantic splurge off of your couples bucket list.
What and where to eat: Pizza, wine, bread. Repeat.
*Notes on Venice: Staying in Mestre saved us money, but it was a pain to get to Venice every day. You have to take a train out to the island. The price is affordable but it is a hassle. I think if I went again, I'd factor in the cost to stay on the island itself.
I highly recommend paying for a full day vaporetti ticket. Seeing all the other small islands around Venice was amazing, and the chance to get out on the water is hard to pass up.
Avoid the pigeons.
Paris, the City of Lights
Last but not least was Paris. Ah, Paris. A city that needs no introduction, beloved by many simply in photos and films (Need some inspiration for Paris?)
We intended to end our European backpacking trip on a high note! We spent 5 nights in this city, and did as much as possible.
Our dreams of a fancy French meal were dashed when we realized we hadn't budgeted well enough for it, but we bought fruits, cheeses, and baguettes from local market, and felt like kings and queens anyway. We were in Paris!
Paris Basics
Time: 6 days
Where to Stay: Do not stay at the Friends Hostel (check out the 94 terrible TripAdvisor ratings. I'd have to agree. See note below) Instead of the Friends Hostel, click here to check out tons of other places to stay in Paris.
What to do: Take a free walking tour, attend mass (or simply visit) at Notre Dame, explore the Louvre, Musee d'Orsay, Arc du Triomphe, Eiffel Tower, take the train out to Versailles (France has awesome palaces & castles), go on a self-guided walking tour of Montmartre complete with visit to the Sacre Coeur and an outdoor picnic of cheese, fruit, and wine.
*Check out this great guide to Paris for first-timers, as well as this 5 day Paris itinerary.
What and where to eat: Crepes, coffee, tea, wine, cheese, bread, and dine at any of the endless Parisian cafes.
*Notes on Paris: Paris was, as might be expected, the most expensive stop on our European backpacking itinerary. The cheapest hostel we could find was The Friends Hostel. It was 25 Euros per night, and it is one I would absolutely NOT RECOMMEND.
From intermittent Internet AND electricity, to freezing cold water, no lights in the pitch black shower room, non-functioning electrical outlets, and hostel dorms that had one communal KEY, this place was rough. Not to mention the rat I saw in the courtyard right next to the dirty kitchen. Yep.
Now that AirBnb exists, I'd highly recommend considering that for budget Paris accommodation.
Final Notes:
I haven't broken everything down individually by price because I simply don't remember it all. I do know that Ryan and I stayed within our $50 USD per day budget except for a few days, so the entirety of the trip stayed around the $3500 budget.
The hostels we chose were always based on low price, free WiFi, and if possible, free breakfast. Though I'd like to say we chose for safety and high ratings, this was not always true. So bear in mind, these are for the most part very budget hostels.
---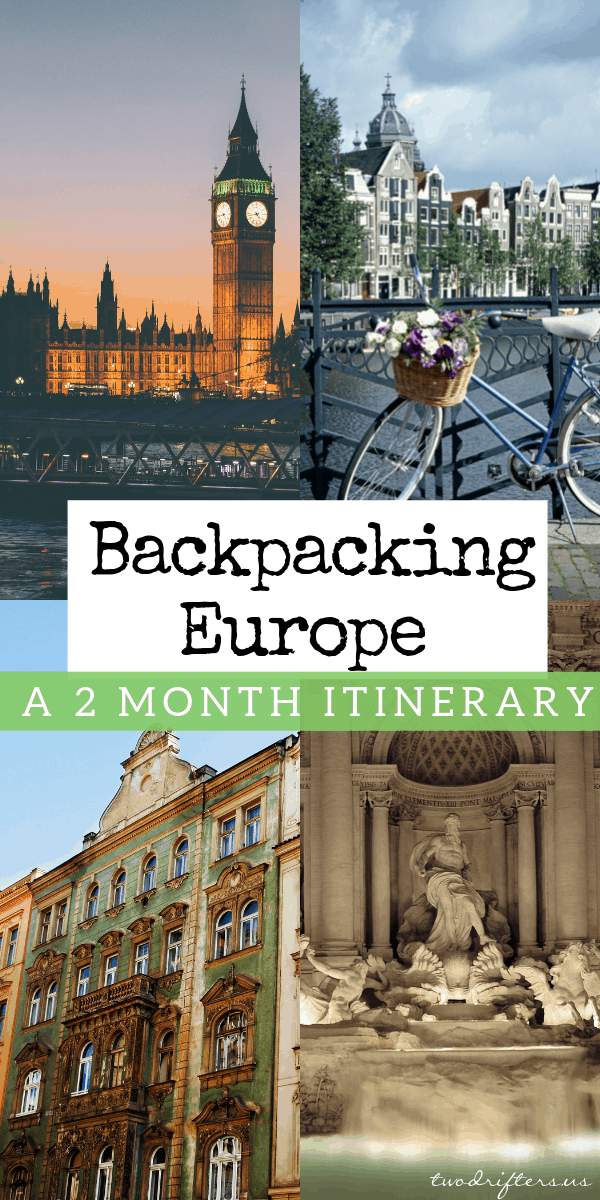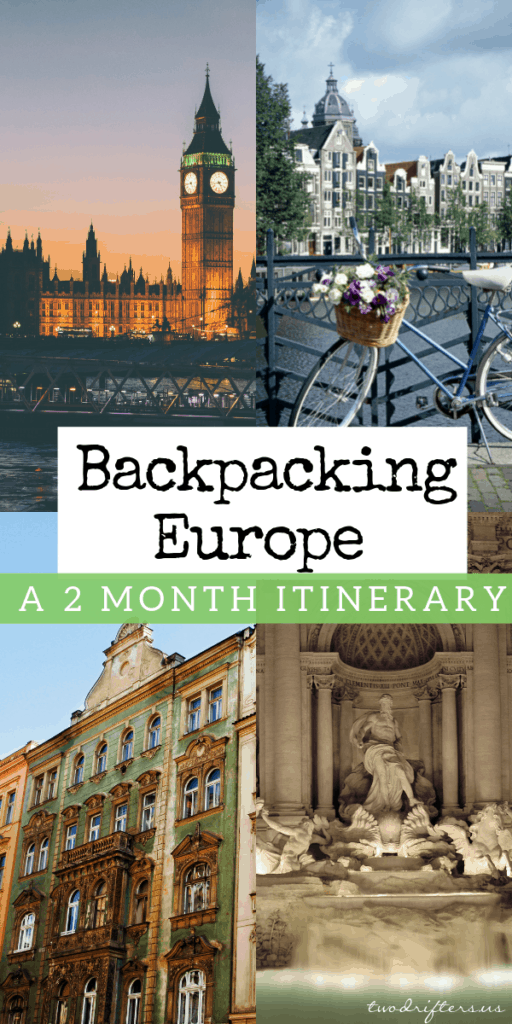 Have you backpacked through Europe? What was your itinerary? I'd love to know your thoughts! If you have any advice for would-be-backpackers, please share below!