This post may contain affiliate links. Read our disclosure page for full details.
Munich, Germany is the capital city of Bavaria. This famous city is known for its annual Oktoberfest celebration and its beer halls, but there's so much more to do and to see. This itinerary for 3 days in Munich covers all of the city's top sites.
In the Old Town (Altstadt) area you will find the central Marienplatz square, which has several landmarks inside. Outside of the city, and easy day trip from Munich, are many historic landmarks, regal castles and adorably quaint towns, including some how who celebrate Christmas all year-long. The friendly people of Munich, their efficient public transportation system, and their clean city make it a great place to visit.
Ready to plan your trip? Let's dive into this 3 day Munich itinerary.
This is a guest post by Aimee of One Chance Travel.
We've also got a Europe packing list that is designed for fall travel.
3 Days in Munich Itinerary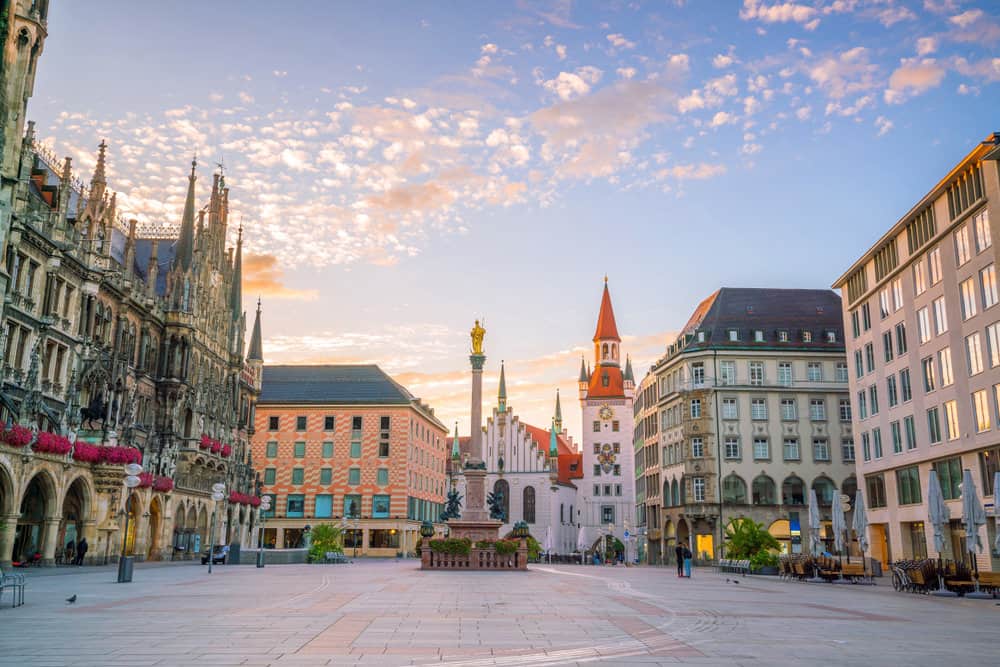 Day 1 – Old Town Exploration
On your first day you will want to explore the gorgeous city of Munich! You'll check out landmarks in Old Town like Marienplatz, see the city from a bike, and get a taste of that famous German beer.
Morning – Marienplatz
Marienplatz is the central square in Munich. Jump on the U-Bahn or S-Bahn at the Marienplatz stop to get there quickly and cheaply. This area used to host spectator events like jousting and today it hosts street performers. At Christmastime, there are tons of vendors selling holiday gifts at the popular Christkindlmarkt.
Note from Two Drifters: We loved visiting Marienplatz! It's such an iconic spot in the city of Munich and its Altes Rathaus (Old Town Hall) has beautiful photogenic architecture. Its famous Glockenspiel, or cuckoo clock, chimes several times per day. It's worth seeing if you happen to be nearby, but not so exciting that you should make a special trip to see it.)
Don't forget to stop at St. Peter's Church or Peterskirche, Munich's oldest and smallest place of worship. They offer free tours but charge a small fee to climb the stairs to the top! The stairs and cost are well worth it for the sweeping views of Munich below. Don't miss the glittering altar of the church and the jewel-decked skeleton of Christian martyr St. Munditia.
Nearby you'll find Frauenkirche, a Gothic church with iconic domed towers. It's also known as the Church of our Lady. Tours are free but you'll also pay to reach the top here. Another spot that's well worth it!
Afternoon – Bike Tour
The best way to see Munich is by bike! This is definitely a great and unique way to explore the city of Munich, so check out a guided half day tour with local guide.

Bike tours are generally held year-round and the organized streets of the city make it easy to get around.
Looking for other Munich tours? Here are some other options you might consider:
Two Drifters note: We've done the Third Reich walking tour in Munich before and it was incredibly interesting and informative for our entire group of travelers (pre-teens included). Would highly recommend this for all visitors.
Evening – Hofbräuhaus Beer Garden
Come and visit one of the most famous beer halls in Munich (if not in the world) – Hofbräuhaus! Built in 1589 as an extension to the Staatliches Brewery, it wasn't open to the public until 1828. Everything except the beer hall was destroyed in World War II bombings!
Known to get rowdy, this restaurant includes a ballroom and outdoor garden. Try traditional Bavarian cuisine like soft pretzels (Brezn), cheese dip (Obatzda), and sausages galore. You can get brews like Helles or wine. Check out the wall of personal steins owned by Munich locals, and dance to the classic Hofbräuhaus song. Dance all night long, or just drop in for a quick (and enormous) stein of beer!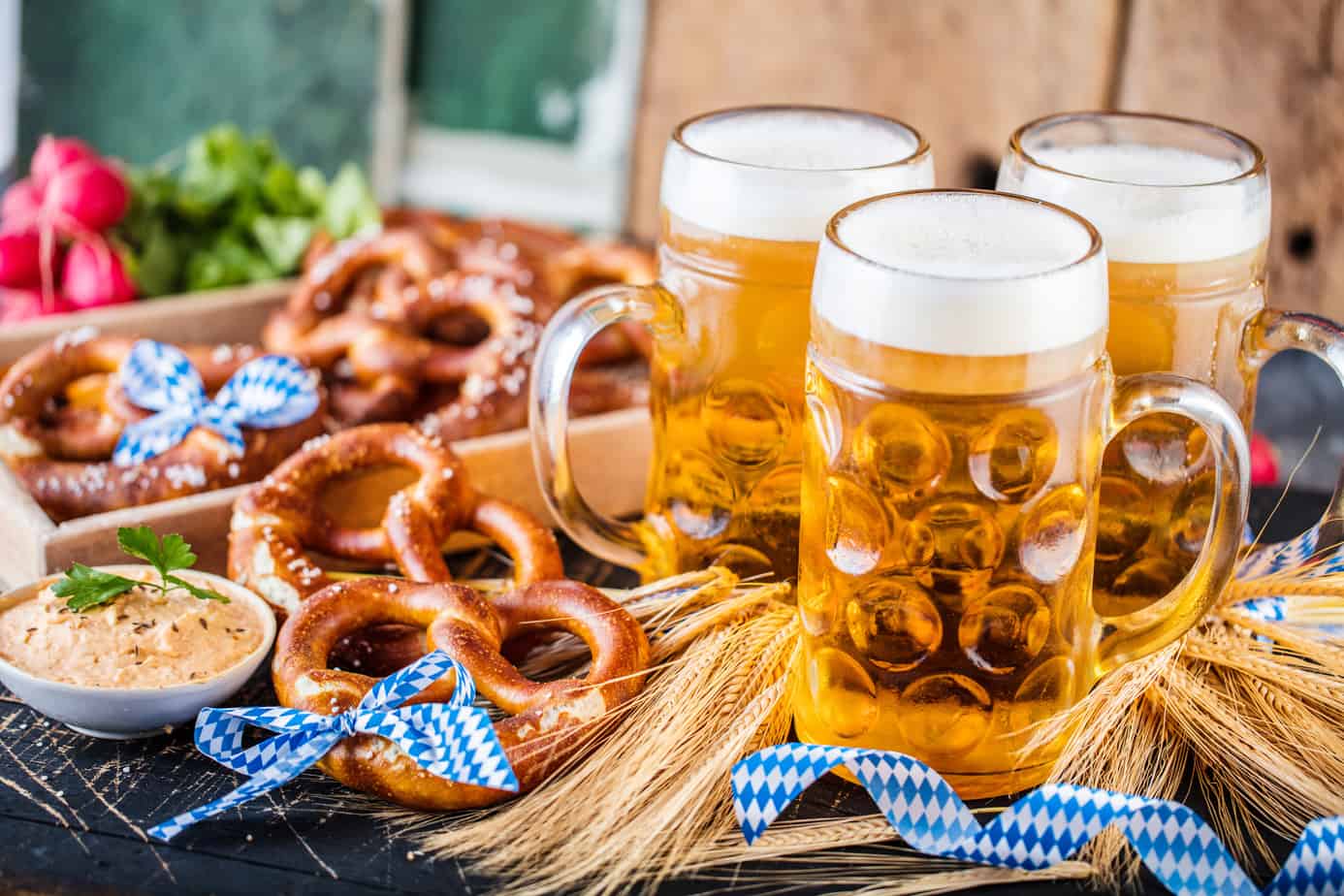 Day 2 – Visiting Castles
Now that you've seen the heart of Munich, explore the Bavarian countryside!
Today you'll visit two castles. One is the famed Neuschwanstein, which inspired Walt Disney to create his own castle. You may have seen a photo of the magical fairytale-style castle before.
We highly recommend booking a Neuschwanstein castle tour, as it's difficult to get to these locations without a car.
All Day – Castles Tour
Most day tours go to both the Neuschwanstein and Linderhof castles and last about 11 hours. The drive through the Bavarian Alps is second to none and is especially beautiful when the snow falls.
Linderhof Castle is a 19th-century Bavarian treasure, much smaller than Neuschwanstein but makes up for it with beautiful gardens.
Neuschwanstein is an inspiration, be sure to check out the bridge in the nearby hills for mouth-dropping views of the castle and nearby waterfalls. This palace belonged to King Ludwig II and reminds one of a fairytale. I highly recommend drinking from the water fountains here, it's the coldest and most pure tap water I've ever tasted! You could spend hours at the castle, but the tour will guide you to all the best parts of it.
Most tours will also take you to Oberammergau, a romantic village famous for selling wooden goods like cuckoo clocks and Christmas ornaments. Enjoy a snack and some free time here to wrap up your day at the castles.
Day 3 – Exploring Munich
Today is day 3 of your Munich itinerary, and we will continue exploring the heart of Munich, visiting some of its biggest landmarks.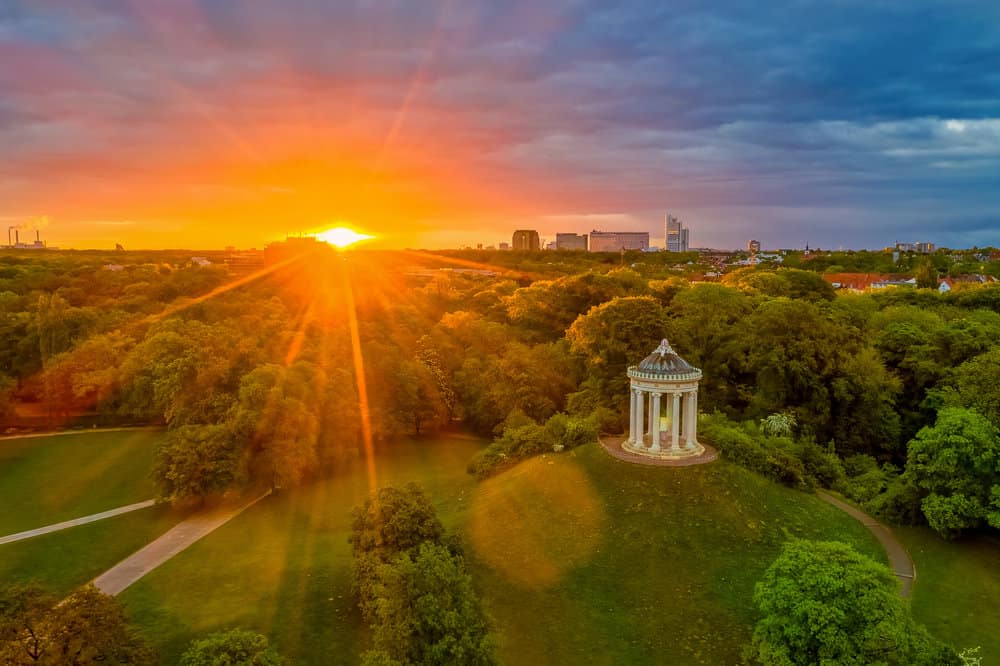 Morning – English Garden
The English Garden (Englischer Garden) is one of the biggest parks in the world, even bigger than New York City's Central Park. You can stroll 48 miles of garden paths, rent a paddleboat, sunbathe nude at Schönfeldwiese, or hit one of the four beer gardens inside.
There are also landmarks inside the park influenced by other cultures. Check out the Asian contribution at the Japanese Teahouse and Chinese Tower inside the garden, and visit the Greek Monopteros temple for some awesome views from the top.
Afternoon – Deutsches Museum
For those who love to indulge in the history of technology and science, don't miss this museum. It could easily turn into an entire day trip! It sits on an island in the Isar called the Museuminsel. Check out exhibits on subjects ranging from reproduction to aerospace, with many more in between.
Each field has an interactive exhibit, which kids will love. If you have children with you don't miss the Kids' Zone, which allows them to be even more hands-on.
Evening- Olympiapark
A bit outside of the city, Olympiapark hosted the 1972 Olympics and is still used for various activities. Ride a zipline, ski on the hill in the water, do watersports in the summer, and grab a snack all year.
This was also the place where the German team beat the Netherlands in the 1974 World Cup! This is a moment that is well-remembered today by Europeans.
Other Suggestions for What to See in Munich
Suggestions from Two Drifters:
Need a few more ideas for your Munich, Germany itinerary? There's plenty to do in this region, so choose the activities and sites that are of most interest to you. You can certainly see the highlights of Munich, even if you only have one day in Munich or just 2 days in Munich.
Day Trip to Dachau
Personally, we felt strongly about visiting the nearby Dachau concentration camp site. This is an extremely heavy and dark place to visit, but it is such an important thing to see for yourself. Visiting such places helps remind us of what evils humanity is capable of, and provides a sobering reminder that we can never let such a thing happen again.
That said, don't rush your visit to Dachau, as it takes a few hours to take in the whole site and you'll want to take it slow. You can explore on your own via an audio tour, which is what we opted for, going to Dachau independently by train.
If you'd prefer, there are also guided tour options to consider that come as a whole package, including your transport to and from the site. This guided tour comes highly rated.
Visit Nymphenburg Palace
You don't have to leave Munich proper to visit a royal residence. Munich is home to a Baroque palace known as Nymphenburg.
The palace is located in western Munich and can be reached by public transportation. Two options: take the S-Bahn (suburban railway) to "Laim", then bus to "Schloss Nymphenburg" or take the U-Bahn (underground) to "Rotkreuzplatz", then tram to "Schloss Nymphenburg".
The building itself is lovely but Nymphenburg Park is the real highlight. You'll see dozens of elegant white swans gliding along the lakes near the palace.
Eat the Best Schnitzel in Munich
Our unique recommendation is to eat at a place called Steinheil 16.
When backpacking through Europe, Amy stumbled across this spot. This cozy, unassuming restaurant serves the best schnitzel ever, in massive, delicious portions. And the prices are great. Definitely make time to relax at Steinheil 16; you won't be disappointed.
---
Whatever you decide to do in Munich, it's a great destination full of activities for everyone from retirees to families all the way to 20-somethings just looking for a tasty beer. This city is steeped in history, and you can still see parts of the impact of world events like World War II across the town. Whether you come for Oktoberfest or just to discover this corner of Europe, Munich is a fantastic destination.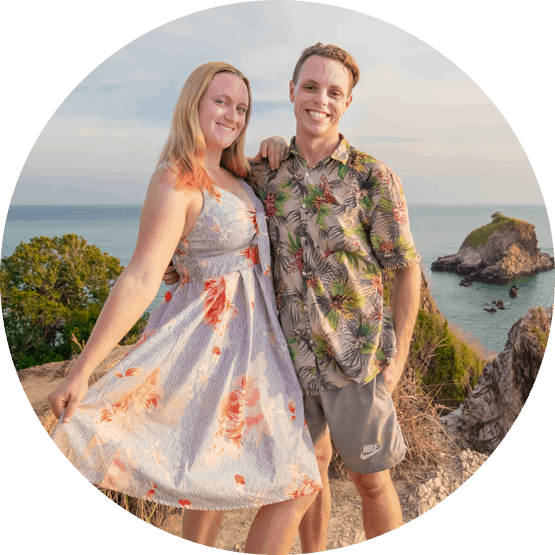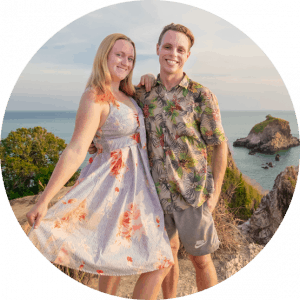 About the Author: Aimee Engebretson is a writer from One Chance Travel who fell in love with exploring the world at age 15 when she traded in her future-car-fund for a trip to Europe. Paris would end up being the first of many trips, and she continues to travel at every opportunity today between her career projects as a marketing manager. Check out her

YouTube channel

for tips on traveling and product reviews.