This post may contain affiliate links. Read our disclosure page for full details.
Are you looking for the best places to travel in Europe with kids? There are places that are better suited for family travel in Europe than others, so we've rounded up the top European vacation destinations for families with kids to help you plan your next family getaway.
Best Places to Travel in Europe with Kids
Barcelona, Spain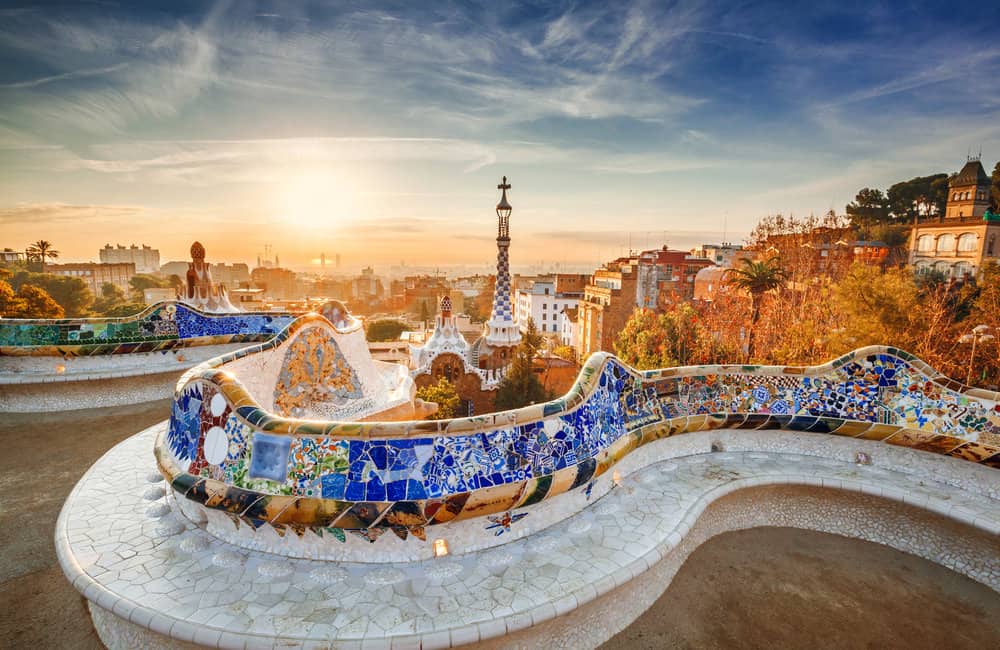 Barcelona is one of the best places in Europe to travel with kids, especially the younger kiddos. Not only do you have fairly mild weather to contend with year round, but there are several great kid friendly things to do in this European city!
Say hello to the animals at the Barcelona Zoo and L'Aquàrium Barcelona, have fun at the Tibidabo Amusement Park, explore COSMOCAIXA: The Science Museum, and marvel at the Montjuïc Magical Fountain, one of the top Barcelona tourist attractions for kids AND adults!
Barcelona has several great family friendly hotels to stay at, but Hotel Europark has a fantastic location surrounded by plenty of shopping, restaurants, and metro stations, so its a great home base for Barcelona travels with kids. Plus, it's within walking distance of Sagrada Família, a must visit tourist attraction, especially if you have older kids.
Another bonus of booking Hotel Europark: everyone in the family will love taking in a swim in the gorgeous outdoor pool!
Click Here to Check Prices & Book!
Dublin, Ireland
In a city like Dublin, there are family friendly activities all around, and getting around Dublin with kids is pretty straightforward as it's a very walkable city, and taking a Hop-on Hop-off Bus Tour with Dublin Bus can help you easily get the lay of the land!
Everyone in the family will love visiting spots like the National Leprechaun Museum (ages 6+), the Chocolate Warehouse, and the Malahide Castle and Gardens, where walking the Fairy Trail is always a popular activity for the little ones!
There are plenty of options for where to stay in Dublin with kids, but can anything be better than staying in a castle? To a kid (and most of us adults, honestly) there really isn't! The Clontarf Castle is a kid friendly castle to stay in in Dublin, with absolutely gorgeous grounds and family rooms and a variety of great amenities and concierge services designed to make your travel with kids that much easier.
Click Here to Check Prices & Book!
Lake Como, Italy
Located at the foot of the Alps, Lake Como is one of Italy's most family friendly destinations! With stunning scenic vistas, adorable villages, and plenty of indoor and outdoor things to do with kids, this European kid friendly vacation destination is always a win.
Aim for a trip in the beginning of summer for fantastic weather for exploring the many picturesque villages around the lake (one of Italy's largest!) and getting out on the lake itself. Not only can you hire a boat for private tours, but ferry trips around the lake to each of the villages are often high on the list of kids things to do in Lake Como!
You'll find kid friendly beaches all around the lake and Mini Golf Menaggio is a kid crowd favorite, too! If you've run into inclement weather, head to Kids Park – Via Pasquale Paoli – to get their energy out indoors.
Of course there are many options for where to stay in Lake Como with kids, but if you opt to stay in Como, you'll find plenty of cafes, restaurants, shops, and hotels like the Sheraton Lake Como Hotel that is very kid friendly with a large outdoor pool and a playground that is the perfect place for kids to play while setting your itinerary for the day. Some of the more upscale hotels may seem more like they tolerate minors rather than welcome them, but this is not the case at the Sheraton Lake Como Hotel.
Click Here to Check Prices & Book!
Lisbon, Portugal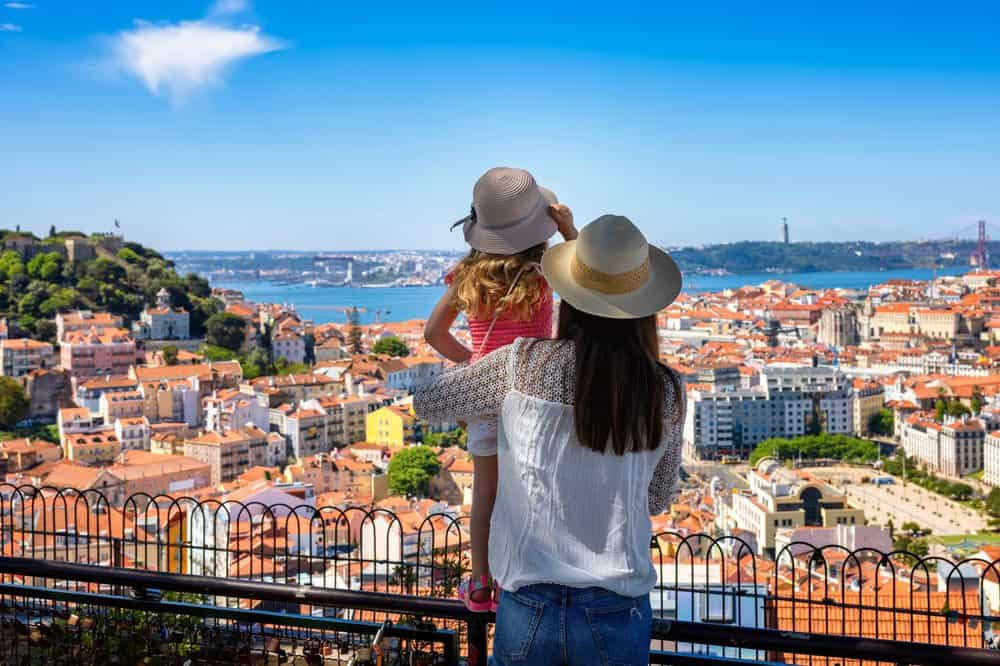 Lisbon Portugal is a fantastic family vacation destination in Europe for both younger and older kids – and their adults, too! One quick note re travel with kids in Lisbon is that most of the city and its popular attractions are very difficult to navigate with a stroller, so if you can opt for a baby carrier or let your kiddos walk, it will be easier to get around. There are quite a few staircases and hills all around the city, so little legs will get tired, but thus is life traveling with little ones!
With family friendly attractions like the Lisbon Aquarium, the Belem Tower (check out this private, kid-friendly tour!), the Adventure Park, the Tagus River (take a kid friendly amphibious tour of Lisbon on land and by water here!), and São Jorge Castle combined with streets that are colorful and cobblestoned and look like something out of a storybook, Lisbon is a lovely spot for a Europe family vacation.
There are many great places to stay in Lisbon, but if you're looking for a great family friendly accommodation, Martinhal Lisbon Chiado is very highly rated for stays with kids. In addition to being centrally located, the baby concierge and the Kids Club make it a very helpful place to stay with kids in Lisbon!
Click Here to Check Prices & Book!
Rovaniemi, Finland
Rovaniemi is one of the best places to travel in Europe with kids in winter time, because guess what's there? Why, the real Santa Claus, of course! Just a few miles south of the Arctic Circle, it is COLD, but oh so spectacularly gorgeous, and full of winter magic for families.
Kids will love visiting with Santa at Santa's Village, seeing the Main Post Office, scoping out Snowman World, going on reindeer sleigh rides, and snowmobiling, and when everyone's tummies are grumbling, head to the fantastic Snow Restaurant for a unique dinner experience that the kids – and adults – will never forget!
There are many cool places to stay in this kid friendly European vacation spot, but if you're looking for the perfect place to stay practically onsite of Santa's Village, consider booking a room at Nova Skyland, where you will be treated to fantastic amenities in beautiful suites and cottages, with plenty of space for the whole family.
Click Here to Check Prices & Book!
Triberg, Germany
There are so many great places to visit in Germany, but a family friendly vacation spot that can't be missed is Triberg, where you can explore many of the great tourist attractions of the Black Forest. Note that you will be better off renting a car for this European vacation spot.
Triberg is a beautiful town that has an interesting claim to fame: it is home to the World's Largest Cuckoo Clock! You'll also find the largest waterfall in Germany in Triberg, with several hike options to explore this beautiful area of Germany. Depending on the ages of the kids and everyone's stamina, there are so many great things to do in the Black Forest region with kids, so be sure to personalize your itinerary accordingly!
When it comes to where to stay in Triberg with kids, consider booking a room at the lovely Hotel Pfaff, situated right near the entrance to the waterfall. Booking a room at Hotel Pfaff often includes entrance to several of the tourist attractions in Triberg, as well, and with onsite dining and a playground for the kiddos, it doesn't get much better than this!
Click Here to Check Prices & Book!
Bruges, Belgium
One of the best European vacation spots with kids, this Belgium city has so many things that endear it to families traveling with little ones. Yes, it's a beautiful city that has plenty of eye candy, but it also has something else in the candy family: a chocolate museum!
Tour Choco-Story and learn all about the history of chocolate while sampling the goods, and you can even participate in a chocolate making workshop; making chocolate together as a family in Belgium would certainly be a great European family vacation memory. Other fun family activities include the Historium Bruges, where you can see the Middle Ages come to life through in person exhibits and an interactive VR experience, and the Children's Farm, an idyllic farm on the outskirts of Bruges with a playground, cafe, and plenty of space for kids to burn off all that excess energy!
Bruges is full of great places to stay, but the Crowne Plaza Hotel Brugge ranks high amongst families traveling with kids for its convenient location to so many attractions, its onsite restaurant, its indoor pool, and its welcoming staff.
Click Here to Check Prices & Book!
Edinburgh, Scotland
Edinburgh with kids? Absolutely! This is one of the best family friendly vacation spots in Europe, with so much fun to be had for all the family. Book a guided tour through Edinburgh Castle, a walking tour of the locations that inspired so much of the Harry Potter series (kids are free!), and a tour through Mary King's Close (for kids 5 & above, but the older kids will love it!)
Stop in at the Camera Obscura & World of Illusions to ooh and ahh at all the cool optical illusions and take in the rooftop views of the city. If you're traveling with older kids and teens, the Edinburgh Dungeon is a spooky tour through some of Edinburgh's darkest history, but it isn't for the younger crowd.
There are plenty of great places to stay in Edinburgh, but a great family friendly option is the Norton House Hotel & Spa, with gorgeous grounds, a pool for the kids in warm weather, and a spa for the adults who might need a little downtime after a long day exploring Edinburgh with the kids!
Click Here to Check Prices & Book!
Copenhagen, Denmark
With beautiful parks and playgrounds and kid-friendly attractions, Copenhagen is a fantastic European family travel spot, and it's also home to one of the oldest theme parks in all of Europe, Tivoli Gardens, a definite must visit on any family vacation in Denmark.
Also on the must visit with kids in Copenhagen list is the Experimentarium, one of the coolest hands on, interactive science museums in the world; there's something for kids (and their adults) of all ages at this museum! Other things to add to the agenda include the Copenhagen Botanical Garden, the Zoo, and the treasure hunt for the Six Forgotten Giants, beautiful wooden sculptures located on the outskirts of the city!
Copenhagen has plenty of hotels to choose from, but for a great kid friendly place to stay in Copenhagen, Tivoli Hotel gets high marks across the board for being the place to stay for families! Not only are family rooms comfortably accommodating, but the indoor and outdoor playgrounds, plus the pool and onsite restaurants means there's always something for the kids on the grounds at the hotel. This can be a major boon for families that have younger kids that need naps and older kids that need entertained!
Click Here to Check Prices & Book!
London, England
London is a classic Europe with kids vacation destination, in part because the public transportation and walkable neighborhoods make it so easy to get around. Of course, the whole family will enjoy a ride on the iconic London Eye and a sightseeing cruise down the River Thames, and the London Natural History Museum has one of the world's largest dinosaur collections!
Visit Sea Life London to see the adorable penguins, explore Madame Tussauds, take a Harry Potter tour to see some of the most famous filming sites for the beloved movies, and embark on a simple half day trip to Windsor, where you can see one of the Royal Family palaces and explore the castle and grounds. For the younger crowd, consider a visit to the always popular Diana Memorial Playground in Kensington Gardens, but do be aware the lines are often long to get in, but if you manage to catch it at the right time, it's a superb playground and the perfect spot for the kids to play!
London is full of cool things to see and do, and great places to stay, but if you're looking for family friendly accommodations in London, consider Park Plaza Westminster Bridge London, conveniently located to top family tourist attractions like Sea Life London and the London Eye, with an indoor pool, several restaurants, and a spa so the adults can relax and unwind after a full day of playing tourist in London!
Click Here to Check Prices & Book!
Paris, France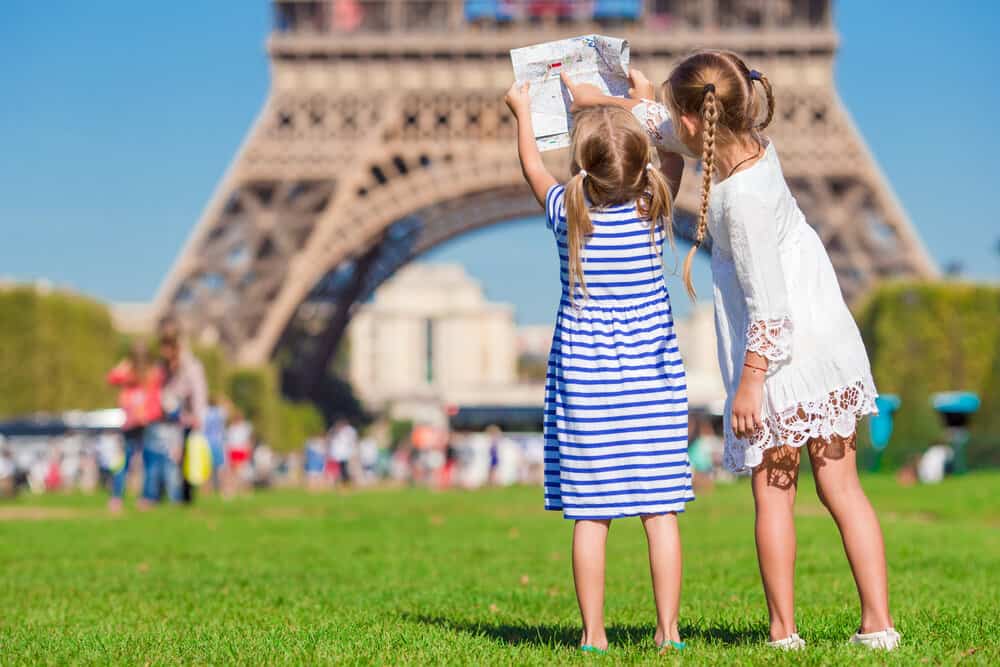 We know "Paris is always a good idea," but is it a good European city to visit with kids? It is! Once you figure out how to navigate the Metro, Paris' public transportation system, you'll be all systems go to get all around the city with your kids, but you will have a simpler time if you've got kids old enough to walk or still young enough to toss in a carrier.
Paris' most intriguing tourist attractions are often just as exciting for kids, as well, so the Eiffel Tower, the Louvre, and Notre Dame Cathedral will enthrall the older kids, but if you'd really like to make it kid-friendly, consider booking a private kids tour to personalize the experience for their age levels; this one includes a hot chocolate and croissants stop. Of course, can't forget about Disneyland Paris, either!
Paris has a ton of great options for where to stay, but if you're looking for the most kid friendly hotels in Paris, check out Le Bristol Paris, with features the whole family will love! The Kids Club and pool will keep the younger members of the family happy, while the adults will adore the stunning decor, inhouse dining options, and spa. Something for everyone is key to a happy family vacation in Europe!
Click Here to Check Prices & Book!
Stockholm, Sweden
Sweden has a well known reputation for being very family friendly, and Stockholm fits the bill with all kinds of things that make it a fantastic European vacation spot with kids! Not only is Stockholm a city that's fairly easy to get around with kids, but the many family friendly attractions offer something for all ages.
The Junibacken Children's Museum is a must visit for the younger crowds, and the entire family will adore the Gröna Lund, Stockholm's amusement park for all ages! Many choose to rent a bike to get around the city with bike trailers and attachments for the younger kiddos, and while there are many museums in Stockholm to visit, the open air museum Skansen is always a major hit with families!
Stockholm has no shortage of places to stay, either, but Radisson Blu Royal Viking Hotel is one of the most popular hotels for travel with kids with Family rooms and a Friends & Family Stay option that keeps you close if you opt for multiple rooms. Breakfast is discounted for kiddos, and the onsite indoor pool means fun splashing around together on your vacation!
Click Here to Check Prices & Book!
Europe with kids can be an absolute blast, but there are a few things to know. Strollers aren't always the easiest thing to navigate around on narrow, often crowded European streets, so if you've got the ability to opt for a carrier for little legs, take it! And of course, be prepared to take lots of extra stops and take advantage of the beautiful public spaces you'll often find in the destinations above, whether they be city fountains, greenspaces, or parks.
Even restaurants that don't offer a dedicated kids menu will often offer an option to get a half size meal, so don't be afraid to politely ask. It doesn't hurt to keep a few extra kid friendly snacks in your bag while traveling anyway, but it can be a definite advantage while dining with picky eaters in new restaurants.
And of course, be sure to invest in solid travel gear like a sturdy travel backpack to keep all the essentials easily accessible while you and your family adventure!
This list of the best places to travel in Europe with kids isn't comprehensive by any means, but it should be a good start!
You might also like: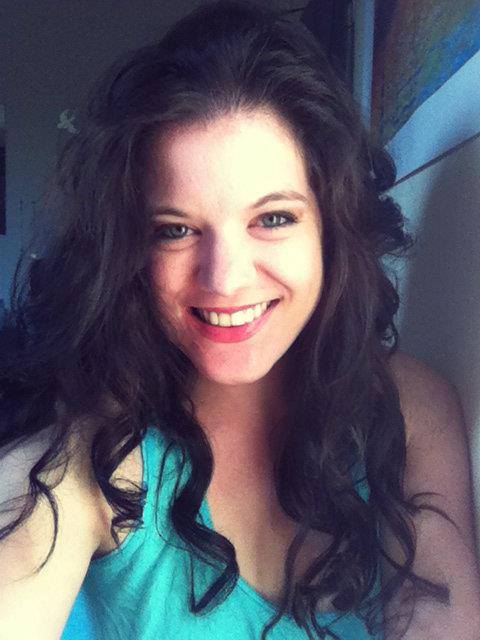 Amy Hartle is the author of Do You Love Me? How To Stop Seeking Reassurance in Relationships, a book on reassurance seeking and relationship anxiety. Both her book and this blog are born of personal experience; Amy shares expert relationship advice from the lessons learned during her own 10+ years with her husband, as well as couples travel tips and romantic getaway recommendations, all gleaned while traveling the world together.