This post may contain affiliate links. Read our disclosure page for full details.
This piece on the most romantic things to do in Lisbon is a guest post by Julianna of The Discoveries Of.
Lisbon is an incredibly romantic city – from the beautiful buildings to gorgeous walks along the river Tagus, there's no shortage of romantic things to do in Lisbon.
No wonder it's fast becoming one of Europe's favorite city breaks – especially for couples looking for a special getaway. Here's why you shouldn't miss it from any Portugal itinerary. here are 5 romantic things for couples to do in London.
Explore Belem
Belem is one of Lisbon's most beautiful areas and home to some of the city's most important historical sights: The Jeronimos Monastery, The Monument to the Discoveries and Belem Tower.
Where better to spend some time during your romantic Lisbon break than within these gorgeous historic buildings?
Much of Lisbon was destroyed by a huge earthquake in 1755, so Belem is actually one of the few areas in the city where you can see buildings predating the earthquake.
You can tackle them in whichever order you choose. The monastery is the most spectacular of all three- a breathtaking construction of traditional Portuguese Manueline architecture that dates back to the 16th century.
The monastery and attached church can get busy, so go early or late so you can both make the most of its magical atmosphere.
Belem Tower might not have the same grandiose appearance as the Jeronimos Monastery but this historical fortress boasts some of the most gorgeous views in Lisbon – down the Tagus towards the heart of the city in one direction and downriver towards the sea in the other. The stairs are pretty narrow to get to the top, but it's absolutely worth the effort.
The third must-see Belem attraction is the striking Monument to the Discoveries. It was built to commemorate Lisbon's important seafaring past in the Age of the Discoveries and features sculptures of those who played an important role. You can enter the monument and climb to the top for stellar views out over the Tagus – try and catch it just before sunset when the golden hour really brings the monument to life.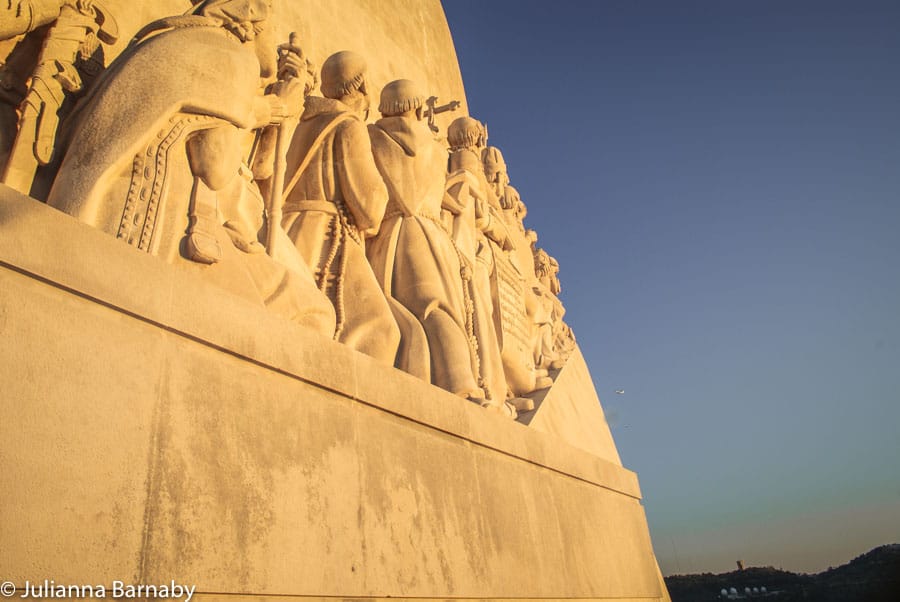 Cervejaria Ramiro
Lisbon is a foodie's dream. The city boasts a proud culinary heritage that you absolutely need to explore during your romantic city break in Lisbon.
Ask any local where to get one of the best seafood meals and chances are that they'll point you to one place: Cervejaria Ramiro.
What could be more romantic than lunch in a traditional Portuguese restaurant, slurping down oysters, accompanied by a crisp glass of vinho verde then followed up with course after course of the freshest seafood in town?
Now, Cervejaria Ramiro is a popular spot with locals and in the know tourists (the late Anthony Bourdain featured it in an episode of No Reservations) so you're likely to have to queue – but once you set to enjoying your meal, you'll agree it's totally worth the wait.
Psst! Wondering where to stay in Lisbon? If you're on a budget, check out these 27 Lisbon hostels to choose from.
Walk Along the Tagus and Pop into LX Factory
Although you can hop on the famous Tram 28 to get to and from Belem, it's actually a lovely walk along the banks of the Tagus back into the centre of town. While you could just do the walk without stopping, you should make time to pop into Lisbon hotspot LX Factory.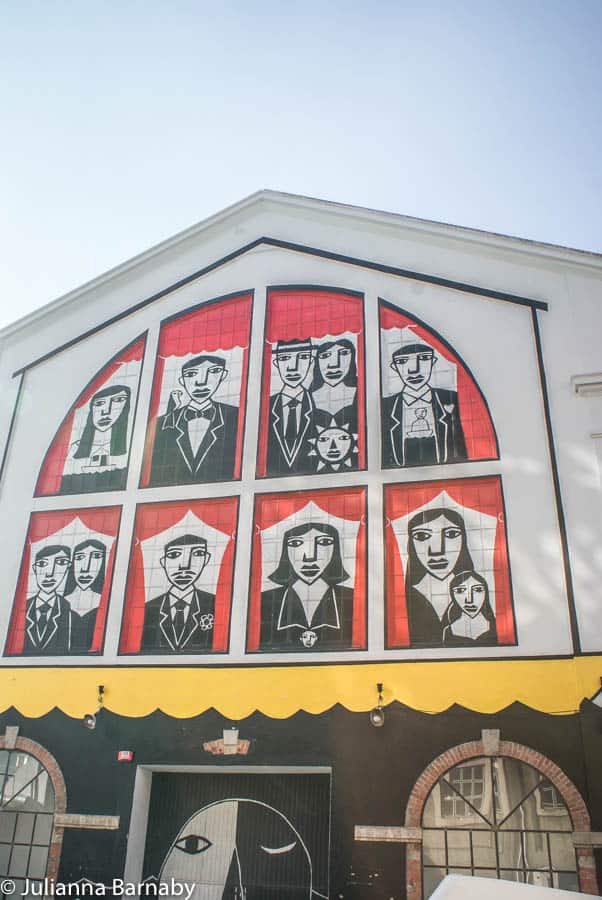 What used to be a cloth and textile factory has been reinvented into one of Lisbon's must-see destinations – an enchanting mix of independent restaurants, bars and shops – with some amazing street art added in for good measure.
There's plenty to keep you entertained, but I'd wholly recommend indulging your sweet tooth with a delicious slab of cheesecake at the heavenly LXeesecake – one is enough for you to share if you're not feeling too peckish, but it's hard to resist ordering one each – if only so you can both try a couple of flavours.
By the way, check out these excellent tips for your first visit to Lisbon.
Wander Around and Watch the Sunset in Alfama
Alfama is another of Lisbon's oldest districts – something that's not hard to miss when you're wandering along its narrow, cobbled streets between age-old buildings. This area is home to so many Lisboa traditions – most notably Ginjinha (a rather tasty liqueur) and Fado music.
A walk around Alfama is undoubtedly one of the most romantic things to do in Lisbon at any time of day, but it's doubly so at sunset. Make your way up the maze of stairs and steep streets to emerge at the gorgeous panoramic viewpoint at Portas do Sol. Their terrace is pretty much the best spot for sundowners in the city – from where you can both watch the sun set, bathing the city with its golden hues.
Take a Sidecar Tour of Lisbon
There's a lot to see in Lisbon and the endless hills can make exploring them all on foot a pretty tiring exercise. What better excuse for you both to do a private tour with a native Lisboeta on a vintage motorbike with a sidecar?
It's absolutely thrilling – the guides knew so much about the city and completely planned the tour itinerary around what we wanted to see and the things we were interested in.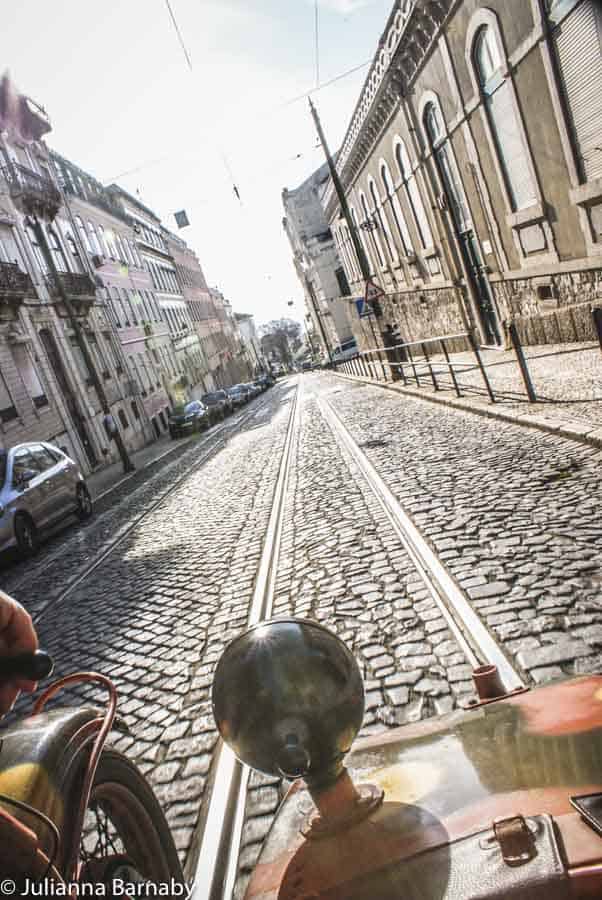 If you haven't seen them already, be sure to pop into the historic Castelo de Sao Jorge and the enchanting Jardim Botânico.
Whizzing around in the sidecar, with your partner propped up pillion on the motorbike is certainly one of the more adventurously romantic things you'll do during your time in Lisbon.
---
About the Author: Julianna is a travel blogger at The Discoveries Of – covering travel, culture and adventure for those that love to explore. When she's not travelling the world, you can usually find her delving into the weird and wonderful world of her hometown, London.
Instagram I Pinterest I Twitter I Facebook
---
Read these next:
---