This post may contain affiliate links. Read our disclosure page for full details.
This article on romantic things to do in Porto is a guest post by Marco Santos.
From the very first time I set foot in Porto, Portugal's second-largest city that is located in the north of the country, I fell head over heels in love with this stunning and truly romantic place.
From the gorgeous architecture, hospitable and friendly people, amazing views, through to the vibrant food and wine scene, Porto oozes a real sense of romanticism. With so much to see and do in Porto, it's the ideal destinations for any couple wanting to embark on that special romantic getaway.
And in this post, I will be outlining exactly that, detailing my personal favourite 7 romantic things to do in Porto.
Psst: Check out this post on romantic things to do in Lisbon, too.
7 of the Most Romantic Things to do in Porto
Take a Port Wine cellar tour & tasting
Speak of Porto and most travellers will instantly think of the famous Port Wine, a distinct treasure of Porto and the Douro region.
This strong and bold fortified Portuguese wine, only grown and distilled in this region, became a firm favourite of English traders back in the 1700's. So much so, that many of the Port Houses were bought over by the English, this being the reason why many of the Port Houses to this day have distinctly English names such as Graham or Croft.
What better place to enjoy this stunning wine, that comes in a variety of different flavour profiles, than in Porto. Peering across the river from Porto's banks, you'll see the riverfront of Vila Nova de Gaia on the opposite side with the various Port lodges dotted along and accessible by crossing the Ponte Dom Luís I Bridge.
Located here in Gaia is a host of the most popular and famous Port Houses such as Kopke, Cálem, Taylors, Croft, Porto Cruz and Graham to name but a few.
For us, the best tasting experience has to be at Graham's. Set up top a steep hill and perhaps a tad more difficult to get than the other busier Port houses, you get to not only enjoy a great cellar tour and wine tasting, but also get to admire gorgeous views as you look out over the city and river too!
For a little extra romantic flair, why not book one of the "Vintage Room" wine tastings set in a private tasting room, you'll get to try out some of Graham's more Premium and Luxury wines on offer.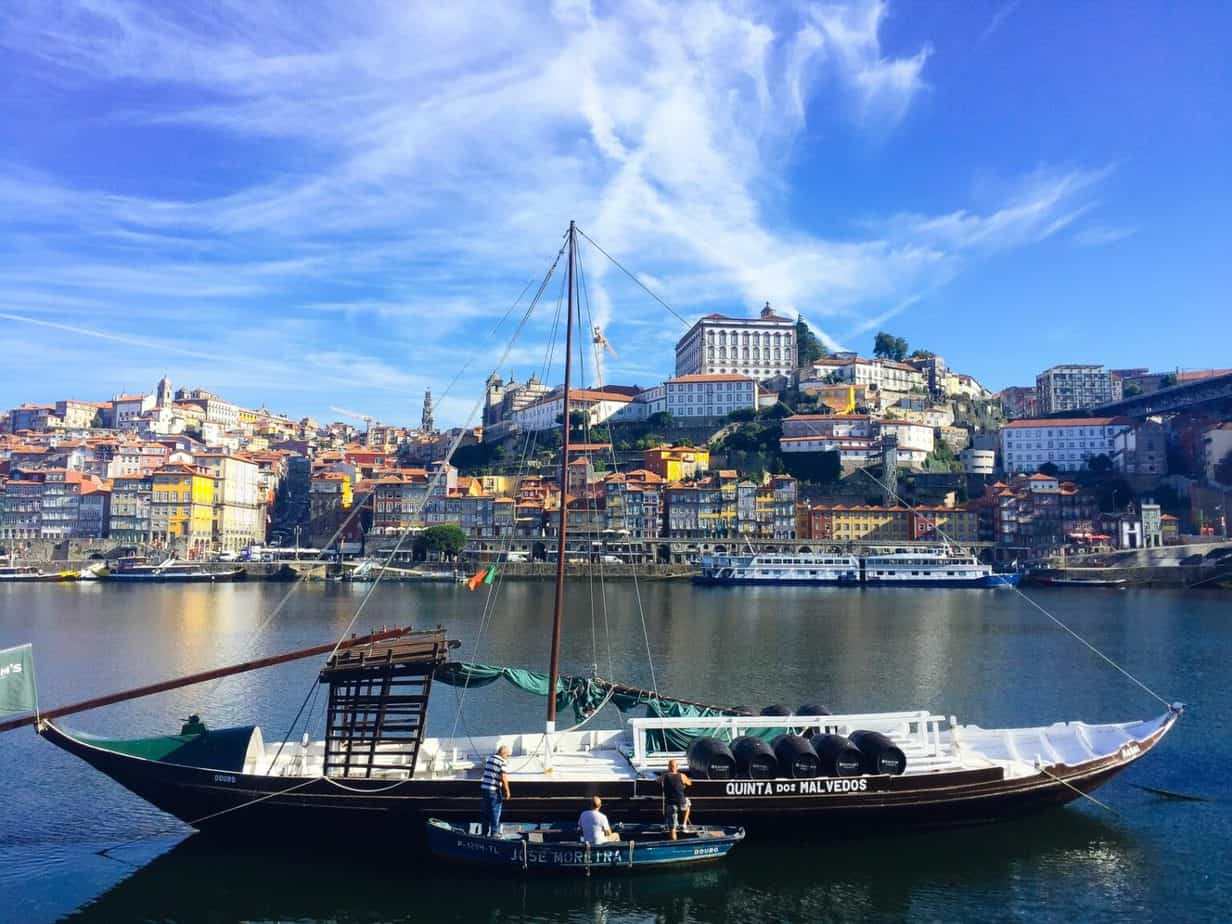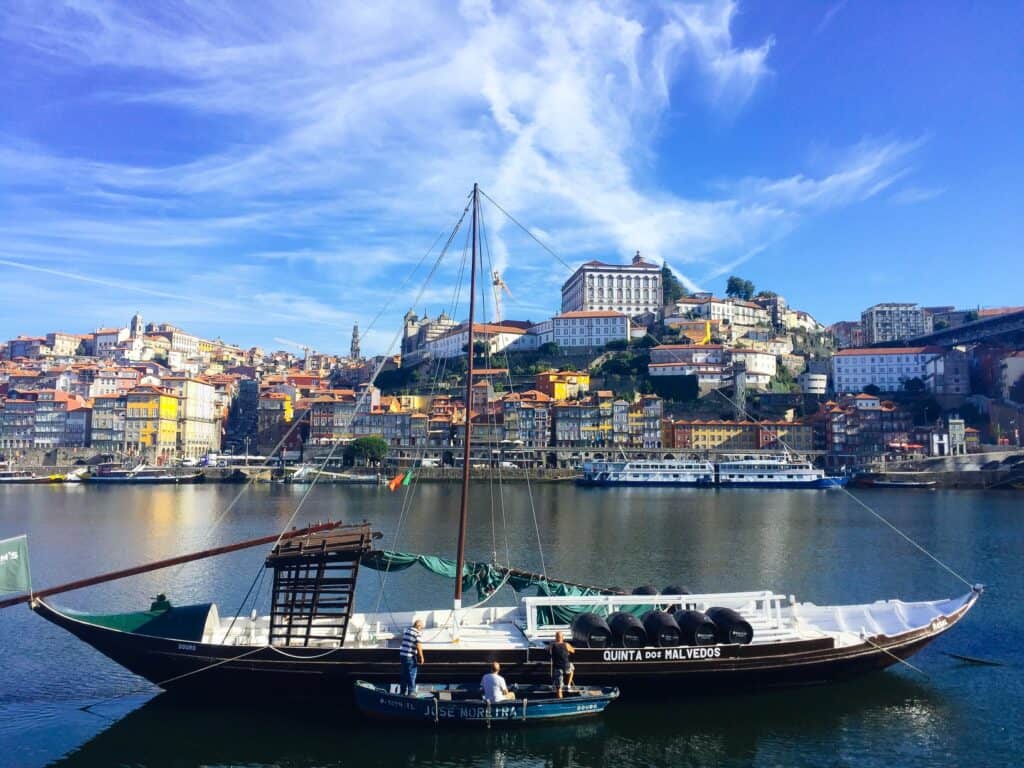 Ribeira Waterfront at night
If you've ever searched for pictures of Porto online, you've no doubt stumbled across the iconic riverfront imagery of Porto's Ribeira waterfront.
Set on the banks of the Douro river, this area is characterised by the many colourful and charming buildings crawling up the hill towards Porto's city centre.
It's a vibrant waterfront, often with street performers and musicians entertaining the crowds meandering along the river's edge. Truly picture perfect and very romantic.
Enjoy a romantic stroll along the riverfront, admiring the views across the river to Gaia. Or better yet, head down to the Ribeira waterfront at night to grab a drink or a bite to eat at one of the many eateries lining this stretch, all whilst lapping up the gorgeous views and twinkling lights across the river.
Book yourself into a Palace Hotel
What can be more romantic and fairy tale-like than staying in a real-life Palace?! Thankfully in Porto, and in fact across the country, you can do exactly that. All across Portugal you will find many Portuguese Palace Hotels that you can book into, like true royalty.
In Porto specifically, you can choose from a range of different hotels that once used to be palaces, smaller "palacettes" or noble estates. Some of which have retained an old-worldly air and charm, such as the Pestana Palácio do Freixo, whilst others have been updated to perfectly blend old and new.
These include the Maison Albar Hotels Le Monumental Palace, the Torel Palace Porto, the InterContinental Porto – Palacio das Cardosas and the PortoBay Flores hotels.
So, why not splurge a little and book yourself into one of these gorgeous Palace Hotels, adding that extra romantic touch to your next Porto visit.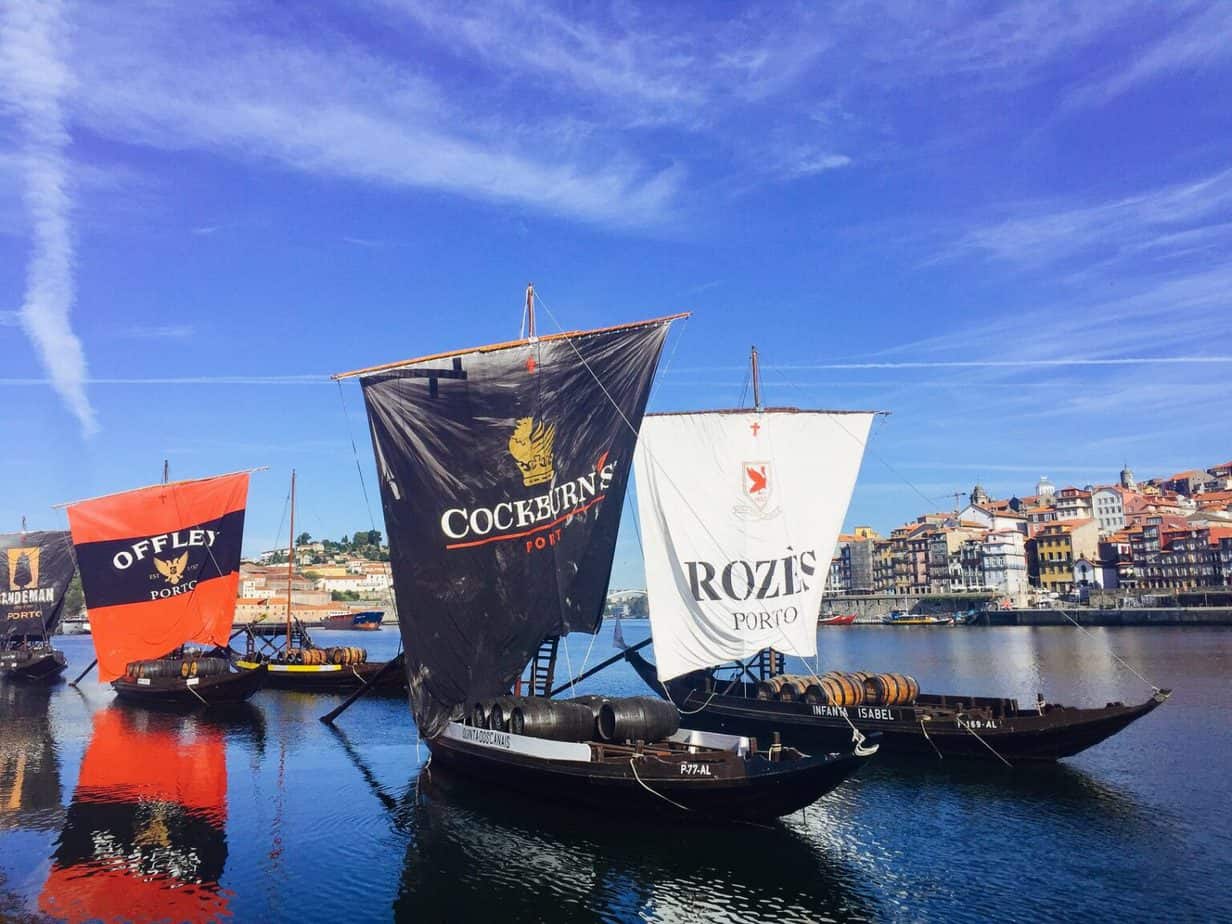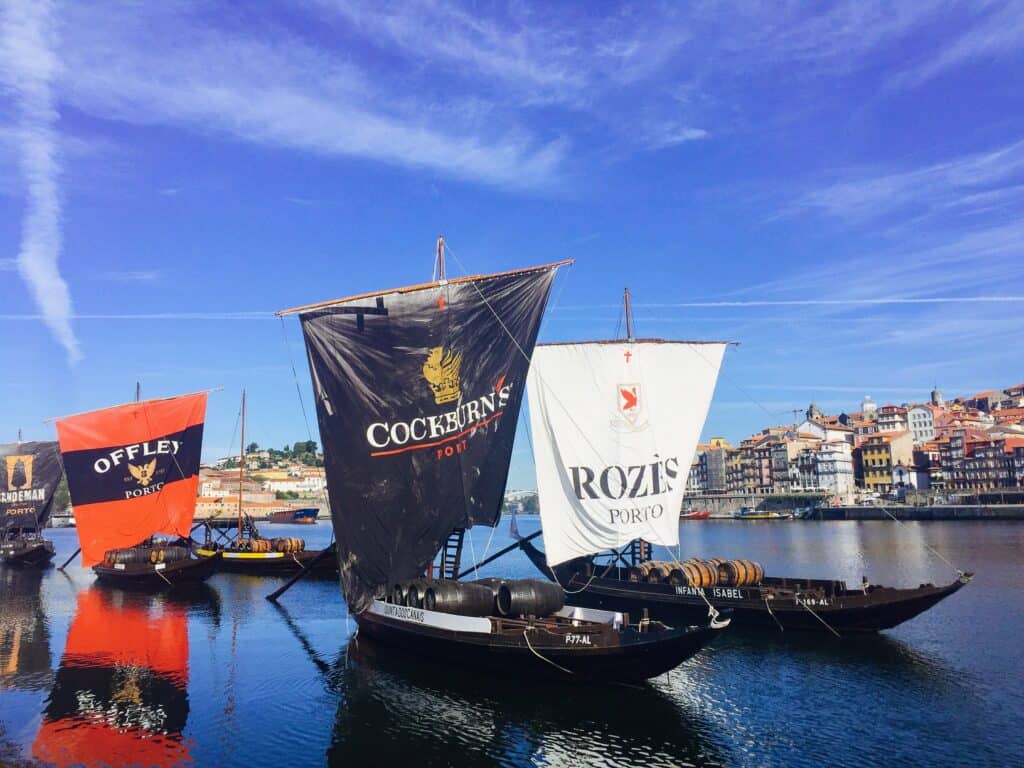 Savour the very best of Portuguese cuisine
Porto's food & wine scene is definitely hip and happening. Upon each return back to the city, I'm just amazed at the variety and choice on offer. Whatever your preference, you'll no doubt find it in Porto.
Try out the local dish of Porto, the excessive and indulgent Francesinha at Café Santiago, O Golfinho or O Afonso. Or why not give Pesticos, Portuguese tapas, a try at the very popular Tapas na Boca in downtown Porto.
For the ultimate romantic experience, go ahead and book a table for you and your partner at one of Porto's many Michelin starred restaurants. On the Porto side you'll find the 1-star restaurants of Antiqvvm as well as Pedro Lemos. Or, head across the river to the 5* Yeatman Hotel and dine at the 2-starred The Yeatman restaurant, all whilst marvelling back at the views out over the city. What could possibly be more romantic than that!
Admire the Breath-taking views from Gaia
Whilst we're on the subject of views, Porto certainly has its fair share of incredible views to admire.
On our last trip to Porto, whilst strolling along the Gaia riverfront side, we decided to catch the Gaia Cable Car (the Teleférico de Gaia) which runs all along the river and ends at the top of Dom Luis bridge. And boy, were we glad we did!
Not only are the views along the cable car ride itself amazing, but reaching the top you exit at a viewing platform with stunning sweeping views out over Porto. Located right behind this viewpoint you also have the garden of Jardim do Morro, where you can sit back, relax and simply take in the views of Porto ahead. Better yet, bring along a bottle of wine to top off what will no doubt be an unforgettable romantic experience.
Afterwards, be sure to head across the bridge on foot and appreciate yet more glorious views out over Porto city.
Visit the Stock Exchange Palace, Palacio da Bolsa
When researching top sights to see in Porto, we decided to head over to the Palacio da Bolsa, the Stock Exchange Palace set in the heart of the city. We almost didn't get to see this gem as you have to book a guided tour and time slots were almost sold out. But I am delighted that we decided to wait out our turn, as this palace is truly incredible.
As you are taken on a guided 45-minute tour, you get to learn all about the history of this beautiful palace that spans from when construction started in 1842 through to completion in 1902 and beyond.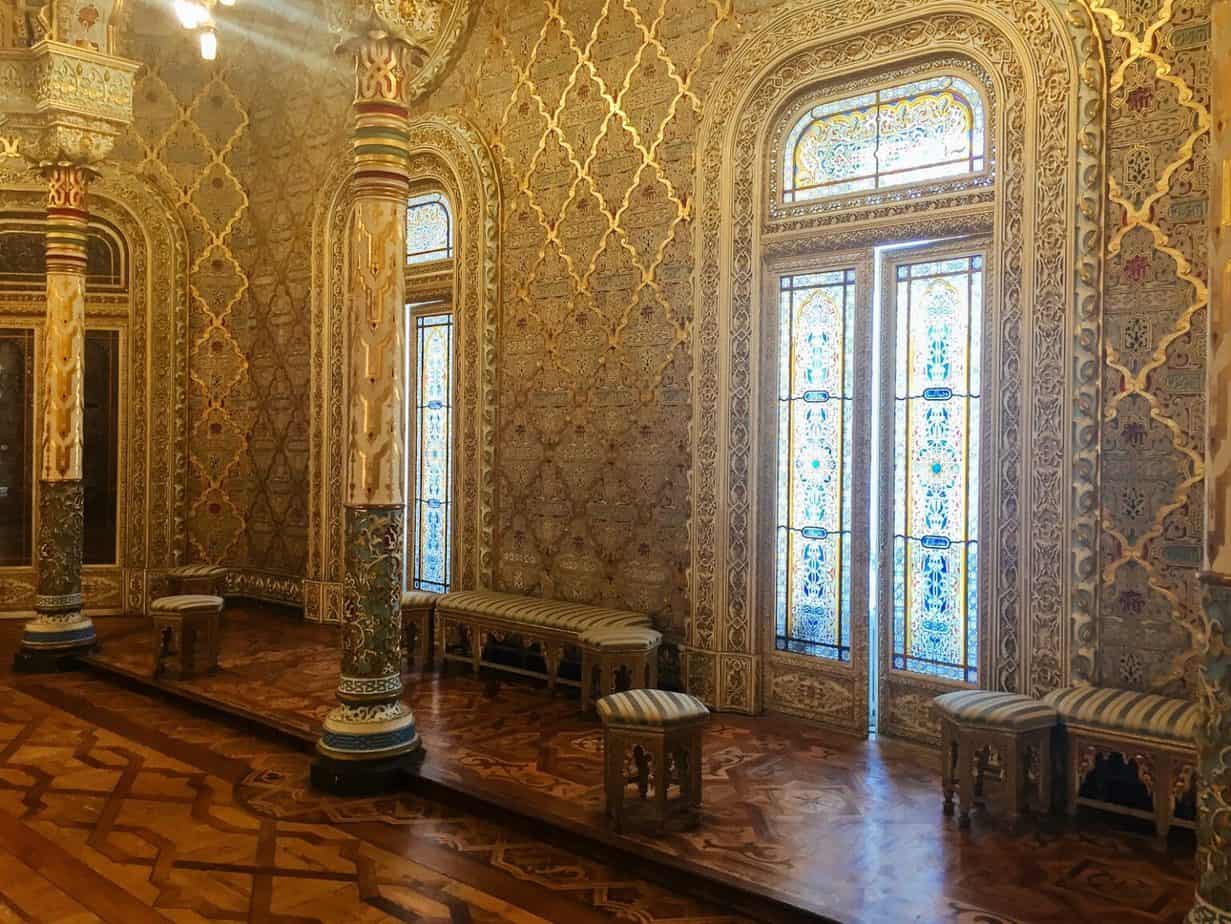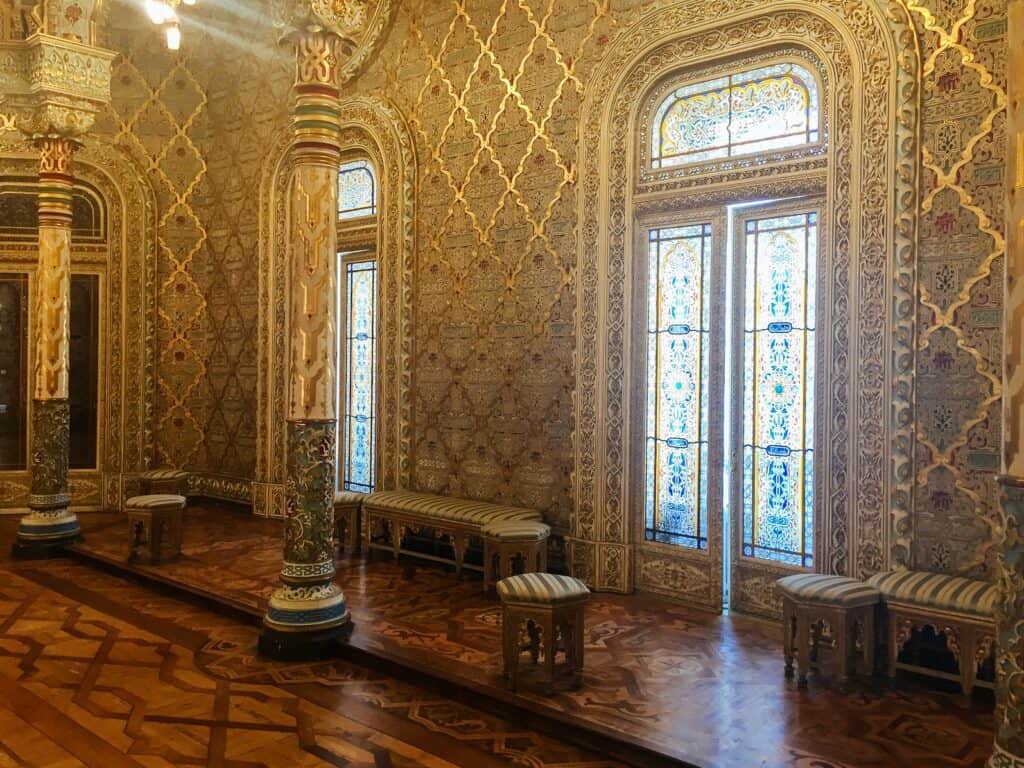 But what really makes this place truly special and delightfully romantic is the detailed and ornate interiors that ends off with the 'pièce de résistance', the exquisite Arabic Room.
The Arabic inspired style and detail in this room is incredible and left everyone entering for the first time speechless. Today, this room still hosts state banquets and official events and can even be rented out for conferences or events by the public.
I am so glad that we got to see this somewhat hidden gem and since our visit have been ardently recommending it to anyone planning a trip to Porto.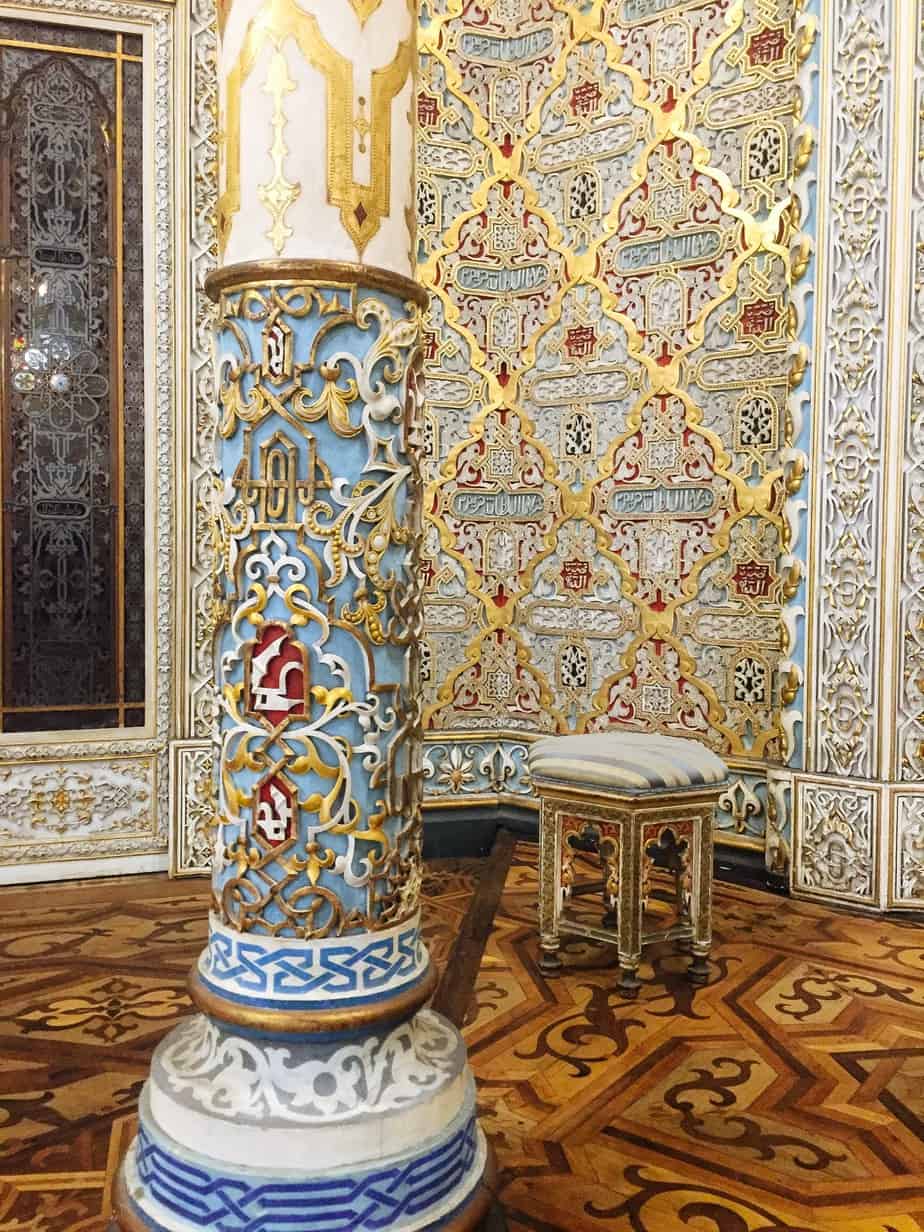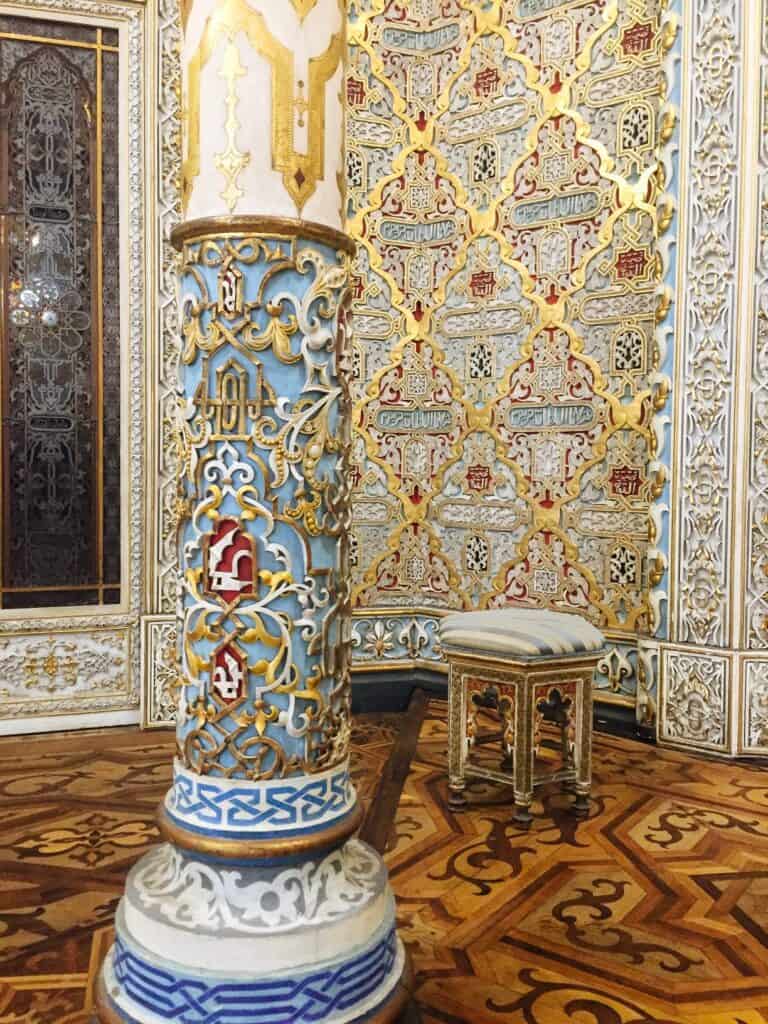 Take a day trip to the Douro Valley
Last but not least on my list of top romantic things to do in Porto, is to consider taking a day trip from Porto to the world-renowned Douro Valley region. In my mind, there simply isn't any better way to spend a romantic day out than being in the heart of Portugal's most beautiful wine country.
Due to its popularity there are many operators that offer both group or private bespoke day trips from Porto, often visiting several different towns and wineries along the way, usually stopping off for lunch, as well as offering the option to take a river cruise through the Douro Valley.
Apart from the amazing wines and gorgeous towns and villages in Douro, such as Pinhao or Regua, what everyone always comments on first is the picturesque landscapes, the rolling green hills and vineyards and yet more views that are simply to die for.
The best time to visit the Douro Valley is undoubtedly during the harvest season, usually starting sometime in September. Not only are there tons of harvest festivals and activities taking place, but the changing colours of the landscape as autumn approaches really makes it come alive.
If you feel a day trip to the Douro Valley may be too much to squeeze into one day, then consider taking an alternate day trip. Some of the more popular options, all within an hour by train, include travelling from Porto to Aveiro, or visiting the birthplace of Portugal, Guimaraes, or perhaps heading further north to explore Braga, notable for the amount of churches and cathedrals found here.
All of which are fantastic choices and a great way to spend a day out of the city.
Conclusion
Perhaps it's the architecture, the views, the delicious food and wine or simply the warm and welcoming people. Either way, Porto radiates a real sense of charm and romanticism. Without a doubt, the perfect romantic getaway when visiting beautiful Portugal.
About the Author: Born and raised in South Africa, Marco Santos from Travel-Boo, together with his partner
moved to sunny Lisbon over 2 years ago. On a mission to rediscover his own Portuguese heritage, Marco has set out to blog and share his passion for travelling through and exploring both Portugal and Spain, through his blog Travel-Boo.
Follow Travel-Boo on Social Media:
---