This post may contain affiliate links. Read our disclosure page for full details.
Athens is often overlooked in favour of Paris, Rome and New York when it comes to romantic cities, but when you think about the array of ancient wonders and the quaint Greek passageways, it really should be higher up the list! The city boasts traditional tavernas with blooming bougainvillaea, a plethora of chic rooftop bars, some fun, romantic activities and a collection of epic spots at which to watch the sun go down.
Here I've gathered together my favourite romantic things to do in Athens so whether you're visiting for an anniversary, your honeymoon or want somewhere picturesque to pop the question, you'll be able to find the perfect spot in Athens.
Watch The Sunset From Aeropagetu Hill
Watching a sunset or sunrise is a classically romantic thing to do as there's something really heart-warming about seeing the sky change hue from blue to orange, gold and red. One of the best romantic places in Athens from which to watch the sunset is The Areopagus (also known as Aeropagetu Hill). This is the rocky outcrop located to the northwest of the Acropolis. From here you can relax on the rocks, perhaps with a drink or snack in hand and take in the view of the Acropolis behind you and the sprawling scene of Athens out in front. As day turns to night the capital begins to glisten below you, getting you ready for an evening of adventure in the city!
Watch The Sunset From Lycabettus Hill
Another fantastic spot for sunset in Athens is Lycabettus Hill (also known as Mount Lycabettus). This hill is located on the other side of the city to the Acropolis, which enables visitors to enjoy a picturesque panorama of the capital and the Acropolis hill in all its glory. The Parthenon atop Acropolis hill is lit up at night, so once the sun sets you'll be able to admire the golden glow of the ancient ruins standing proud above the city. Travellers can reach Lycabettus Hill by funicular railway (from the Kolonaki region in Athens) which is another charming part of the whole experience.
Watch A Performance In Herodion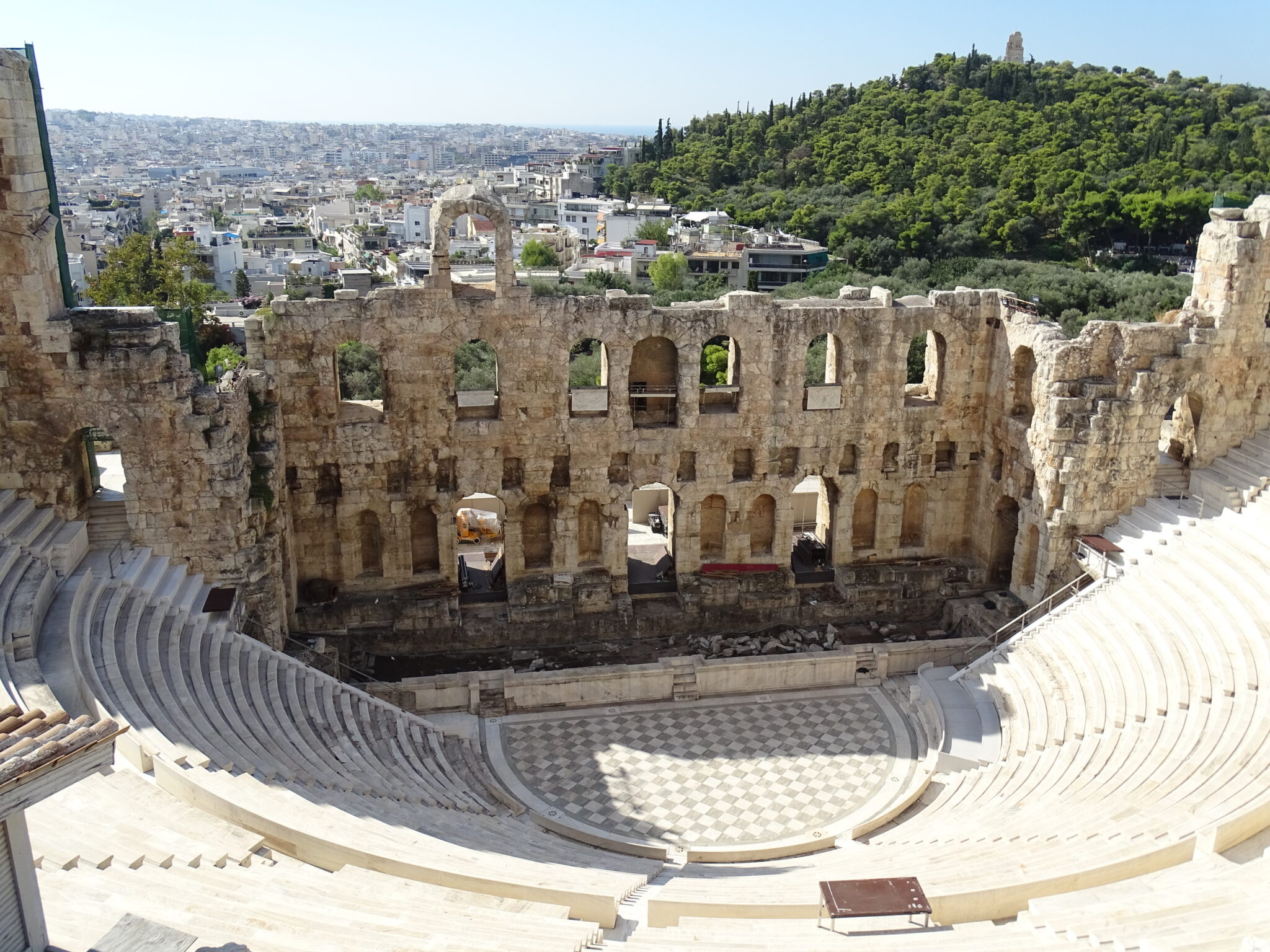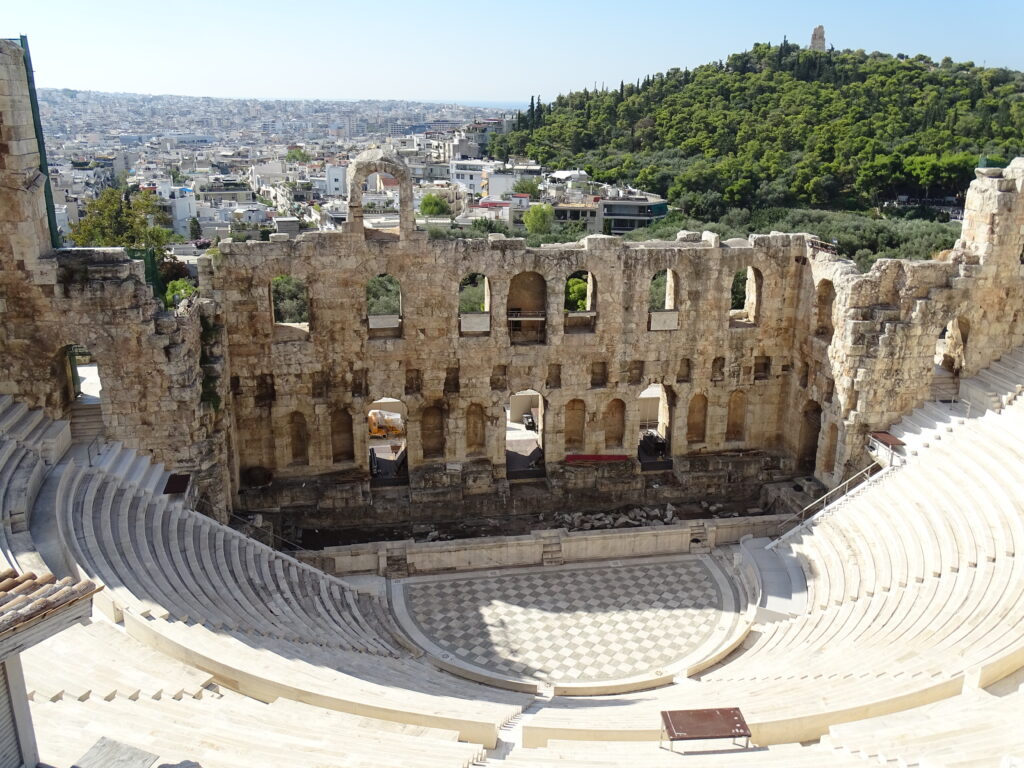 The Odeon of Herodes Atticus is arguably Athens' most magical stage, not least for its ancient atmosphere that allows you to step back in time. The Odeon is one of the many ancient sites that lies on the slopes of the Acropolis and is an open-air theatre that puts on performances of everything from ballets and operas to classic Greek tragedies. It is truly wonderful to be gathered together watching an emphatic performance under the arches of the Odeon's façade.
Have Dinner With An Acropolis View
There are many restaurants in Athens that boast a majestic view of the Acropolis so you can sit back and relax, dining on traditional Greek dishes while admiring the towering ancient wonder. This is a perfect way to spend a romantic evening in Athens and because there are so many options it doesn't matter whether you want a fancy gourmet meal or some local mezze as there is an Acropolis view restaurant for you. Some of my favourite restaurants in Athens with a view of the Acropolis include Kuzina Restaurant in Thissio and La Suite Restaurant at the St George Hotel Lycabettus.
Have Drinks At A Rooftop Bar With An Acropolis View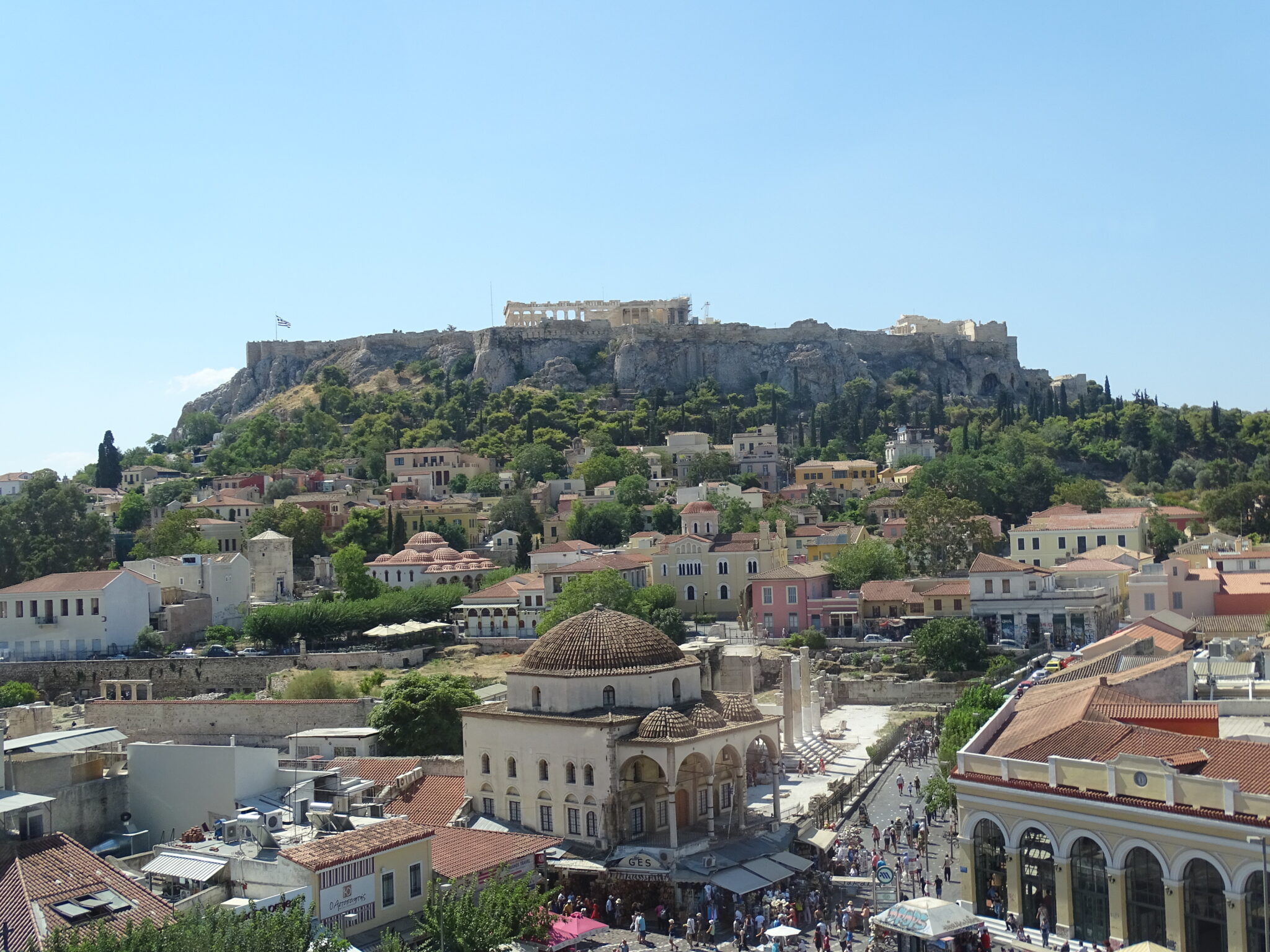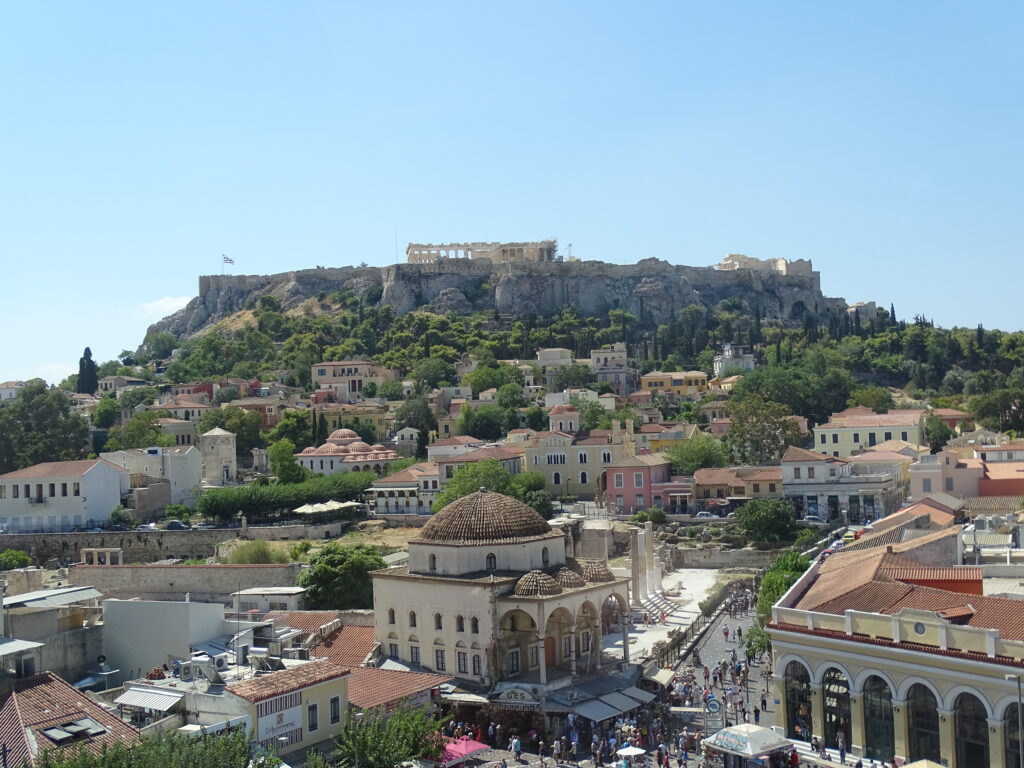 If you have another romantic restaurant you want to enjoy then maybe you just fancy going for a drink with an Acropolis view. In which case, you're in luck! Athens boasts many, many rooftop bars with views across the city, with cool hangout spots like Couleur Locale and Roof Garden at Plaka Hotel as well as ultra chic bars with pools such as Penthouse 21 at President Hotel, Sky Lounge Rooftop Dining Bar at Melia and Air Lounge Roof Bar atop Hotel Fresh. You could stay in the city for weeks trying a different rooftop bar each night, so you won't be short of a romantic spot for a sundowners!
Have A Treatment At A Traditional Hammam
Spas are always a romantic thing to enjoy on vacation and Athens has a beautiful Hammam that can be booked exclusively so you can experience two hours of pure relaxation! The pristine Hammam Baths features a chic entrance hall and bright, clean, spacious baths, a number of private treatment rooms and even a cafe where you can enjoy a glass of mint tea and some sweet treats. Indulge in each other's company while experiencing a serene steam bath which is the perfect antidote to the stress of daily life.
Stroll The Streets Of Plaka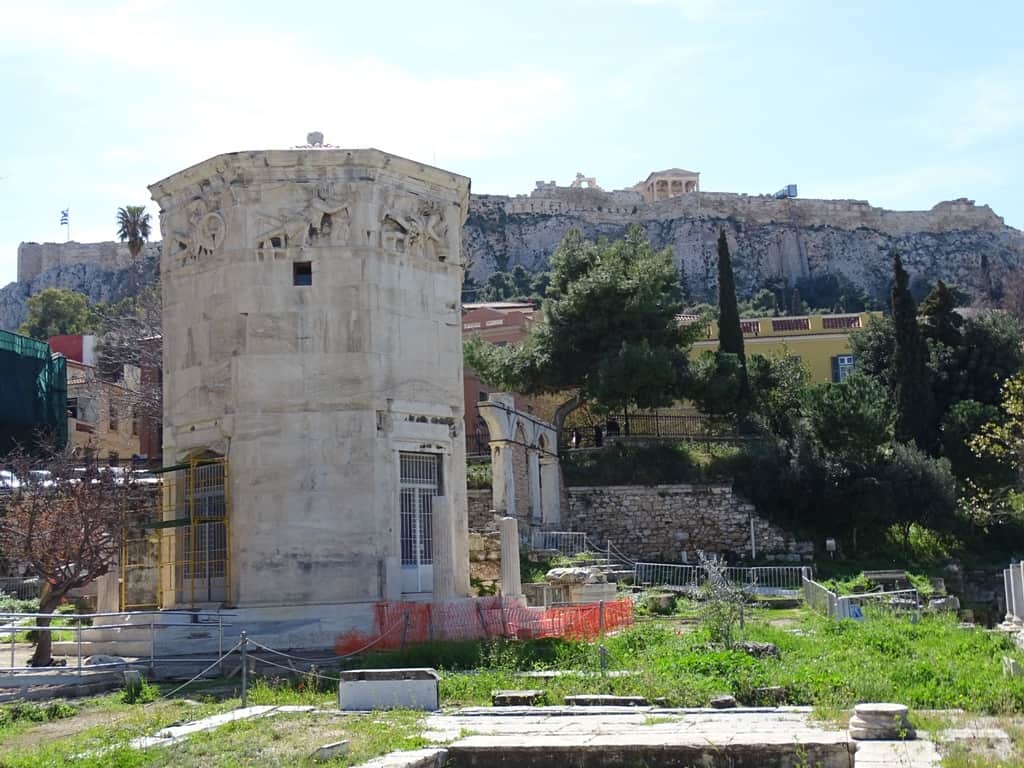 The best way to experience Athens is on foot as you are able to wander the city streets stumbling across gems along the way. Whether you want to seek out ancient ruins, bakeries, bars, markets, jewellery shops or museums, Plaka has it all. Not only this, but Plaka also features the winding streets of Anafiotika, a hidden village within the city. This little area of Athens feels like it was picked up from a Greek island and dropped in the capital, with its terracotta-roofed houses, pastel-coloured shutters and plenty of plants and bougainvillea making you feel as though you're a million miles away from the hustle and bustle of the city!
Visit An Outdoor Cinema
On a warm summer's evening in Athens there's nowhere better to be than an open-air cinema. This city boasts a huge collection of outdoor cinemas with well over 50 screens popping up across Athens throughout the summer months. This is mostly because the weather is so great but also because there are a number of fantastic venues such as Cine Paris Plaka, Cine Aegli Zappeion and Cine Psychiko Classique. Cine Flisvos is also incredible as it's located on the Athenian Riviera so the screen has the sea lapping right behind it!
Half-Day Trip To Watch The Sunset In Cape Sounio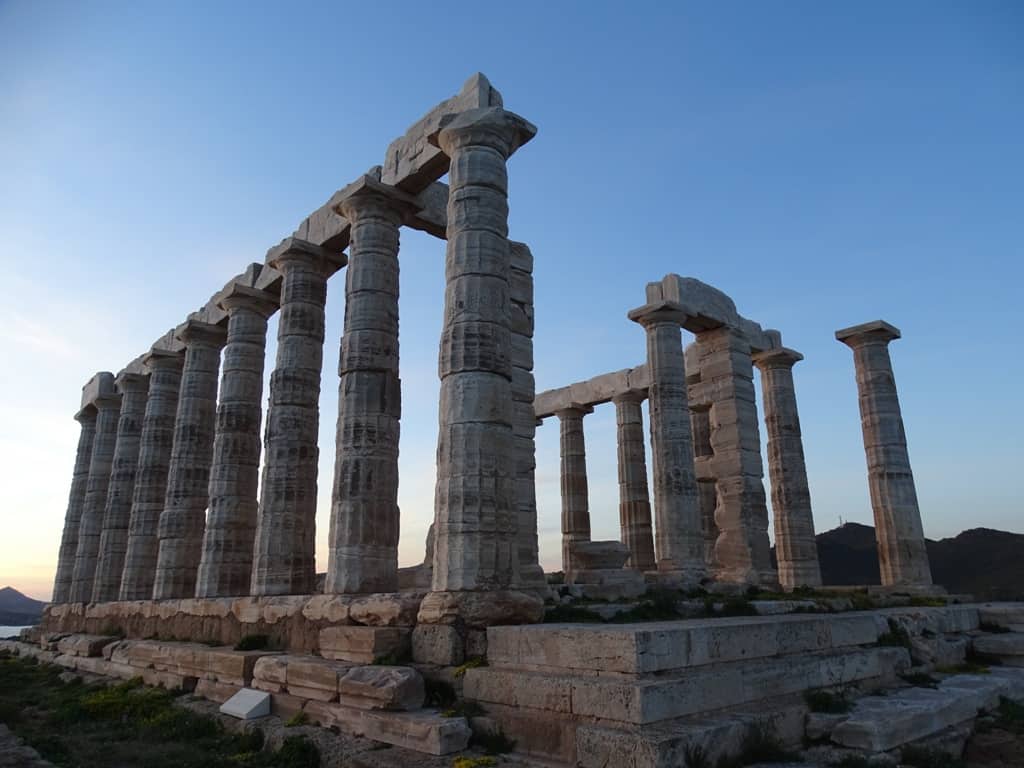 If you want to do something romantic outside of the city centre, you might want to consider taking a half-day trip to Cape Sounio and the Temple of Poseidon. This is best taken during the second half of the day as, you guessed it, it's another amazing spot to watch the sun set! Your tour will pick you up in the city and take you over to the Temple of Poseidon, an epic ancient site located on the shore. You'll have chance to explore the site and take some glorious golden-hour photos before sitting back to watch the sun dip into the Aegean Sea from the edge of Cape Sounion. After sundown you'll be able to spend a little more time enjoying the Athenian Riviera before heading back into the city.
Take A Food Tour Or A Cookery Class
The way to many-a-man's heart is through his stomach so taking a food tour or cookery class in Athens is the perfect way to get you in the mood. Luckily, Greece has some pretty delicious dishes that are sure to get your mouth watering! Whether you opt for a walking tour to take you around some of the city's best cafes, markets and restaurants or would prefer to get your hands dirty in the kitchen, there is a foodie tour for you. You'll discover local ingredients, dishes and traditions, and savour the flavours of the city with experts who know where to find the best of the best when it comes to food in Athens. You could also enjoy a spot of wine tasting to really top off your day of foodie feasts!
Swim In Lake Vouliagmeni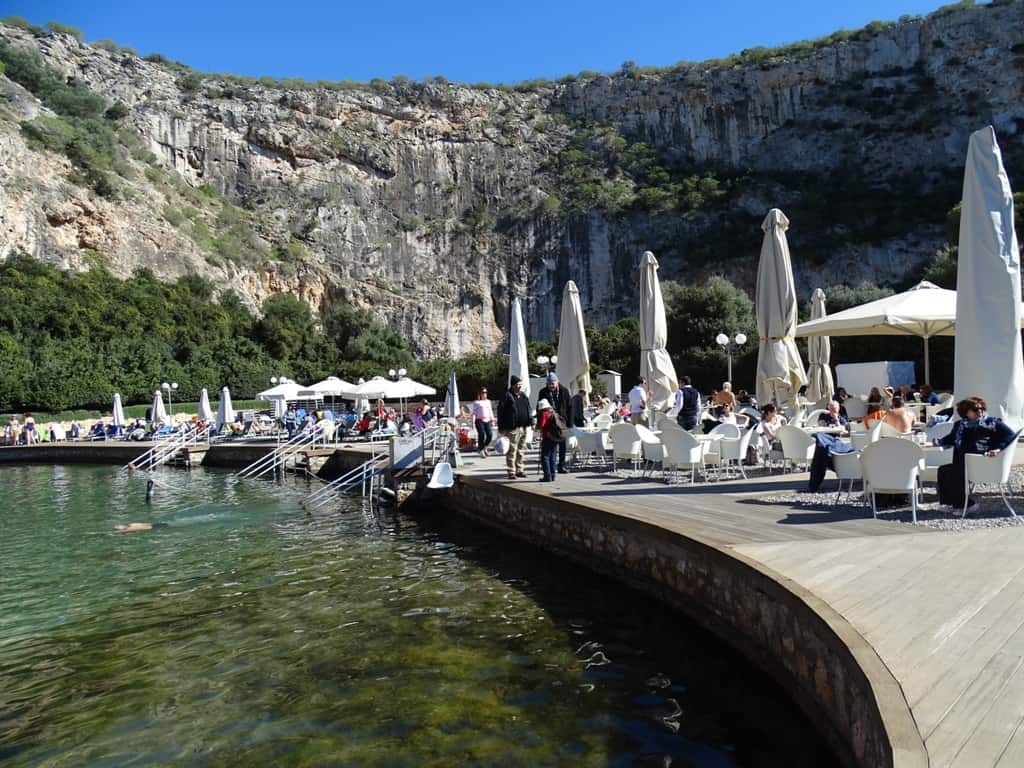 Lake Vouliagmeni is a real hidden treasure and is a destination that not many tourists actually get to when visiting Athens. This lake on the Athenian Riviera is a natural wonder in that it is served by rich, thermal mineral water as well as sea water which keeps the temperature at a comfortable 22-29 degrees year-round. In addition, the lake is surrounded by trees on one side and rocky cliffs on the other which make for stunning photo opportunities. There is one main restaurant at Lake Vouliagmeni which offer drinks and all-day dining as well as a number of sunbeds and parasols to add to your comfort. You can event host your wedding reception at Vouliagmeni Lake, allow the beauty of nature to be your backdrop.
Take A Stroll Through The National Gardens
If you like to be outside in nature then taking a romantic walk through the National Gardens is a great way to spend some peaceful time together during your trip to Athens. The National Gardens are located right next to Syntagma Square in the heart of the city so are easily accessible, and the sprawling gardens feature avenues, manicured lawns, tropical plants, labyrinthine paths, little lakes and ponds. The gardens also include a small zoo and a botanical museum, as well as a coffee shop where you can sit and watch the world go by.
—
This is just my small selection of romantic things to do in Athens but you can hopefully see by now that is it most definitely a bucket-list destination for a couple's getaway. Whether you enjoy drinking and dining out in romantic bars or exploring nature and historical ancient sites, Athens really does have it all. Plus, because it's not necessarily renowned as being one of the most romantic cities in the world, you won't be surrounded by people proposing (like at the Eiffel Tower!) so you can just relax and enjoy each other's company in peace!
What are your favorite romantic things to do in Athens? Let us know in the comments below!
About the Author: Chrysoula is a travel blogger with a professional background in Tourism and Marketing. Her blog Travel Passionate is in English and French and is focused on luxury travel, cultural and culinary experiences around the world. She enjoys exploring off-the-beaten-path destinations and she is interested in presenting the best locations, attractions and accommodation in each area she visits. Travelpassionate is a trusted resource for travel tips and destination guides that aims to inspire others to travel and experience different cultures.
---
Read these next:
---