This post may contain affiliate links. Read our disclosure page for full details.
This is a guest post by Emily of Wander-Lush
Located on the old Silk Road where Europe meets Asia, Tbilisi's cobbled streets and wooden balconies have served as a backdrop to many a love affair. Georgia's capital is a city of writers and poets, evocative architecture, and passionate feasting. And did I mention that it's also the birthplace of wine?
Most people plan a trip to Georgia to take advantage of hiking opportunities in the Greater Caucasus mountains. But this small, culture-packed nation is also home to several beautiful cities that will steal your heart. I couldn't think of a more perfect place than Tbilisi to escape to with someone special. And because it's a little more off-the-beaten-track, you may just find you have those cobbled streets all to yourself.
Here are the top 10 romantic things to do in Tbilisi.
Book a private room at the sulfur baths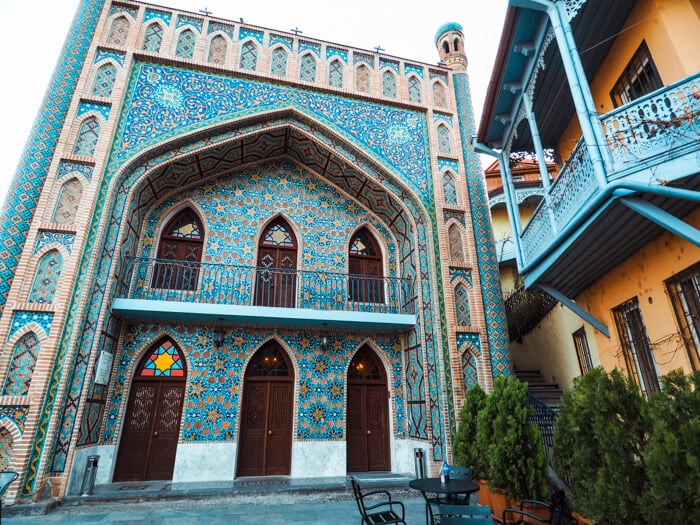 Tbilisi takes its name from the Georgian word for 'warm' – a tribute to the natural hot springs that run beneath the old town. Abanotubani district is where you'll find the iconic Tbilisi sulfur baths, a row of domed bathhouses alongside a stream and small waterfall.
People have been visiting the therapeutic baths for centuries to awaken their senses and heal their ails. Many are public baths for communal washing, but some offer private spa-style rooms that couples or friends can hire by the hour.
There are a few to choose from. The recently restored Orbeliani Baths, with its tiled façade that many people mistake for a mosque, is by far the most ornate. Gulo's Thermal Spa has a more authentic interior and is well-priced. Private rooms typically contain hot and cold plunge pools, sometimes a sauna, and a space for lounging (bring a bottle of bubbly and some cheese with you!). You can also opt for a kisi – an exfoliating scrub down.
It's very different to the baths in Budapest or Istanbul, so make sure you brush up on your etiquette before your visit.
Go treasure hunting at the Dry Bridge Market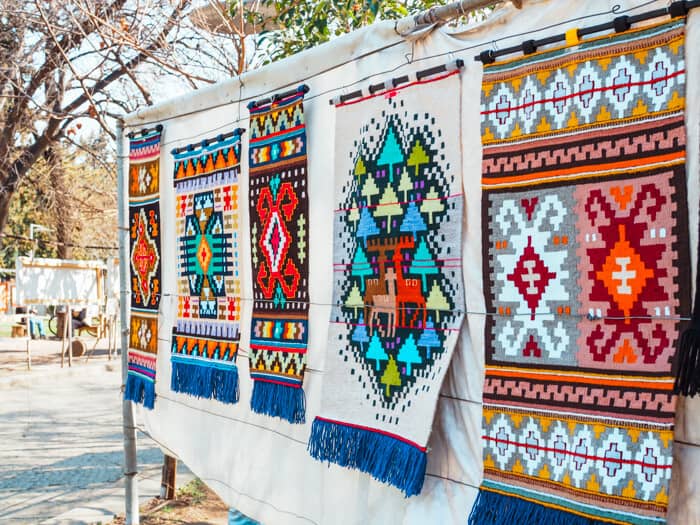 The Dry Bridge Market is a daily flea market that stretches out across an old bridge and adjacent park in the center of Tbilisi. Vendors peddle suitcases and car boots full of chandeliers, crockery sets, woven carpets, vintage maps, and all matter of ephemera.
Roaming the open-air market and hunting for antiques is great fun, especially if you have someone to rummage with. Look out for Lurji Supra (blue-and-white block-printed tablecloths that are a traditional Georgian textile), and Soviet memorabilia.
Indulge in Georgian cuisine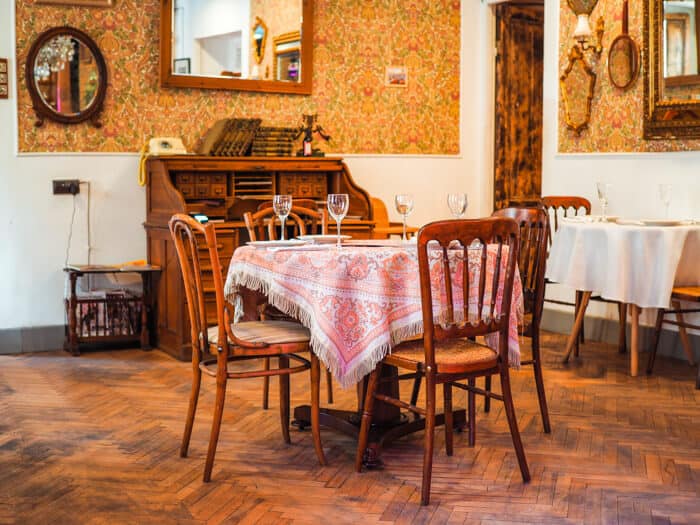 Georgia is fast gaining a reputation for its rich, flavorful cuisine, and there's no better place than Tbilisi to treat yourself to some of the country's most iconic dishes.
Khinkali (soup dumplings), khachapuri (cheesy bread) and eggplant rolled with walnut should all be at the top of your hit list. Shkmeruli (chicken in a rich garlic sauce) and pikhali (a bright dish made from fresh vegetables) are two of my personal favorites.
There are so many romantic restaurants in Tbilisi, every meal will feel like date night. Barbarestan, Shushabandi, Keto & Kote, and Café Leila all have beautiful dining rooms dressed in the 'old Tbilisi' style.

Cozy up in a wine bar
The only thing better than Georgian food is Georgian wine. The Caucasus region is the cradle of viniculture, and along with neighboring Armenia, Georgia holds claim to one of the world's longest histories of winemaking.
Wine is both an art form and a critical part of the culture in Georgia. Semi-sweet red saperavi (made from an endemic grape) and amber-colored skin-contact wines are among my personal favorites.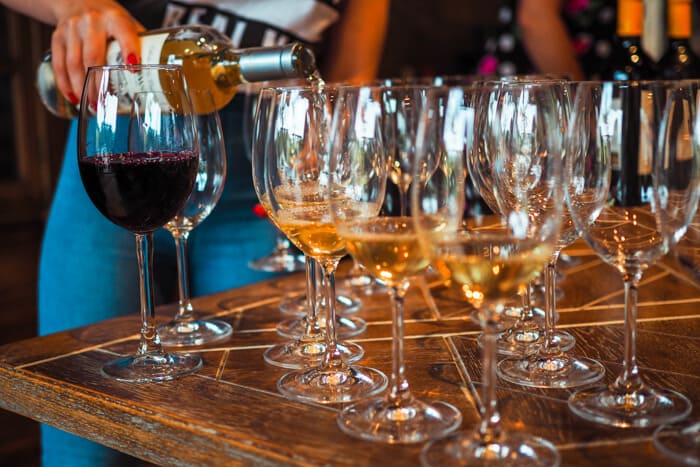 There are plenty of wine bars in Tbilisi where you can try the local drop. Some offer formal tastings and degustation menus; others are by-the-glass. A table for two at either Aristaeus Ethno Wine Bar (which also serves local cheese and cured meats for nibbles), Dadi Wine Bar or Vino Underground is the perfect way to spend a romantic evening in Tbilisi.
Climb to a viewpoint for panoramic views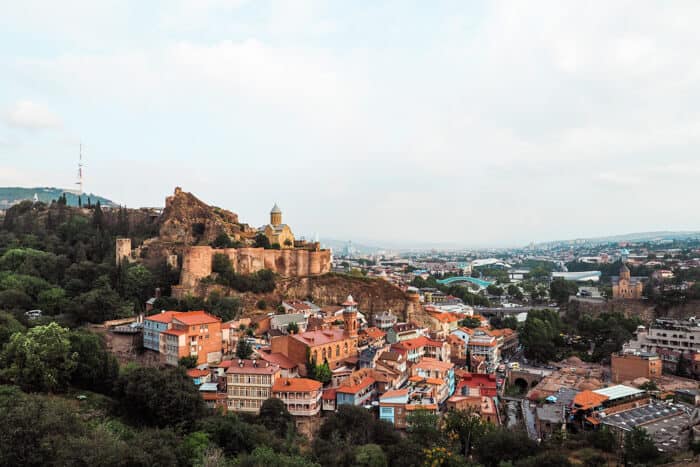 After all that (over) indulging on wine and food, a bit of exercise is in order. Because Tbilisi is located in a valley basin, there are lots of short walks and easy hikes you can do around the city to get a bird's eye view. If you're feeling lazy, you can always take a funicular or cable car instead!
The most popular viewpoint is Narikala Fortress, the 13th-century stone fortification that crowns the city. It can get busy up there, so for a more peaceful alternative, I recommend Betlemi Rise in the old town.
At the top, there's a beautiful park with benches shaded by grape trellises. It's the perfect place to swoon over this magical city – and even better if you bring a bottle of wine up with you.
Get lost in the backstreets of Sololaki
After seeing the city from above, you'll be itching to explore Tbilisi's winding streets on ground level. One of the city's oldest neighborhoods, Sololaki was traditionally home to wealthy merchants. Its heritage buildings and 20th-century facades have seen better days, but Sololaki is still Tbilisi's most charming district.
The best way to explore this area is by setting out with no particular destination in mind. Hand-in-hand, get lost down the backstreets and see where the city leads you.
Take a stroll through Rike Park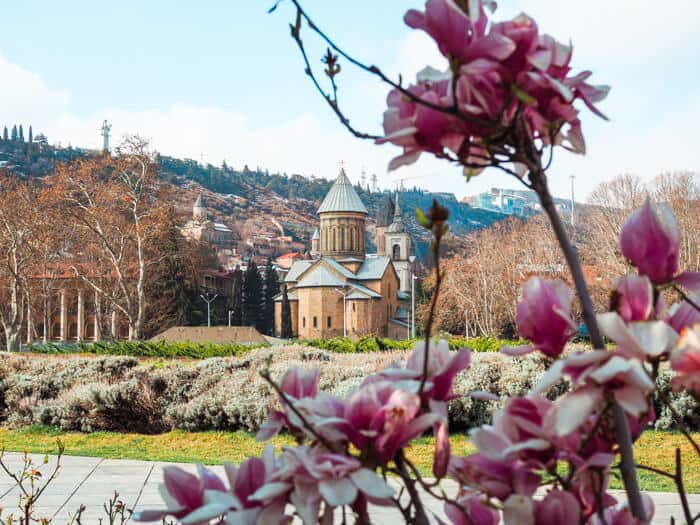 If some fresh air is more to your taste, Tbilisi has plenty of green spaces fit for an afternoon ramble. The city is particularly pretty in spring, when the cherry and magnolia blossoms come out to play.
Try one of the easy trails through the Botanical Gardens behind Narikala Fortress, or maybe a walk through Vake Park. For something central, Rike Park is a popular place to walk along the bank of the Mtkvari and take in some of the city's most iconic architecture at the same time.
Cross the ultra-modern Bridge of Peace, gaze up at the legendary Queen Darejan Palace, and marvel at the weirdly wonderful Rike Concert Hall.
See a performance at the opera house
As you make your way down Rustaveli Avenue, one of Tbilisi's main streets lined with gorgeous classical European facades, you'll eventually come to the red-and-yellow Georgian National Opera Theater. Founded in 1851, it's one of the oldest opera houses in this part of Europe.
Georgia has an incredible heritage of music, dance and theater, and one of the best things for culture-loving couples to do in Tbilisi is see a show at the country's most important venue. The theater holds a rotating program, ranging from contemporary stage plays to classical recitals.
If your visit to Tbilisi doesn't coincide with a show, you can always tour the building during daylight hours instead. The interior is nothing short of spectacular.
Watch a Georgian dance show over dinner
Kartuli tsekva is a catch-all term for the many variations of Georgian traditional dance. From the ornate costumes to the incredible physical feats, it's absolutely hypnotizing to watch. Many numbers are bridal duets that tell tales of lust and forbidden romance.
Dinner and a dance show is mandatory in Tbilisi, and it's also the perfect nighttime activity for couples. Many restaurants host nightly performances by talented dance troupes accompanied by live music. Ethno Tsiskvili is the most popular – and the food is very good, too. Tabla is a good alternative. Bookings are essential.
Get hitched!
If you succumb to the romantic vibe, Tbilisi is the perfect place to tie the knot! Getting married in Georgia is an affordable, straightforward process, which makes this a popular place for destination weddings. There are even a few start-ups that can help visitors with the paperwork and logistics.
The imposing Wedding Palace, a play on medieval Georgian church architecture with a modern twist, is the city's most iconic marriage venue. Otherwise, you can opt for an informal ceremony at the Public Services Hall.
Bonus: Take a day trip to the wine region and Sighnaghi, the 'city of love'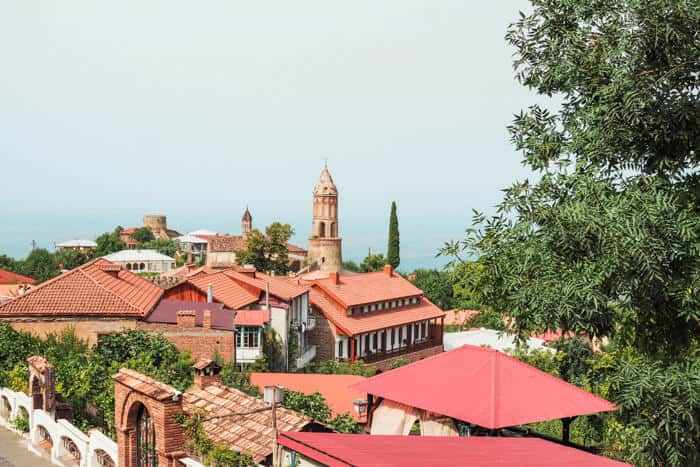 Located east of Tbilisi, Kakheti is Georgia's premier wine region. It's a mere 90-minute drive to some of the country's finest cellar doors, so it makes sense to combine a trip to the capital with a jaunt through wine country.
Hire a car and driver for the day to take you between wineries. Many offer tastings and guided tours where you'll get to see the wine-making process up close, including the traditional qvevri technique, which uses massive clay pots.
While you're there, stop off in Sighnaghi. Colloquially known as 'the city of love', it's one of the prettiest places in all of Georgia, largely thanks to its old city walls, turrets and cobbled streets. Saunter through the atmospheric old town, visit the Pirosmani Museum (dedicated to Georgia's national painter), and finish up at the splendid Bodbe Monastery.
—
About the Author: Emily hails from Australia and has been travelling and living overseas with her husband for the past 5 years. When she's not writing stories about the Caucasus, the Balkans and Southeast Asia for her travel blog, Wander-Lush, you will probably find her roaming the streets with her camera in hand. She currently lives in Georgia.
---
Read These Next:
---