This post may contain affiliate links. Read our disclosure page for full details.
Istanbul is an incredibly beautiful city of breathtaking scenery, deeply rich history, and amazing food! It is a perfect romantic European destination for any traveling couple, with countless romantic activities to choose from. And, Istanbul is the city that brought me and my boyfriend (and co-blogger) together.
Istanbul is a city that's dear to our story, and we can't wait to return together to enjoy the most romantic aspects of Istanbul together! Read on for our dream list of the best romantic things to do in Istanbul, Turkey.
This is a guest post by Cassandra of Uncommonly Well.
Have a Çay Date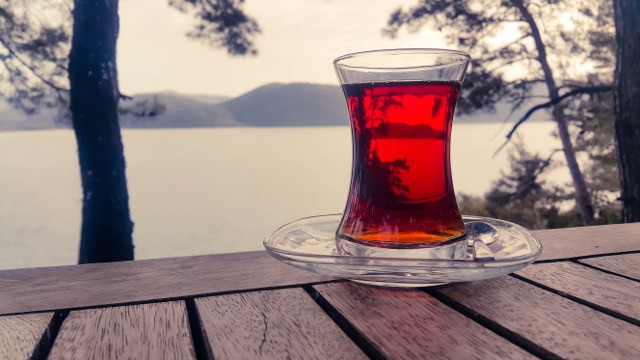 Instead of a coffee date, have a romantic date over tea and Turkish treats. Çay (pronounced the same way we pronounce "chai") is the Turkish drink of choice. It is a black tea brewed in a double teapot and served in small clear tulip shaped glasses.
Çay is central to Turkish social culture, and is enjoyed multiple times a day! There is no best place to have çay; you can find it on every street, in every café, and in every home. Feel free to add sugar or lemon, but it would be considered very strange to drink it with milk.
Of all the many types of Turkish pastries and sweets you can have with çay, I have never had one I didn't love! The two I most recommend you trying together are baklava (sweet), and börek (savory). Baklava is a syrupy sweet pastry with buttery, flaky layers and nuts.
All types of baklava are good, but I like the kinds with pistachios best. Börek is also a pastry made with thin flaky dough, but stuffed with things like cheese, spinach, and meat. You can find baklava and börek in many cafés and bakeries in Istanbul.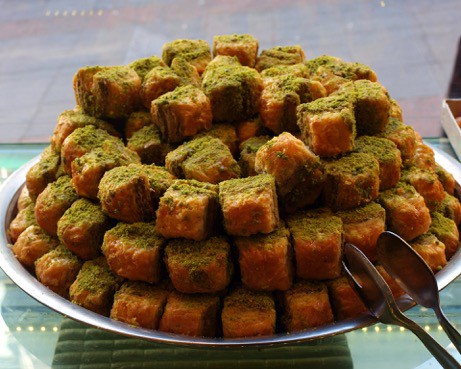 We both think Turkish food is one of the best cuisines in the world. Check out our post, Top 14 Must-Try Turkish Foods for more foodie inspiration!
Enjoy a Luxurious Turkish Hamam
A hamam is a traditional Turkish bath or public spa. The process of going to a hamam usually involves relaxing in a heated sauna-like room, followed by a full body scrub and massage. Most Turkish hamams are separated by gender, but the Suleymaniye Hamam is an Istanbul hamam catered specifically to couples and families.
The Suleymaniye Hamam is located in a historical building designed by a famous architect named Sinan. This hamam provides everything you need for a romantic spa experience with your significant other. Just be sure you make reservations beforehand! You can read other couples' recommendations of this hamam on TripAdvisor.
The romantic hamam experience will leave you feeling pampered and relaxed together, while giving you a taste of traditional Turkish culture!
Explore an Ancient World at Topkapı Palace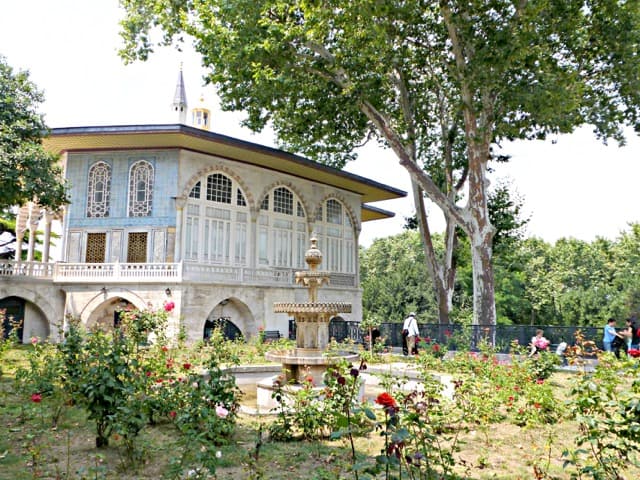 Topkapı Palace is a museum of the home of 15th century Ottoman sultans. It served as both the residence of the rulers, as well as the administrative and educational center of the Empire.
On the grounds are countless extravagant buildings, with gardens and courtyards between them. As you explore Topkapı Palace together, you will swoon at the magnificent architectural design and beautiful gardens.
You can see more spots like this with a hop on, hop off bus tour of Istanbul.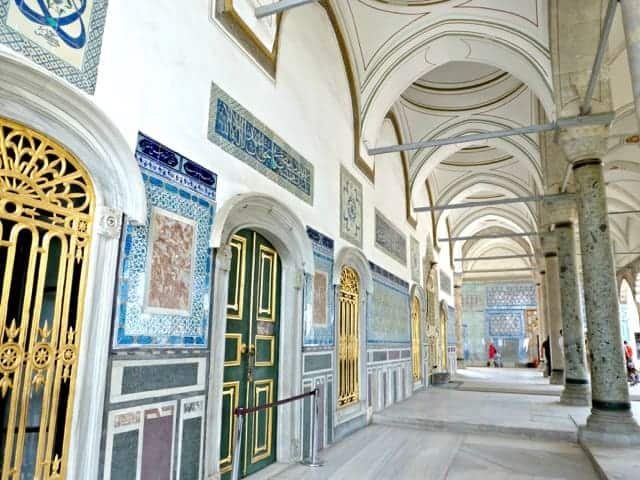 Create an Unforgettable Memory in the Grand Bazaar
Istanbul's Grand Bazaar is one of the world's oldest and largest covered markets, constructed in the 1400s! Seeing the Grand Bazaar is an absolute must for anyone visiting Istanbul. What better way to do so than with your significant other? It will make for a memory you won't forget!
Somewhat of a labyrinth inside, the Grand Bazaar has aisle after aisle of artisans and salesmen with a wide variety of wares. With over 4,000 shops, you can find everything from decorations and rugs, to spices and teas, to ceramics and hookah pipes, to scarves and jewelry. You will find so many hidden treasures if you look for them!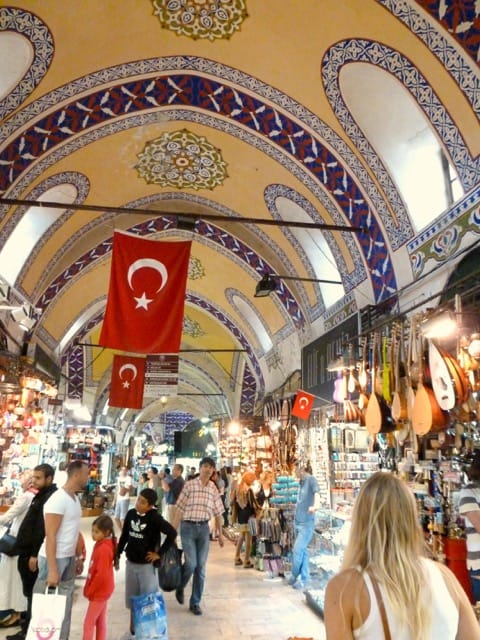 The shopkeepers can be very forward and will do almost anything to get your attention and to get a sale. Go into the experience with your significant other with a sense of humor, and you'll have a lot of laughs together! Their creative attempts at getting your attention can be really hilarious.
Take a Cruise on the Bosphorus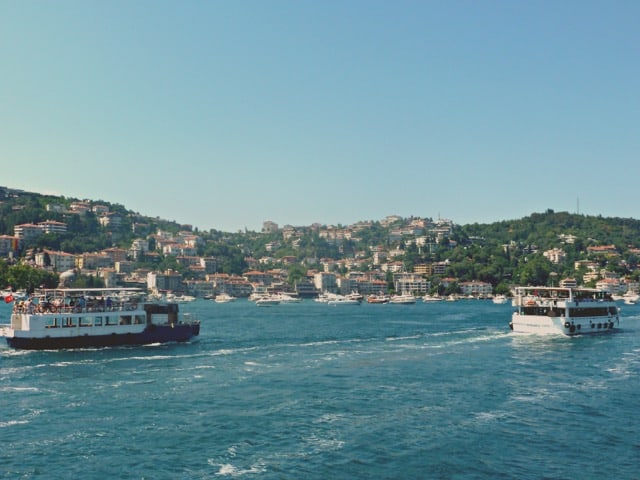 A gorgeous waterway called the Bosphorus divides the European and Asian sides of the city. When the weather is warm, taking a cruise on the Bosphorus with your significant other is one of the most romantic ways to see the city! Enjoy the deep blue waters and seeing the hilly scenery of the city. There are many different types of cruise options, but if you have the time, I highly recommend taking a cruise to the Prince Islands!
Take a Day Trip to the Prince Islands
For a romantic day trip, take a cruise to the quaint and picturesque Prince Islands! The Prince Islands are a collection of nine islands, four of which are open to the public. Büyükada is the most popular island for visiting, reachable by ferries called "sea buses". The cruise takes an hour or two to the island (depending which ferry you take).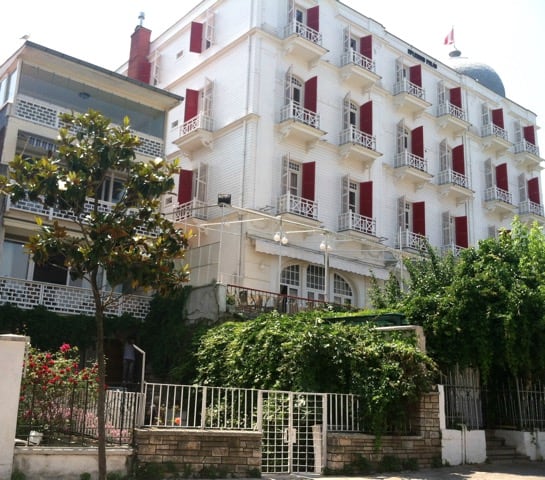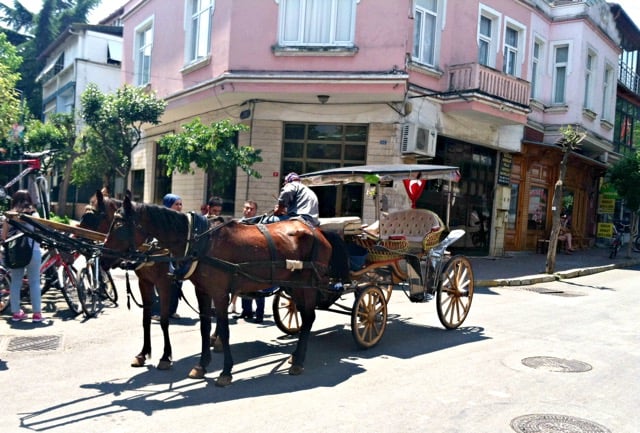 The Prince Islands provide a slower-paced, relaxing respite from the busyness of the city. There are no motorized vehicles on the Prince Islands. That means you and your significant other can either rent bikes or enjoy a leisurely ride in a fayton (horse drawn carriage) around the island! You will feel as if you have gone back in time as you marvel at the scenery and seemingly untouched Victorian cottages lining the streets.
Read Next: The Most Romantic Places in the World
Enjoy Incredible Views of Istanbul from Le Méridien
I learned about this amazing spot from locals. Le Méridien is a hotel in Etiler, Istanbul. On the 34th floor the hotel has a rooftop bar called L'Eclipse with incredible views of the city and the Bosphorus bridge. Get dressed up together and have a fancy and romantic evening out! Enjoy appetizers and drinks with your significant other while watching the sunset from above the city.
Hopefully we have sold you on the many romantic things to do in Istanbul together as a couple. It truly is an enthralling and unique city with so much to offer!
---
Author Bio: Cassandra and Ryan write about travel, food, wellness, and conscious living on their blog, Uncommonly Well. Collectively they have visited thirty-five countries and counting, and they love sharing their budget travel hacks and best tips with their readers. Currently based in the US, they enjoy living an adventurous nomadic lifestyle and working from home (wherever home is).
Connect with Uncommonly Well on social media!
---
Read these posts next:
---
Pin this post to save for later!