This post may contain affiliate links. Read our disclosure page for full details.
Israel offers everything you could ask for in a romantic destination. It's the perfect blend of well-preserved history with glittering modernity. And you'll find options to satisfy couples who love to get out in nature together just as easily as those who get high off of buzzing city life.
We've taken two trips to Israel as a couple and loved them both! Each time we crisscrossed the country to explore all of its best things to do for couples. Here are some of our favorite romantic things to do in Israel:
(this is a guest post by Melissa of The Family Voyage)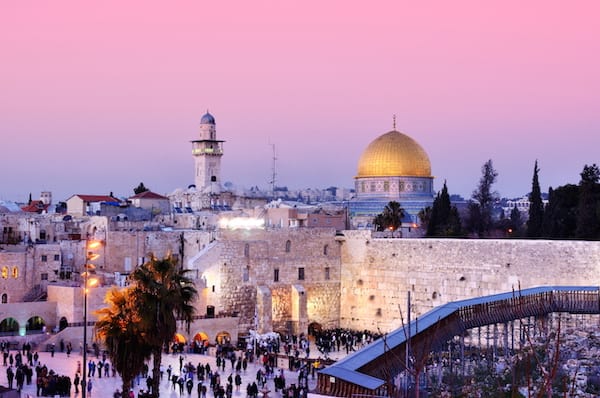 Listen to the waves crash as you stroll along the sea in Tel Aviv
The beachside promenade in Tel Aviv, commonly called the tayelet, is in many ways the thread that connects the beachside community. All day long you'll find locals and tourists walking, riding bikes, visiting the beach along its miles.
But it's also one of the most romantic places in Israel! It offers the perfect vantage point to watch the sunset over the Mediterranean and then enjoy amazing views of Tel Aviv after dark.
A great plan is to start at La Mer on Bograshov beach, where you can watch the sunset with your toes in the sand and a drink in your hand. Once you've drunk the last of the sky's colors, walk south (in the sand for as long as you'd like, but eventually you'll need to go up to the paved path). Be sure to include a sweater on your Israel packing list, as the sea breeze can really pick up at night.
Take in the amazing views of Old Jaffa lit up at night and, once you get there, pop into a few galleries before they close. Wind your way through Jaffa to the flea market area and settle into a hip table at Onza, which offers incredible Turkish food that will encourage taste buds you never knew you had.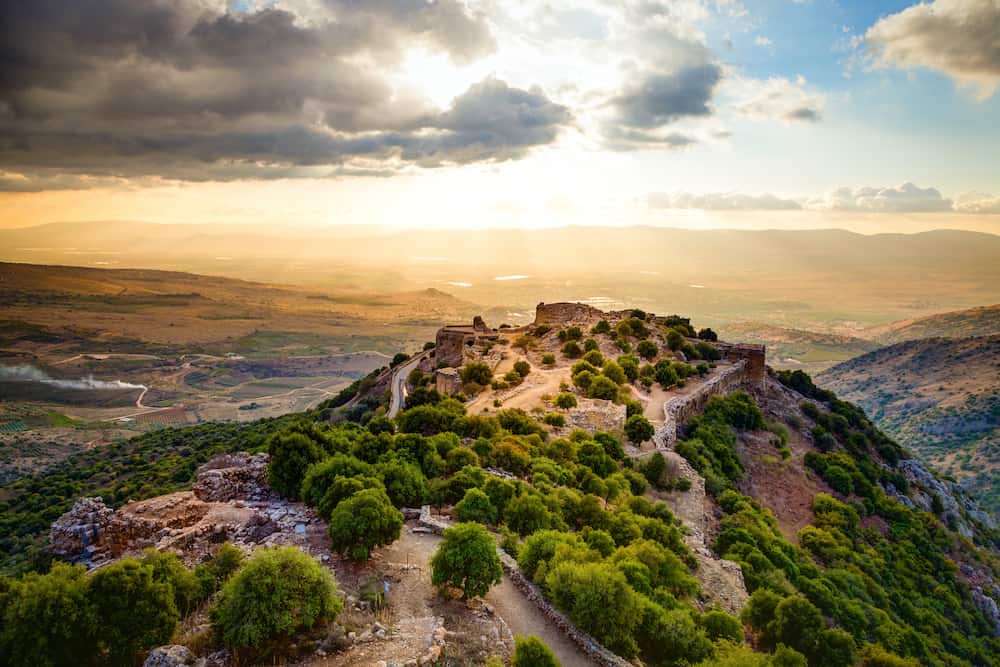 Pack a picnic with a view
The most iconic feature of Jerusalem is its postcard-ready Old City. Perhaps the best way to appreciate it is from a distance, taking advantage of one of the many beautiful viewpoints.
One of the best is Bloomfield Park, an oasis blending ancient and modern in the heart of Jerusalem's busy urban center. It sits adjacent to the Yemin Moshe windmill and has lovely walking paths, sculptures and fountains. Not sure where to stay in Jerusalem? Let us help you figure out the right area for your needs.
Spend your afternoon shopping at the famous Machne Yehuda market ("the shuk") and then bring your picnic provisions to Bloomfield Park. While you enjoy your fresh breads, cheeses and vegetables and a bottle of Israeli wine, you can take in the radiant hues of the Old City's Jerusalem stone as it's illuminated by the setting sun.
Rent a tzimmer in the north to enjoy a lush retreat
One of our favorite romantic things to do in Israel is explore the verdant northern region of the country. Every village has tzimmers (vacation cottages) for rent ranging from rustic cabins to swanky renovated little houses with amazing views. Many owners serve breakfast as well, which can be as simple as fresh bread and preserves to a traditional Israeli breakfast that includes bread, vegetables, cheeses, eggs and maybe even a few types of cold fish!
Fish for breakfast? Find out what other unique traditional Israeli food you might not have heard of!
What should you do while your up north? It's a perfect haven for couples! There are wonderful places to hike to see lovely wildflowers in the spring and rushing waterfalls through most of the year. Banias National Park is a must-see, and the Tel Dan Nature Preserve is so beautiful that it even has a section called "the Garden of Eden".
When you've had your fill of the outdoors, there are wonderfully romantic ways to replenish your body. For starters, the Galilee and Golan regions of Israel have taken the wine-making works by storm. You can spend an entire day exploring boutique wineries; be sure to stop at Assaf Winery for a tasting and lunch!
For a gorgeous sunset view, stop by the east side of the Sea of Galilee (Yam Kinneret) and watch the sky turn to shades of cotton candy above the mountains.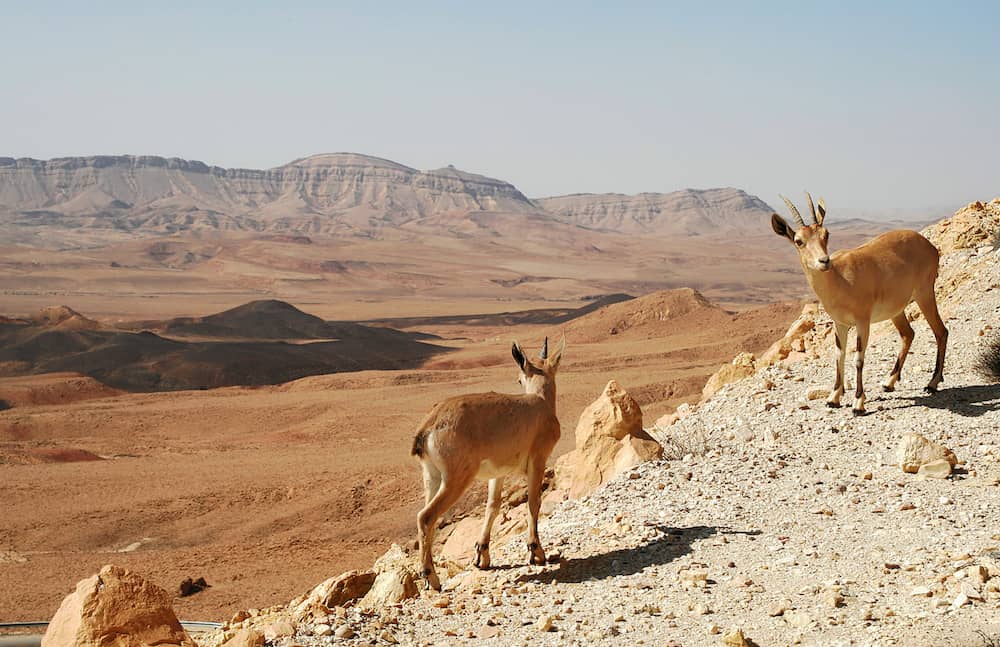 Go stargazing in the vast Negev Desert
Southern Israel couldn't be more different than the north! The Negev Desert covers more than half of Israel's land but it offers much more than the barren landscape that you might imagine. We definitely recommend renting a car in Israel to explore more remote areas like this.
There are plenty of rugged adventures to explore by day, but the most romantic thing to do in southern Israel is to grab a blanket and find a secluded spot to relax and enjoy the expansive sky together. The darkness and tranquility are hard to match in most parts of the world, but you don't have to go more than a few minutes from town to feel immersed.
If you really want to step up your romance game, book a room at the luxurious Beresheet Hotel. Perched on the edge of Ramon Crater, each room has a private infinity pool and the hotel offers amenities like a spa, a sculpture garden and gourmet breakfast.
Catch a concert – in an ancient Roman amphitheater
Though Israel is mostly thought of as home to ancient religious ruins, the country is also overflowing with the remains of Roman artifacts and settlements as well. There's no finer example than the port of Caesarea, built more than 2,000 years ago. The archeological site is definitely worth visiting and makes an easy day trip from Tel Aviv.
But the romance begins as the sun goes down. Snag a table at the elegant Helena restaurant within the archeological park, where you can enjoy your meal and sunset view just steps from the lapping waves of the Mediterranean with views of the ancient city all around you.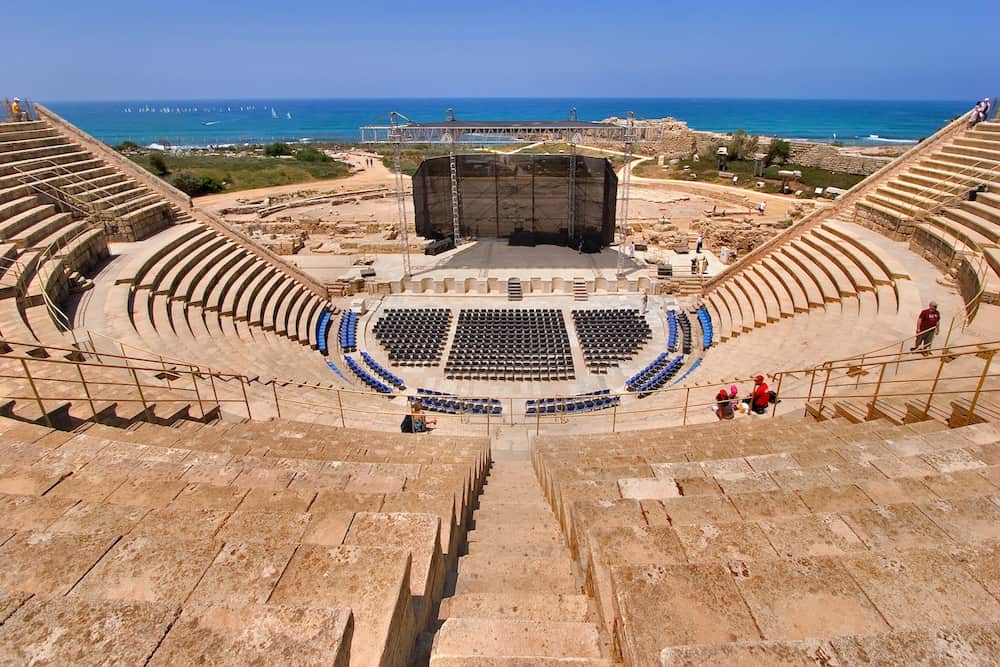 Looking to continue your special evening? Then head over to the Caesarea Amphitheatre if there's something on, where you can be entertained just as King Herod's people were when this was the Roman capital of Judea. The Caesarea Amphitheater plays host to all sorts of concerts, from classical to rock and beyond.
Hopefully, these ideas will jumpstart your Israel travel planning. The country is overflowing with unique, amazing opportunities for travelers with all different interests. Experiencing the history and magic of Israel with your partner is sure to strengthen your bonds and create memories that will last long after you've flown home.
About the author: Melissa Conn is a straight-talking travel writer who provides travel guides, packing lists and family-friendly insights over at The Family Voyage. After two years of full-time travel, she and her family have resettled in the Midwest as they embark on their next adventure. You can follow along for more ideas on Facebook and Instagram.