This post may contain affiliate links. Read our disclosure page for full details.
We like romance. And we like adventure. The perfect combination of these two is what dictates our travels, and we seek them in every experience, even the everyday ones.
While spending a few months in the UK in autumn 2016, we knew we wanted to explore some of the areas we hadn't seen before. We've seen a great deal of Scotland, but we love mountains.
So when the opportunity came for us to go on a short campervan adventure, we were instantly ready to go and we knew where we'd travel. It was time to plan a Two Drifters' style romantic Wales road trip.
The UK is a highly driveable country. You might do a Scotland road trip in the highlands, or a southwest England coastal adventure. Unlike our home country, the US, you can cross huge portions of the United Kingdom in only a day's drive. Back in the states, a 10 hour slog will barely carry you across the state of Texas.
The UK's size makes it so accessible for a short roadtrip, so we immediately set to planning for a fun getaway. Our 5 day adventure in October of 2016 turned out to be exactly what we hoped: sweet, relaxing, adventurous, and exciting. But we also had a few misadventures along the way…
Read on to learn how to have the most romantic and best UK / Wales road trip possible, and maybe even how to avoid some of our silly missteps!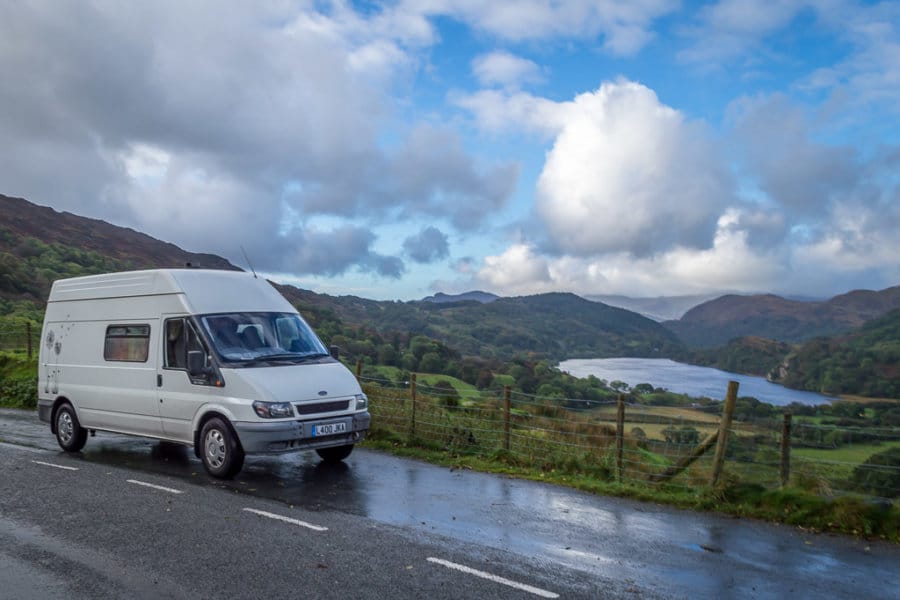 1.Choose the most beautiful, romantic home on wheels
You could choose a car for your Wales road trip, but why would you, when you could travel about in a unique campervan?
We fell in love with the campervan lifestyle back in Australia, when we lived and traveled in our own "Moon River" for 5 months. A campervan gives you a cozy, portable home, allowing you to have both transportation and accommodation in one vehicle. To us, that's ideal.
Planning a romantic road trip in the UK requires a special van though, one that is full of atmosphere and character. We chose the bohemian "Esmerelda," available via Quirky Campers.
Admittedly, it was a hard choice, as Quirky Campers has dozens of absolutely adorable vans available for hire. Even though we were tempted by some of the other choices (like this one with its own wood stove), but Esmerelda immediately appealed to us.
She's Moroccan-inspired with a warm, rich interior and touches of Gypsy magic throughout. We knew this was our ideal romantic roving bungalow.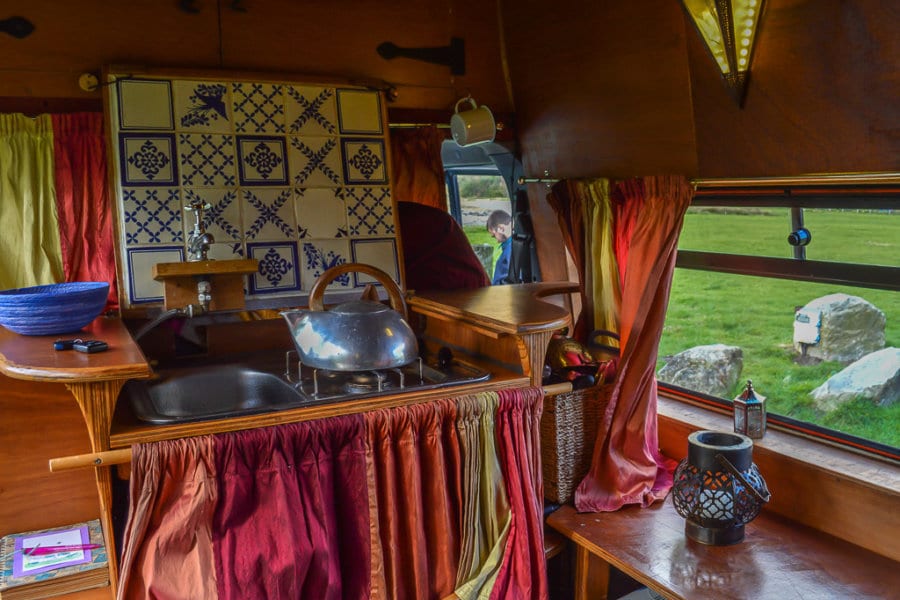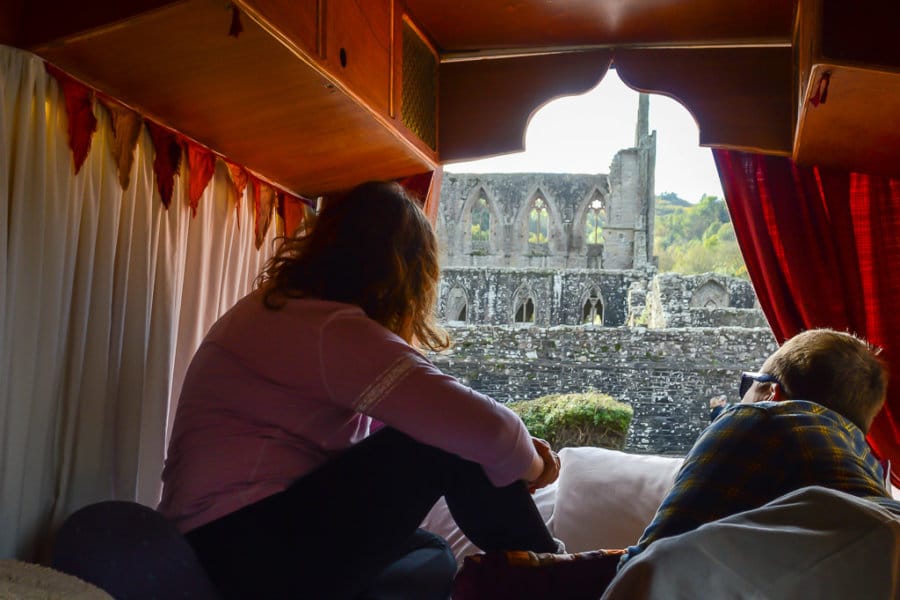 [columns size="1/2″ last="true"]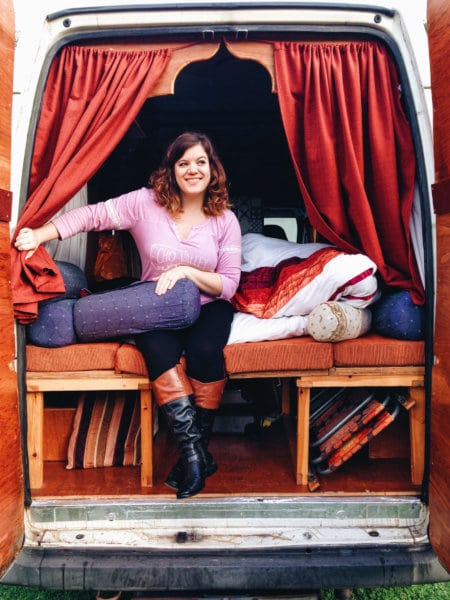 [/columns]
2. Select a divine location rife with natural beauty
The second element necessary for a romantic road trip is a stunning destination. A UK road trip is ideal for this—particularly a Scotland or Wales road trip. It can be hard to choose since there are sooo many romantic places in Europe.
There were so many options for us with Esemerelda, but autumn seemed like a great time to choose somewhere chilly and mountainous. We'd never been to Wales, so off we set to visit Snowdonia National Park, a place that looked simply gorgeous (and is found on many a UK bucket list), and it did not disappoint.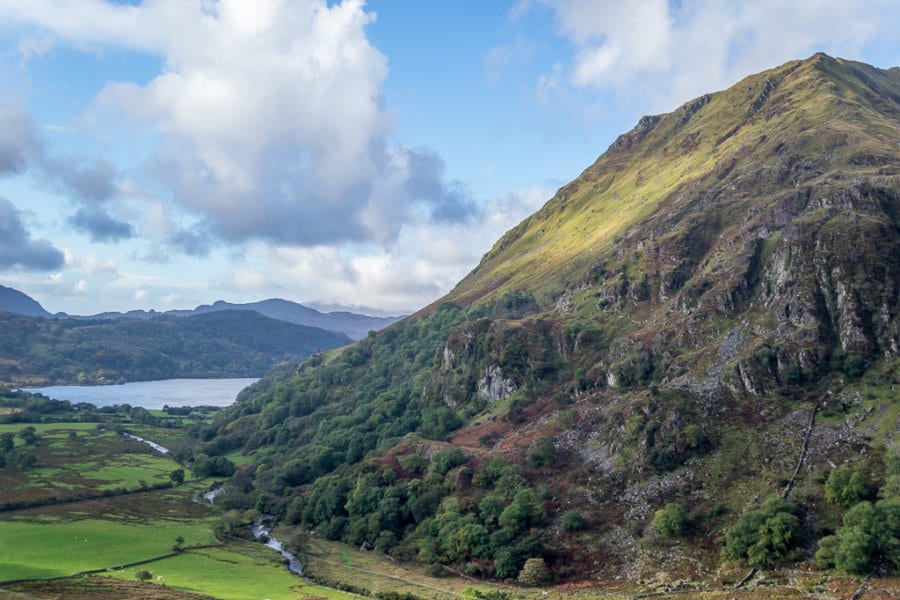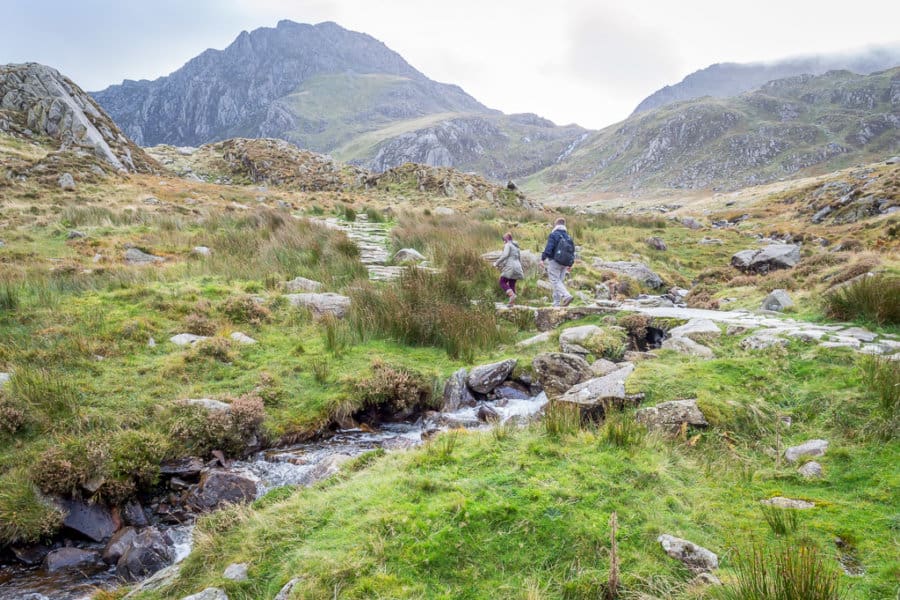 From Esmerelda's home in Devon, we drove 4-5 hours north into Snowdonia. Nathan was our driver (as I cannot drive a manual, nor do I do well on the left side of the road) and he drove expertly.
It always takes some getting used to when switching to the left side, but Nathan is a champ and I am always so impressed with how easily he picks it up. In the passenger's seat, I served as navigator, but I couldn't have done so without the help of our sat nav.
Be SURE to get the sat nav (aka GPS) when you hire your van, as this will ensure you make all the proper turns when driving—particularly helpful on those oh so fun roundabouts!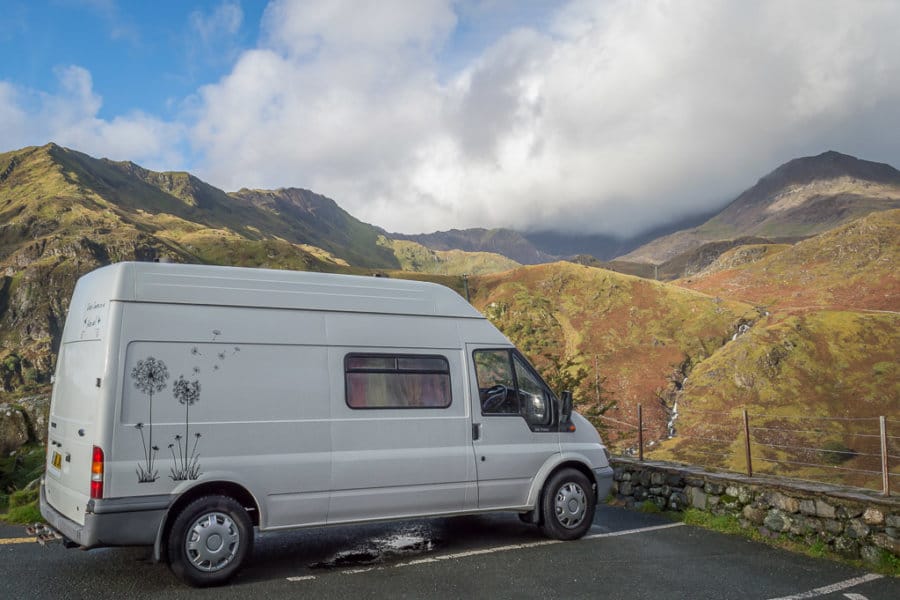 Snowdonia is ideal for camping, climbing, and hiking, but it also has quaint little villages and vast farmland, and so very many sheep!
Wales is the perfect destination for castle-lovers as well, with some 100 castles still standing in the country. We made time to stop by Caernarfon Castle, Conwy Castle, and the enchanting ruins of Tintern Abbey during our road trip.
Nothing says romance like an ancient fortress!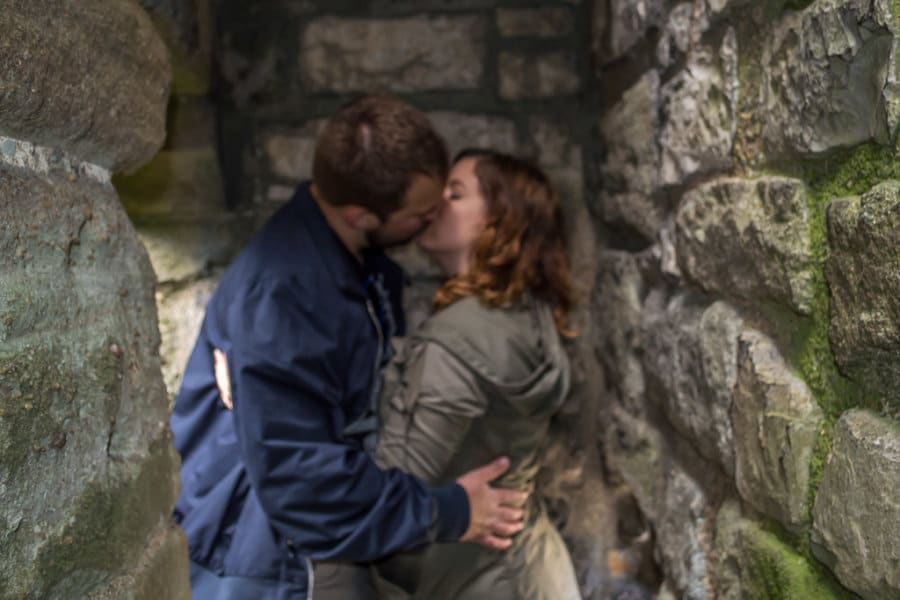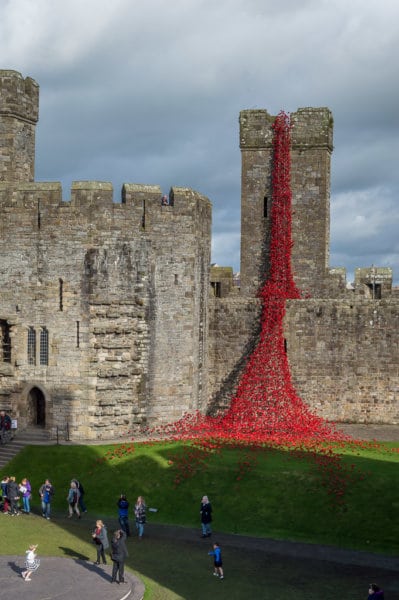 3. Pack delicious sustenance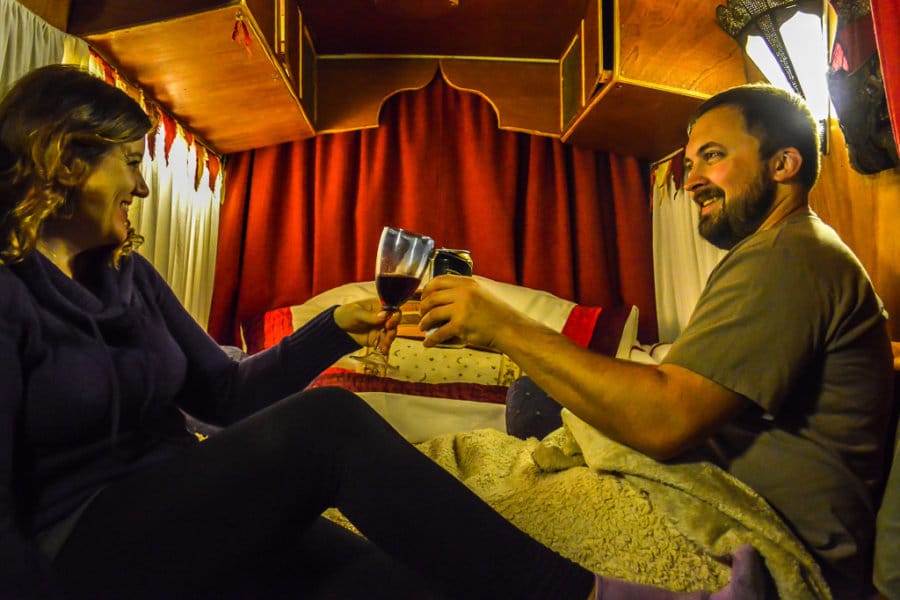 The beauty of a van like Esmerelda (aside from the plushest of bedding to snuggle into) is her onboard kitchen. Our van in Australia was lacking this essential amenity and wow did it make a difference.
Esmerelda has a gas stove, working sink, and a small refrigerator. There is also abundant storage space nestled within the cabinets and walls, so you can bring along your favorite foods, spices, and more.
This is everything you need to prepare a hearty, healthy dish during your road trip. We dined on fairly basic staples like pasta and soup, but there's space to whip up fancier meals if you're so inclined. And the van contains a variety of cooking implements so you're all set.
Most important for your romantic UK road trip is a couple bottles of nice wine, and perhaps a few cans of British cider (one of our personal faves). You can toast to a day of adventure and look forward to a quiet evening in your cozy van.
Did we mention how warm and quiet it is inside Esmerelda? Perfect for sweetly ending the day together. And of course, don't forget the tea.
4. Find the perfect campsites (or let the wind take you)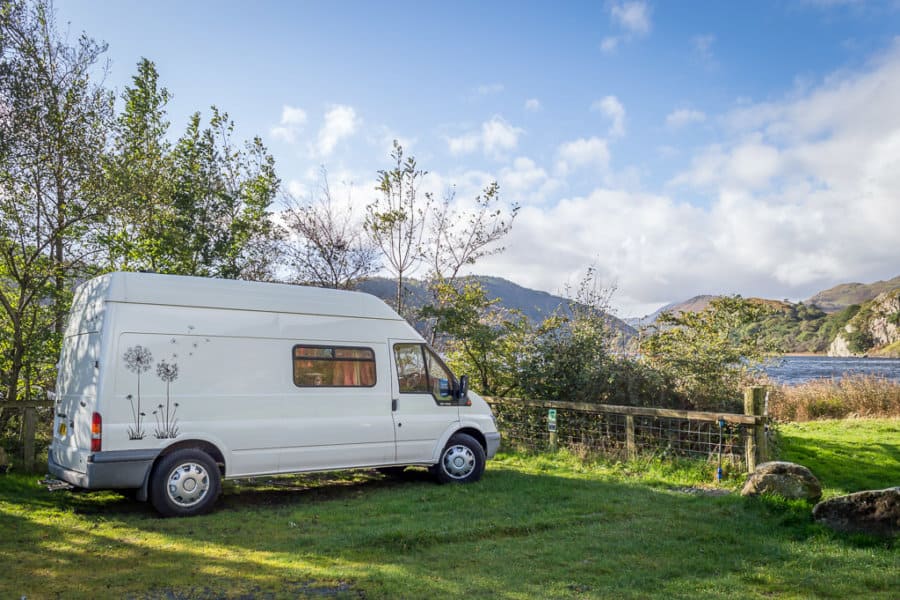 In a campervan, you can opt to stay in a range of places. We ended up spending 4 out of 5 nights at various caravan parks and campsites, so that we had showers, toilets, and even laundry, available to us.
One our first night out we free-camped on a farm using a guidebook called Brit Stops. (The guide comes along with Esmerelda). It was a unique experience as we parked up in someone's field with a grazing horse nearby and nothing but stars overhead. Really pristine, and of course, uber romantic.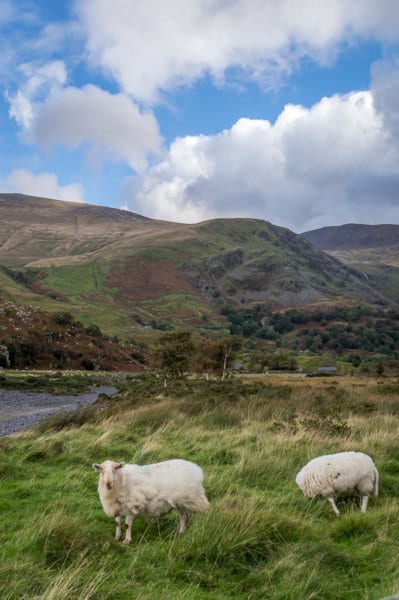 The other evenings we selected the following campsites, all of which we would recommend:
Llyn Gwynant – gorgeous views, very affordable
Rhyd y Galen – just outside Snowdonia, convenient to Caernarfon
Forest & Wye Valley Campsite – actually down in England, just over the border from Chepstow/Tintern Abbey, which we visited on our return drive
5. Expect the unexpected….
So much of a road trip is about being spontaneous and seeing where the wind takes you. After our trip, I'd recommend a solid combination of spontaneity and planning.
Certain aspects of a camping adventure need a bit more preparation (such as knowing where you will stay and finding the right directions to get there!!) but sometimes the best parts of travel involve those random moments where you end up lost but stumble upon an insane view.
That type of outcome really epitomizes our romantic UK road trip.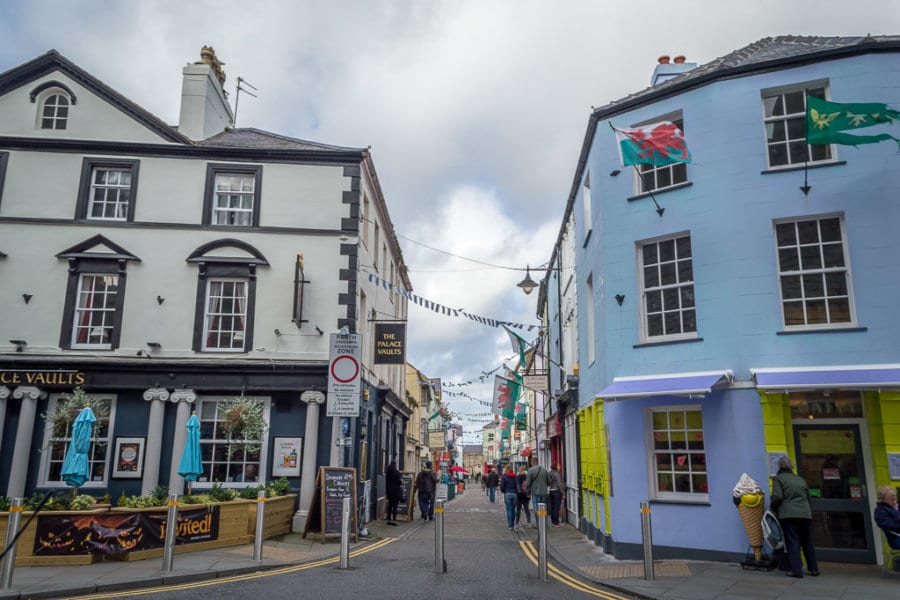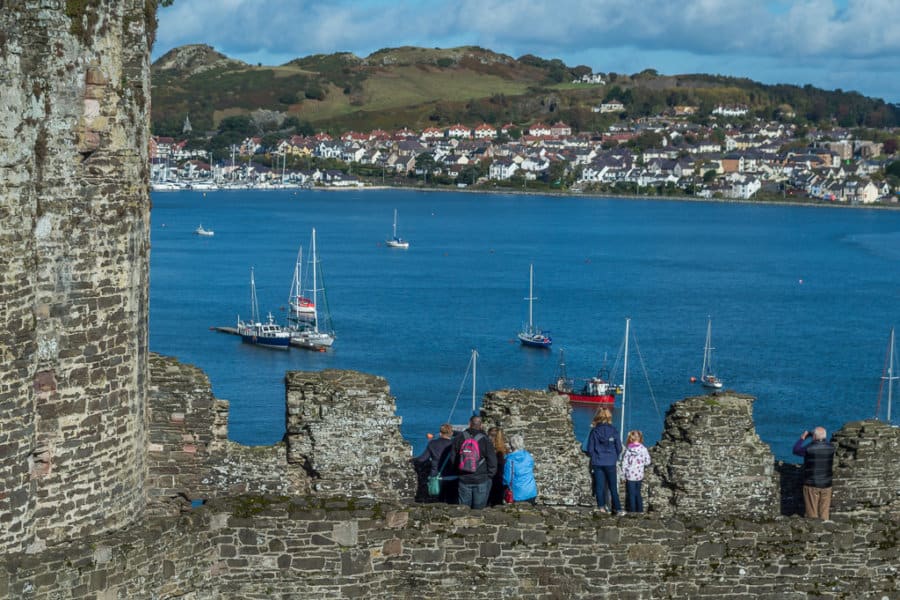 But misadventures seemed to be the order of the day this October. First, our camera was forgotten hours away in a London hostel. Thank God it was a friendly hostel with honest guests and awesome staff, or we may never have gotten it back. (It was the Queen Elizabeth Hostel by the way, perfect for a safe budget hostel in London).
Once we'd driven back toward London, we decided to park the van in Reading and take the train in to avoid driving in London itself.
Oh dear, have you ever tried to park a tall van in a city? Well, it takes more than an hour to do it, a studied avoidance of parking garages and one way roads, and a brilliant sense of humor!
This was a logistical nightmare that left us tense and exhausted, but ended with some nice parking attendants allowing us permission to park in the Aldi car park for a few extra hours (thank you kind men!)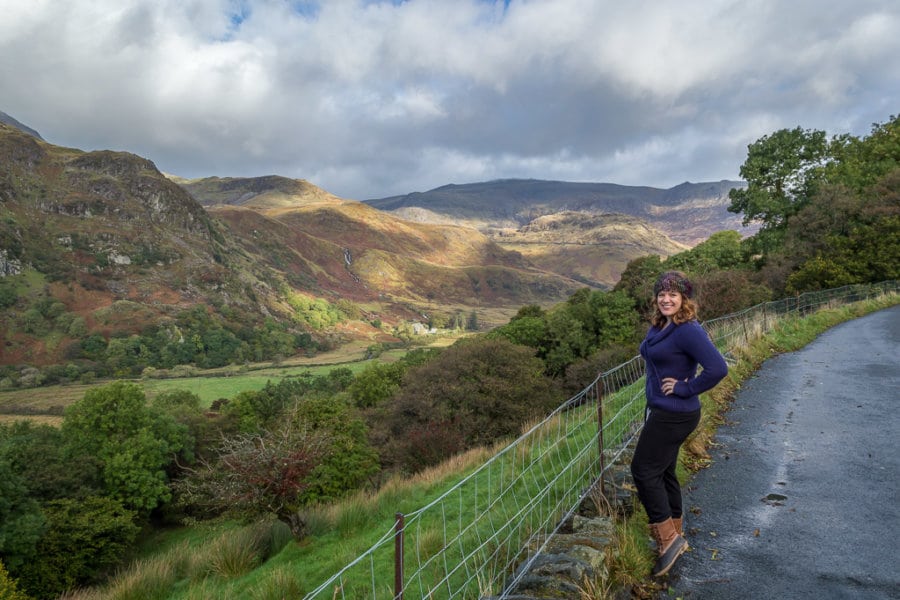 Camera retrieved, we got on our way. That same evening's misadventure involved driving up a winding, rocky mountain road which "Amy was sure" was the way to our campsite. NOPE.
It was merely the road to the top of a hill where the road ended, and the wind blew freezing air around us while we figured out how to turn around big ol' Esmerelda safely. Shouting instructions over blasts of cold wind at midnight is surely NOT part of having a romantic UK roadtrip!!
However, with teamwork and patience, we navigated this stressful situation successfully, and soon found our campsite (where we tumbled into Esmerelda's waiting arms for a well deserved rest).
Handling an incident like that really reinforces your confidence (though getting lost in the first place wasn't much of a confidence-booster), and by fixing the situation together, ultimately it brought the two of us even closer.
6. Go with your best friend.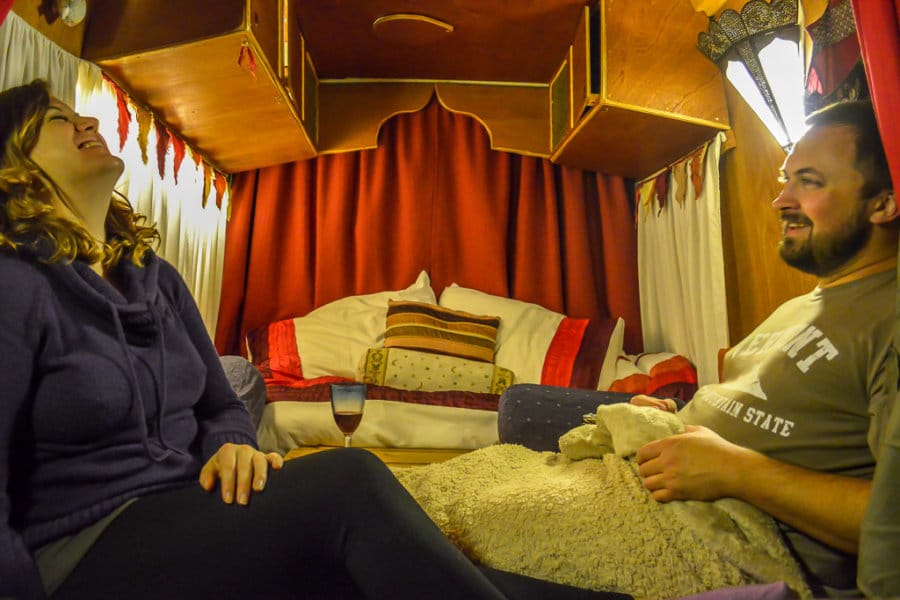 The final way to ensure you have a truly romantic UK road trip is to choose your travel partner wisely: go with your very best friend and the love of your life.
Without one another, our trip would never have been the same, and it's our personalities and decisions which ultimately created the unique experience that we had.
Honestly, you need to travel together so that you can laugh side by side during those ridiculous misadventures, or hug it out when the occasional stressful moment brings one of you to tears (Amy after a gust of Welsh wind blew our tripod over and smashed it to bits, nearly breaking our camera in the process as well).
And of course, traveling as a couple means snuggling under the covers, reading side by side, holding one another during rain storms, and sharing a bottle of wine as you recount the day's events.
It's those little moments of romance and adventure that make traveling together so, so worth it, and it's what creates a magical UK road trip—the kind you'll never forget. We know we won't.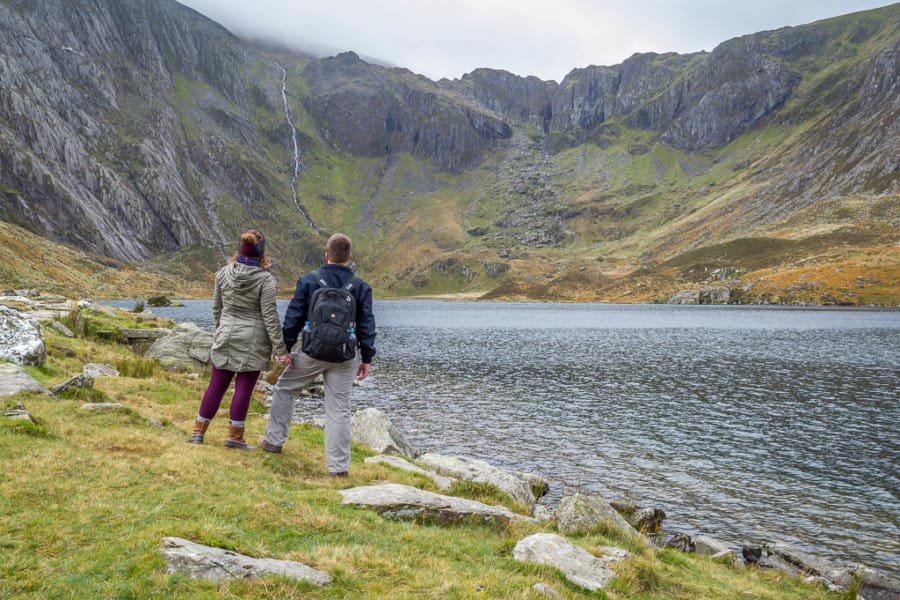 xx Amy & Nathan
Our campervan adventure with the incomparable Esmerelda was generously sponsored by Quirky Campers. All opinions are our own and reflect our genuine experience.
---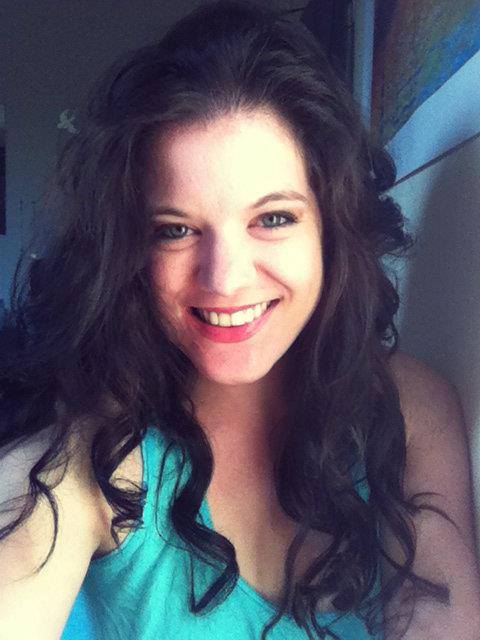 Amy Hartle is the author of Do You Love Me? How To Stop Seeking Reassurance in Relationships, a book on reassurance seeking and relationship anxiety. Both her book and this blog are born of personal experience; Amy shares expert relationship advice from the lessons learned during her own 10+ years with her husband, as well as couples travel tips and romantic getaway recommendations, all gleaned while traveling the world together.