This post may contain affiliate links. Read our disclosure page for full details.
This post on romantic things to do in Glasgow is a guest piece by Campbell and Gemma of Highlands2Hammocks.
Glasgow is one of the best cities to visit in Scotland due to its vibrant nightlife, beautiful buildings and awesome activities. Named the UK's top city for culture and creativity, Glasgow is a must-visit place during your romantic getaway to Scotland.
With more than 350 pubs and bars in Glasgow, an incredible number of nightclubs and more restaurants than you could visit in a year, it is no wonder that those who visit Glasgow fall in love.
Still not convinced? Well, let's have a look at just some of the best romantic things to do in Glasgow during your next trip.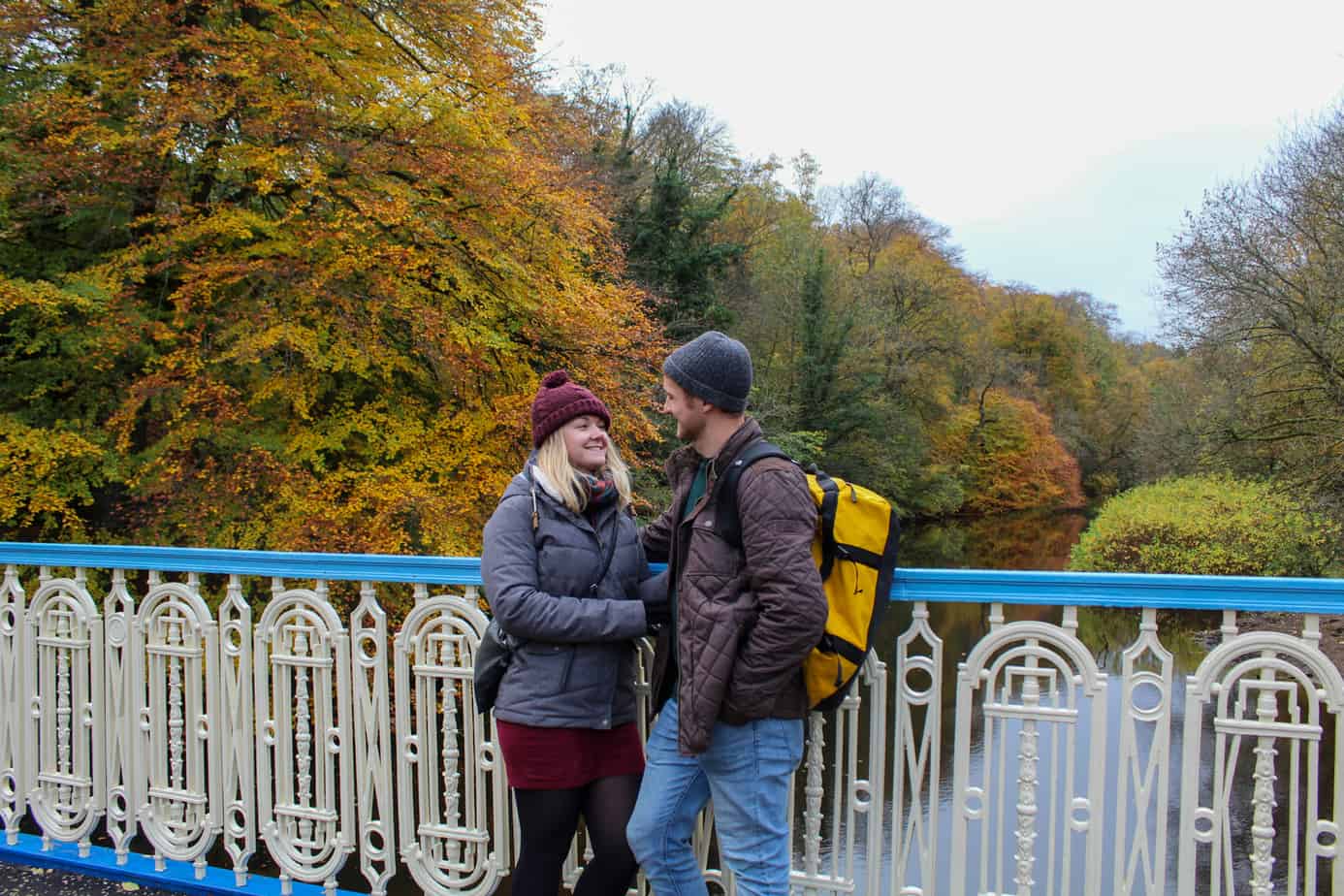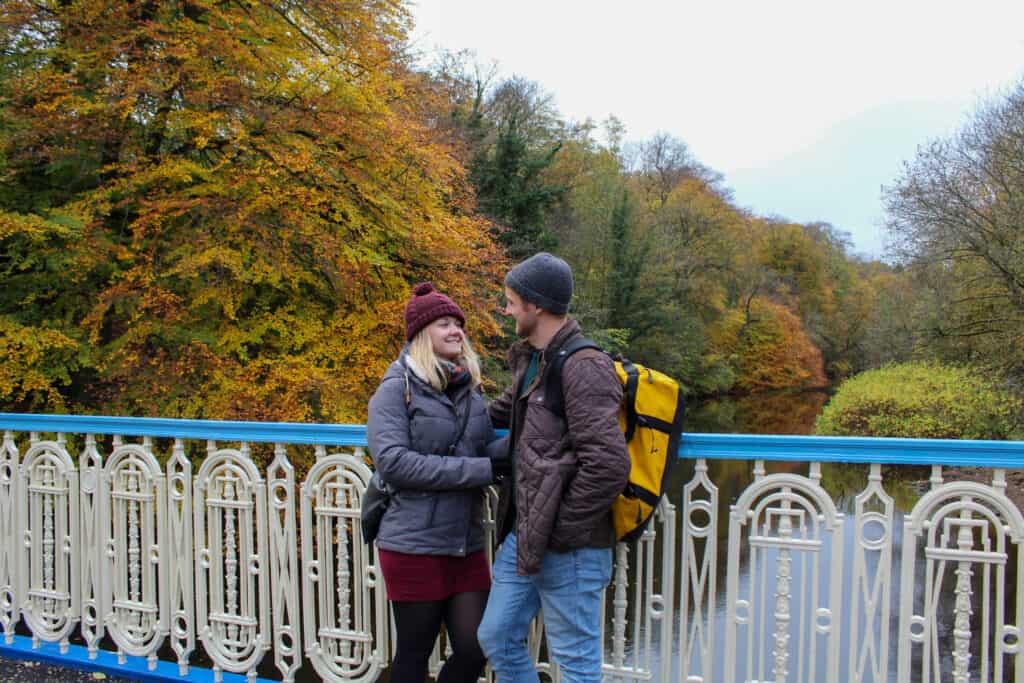 The Most Romantic Things to Do in Glasgow
Get a Couples Massage
Whether you are wanting to recover from a night on the town or are simply looking for a relaxing weekend away, a couple's massage is a great addition to any date in Glasgow city centre. Whether you are on a budget or wanting to experience something a bit more luxurious, you will have the choice of both.
Spread across the city centre are a host of different spa centres, ranging from your run of the mill relaxation centre to something a little quirkier, like the Gin Spa in Merchant City. Unwind, relax and get ready for another day in the bustling city of Glasgow.
Tip – Check out discount websites such as Groupon and Itison for massive discounts on massages and other relaxing experiences in Glasgow.
Visit the Christmas Markets
If you happen to be in Glasgow during the Christmas period, one of the most romantic things to do is wander around the Christmas markets on George Square and at the St Enoch Centre. Make a day of it and shop on the high street during the day, followed by an evening of enjoying the delicious food and drink on offer at these multicultural markets.
After you've eaten and had a browse, how about checking out the bar under the tent and warm up with some mulled wine? The covered seating areas at both Christmas Markets are a brilliant place to relax and enjoy the live music and buzzing atmosphere. What a perfect idea for a romantic date in Glasgow.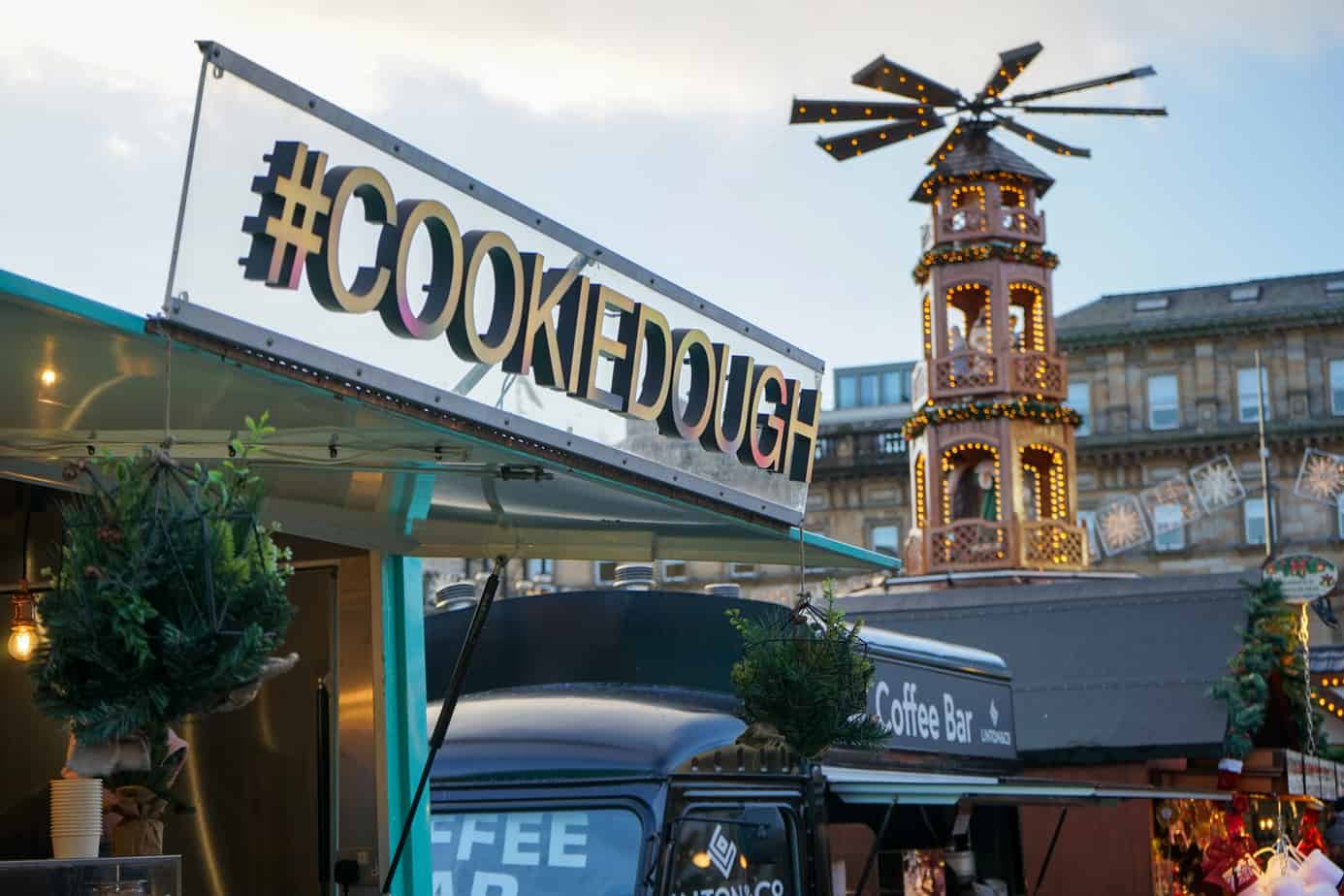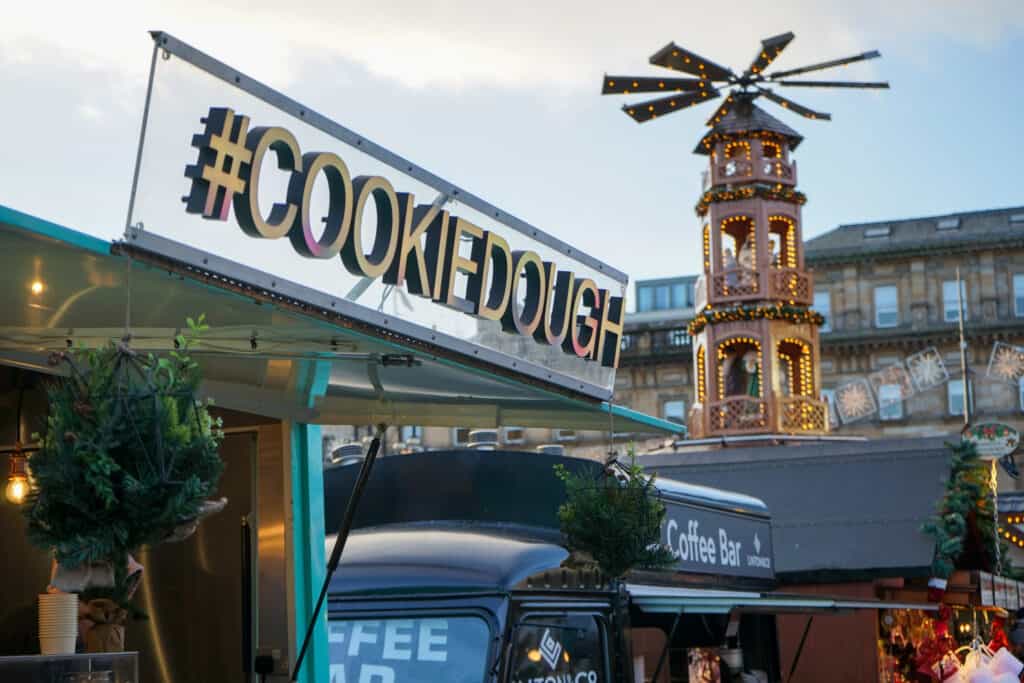 Dine out at Glasgow's Bars and Restaurants
If there is one thing Glasgow does exceptionally well is its vast selection of bars and restaurants, giving you and endless array of possibilities for date ideas in Glashow. Both the city centre and the west end of Glasgow will have you spoilt for choice. To get between both of these areas easily you can use the Glasgow underground system.
Our top suggestion for a romantic restaurant in Glasgow is the Butterfly and the Pig on Bath St in the city centre. This lower level restaurant has a real cosy feel to it, with mismatched, comfy seating, quirky wall decor and a huge selection of food and drink to enjoy. At night, there is also frequent entertainment from live musicians in the lounge area.
Date Night on Ashton Lane in the West End
One of the best things to do in Glasgow at night for couples is to head to the fairy-lit street of Ashton Lane. This is one of the top locations for bar crawls and date nights alike. Right beside the Hillhead subway station, this is a popular stopping point during a trip to Glasgow's west end entertainment. Lined with bars and restaurants such as the Grosvenor Hotel and Vodka Wodka, Ashton Lane is a fantastic place to spend a night on the town.
If you are looking for an extra special night, we recommend dinner and a movie at the Grosvenor Cinema. This refurbished cinema offers more than your average movie screening, with large, comfy chairs followed by a discount at the restaurant below.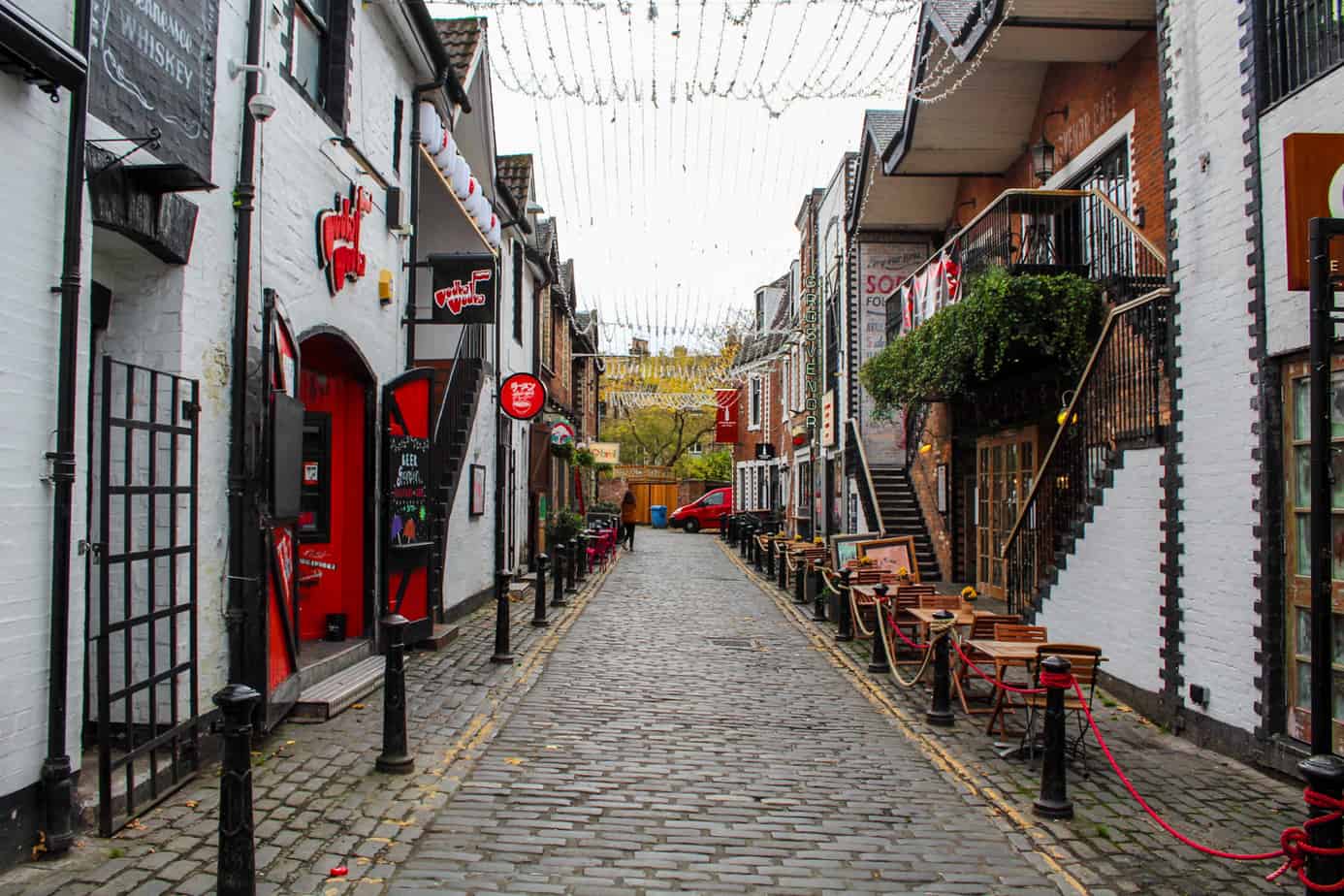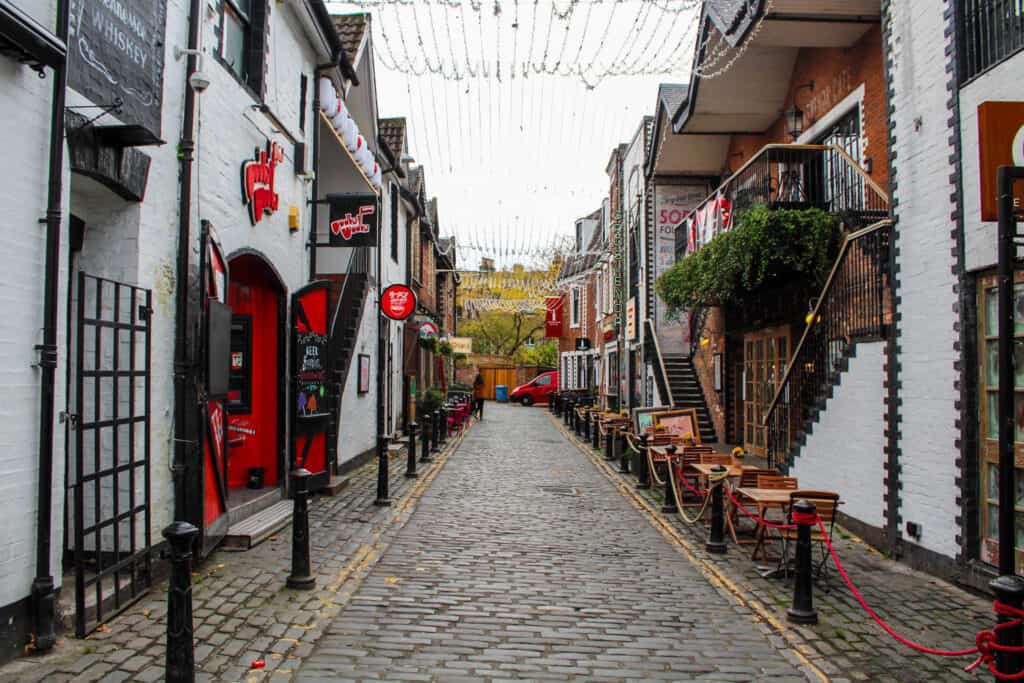 Walk Through Glasgow Botanic Gardens
The Glasgow Botanic Gardens are the perfect place to escape the hustle and bustle of the city centre. Explore the undercover gardens and the surrounding area and forget that you are in the heart of the city for a little while. Dating back to 1817, this 8-acre site has hosted plants from all around the world for over two centuries. Take a walk through nature and time as you admire the beautiful colours and tranquility of nature.
Visit during late Autumn/ early Winter for beautiful orange colours of falling leaves or in Spring for newly blossoming flowers and the sound of new songbirds.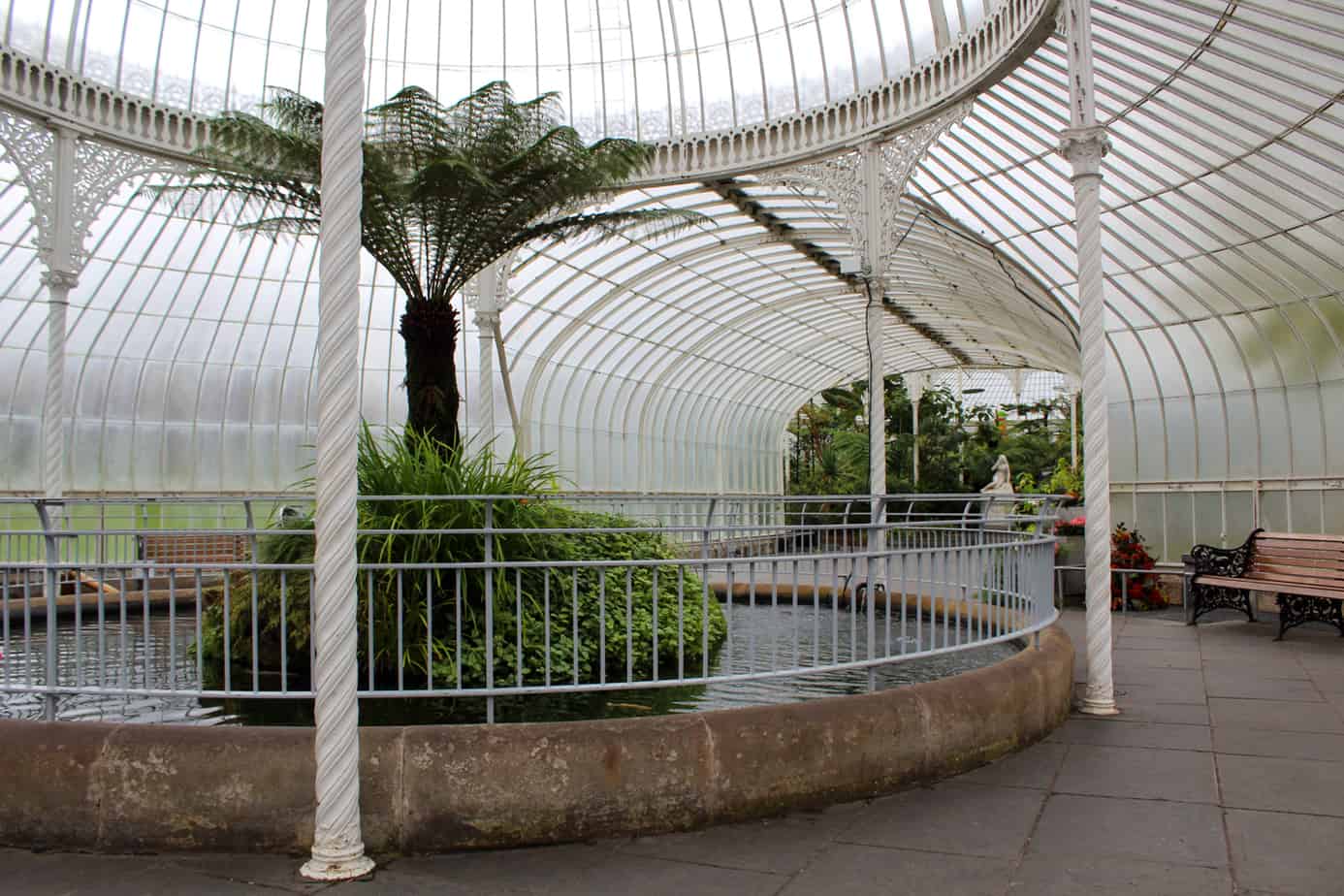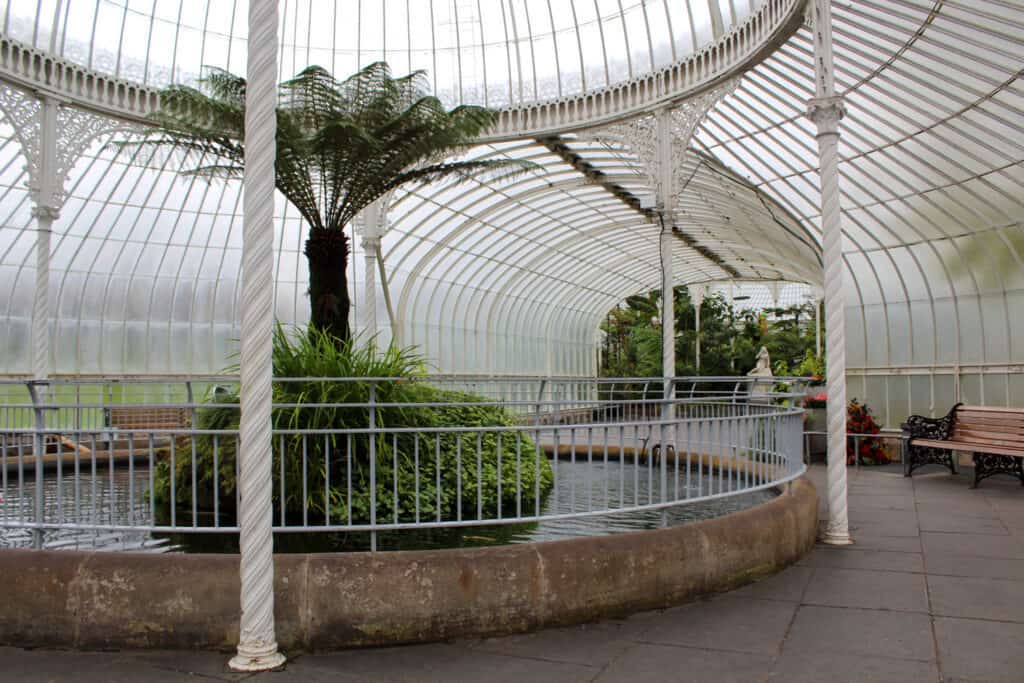 Enjoy the Nature in Kelvingrove Park
Situated in the west end of Glasgow, this 85-acre park is another escape from the busy city life of Glasgow. This Victorian-era park features many beautiful buildings and peaceful walks along the banks of the River Kelvin. The park contains the Kelvingrove Museum and Art Galleries, sport venues, cafes and even a skateboard park for locals to enjoy.
Not far from here are the magical grounds of Glasgow University, which are often compared to the beautiful buildings of Hogwarts itself. These are also a beautiful location to wander around and admire the towering buildings and grand gardens.
Read Next: 21 Most Romantic Places in Europe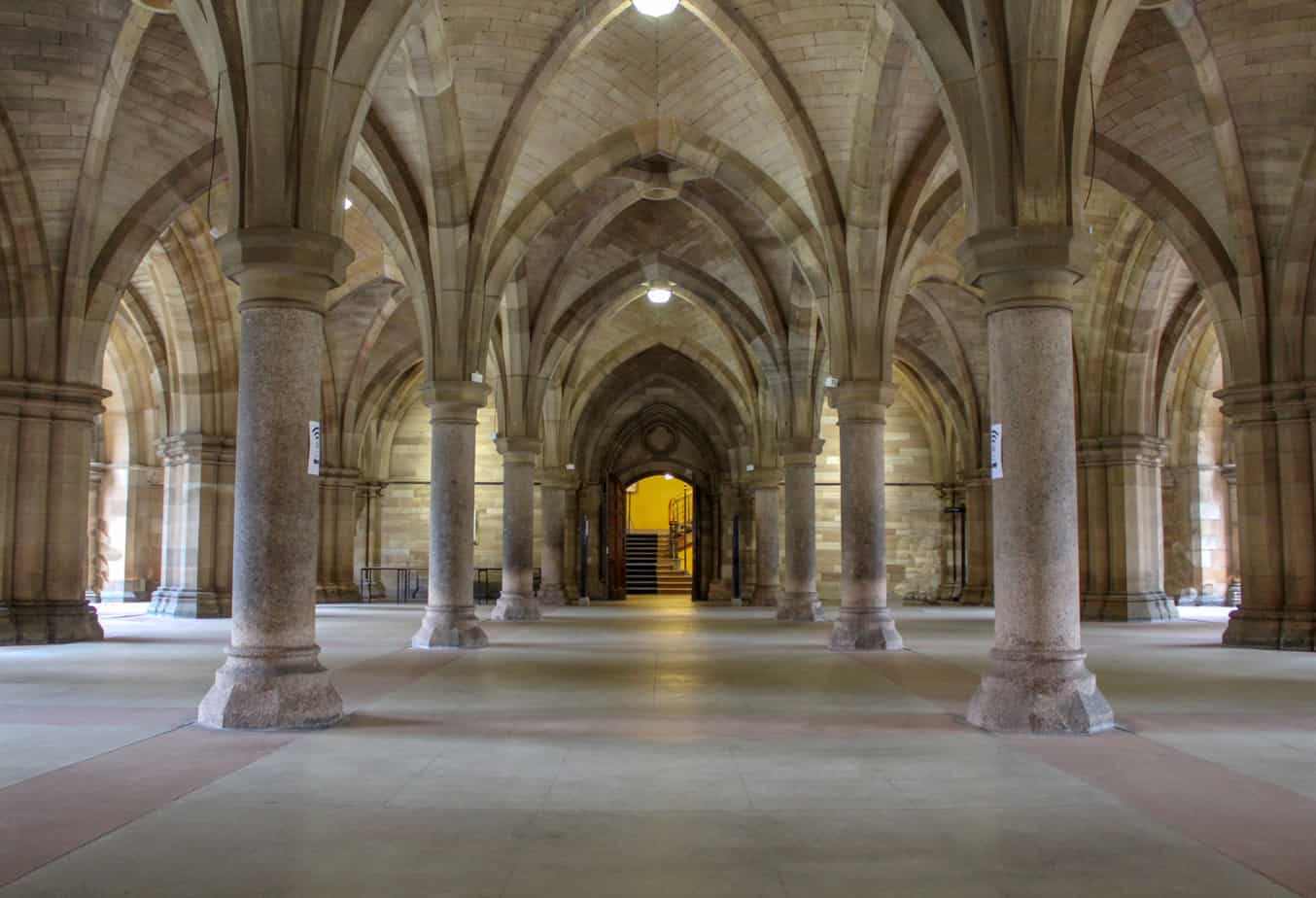 Red Raw at the Stand-up Comedy Club on a Tuesday
Looking for things to do in Glasgow for couples? Why not find somewhere to laugh your heads off?!
Every Tuesday night in Glasgow's West End, the Stand comedy club puts on a show of beginner comedy genius'. Known as the best open mic night in the UK, Red Raw features up to 10 comedy acts, some of whom will be making the stage for the very first time. Every comedian starts somewhere and this is your chance to catch the rising stars of UK comedy. Also, keep your eyes peeled for some old-guns braving the lights with some fresh content to try out on an eager audience
Hit Up Fore Play Crazy Golf Party and Cocktail Bar
Who doesn't enjoy a game of crazy golf, especially when it comes to one with an onsite bar stocked with cocktails and beers galore! With a host of delicious Czech grub from the onsite caterers, two golf courses with different obstacles and Glasgowegian landmarks, as well as a whole menu of cocktails to choose from, this is the perfect date night.
There are also group packages available for special occasions, so be sure to check out the deals and book in advance to avoid disappointment.
Sip Drinks at Hillhead Book Club
One of the West End's quirkiest bars, this old, converted library serves a fantastic menu of cocktails. Situated on Byres Road, just along from Ashton Lane, Hillhead Bookclub is another popular stopping off point on a West End bar crawl through the city. Stick your head in, admire the walls lined with books and even relax for a while with a board game and a drink in hand.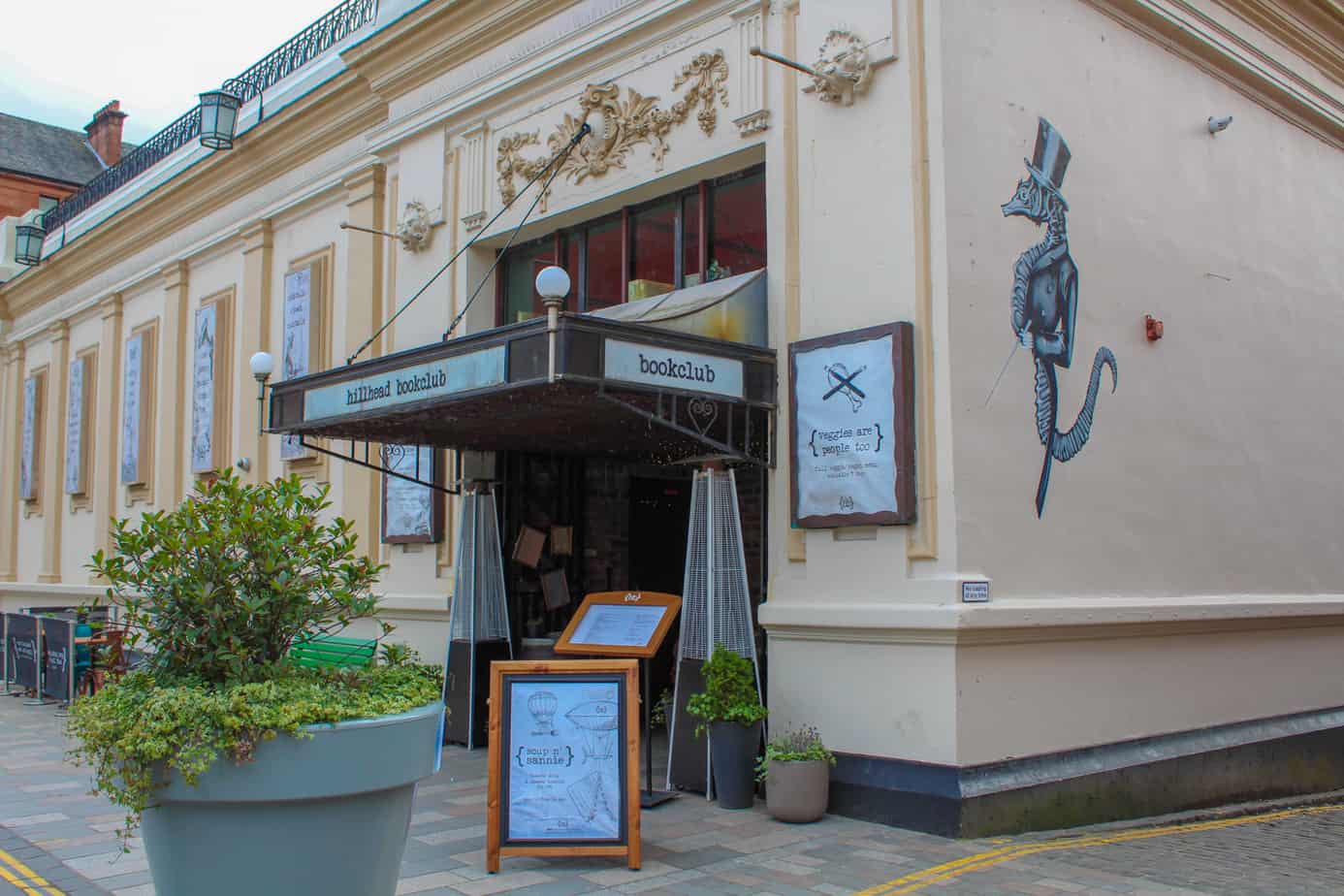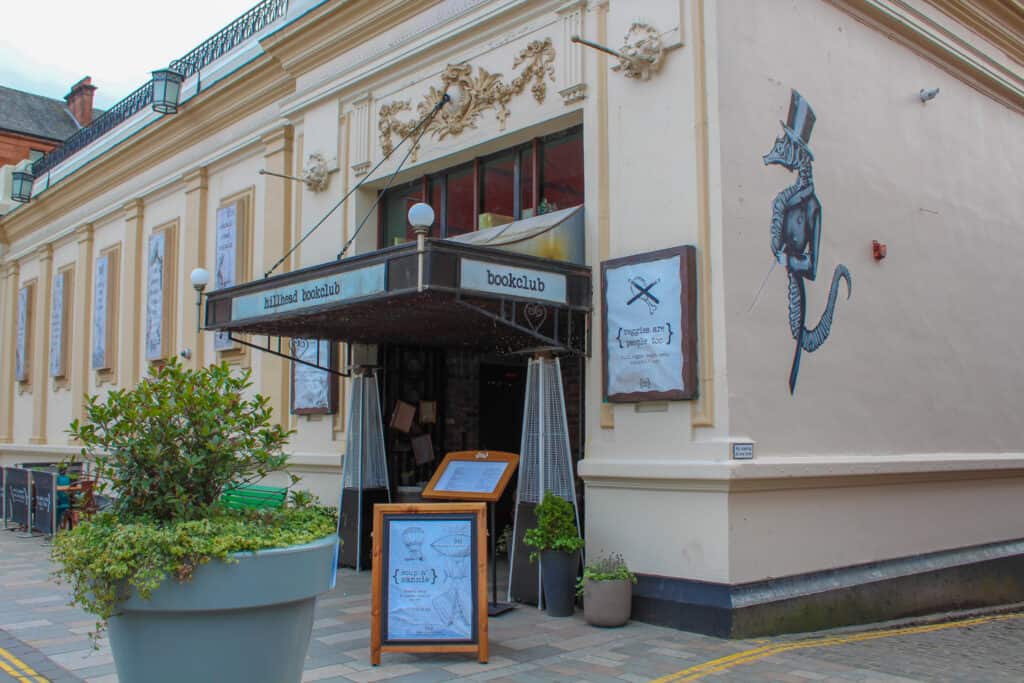 Enjoy a Boat Trip Along the River Clyde
Explore the history of how Glasgow became the city it is today as you tour the Rover Clyde. As the main historical docking city of Scotland, the fascinating history of this river makes for a fantastic day out. Cruise along the river and marvel at the completely unique perspective of the city with one of the 5 different river tours on offer.
Trips range from 1hr to 4hrs, £15pp to £48pp, and give you the option to tour just the city centre or head out west to the remote, hillside towns along the Clyde.
Go to the Theatre
Whether you are in the city centre or in the West End, the theatre is a huge part of Glasgow's culture. Grab tickets to the top shows in the world, straight from the streets of Broadway themselves and settle in for a night of entertainment. With majority of restaurants around the city centre offering Pre-Theatre dinner offers, why not make a night of it and treat yourself to a delicious meal before the show.
If you are looking for a more festive treat, some lighter-hearted entertainment and something that is uniquely British then get tickets for this year's Pantomime shows. Originating in Glasgow, the Pantomime is a show like no other and one for all the family. There is nothing quite like a good Panto to get you in the Christmas spirit.
Keep an eye out for last-minute, discount tickets to the best shows over at TodayTix.
Watch the Sunset over the City at the LightHouse
One of Glasgow's lesser-known gems is not too far from the busy shopping district of Buchannan Street. Glasgow's centre for design and architecture, known as the Lighthouse, offers the best view of the city from above. Climb the spiraling helix staircase in the Charles Rennie Macintosh exhibit to the top of the tower simply gorgeous view over Glasgow. Visit this viewpoint during the winter for a sunset to remember, as at this time of year the sun sets across Glasgow before the exhibition closes.
Inside the gallery itself are a range of varying exhibitions showing off interesting and novel ideas in architecture and building design. The Charles Rennie Mackintosh exhibit itself, known as the Mack, shows off the life and work of Glasgow's most famous architect.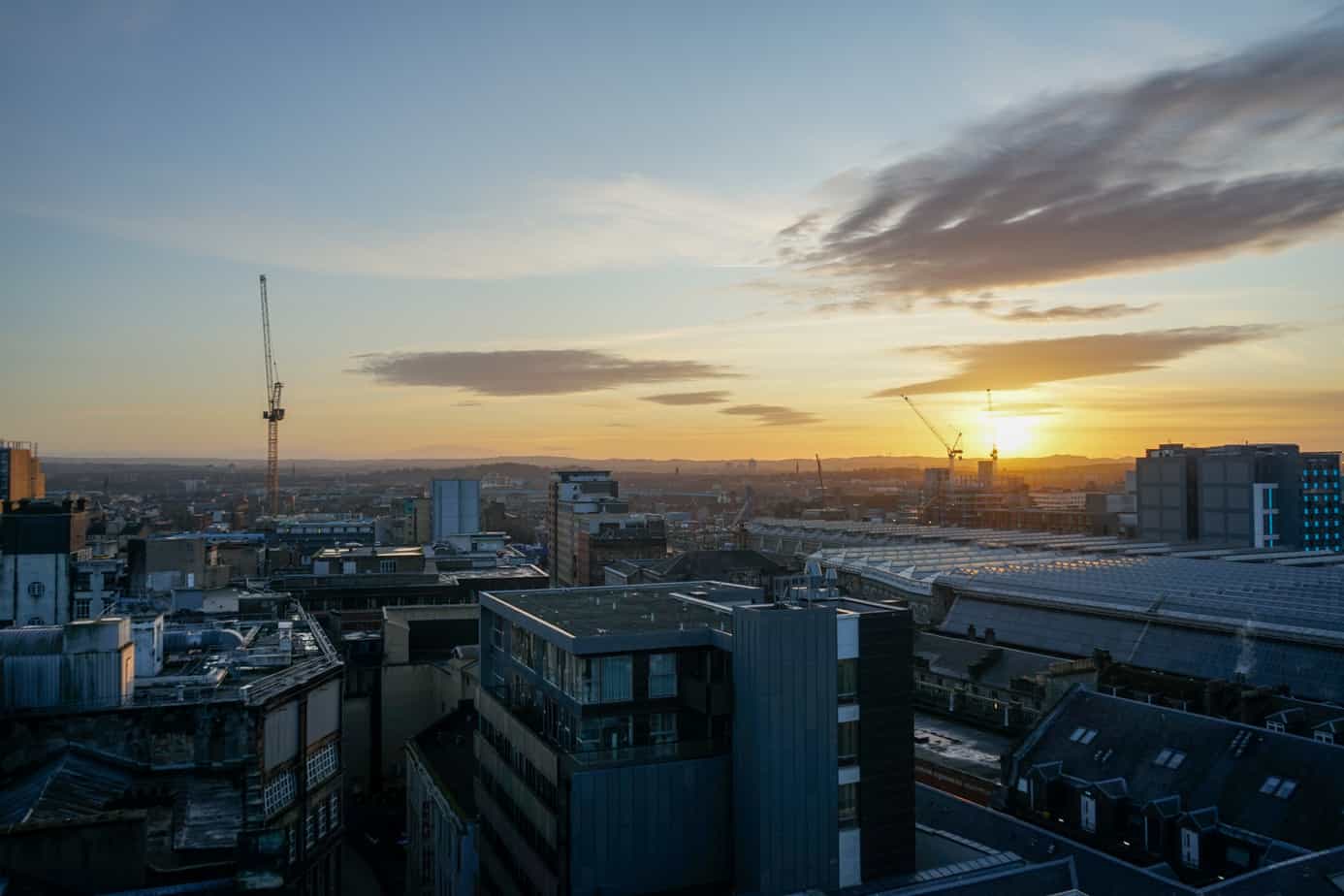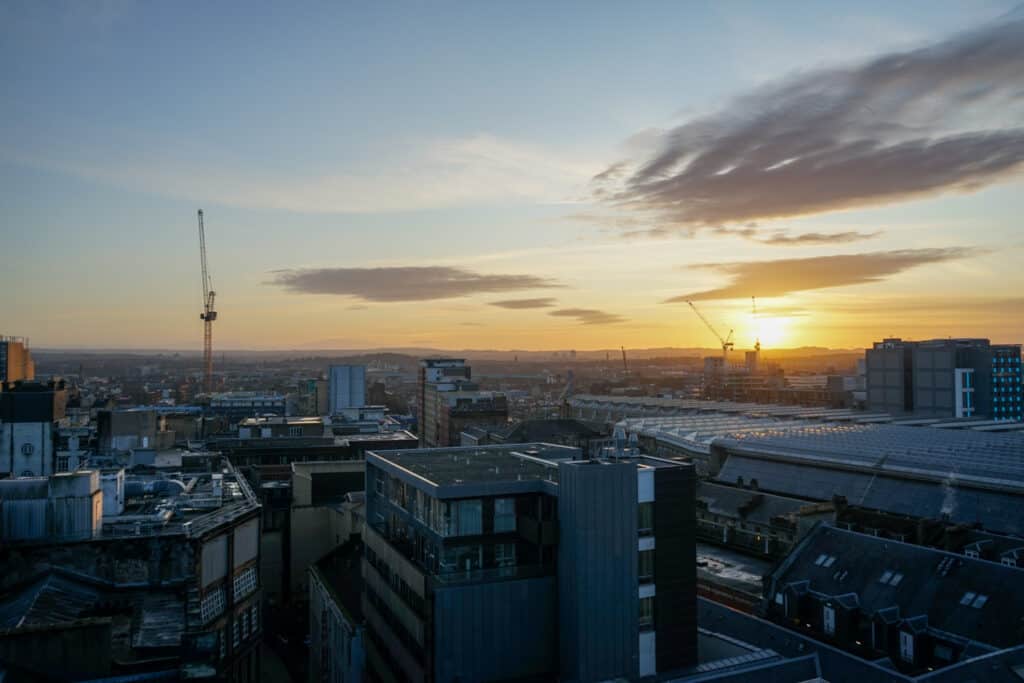 Glasgow is a city that just keeps on giving, with all of these amazing, romantic nights out and so much more. On your next trip to Scotland, make sure you swing by the Capital for Culture and experience a day out you will never forget. Since it is a city that never stops changing, make sure you keep an eye on the GlasgowLive website for all of the new and exciting activities, pop-up bars and restaurants that are opening every month.
You might also like to check out: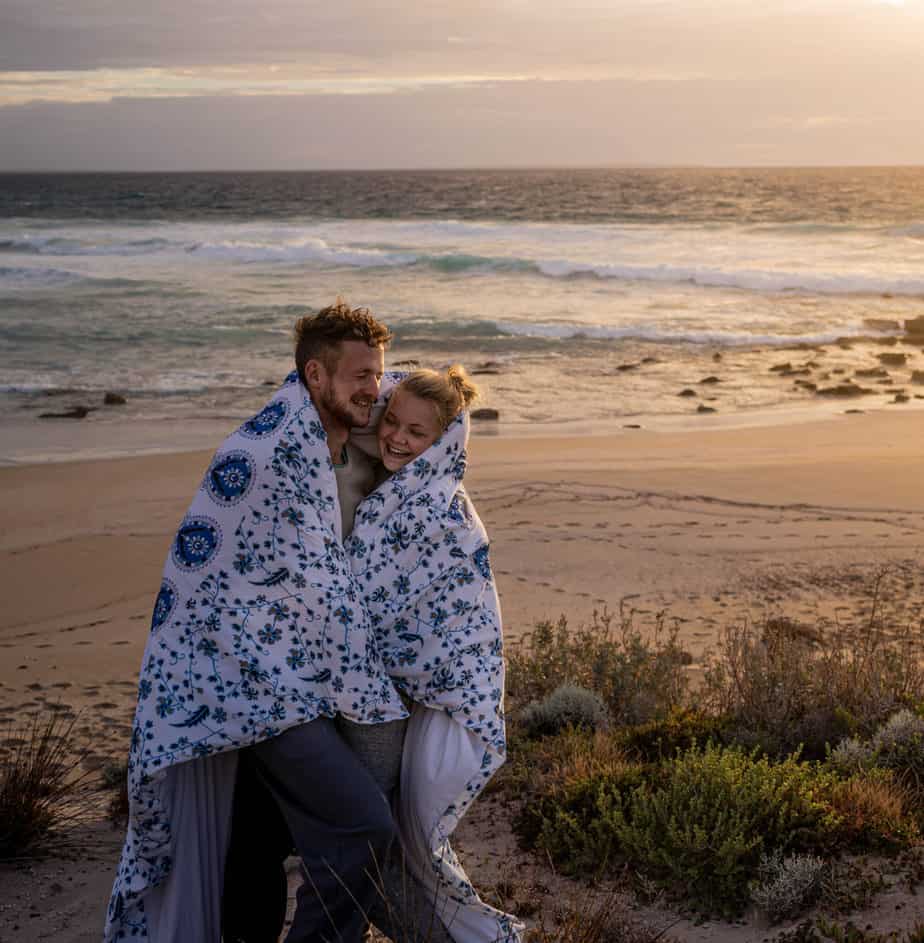 ---
About the authors: Gemma and Campbell are two Scots on the run from a 9-5 lifestyle.
After years of planning, they finally quit their jobs and set out to find their place in this beautiful world.
Currently in Australia, they are living in a camper van and touring the epic Australian coastlines, which shows just how much they love adventure travel. They love promoting this kind of travel to their fellow wanderlusters on their blog highlands2hammocks.co.uk.