---
*Links in this article may be affiliate links, from which we may earn commission. See our
Privacy Policy
for full details.
---
When the air grows chill and the snow starts to fall, it is a special time of year. And though it is cold (and often dark) in this season, you will find that there are so many amazing things to do in the winter—especially for couples.
Some winter activities are clearly meant for romance: snuggling up by a roaring fire with mugs of hot cocoa in hand. Sharing a blanket as you watch a movie and the snow falls outside the window. Or, as Christmas approaches, kissing under the mistletoe.
But there are also outdoor things to do in winter, too, no matter where you may live. Needless to say, there's lots to do and only a few months to do it in! If you're wanting to make this winter with your sweetheart the best yet, why not create your own winter bucket list for couples?
We've got lots of ideas and inspiration for you below, so read on.
Why Create a Winter Bucket List?
What is the purpose of a bucket list? This article talks about some of the lasting effects of creating a personal bucket list, such as putting you in touch with your goals and helping you to focus on your values–what's important to you.
As a married couple (and avid travelers) we think putting together a bucket list as a couple is one of the best things you can do together! Creating a list of shared goals and dreams is incredibly bonding and allows you to work together towards making some of your all-time favorite memories. As a bonus, a lot of bucket list ideas can also serve to deepen your relationship and further cement your love for one another.
A winter bucket list can provide all of the above benefits, while also helping you to make the most of a wonderful and beautiful season. You don't have to worry about missing out on some of the finest activities the season has to offer. Check off each item one by one, and feel free to add your own!
Ready to get started creating your couples' winter bucket list? You might also enjoy checking out these useful posts on our site:
25 Winter Bucket List Ideas for Couples
Thinking off stuff to do in winter often seems obvious: snow, sitting by the fire, hot cocoa. And while those things are definitely fantastic (and certainly are must-do winter activities for couples) we've come up with a few more ideas as well. These should provide an excellent starting point for your wintry bucket list, but feel free to add your own twist! And if you come up with something really cool, tell us about it in the comments!
Psst! We've got a special freebie for you. Get your own printable version of this bucket list here.
1. Have a snowball fight
What says winter better than a snowball fight? A one-on-one is great fun, but feel free to invite friends over for an epic snow attack. If you are a couple with kids, make it a family winter bucket list item!
2. Plan a Christmas movie marathon
This is one of those winter activities couples usually do without thinking. After all, who doesn't love a good Netflix binge session?
Well, consider putting a spin on the classic movie marathon. Watch only movies neither of you has ever seen. Watch only black and white Christmas movies. Watch cartoons and kids' Christmas shows only.
After the holidays are over, another type of movie marathon is great, too.
3. Make delicious Christmas cocktails
Cheers to the holidays! While you're sitting indoors and getting cozy, sometimes regular hot cocoa just isn't enough. Perhaps you're in need of a wintry adult beverage? Get creative and work together to craft your signature winter cocktail, something you can traditionally enjoy together each season.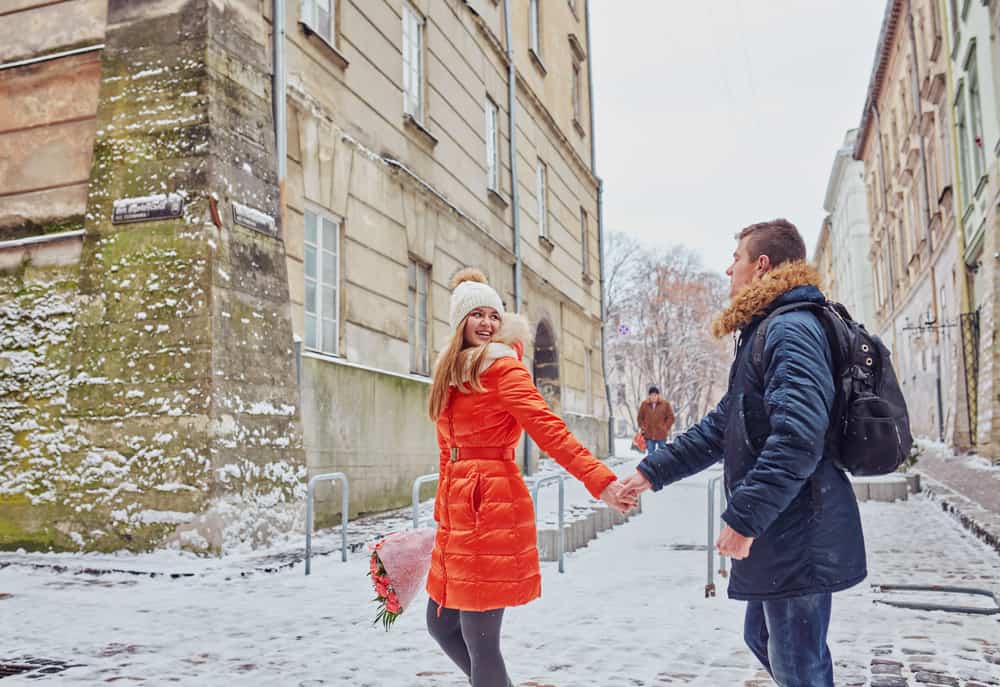 As you can probably tell, we're kinda into travel. There are soooo many great reasons to take a trip as a couple (here's 25 of them!!) and winter presents a perfect opportunity. Not only is it an extremely romantic time of year, but many destinations offer great deals if their destination is in the "off-season." For that reason, January and February can be an especially wise time for a romantic getaway.
Need some inspiration? Take a look at our list of terrific Christmas destinations in the US as well as this compilation of the best romantic places in the USA in general.
5. Fill each other's stockings
As a child, my favorite part of Christmas morning was always opening my stocking. It was a moment filled with anticipation, and I loved how my mom took the extra time to wrap all of the little stocking gifts. It gave me so much to open!
Well, why not revamp that tradition as adults? It's amazing how many fun tiny gifts there are out there that are perfect for stockings. In fact, we've got a massive list of stocking stuffers for men!
PS: If you don't celebrate Christmas, consider how you might adapt these couples winter bucket list items to fit your own traditions!
One of the classic Christmas activities for couples is to bake cookies together. With so many incredible recipes online these days, you can bake cookies for weeks and not be finished! Plus, cookie recipes can be found for every diet. Check out this list of awesome vegan Christmas cookies!
After you've baked up a storm, sample the cookies yourselves or consider giving them as gifts to family and friends.
7. Add a new Christmas ornament to your tree
Each year, pick out a new ornament together to add to your tree. If you're a married couple, your tree will grow each year that you are together, becoming an incredibly meaningful tree.
8. Take turns making breakfast in bed for each other
Good morning! On a chilly weekend day this winter, make your partner breakfast in bed. It will be their turn next weekend!
Breakfast in bed is always fun and very special, and it doesn't have to be fancy. Take a lesson from the cute couple in this photo below. Toast and coffee are just fine for a simple winter breakfast. Though, if Nathan is reading this…I'd love some french toast in bed, please!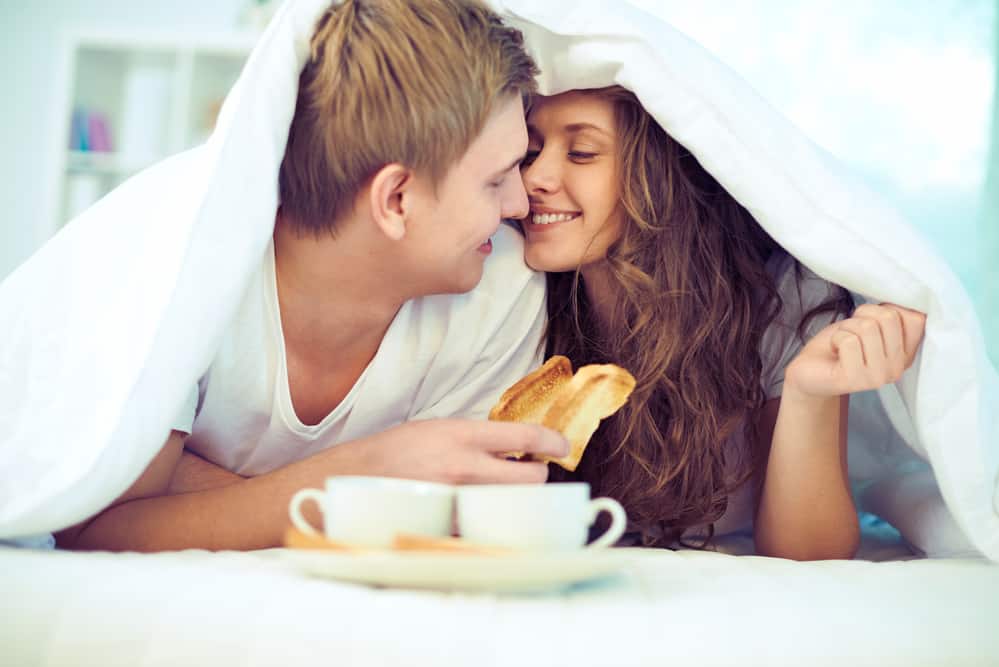 9. Bundle up and go winter stargazing.
Take advantage of those cold, clear skies with a bit of wintertime stargazing. This is something that you might typically do in the summer months, but winter offers shockingly clear skies with great opportunities to watch the stars. Plus, the sky is different in winter!
10. Take a midnight snowshoe trek.
Speaking of winter nights….here is a unique addition to this list of fun winter activities for couples: a midnight snowshoe. If you've never tried snowshoeing, it makes for a perfect outdoor winter activity, and a midnight guided tour can be super romantic and magical.
Unless you're a seasoned pair of snowshoers, you will definitely want to consider a guided tour, but if you're in a snowy region, you can probably find an option near you. REI offers some of these tours in different locations.
If no night-time options are available near you, going out snowshoeing during the day is beautiful, too.
11. Build a bonfire
Winter is the time when fires burn bright and toasty.
If you have the option, enjoy a big, crackling bonfire. (Fire safety always, guys! Love, Your Mom)
Otherwise, a small, intimate campfire totally gets the job done. Find the ideal spot, and don't forget the soft blankets and the s'mores!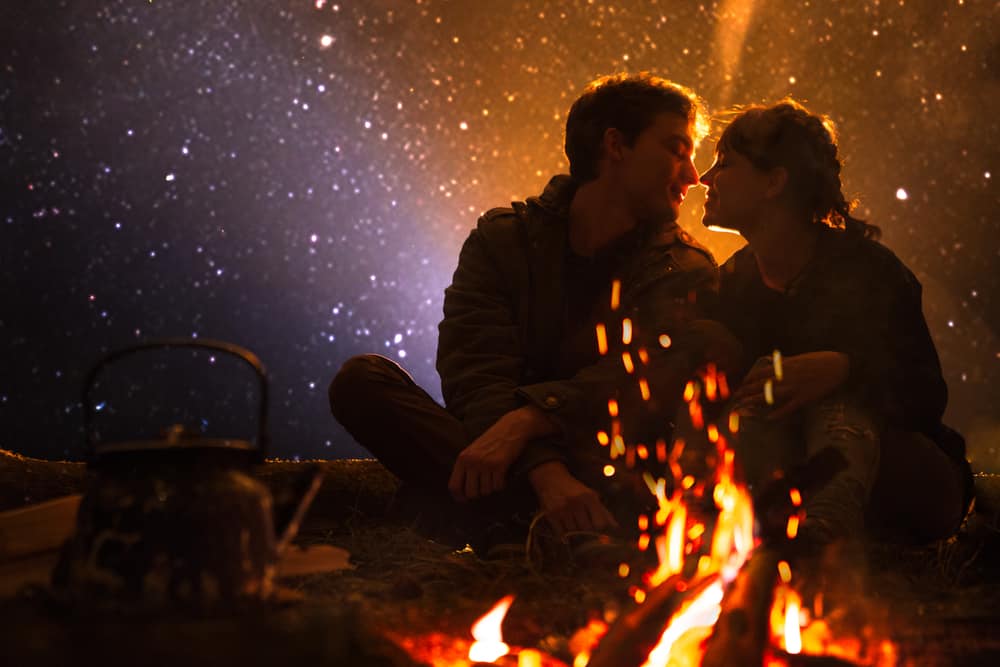 12. Check out an escape room.
Have the two of you ever done an escape room? If you haven't, winter is the perfect time to check this off of your bucket list. Escape rooms have grown in popularity in recent years and they are SO. MUCH. FUN.
This is a collaborative activity that will involve working together and communicating. Generally, most escape rooms are more fun and effective with groups larger than just two. So go with friends (or join with a random group of players) and enjoy cracking the puzzles and "escaping" from the room.
Are escape rooms your jam? You should check out these other nerdy date ideas that Nathan has put together.
13. Volunteer together
Giving back during the holiday season (or at any time of year) is so special. When you do it together as a couple, it can make an even deeper impact.
This cold time of year can be a perfect time to volunteer at a soup kitchen or to spread holiday cheer. You could also opt to do something from home, like writing letters to those in the armed forces.
14. Play like kids in the snow
It's time to do ALL THE WINTER THINGS! There's nothing so cute for couples to do in winter like playing happily in the snow. Suit up in your toughest snowsuits and have a blast outside together. After you've built a snowman, made snow angels, and created a cozy igloo, you can head inside and warm up with some hot drinks.
15. Host a game night with friends
Board games are enjoyable year-round, but the winter season lends itself perfectly to playing them a whole bunch. You can absolutely have a board game date night for two, and we have a bunch of suggestions for fun board games for couples. But a group game night is always a blast.
You can consider serving your newly invented Christmas cocktail at this gathering, too!
16. Cook up a big batch of chili or soup.
Eat hearty in the winter. Cooking together is super bonding and something like chili or soup can be remarkably easy to put together. Plus, if you make it in the slow-cooker, you can enjoy the delicious aromas as the meal simmers all day long.
17. Go ice skating
Twirling across an icy pond hand in hand while snowflakes gently fall around you? The epitome of romantic winter moments.
Ice skating can be challenging, though, especially if you haven't done it since you were a kid (or haven't ever done it). Luckily, you'll have your partner there to hold your hand. And if you go to an indoor rink, you can totally hug the side of the rink until you get confident enough to glide freely.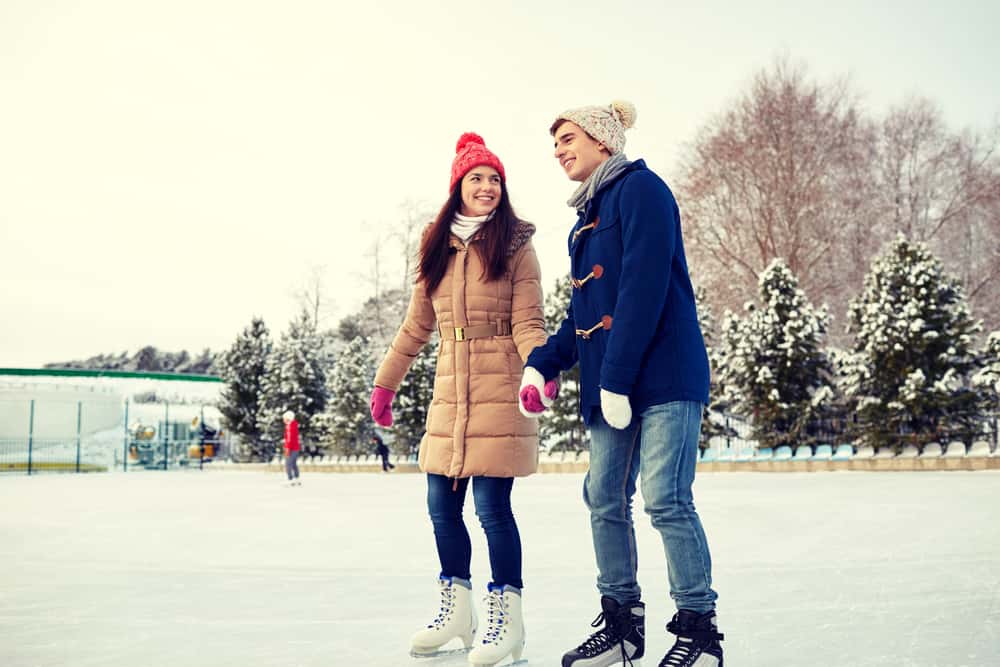 18. Go for a sleigh ride
Step back in time with a traditional sleigh ride. You'll need a snowy location for this, although you may be able to find a horse-drawn carriage as a substitute. Treat your lady (or your man) to a memorable jaunt around the park, through the woods, or wherever the sleigh can take you.
19. Do absolutely nothing together.
This might seem like an unusual winter bucket list idea, but personally, I think it's an essential one.
Take a day and do NOTHING with your significant other. This is a day for completely slowing down and simply enjoying one another's presence. This can be difficult for modern couples who are a bit screen-addicted (guilty as charged), but if you can unplug and focus on one another, it will do wonders for your relationship (and for your mental health!)
20. Plan your dream tropical vacation (even if you don't go)
Do this on the coldest day of the year. When you're pining for palm trees and sunny skies, it can be so tempting to consider jetting off to an island in the Caribbean or a white sandy beach.
Well, go ahead and plan it together! To make it even more exciting, plan your DREAM vacation together. Splurge on everything you want. Even if this is a hypothetical trip, you'll get lost in the fantasy together and feel warmer instantly!
PS: If the Caribbean or another warm destination IS possible for you to swing, check out these helpful posts:
21. Try a new hobby together
Winter tends to be less busy than other seasons (after the holidays, of course) so why not invest in yourselves and learn something new? Try a new hobby or take lessons? Some ideas include ballroom dance classes, pottery or other art classes, scrapbooking together at home, watching YouTube videos to learn woodworking, and so much more. Really, the possibilities are endless!
22. Plan a special Valentine's Day dinner
Winter includes one of our personal favorite holidays: Valentine's Day! Any one of these ideas (or these) would be great for your Valentine's Day date plans, but at night, stay in and cook something wonderful. We've got the perfect collection of romantic recipes for two to help you plan.
Every year, I try to do this year-end review or year-end ritual. It involves journaling extensively about your past year and the year to come. This is an incredibly worthwhile exercise, but it does take time.
If you and your partner choose to do the year-end review, consider sharing some of your responses together. I especially recommend sharing your notes about the future. It can be a great way to plan together for your shared couple goals.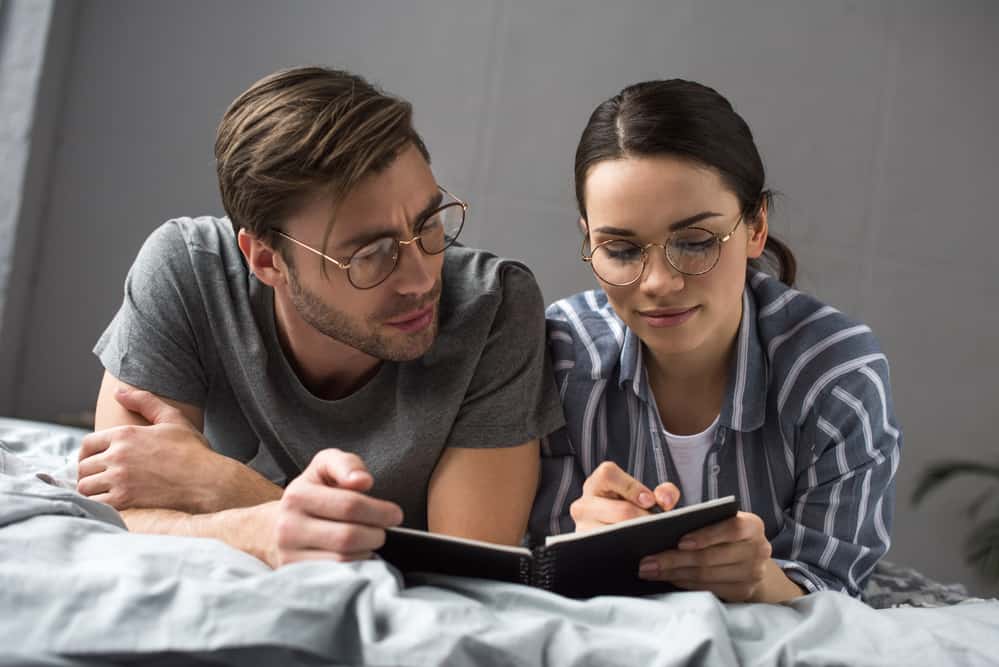 24. Do an indoor activity you haven't done in a while – perfect for a wintry date night
Are you wondering what should I do in the evening in winter? Perhaps consider doing something you've done before but haven't done in a while. For us, that's something like bowling, roller skating, or laser tag. There are so many ideas for things to do at night in the winter.
25. Give some bedroom games a try.
Give your intimacy a boost by getting creative in the bedroom with your spouse. After all, what better could you be doing on those long cold nights?
For some inspiration, we have some sexy Christmas gift ideas (including Christmas lingerie) as well as some sexy board games for couples that could get a little risque.
---
---
What's your favorite winter activity to do as a couple?
---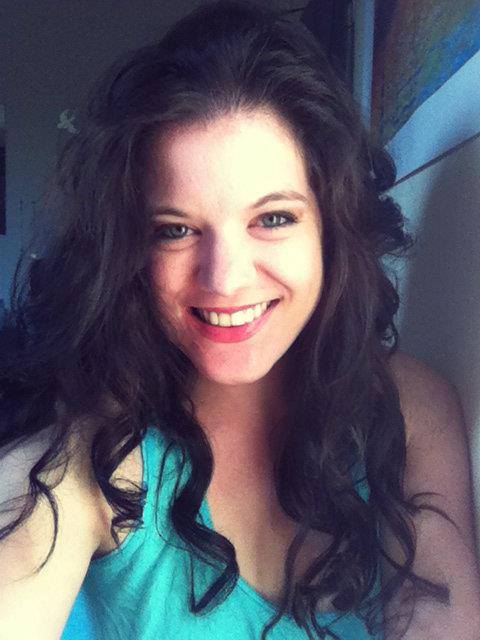 Amy Hartle is the co-founder and owner of Two Drifters, where she blogs about romantic and couples travel, relationships, honeymoons, and more. With a Master's in English and a BA in Musical Theatre, Amy loves to write quality content as well as to entertain, and she hopes to do a bit of both here on the blog! Amy is happily married to her husband Nathan, and when not working on their sites, Amy & Nathan can be found cuddling, reading, and enjoying delicious lattes.