This post may contain affiliate links. Read our disclosure page for full details.
It's the end of the year, which traditionally means it is time to make those New Year's resolutions. I love the idea of resolutions, and in particular, I love the idea of New Year's resolutions for couples. But the idea of resolutions can sometimes feel fleeting–temporary.
I've got a new take on it.
Instead of resolutions, I propose that you set some marriage goals with your spouse. Resolutions can be broken, or you may fail in your "resolve," but goals represent an ongoing journey. Which, after all, is what marriage is all about.
Want to set some goals for your marriage in the coming year? I've got 10 awesome goals you can borrow. (You can also start off the year with these 30 day relationship challenge). Feel free to use these as inspiration, or come up with some of your own that fit your personal situation. Happy goal-setting!
Why Set Marriage Goals?
Goal-setting as a couple is an excellent activity for married couples. Not only does it cement your status as partners in love and life, but it also ensures that the two of you are continuing to move forward together, working to fulfill common purposes and realize shared dreams.
Your goals can be about anything: finances, health and fitness, spirituality, etc. But don't forget to spend some time setting goals that are specific to your marriage. That's what we're going to do in this post.
To make your goals achievable, psychologists suggest a few of the following parameters:
Make goal success measurable
Set realistic, yet challenging goals
State goals in positive terms
In other words, your goals for your marriage should not be things that are impossible to achieve or impossible to measure. " I will be a perfect spouse" for instance, is impossible on both counts.
You also need to be specific with your goals. "We will spend more time together this year" is a great goal, but it is not specific enough. How much time is MORE? When will you incorporate this time together? Make your goals specific and precise so that you can actually track your progress. If your goal is to spend more time together, make your commitment achievable with something like this: "We will set aside one night each week for date night."
Ready for some ideas on goals to set together? Let's go! PS: Check out this related post featuring our favorite real relationship goals for couples.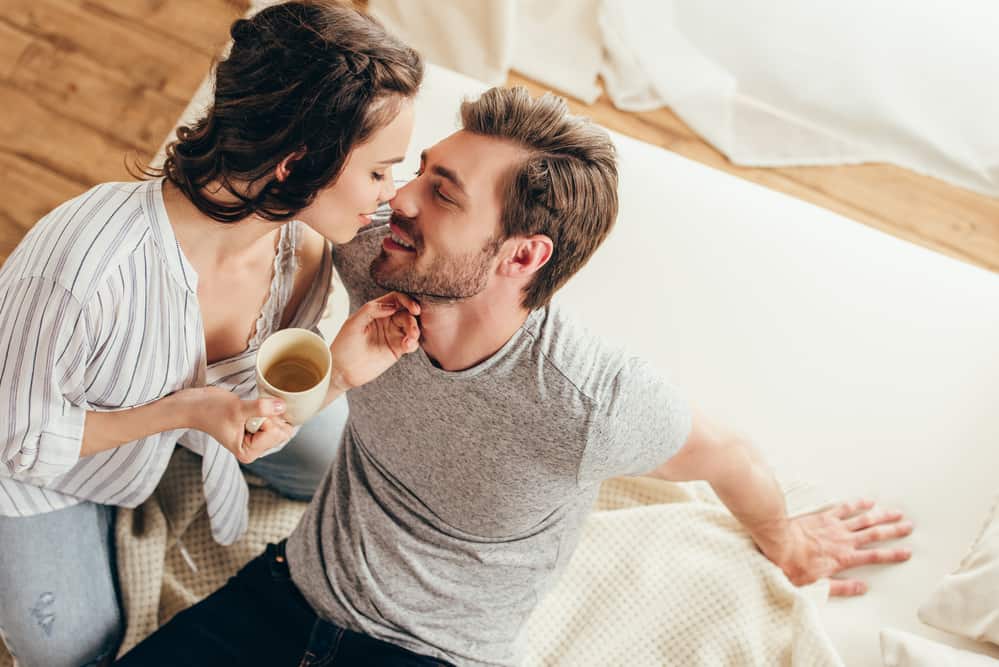 10 Marriage Relationship Goals to Set for the Coming Year
Each of these marriage goals examples is intentionally a tiny bit vague. Taking the advice from above, it's up to you and your spouse to move from the general to the specific. Create a shared goal that works for you, and is doable. Make it fun!
Less screens, more love
This is an item that is likely to be on almost everyone's New Year's resolutions list. Put down your phones + designate screen-free time together. We could all benefit from less time spent glued to our screens and devices, but this is especially so if you find that they are negatively impacting your marriage.
This doesn't mean the screen time needs to be replaced with conversation; even simply relaxing side by side with a book or a glass of wine is extremely rejuvenating and bonding.
Make a commitment this year to reduce your screen time and unplug—even if it's just for a half-hour every night or if you take a device-free weekend day. You are likely to find that you and your partner feel far more connected when you spend more time interacting face-to-face.
Read Next: How to Have More Romance in a Relationship
Commit to more date nights
Probably one of the top bits of marriage and relationship advice you've heard is to prioritize date night. And we quite agree! Of course, date night doesn't have to be something fancy or something that you even need to leave the house to do. There are so many romantic things to do together that are simple and fun.
What matters is that you have set aside time just to spend with one another. This can take so many forms….find some date night ideas that are attractive to both of you. (And if one of you prefers date nights out, setting a marriage goal to compromise on this could be an excellent solution).
Adopt a new relationship ritual
Here's one of the easiest husband and wife goals you can set for this year: create a new relationship ritual.
We absolutely love the idea of sweet, simple relationship rituals. Things like this are grounding and help generate little moments of happiness and connection every time you do them. These are extremely personal and so will vary from couple to couple and lifestyle to lifestyle.
A few examples? Enjoying your coffee together in bed every morning. Have a 30-second kiss each day. Write one another a weekly love letter. Check out more of our recommended relationship rituals here.
Share your gratitude daily
Honestly, one of the most powerful habits we've created in our marriage is to share our daily "gratitudes." Each night just before bed, Nathan and I tell one another one thing we are grateful for about the other person. These range from the silly (I'm grateful for your cute cheeks) to the serious (I'm grateful that you're my number one supporter).
It only takes a minute and it reminds us to focus on what is important in our life together. (You could even send a sweet or flirty text message.) And on the receiving end, it's always wonderful to hear that you are appreciated.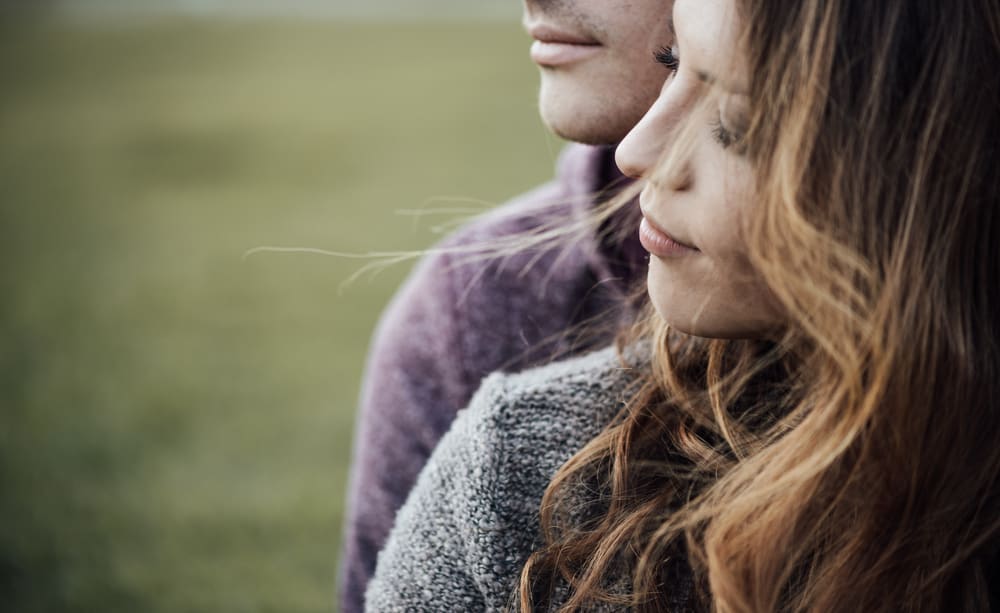 Read a book to strengthen your marriage
A strong, loving marriage takes effort. This is one of the main things we believe about relationships. So part of that means always growing and learning together. Reading a marriage-focused book (or another type of self-help book) and discussing it together, can be really transformative, and for those who aren't big readers, this can be an amazing selfless gift to your spouse.
Make time for intimacy
We all want more intimacy in our marriages, but how do we make it happen?
Much like anything, we have to work to build lasting habits. Intimacy can be one of them. Only by committing to more quality time spent together can we make strides in increasing our intimacy in a relationship. And it's not just about time either! Intimacy is about learning to be vulnerable and open ourselves up fully to our partner. A difficult task? Absolutely. But also absolutely worthwhile.
A suggested marriage resolution? Set aside 20 minutes a day to simply cuddle with your partner. Sooooo lovely.
Read Next: The Relationship Check-In That Could Rock Your Marriage
Communicate more—and better
Here is another item on the marriage goals list that needs some fine-tuning: communication. Connection is one of the primary goals of marriage. After all, this is the person you've chosen to spend your life with.
The best way to connect is also the most straightforward: communication.
Communicating more can feel fairly attainable. (Hint: use these couples communication exercises to keep the communication flowin').
It's communicating better that trips us up.
Like most married couples, you'd probably like to have better communication with your spouse, and maybe you know you have some issues you need to work on. Fortunately, communication truly is a skill, and so the good news is that you can get better at it!
This is where a solid marriage book could come in handy (here's a top-rated one on communicating better), but practice also makes perfect. And since we communicate on a daily basis, you'll have plenty of opportunities to do so.
Here's a great resource on better communication in marriage that could help you practice: Managing vs Resolving Conflict in Relationships
Take a romantic getaway
My very favorite couple's resolution: travel more!
If you've spent any time exploring our site, you know that we are all about the benefits of traveling together as a couple. In addition to strengthening your bond, couples who travel frequently also report having better sex. If that's not a reason to book a romantic getaway ASAP, I don't know what is.
Now, I know what you're thinking: a romantic getaway is expensive. Well, it certainly does not have to be. While a 5-star luxury hotel makes for a very romantic stay, that's not necessary for an awesome romantic getaway.
Consider a staycation at a nearby hotel for an affordable escape that's close to home. Take advantage of deals on Groupon to get a great romantic getaway package. Or book an AirBnb (perhaps a secluded romantic cabin) and just spend time one on one.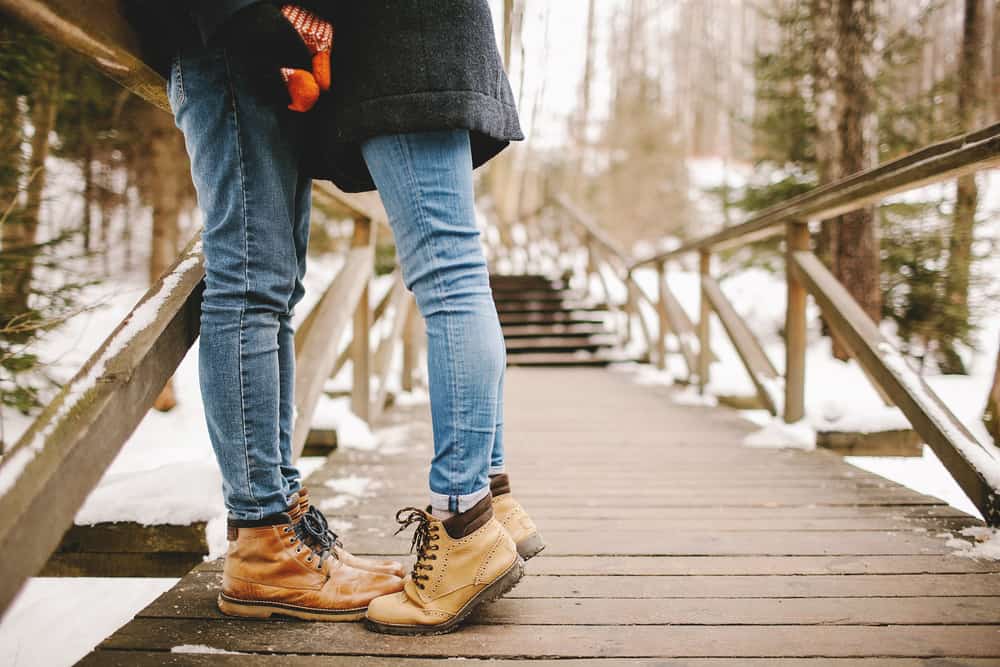 Learn one another's love language – or get to know it even better
Discovering one another's love language is definitely one of the top goals for newly married couples. The concept of Love Languages has so much to offer to couples, and we always recommend the book to our readers and friends. Spend some time this year discerning what your love language is (and that of your spouse) and learn how to show them love in the most amazing ways.
Check out our quick summary of the five love languages.
Celebrate more
Finally, why not make one of your goals for marriage to have more celebrations in your life? Marriage can be hard at times, so celebrate the joys and the wins. Celebrate your connection and your love. Remember anniversaries and important dates. Open more champagne, even when the occasion is "not-so-special." Celebrate the little moments together, and you'll soon see that those really are the big moments, too.
---
Related posts:
---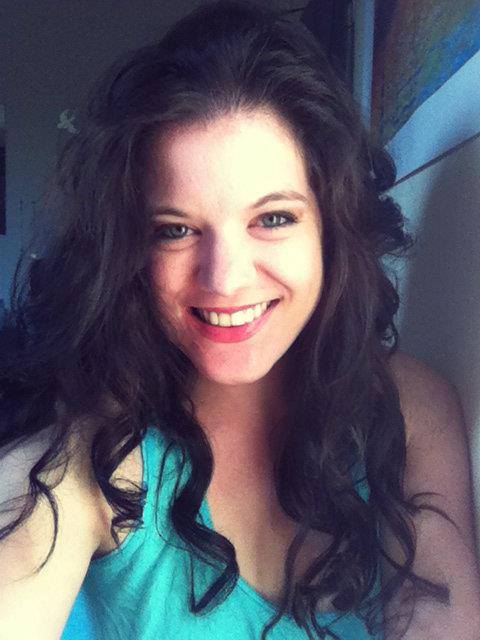 Amy Hartle is the author of Do You Love Me? How To Stop Seeking Reassurance in Relationships, a book on reassurance seeking and relationship anxiety. Both her book and this blog are born of personal experience; Amy shares expert relationship advice from the lessons learned during her own 10+ years with her husband, as well as couples travel tips and romantic getaway recommendations, all gleaned while traveling the world together.