This post may contain affiliate links. Read our disclosure page for full details.
Would you believe me if I told you that you can have a better relationship in only 30 days? Well, you can! And it all starts with this 30 day relationship challenge for couples.
While I know that a relationship challenge is not a cure-all for deeper issues and ongoing problems, the fact is that if you spend 30 days prioritizing your relationship, you can't help but reap some benefits. The effort you put in is directly correlated to the good things you will get back. So embarking on some simple relationship challenges is an amazing place to start as a couple.
So, why not work to improve your relationship in just a few weeks' time? You'll do one challenge per day for the next month.
This relationship challenge is designed to be pretty easy to integrate into your daily lives. Many of the challenges should only take a few minutes to do and can be done at any time throughout the day. Some will require a bit more energy and planning, but trust me, it will be worth it. Save or pin the challenge so you can reference it easily and check off each item as you complete them.
There's no better time than right now to dive in and take this 30-day relationship challenge. Ideally, you can embark on it with your spouse or partner, but most of these ideas are things you can do on your own, too. Going to give it a try? I wish you so much love, luck, and fun for the next 30 days—and always!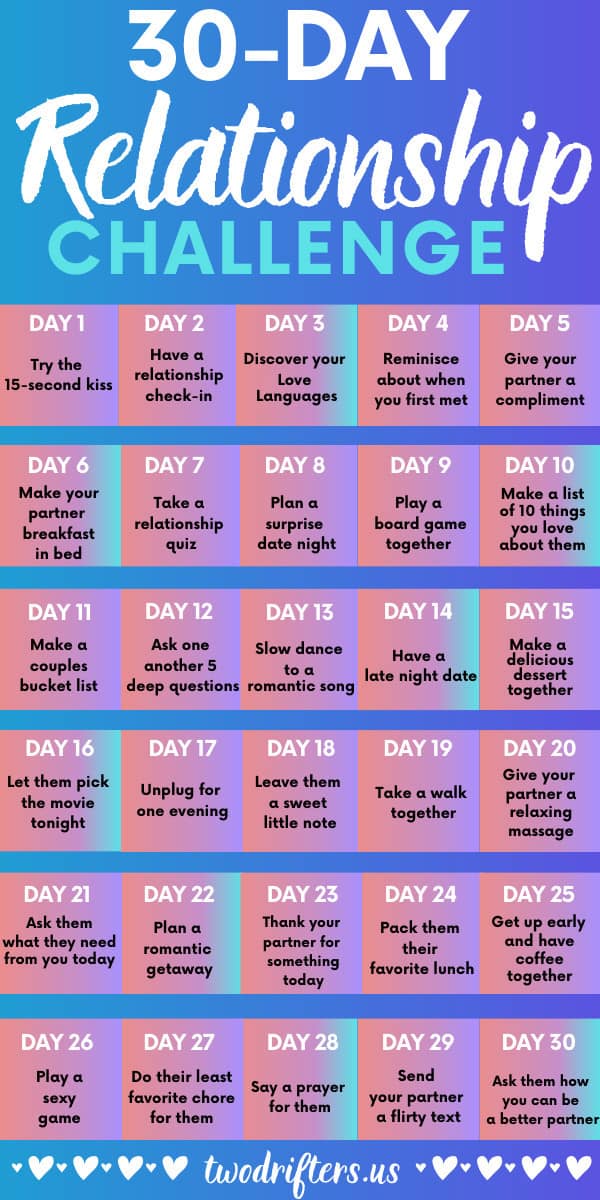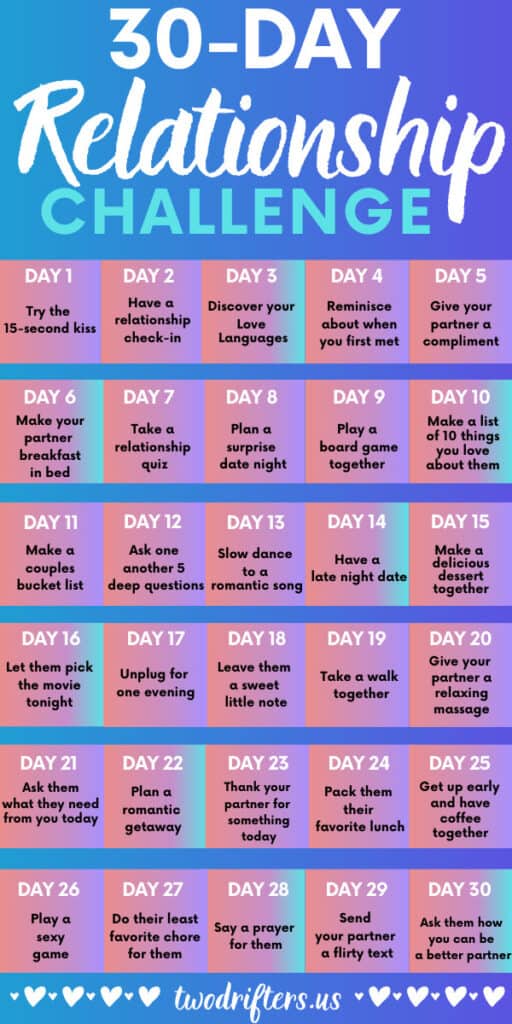 Day 1: Try the 15-second kiss
Even science says that a long, passionate kiss can work wonders for a couple. Day one of this 30 day intimacy challenge starts off with this most intimate and magical of activities: the 15-second kiss. Try it out and see what happens!
To ensure your partnership is thriving, it's a good idea to have a regular marriage or relationship check-up.
Day 3: Discover your Love Languages
Knowing one another's love language is an excellent skill for a stronger relationship. Take the quiz today and ask your partner to do the same.
Day 4: Reminisce about when you first met
Remember when the two of you first met? Spend some time chatting about the early days of your life together. You might be surprised by how happy and fulfilled this simple action makes you feel.
Day 5: Give your partner a meaningful compliment
Another simple item on the challenge list: today you will take time to make your partner feel awesome by offering them a genuine compliment.
Day 6: Make your partner breakfast in bed
All fun relationship challenges need to have this item on them. Who doesn't love breakfast in bed?
Day 7: Take a relationship quiz
How much do you know about your spouse? Or about yourself? Learn more by doing a relationship quiz.
Day 8: Plan a surprise date night
All relationships need (and deserve) regular romantic date nights. To spice things up a little, plan one that is a total surprise for your partner. Try to plan all the things they like the most for a true home run.
Day 9: Play a board game together
Take it easy tonight and challenge one another to a laidback board game.
Day 10: Make a list of 10 things you love about them
This day's task is going to make both of you feel good. Make a list of what you like and love about your partner and then give it to them.
Day 11: Make a couples bucket list
Dream with one another! Your task on this day is to create a couple's bucket list. The sky's the limit.
Day 12: Ask one another 5 deep questions
Today on your 30 day couples challenge, it's about having a deep conversation. You don't need to take much time for this, but definitely sit down together and connect on important subjects. Here are some conversation topics and thought-provoking questions to make you think.
Day 13: Slow dance to a romantic song
You don't have to leave home for a party of two. Grab your partner tonight and go for a slow twirl around the kitchen.
Day 14: Have a late-night date
If your schedule allows, stay up a little later tonight and do something special, just the two of you. We have a list of some great late-night date ideas you can try.
Day 15: Make a delicious dessert together
Forget dinner, it's all about dessert. It's always fun to make something together, and that's especially true when you get to eat it after!
Read Next: Romantic Desserts for Two: 12 Recipes for Date Night
Day 16: Let your partner pick the movie tonight
Whatever they want, tonight is the night to watch it.
Day 17: Unplug for one evening
When is the last time you put down your devices? Tonight, do exactly that. You'll be surprised at the extra time you have to talk, laugh, play, and connect.
Day 18: Leave them a sweet little note
Today, take a few minutes to write down a few sweet words you know they'll love. It doesn't have to be a long or complicated letter, even a simple handwritten "I love you" can be so appreciated. Check out this for inspiration: 100 Reasons Why I Love You
Day 19: Take a walk together
Hold hands and go for a stroll around your neighborhood or even just around the backyard. This is a fun, free way to connect and share some special time together.
Day 20: Give your partner a relaxing massage
Prioritize a healthy, happy relationship by offering your mate a soothing massage. This time is all about them.
Day 21: Ask them what they need from you today
Simple and straightforward: ask them what could help them out today. In what ways could you support them?
Day 22: Plan a romantic getaway
On this day, the two of you should spend some time planning a future romantic escape. Be as detailed as possible and then be sure to follow through. You deserve a romantic trip together.
Day 23: Thank your partner for something today
Show your partner gratitude today by offering them thanks for something they've done for you.
Day 24: Pack them their favorite lunch
As your honey heads off to work, surprise them with a yummy lunch filled with their favorites and ready to go. They will definitely appreciate the thoughtfulness.
Day 25: Get up early and have coffee together
Having coffee or tea together can be an amazing relationship ritual to start with your significant other. Even if you can't do this regularly, make today special with some one-on-one morning time.
Day 26: Play a sexy game
All couples can use more sexy time. Bring some creativity into the bedroom by playing a sexy game together. Some ideas here.
Day 27: Do your partner's least favorite chore for them
We all have that one chore that we absolutely hate. You probably know which one your partner detests the most. Today, do that one for them as a special surprise.
Day 28: Say a prayer for your significant other
Not the praying type? No problem. Just spend some time reflecting on your love for your partner today. Send them good vibes and good thoughts.
Day 29: Send your partner a flirty text
Give your partner a little unexpected pick-me-up during the workday. A fun and flirty text is always a fun message to receive on an otherwise ordinary day. Need inspiration? Check out these 107 flirty text messages.
Day 30: Ask them how you can be a better partner
Ask your mate today for some guidance on how you can be the best partner to them. Some ideas here: How to Be a Better Wife and How to Be a Better Husband
---
You might also like:
---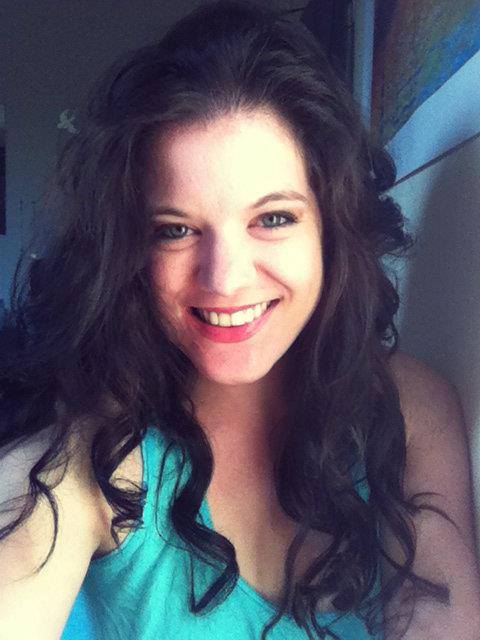 Amy Hartle is the author of Do You Love Me? How To Stop Seeking Reassurance in Relationships, a book on reassurance seeking and relationship anxiety. Both her book and this blog are born of personal experience; Amy shares expert relationship advice from the lessons learned during her own 10+ years with her husband, as well as couples travel tips and romantic getaway recommendations, all gleaned while traveling the world together.