---
*Links in this article may be affiliate links, from which we may earn commission. See our
Privacy Policy
for full details.
---
Relationships are hard. And relationships are also beautiful. In whatever stage of your relationship, from falling in love to heartbreak, sometimes nothing expresses your feelings better than a quote. We have collected some of the all-time best relationship quotes for you here; quotes about relationships that fit every situation and will help inspire you, comfort you and fill your heart.
Psst! Don't miss our other posts full of lovely quotes and captions:
The Best Relationship Quotes to Inspire Romance
Relationship Goals Quotes
No matter what stage of a relationship you're in, you should always strive to make your relationship a happy and healthy one. Check out these quotes about good relationships and building a relationship quotes to inspire you and your partner to work constantly at making your union a better one!
"Talk like best friends, play like children, argue like husband and wife, protect each other like brother and sister."-Unknown
"The best thing to spend on your relationship is time, conversation, understanding, and honesty."-Mudasir Ahmad
"Be with someone who will take care of you. Not materialistically, but take care of your soul, your well-being, your heart."-Unknown
"Making you happy is my relationship goal."-Unknown
"Be with someone who will sit with you and say, 'Let's fix this' instead of being a child and ignoring you."-Neha
"You don't develop courage by being happy in your relationships every day. You develop it by surviving difficult times and challenging adversity."— Epicurus
"A strong relationship requires choosing to love each other even in those moments when you struggle to like each other."-Unknown
"All relationships have one law: Never make the one you love feel alone, especially when you're there."-Unknown
"Love doesn't need to be perfect. It just needs to be true."-Buddha
Only once in your life, I truly believe, you find someone who can completely turn your world around. You tell them things that you've never shared with another soul and they absorb everything you say and actually want to hear more. – Bob Marley
"Shared joy is a double joy; shared sorrow is half a sorrow."— Swedish Proverb
"A true relationship is someone who accepts your past, supports your present, loves you and encourages your future."-Unknown
"I don't have diamonds or solitaires now, but with this water of the pool and this bottle of beer, I vow before you to love you forever."-Parul Wadhwa
"If you would be loved, love, and be loveable."— Benjamin Franklin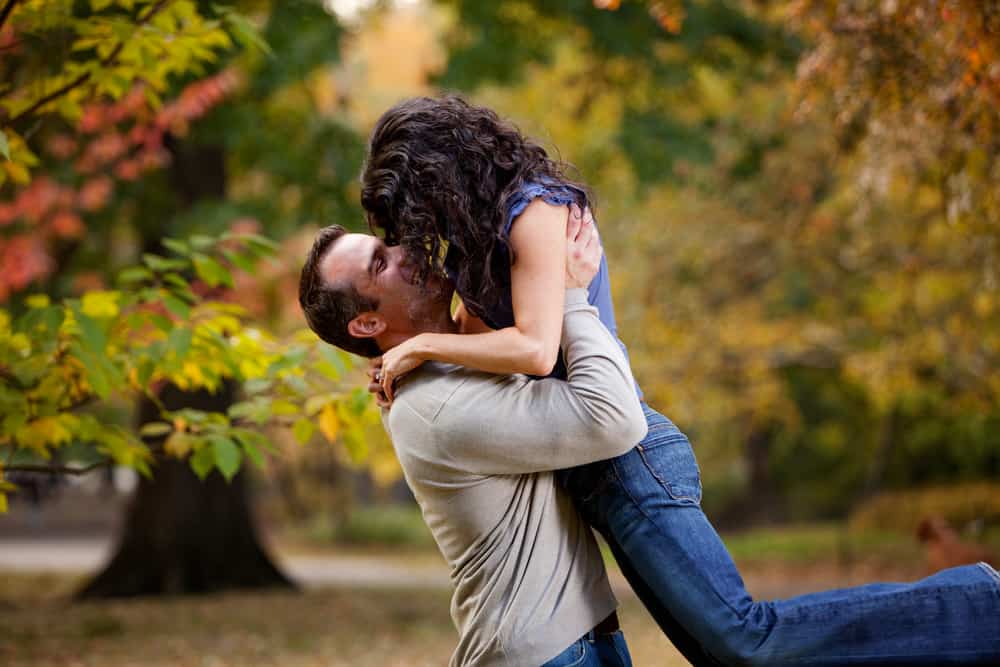 Deep Relationship Quotes
This is my personal favorite category when it comes to inspirational relationship quotes. I love the quotes that go deeper, that are less sweet and flowery and really demand something from the reader. These are quotes for relationships that don't focus on the easy and pretty parts of falling in love, but emphasize the effort required from two partners. Relationships are messy and can be full of pain, as well, but ultimately, they are so worth it. I love relationship quotes that portray this, and the following quotes do just that.
"My great hope is to laugh as much as I cry; to get my work done and try to love somebody and the courage to accept the love in return." – Maya Angelou
"Love is the will to extend one's self for the purpose of nurturing one's own or another's spiritual growth… Love is as love does. Love is an act of will — namely, both an intention and an action. Will also implies choice. We do not have to love. We choose to love."
― M. Scott Peck
"Far too many people are looking for the right person, instead of trying to be the right person." – Gloria Steinem
Some think love can be measured by the amount of butterflies in their tummy. Others think love can be measured in bunches of flowers, or by using the words 'for ever.' But love can only truly be measured by actions. It can be a small thing, such as peeling an orange for a person you love because you know they don't like doing it. — Marian Keyes
"What my marriage taught me is that real love is only what you give. That's all. Love is not "out there", waiting for you. It is in you. In your own heart, in what you are willing to give of it. We are all capable of love, but few of us have the courage to do it properly. You can take a person's love and waste it. But you are the fool. When you give love, it grows and flowers inside you like a carefully pruned rose. Love is joy. Those who love, no matter what indignities, what burdens they carry, are always full of joy." -Morag Prunty, Recipes for a Perfect Marriage
"To love at all is to be vulnerable. Love anything and your heart will be wrung and possibly broken. If you want to make sure of keeping it intact you must give it to no one, not even an animal. Wrap it carefully round with hobbies and little luxuries; avoid all entanglements. Lock it up safe in the casket or coffin of your selfishness. But in that casket, safe, dark, motionless, airless, it will change. It will not be broken; it will become unbreakable, impenetrable, irredeemable. To love is to be vulnerable." ― C.S. Lewis, The Four Loves
We have to recognize that there cannot be relationships unless there is commitment, unless there is loyalty, unless there is love, patience, and persistence. – Cornel West
Being deeply loved by someone gives you strength, while loving someone deeply gives you courage. – Lao-Tzu
"A loving relationship is one in which the loved one is free to be himself — to laugh with me, but never at me; to cry with me, but never because of me; to love life, to love himself, to love being loved. Such a relationship is based upon freedom and can never grow in a jealous heart."– Leo F. Buscaglia
"We have to allow ourselves to be loved by the people who really love us, the people who really matter. Too much of the time, we are blinded by our own pursuits of people to love us, people that don't even matter, while all that time we waste and the people who do love us have to stand on the sidewalk and watch us beg in the streets! It's time to put an end to this. It's time for us to let ourselves be loved."
― C. JoyBell C.
"Love is the free exercise of choice. Two people love each other only when they are quite capable of living without each other but choose to live with each other." ― M. Scott Peck
"When you love someone, you do not love them all the time, in exactly the same way, from moment to moment. It is an impossibility. It is even a lie to pretend to. And yet this is exactly what most of us demand. We have so little faith in the ebb and flow of life, of love, of relationships. We leap at the flow of the tide and resist in terror its ebb. We are afraid it will never return. We insist on permanency, on duration, on continuity; when the only continuity possible, in life as in love, is in growth, in fluidity – in freedom, in the sense that the dancers are free, barely touching as they pass, but partners in the same pattern. The only real security is not in owning or possessing, not in demanding or expecting, not in hoping, even. Security in a relationship lies neither in looking back to what was in nostalgia, nor forward to what it might be in dread or anticipation, but living in the present relationship and accepting it as it is now. Relationships must be like islands, one must accept them for what they are here and now, within their limits – islands, surrounded and interrupted by the sea, and continually visited and abandoned by the tides."― Anne Morrow Lindbergh, Gift from the Sea
New Relationship Quotes
New relationships are one of the most fun and exciting experiences in life. Check out these inspirational quotes for relationships that are totally relatable and will leave you with warm fuzzy feelings.
"I fell for you unexpectedly, but now I plan to be with you forever."-Manshi Sharma
The beginning of love is the will to let those we love be perfectly themselves, the resolution not to twist them to fit our own image. If in loving them we do not love what they are, but only their potential likeness to ourselves, then we do not love them: we only love the reflection of ourselves we find in them. – Thomas Merton
"You know you're in love when you can't fall asleep because reality is finally better than your dreams."-Dr.Seuss
"The best relationships usually begin unexpectedly."-Alvin Silverstar
"And suddenly you just know it's time to start something new and trust in the magic of beginnings."-Mandy Hale
"The hardest part about beginning a new relationship is learning to fart quietly again…"-Unknown
"Thank you for reminding me what butterflies feel like."-Unknown
"I plan on bugging you every single day for the foreseeable future."-Saijal Shrivastava
"There is never a time or place for true love. It happens accidentally, in a heartbeat, in a single flashing, throbbing moment."-Sarah Dessen
"Do not sabotage your new relationship with your last relationship's poison."-Steve Maraboli
"The best feeling in the world is kissing someone for the first time when you've really wanted to kiss them for a long time."-Unknown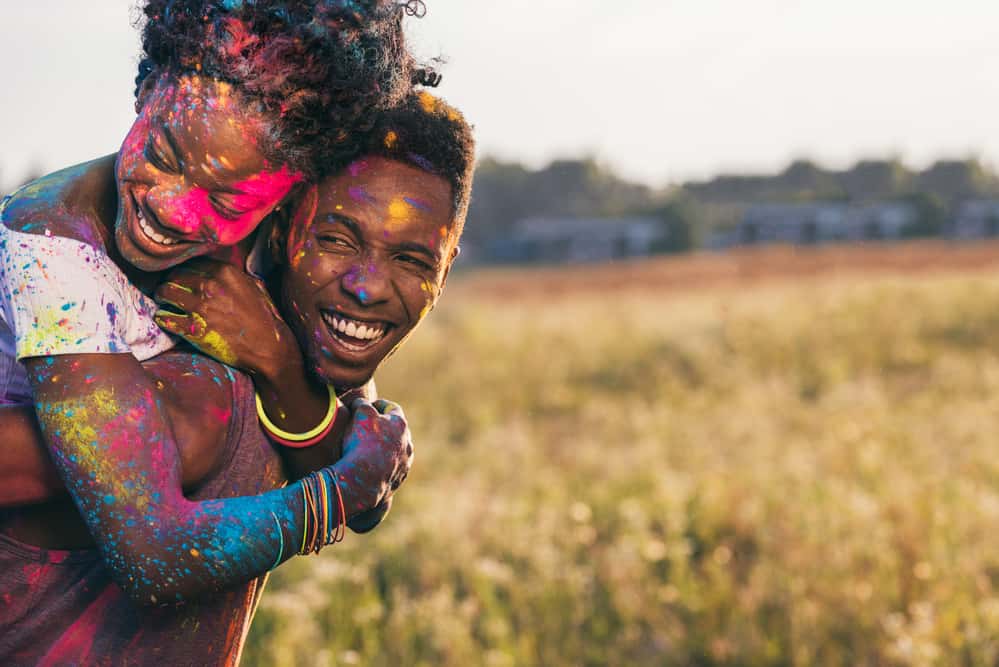 Relationship Problems Quotes
Most of us will run into relationship issues at one point in time or another. How we choose to deal with them (or not) can make or break a relationship. Whether you're currently facing rocky times or have "been there, done that", we hope you'll find these quotes on relationship problems inspirational in fighting for love!
"The only relationship goal I want is for you not to leave when times get rough."-Unknown
"You're telling me the things I want to hear, but you're not showing me the things I want to see."-Unknown
"Don't break up. Fix the problem. Start the romance again. Go on dates again. Work on winning each other over again. This is why there are so many failed relationships. If you love each other and are best friends then breaking up is not the answer."-Ra'Hul Sharma
"At the end of the day, you can either focus on what's tearing you apart or what's keeping you together."-Unknown
"A relationship is like a house. When a light bulb burns out you do not go and buy a new house, you fix the light bulb."-Laura Gibson
"Let's not forget it's 'You and me vs. The problem'…Not "You vs. Me".-Steve Maraboli
"Relationships be it dating or marriage, can be viewed as the needle and thread. You cannot sew a fabric with just the needle or the thread. You will need both to get started. It takes patience to thread the needle. The more you learn the technique, the better you will get at it in the future. The same applies to your relationship. Be patient with each other."― Kemi Sogunle, Love, Sex, Lies and Reality
"If you want me, then fight for me. Because I'm fighting like hell for you."-Unknown
The most painful thing is losing yourself in the process of loving someone too much, and forgetting that you are special too. – Ernest Hemingway
"Relationships are like a walk in the park. Jurassic Park."-Unknown
So it's not gonna be easy. It's going to be really hard; we're gonna have to work at this everyday, but I want to do that because I want you. I want all of you, forever, everyday. You and me… everyday. – Nicholas Sparks
"All relationships go through hell. Real relationships get through it."-Unknown
"Don't worry when I fight with you. Worry when I stop because it means there's nothing left for us to fight for."-Unknown
"The best person to talk to about the problems in your relationship is the person you're in the relationship with."-Unknown
"A relationship without trust is like a car without gas. You can stay in it all you want, but it won't go anywhere."-Unknown
Happy Relationship Quotes
Every relationship should be a happy one, right? We think you'll love these feel-good quotes about happy relationships. Plus, some of them make the perfect additions to a mushy "just because" card or anniversary gift tag.
"There is only one happiness in life: To love and to be loved."-George Sand
"I like the way you make me feel even when you're nowhere near."-Unknown
"You are my favorite feeling."-Unknown
"Happy relationships depend not on finding the right person, but on being the right person."-Eric Butterworth
"You don't need to be perfect together. You just need to be happy together."-Supriya Aroor
"When someone else's happiness is your happiness, that is love."-Lana Del Ray
"Marry the person who gives you the same feeling you get when you see food coming at a restaurant."-Unknown
"What I have with you, I don't want with anyone else."-Unknown
"Happy relationships don't just happen. You make them happen."-Bo Sanchez
"For the first time in my life, I don't have to try to be happy. When I'm with you, it just happens."-Unknown
"Where there is great love, there are always miracles." – Willa Cather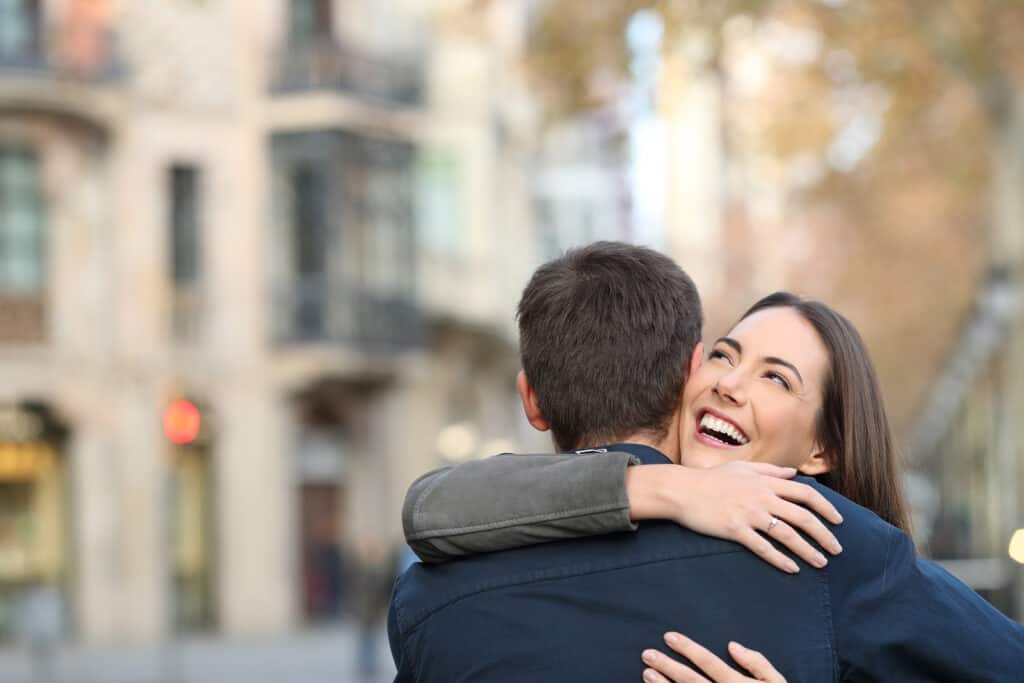 Healthy Relationship Quotes
There have been many good quotes and sayings through the years about what makes a healthy relationship. Enjoy a few of these strong relationship quotes and words of wisdom below.
"I'm not perfect. But I love you. And I promise to be your best friend, your partner in crime and your lover."-Unknown
"It's not always about sex. Sometimes the best type of intimacy is where you just lay back, laugh together at the stupidest things, hold each other, and enjoy each others' company."-Kimberly Frampton Lefko
"To love is to recognize yourself in another." ~ Eckhart Tolle
"Every relationship has its problems, but what makes it perfect is if you still want to be together when things go wrong."-Unknown
"Relationships aren't for getting things. They're for giving things. Never fall in love to make yourself happy. Fall in love to make the person you fall in love with happy."-Unknown
"A great relationship is about two things. First, appreciating the similarities, and second, respecting the differences."-Unknown
"I saw that you were perfect, and I loved you. Then I saw that you were not perfect and I loved you even more."-Maggi
"A strong relationship starts with two people who are ready to sacrifice anything for each other."-Krishna
"The best relationship is when you can act like lovers and best friends at the same time."-Unknown
"A healthy relationship is one where two independent people just make a deal that they will help make the other person the best version of themselves."-Unknown
"A healthy relationship doesn't drag you down. It inspires you to be better."-Mandy Hale
Whether you're looking for something special to add to a note to your loved one that perfectly describes your feelings for him/her, inspiration to not give up on a relationship issue you and your partner are working on, or just felt like reading through some feel-good relationship quotes to reignite the romance in your life, we hope you enjoyed this list of quotes about relationships and love.
---
Looking for more great relationship tips and romance ideas? Check out a few of our favorite posts: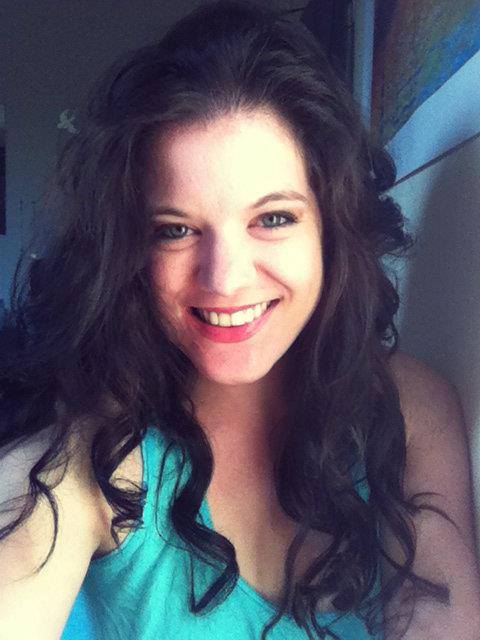 Amy Hartle is the co-founder and owner of Two Drifters, where she blogs about romantic and couples travel, relationships, honeymoons, and more. With a Master's in English and a BA in Musical Theatre, Amy loves to write quality content as well as to entertain, and she hopes to do a bit of both here on the blog! Amy is happily married to her husband Nathan, and when not working on their sites, Amy & Nathan can be found cuddling, reading, and enjoying delicious lattes.