This post may contain affiliate links. Read our disclosure page for full details.
October just might be the perfect time to visit Williamsburg, Virginia.
This historically-charged region (the Greater Williamsburg area, comprised of Williamsburg, Jamestown and Yorktown) is cool and beautiful in the fall. The trees are changing, the air is crisp, and in many ways, the history seems to come even more alive in this cozy autumn season.
With fewer crowds, it's also the ideal time to plan a romantic Williamsburg getaway. We loved our recent visit here with Visit Williamsburg, and we had the perfect Williamsburg itinerary to boot.
But no matter what time of year you visit, you will be amazed at the abundance of romantic things to do in Williamsburg, VA. Here are a few of the top couple's activities we think are most essential:
Sip wine together at the Williamsburg Winery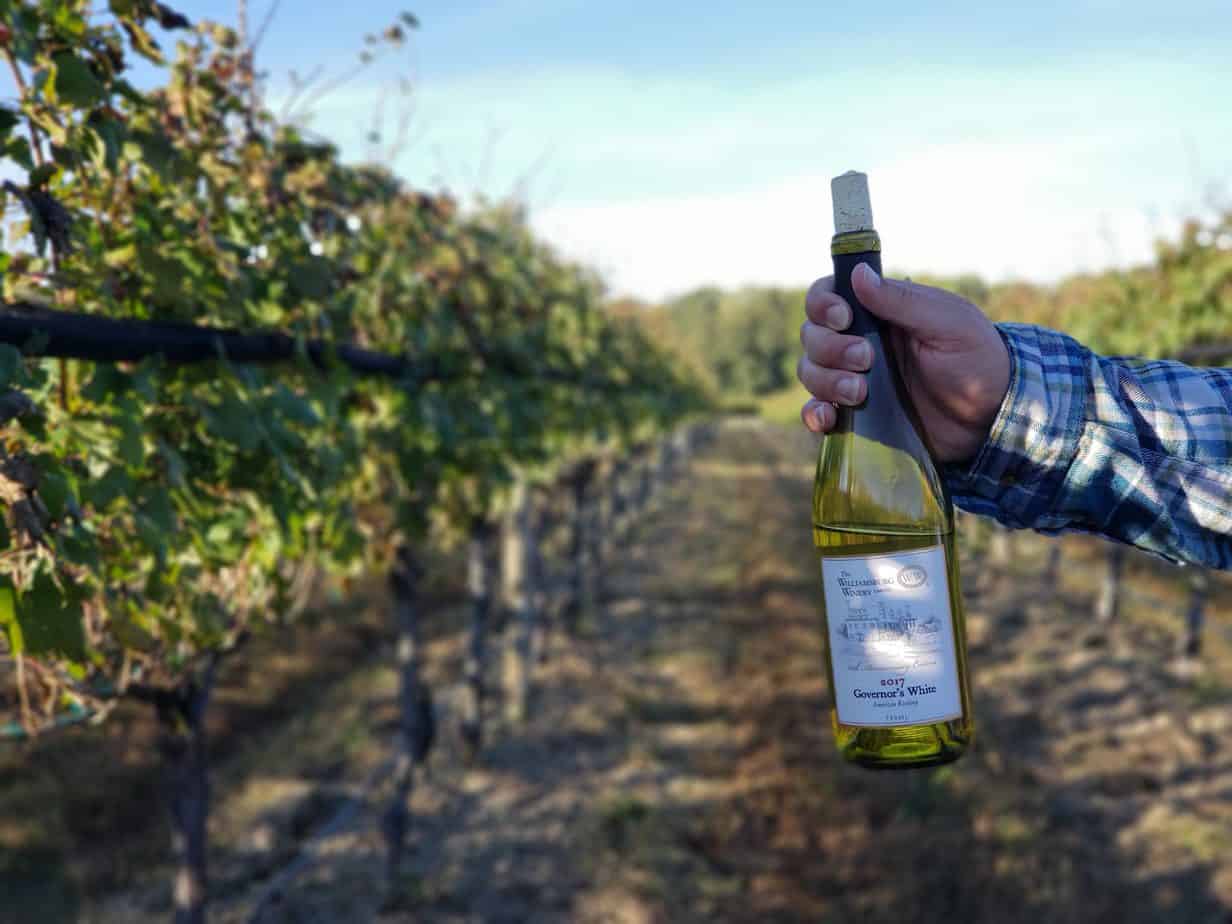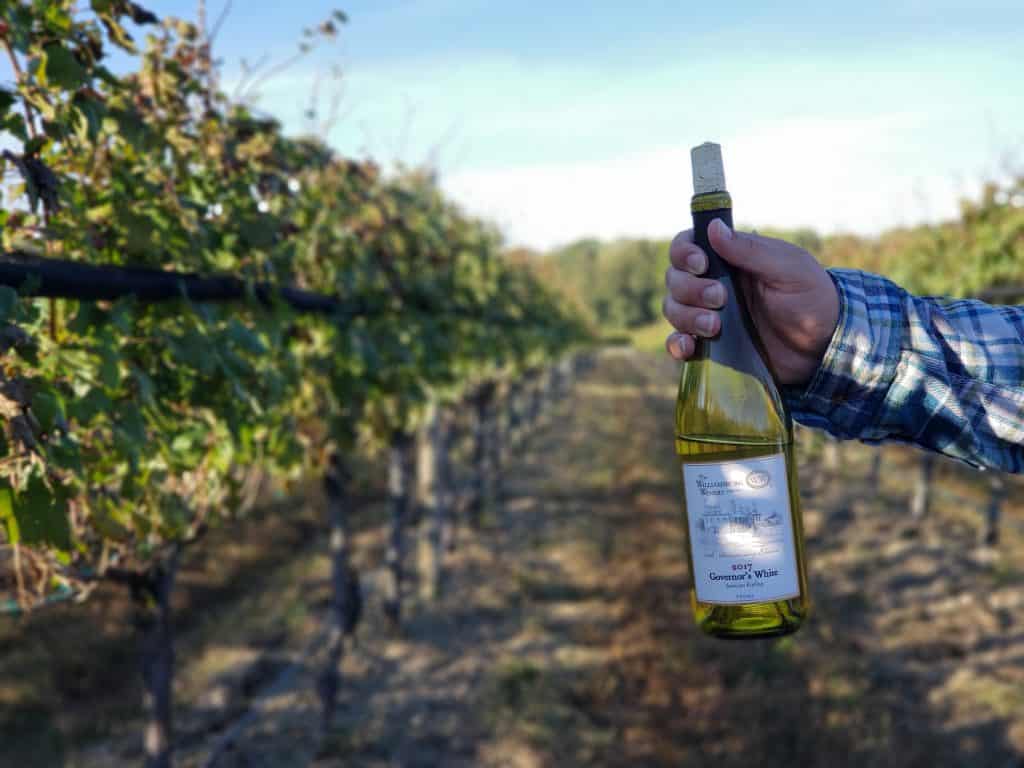 While visiting Greater Williamsburg with your partner, be sure to take part of a day to visit the Williamsburg Winery. This is a gorgeous gem of a vineyard where you can tour the grounds as well as sample the wines in their tasting room.
They have a number of delicious varietals you can try. Adagio is one of their most well-known and most award-winning reds. We found that we really enjoyed the Pyment, a honey-fied collaboration with the local meadery, and the Governor's White, a not-too-sweet Riesling that we had several times during our stay. Fun fact: Governor's White is the best-selling white wine in Virginia.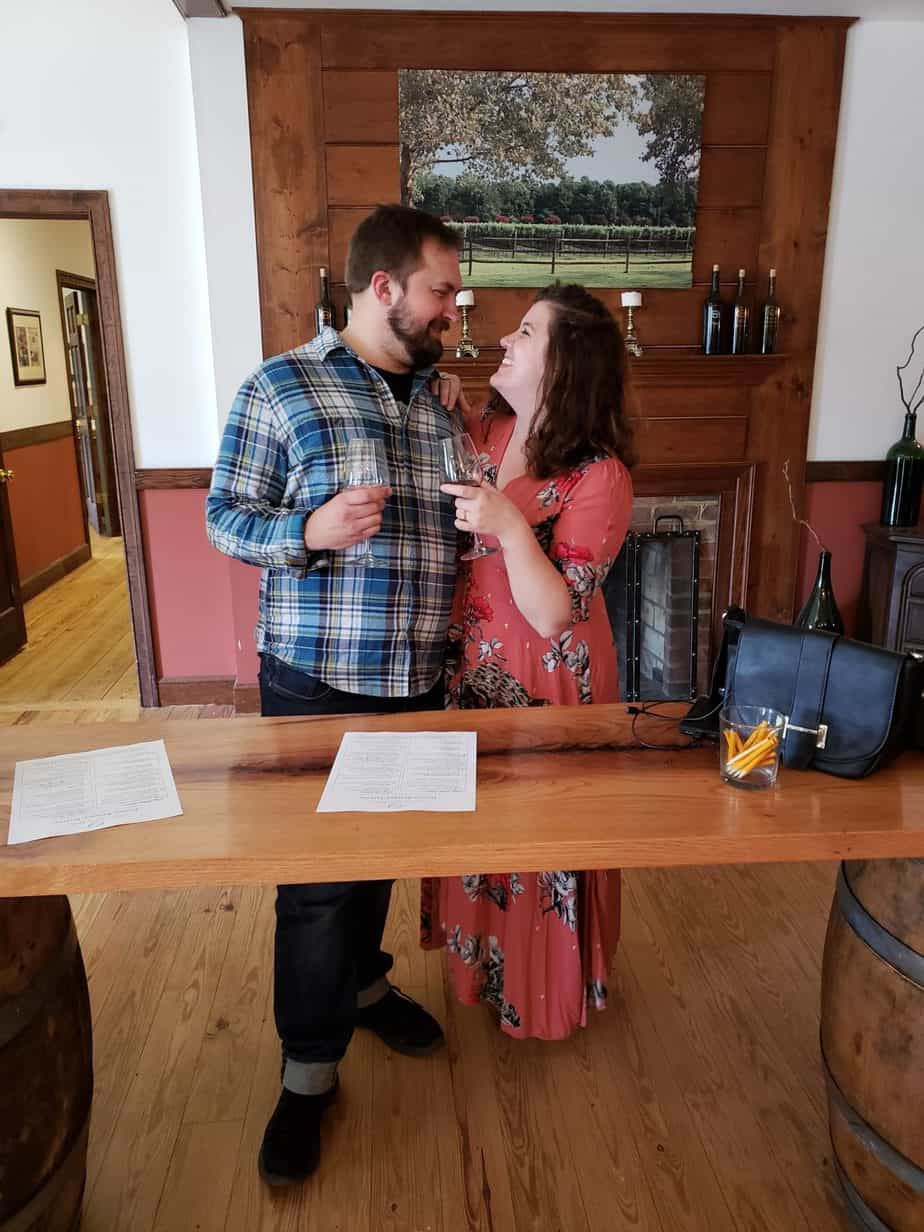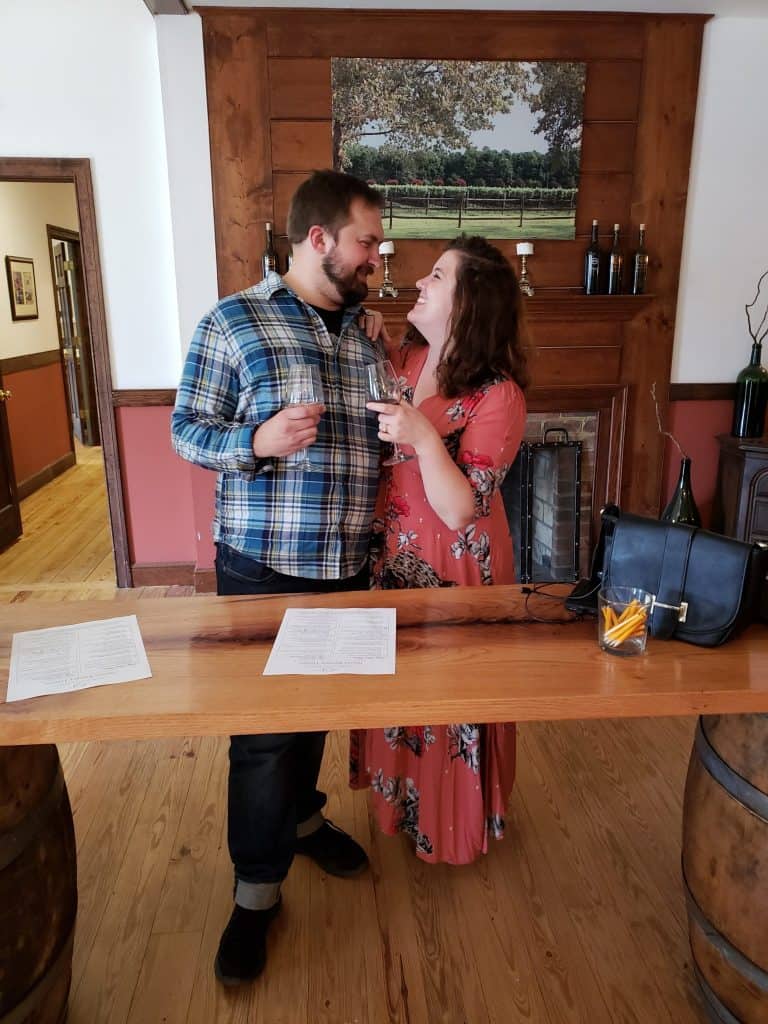 The tasting room is warm and cozy and the staff are extremely knowledgeable about the wines. If you can't make it out to the winery proper for a tasting, there is also a tasting room in Merchant's Square, right near Colonial Williamsburg.
Wine tasting for two is always a romantic activity, and it's fun to try to notice and discuss the different subtleties among the wines….even if you're far from wine experts!
Get lost in America's history
When most people think of Williamsburg, they automatically think of Colonial Williamsburg. But that is actually just one attraction within the Greater Williamsburg area. While Colonial Williamsburg is an awesome site and a must-visit, there are lots of other places (both historical and not) that are worthy of your time.
While historic sites might not automatically scream "romance," we find that they really can be. We love learning and doing it side by side is a very bonding experience.
Best of all, we love uncovering fascinating historical details and having thoughtful, in-depth discussions with one another. After all, nothing is sexier than intelligence!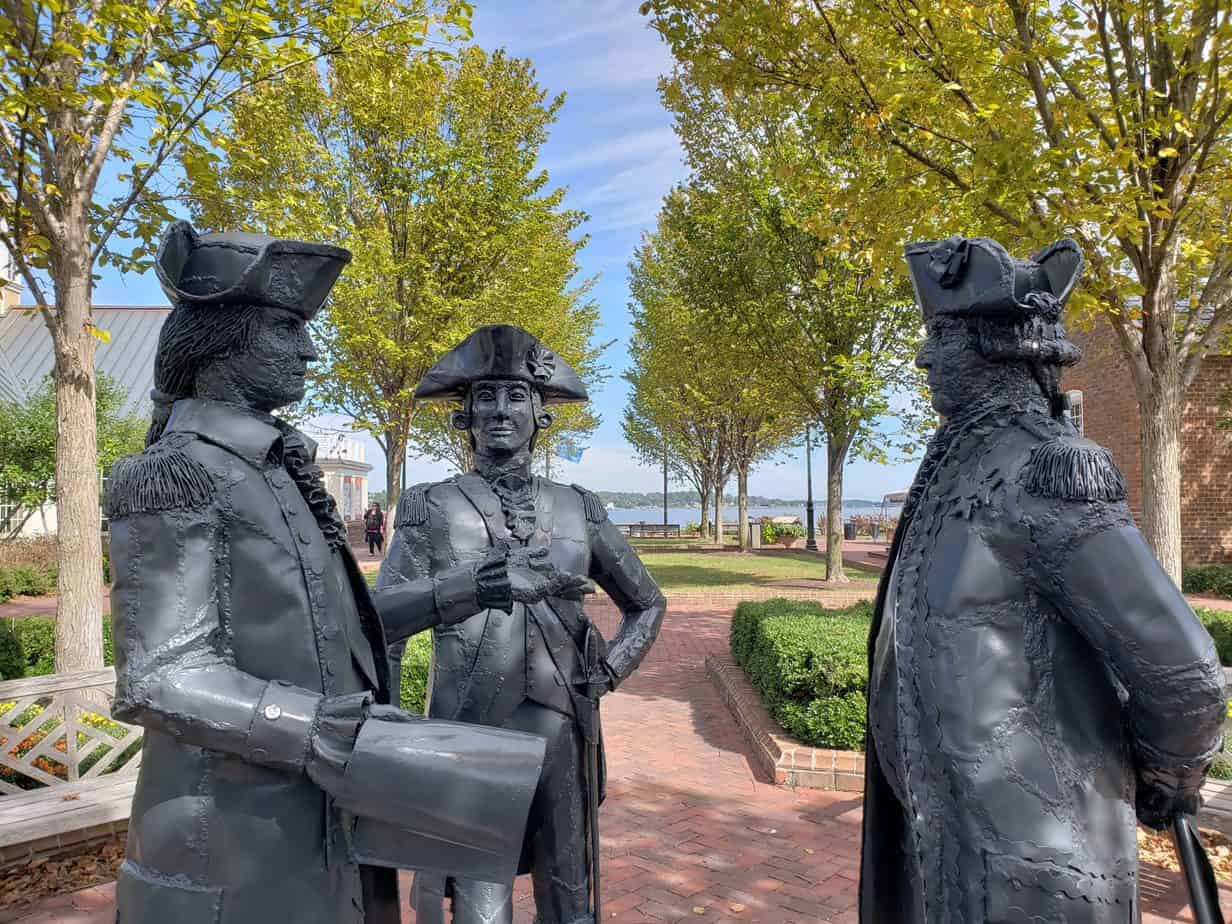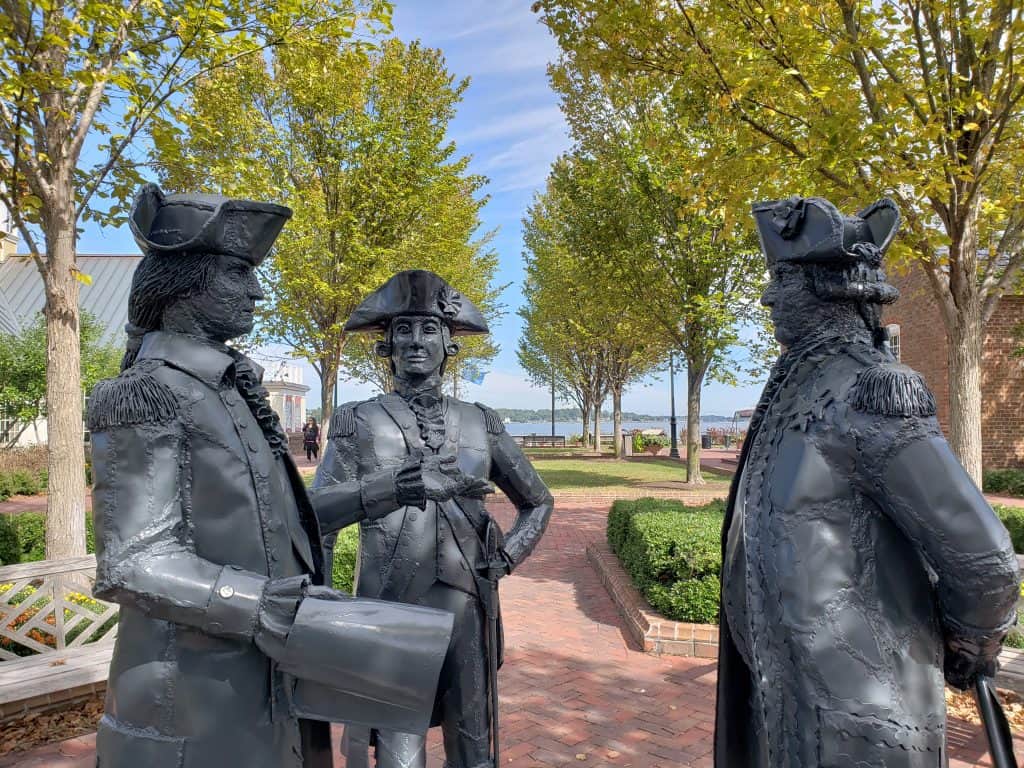 This was Amy's favorite Greater Williamsburg historic site of the trip. Providing an excellent overview to the region's history (and the American Revolution in general) this museum is filled with interesting exhibits, films, and much more.
The interior is beautiful, with each part of the exhibit colorful and inviting. We enjoyed walking slowly through and reading and observing as much as we could.
One of the highlights within the museum was a 9-minute video in an I-MAX type theatre. The 180-degree screen seems to surround you as you watch "The Siege of Yorktown." Combining booming sound with fog, special effects, and other sensory elements, this short video thrillingly brings the battlefield to life right in front of you.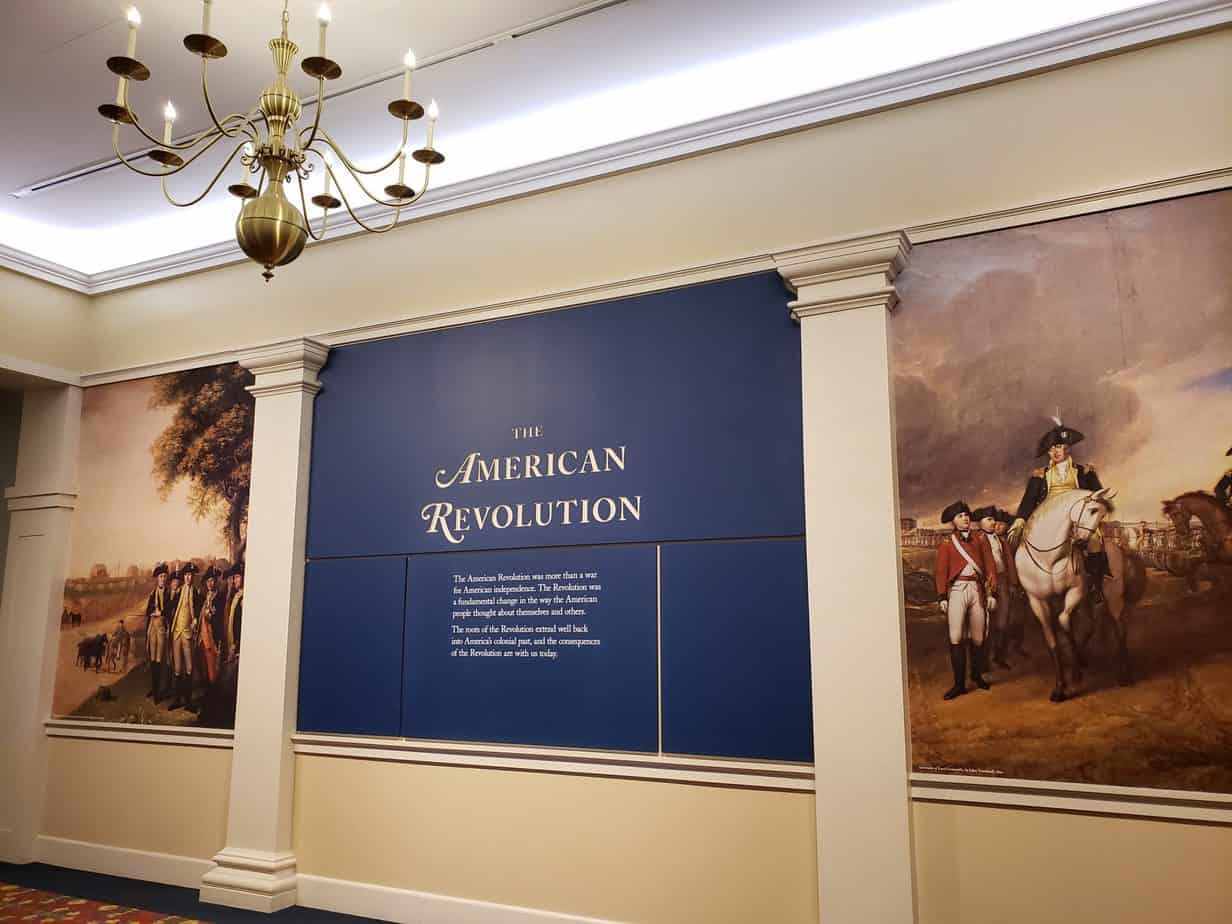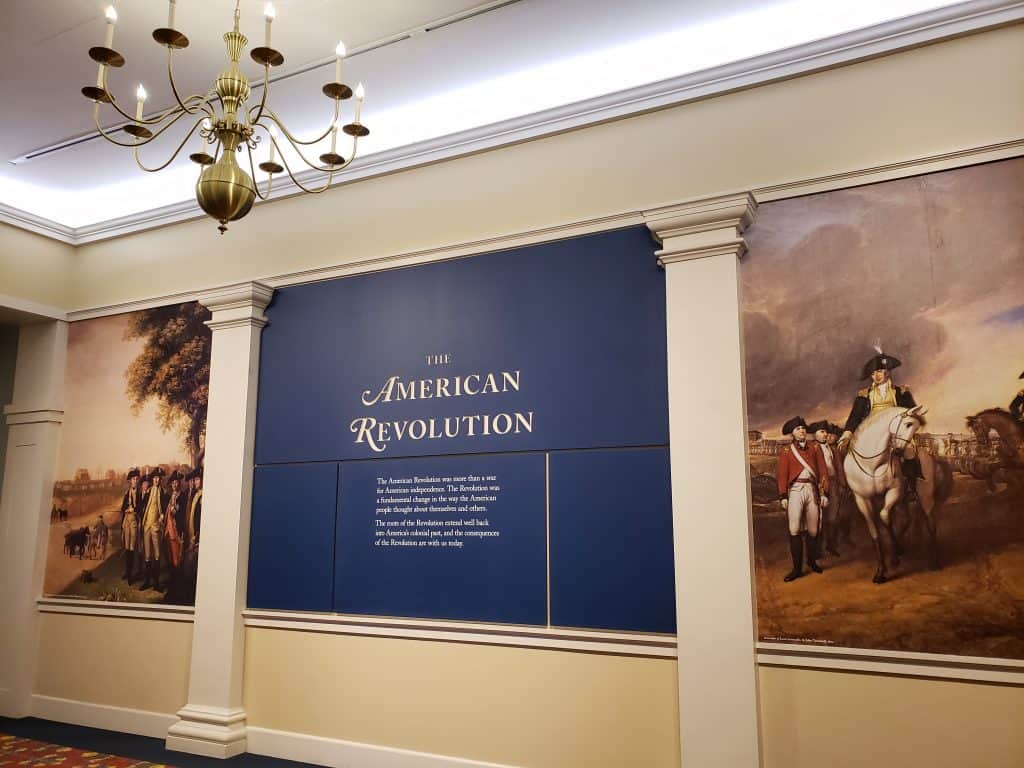 Yorktown is a place extremely important in Revolutionary War history as it was where the decisive battle of the conflict occurred.
The British suffered such a blow at Yorktown that the war, though it would drone on for another year and a half, was essentially won at Yorktown.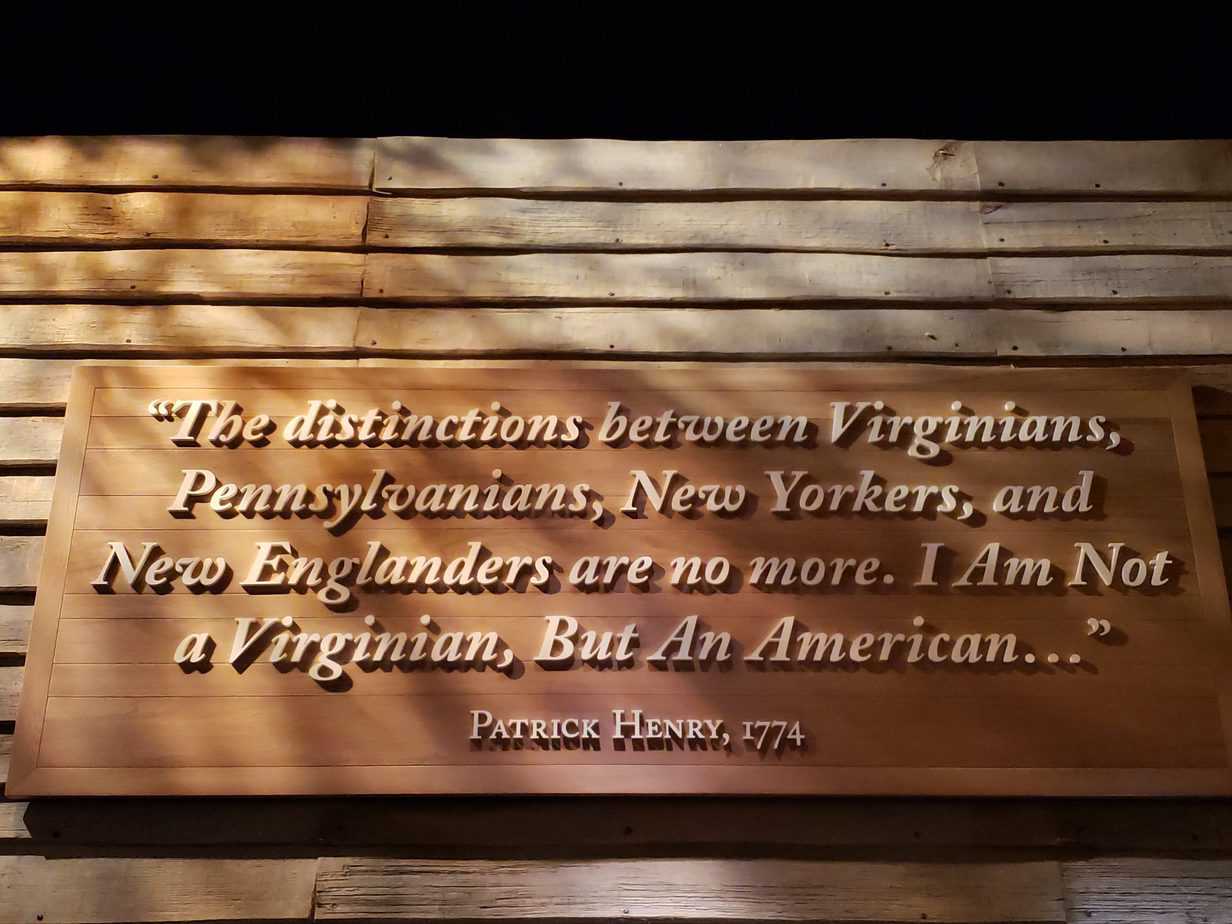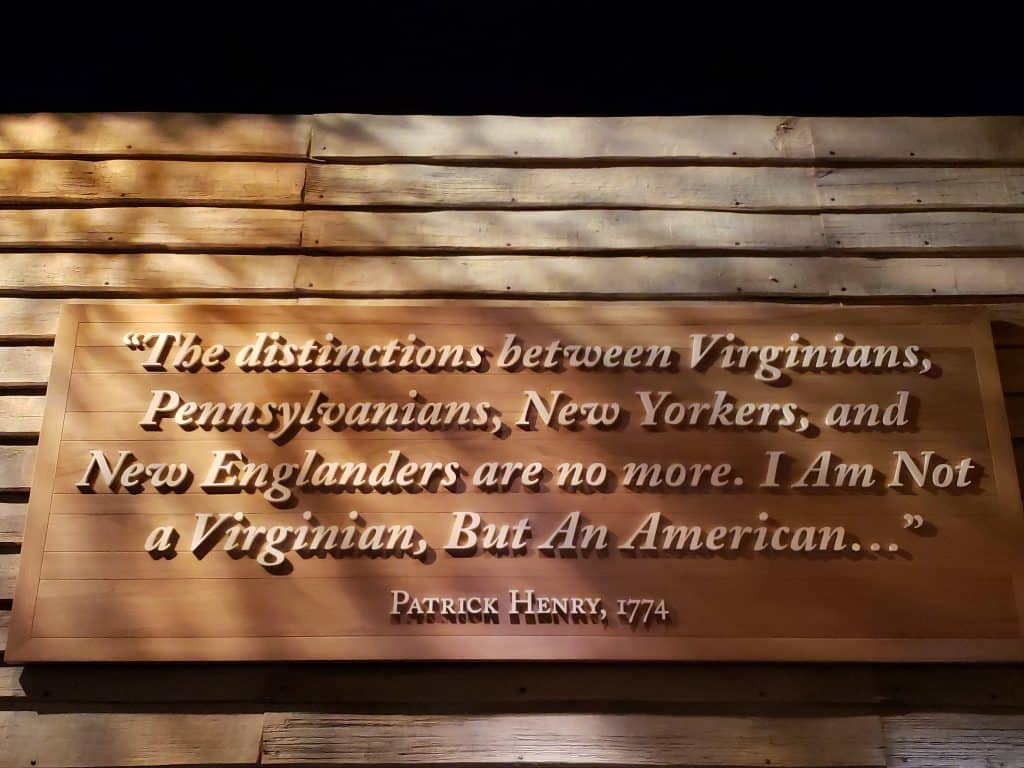 Outside the museum building, you'll find living history exhibits. Walk through a recreated Continental army encampment and wander through a Revolution-era farm (complete with real chickens!)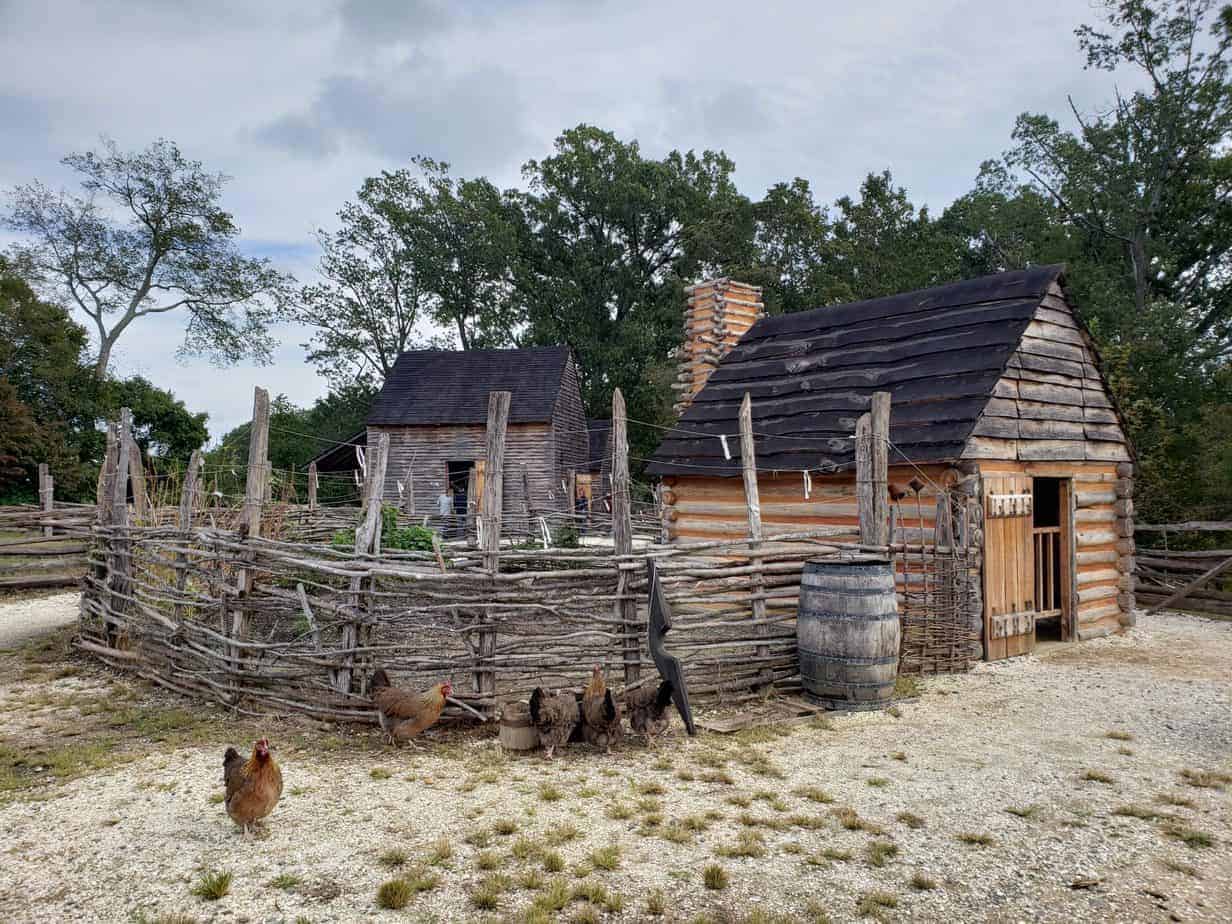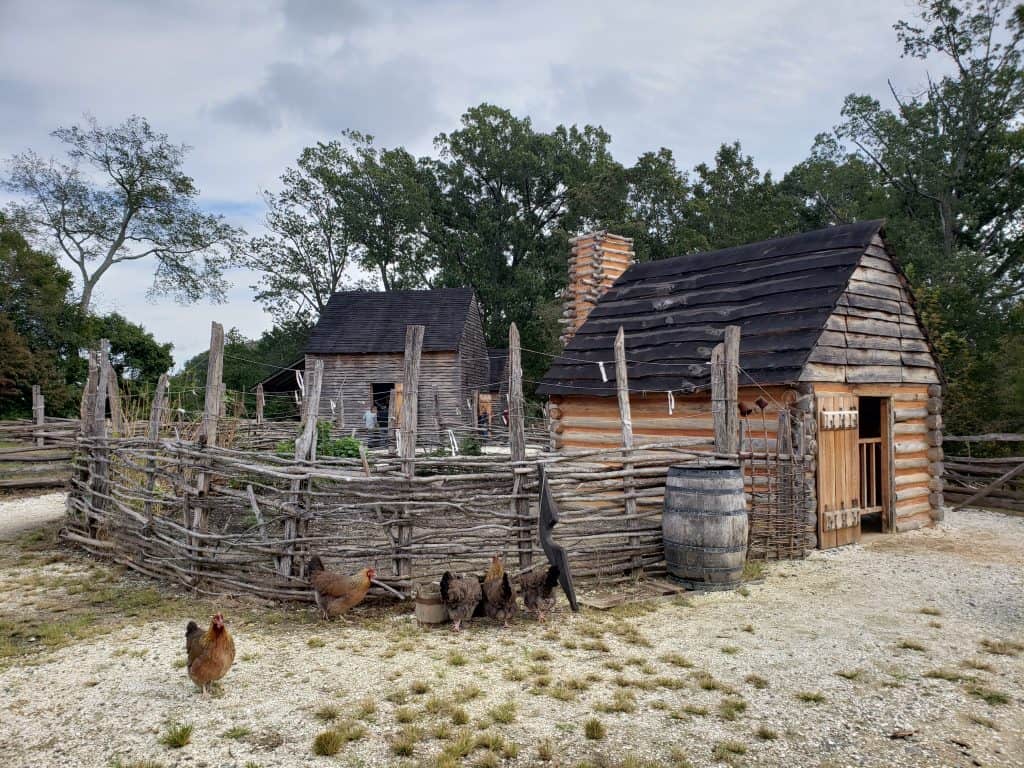 Jamestown Settlement
Nathan loved Jamestown Settlement, another one of Greater Williamsburg's historic sites. This spot has 3 fascinating exhibits, all of which you walk through on a quiet path through the woods.
First up is the Powhatan Indian Village, a reconstruction of how the region's earliest inhabitants may have lived. Here's a quick overview of the Powhatan history and a bit about Pocahontas.
Next, you make your way to the waterfront, where three ship recreations are in port. These are built in the fashion of those which sailed English colonists to Jamestown in 1607.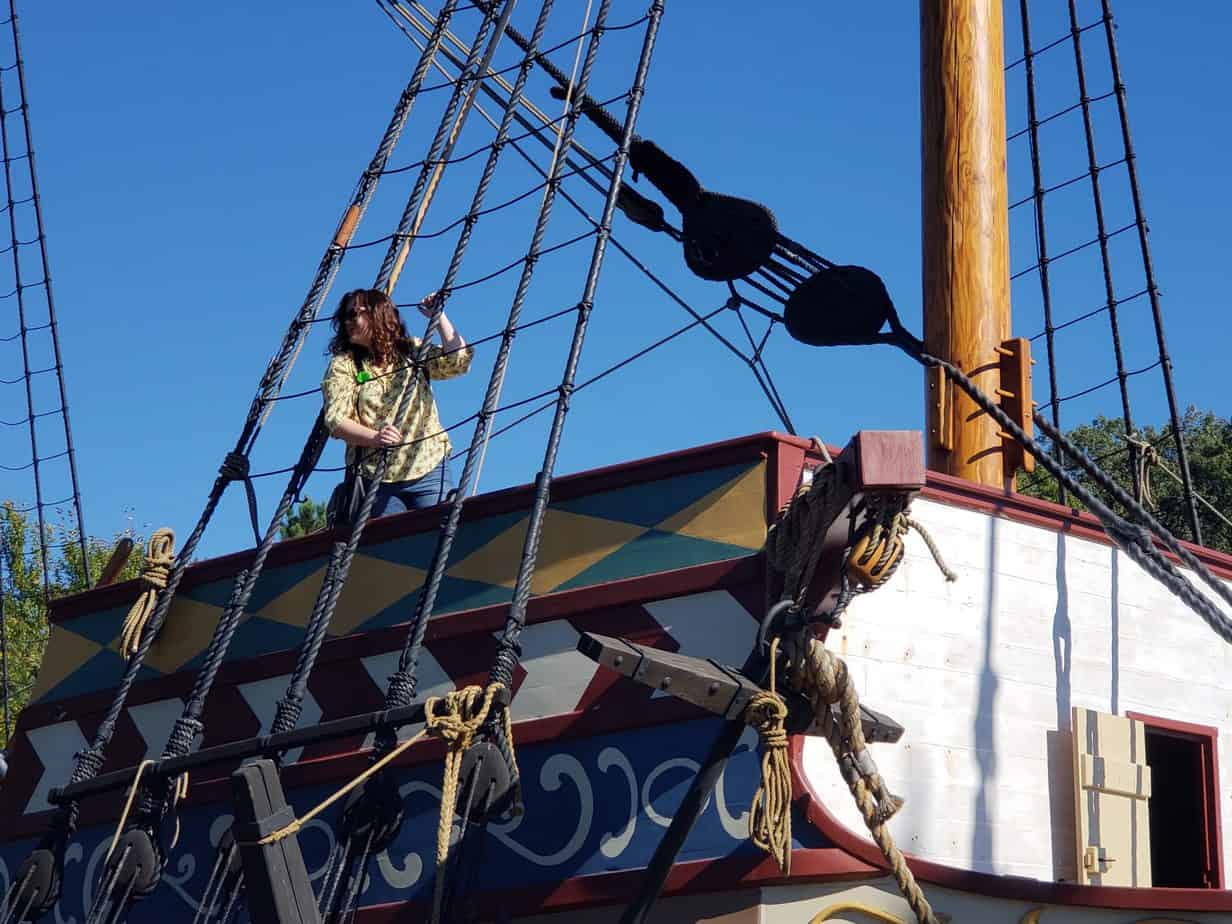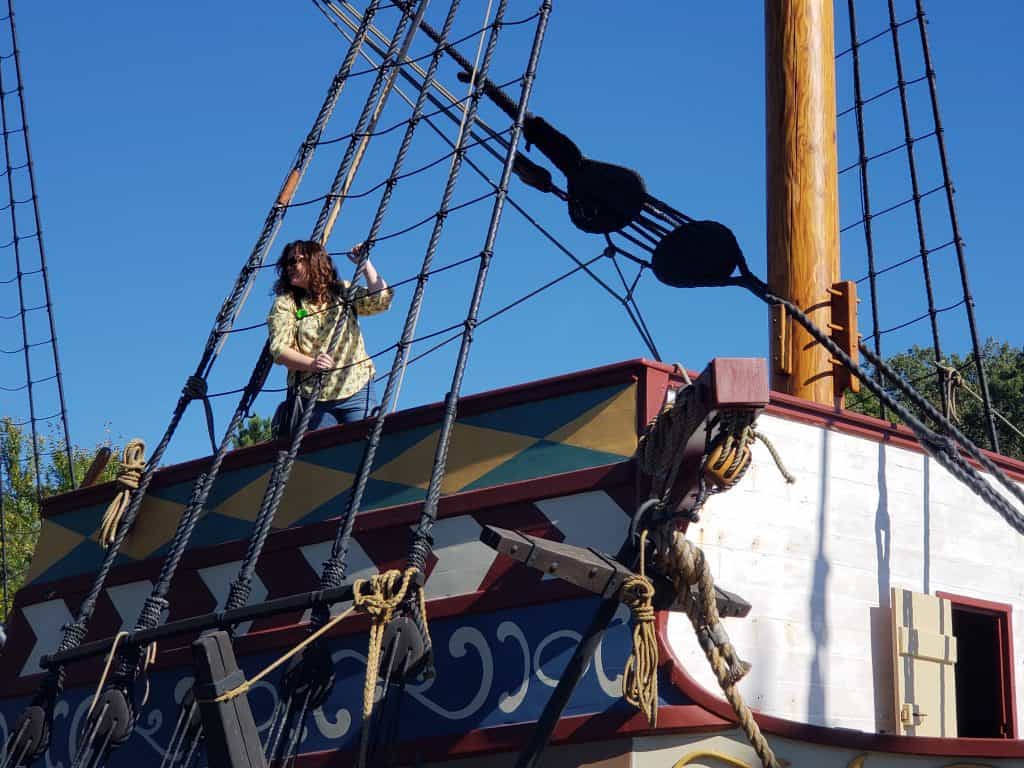 Finally, stop by James Fort, which models the early 1600s fort that the settlers would have lived in.
Every section of Jamestown Settlement is really interesting, and its environment gives you an easy sense of the living history of the place.
Colonial Williamsburg
Wondering what to do in Williamsburg, VA? No visitor to Greater Williamsburg is likely to want to miss Colonial Williamsburg. This famous attraction is known as the world's largest living history museum.
If you want to experience what life was like in an 18th-century town, this is the ultimate place to do so.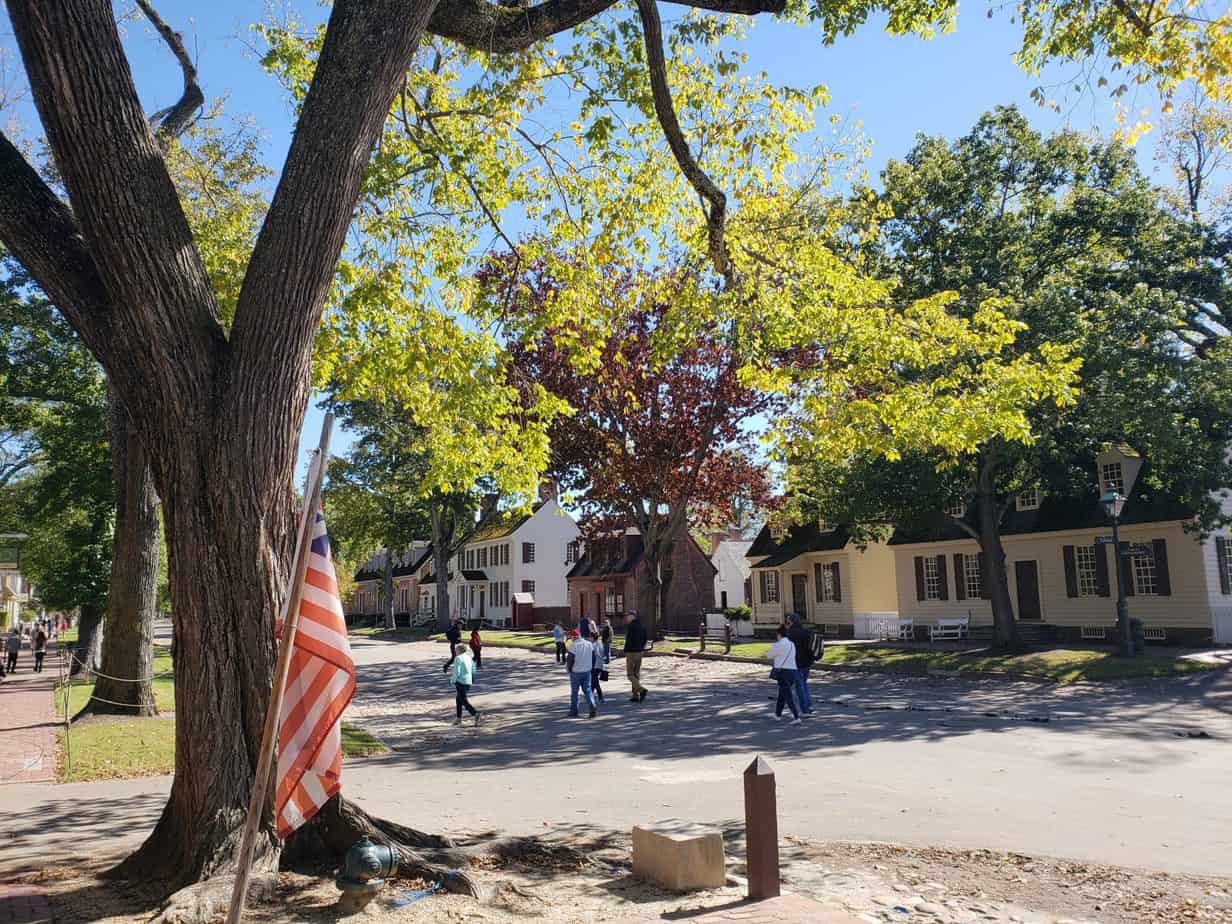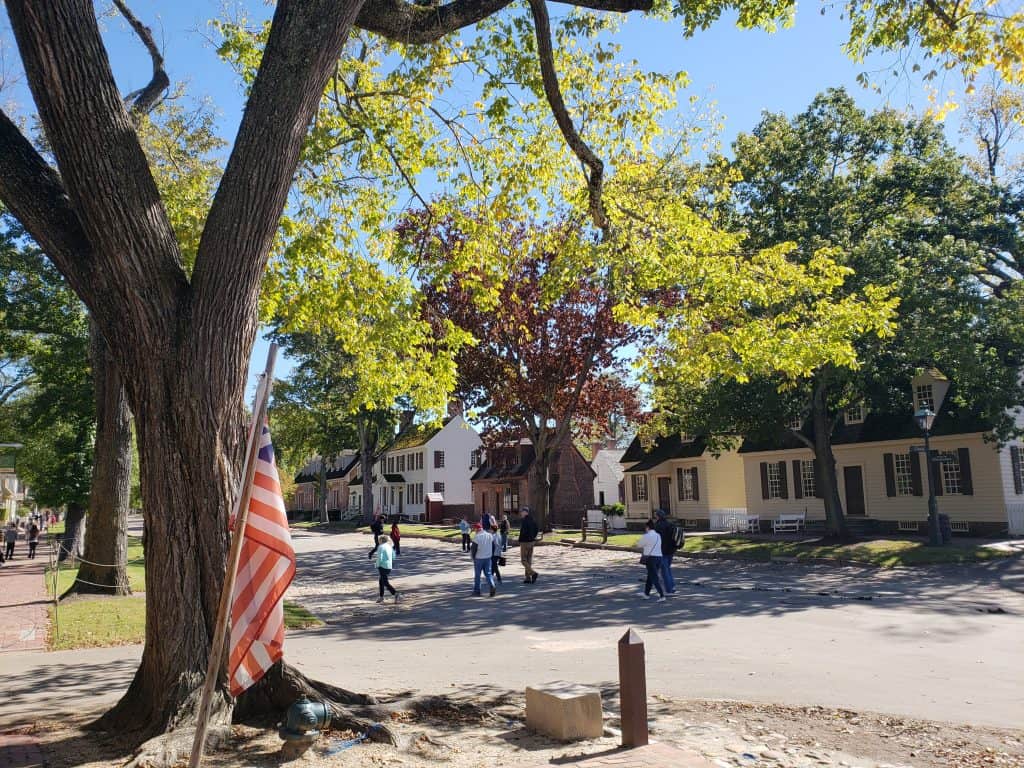 There are so many things to do in Colonial Williamsburg. Touring the site and visiting every house, exhibit, and event could take you an entire day or more. But the good news is, you don't have to do every single thing.
You can get a great sense of Colonial Williamsburg simply by walking around and exploring. You're sure to stumble into an authentic character working at their trade (like in the blacksmith's shop below) and you can talk with them and learn a great deal. And every street and lane you'll encounter is simply gorgeous.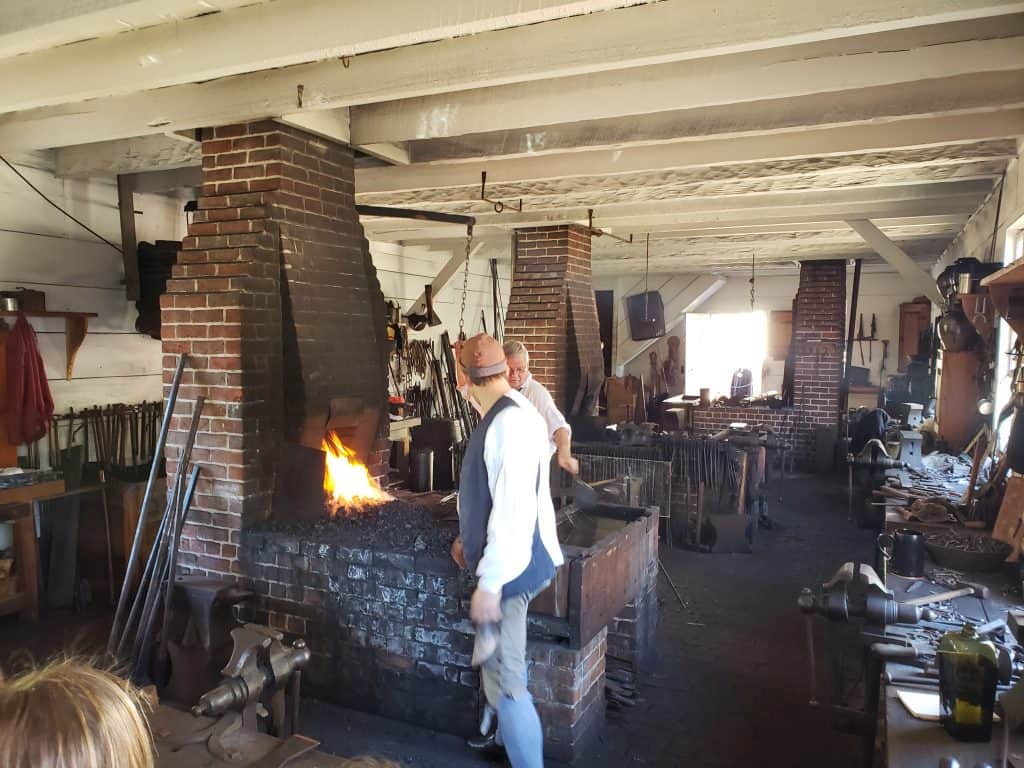 If you really want to organize your visit to maximize your experience, check out the Colonial Williamsburg Explorer app, that can help you keep track of what sites you want to see.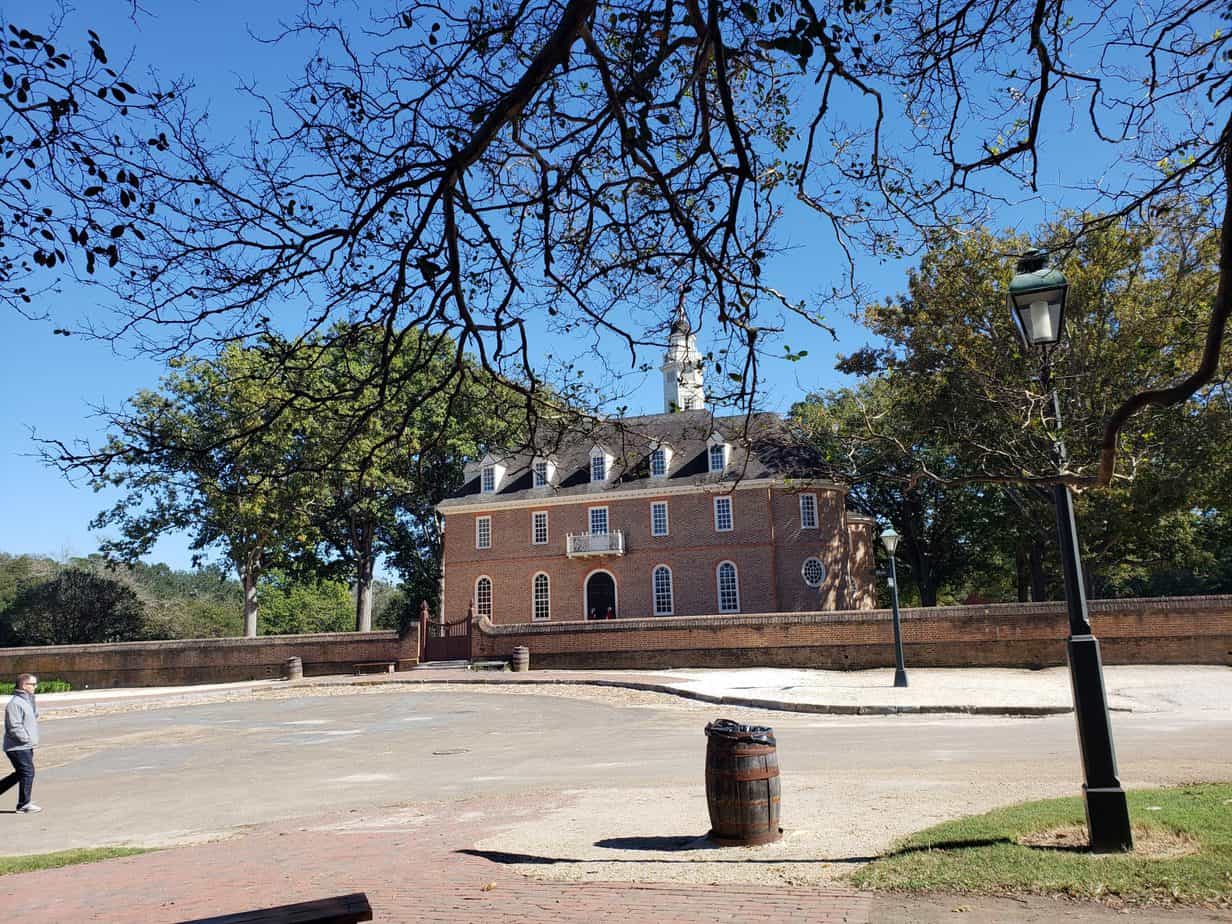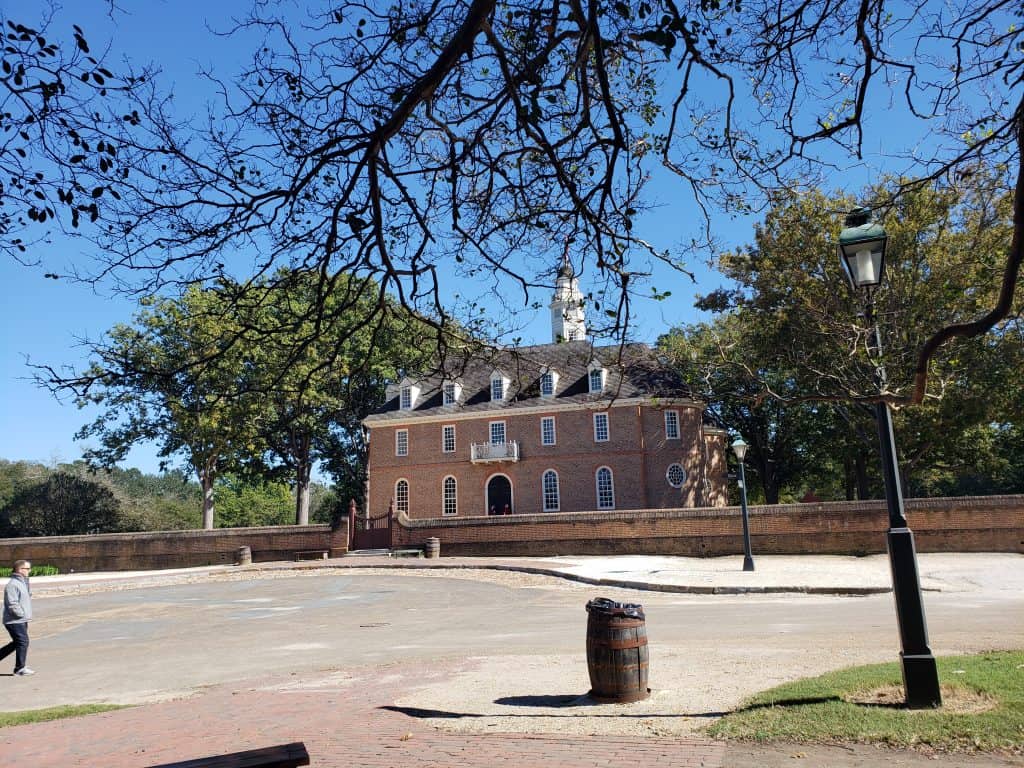 Watch out for the horses and carriages as you stroll!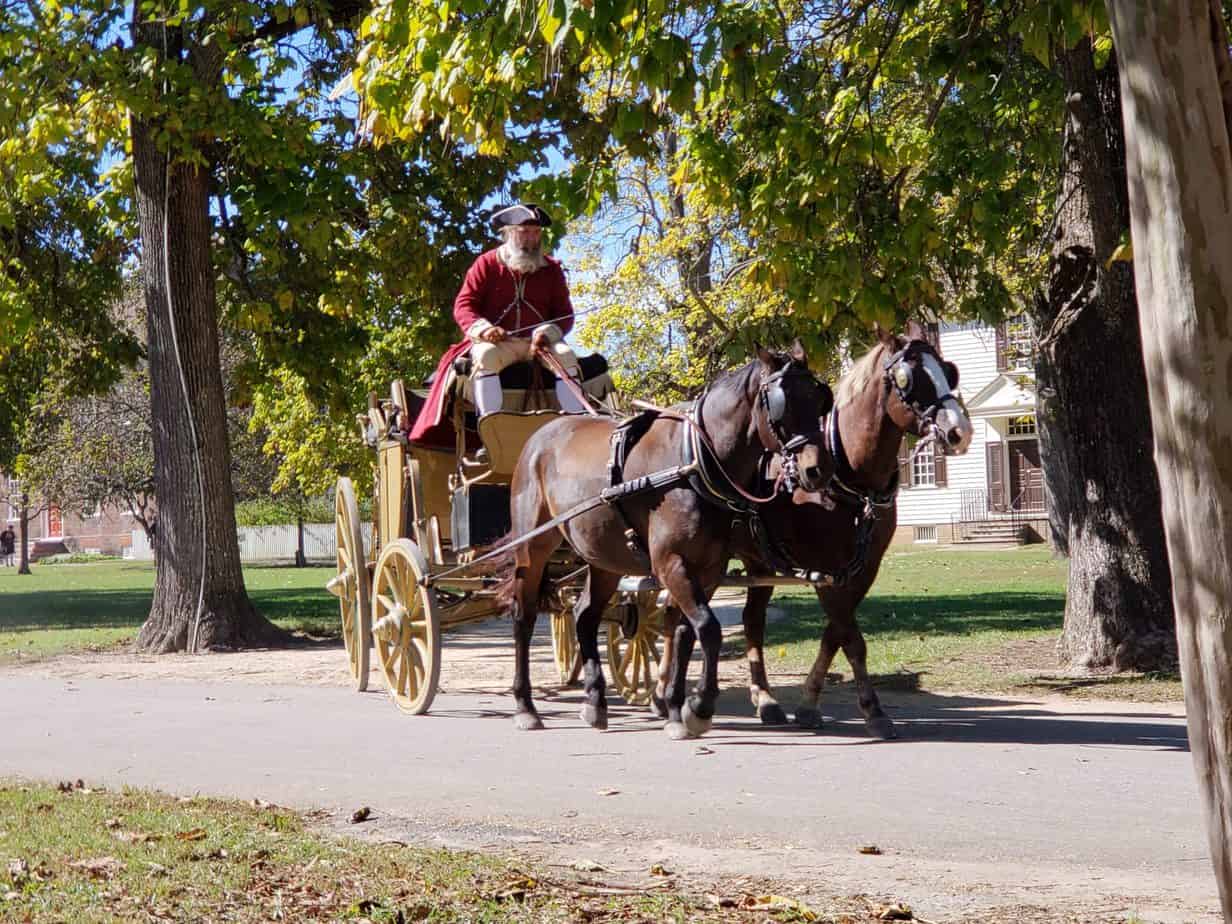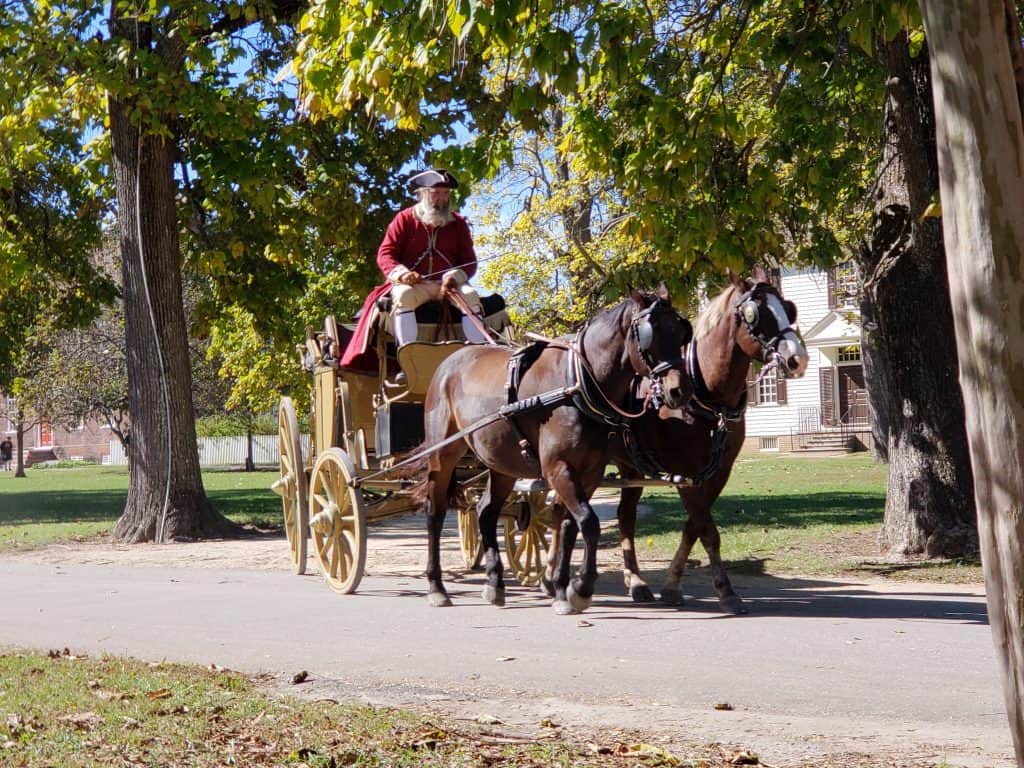 Stay somewhere that makes you feel like royalty
If you're wondering where to stay in Greater Williamsburg, VA, there's just one thing you should consider: will the accommodation make your romantic getaway extra special?
We were lucky enough to stay in an incredible hotel in Williamsburg, and in what is not only the nicest room in the hotel, but frankly one of the most spectacular rooms we've ever stayed in, period.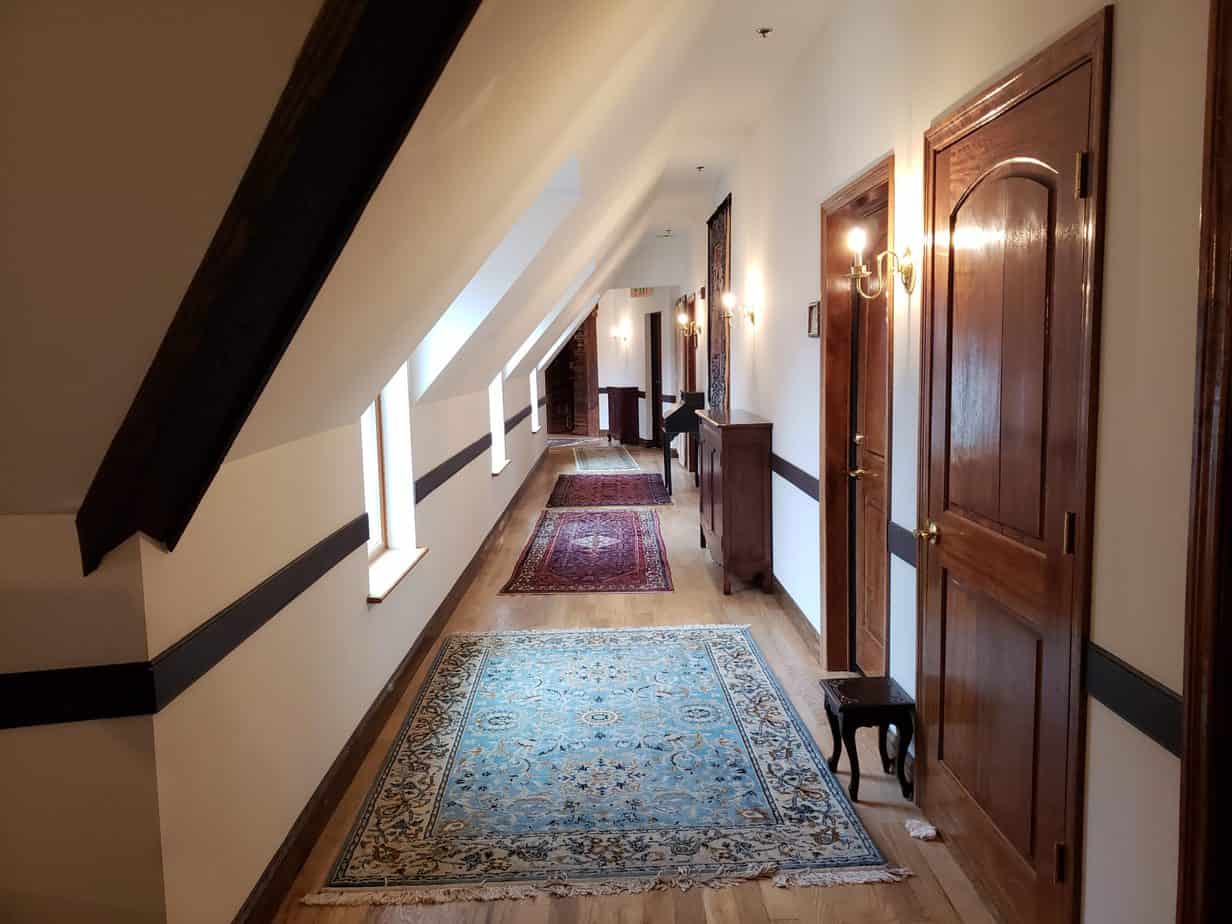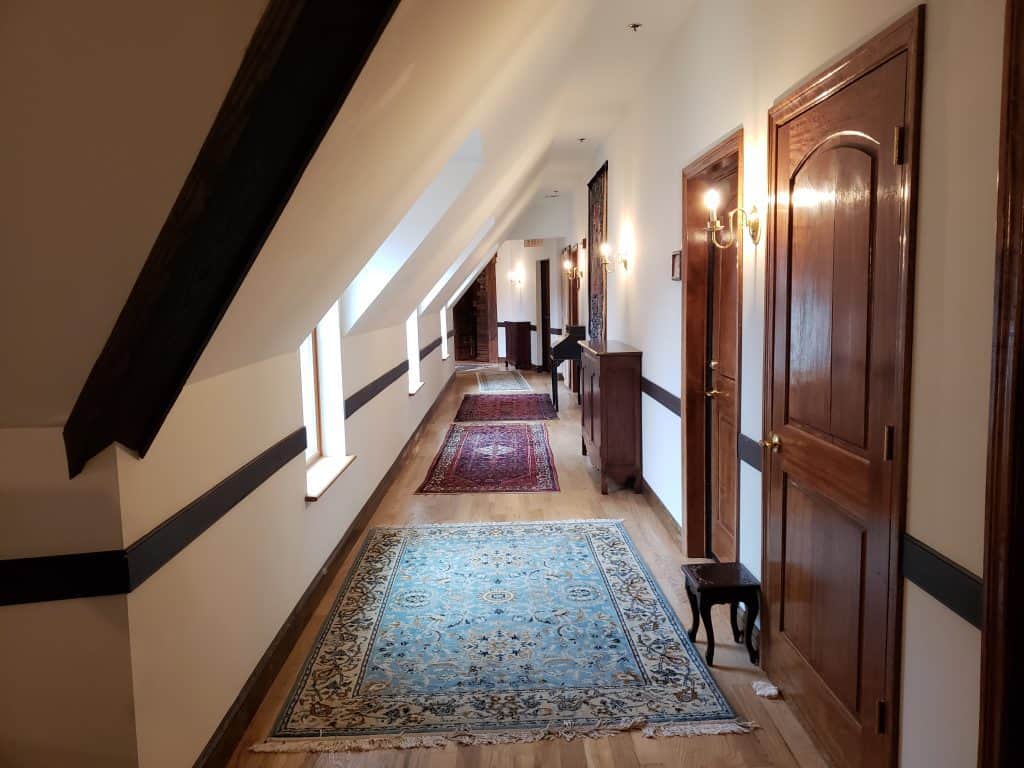 Wedmore Place at the Williamsburg Winery, is one of the most romantic getaway spots in VA and is exceptional accommodation for couples. This European-influenced hotel is both cozy and luxurious all at once.
It is set right onsite at the winery, so you can stroll over for a tasting whenever you fancy, but you may not want to leave your room.
We stayed in the Venetian Suite. This epic accommodation would be ideal for a honeymoon in Greater Williamsburg VA, or any special occasion.
It was a fabulous room, and I think the photos say it all: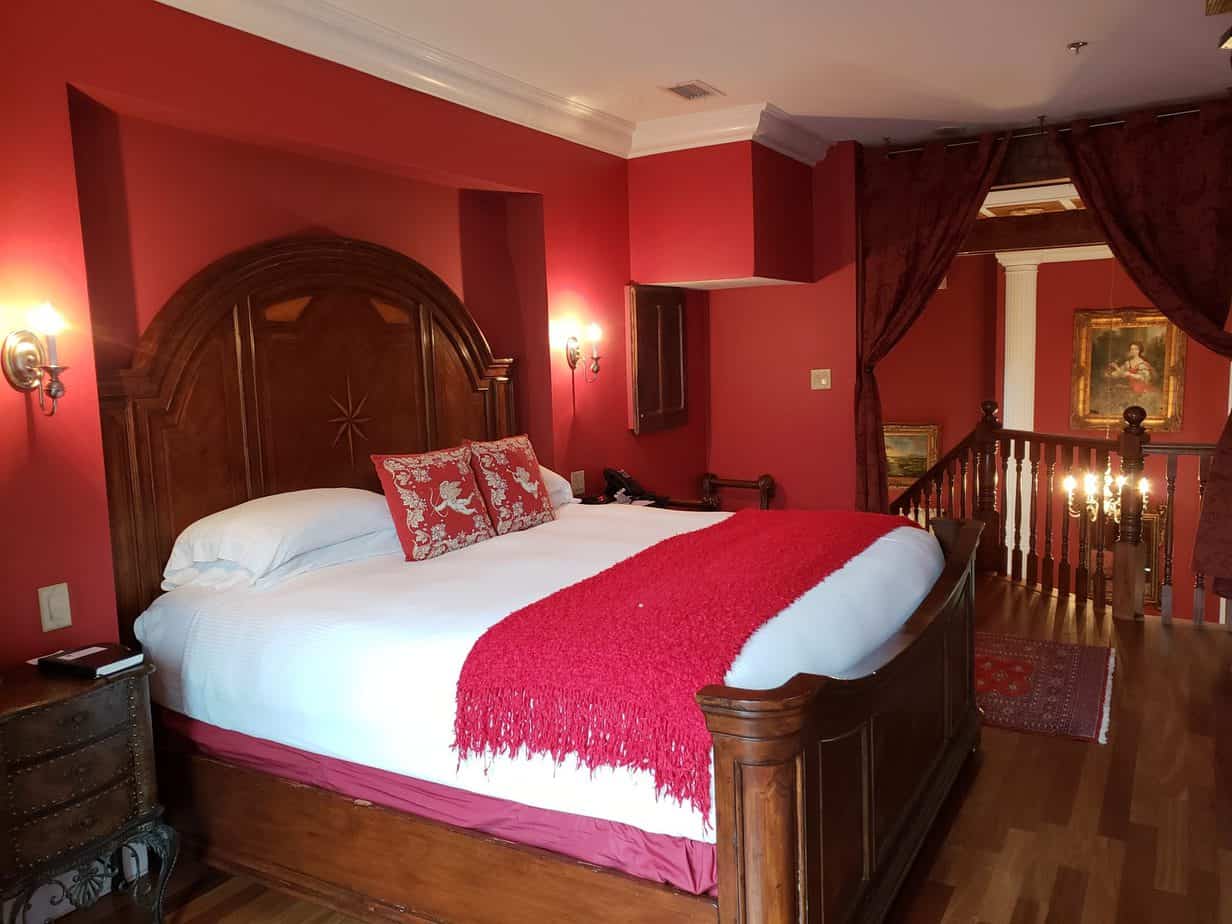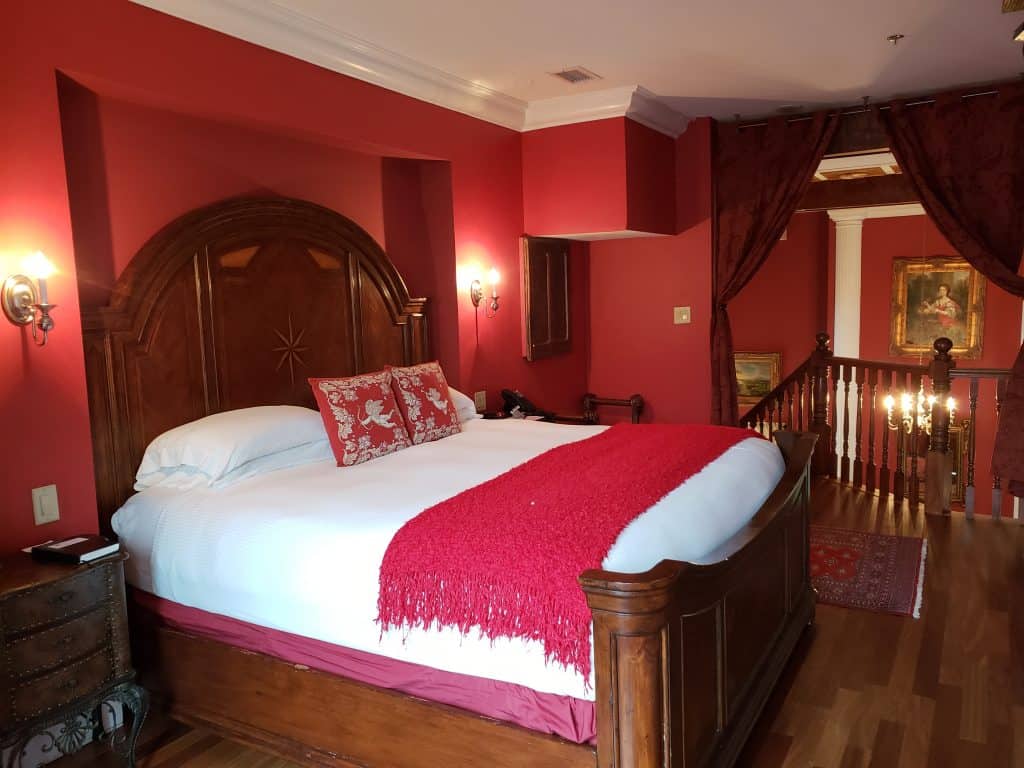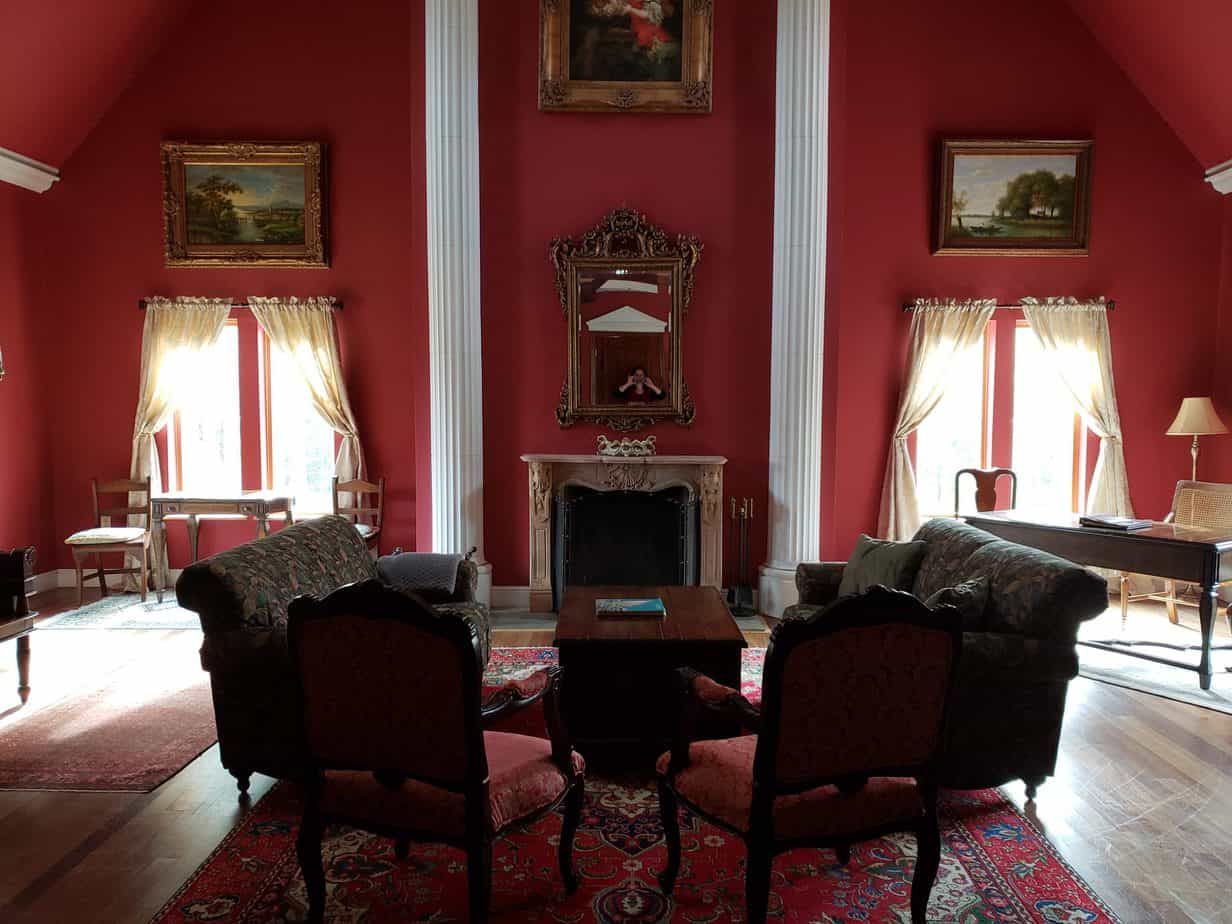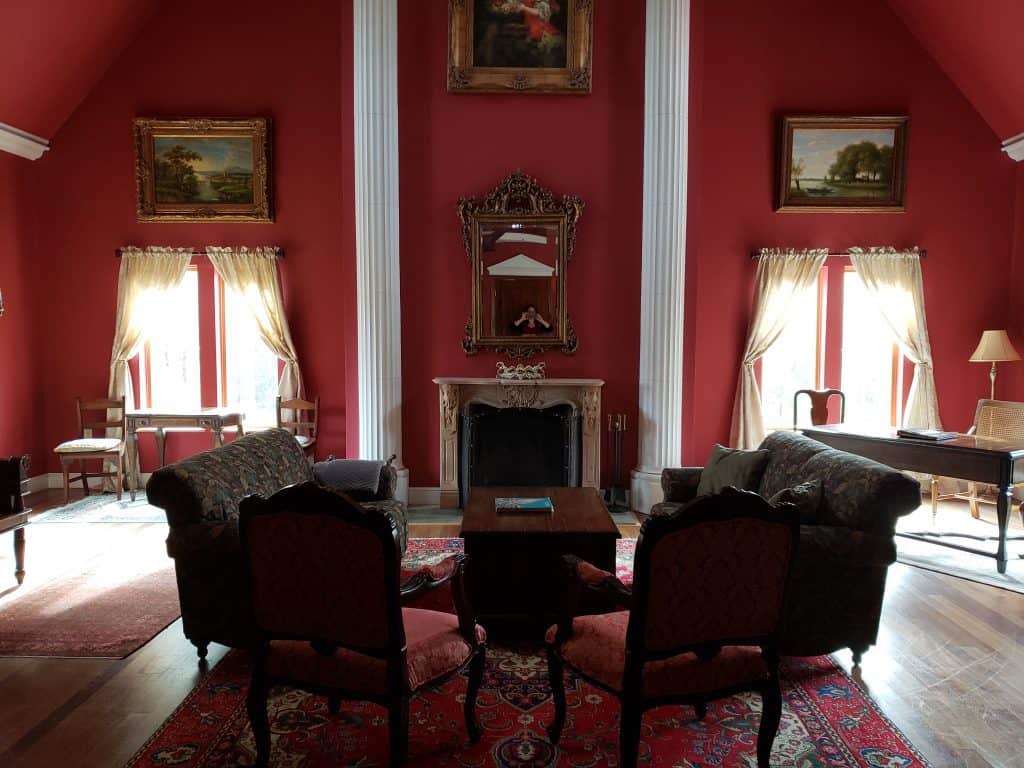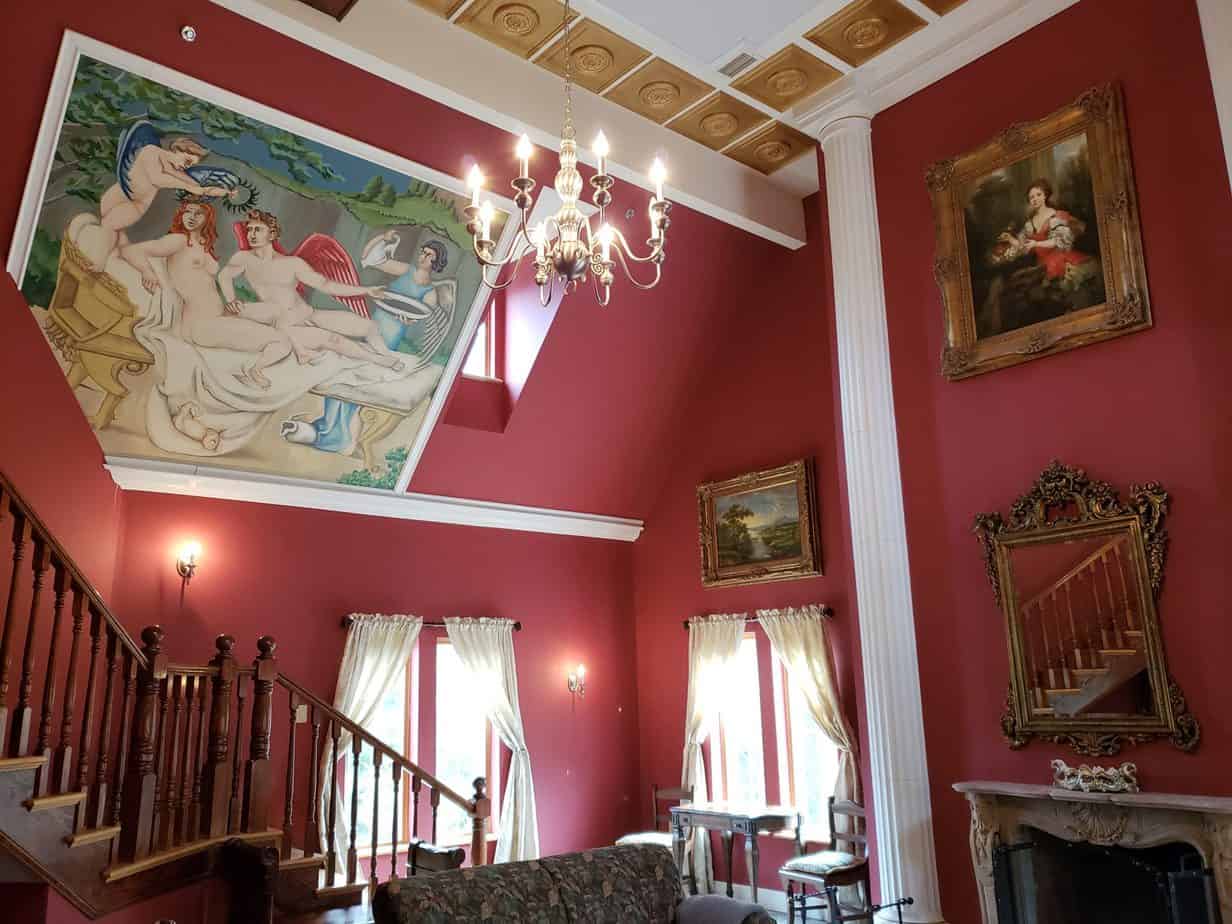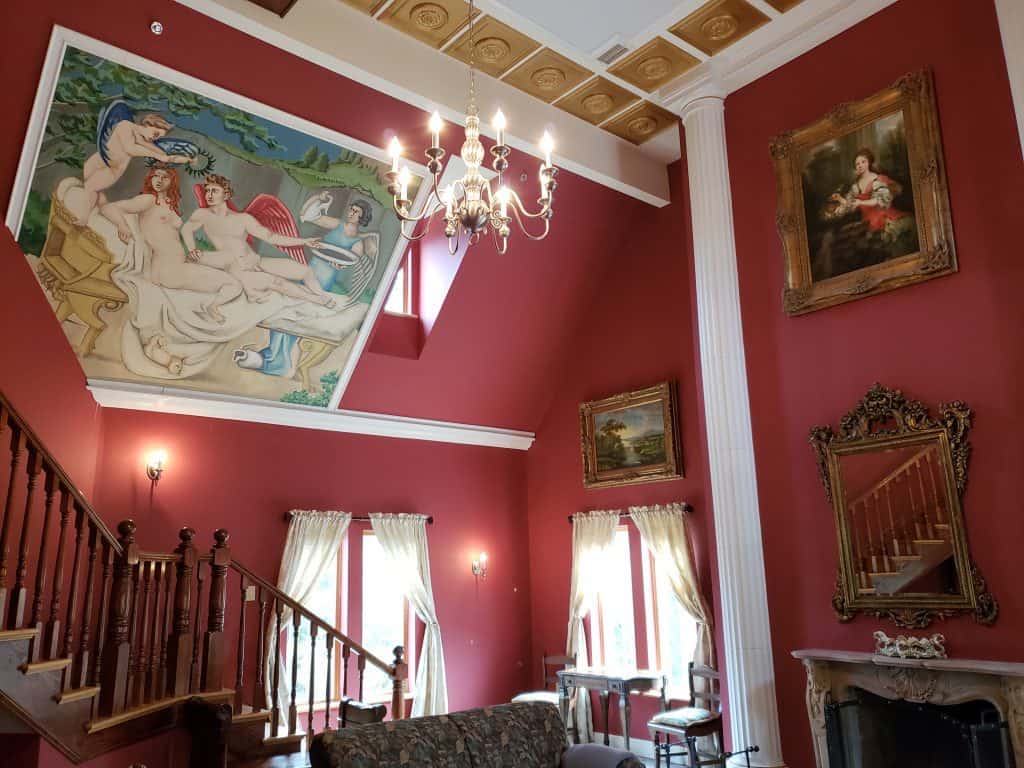 Our suite was amazing, but judging from the photos on their website, every single room is breathtaking and has its own special character.
Wedmore Place is beautiful throughout, from its setting on the vineyard grounds to its lovely courtyard, perfect for enjoying an afternoon glass of wine.
They've also got an onsite restaurant where you'll enjoy your complimentary continental breakfast or a fine dining experience in the evenings.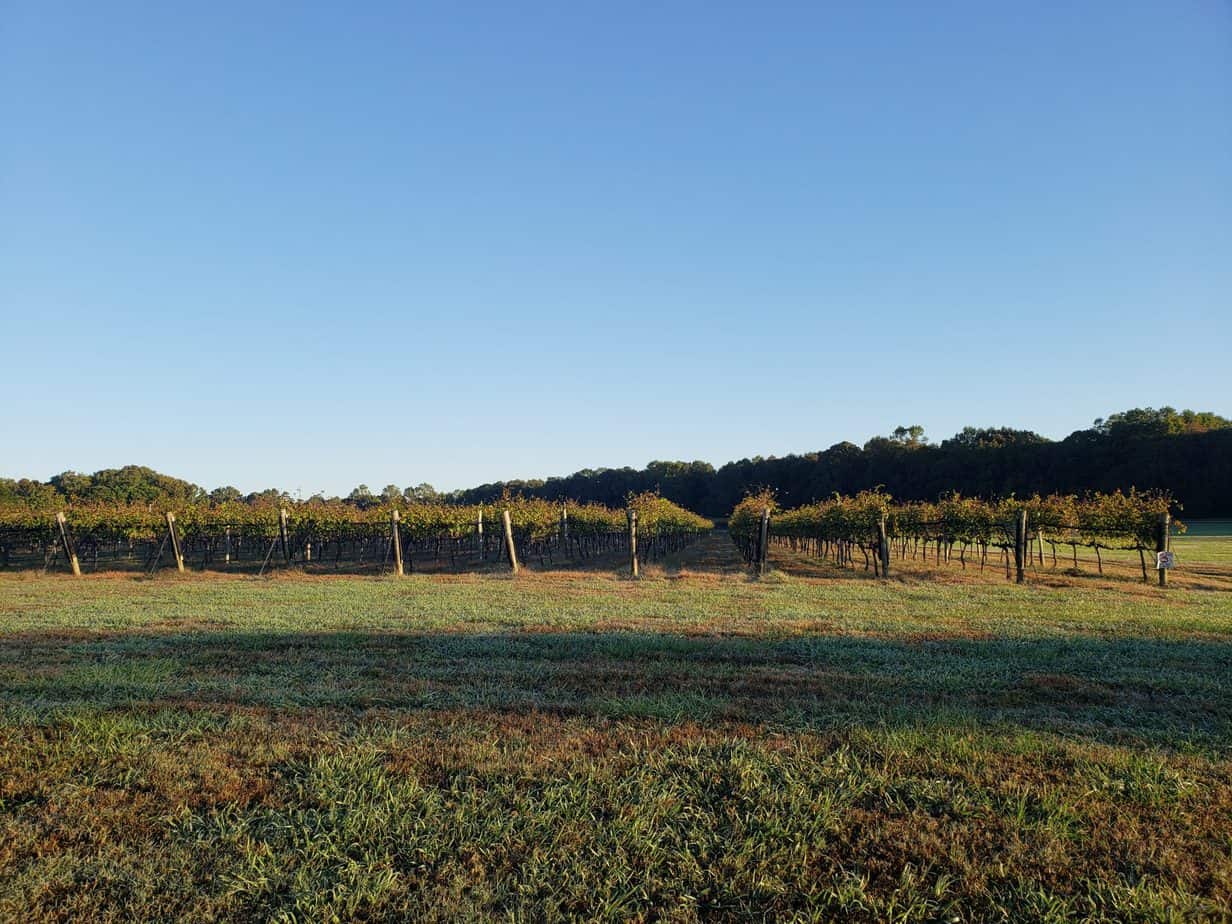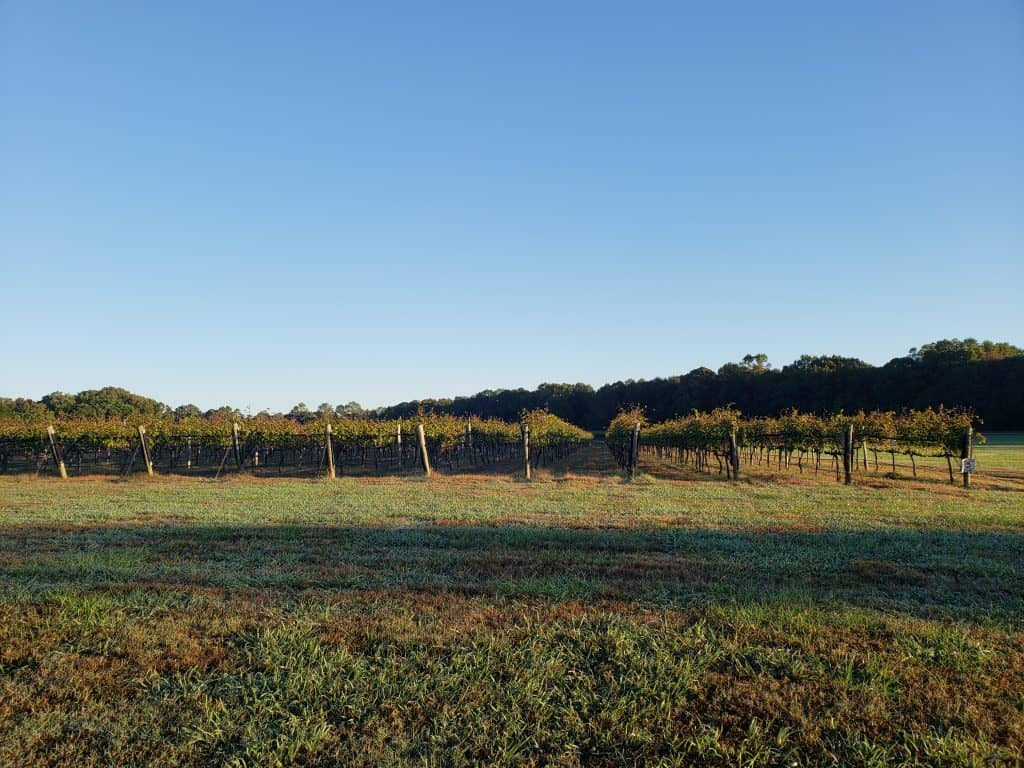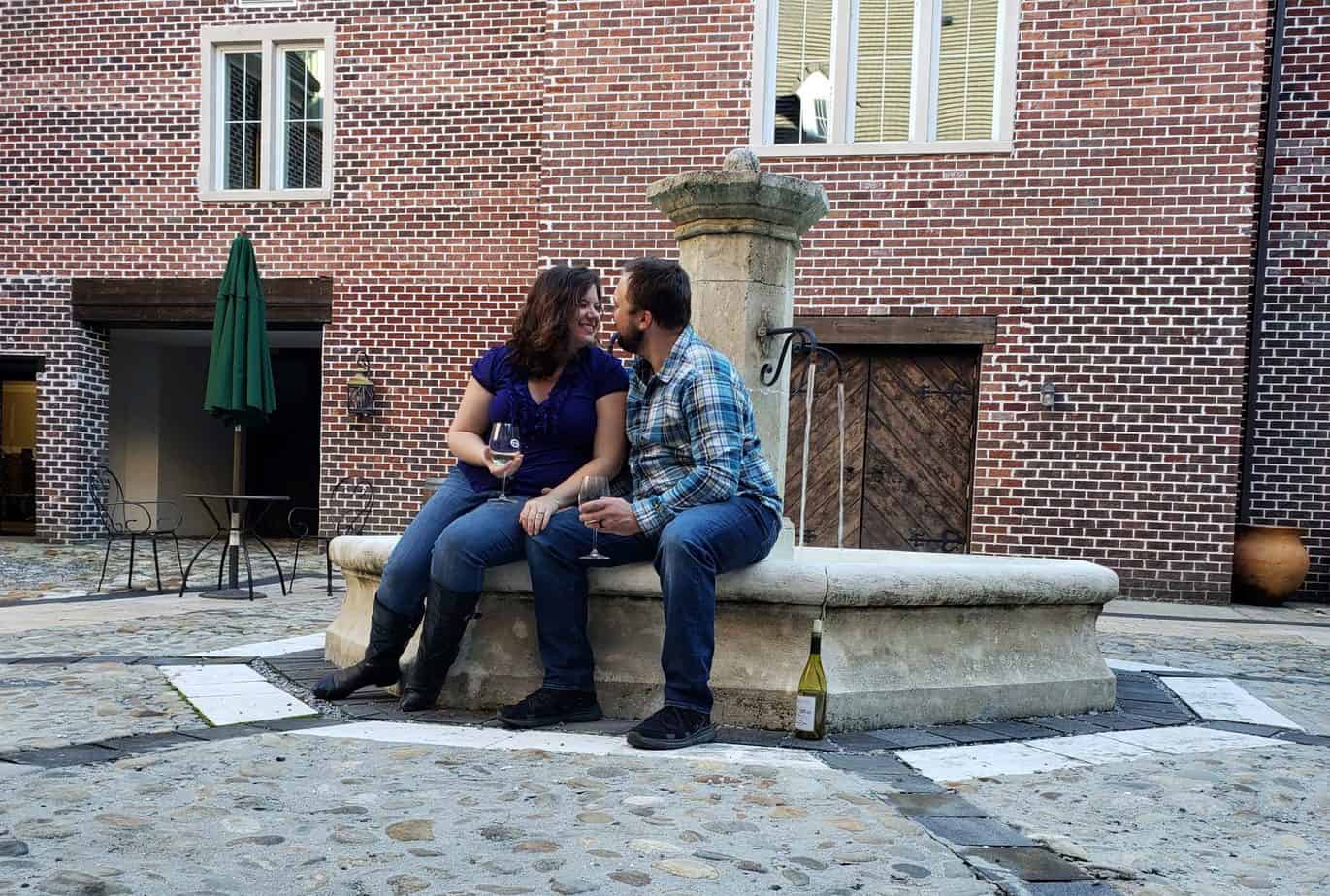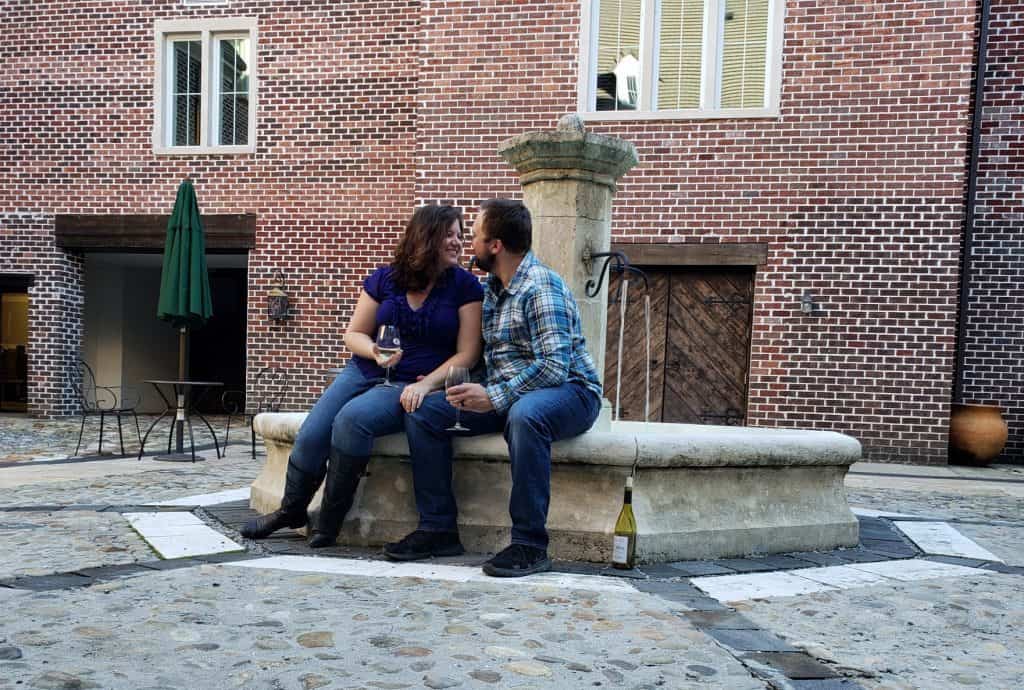 Try something new (and unexpected) together
If you had asked me a few weeks ago if I liked haunted houses I would have laughed (or screamed) and said "No way!" But really, this is an awesome fall date idea!
Our Greater Williamsburg itinerary included a visit to Busch Gardens for their Halloween Howl-O-Scream event. At first, I was pretty nervous! I have never gone into a haunted house in my life, and I'm generally a pretty big chicken when it comes to getting scared.
But I wanted to try something new and exciting, especially with Nathan by my side, so I bravely readied myself for a night of scares!
And it turns out….. I LOVE HAUNTED HOUSES!
We had SUCH a blast at Howl-o-Scream, it actually was one of the most memorable parts of our trip! What a rush!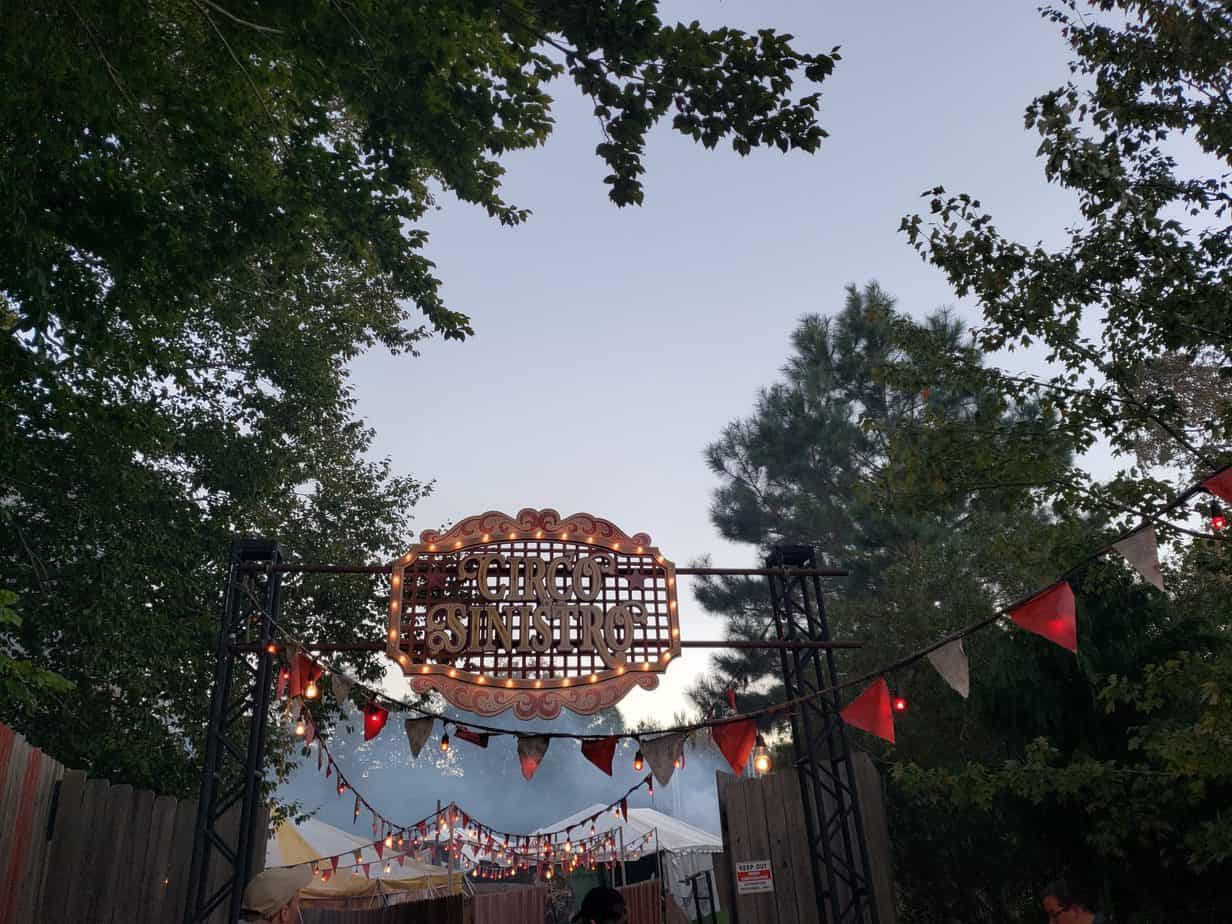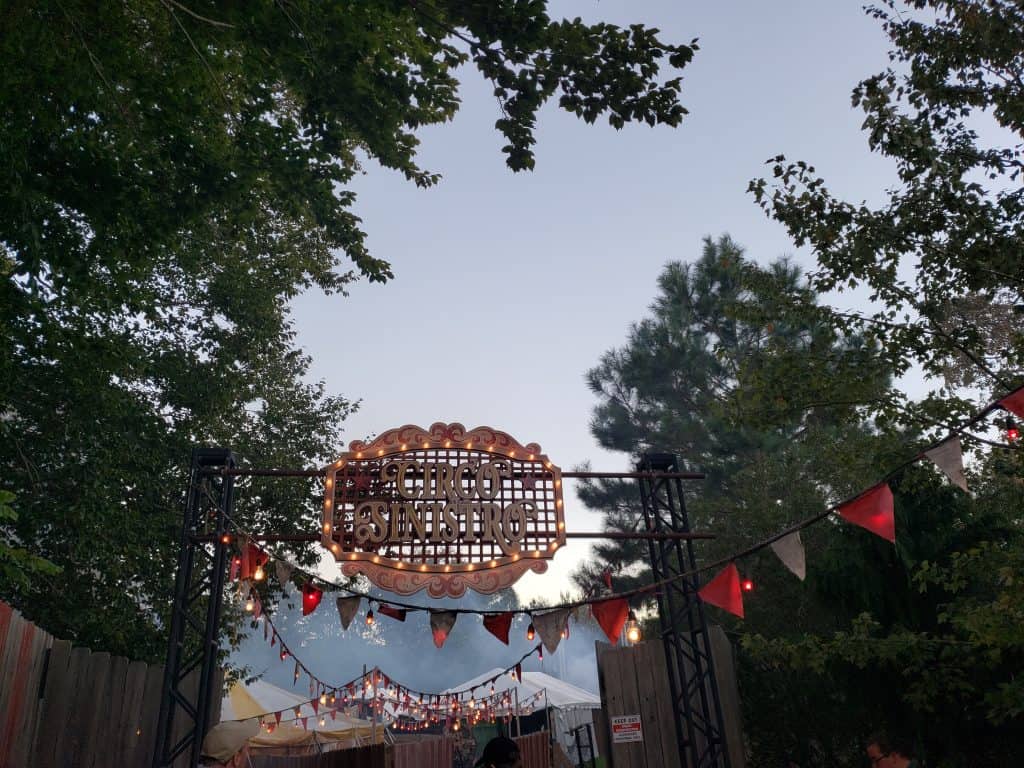 We visited every haunted house and scare zone in the park. Turns out, getting spooked together is actually kind of romantic! We walked hand in hand through every house (I was no doubt death-gripping Nathan's hand, but you know, it was still sweet) and we were laughing together.
Truly, I think any romantic getaway can be made better when you add something quirky, unique, and new to the mix. This was definitely an unexpected joy for me, and I know that doing it with my husband was a fun way to bring us closer together.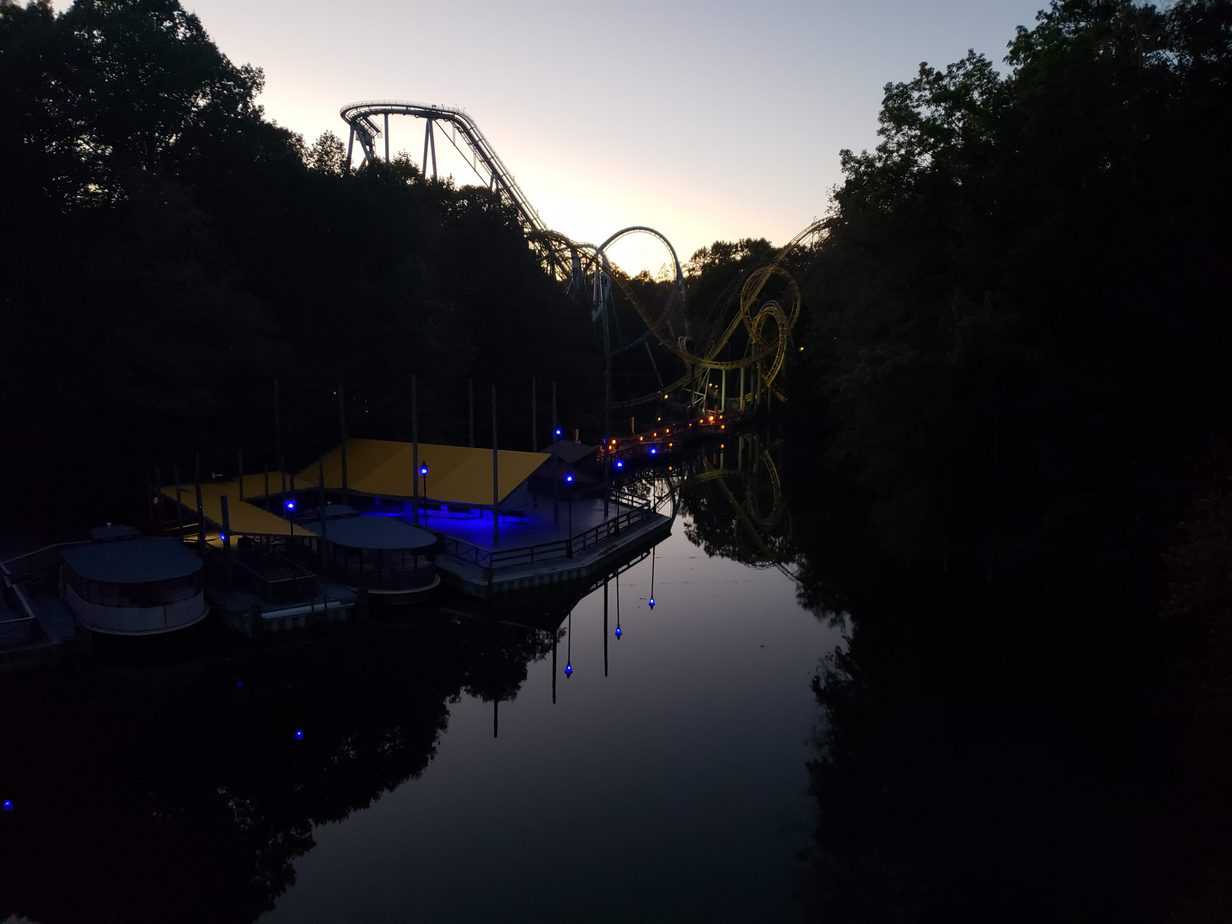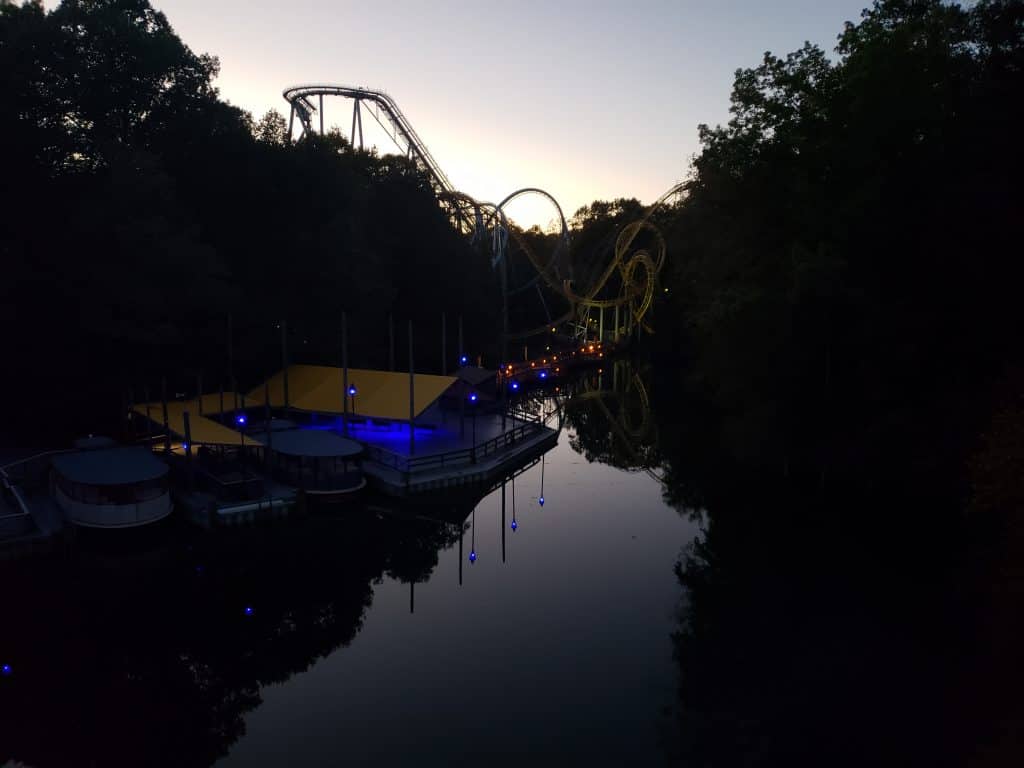 Catch a sunset during a schooner cruise on the York River
Oh, sunset. Such a romance-filled time of day. Those golden rays are best enjoyed by boat, whenever possible, so while you're on your romantic Greater Williamsburg getaway, be sure to get out on the water.
Yorktown Sailing Charters took us out with them on their sunset schooner cruise. What a wonderful time! We spent two hours sailing the peaceful waters of the York River, helped out with some of the actual sailing/rigging work, and sipped some wine while watching the skies change from blue to orange to pink and back to a deep blue.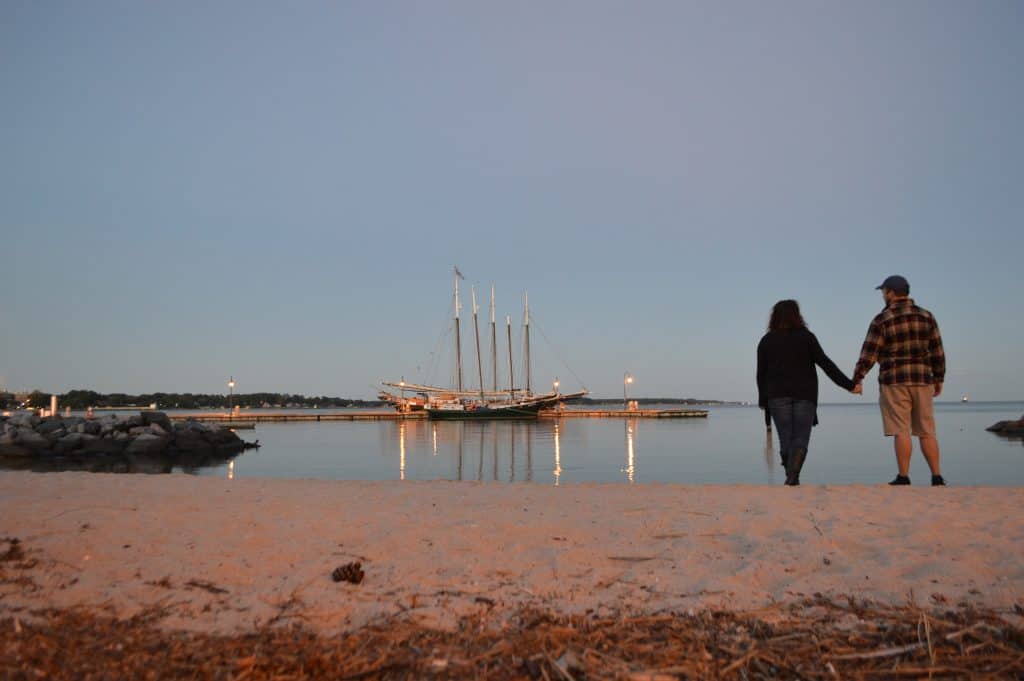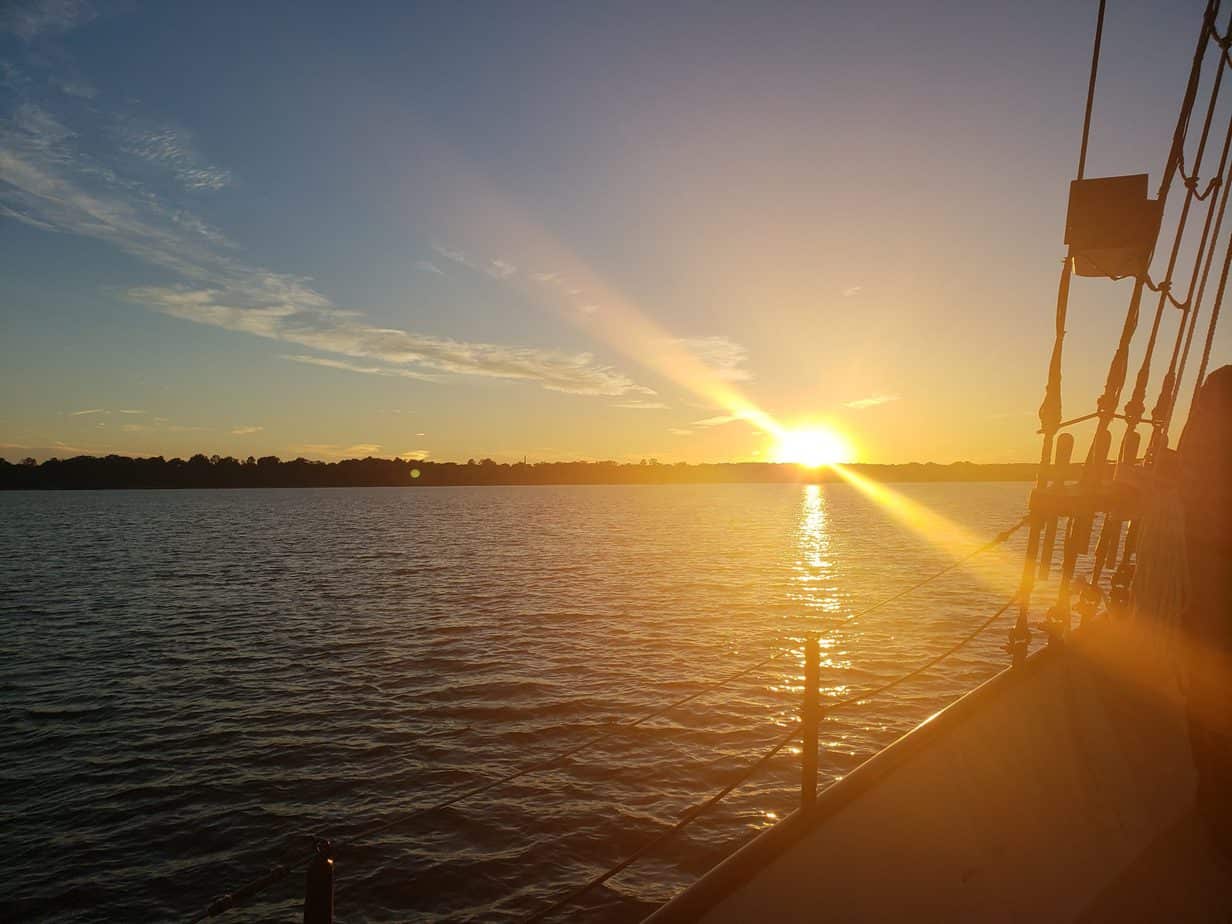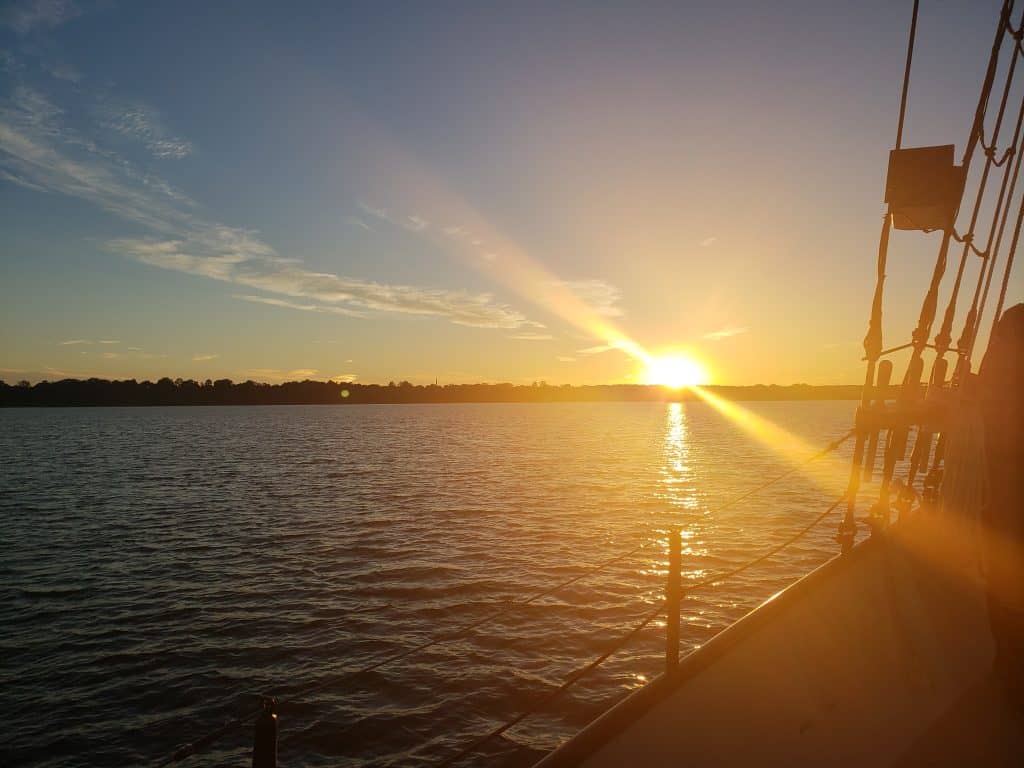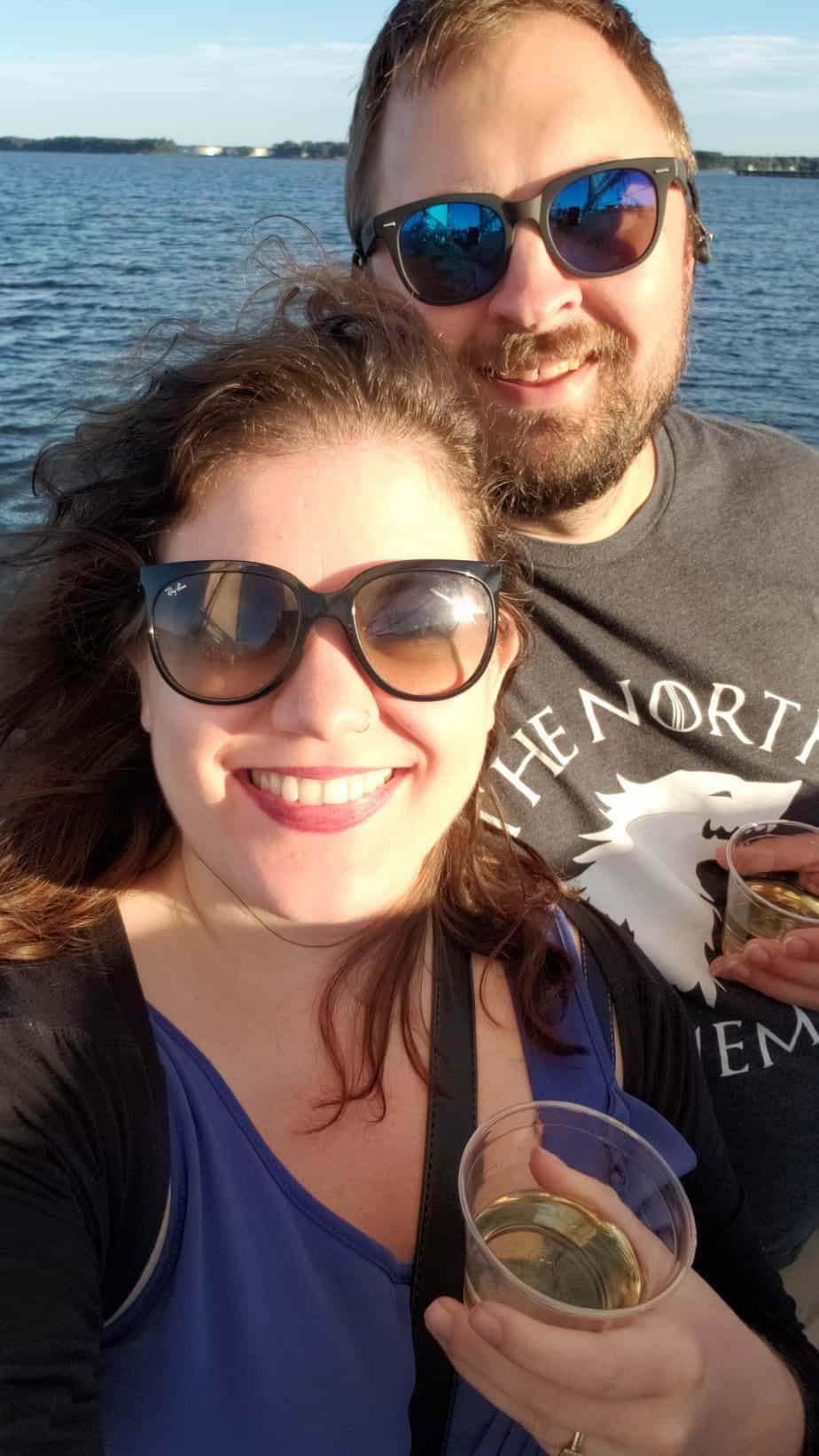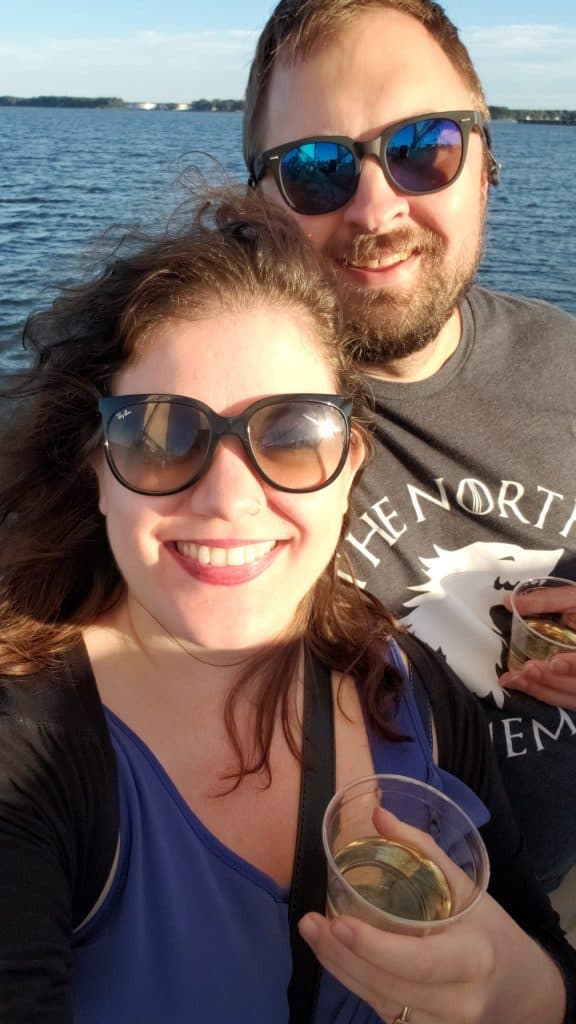 We would definitely recommend sailing on the Alliance and having a relaxing time "at sea" with your sweetheart.
Eat at some of Greater Williamsburg's most romantic restaurants
Romantic dining includes amazing food, elegant/cozy ambience, and good company. We found the magic combination and a few of the places we dined while in Greater Williamsburg.
Right onsite at Wedmore Place (where we stayed) is Cafe Provencal. With its candlelit colonial vibe, and quiet, intimate atmosphere, it was perfect for a date night.
The food here is really elegant, which also adds a special touch to the meal. We both ordered the delicious scallops and started off with a fresh charcuterie board. Everything was flavorful and innovative and the desserts were epic.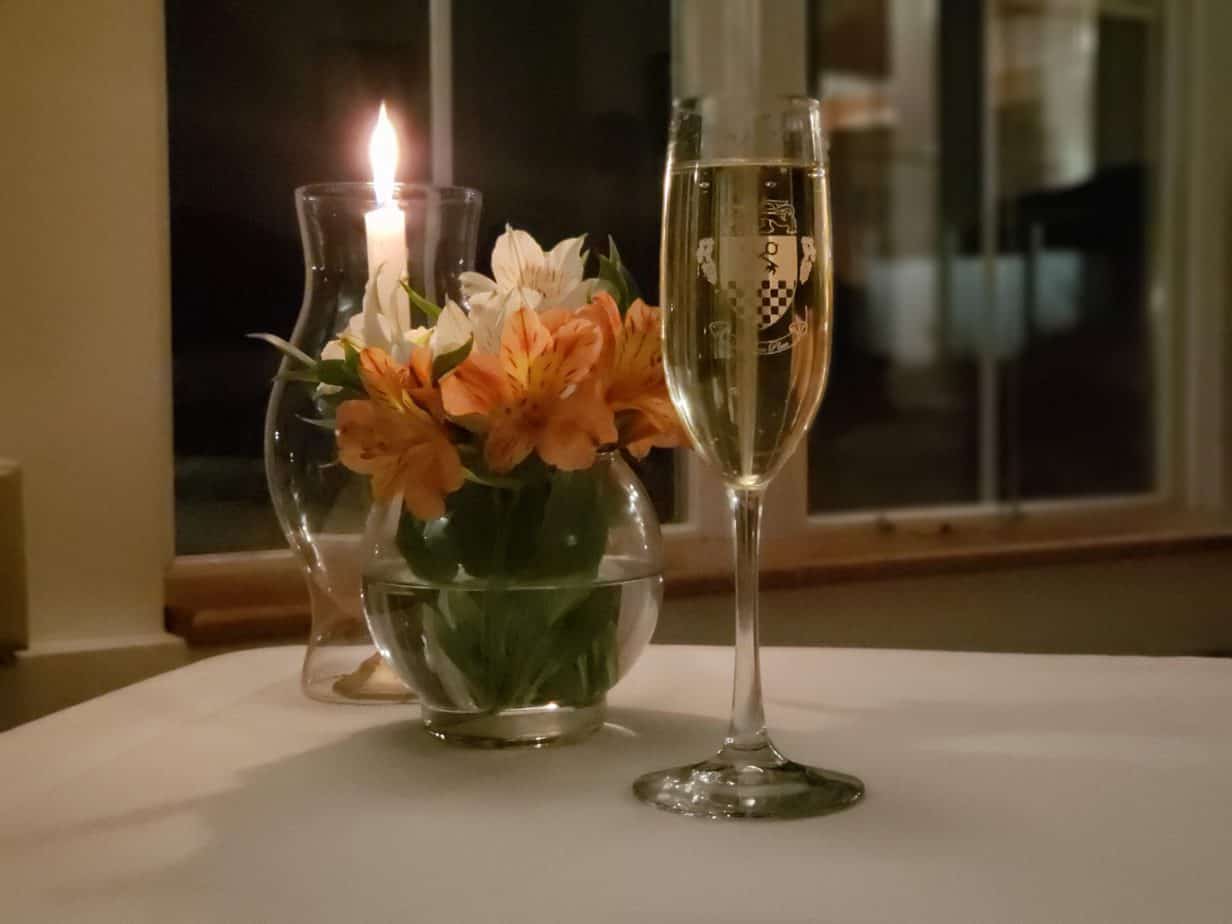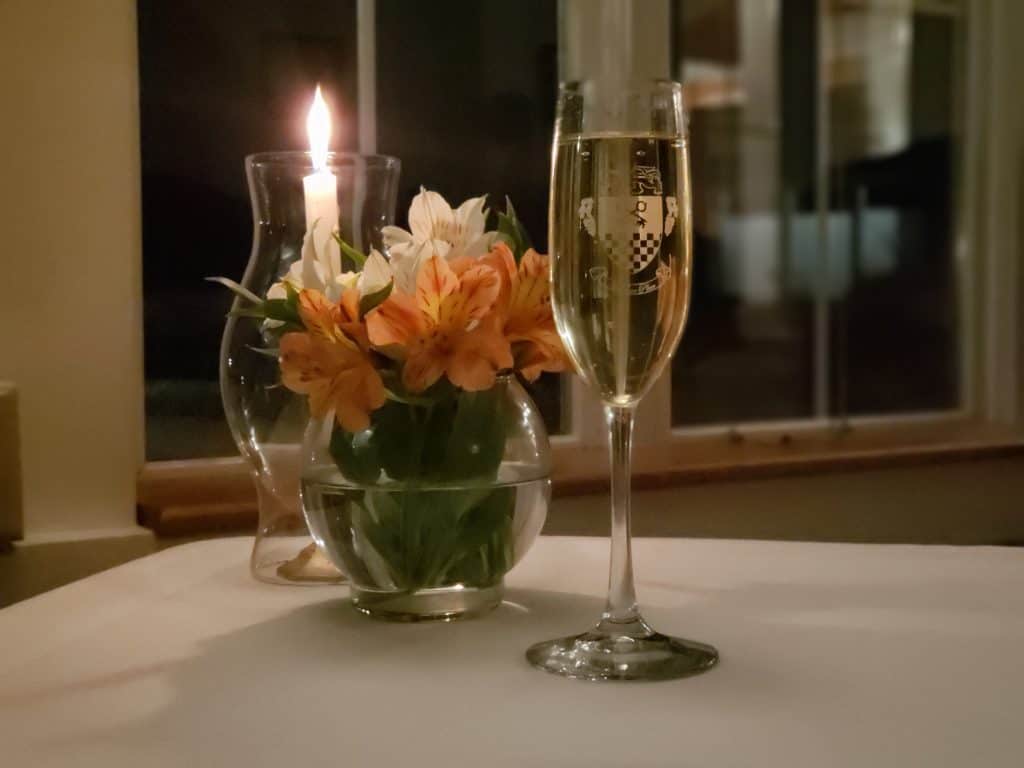 For a more casual meal, we went to the Hound's Tale. It was dog-themed, which, if you know us, was something we loved. While this might not seem traditionally "romantic," it is extremely cozy and inviting.
They also make awesome cocktails, curry fries (yum), and the best burger ever. Highly recommend for places to eat in Greater Williamsburg, VA.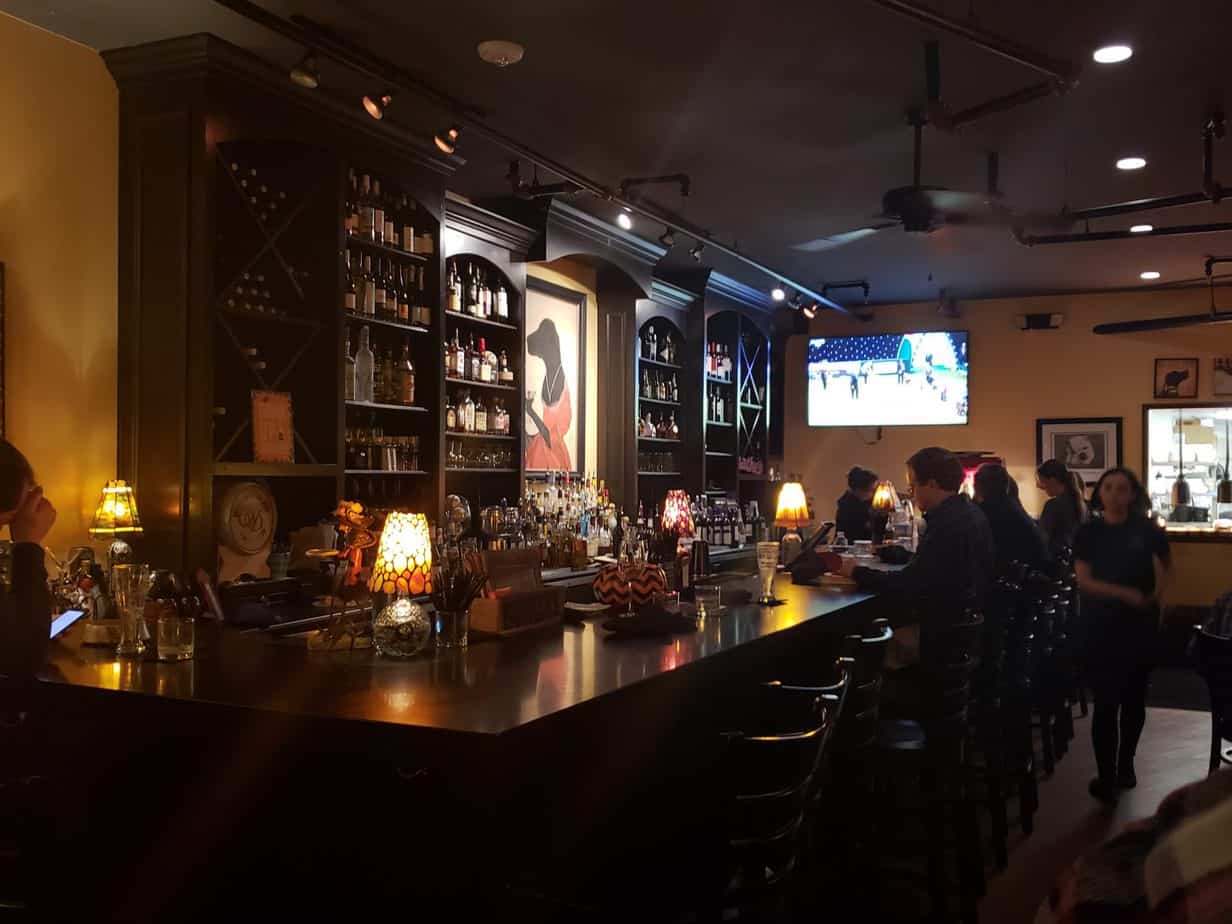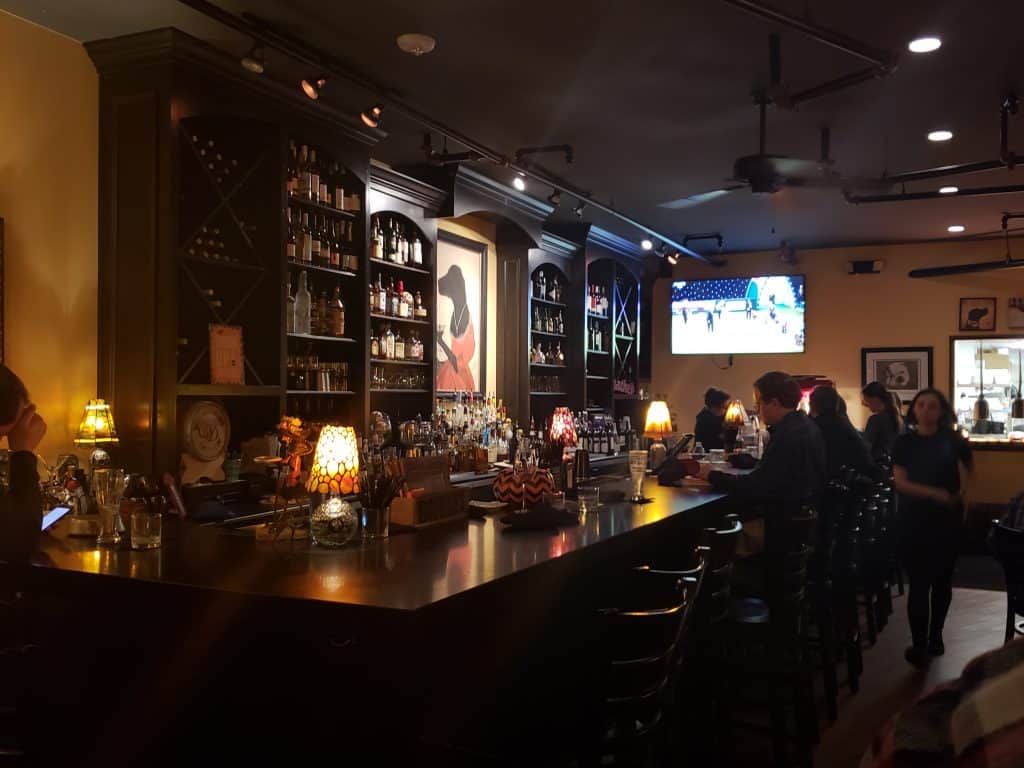 Share samples of beer, wine, mead, and spirits on the Williamsburg Tasting Trail
Craft beverages can be a big part of your trip to Williamsburg if you choose. Not only is there a great winery, there are breweries, a meadery, and distilleries to round out the offerings.
These comprise the Williamsburg Tasting Trail, so if it's delicious drinks you're after, be sure to check it out.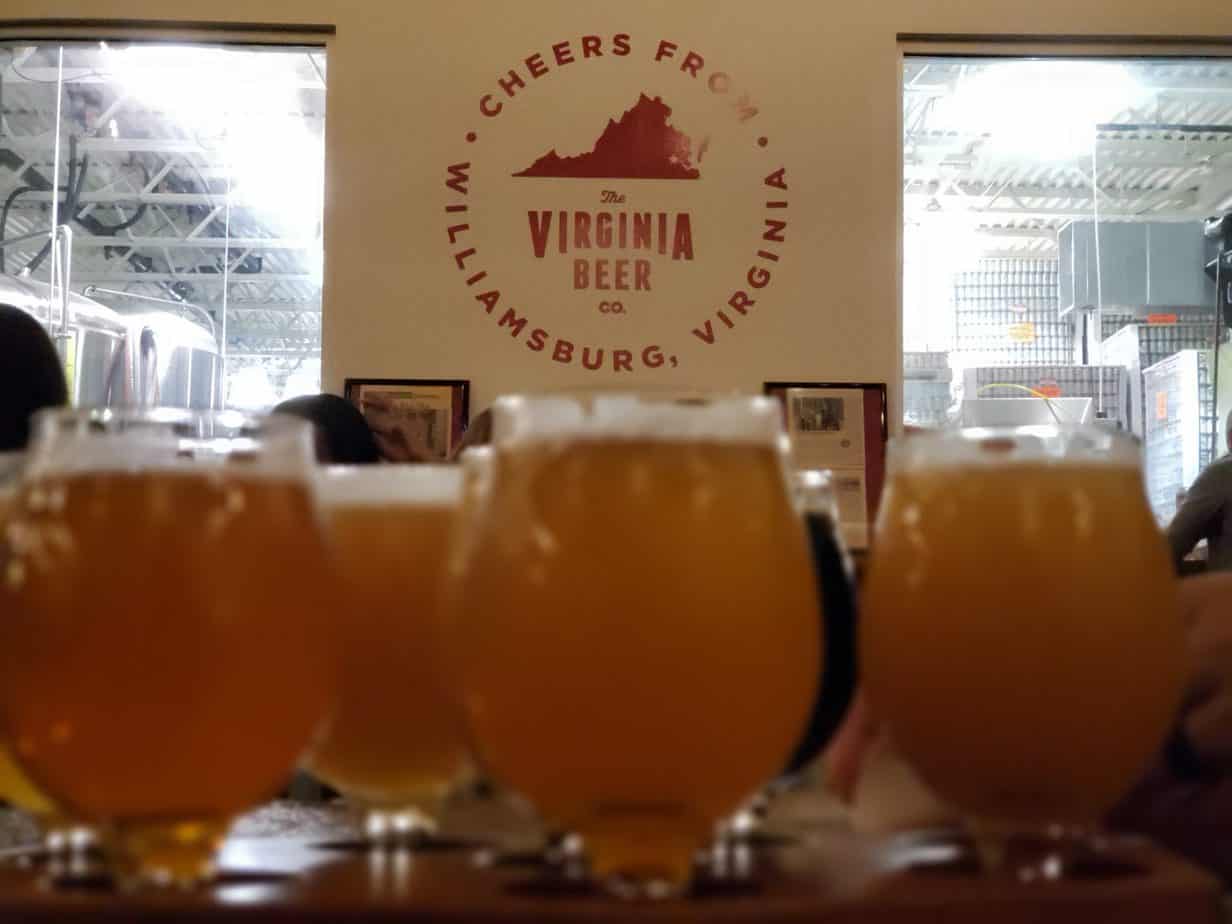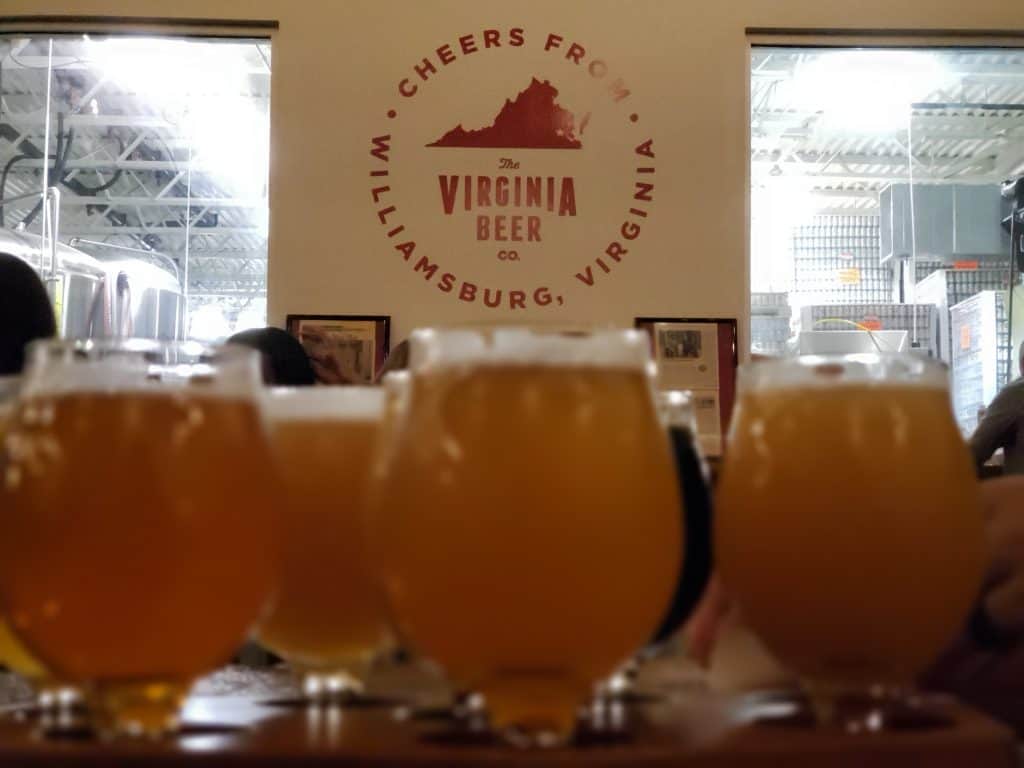 We sipped on a great beer flight at The Virginia Beer Company. This was a laidback brewery in a hip space…reminded us a lot of the breweries near us in Burlington.
For something sweeter, make a stop at Silver Hand Meadery, where you can taste local meads (honey wine). This is definitely a good place to visit if you haven't tried much mead in the past. It's a very old drink that seems to be making a comeback, and you can get in on the new trend now!
Bliss out with an epic spa experience
Romance is about feeling good together. Every couple deserves some extra relaxation and pampering when traveling together. Why not stop in for a couple's spa experience?
We had a side-by-side massage at The Spa of Colonial Williamsburg. Oh, was it blissful! Not only were our massage treatments fabulous, but the spa also has such a stunning atmosphere.
You start to relax the second you arrive to the spa. Walk under the leafy archway and admire the reflecting pool before stepping into a chilled out spa.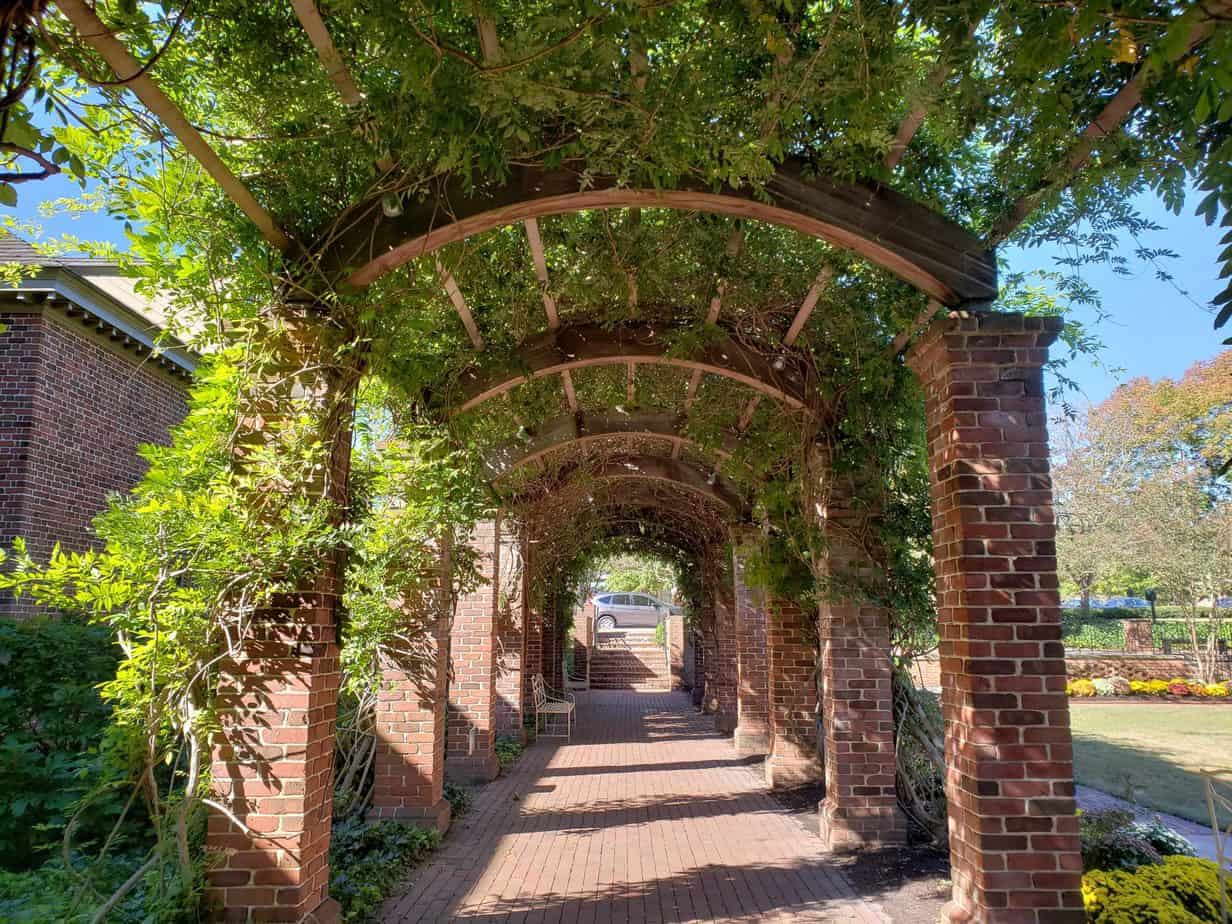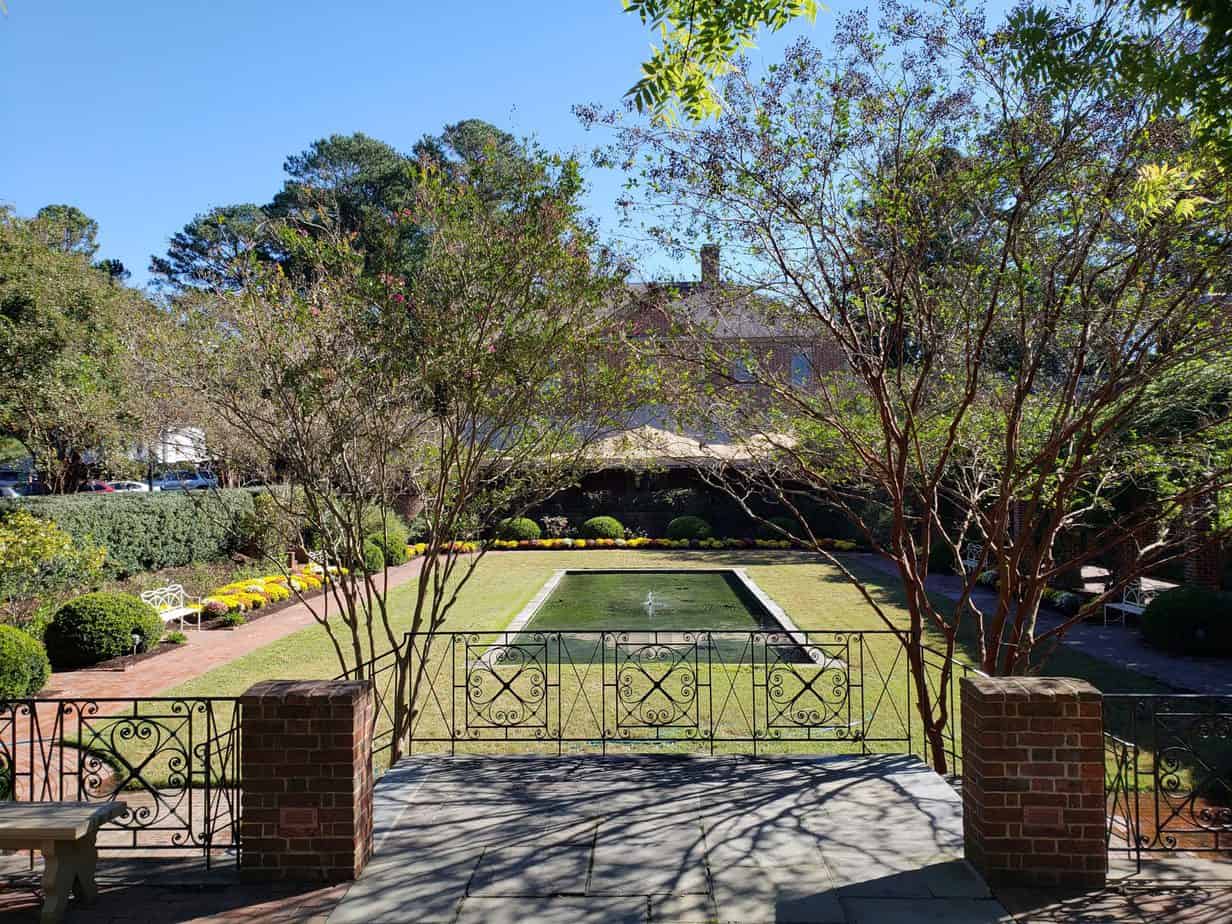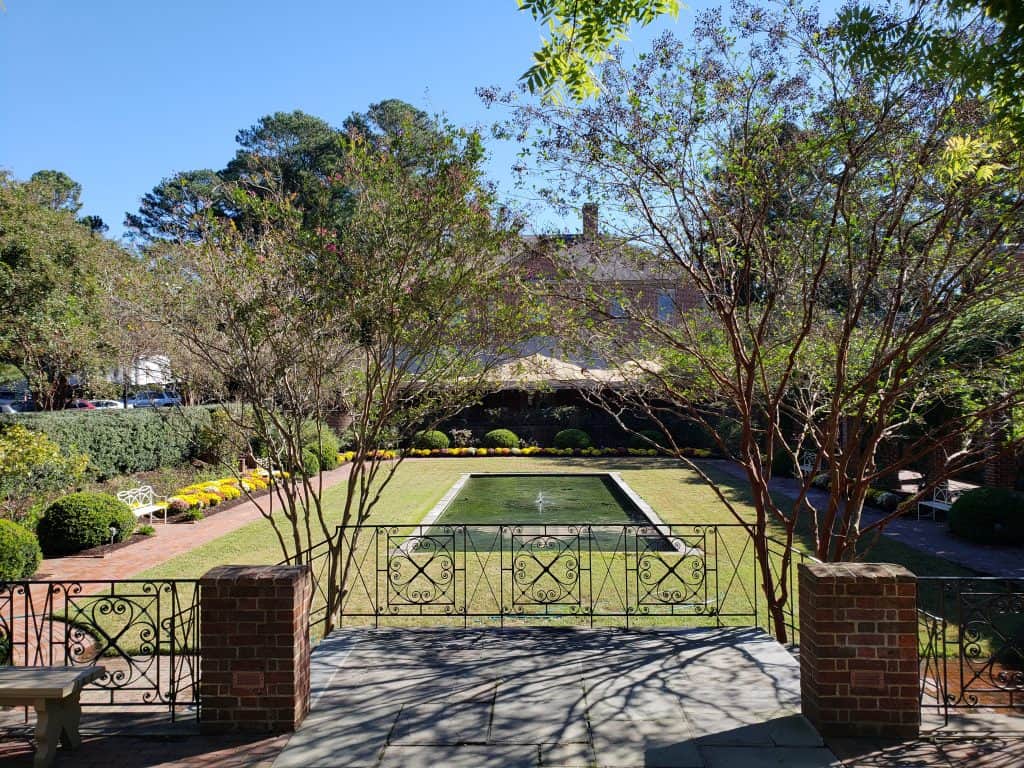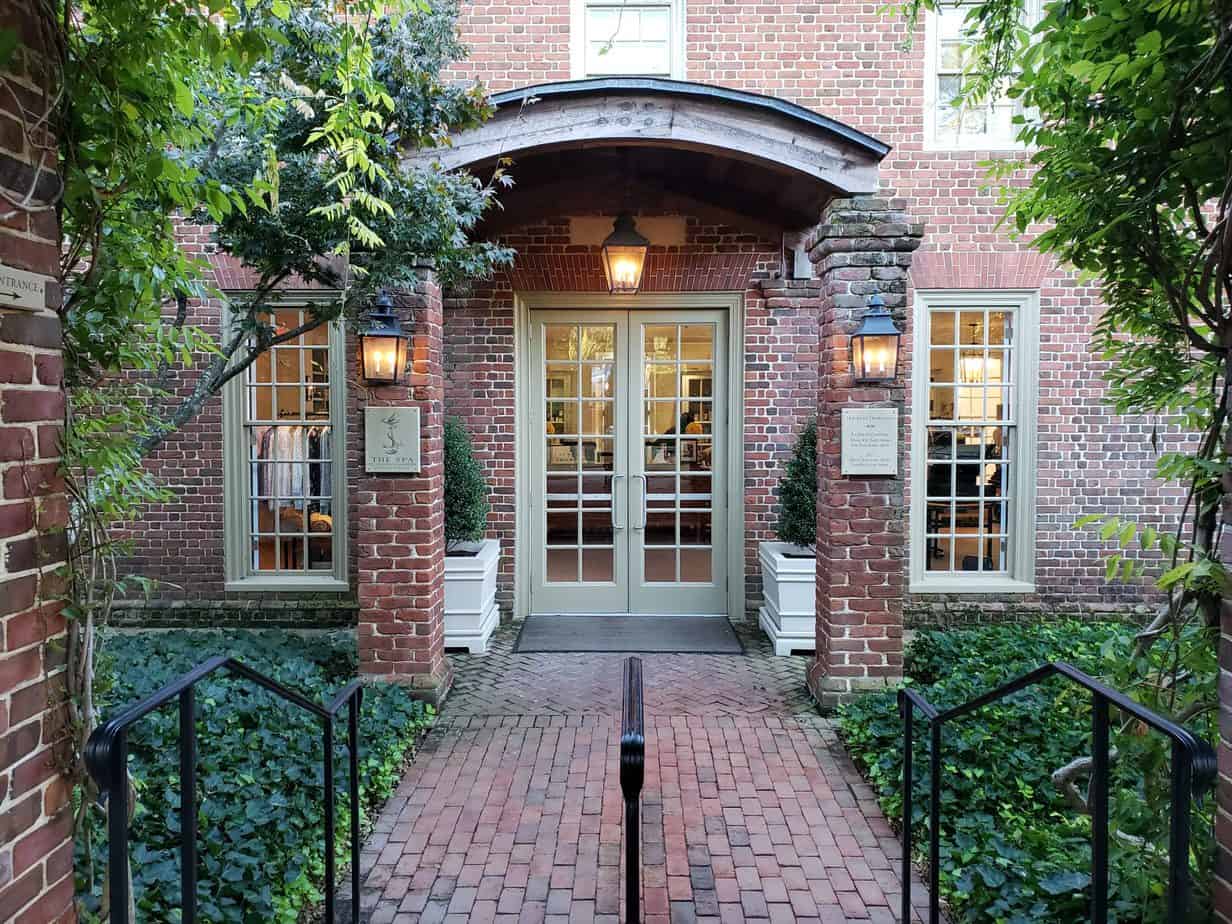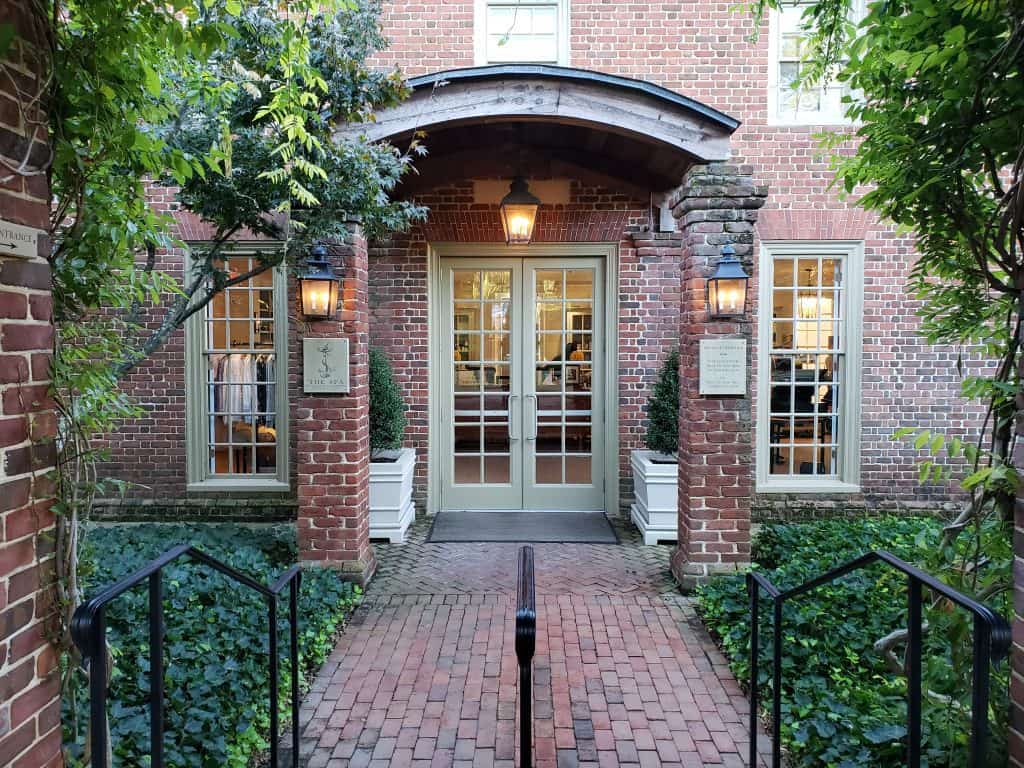 Once you're done with your massage, facial, or whatever you've chosen, you can hang out in the steam room or jacuzzi and continue the relaxation process.
You're not going to do much else after your spa day, though, so be sure to have a laidback evening planned for afterwards!
Take a romantic carriage ride through Colonial Williamsburg
One of the absolute best ways to see Colonial Williamsburg is by horse and carriage. The sound of the horses' hooves clopping as you watch the authentic village pass you by is sure to transport you back to colonial times.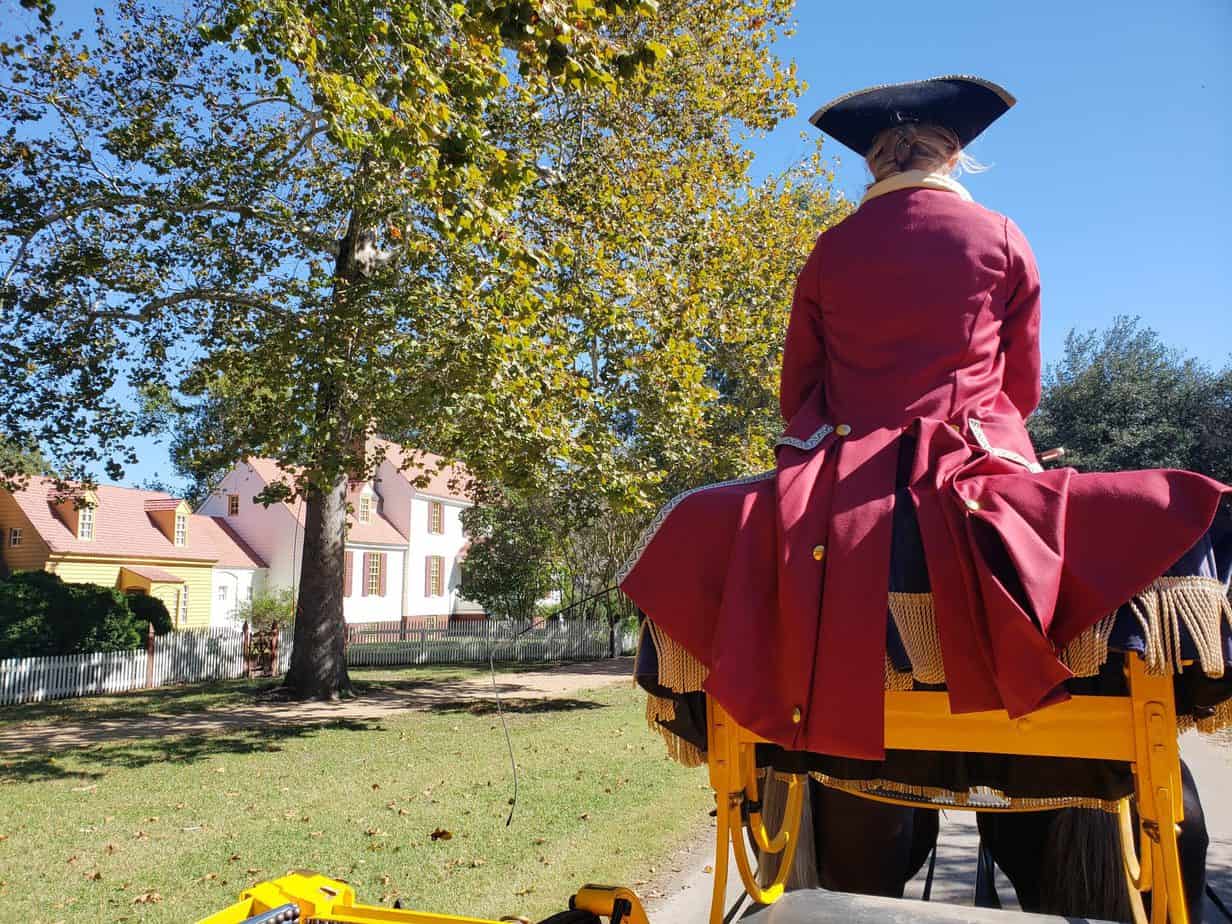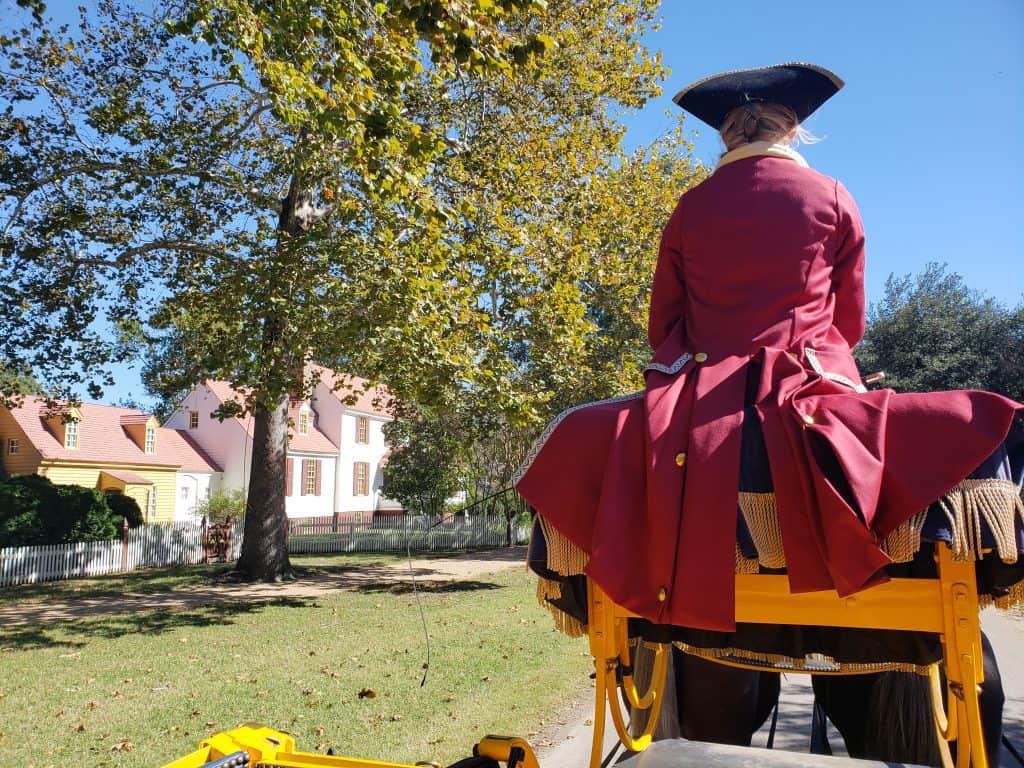 And there is something undeniably romantic about a carriage ride. There's a special carriage that's just right for two in Colonial Williamsburg. We loved riding around feeling like special guests of colonial times.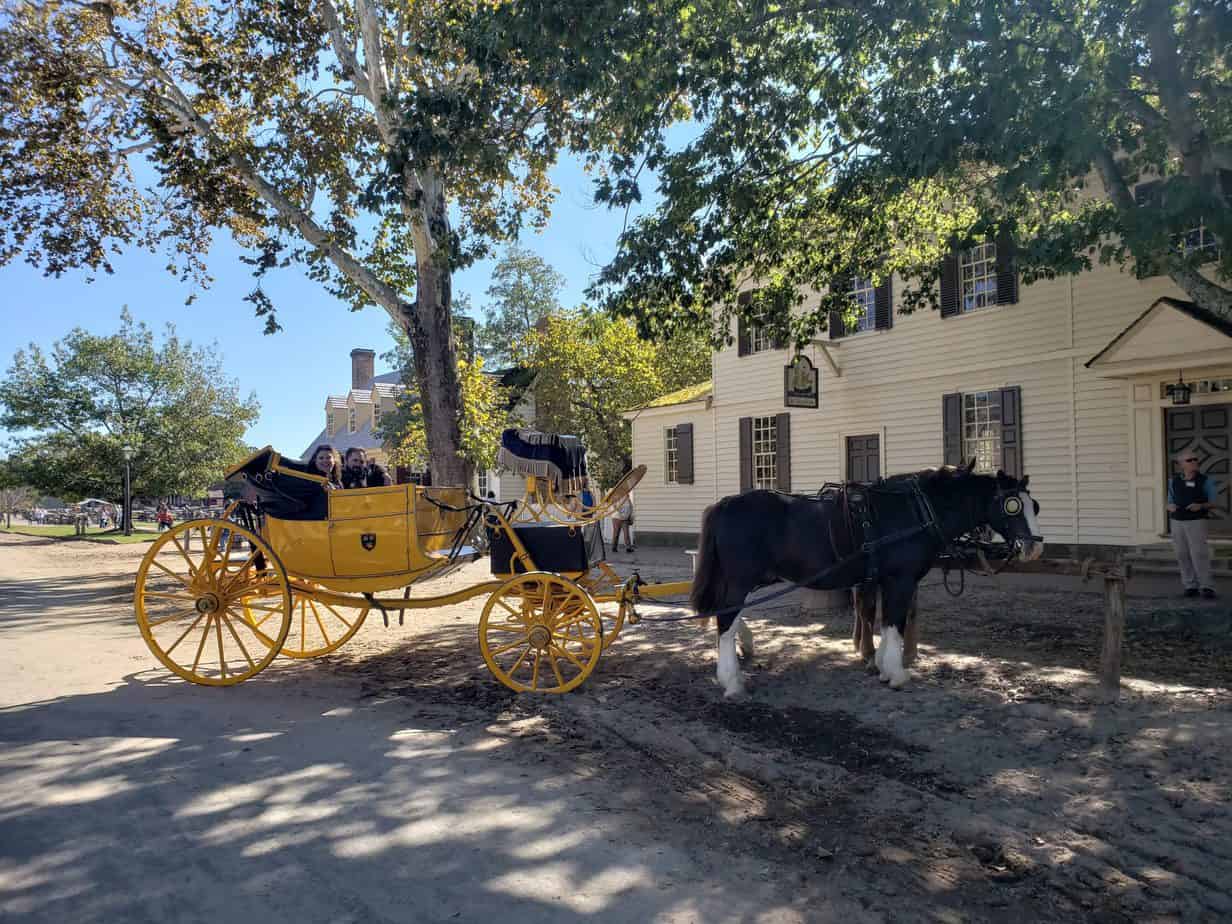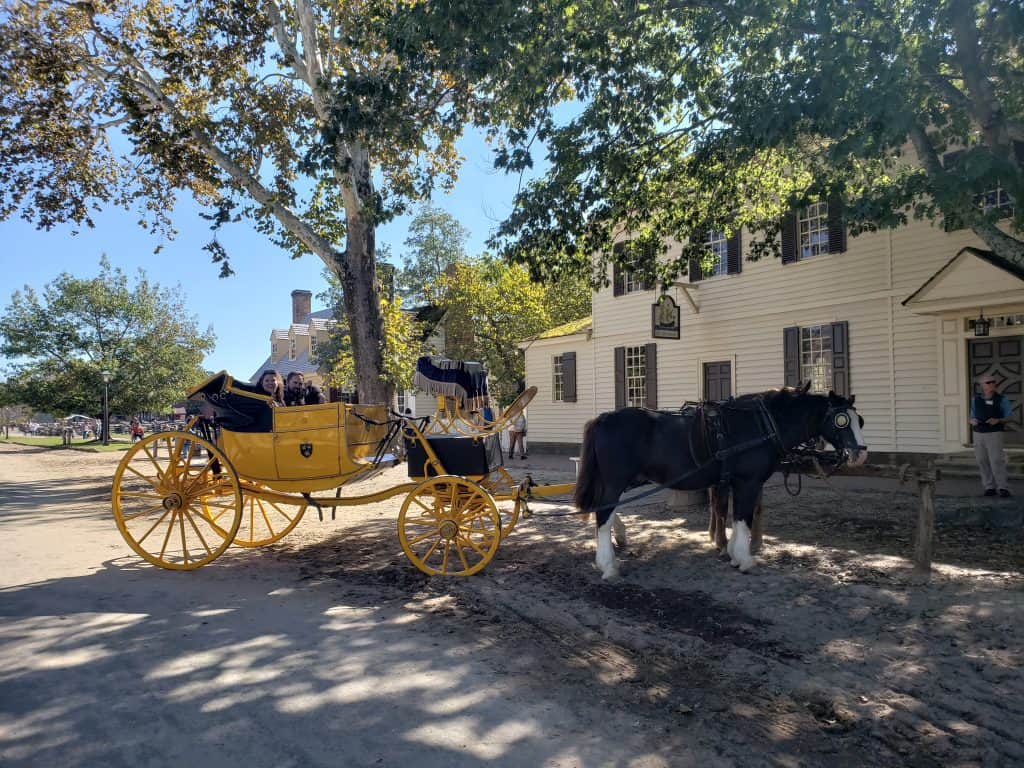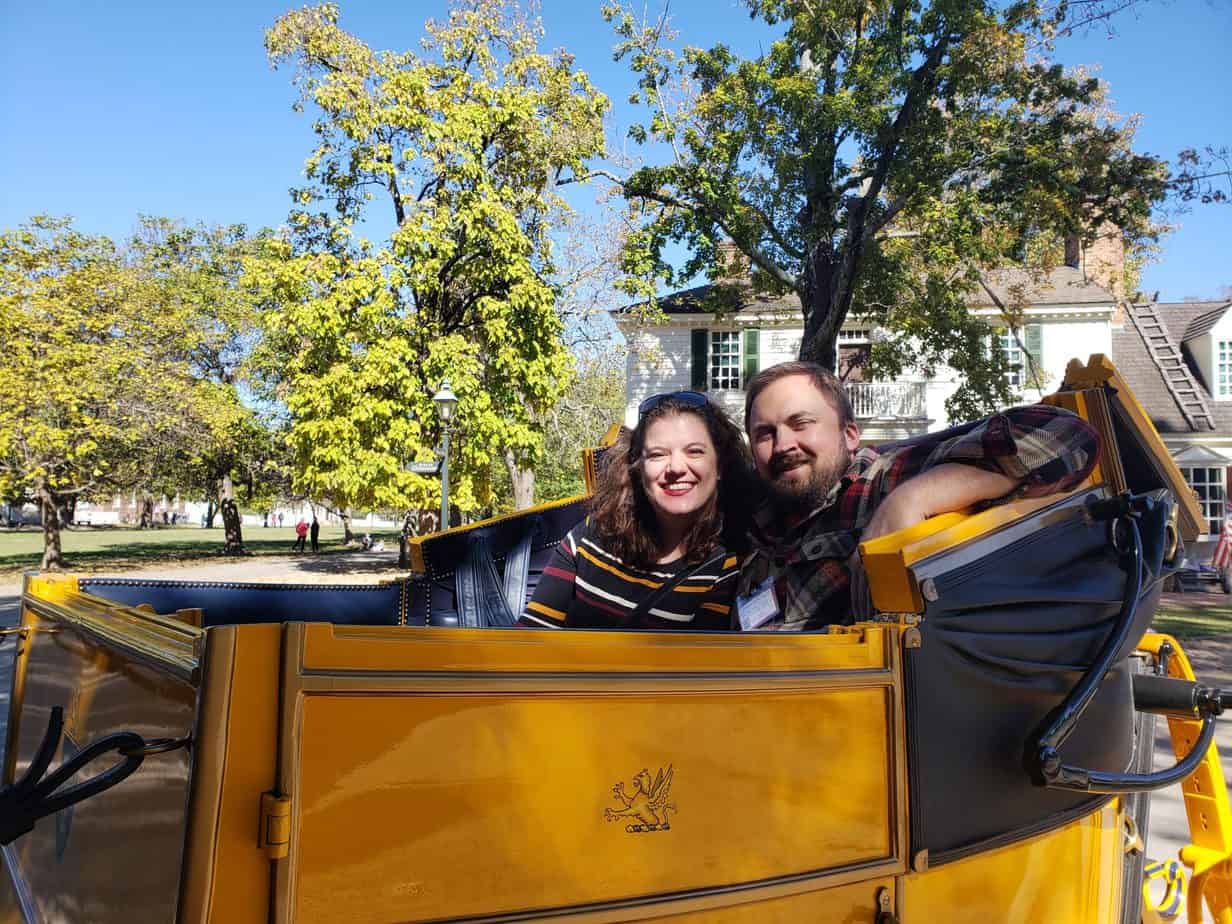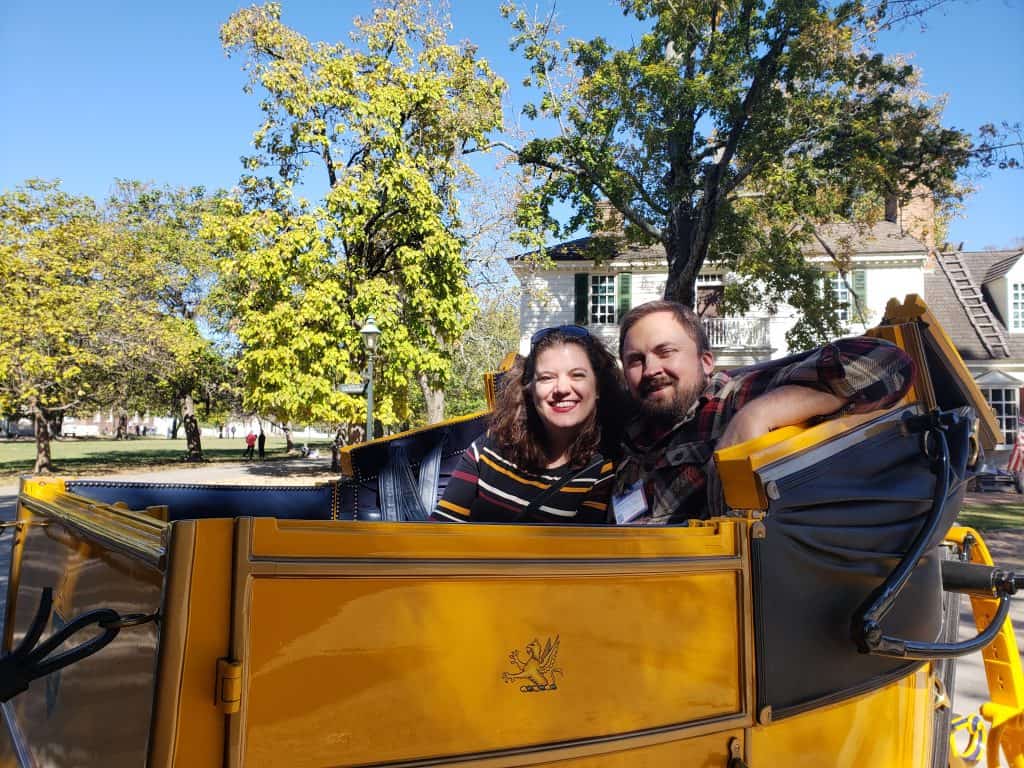 It turns out that Greater Williamsburg is one of the most romantic places in Virginia.
Our trip to the Greater Williamsburg area was brought to you in partnership with Visit Williamsburg, who sponsored our trip. As always, all opinions are our own and reflect our true experience.
---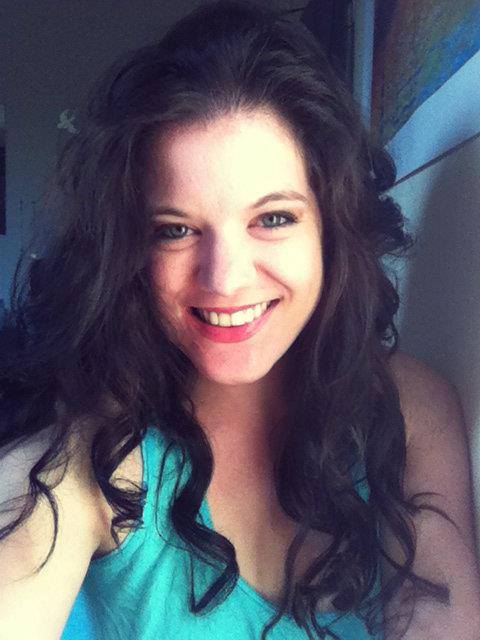 Amy Hartle is the author of Do You Love Me? How To Stop Seeking Reassurance in Relationships, a book on reassurance seeking and relationship anxiety. Both her book and this blog are born of personal experience; Amy shares expert relationship advice from the lessons learned during her own 10+ years with her husband, as well as couples travel tips and romantic getaway recommendations, all gleaned while traveling the world together.