This post may contain affiliate links. Read our disclosure page for full details.
Life pro tip: your man loves to hear how much you care about him. (Don't we all?!) Part of keeping romance alive involves showing your love for one another each and every day. And one of the easiest ways to do that is to send one of these loving texts for him.
Texting has become a huge part of our everyday lives, and part of our relationships. This makes it one of the easiest ways to share loving messages with your spouse or partner.
While other occasions will call for a flirty text, a romantic quote, or even a whole list of reasons why you love your partner, most of the time, a sweet and loving message for him is the best way to show your affection.
So, in need of inspiration? We've compiled a list of 60 loving text messages for him that can help you have the perfect romantic words—exactly when you need them.
Short Love Messages for Him – Loving Texts for Him
A short and sweet text message for him can go a long way. While a basic 'love you text' is sometimes our default message, you can jazz things up a bit without having to write a whole paragraph. These short sweet loving texts will get the job done.
1. You make my heart beat faster.
2. I'm the luckiest girl in the world.
3. I miss your handsome face already.
4. I just felt a huge surge of love for you. You're the best!
5. I love you with everything that I am.
6. Hey, I just wanted to let you know I love you a little more every single day.
7. My love for you is too big and deep to describe.
8. I'm kind of obsessed with you.
9. Never forget, I love you so much.
10. I have so much love for you.
Morning Texts for Him
Looking for some loving texts for him to make him smile in the morning? We gotchu'.
11. I was totally dreaming of you last night.
12. I woke up smiling, all because you're in my life.
13. Good morning, handsome.
14. I hope your day is as amazing as you are, sweetheart.
15. My day is already going better since I am talking to you.
16. I know it's cheesy, but you're the first person I think of when I wake up in the morning.
17. I wish we could lay in bed together all morning.
18. I wake up each day and I cannot wait to see you.
19. Hey baby…I woke up thinking about how deeply in love with you I am.
20. Good morning! I know you're going to kick ass today.
(This one is perfect to send when your man has something big going on today or a stressful challenge ahead).
21. I love waking up knowing that you're in my life.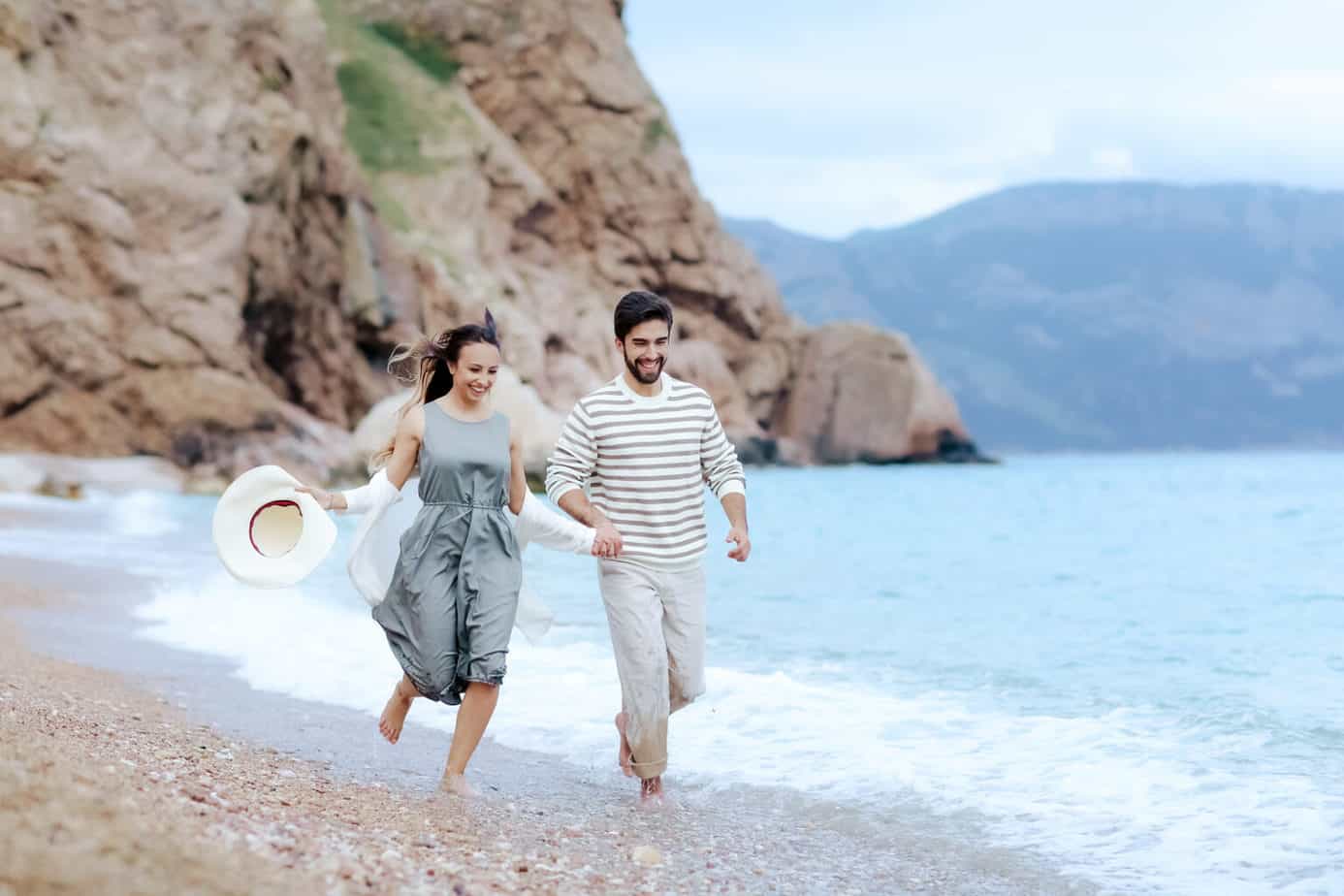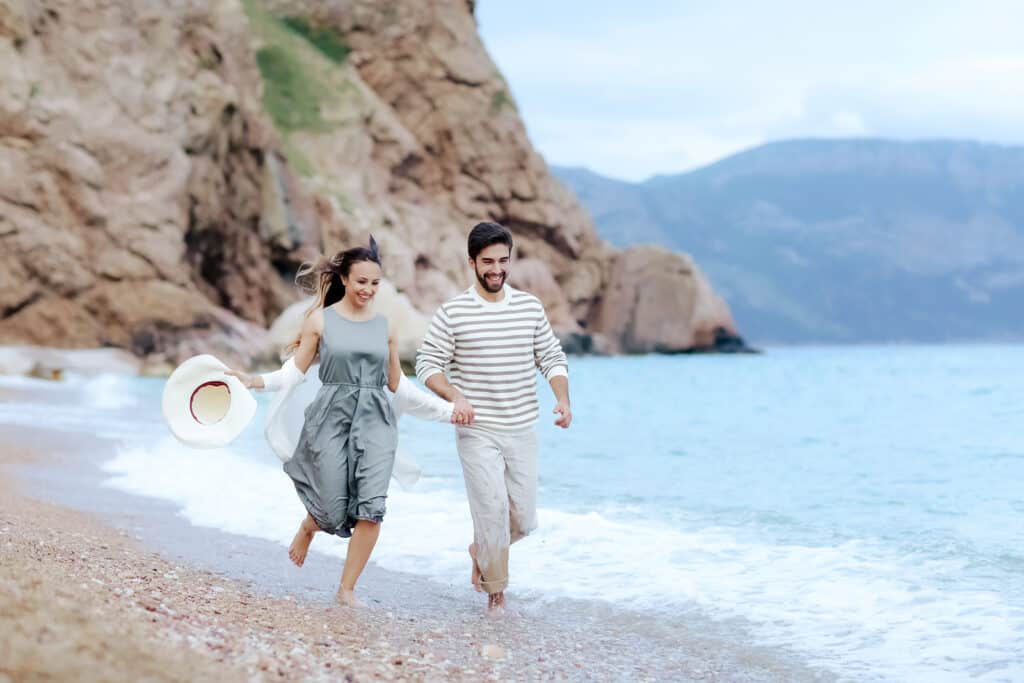 Romantic Text Messages – The Sweetest Messages for Him
Now let's dive into some even more loving messages for him. These are some texts filled with love and romance, perfect when you want to let him know how much he means to you. Some of these are slightly sappy text messages, but it's so important to share how you feel in words. You also may surprise your partner by sending him an unexpected message of love. You can use any of these, or let them inspire your own sincere loving message for him.
22. I love you so much it hurts.
22. I actually never knew I could love anyone this much.
23. I can't believe how happy you make me. Just thinking about you puts a smile on my face and makes me feel so good…and so lucky.
24. I love that what we have is so real. I have so much faith in our love for one another. Thanks for being an amazing partner.
25. I can't wait to see you again. Every moment I spend with you is my favorite.
26. I am so proud of you, and really proud to be your girlfriend.
27. You're the best thing that ever happened to me, and I'm going to keep telling you that each and every day.
28. I adore you. I can't believe I get to be with you on this adventure together.
29. Being in love with you is the best feeling in the entire world.
30. Just thinking about our first kiss….I'd do it all over again and again.
Loving Texts for Boyfriend
It's so fun to send sweet texts to your boyfriend. At every stage of the dating relationship, there is a perfect excuse to send a cute, flirty, or loving message. This list of some of the cutest texts to send your boyfriend ranges from the sweet things you might text him early on in your relationship to more intense I love you messages for him—great for those who've been together awhile.
31. I know no guy is perfect, but you're pretty damn close.
32. What did I think about all the time before I met you?!
33. I have the hottest, funniest, sweetest boyfriend ever.
34. I love knowing that we can make it through anything together.
35. I am so excited about all that the future holds for us. There's no one I'd rather discover it with.
36. I was just bragging about you to my friends/coworkers. You're the absolute best.
37. You make me feel like the most beautiful, most special woman on earth.
38. You are the glue that holds me together, baby. Thank you for being such an important part of my life, especially when things get tough.
39. Honestly, you make me want to be a better person.
40. We have made so many amazing memories together. I am so grateful for those.
41. You make my life feel like a dream. There's so much love and happiness in it, all because of you.
42. There is nothing in this world that will change my love for you.
43. You are everything a man should be.
44. I love you and I love who you are, and who you are becoming.
45. If love is like a song, you are the most beautiful melody I've ever heard.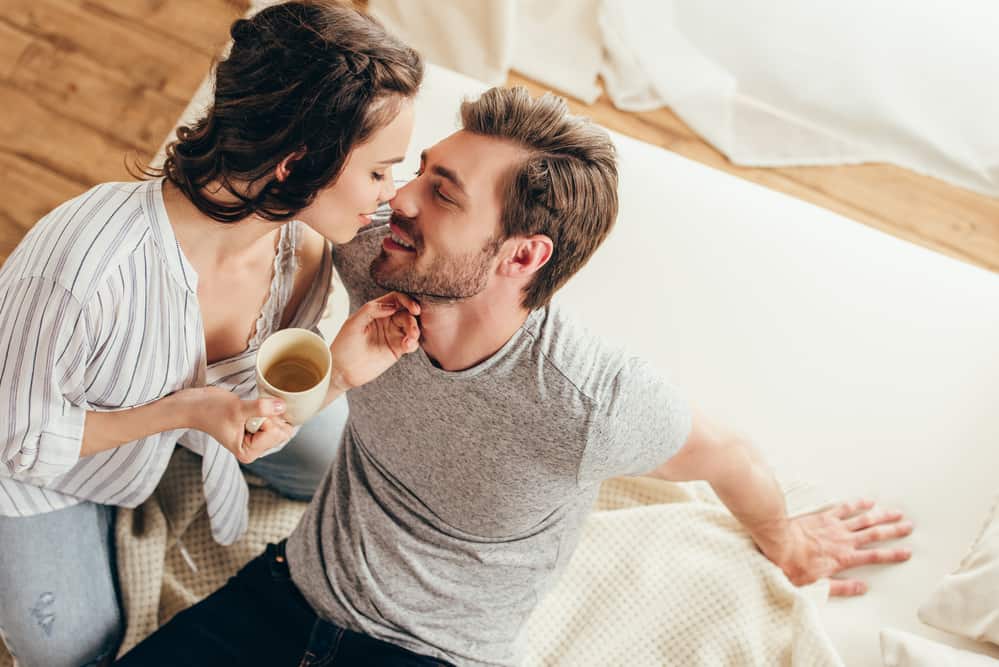 Romantic Texts for Your Husband – Romantic Messages for Husband
When I text my husband, I admit, it's mostly to share hilarious cat memes, but I do try to surprise him now and then with a love-filled message that lets him know how special he is to me. It's pretty easy for me to come up with a loving message for my husband because I just speak from the heart and let my words flow. If it's a little more challenging for you to text your hubby in this way, let me help, ladies!
I've compiled a list of cute texts to send to your husband, romantic loving texts for hubby, and generally just some things to say to your husband to make him smile.
46. I would marry you all over again, just so you know.
47. You still give me butterflies.
48. Thank you for all that you do for our family. You are the best husband and partner I could ever ask for.
49. No one ever told me that love would be this good. It's amazing. And it's all because of you.
50. Just when I think it is impossible to love you any more than I do already, you prove me wrong, baby.
51. Every single morning I thank God for you.
PS: Also check out this great list of prayers for your husband. You can tell him you're praying for him!
52. You are my rock. I absolutely love knowing I can depend on you.
53. You should know you have my whole heart, always and forever.
54. I have only one regret: I wish I could have met you even earlier in my life so I could have spent more years loving you.
55. Thank you for how safe you make me feel. It's such a precious gift.
56. You always make me feel like the most beautiful woman in the world. How do you do that? I love you for it.
57. I love you, whatever comes our way and whatever happens. We're in this together.
58. Have I told you lately? Marrying you has made me a better person. Thank you so much for that.
59. You make my soul sing.
60. I can't wait to get up every morning to spend another day as your wife!
Did you find the perfect loving you message to send your man?
Check out these other romantic ideas for couples:
---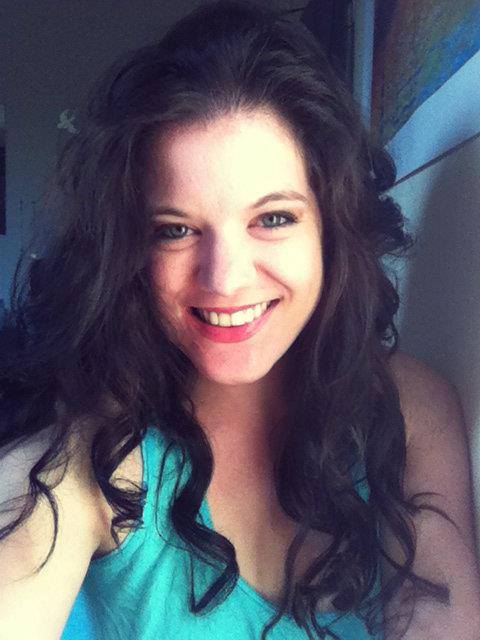 Amy Hartle is the Editor behind Two Drifters, and author of Do You Love Me? How To Stop Seeking Reassurance in Relationships, a book on reassurance seeking. While her name often is found beside the title of "Relationship Expert", she knows that becoming an expert on love and relationships will be a lifelong challenge. But, she is a passionate student of the subject, fully dedicated to learning all she can about relationships, connection, and intimacy, and nurturing her own marriage along the way.
Amy lives in North Carolina with her husband Nathan, and son Malcolm. When not working on websites or traveling the world, the Hartles can be found cuddling, reading, and hanging out with their cats.