This post may contain affiliate links. Read our disclosure page for full details.
Sigh…..quotes about love and travel. Sweet, romantic couples travel quotes. Could there be anything better?
I am a sentimental gal and I love words with all my heart. Since I also love travel and I love my husband, I'm especially partial to beautiful and romantic quotes about traveling together.
I love words and literary quotes; phrases that perfectly capture love and adventure. That's why I've decided to create this list of couple travel quotes which includes some of my all-time favorite travel quotes AND some of my favorite relationship and couple quotes! PS: The first inspirational quote by Pico Iyer absolutely tops the list when it comes to travel partner quotes!
I'll add to this list as I find new quotes and phrases, but for now, enjoy the words of travel writers, novelists, and more below, all made to inspire and illuminate your voyages as a couple.
The Most Romantic Couple Travel Quotes
These couple adventure quotes are not just quotes about traveling, but are totally romantic and love-focused as well. After all, travel and love truly do go hand in hand.
---
"And if travel is like love, it is, in the end, mostly because it's a heightened state of awareness, in which we are mindful, receptive, undimmed by familiarity and ready to be transformed. That is why the best trips, like the best love affairs, never really end." – Pico Iyer
How can you not be obsessed with this gorgeous quote? It perfectly epitomizes travel and love, in my opinion. Check out all of his beautiful books on Amazon.
---
"We are travelers on a cosmic journey, stardust, swirling and dancing in the eddies and whirlpools of infinity. Life is eternal. We have stopped for a moment to encounter each other, to meet, to love, to share. This is a precious moment. It is a little parenthesis in eternity." – Paulo Coelho, The Alchemist
The Alchemist is chock full of incredible "travel together quotes" as well as countless inspiring quotes and words of wisdom. It's an amazing book and you'll want to bring your highlighter along with you as you read.
---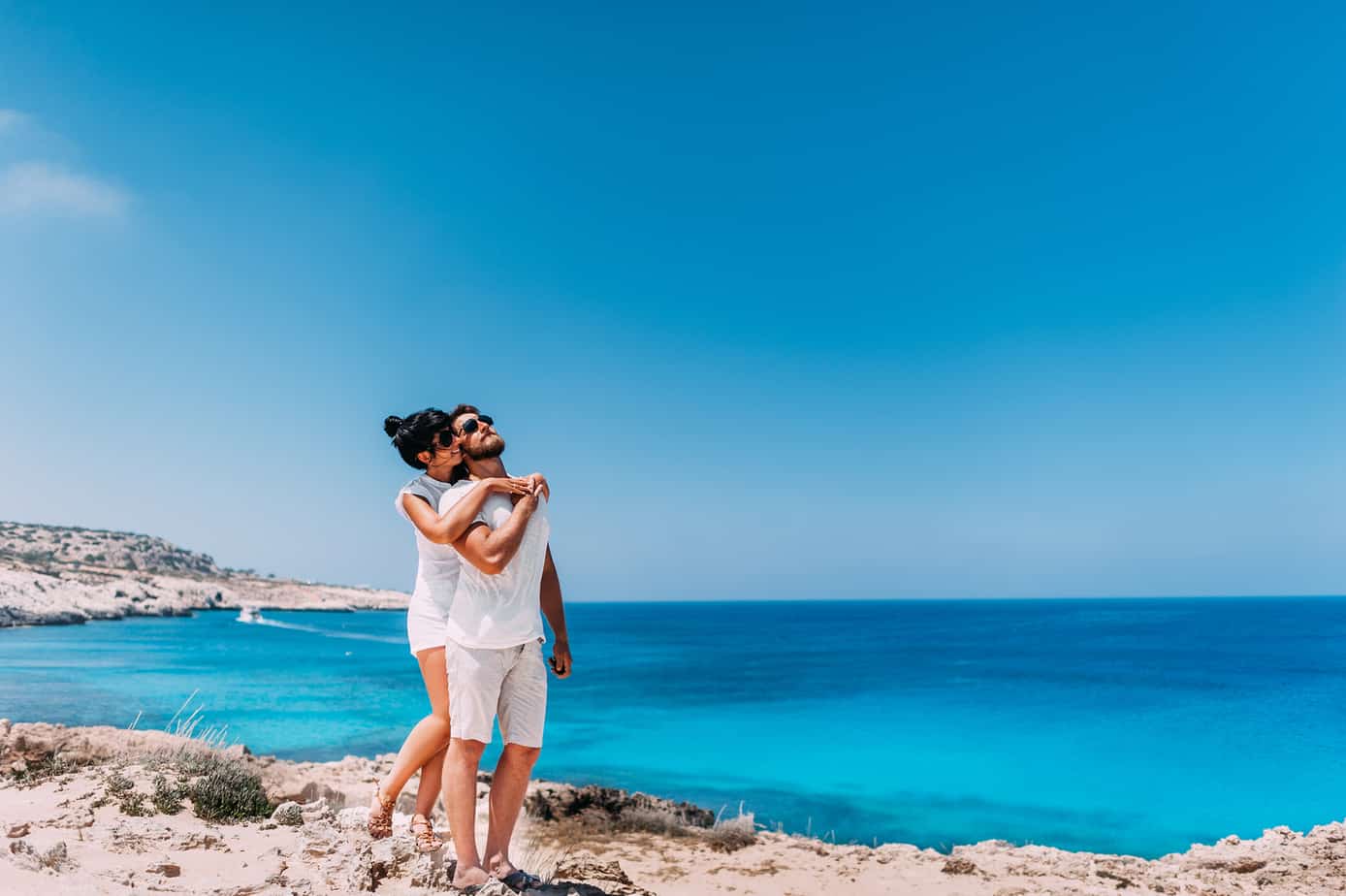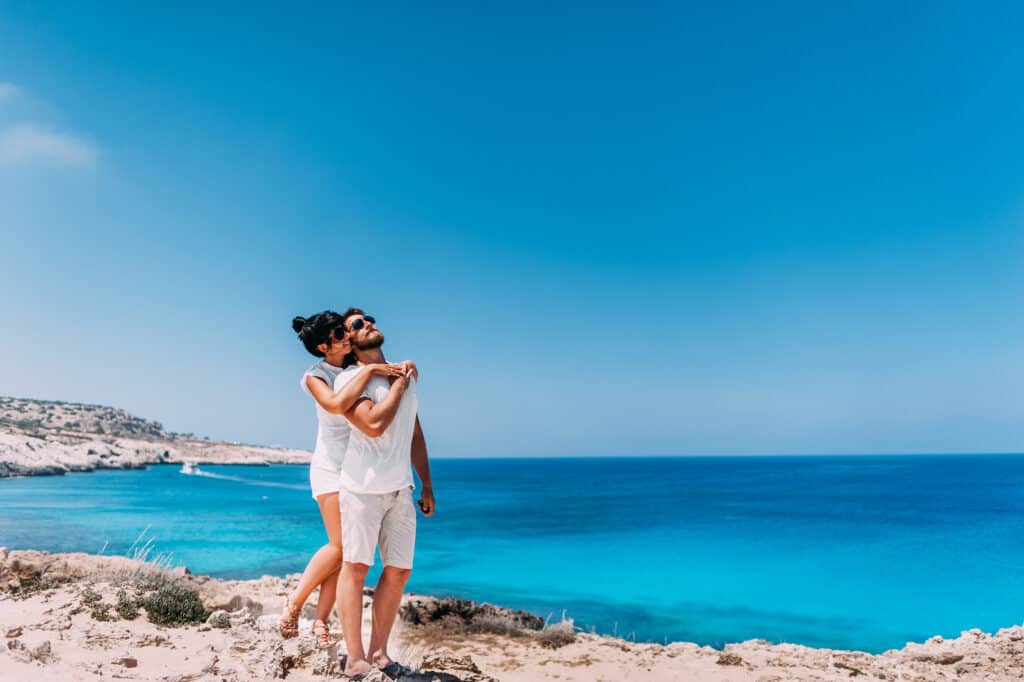 ---
"Love, like everything else in life, should be a discovery, an adventure, and like most adventures, you don't know you're having one until you're right in the middle of it."- E.A. Bucchianeri
---
"To love and be loved is to feel the sun from both sides."- David Viscott
---
"Love is never hurtful; It's never about forgetting who you are, it's about exploring yourself more."- Ankita Singhal
---
"In life, it's not where you go, it's who you travel with."- Charles Schulz
This Charles Schulz quotes is one of those travel buddy quotes that is a classic. Everyone knows how important it is to pick the right travel partner. In fact, for romantic couples, it could mean the difference between relationship success and failure.
---
"Traveling is like flirting with life. It's like saying, "I would stay and love you, but I have to go; this is my station." – Lisa St. Aubin de Teran
---
"Being driven is not the same as being passionate. Passion is a love for the journey. Drive is a need to reach the destination."-Simon Sinek
---
"Life is short and we have never too much time for gladdening the hearts of those who are travelling the dark journey with us. Oh be swift to love, make haste to be kind." – Henri Frederic Amiel
---
"Travel brings power and love back into your life"- Rumi
---
"Here's to all the places we went. And here's to all the places we'll go. And here's to me, whispering again and again and again and again: I love you." – Anonymous
This is such a lovely sentiment: one of my favorite couples quotes.
---
"Actually, the best gift you could have given her was a lifetime of adventures." – Lewis Carroll
---
"To fall in love is easy, even to remain in it is not difficult; our human loneliness is cause enough. But it is a hard quest worth making to find a comrade through whose steady presence one becomes steadily the person one desires to be."– Anna Louise Strong
---
"We are all travelers in the wilderness of the world & the best we can find in our travels is an honest friend."- Robert Louis Stevenson
---
"Sometimes, reaching out and taking someone's hand is the beginning of a journey. At other times, it is allowing another to take yours."-Vera Nazarian
---
I would like to travel the world with you twice. Once, to see the world. Twice to see the way you see the world.
---
"We travel, initially, to lose ourselves; and we travel, next to find ourselves. We travel to open our hearts and eyes and learn more about the world than our newspapers will accommodate. We travel to bring what little we can, in our ignorance and knowledge, to those parts of the globe whose riches are differently dispersed. And we travel, in essence, to become young fools again- to slow time down and get taken in, and fall in love once more."
– Pico Iyer
Another stellar love quote from Pico Iyer. He is just the master.
---
Read Next: Our Best Tips on Traveling Together as a Couple
---
"Why should a relationship mean settling down? Wait for someone who won't let life escape you, who'll challenge you and drive you towards your dreams. Someone spontaneous who you can get lost in the world with. A relationship, with the right person, is a release not a restriction."– Beau Taplin
---
"So, I love you because the entire universe conspired to help me find you."- Paulo Coelho, The Alchemist
---
"What we find in a soul mate is not something wild to tame, but something wild to run with."― Robert Brault
---
You keep me safe, I'll keep you wild.
---
Be with someone who is a home and an adventure, all at once.
---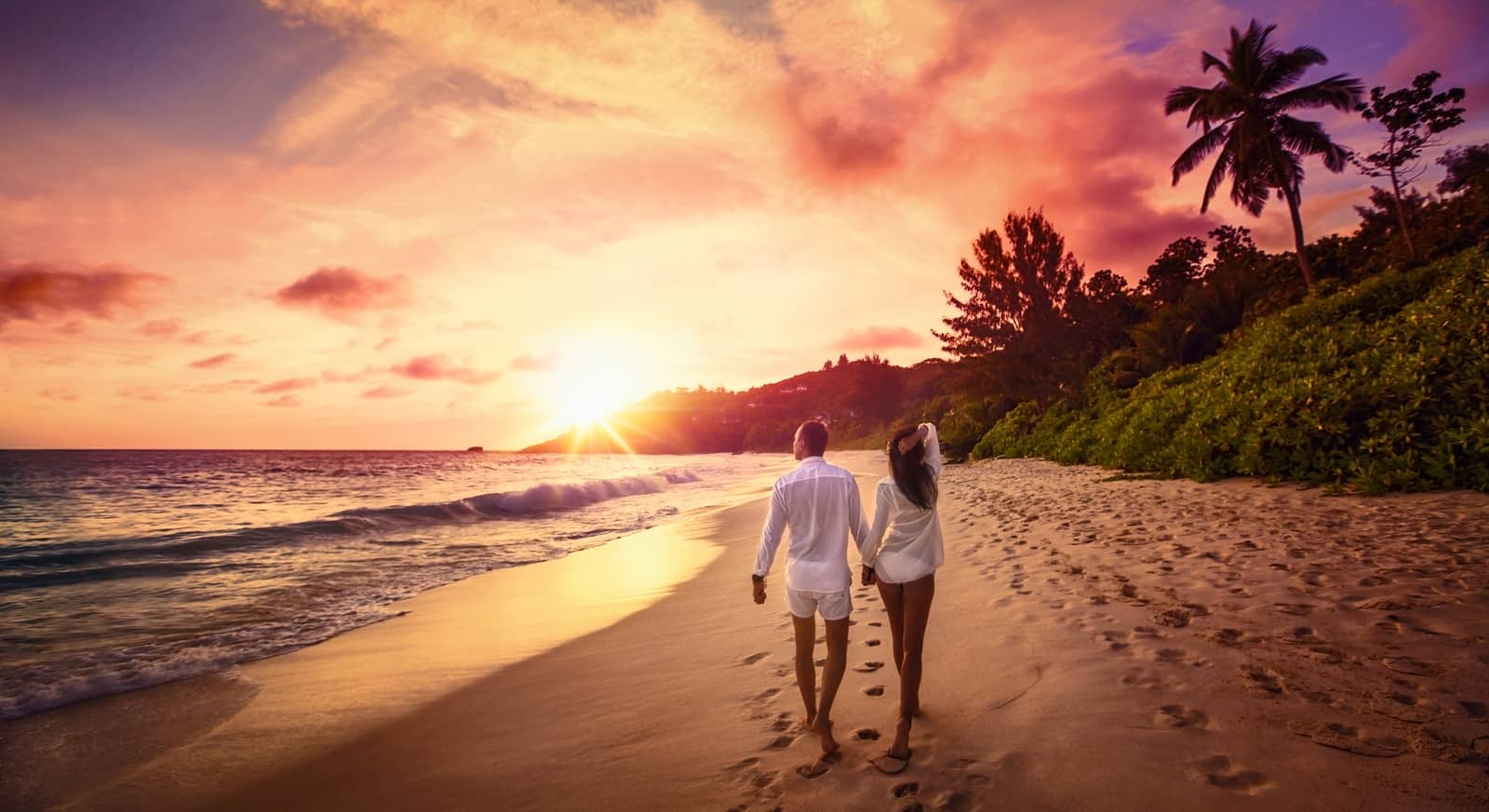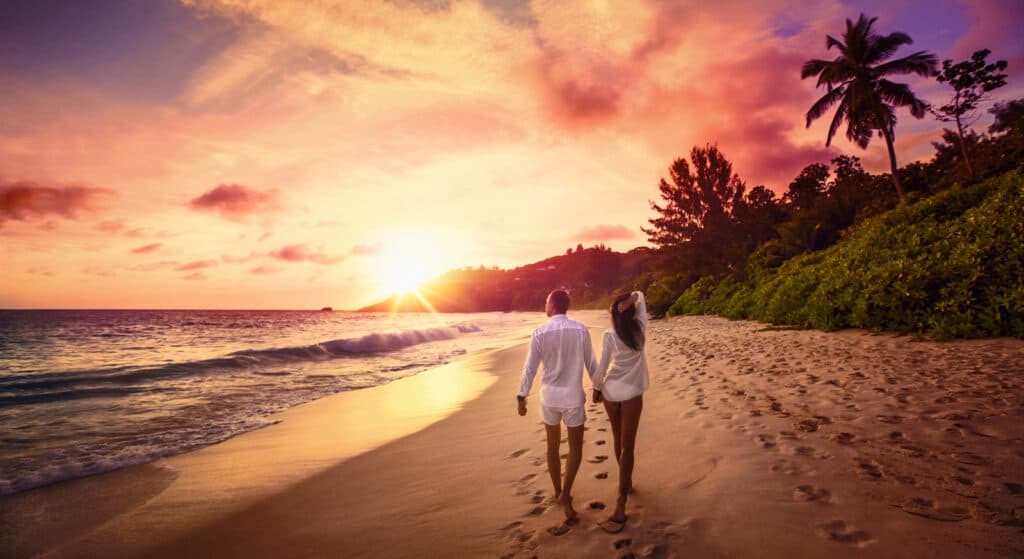 Simple and Sweet Romantic Travel Quotes
They say couples who travel together stay together. Do you agree? These short love quotes are just so pretty and memorable; ideal for pairing with an Instagram photo or using on a card for a traveling couple you know and love!
---
It doesn't matter where you're going, it's who you have beside you.
---
"Love cannot be forced, love cannot be coaxed or teased. It comes out of heaven, unasked and unsought."- Pearl S. Buck
---
Oh darling, let's be adventurers.
---
Let's travel together and get lost in beautiful places.
---
"Love is meant to be an adventure."– Gordon B. Hinckley
---
Love, travel. Both amazing, incredible together.
---
"Let us relish life as we live it, find joy in the journey, and share our love with friends and family."– Thomas S. Monson
---
Hold my hand, and I'll go anywhere with you.
---
I'd love to travel the world with you by my side.
---
The best things in life are the people you love, the places you've seen, and the memories you've made along the way.
---
The minute I heard my first love story, I started looking for you, not knowing how blind that was. Lovers don't finally meet somewhere. They're in each other all along. -Rumi
---
"Will you give me yourself? Will you come travel with me? Shall we stick by each other as long as we live?" -Walt Whitman
---
"Love does not consist in gazing at each other, but in looking together in the same direction."– Antoine Desaint-Exupery
---
"Home is not where you are from, it is where you belong. Some of us travel the whole world to find it. Others, find it in a person." –Beau Taplin
---
"I love your feet
because they have
wandered over
the earth and through
the wind and water
until they brought
you to me."
-Pablo Neruda
---
What we all want in life: to fall in love, travel, and be happy.
---
I want to travel the world with two things in my hands, your hand in one and a camera in the other.
---
And we will travel together and just be in love forever.
---
Home is wherever I'm with you.
---
"Love me and the world is mine." — David Reed
---
"I've learned two things in my life. One that love is the beginning and end of all meaning. And two that it is the same thing whatever shape our souls have taken on this journey. Love is love. Is love." – Clive Barker
---
I'm in love with you and with the world.
---
Where you are is where I want to be.
---
I wanna travel the world with you, go to every country, every city, take pictures and be happy.
---
"With our love, we could save the world."- George Harrison
---
Cute & Funny Couple Travel Quotes
Some of the best travel quotes for couples are the humorous ones! These not-so-serious love quotes might just give you a laugh. After all, both travel and romance can be incredibly messy and ridiculous at times.
---
"I have found out that there ain't no surer way to find out whether you like people or hate them than to travel with them."-Mark Twain
---
You'd be surprised who the love of your life turns out to be. After all, adventure fell in love with lost" —Mary Oliver
---
Never go on trips with anyone you do not love. – Ernest Hemingway
---
"A journey is like marriage. The certain way to be wrong is to think you control it." -John Steinbeck
---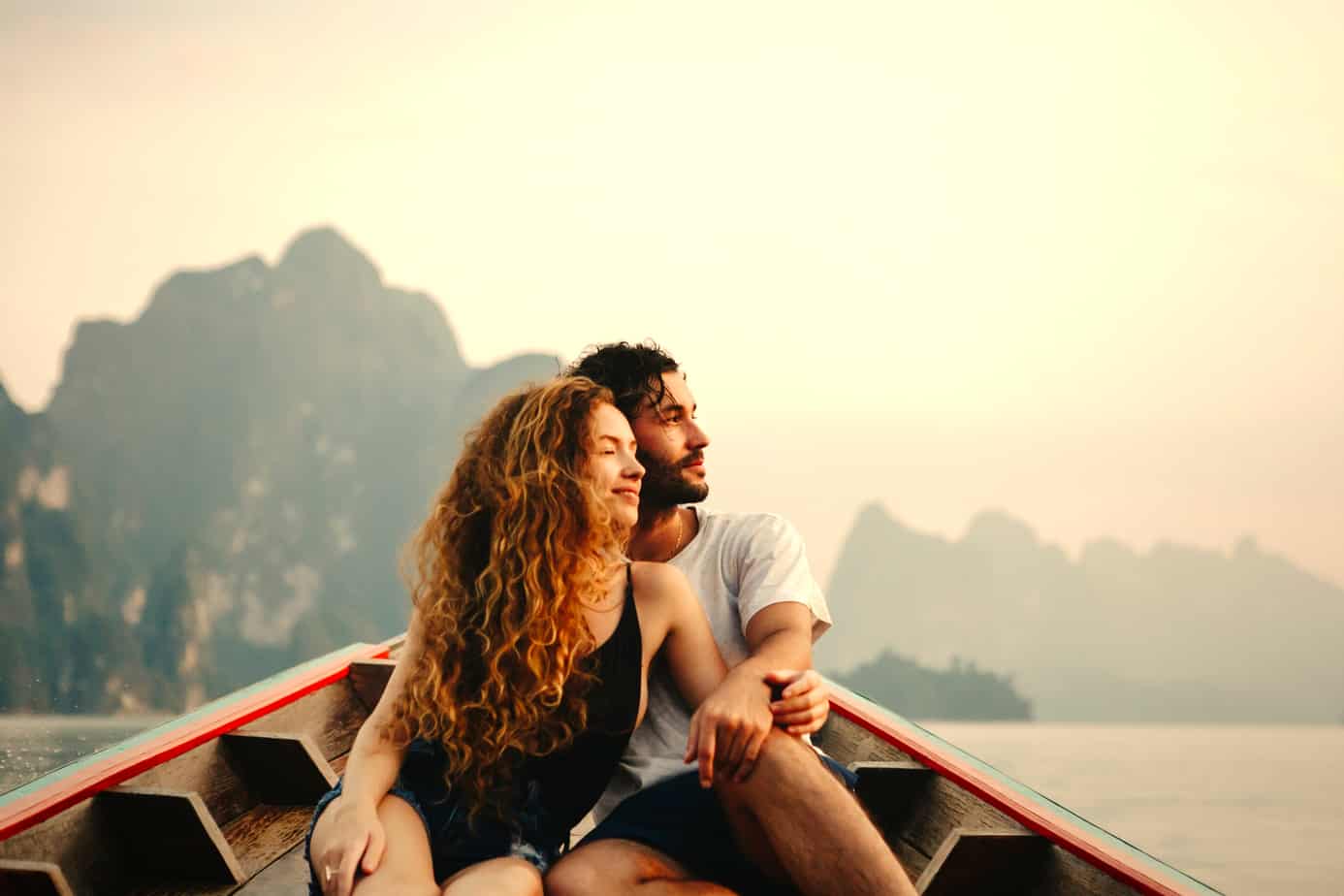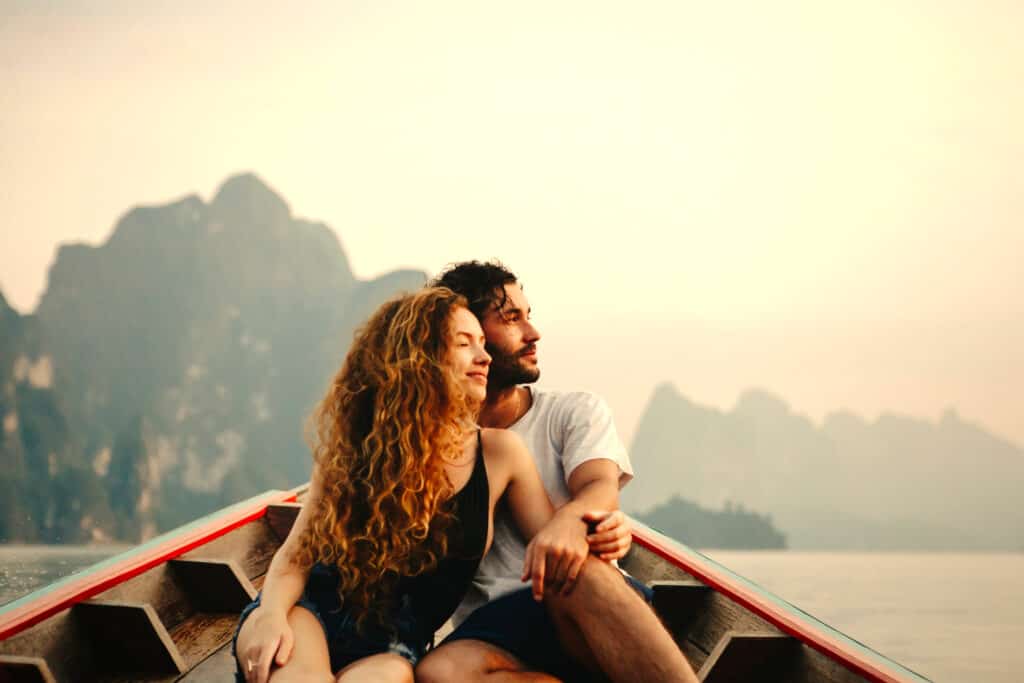 "When traveling with someone, take large doses of patience and tolerance with your morning coffee." – Helen Hayes
---
Because the greatest part of a road trip isn't arriving at your destination. It's all the wild stuff that happens along the way. – Emma Chase
---
Travel only with thy equals or thy betters; if there are none, travel alone. —The Dhammapada.
---
We hope you enjoyed this list of love and adventure quotes! Do you have a favorite romantic quote we missed? Share it with us in the comments. Happy traveling together! XOXO
---
You might also like: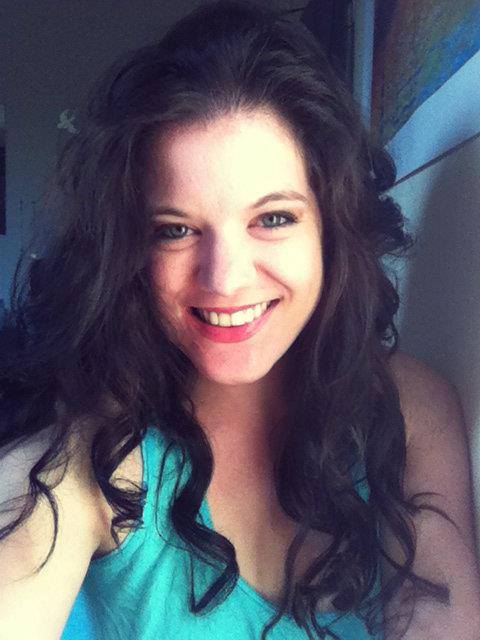 Amy Hartle is the author of Do You Love Me? How To Stop Seeking Reassurance in Relationships, a book on reassurance seeking and relationship anxiety. Both her book and this blog are born of personal experience; Amy shares expert relationship advice from the lessons learned during her own 10+ years with her husband, as well as couples travel tips and romantic getaway recommendations, all gleaned while traveling the world together.