This post may contain affiliate links. Read our disclosure page for full details.
Colombia, once a country that tourists avoided due to its turbulent history of violence while drug cartels ran the country, is now a bustling safe place full of magical spots to spend your honeymoon.
There's a pocket of paradise to suit every taste; the country is home to Caribbean islands, stunning landscapes, jungles, mountains, rainforests, modern cities, and lovely countryside. It's easy to get from a to b and there's a host of luxury resorts, boutique hotels and cozy mountain houses to explore the surrounding beauty from.
So whether you get here on a once in a lifetime roadtrip, or land by plane in Cartagena, here are some of the best honeymoon destinations in Colombia.
This article is a guest post by Mike Jensen of The Adventourist.
Providencia
Providencia is a tiny little island off the coast of Nicaragua and is one of the lesser-known parts of Colombia. If you're looking for an island honeymoon far away from the crowds, this is an excellent choice. Why? Because although it is not quite a deserted island, it is the next best thing!
Sitting in the middle of the Caribbean, the island isn't too easy to get to. You'll have to fly via the island of San Andres from Bogota, Cartagena or Panama City. It's a bit of a slog but well worth the effort to get to this tourist-free paradise.
Arriving on Providencia is like stepping back in time. It was once a British colony and is now holds a unique creole culture that welcomes you with open arms. The island has some great places to stay, incredible seafood and so much to explore, there isn't a better island to be on for your honeymoon. It's home to some of the most beautiful beaches in Colombia, covered in white sand, swaying palm trees and crystal clear sea. You can rent a golf cart to get to otherwise hard to reach spots that'll have you basking on your own little patch of paradise.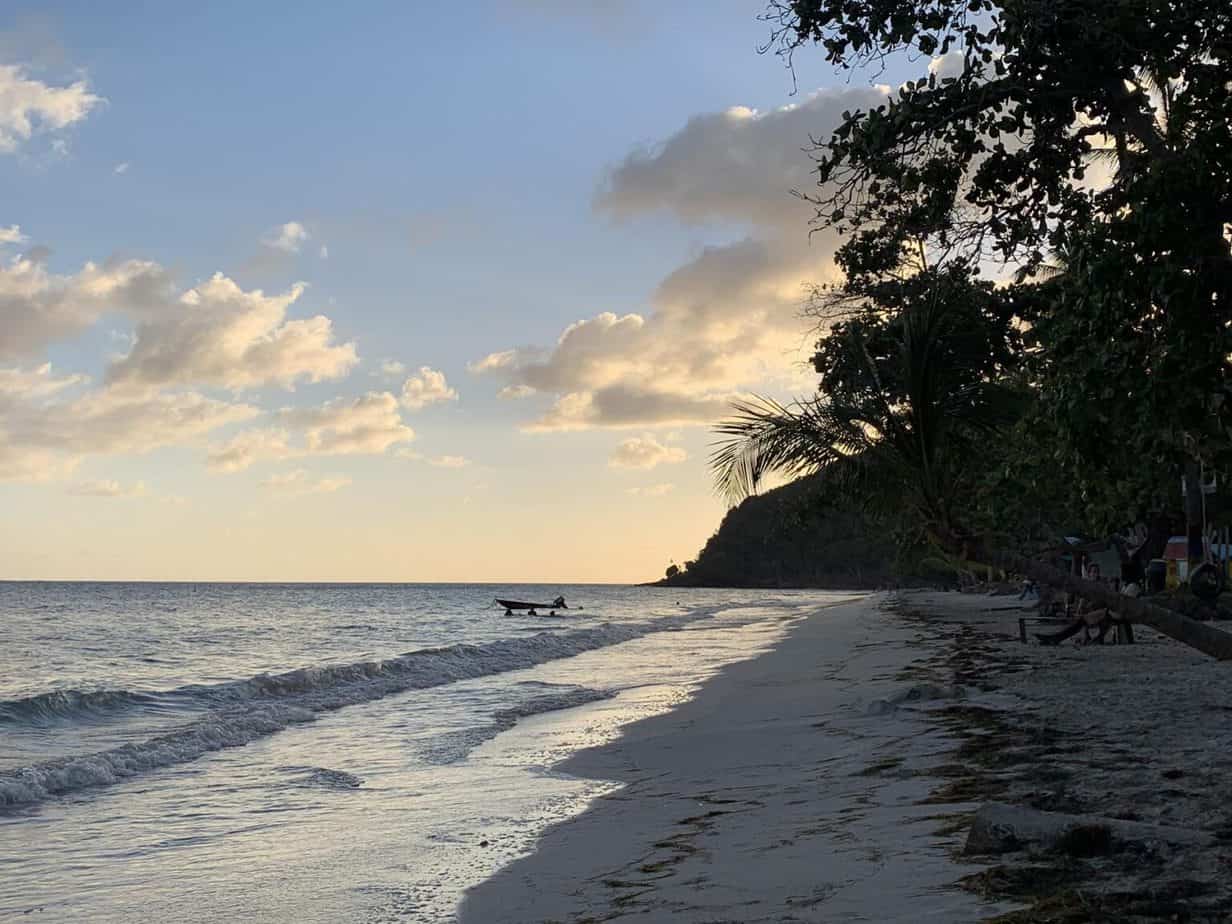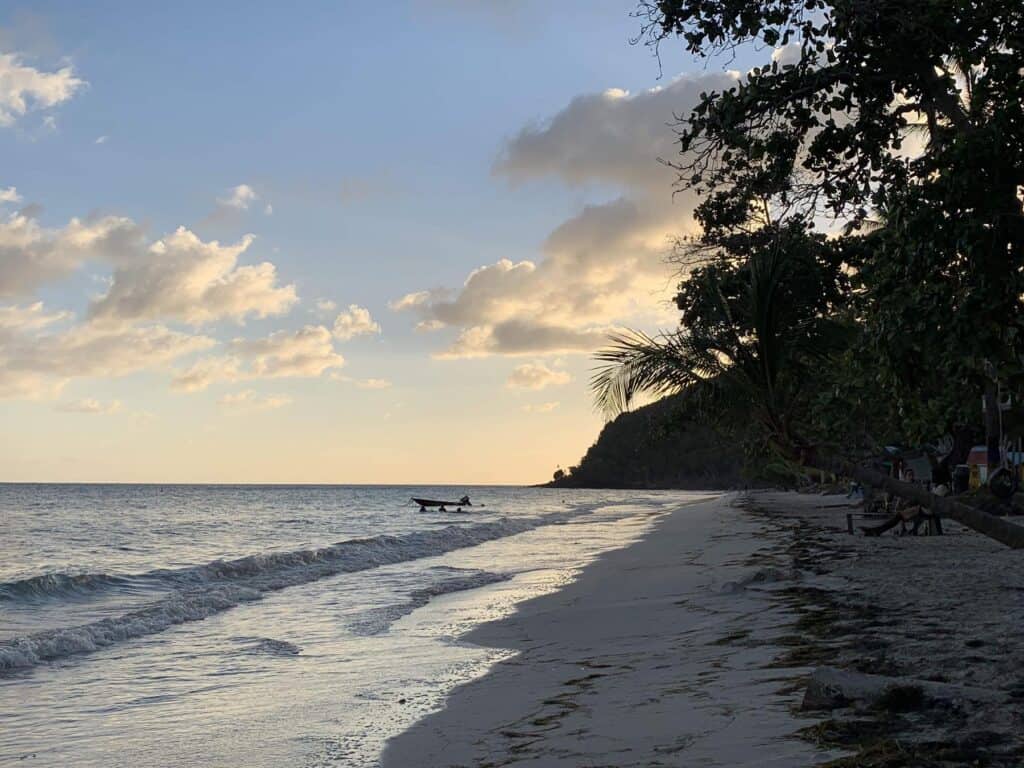 The reefs around the island are some of the best in Colombia and are renowned by underwater lovers worldwide. You can dive or snorkel around the many sites and get lost in a myriad of colorful fish, coral, turtles, sharks, and rays. If you're a lover of the sea, then a trip to the McBean Lagoon National Park is a must, here you can hop on a kayak and paddle through the stunning mangrove channels to gaze upon turtles, rays and the incredible birdlife.
Off the water, there is a lot to do too. You can hike through the jungle, past waterfalls up to the highest peak, El Pico. The walk is quite short but steep and once you're at the top you'll be rewarded with views over the entire island.
There are also a few other islands to check out. Santa Catalina is connected by a bridge from Providencia and holds the ruins of an old fort that shows a little slice of the colonial history of the island. And a short boat ride to Crab Caye will have you snorkeling and dining at a beachside restaurant on this otherwise deserted little island.
Barichara & Villanueva
Barichara and Villanueva are two preserved colonial towns found in the Santander department of Colombia, about five hours north of Bogota. They are known as some of the most beautiful towns in Colombia and are awash with magical architecture, making them great for a Colombia honeymoon.
The town has been preserved for centuries and wandering around the cobbled streets lined with whitewashed houses topped with orange roofs is a stroll through history. The setting couldn't be more romantic, sitting amongst rolling hills with views that seem to go on forever.
There's a great range of accommodation from warm farmhouses to boutique hotels to explore the area from. Whilst there you can hike through the hills, take in the views from El MIrador that overlook the Suarez River canyon, eat at some amazing restaurants, visit the churches of Capilla San Antonio, Capilla de Santa Bárbara and of course, the Catedral de la Inmaculada Concepción.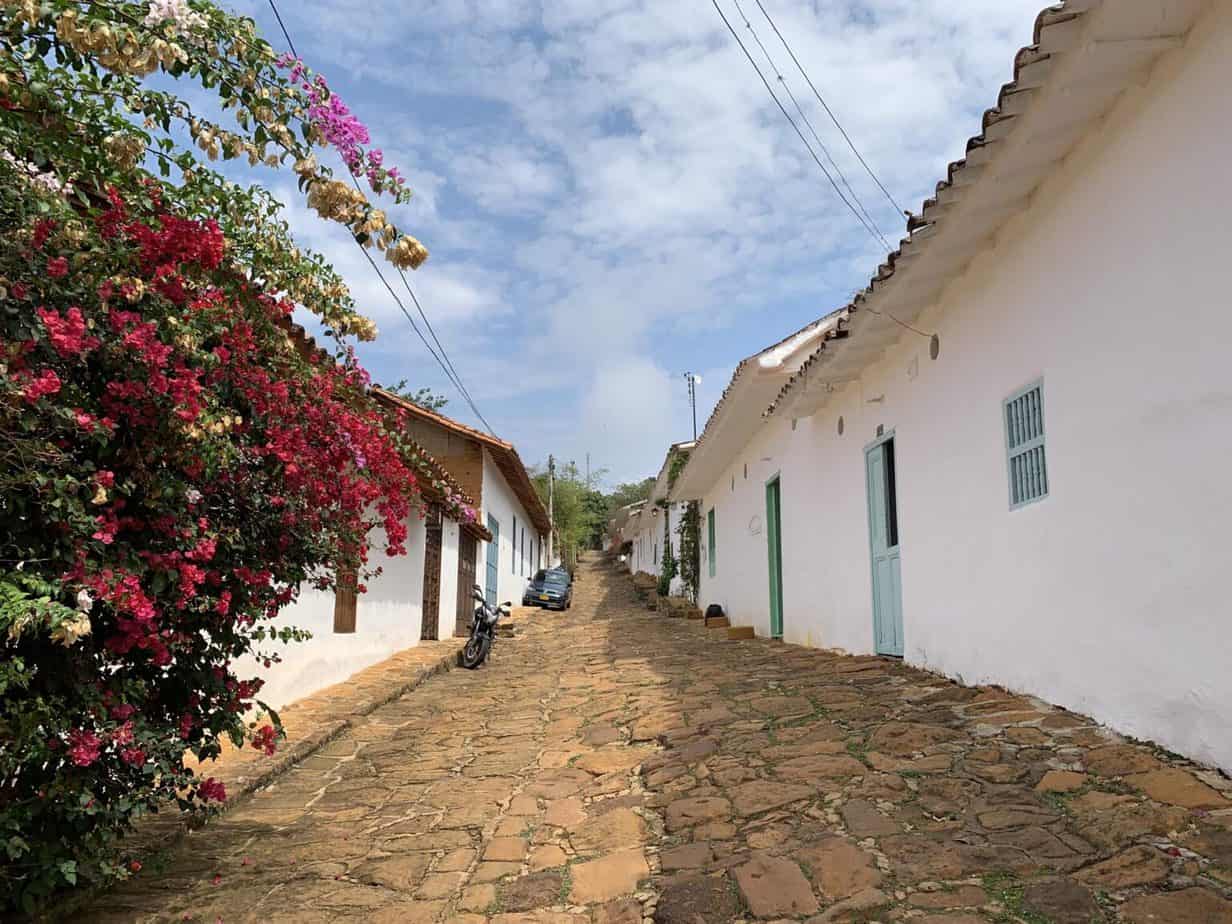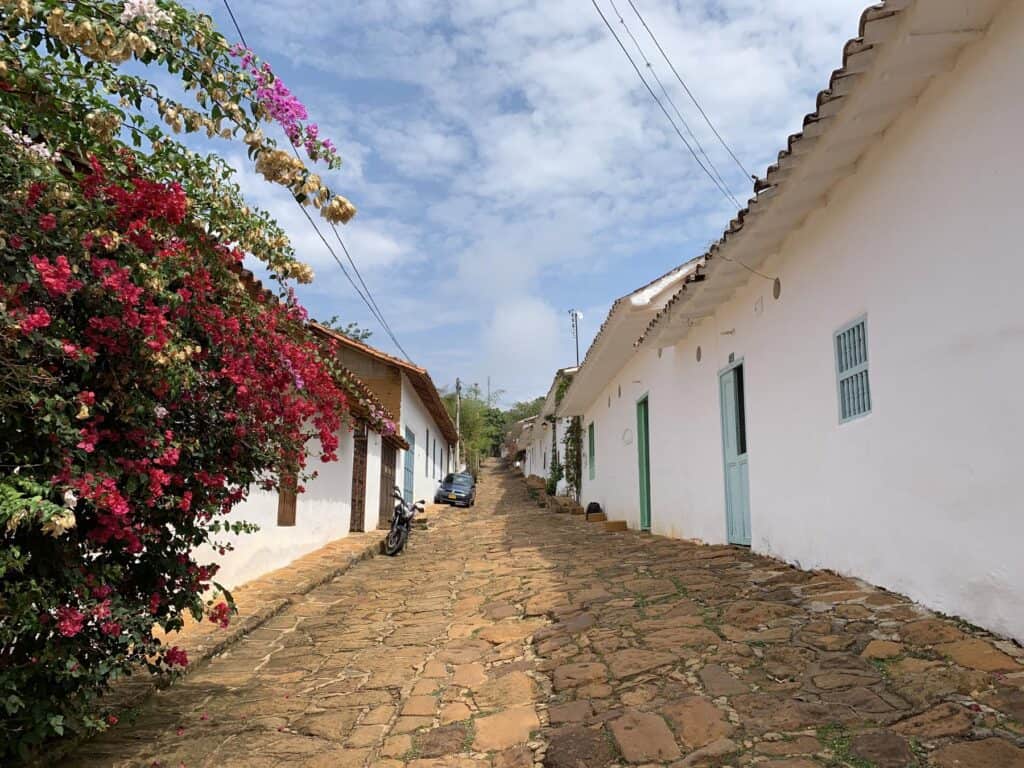 While all of the churches are lovely to visit, Capilla de Santa Bárbara is by far the most beautiful. It sits on a hill that has an incredible view over the town and the church itself is worn, rugged and very photogenic.
If you fancy a creative activity on your honeymoon, you can head to Taller de Cerámica Terracota to learn how to make ceramics. There are group and personalized classes where you and your loved one can make a little piece of pottery to take home as a little souvenir of your honeymoon.
After all your exploring, a trip to a spa to have a massage or soak in thermal pools might be at the top of your list. Terra Barichara Spa boasts incredible views and is the perfect place to relax after a long day while enjoying some of their amazing spa treatments.
Santa Marta Surroundings
Santa Marta lies on the Caribbean coast of Colombia and is easily accessed via a flight from Bogota. The city isn't that lovely, though there are few architectural sites to visit plus it's worth having dinner and night out on your way through. The cobbled streets come alive at night and if there is anything the locals love, it's a good dance.
The best things about Santa Marta are found in its surroundings. The coast is lined with white sand beaches, forests, national parks and a backdrop of lush mountains all waiting to be explored. There are numerous eco-lodges and boutique hotels along the Caribbean shores where you can spend your time getting lost in the sea and relaxing on some of the most beautiful beaches in the country.
A must when in Santa Marta is a visit to Tayrona National Park. The park spans some 12,000 hectares of land and 3000 of the ocean. It's about a 35-minute drive out of Santa Marta and is the perfect place to go for jungle hikes, find hidden beaches and snorkel along its rich shores.
After an hour hike through the jungle, you'll find yourself at the seashore where you can follow the trail and hop your way down from cove to cove.
Be sure to stop off at La Piscina and El Cabo where it's safe to swim and you can snorkel around some of the many reefs of Tayrona. There are some places to stay in the little towns in the park but it's very basic hammock style accommodation.
The Coffee Triangle
Are you a coffee-loving couple? When you honeymoon in Colombia you may want to go straight to what is known as "the Coffee Triangle."
Known as Eje Cafatero, The coffee triangle of Colombia sits between the mountainous hills of Cali, Ibague, and Medellin. The area grows some of the best coffee in the world and you can tour around all the farms the same way you might do a wine tour. See the coffee growing, how it's processed and taste a cup of each of the farm's blends. It's not all about the coffee though and visiting some of the small traditional towns in the region is a big part of being there.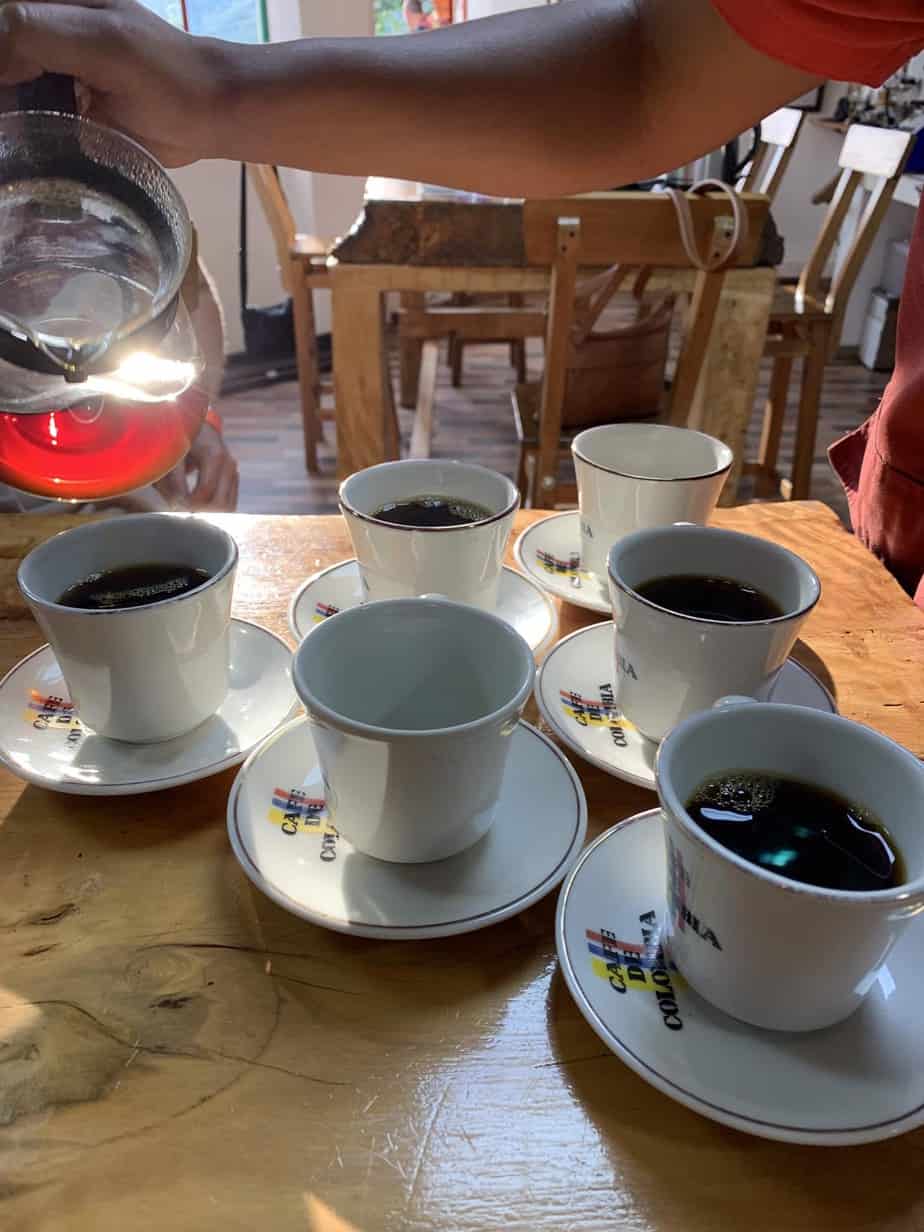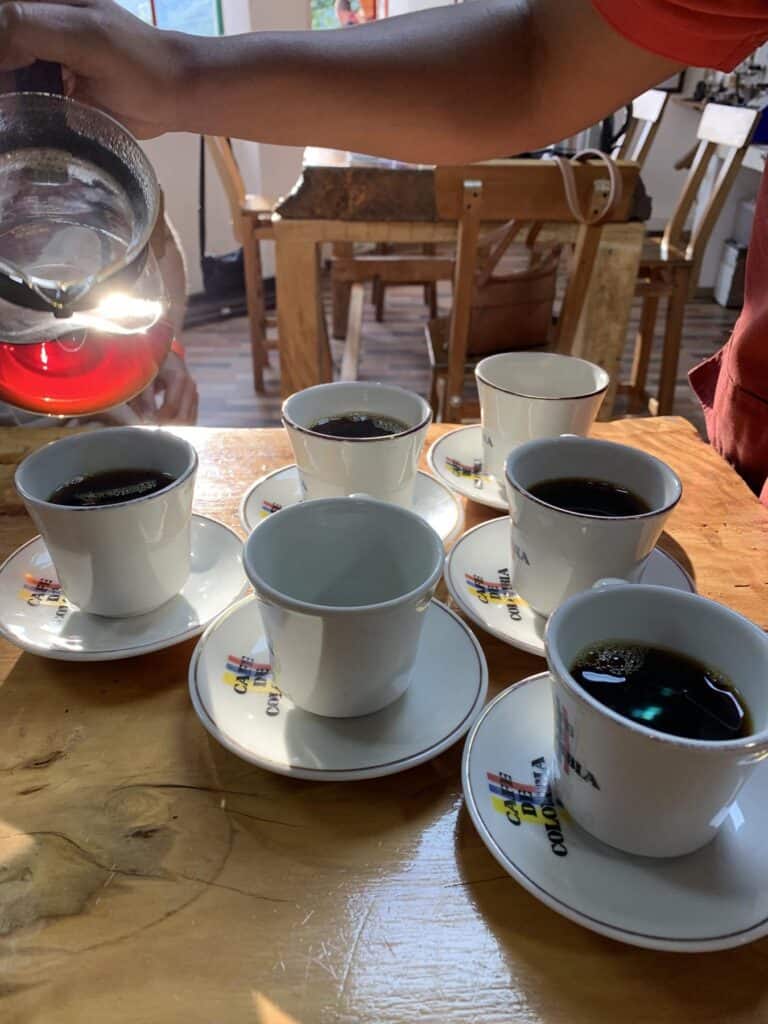 The area is best accessed through Manizales, Pereira, and Armenia which are the major cities in the region. You can fly directly to either of the three from Bogota and Medellin. It's worth spending a night in the cities to visit the museums before heading out into the countryside.
Your best bet while in the region is to hop from village to village taking in the misty mountains, amazing coffee, culture and architecture of the region. There are lovely boutique hotels to stay in but if you want a more traditional experience you can also stay at one of the numerous coffee farms, Hacienda Venecia is one of the best.
If you only have time to visit one town while you're there, make it Salento. This quaint mountainside town is famous for its wax palm trees, mountains, farms, rivers, and creeks.
There's a lot going on in Salento and you can really immerse yourself in the culture. The streets are alive with colorful architecture, music, cafes, bars, and great food, especially if you like trout.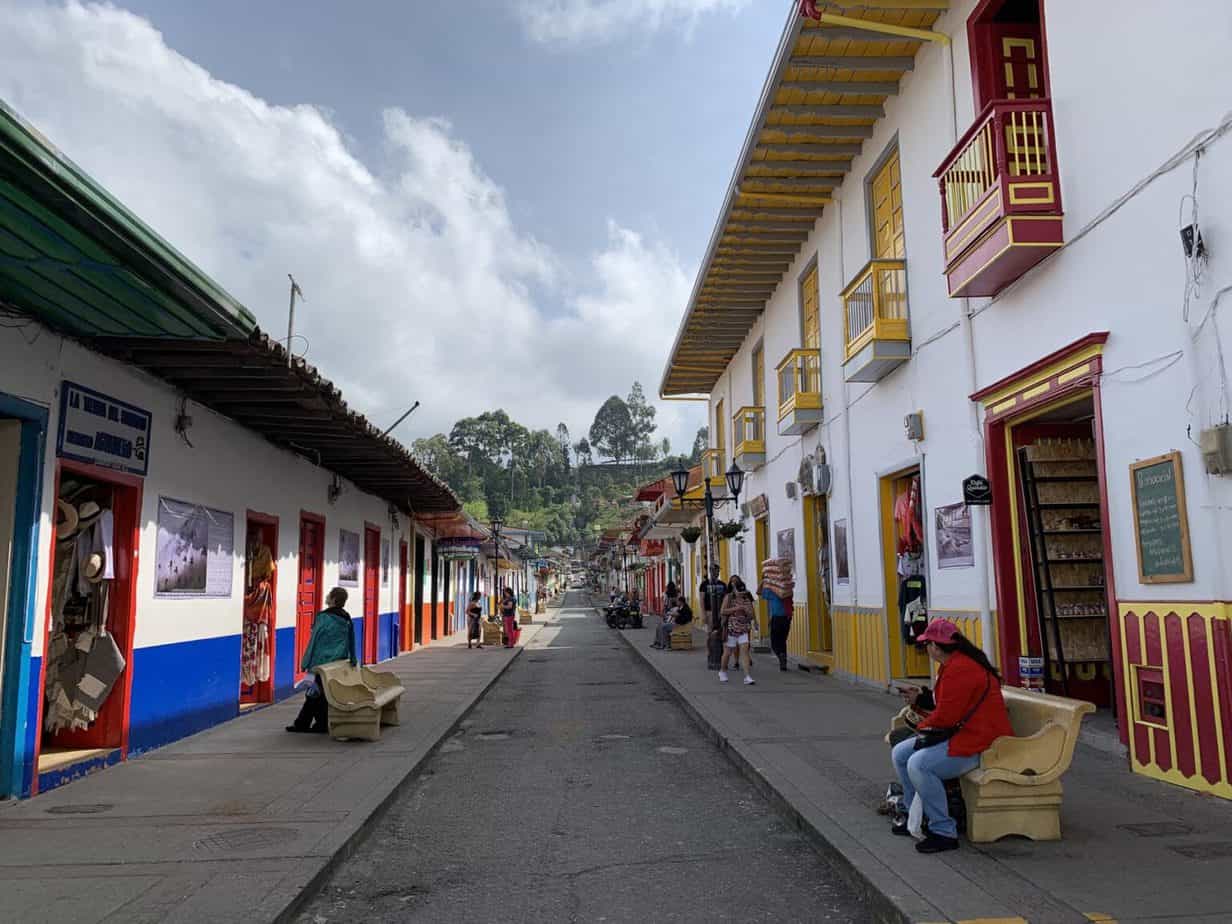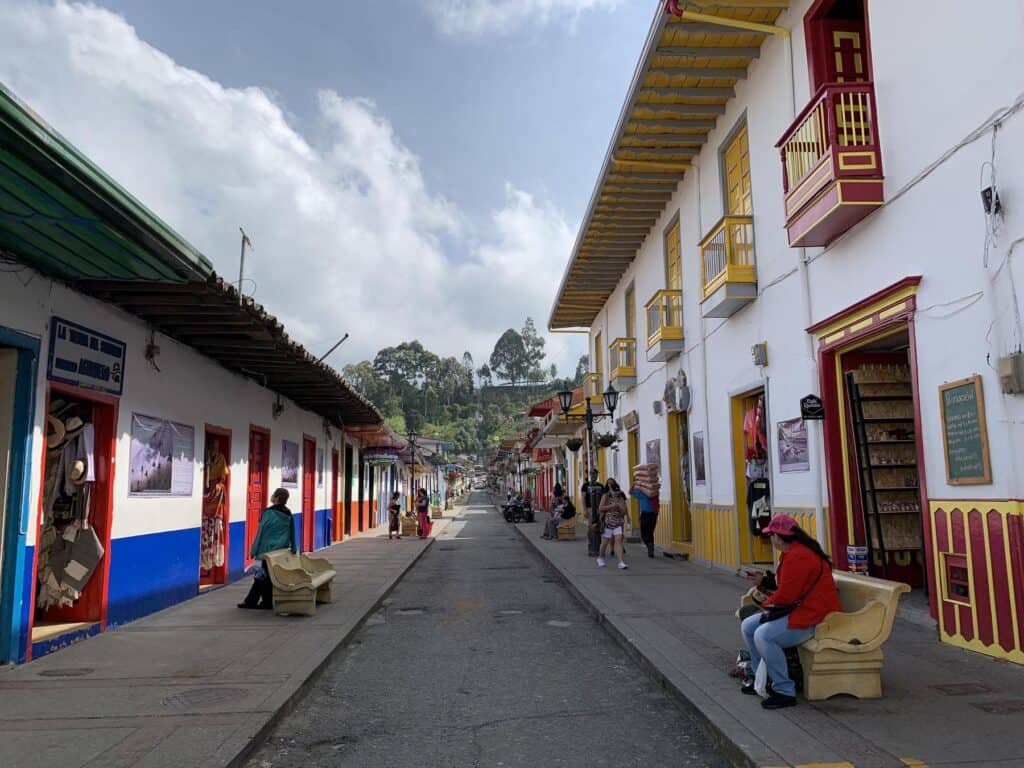 Cartagena
Cartagena, also known as the 'jewel of the indies' is the most romantic city in Colombia without a doubt. It's home to 'love centric' boutique hotels, intimate restaurants, history, art, culture, architecture, pretty much everything that'll make you feel like you're in a fairy tale when walking around the city.
Cartagena sits on the Caribbean coast and is a short flight from any major airport in Colombia. It's a walled city that was once the largest slave port in the Americas often invaded by pirates.
The city is home to some of the best ancient architecture in the country. Within the walls, you can see cannons that fought off Sir Frances Drake, San Felipe Castle and more. It's not just the architecture and romance that make Cartagena worthwhile but the food too.
The streets are full of incredible tasty treats, from dining in some of the top restaurants in Colombia to sipping on local stews found at market stalls, it's worth trying it all.
The most up and coming area of Cartagena is Getsemani. Once a den for prostitutes and thieves, it's now the coolest place in town and full of bars, hostels, street art, with a laid back atmosphere that's a fun mix of people.
Before you get too caught up in the city, don't forget there are some beaches to explore. Just off the coast are a series of islands and national parks that make for a great day trip. Hop on a boat and spend the day relaxing on white-sand beaches, snorkel around the reefs and shores and enjoy a break from the city.
—
From mountains and coffee to beaches and islands, Colombia delivers on all counts. If you're looking for a fun adventure, some luxury relaxation or a mixture of it all, this beautiful country is the place to find it.
About the Author: Mike is addicted to both adventure and travel, so he decided to combine the two to form TheAdventourist. There he shares his journey from one adrenaline rush to another, always exploring new places as he goes. You can find him sharing his travels on Facebook.
---
Planning a honeymoon and not sure where to go? Check out some of our other honeymoon destination articles for honeymoon inspo!