This post may contain affiliate links. Read our disclosure page for full details.
Vancouver is a wonderful seaside city located in Western Canada, and it just so happens to be the place I refer to as home.
With Christmastime just around the corner, you and your love may be searching for some romantic activities that have a festive touch during your time in Vancouver Look no further as I've sorted out some of my personal favourite attractions, and even a few that have some great features to offer during the Holiday season in particular.
With that all said and done, let's dive in to see what some of the most romantic things to do in Vancouver are!
Popping down to Seattle? Check out all the romantic things to do there, too!
6 Romantic Things to Do in Vancouver, British Columbia
Van Dusen Garden's Festival of Lights
Looking for Vancouver date ideas?
Van Dusen Garden is a romantic place for couples year-round, but if you ask me, visiting on a chilly December night is when the Garden's are at their best.
My hubby and I visited the Van Dusen Gardens for my birthday (any other December babies
here?) and we were beyond impressed with the light display they put on for Christmastime.
You can spend hours wandering around the gardens weaving through various displays, and watching light shows choreographed to Christmas songs.
They also offer a few more great features for when you've had your fill of the Gardens including a carousel ride, the fully licensed lounge nestled by a fire, and plenty of great food and drink stands throughout.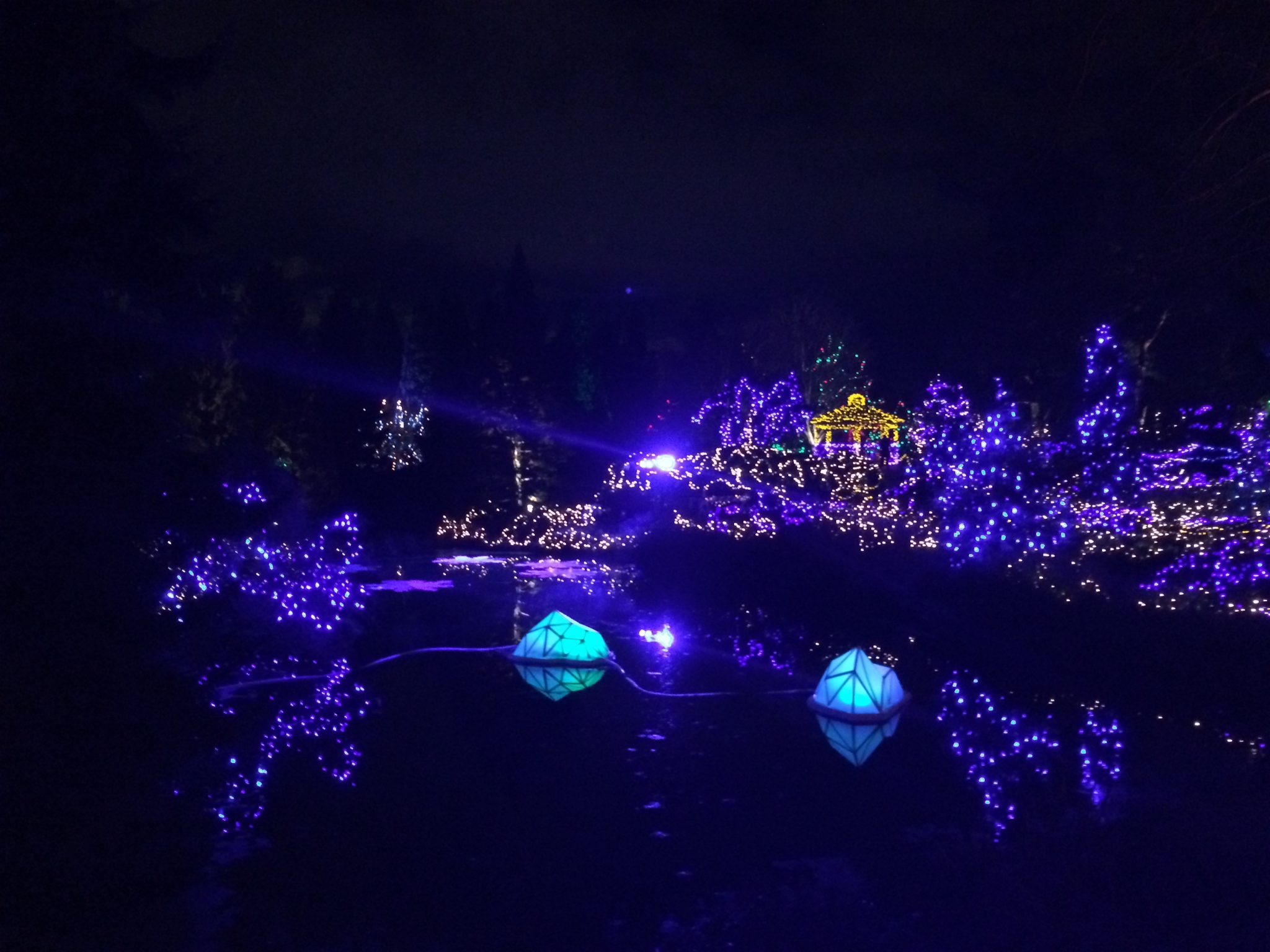 Also, as an added tip, make sure you buy your tickets online ahead of time, partly to skip the lineups and also to get a discounted price. Win-win, am I right?
Capilano Suspension Bridge – Canyon Lights
Visiting the Capilano Suspension Bridges anytime of year is a romantic and thrilling activity, but during Christmastime it seems to be amped up like never before.
Hundreds of thousands of beautiful lights drape along the suspension bridge, along with the surrounding Cliff Walk and forest areas.
If you're worried about missing out on the dreaminess of the canyon lights because you're visiting after the Christmas season, you're still in luck! The Canyon Lights will be running until January 28, 2018 this coming year which means you can avoid some crowds and still have a great romantic date after the Christmas craziness settles down.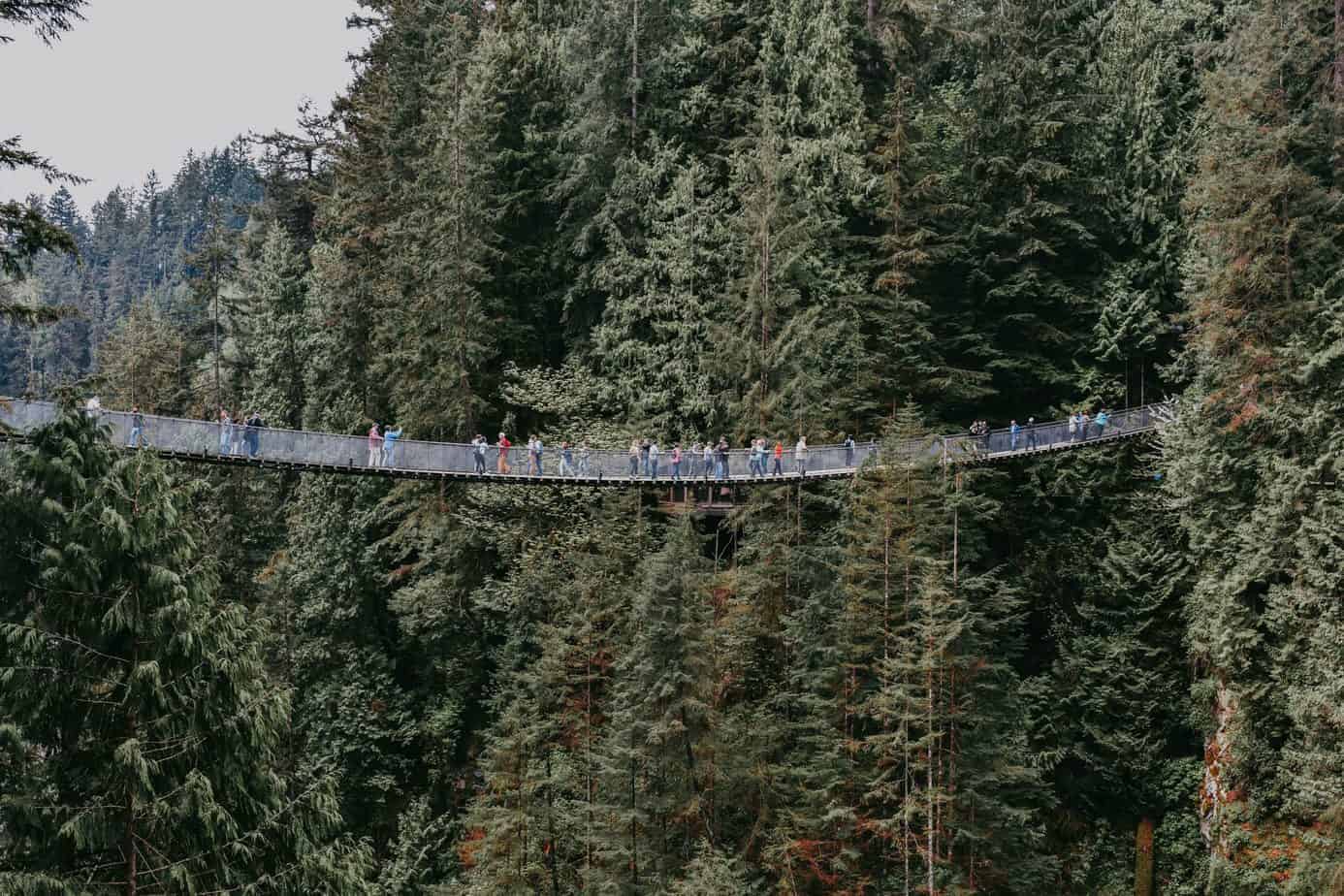 Explore False Creek by Ferry
For the nautical couples who want to explore as much of the city as possible, I suggest climbing aboard a ferry with stops throughout Vancouver's False Creek.
There are two main hop-on hop-off ferry companies to choose from (Aquabus or False Creek Ferries) with which you can easily purchase an inexpensive day pass that allows you to explore to your hearts' content.
Enjoying the ocean breeze and the flexibility to discover the various neighbourhoods and sights in Vancouver with ease is a perfect date for couples exploring the city.
It also offers a great chance to view the beautiful Christmas lights and decorations throughout the city without needing to take a single step.
Stanley Park
Stanley Park is a beautiful location year round. It's a perfect escape from the busyness of the city and into the peace of nature, and it's easily my favourite place in all of Vancouver.
I find it to be such a beautiful place to spend time, especially when you're with your loved one.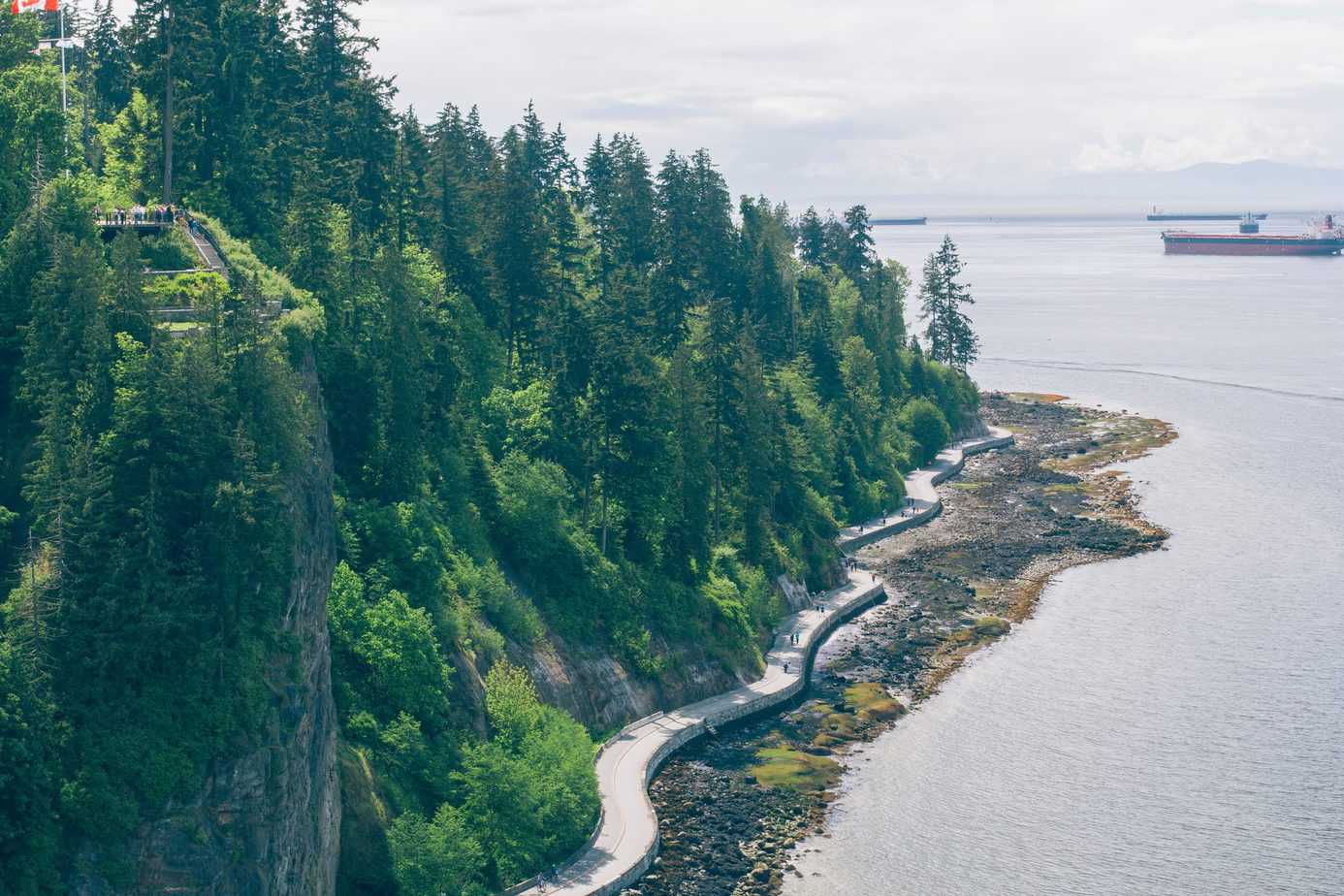 You can either opt for a long walk around Stanley Park's infamous Seawall, enjoying the ocean's calming waves, or you check out some of the Christmas festivities after dark.
During Christmastime, the Stanley Park Train loop is decked out in lights and displays, known as Stanley Park Bright Nights.
While I can't attest to the romanticism of this attraction as it's geared towards kids in particular, it's still a great festive addition to your visit to Stanley Park after the sun's set on your day.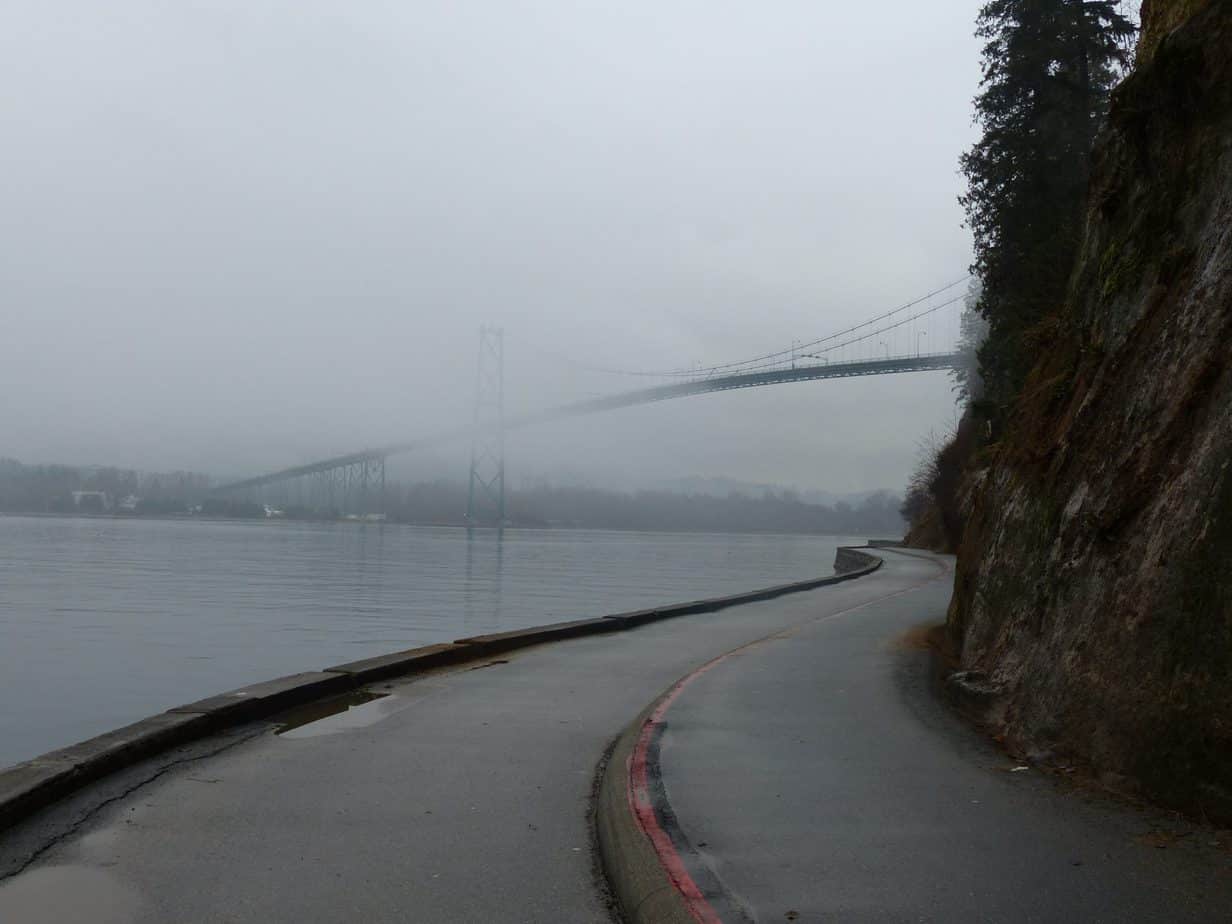 Ice Skating at Robson Square
Holding hands with your other half as you glide through an ice rink in a city centre is equally festive as it is romantic.
Guests are welcome to rent a pair of skates and enjoy skating through the covered rink as city lights twinkle around you. It's a great winter sport activity you can both participate in without needing to leave the city at all!
Plenty of themed skate nights are often scheduled, so I suggest researching ahead of time to see if there's a certain activity you and your partner would particularly enjoy.
Stroll the Streets of Gastown
Don't let the name fool you! Gastown is the most charming little neighbourhood in Vancouver (in my opinion). Red cobblestone streets, warmly lit sidewalks, and more specialty boutiques and restaurants than you can count.
It's simultaneously trendy and quaint, and overall one of my favourite areas in Vancouver to wander through.
For a cozy dinner date with a great atmosphere on a chilly December night, there's no place in Vancouver more romantic than Gastown.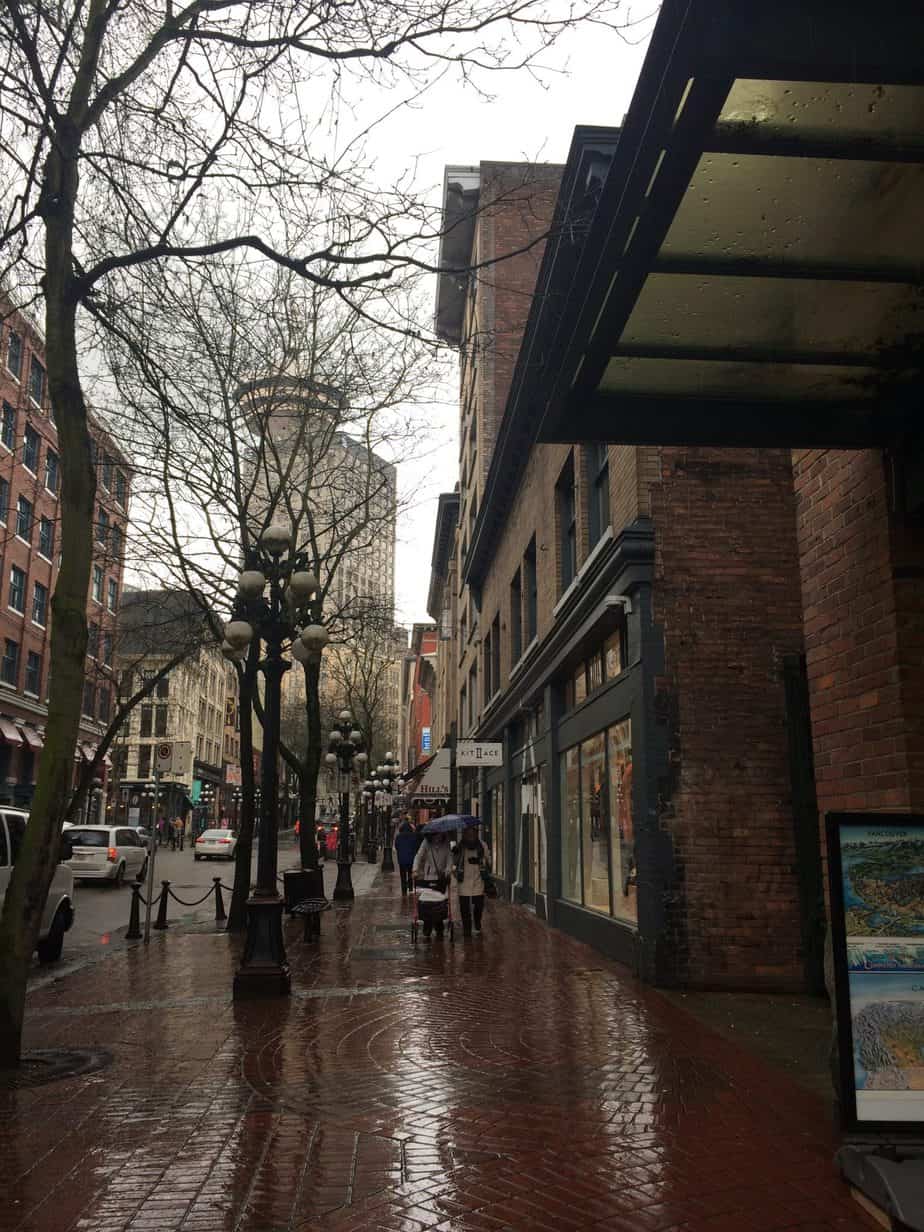 Vancouver is an amazing city to visit with your loved one anytime of year, but in my opinion Christmastime is when it's at it's absolute best.
With a huge variety of light displays to check out, along with the coziness that comes with a
Canadian winter, there's so much to offer couples visiting from around the world.
Author Bio:
Miranda Menelaws is a freelance Canadian writer and blogger, currently based in Australia. She loves sharing her experiences and honest confessions and opinions with her worldwide readers on her blog Miranda's Muses.
---
Have you ever visited Vancouver? What did you think was the most romantic thing to do in Vancouver? If you haven't been, which attraction would you want to see the most? I'd love to hear from you in the comments below!
---
Read these next:
---
Pin this post to save for later!