This post may contain affiliate links. Read our disclosure page for full details.
What is it about Christmas that brings out our most romantic sides? It's joy. It's beauty. It's love. The love surrounding the spirit of Christmas. And perhaps a bit of magic as well. As you plan your Christmas season travels, we'd like to point you in the direction of one of the most magical holiday experiences we've found: Christmas in Quebec City.
This historic walled city with its European flair and wintry weather makes it ideal for Christmastime. If you're seeking snowy lanes, festive shops, and a place to experience the best of winter, romantic Quebec City is waiting.
So grab your partner. Here are 13 romantic things to do in Quebec City, including where you should stay!
So start practicing your French…(kissing that is!) And get ready for a Christmassy romantic getaway in Quebec City.
PS: Quebec City is a great starting point for a Quebec road trip, and Montreal in the winter is also a must-visit Quebec destination.
---
13 Romantic Things to Do for Christmas in Quebec City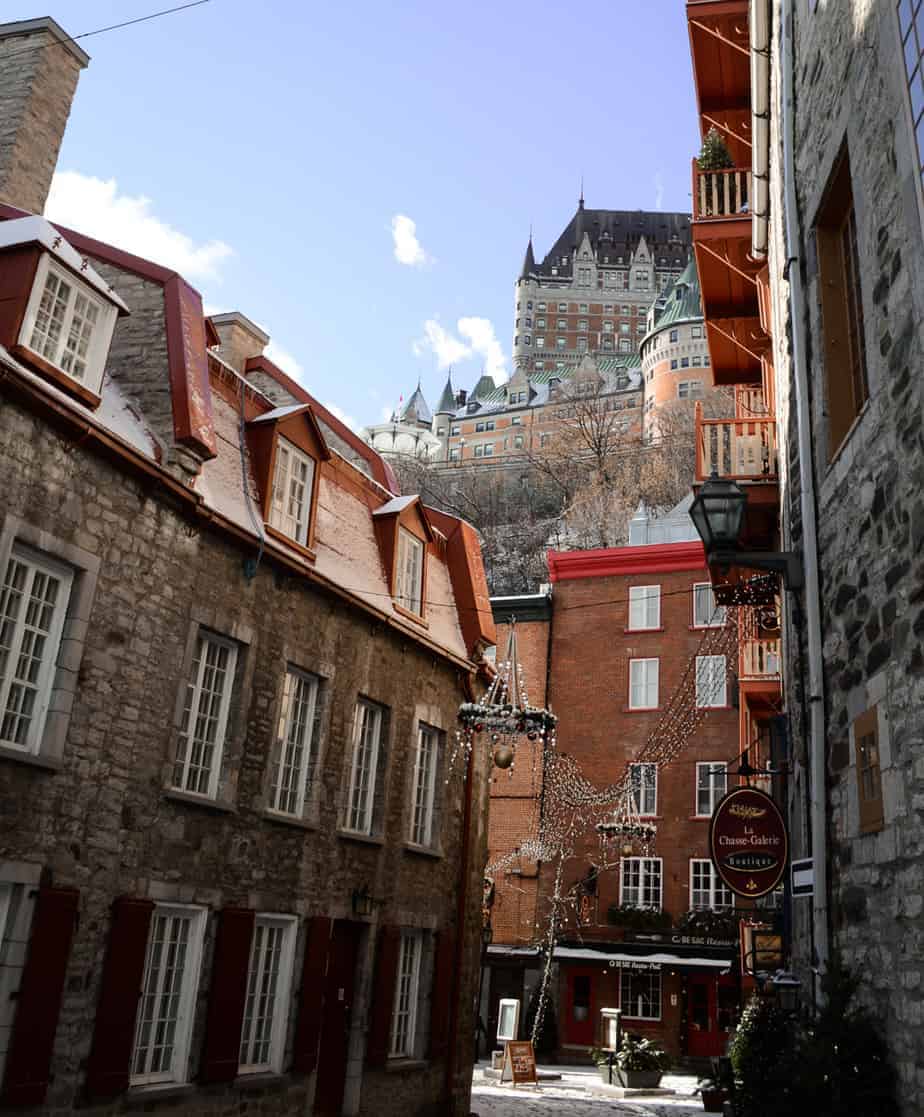 Wander Down the Adorable Rue du Petit Champlain
Those classic photographs of Quebec City at Christmas? Those are almost always from the charming thoroughfare of Rue du Petit Champlain.
This street, where Old Europe seems to come alive, is in fact heralded as one of the prettiest streets in all of Canada. The whole Quartier Petit Champlain is like a postcard, with the opulent Chateau Frontenac in the background.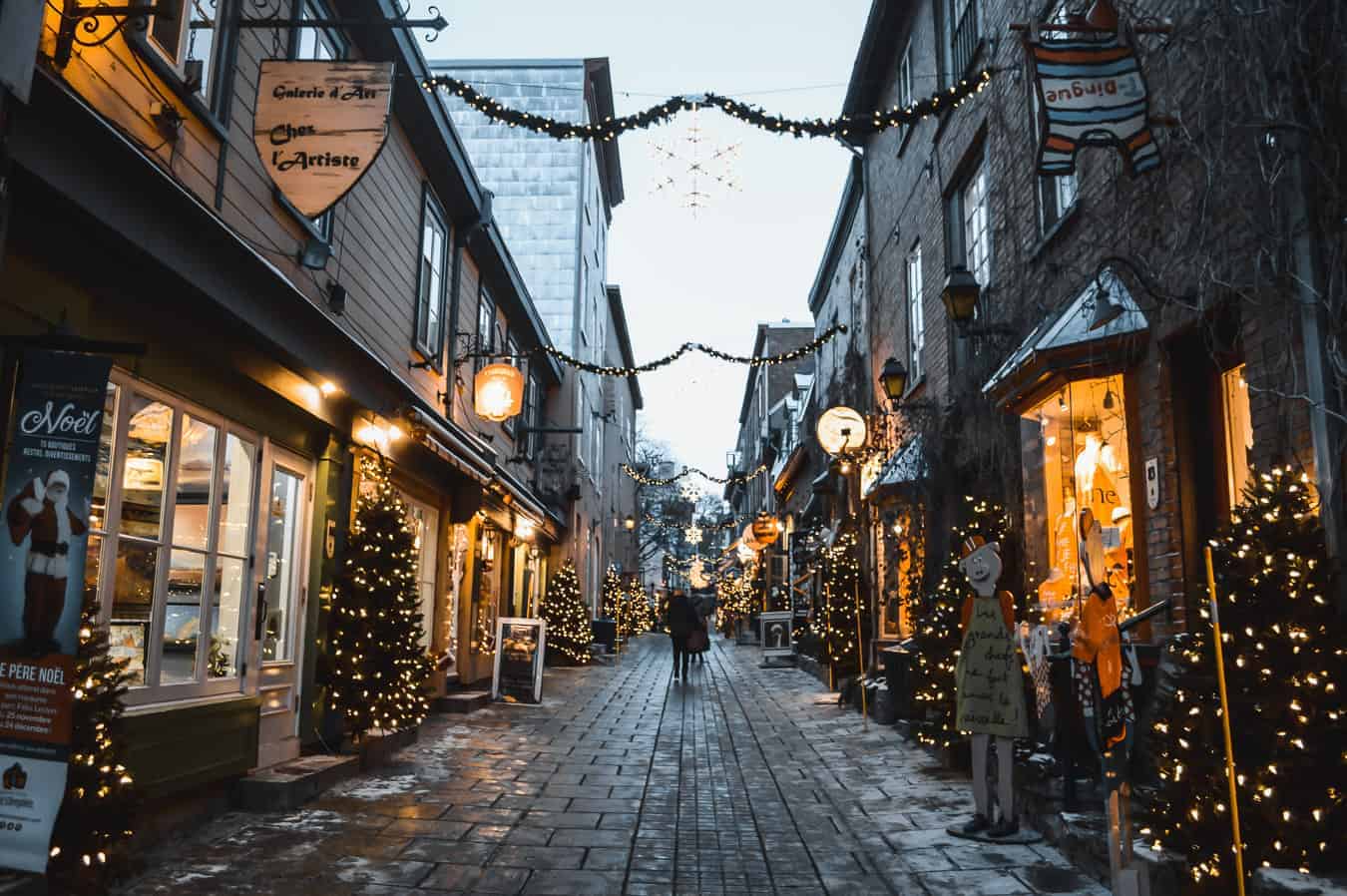 Explore these lanes and alleyways with your darling, popping into shops that catch your fancy and restaurants that beckon.
And be ready for surprises, too. Even Santa Claus (Père Noël) may stop by on your journey. We stopped at chatted with him for a bit, and shared our Christmas wish lists.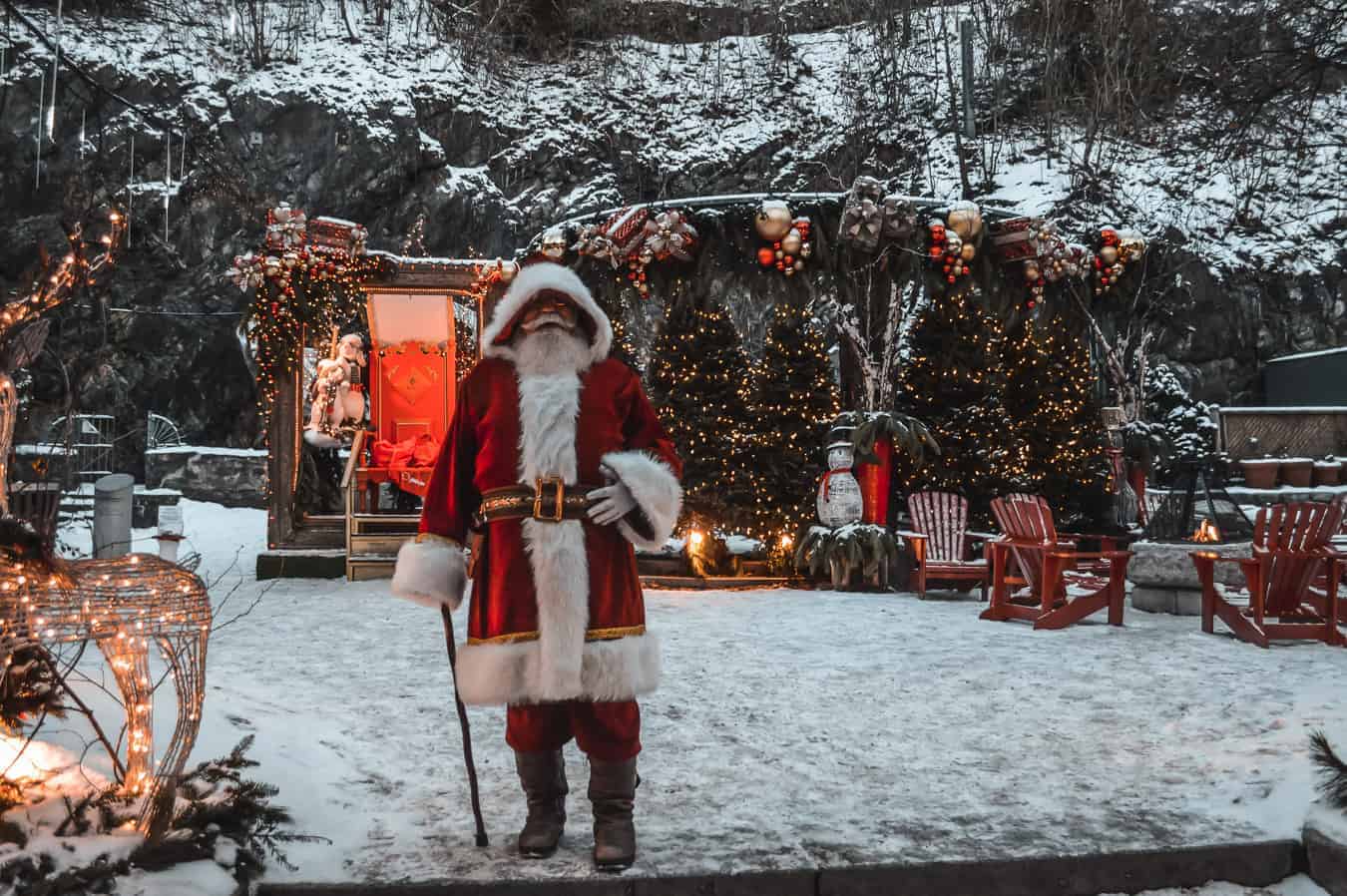 Explore the German Christmas Market
If you can't get to Europe this winter, no fear.
You can experience an authentic European Christmas market here in Quebec City from late November & through most of December. The adorable outdoor Christmas market is the perfect place to grab a hot mulled wine with your sweetheart.
So Christmassy!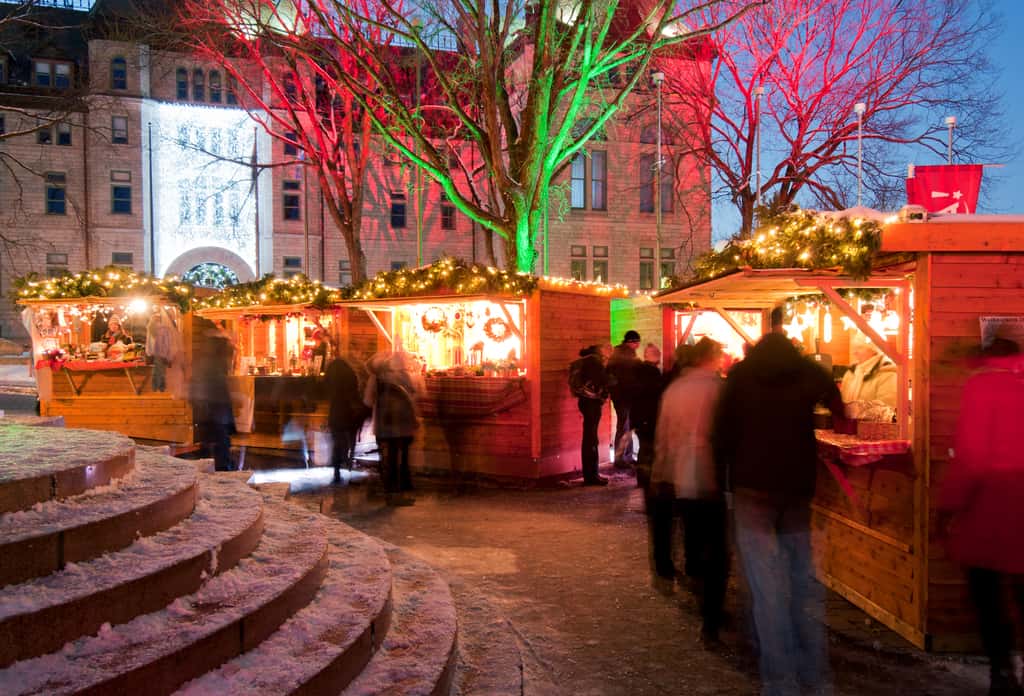 Stay at the Finest of Hotels
A romantic hotel is a must, and in Quebec City, there's a famous hotel that is the perfect choice. The Fairmont Le Chateau Frontenac is one of the most photographed hotels in the world, and with good reason.
This gorgeous icon of the city towers over the old town with elegance and beauty. It has more than 600 beautiful rooms, and is a classic spot to stay in Quebec City.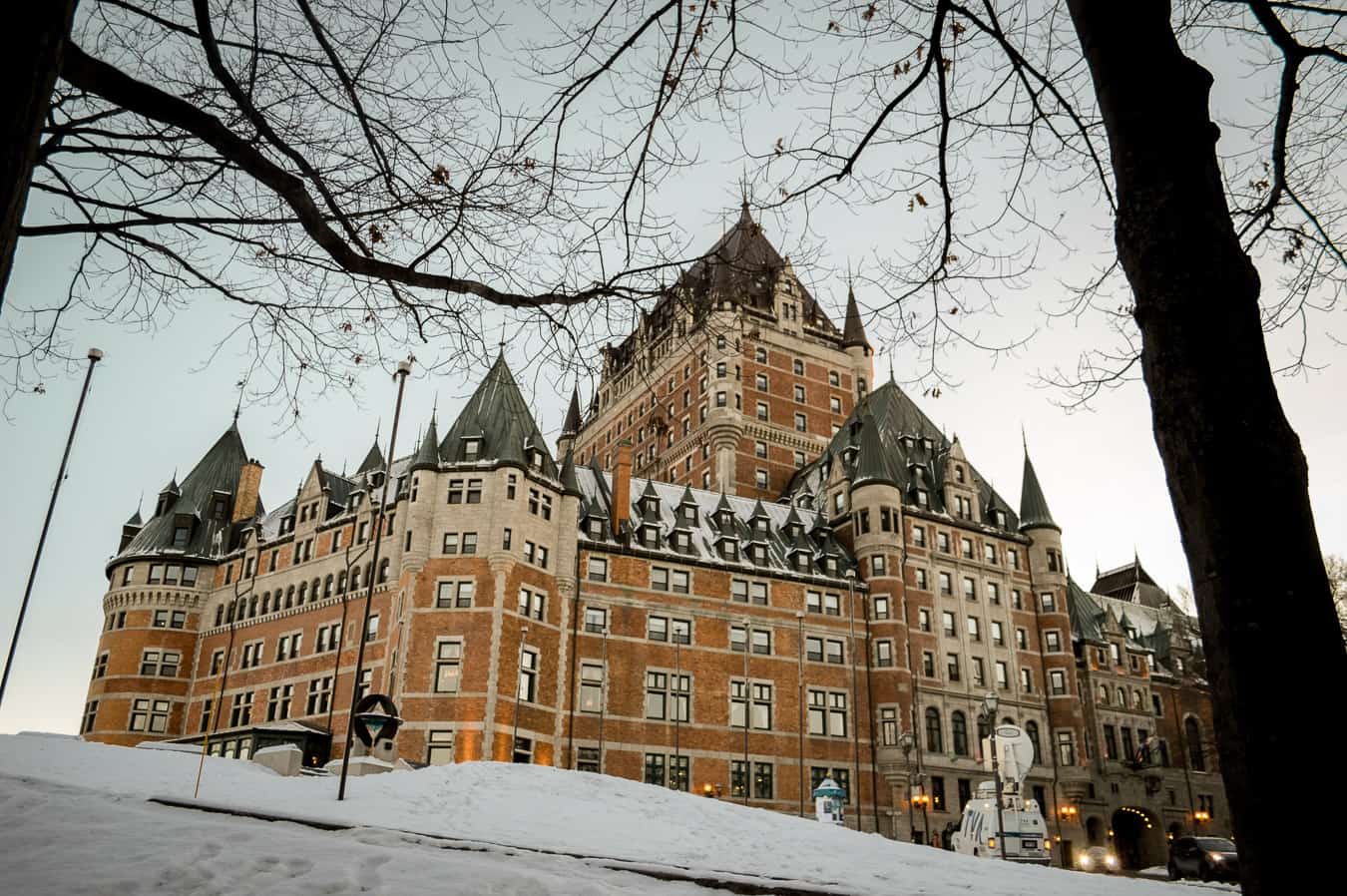 Seek Natural Beauty at Montmorency Falls
If the weather is nice, head about 15 minutes outside of the city to see an impressive waterfall.
Montmorency Falls is actually higher than Niagara Falls by almost 100 feet.
You can observe the falls from below, or from above along a trail, or even via cable car. Ice climbers can sometimes be seen scaling the frozen falls in the height of winter.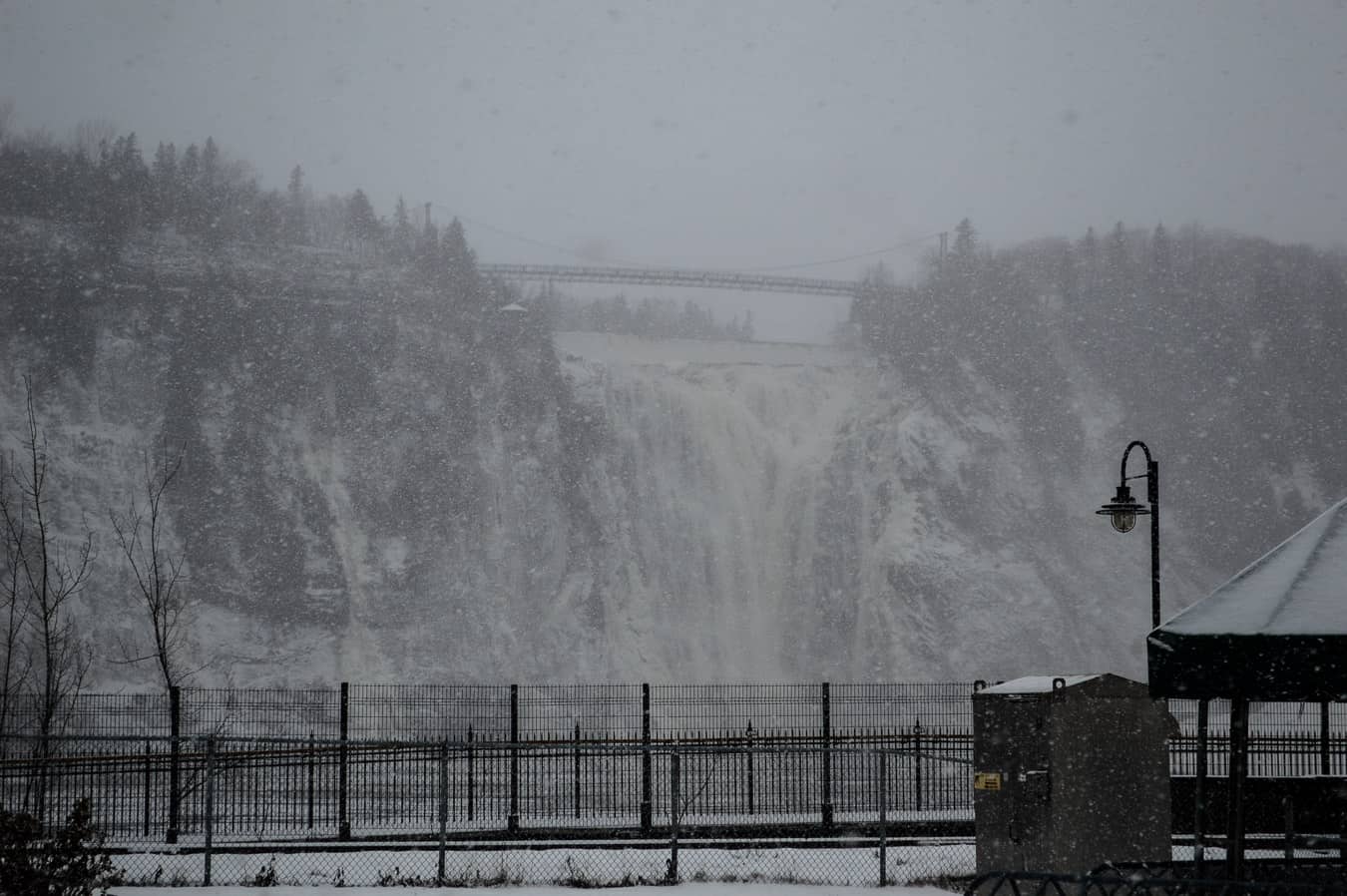 Dine at a Romantic Restaurant or Cafe
Oh, a Quebec City romantic getaway certainly deserves a lovely dinner.
This could be a fine and sophisticated restaurant or even just a cozy and intimate cafe. Some recommended spots include Le Champlain (inside the Fairmont Chateau), Saint-Amour, and Chez Muffy.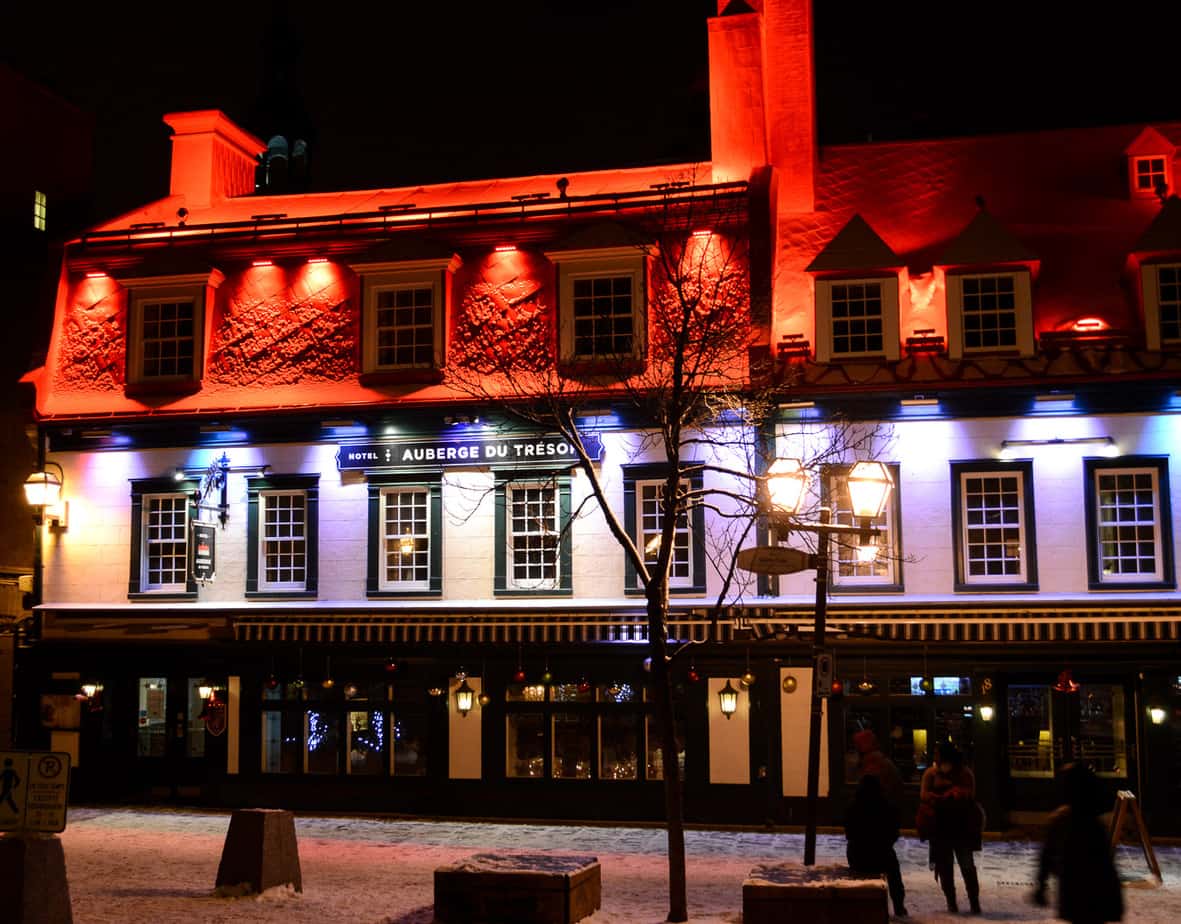 If you want something cozy and delicious without being too fancy, check out Cochon Dingue, a French bistro. There are a few locations throughout the city including one in the Petit Champlain area.
Go Ice Skating Hand-in-Hand
Is there any winter activity more romantic than ice skating? Even if you are terrible at skating, it will make for a memorable outing.
In Quebec City, you can go ice skating at rinks in Place D'Youville or on the Plains of Abraham, as well as on a trail (illuminated at night) at Pointe-aux-Lièvres. This spot also offers views over the city.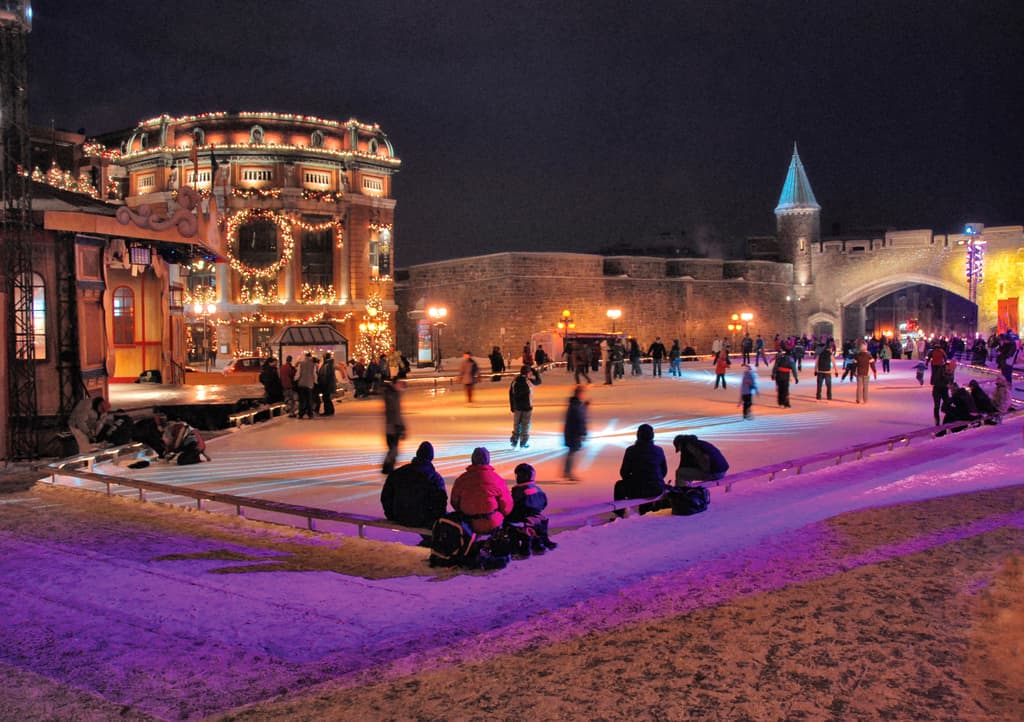 Get Cozy in a Cafe….Perhaps One with Cats
It's no secret we are coffee shop lovers. In Quebec City, there are many sweet little coffee shops to grab your daily latte. If you are a fan of felines, there's even a cat cafe.
Located close to the Old Port Market, stop by Café Félin Ma Langue Aux Chats for a tasty treat and snuggles with sweet kitties.
We fell in love with this one!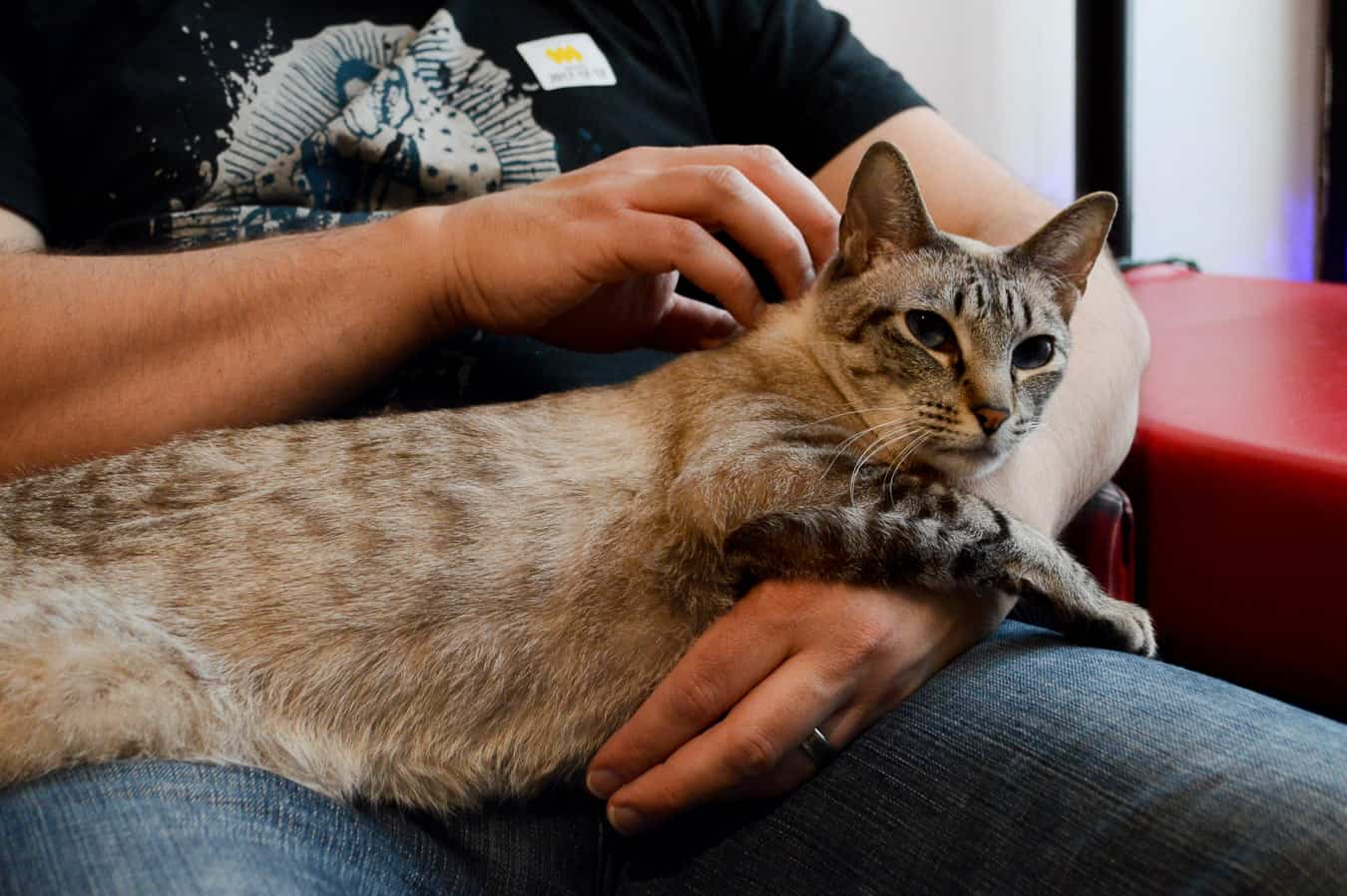 If you're wandering around the Petit Champlain area, we suggest La Maison Smith. It's an absolutely adorable coffee shop that is right in the center of the most festive area of town: Place Royal.
Definitely bring your camera to this spot, because it is downright Classic Christmas.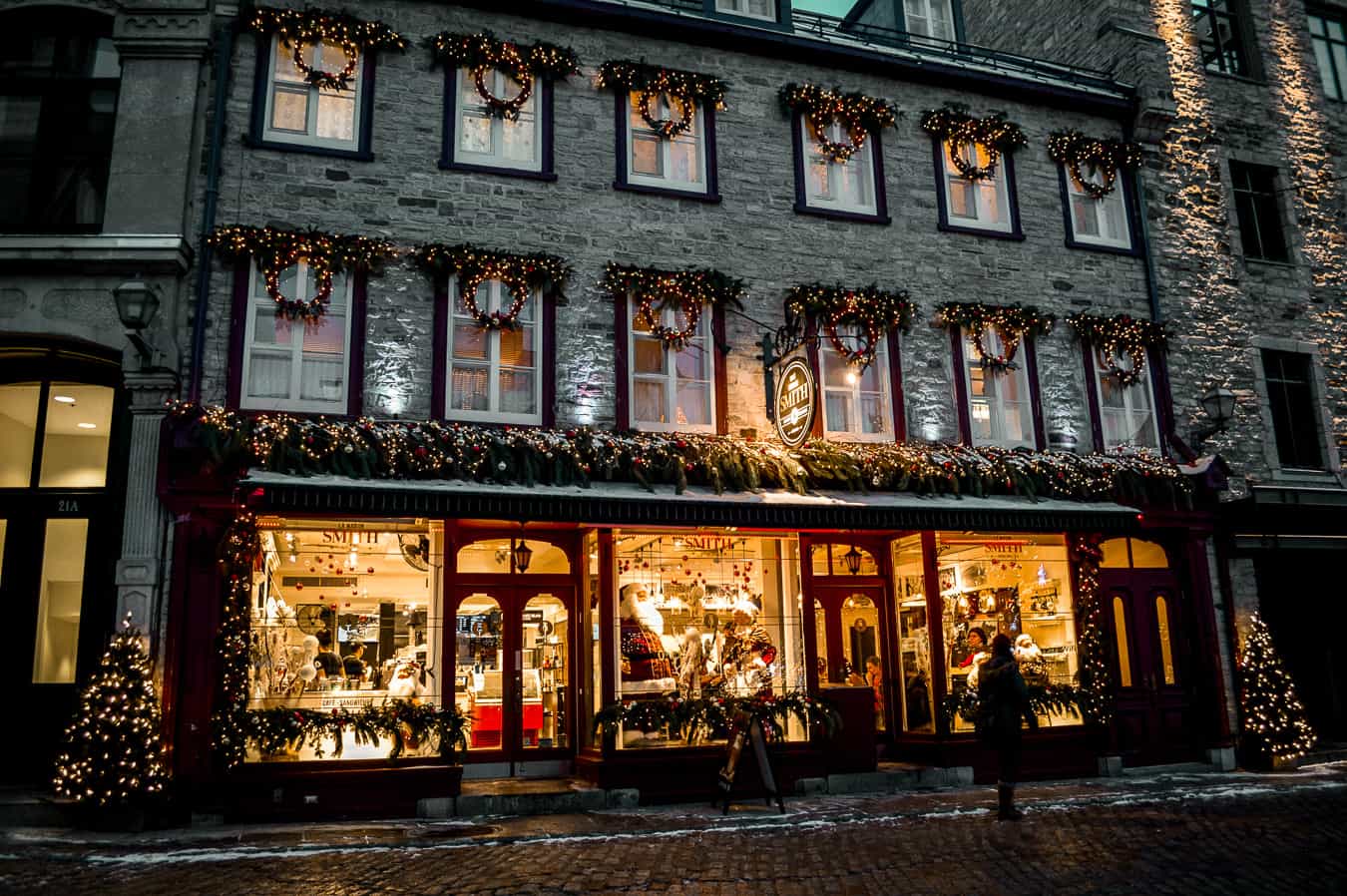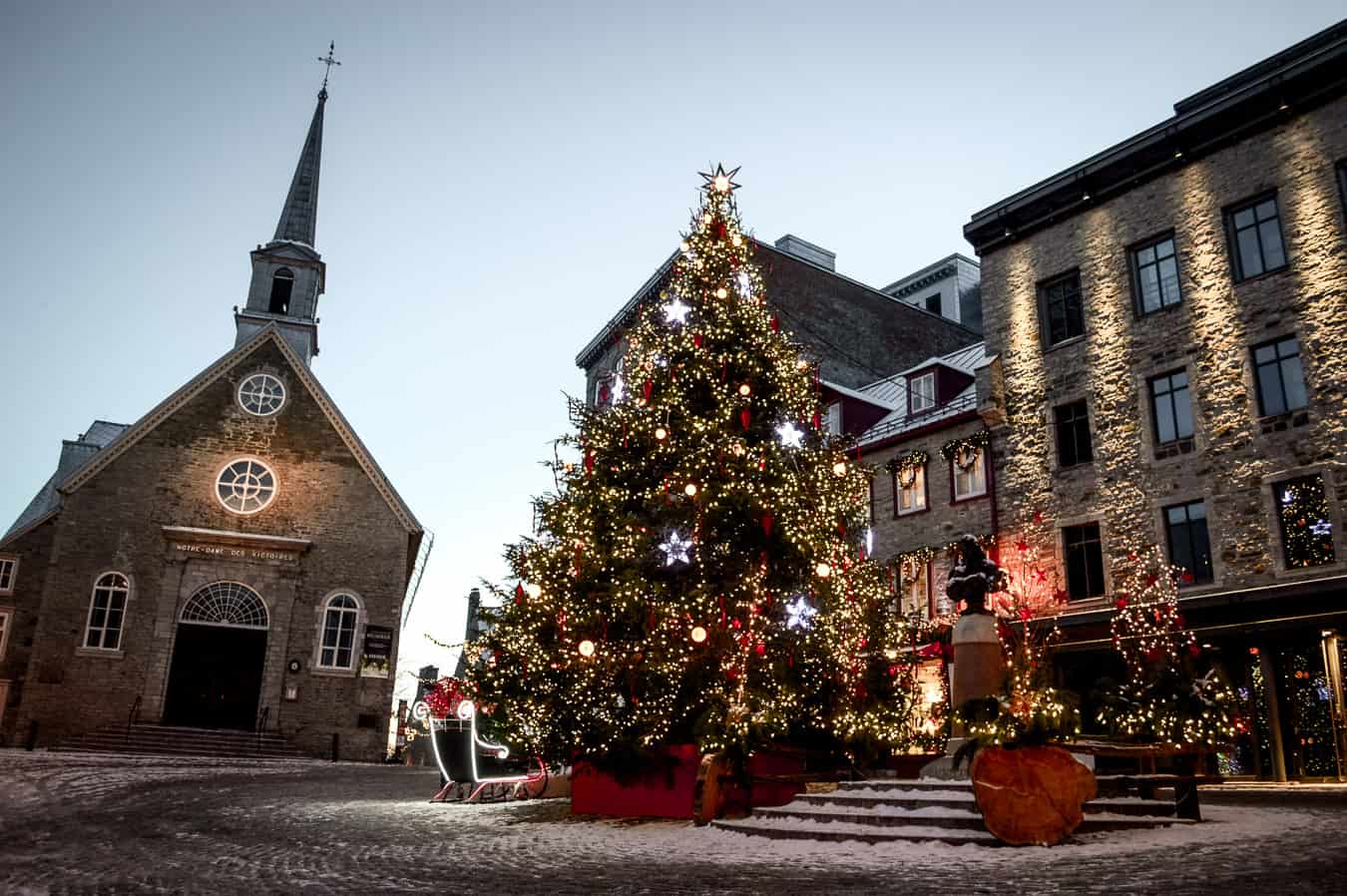 Laugh Wildly Down the Toboggan Slide
Of the many romantic things to do in Quebec City, a couple of them are sure to bring you thrills and joie de vivre! In the winter, a giant slide sits on Dufferin Terrace, next to the Chateau Frontenac.
You can climb aboard a toboggan and go whooshing down to the bottom. Don't be afraid, you can slide two-to-a-sled!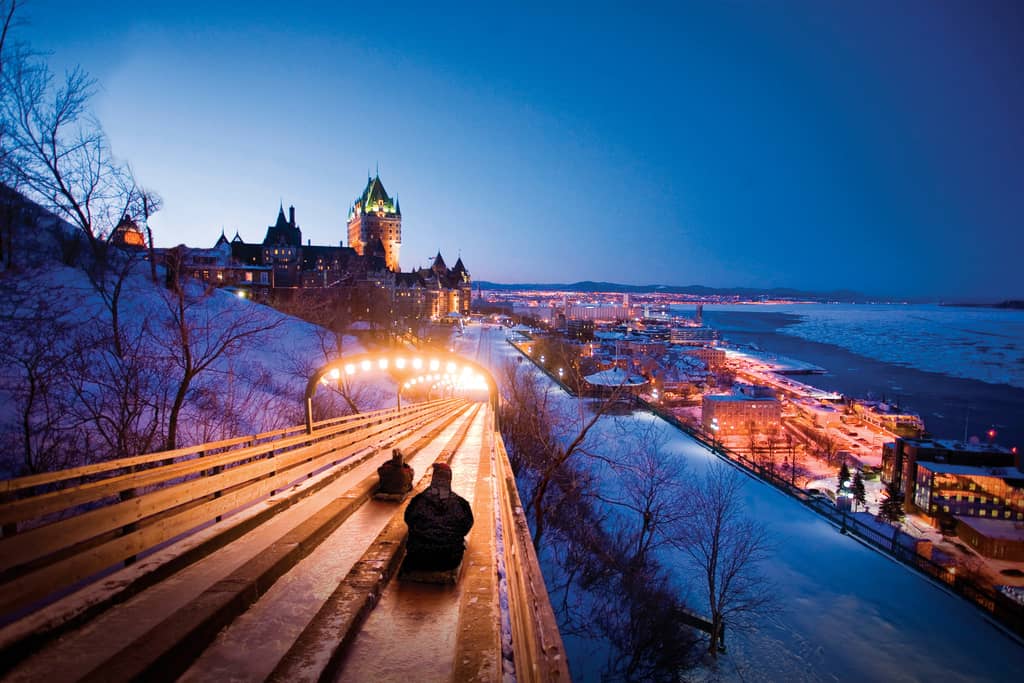 Discover Fascinating Museums Together
Quebec City has a host of great museums. From art to history to religion, you can dive deeply into the people and place of Quebec.
During our stay, we visited the Musée de la Civilisation, an interactive centre that highlights not only Quebecois history and culture, but features exhibits on various topics of civilization.
Our visit coincided with an exhibit on the human brain, which explored the science of the brain and nervous system, as well as examined the experience of mental health issues throughout human history.
We learned a lot during our visit to the museum. Romantic? Learning is always sexy!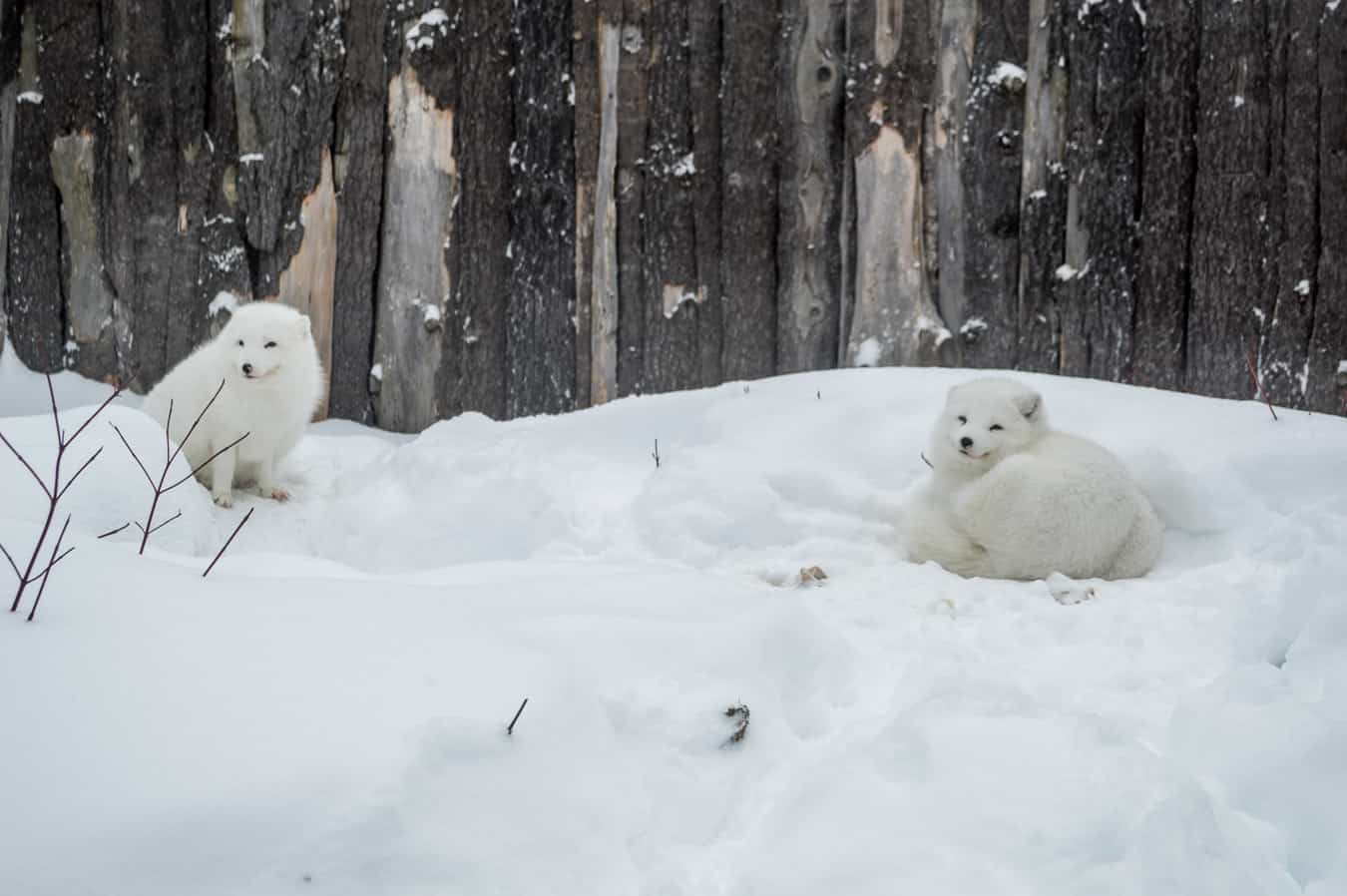 If you love animals, the Aquarium du Quebec is also a nice surprise, though, be warned, it's mostly outside. Cold weather makes it a bit tougher to visit.
We loved stopping here for an hour or so and seeing seals, walruses, polar bears, and these adorable arctic foxes (pictured). We also spent time inside at their super cool jellyfish exhibit.
Indulge in Local Treats
Food and romance go together so naturally. In Quebec, you must make time to sample local food and beverage.
Of course there is the famous dish of poutine, so popular throughout the province, but there is also a great deal of French-influenced cuisine.
In addition to top restaurants, a recommended spot is the indoor market of Les Halles Cartier in the Petite Quartier. Here you will find cheeses, breads, pastries, meats, and so much more. An ideal place to prepare a picnic (in the warmer months) or to wander around seeking samples.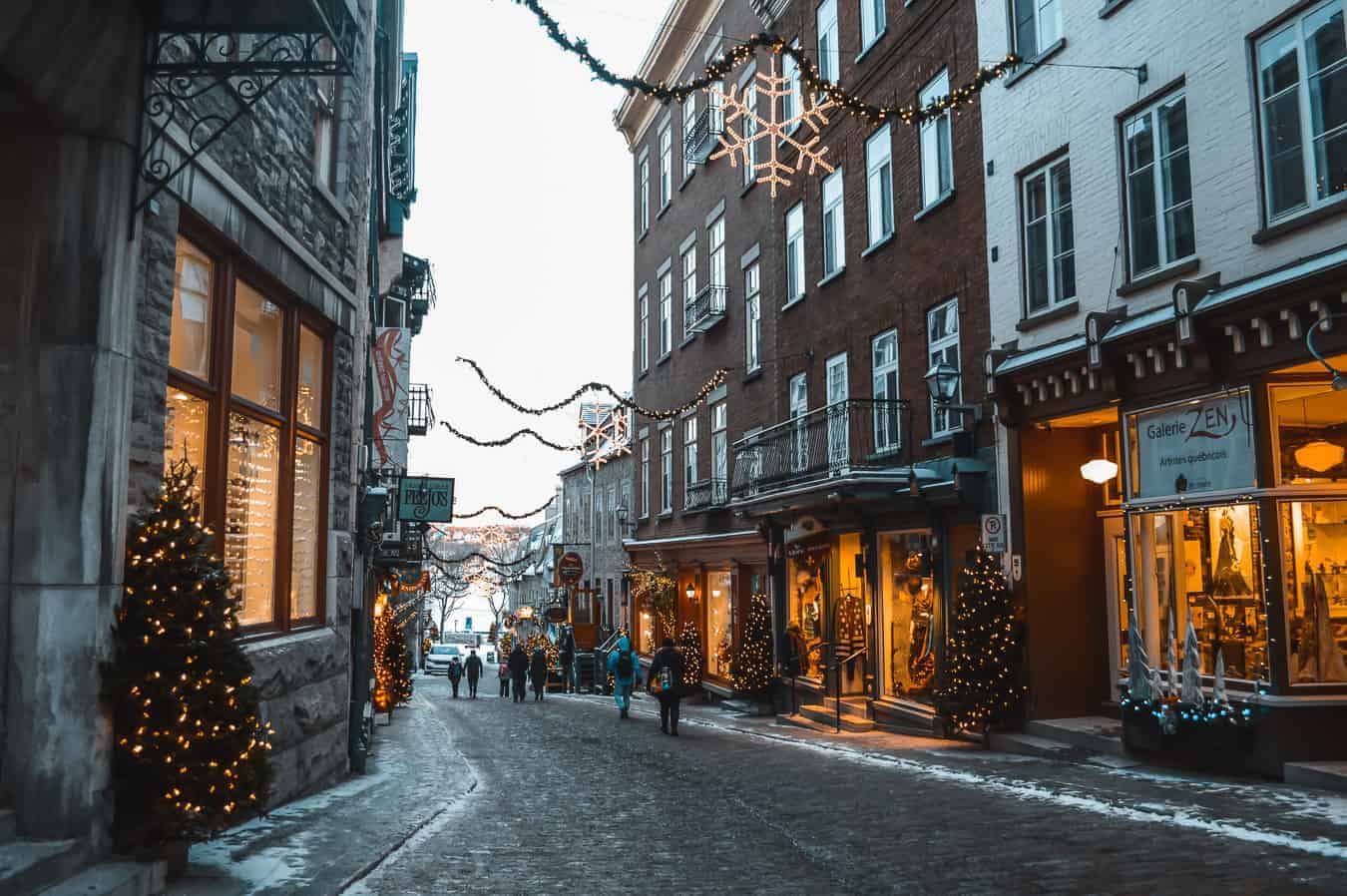 Spend Time Getting 'Lost' in Old Quebec
The most quintessential part of Quebec is Old Quebec, and you should plan to spend some time just discovering its nooks and crannies.
It's all decked out for the holidays in the winter time, and every corner is a photo opportunity just waiting to happen.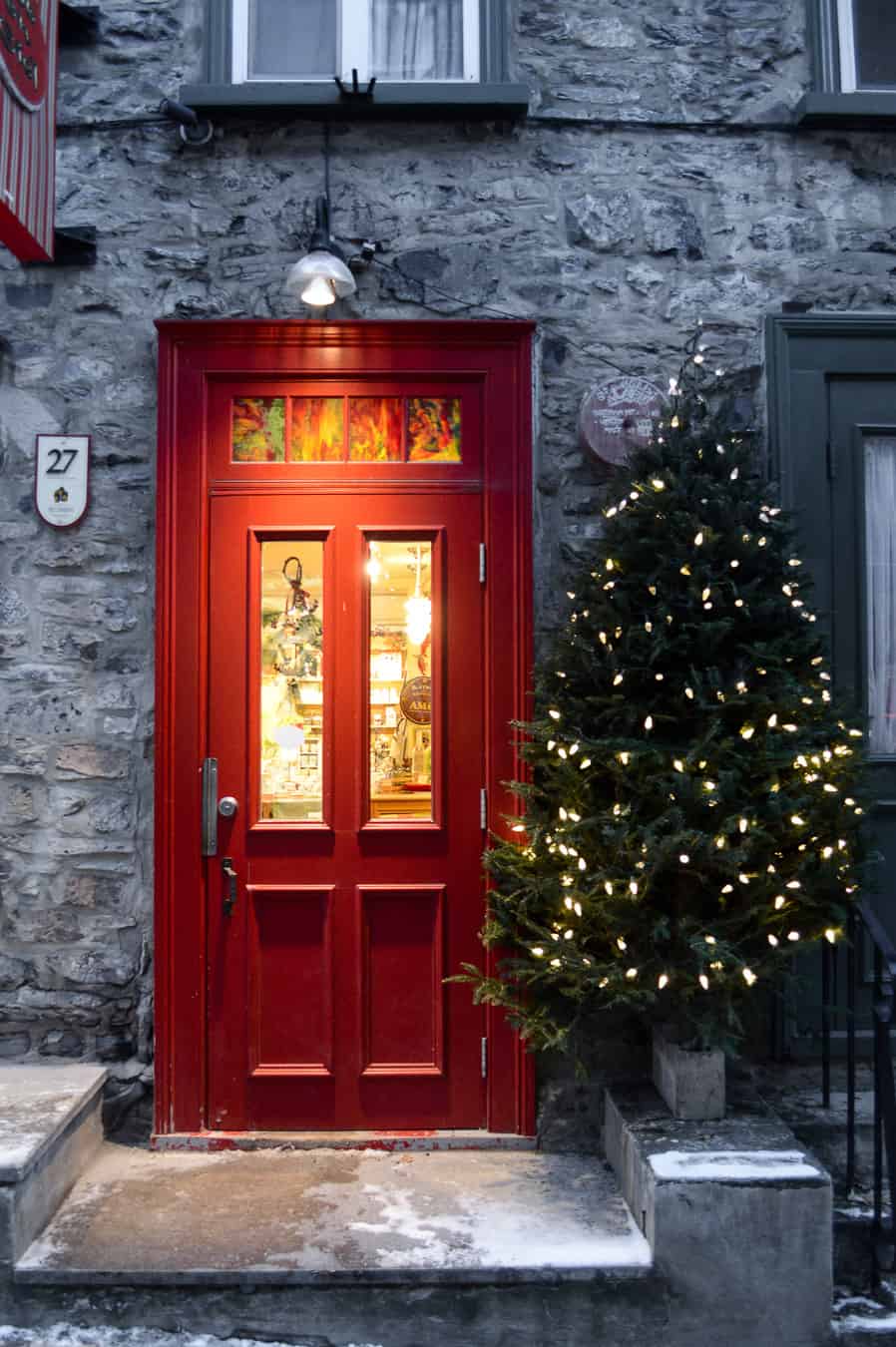 You can ride the Funiculaire if you want to save time heading up from the lower part of town to the upper part. It gives you a nice view over the city and is about 2 minutes of fun!
If you're staying at the Chateau Frontenac, the Funiculaire is located right at the edge of Dufferin Terrace.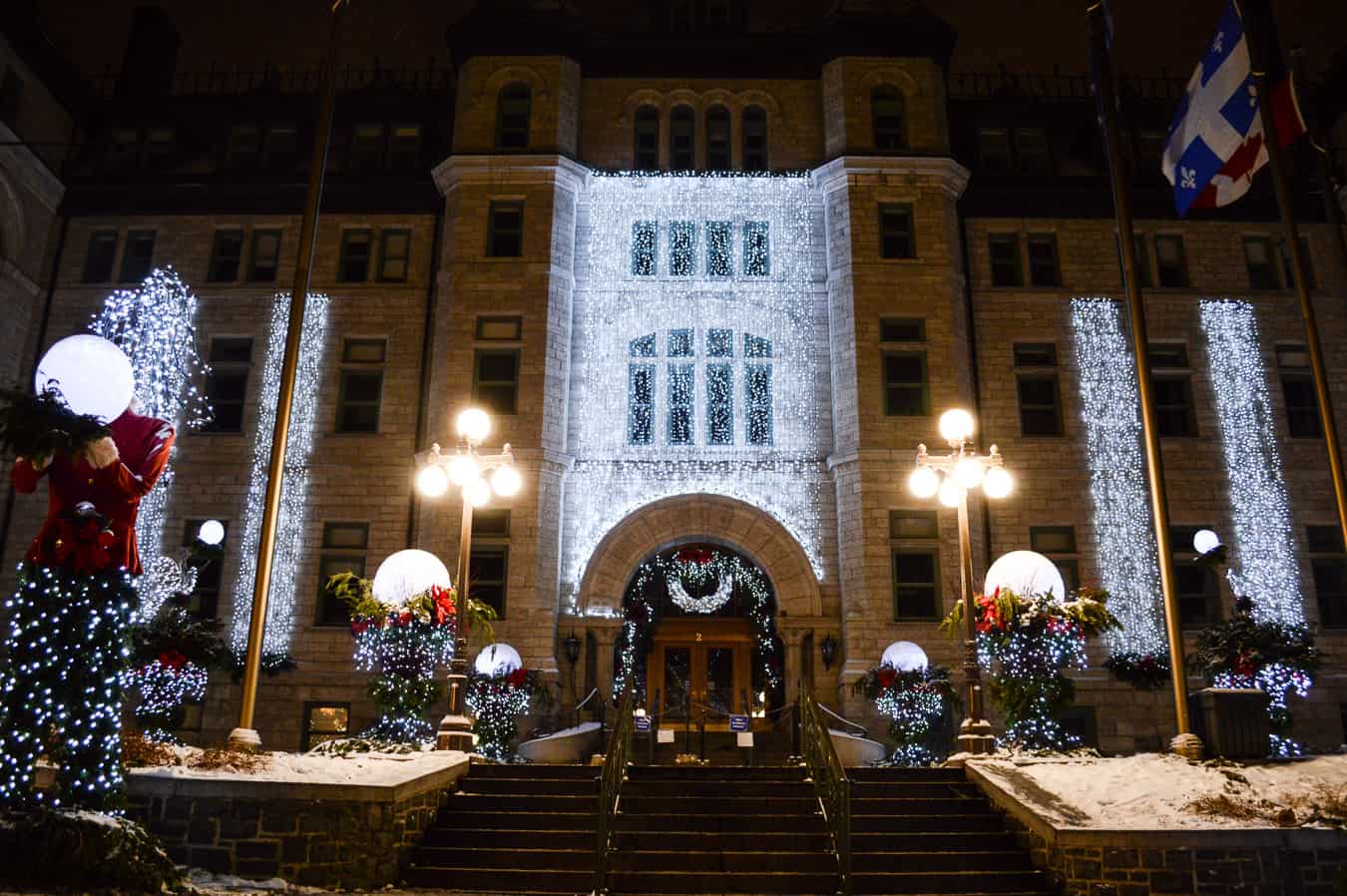 Get Caught in a Quebec City Snowstorm!
If you're traveling to Quebec City in winter, chances are, you might be caught up in a bit of snow. Embrace this if it happens!
One day of our December visit was a stormy one, and the city received about a foot of snow. There was crazy wind and super cold temperatures, and it was a lovely day to cuddle up together inside and stay warm.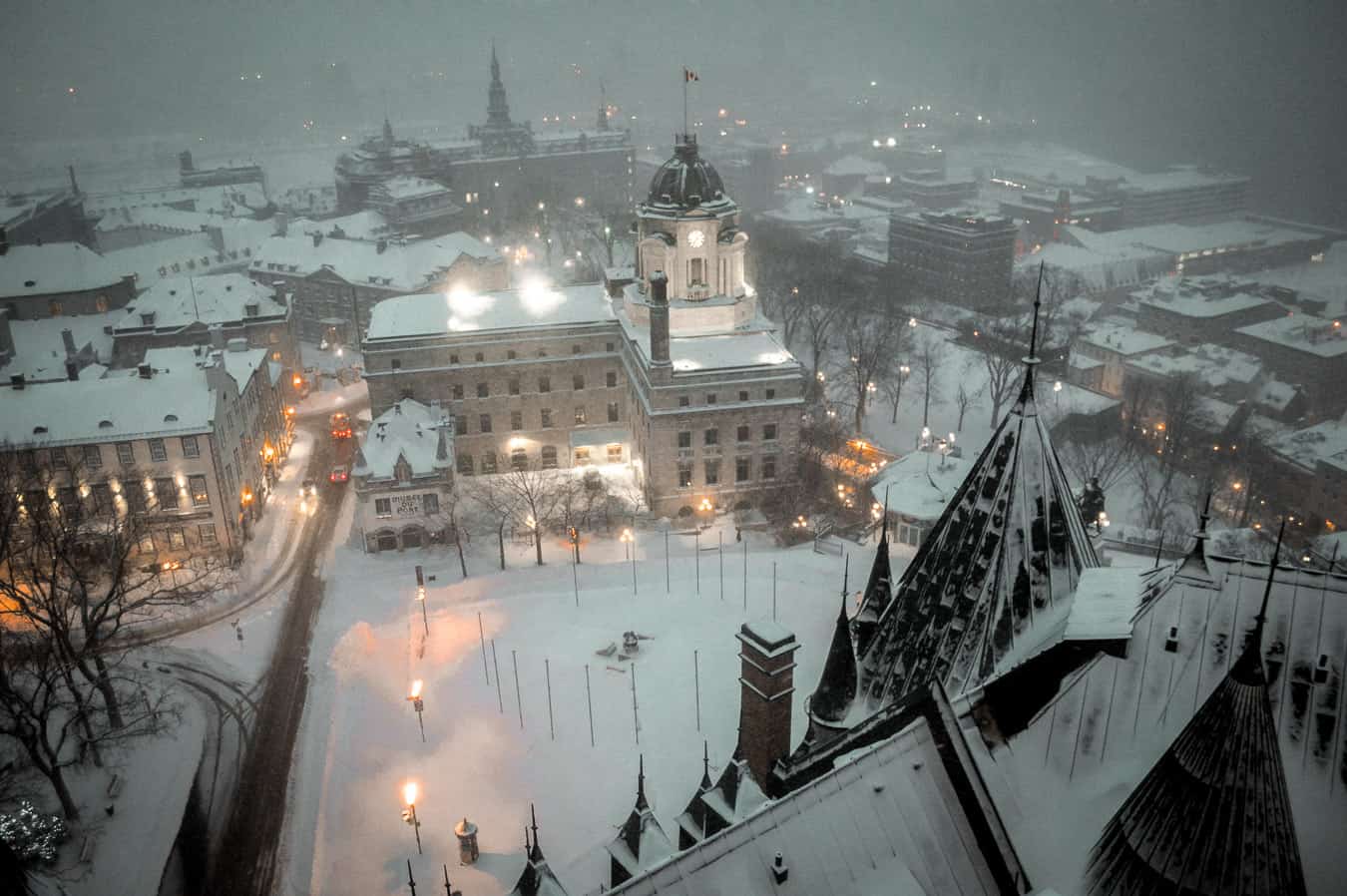 You'll definitely be impressed by how the city handles snow. They are so used to these big blizzards, and operations continue smoothly.
Bundle up (dress very warm for Quebec City in the winter!) and brave the outdoors if you'd like, or stay inside with a hot chocolate and a movie.
This might be a great day to visit the relaxing spa at the Chateau!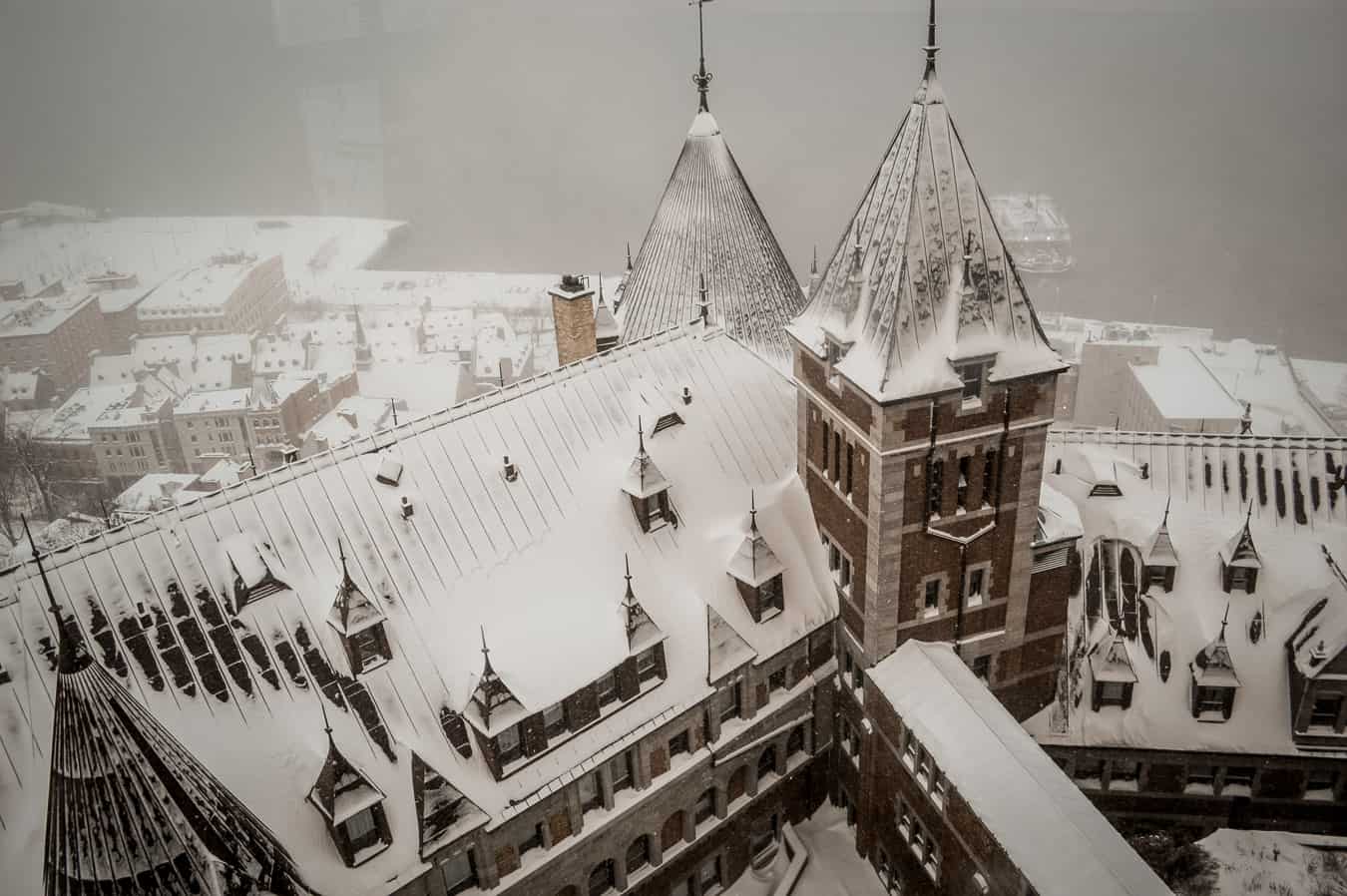 However you choose to spend your time in romantic Quebec City, we're sure you'll fall head over heels in love!
---
You might also like:
---
Our stay in Quebec City was in partnership with Quebec Tourism. Our accommodations and select activities were provided courtesy of Quebec Tourism & partners. As always, all opinions are our own and reflect our true experience.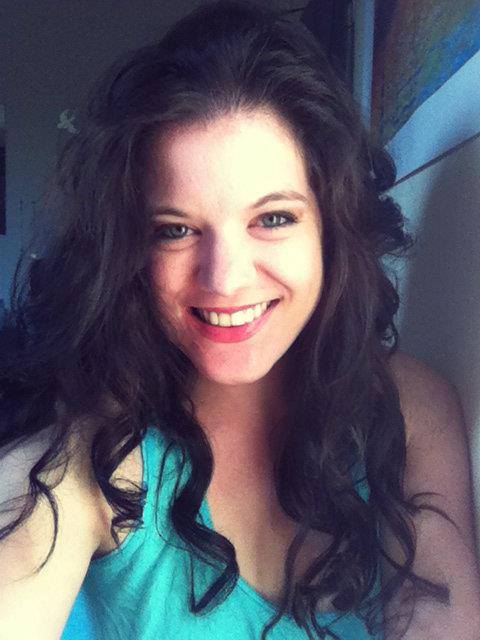 Amy Hartle is the author of Do You Love Me? How To Stop Seeking Reassurance in Relationships, a book on reassurance seeking and relationship anxiety. Both her book and this blog are born of personal experience; Amy shares expert relationship advice from the lessons learned during her own 10+ years with her husband, as well as couples travel tips and romantic getaway recommendations, all gleaned while traveling the world together.