This post may contain affiliate links. Read our disclosure page for full details.
This guest article on romantic things to do in Montreal was written by Tegan George & Alex McKenzie, Why Not Walk Travel Guides.
Montréal is a total gem of a city, located on the Île de Montréal (Montréal Island) on the beautiful Saint Lawrence River. While technically the most populous city in the province of Québec, Canada, its numerous neighborhoods give the city a cozy and intimate feel, perfect for couples seeking a romantic getaway. Additionally, while French is the official language of the city, Montréal is quite multicultural, and it is very easy to get by in English while you're there. However, if you're seeking to practice a bit of French, there's no better place!
Montréal first rose to prominence as a fur-trading hub in the mid-1700s, but its prime location on the Saint Lawrence River led to its continued success as a cultural, shipping, and financial mecca. Today, it is an inviting and wonderful place to visit for a long weekend or longer.
It's a reasonable drive from New England or New York, and has a large international airport, Montréal-Pierre Elliott Trudeau International Airport (YUL) if you're traveling from a bit further afield. One of the best things about the city is its marvelous historical architecture, lovingly preserved and dating back to the 16th century, and there is no shortage of places for romantic strolls, as well as museums, bookstores, and symphony halls to visit. Montréal is absolutely teeming with culture, and you are sure to enjoy everything it has to offer.
If you're able to extend your time in Canada, Toronto and Canada's capital, Ottawa, aren't too far away and are also well-worth a visit.
Ready to explore Montréal? Read on for our top recommendations for things to see, meals and snacks to sample, and the best places to stay while you're here. Allons-y!
See Montreal from above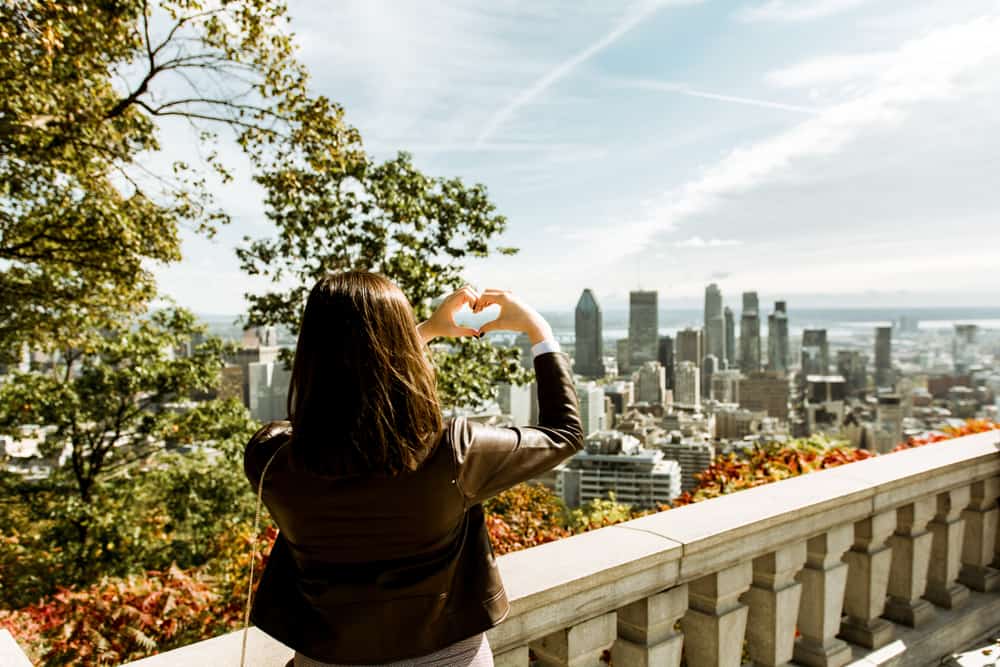 For the sportier romantics out there, consider a meandering hike up Mt. Royal, the three-peaked hill for which the city is named. Offering sweeping panoramic views of the city at the top, snap a selfie and catch your breath while taking in the sights. The park itself boasts 692 acres perfect for picnicking, exploring nature trails, and relaxing. In the winter, enjoy ice skating, skiing, and sledding here, too!
Sip at a microbrewery
To unwind over a pint or two, check out local microbrewery Dieu du Ciel. While Montréal has a growing microbrewery scene, Dieu du Ciel is often the go-to, and for good reason. Inventive flavors, a fun tasting room, and a relaxed vibe make this a great brewery to visit together.
Wander through the Botanical Garden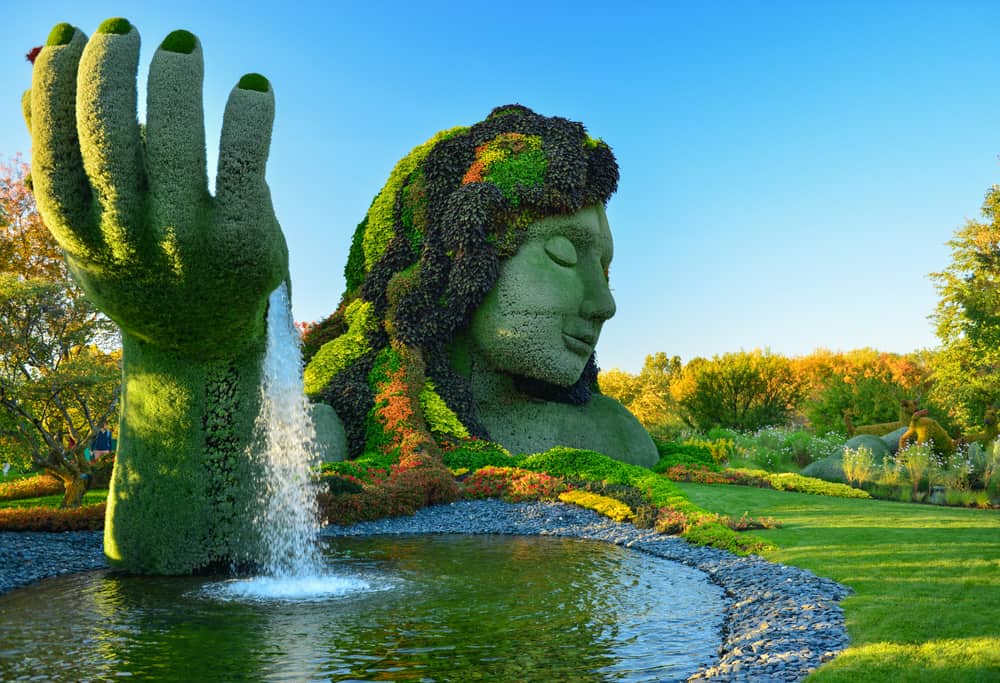 Discover amazing flora and fauna at the Montréal Botanical Garden, boasting 20,000 unique specimens spread over almost 200 acres. There are a wonderful variety of themed gardens, as well as Art Deco-style pavilions, nature trails, greenhouses, and a thriving Insectarium. The Botanical Garden is one of Montréal's best attractions– a particular favorite area is the Chinese and Japanese Gardens, complete with gorgeous pavilions.
Check out Montreal Olympic Park
For a bit of history located right next to the Botanical Garden, explore the vast grounds of the Montréal Olympic Park hand-in-hand, site of the 1976 Olympic Games and home to a huge Olympic stadium; the Montréal Biodome, which has recreated 4 totally different ecosystems inside; and the Montréal Tower, offering great views of the city.
Dine on poutine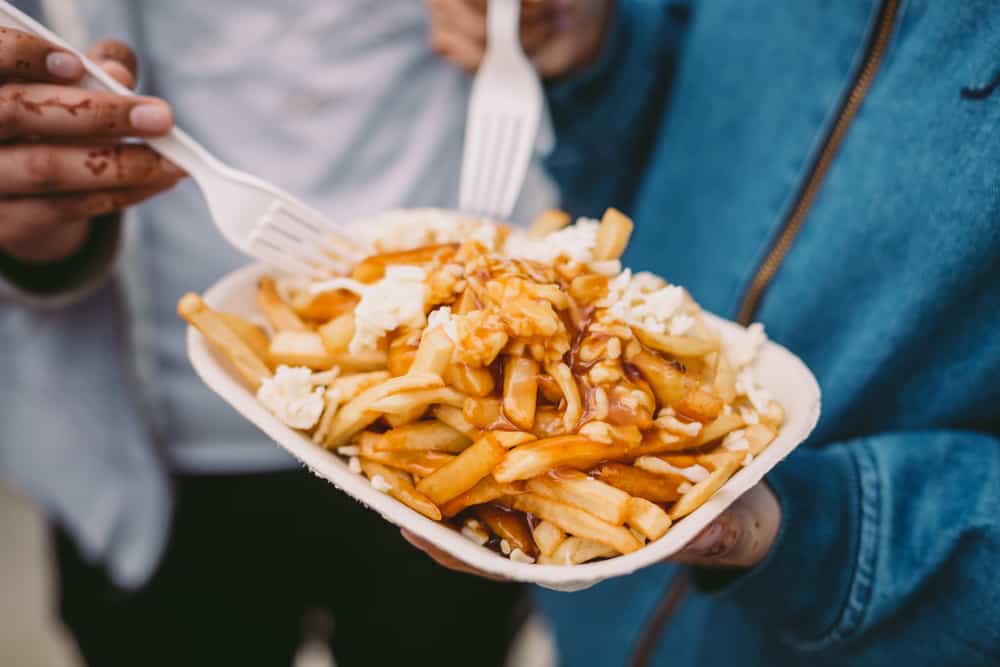 No visit to Montréal is complete without sampling the city's most infamous snack: poutine. The ultimate destination for authentic poutine is slightly divey La Banquise. Slide into a booth together and choose from an assortment of flavors and toppings. You can't go wrong with "La Classique," with the classic toppings of cheese curds and gravy, but there are dozens of options, including vegan!
If cheese curds don't exactly float your boat, Montréal is also well-known for bagels, especially at hometown favorite St. Viateur. Montréal bagels are smaller and sweeter than their New York counterparts, and definitely worth a try when you're in town.
Peruse the food markets
If food markets are more your scene, Montréal has several to choose from. Two great options are Atwater Market and Jean-Talon Market. Both are open-air markets filled with all of Montréal's gastronomic delights– from butcheries to baked goods, flowers, art, pop-up restaurants, and more. The charcuterie and cheese in particular are musts! You can also buy some samples to-go to enjoy on a picnic at Mt. Royal or another of Montréal's various parks and green spaces, like the Lachine Canal area near Atwater Market or Parc La Fontaine.
Explore Montreal's stunning churches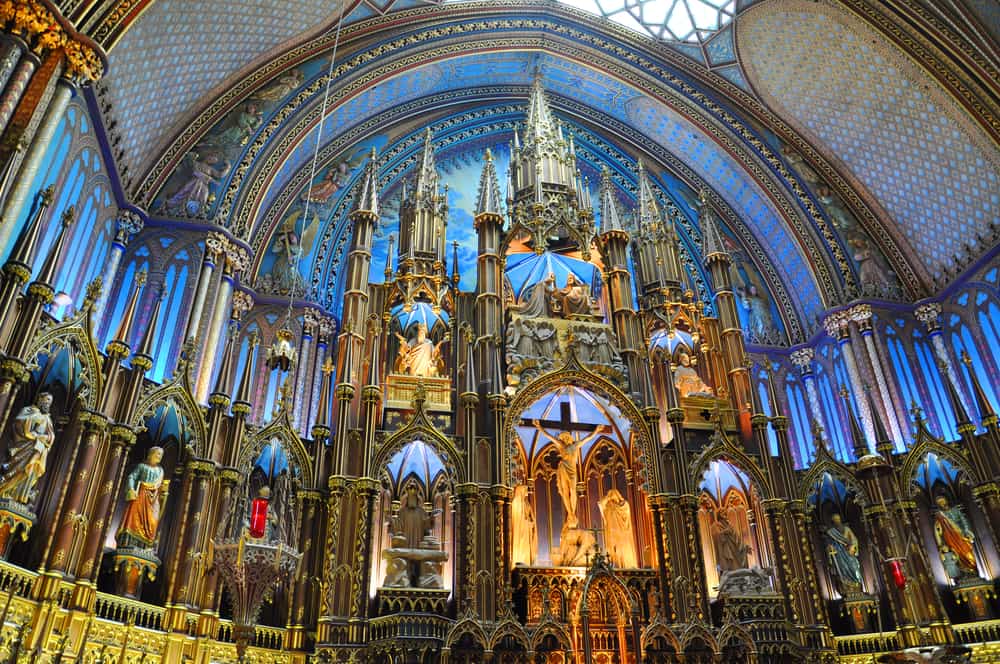 Get in touch with your more spiritual side with a visit to Notre-Dame Cathedral, Montréal's basilica and one of its most sacred spaces. Opened in 1829, the church is a Gothic Revival masterpiece, and well-worth the $5 CAD entrance fee. Be sure to check out the pipe organ and the gorgeous wooden carvings. If you'd like to explore more churches while you're here, check out the breathtaking St. Joseph's Oratory atop Mt. Royal; Mary Queen of the World Cathedral; or St. Patrick's Basilica, the oldest English-speaking Catholic church in the city.
Take in fine art
Spend an afternoon enjoying art together at the Montréal Museum of Fine Arts, the largest and oldest museum in Canada. Established in 1860, the museum has something for everyone, from Canadian art to ancient archaeology and more. If modern art is more your scene, check out Musée d'Art Contemporain, Canada's first contemporary art museum.
Don't miss Old Montreal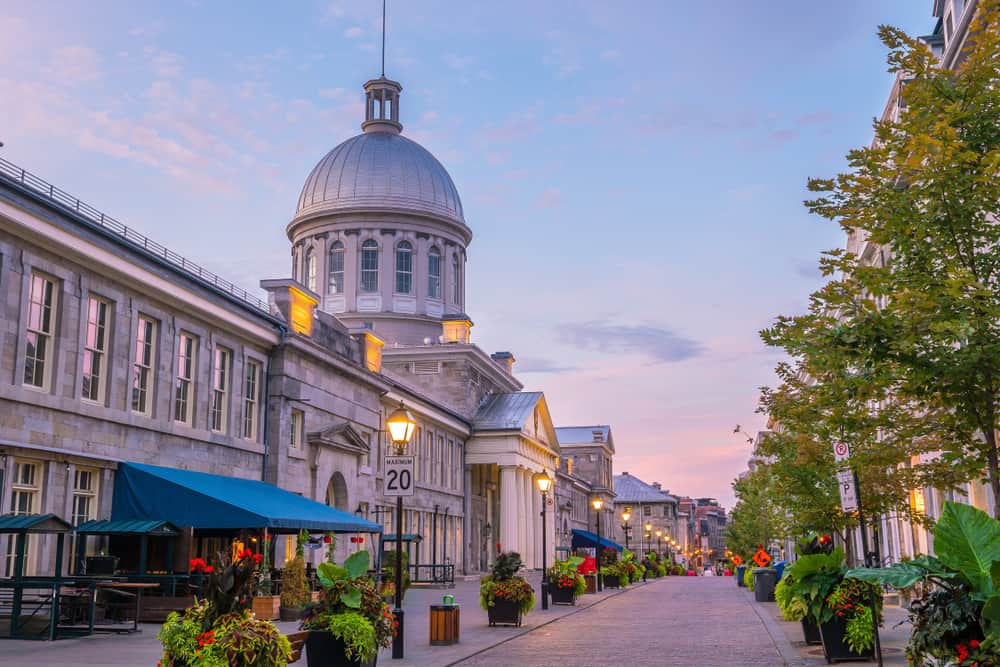 After visiting Notre-Dame, spend the evening around Vieux-Montréal, the old part of the city and arguably one of the most romantic places in the world. Definitely be sure to visit both during the day and at night while you're here. There are all sorts of fantastic restaurants, creperies, boutiques, and more in the area, as well as beautiful architecture, views of the port, and more. Finish up your evening with a ride on Montréal's Grand Roue, or Great Wheel, a Ferris Wheel built in honor of the city's 375th birthday. Some excellent restaurants in this area include: L'Orignal for traditional Canadian; Holder for nouveau-French; or Le Club Chasse et Pêche, one of the city's most-renowned restaurants.
Catch a hockey game
If your love language tends more towards a rowdy evening cheering on your favorite teams, consider taking in a Montréal Canadiens game, one of ice hockey's most storied teams and winner of the most Stanley Cup finals, with 24 victories! Known in French as the "Habitants," echo the rallying cry of "Go Habs Go!"
Sail away on a spa boat
If a spa day together to reconnect sounds more blissful than a hockey game, check out Bota Bota, a former ferryboat turned spa, boasting saunas, baths, gardens, and more, all aboard a boat! There are a variety of spa treatments to choose from, as well as an onboard restaurant called La Traversée.
Get underground
Explore the Underground City for 30 kilometers worth of shopping, all underground! Essentially a network of subterranean tunnels, there's something for everyone, and even has AC in the summer and heating in the winter. The Underground City is conveniently located near Metro stations, and offers a range of shopping and eating experiences.
Take advantage of the nightlife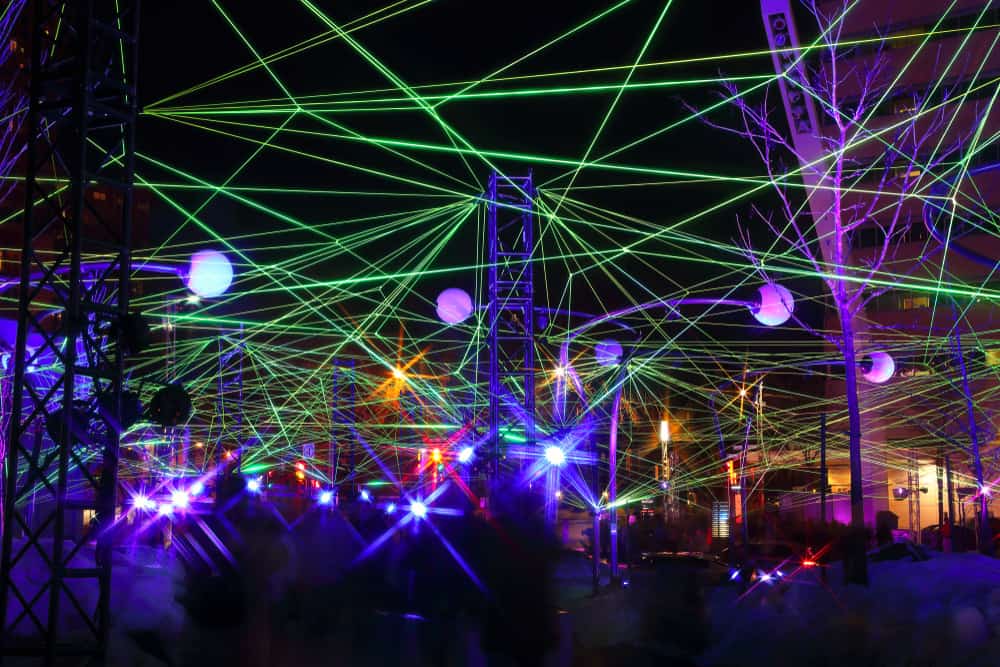 Montréal also boasts a fantastic nightlife scene, if that's your idea of a perfect date night. Dress to the nines and enjoy a night dancing at Soubois, bar-hopping on Crescent Street, or checking out the pub scene near McGill University, popular with students. Montréal is often said to be home to the best nightlife in North America, with all sorts of nightclubs and bars that open until the sun comes up the next morning.
See a film
If you're more in the mood for a subdued night out, check out Cinéma Moderne, a vintage independent movie theatre in the Mile End neighborhood, with a full-service cafe and bar to enjoy a bite to eat or a cocktail during your movie. Their selection changes every night, and they also have a wide range of events.
Go skiing or enjoy other winter activities
If you're visiting in the winter-time, don't miss the opportunity to spend a day hitting the ski slopes, and more importantly, snuggling up with your partner with a hot cocoa (or perhaps a hot toddy!) afterward. Montréal has amazing ski options, including Mt. Royal itself!
Romantic Places to Stay in Montreal:
If you're in Montréal seeking romance, you can't go wrong in Vieux-Montréal, the old part of the city.
Overlooking the Place D'Armes square and Basilica Notre-Dame, the Hotel Place d'Armes is a cobblestoned dream. You'll be sure to enjoy the sound of the cathedral's bells tolling in the square, and can even see horse-drawn carriages trotting by. The buildings housing the hotel were originally built in the 19th century, and their dreamy neoclassical architecture and rooftop terrace are particular favorites. Check out their packages, which include spa packages, room service, and more.
Arguably Montréal's most famous hotel, the Hotel Le St-James is luxury, indeed. Housed in a former bank building, each sumptuous suite is decorated differently, and the hotel is very popular with visiting celebrities. Intriguingly, their spa is situated in the former bank's vault, and they also have a decadent, Michelin-starred restaurant in-house. You'll love the opulent marble furnishings and their surprisingly large and cozy library.
While still considered a luxury boutique hotel, the Hotel Nelligan is a bit more budget-friendly. Named after Québec's Poet Laureate, Émile Nelligan, the lobby, hallways, and each suite are decorated with his original poetry. There is also a gorgeous roof deck that overlooks the port and Rue St-Paul below, perfect for an after-dinner cocktail. The furnishings here are a bit more contemporary, but still oh-so romantic.
—
Montréal is the perfect place for a romantic getaway, whether you have a long weekend or longer to spend here. We hope this guide sets the scene for a fabulous visit and that you're able to return to Montréal time and time again.
---
About the Authors: Tegan and Alex are travel, hiking, and biking enthusiasts currently based in Boston, USA. There is nothing they love more than exploring new places by walking, and they have visited over 30 countries together since they met in 2015. Their love for "walking the world" led them to found Why Not Walk, a travel guides site. Follow them on Instagram, Facebook, or Pinterest to start planning your next adventure.
---
You might also like:
---