This post may contain affiliate links. Read our disclosure page for full details.
Every few weeks, you'll see a brand new interview on the site introducing you to a new traveling couple. This series is so much fun for us because we get to delve into the adventures of other intrepid pairs just like us. Every story is different, as you'll see, and each duo approaches couples travel, romance, and exploration in their own unique way. This series is called Love on the Road. Today, let's chat with: Peter & Lindsay of Where is Your Toothbrush?
Hello! Please introduce yourselves!
Greetings! We are Peter Korchnak and Lindsay Sauve, a Slovak-American (Californian, to be accurate) couple who loves to travel. We co-author the food/drink travel blog Where Is Your Toothbrush?, which we started in 2013 before our first round-the-world trip. Our toothbrushes are currently in Portland, Oregon.
When did you first start traveling together?
We met in 2002 in Leiden, the Netherlands, where Peter was attending graduate school and Lindsay was a backpacker, visiting a childhood friend who also happened to be Peter's roommate. Our ground zero: Lindsay made a chicken sandwich and Peter fried up some frozen croquettes. In short, we met while traveling and eating outside our home countries. Our first date and trip together took place in Delft, the second in Amsterdam.
Our first international trip together (we don't count visiting Slovakia and the US on family trips) was to Croatia in 2008. The most epic trip was the 2013-2014 Where Is Your Toothbrush? World Tour, our yearlong RTW trip, which we documented on our eponymous blog.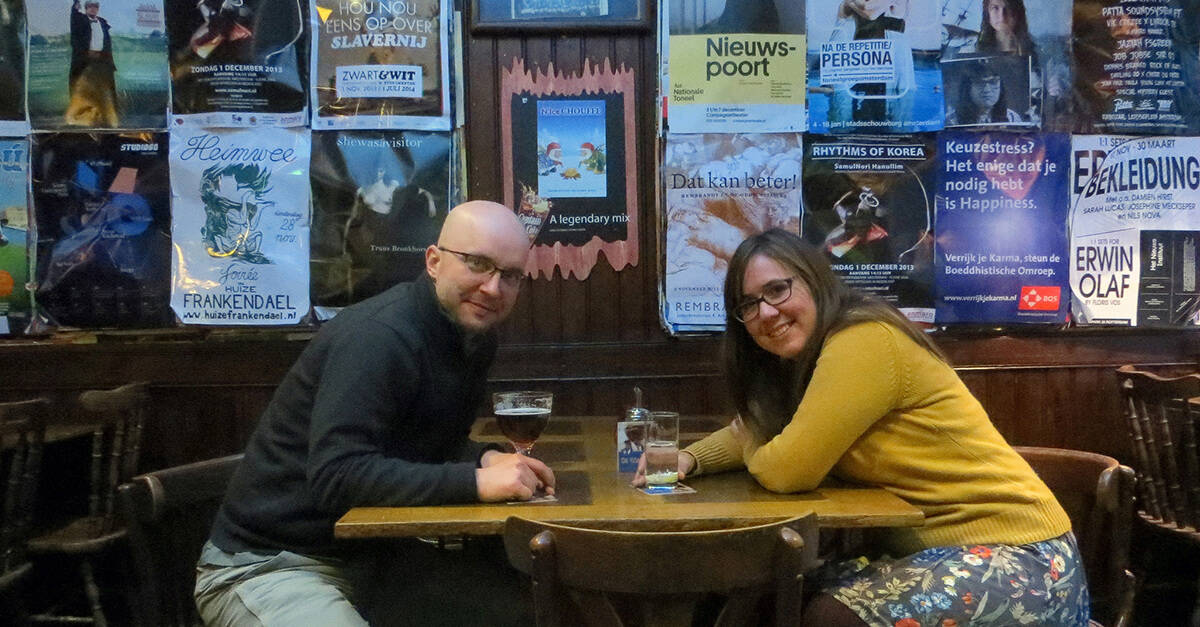 How would you describe your travel style?
Relaxed and productive.
We prefer traveling slowly, spending more time in one place to get to know it better. We avoid rushing from place to place, checking things off a bucket list.
The productive part has to do with how we spend the time wherever we are. For us a deep way to learn about a place is through food, so wherever we go, we seek the local culinary specialties. For example, we fell in love with a soup in Malaysia (laksa in Penang), wrote poems to cheese in Greece (honey-fried manouri in Santorini), and reveled in red meat & wine in Argentina (steak and malbec in Bariloche and Mendoza parillas). And we love sampling local (craft) beer wherever we go.
Since we have a travel website, being productive also means diligence about documenting our experience for the benefit of those who come after us.
What has been the most rewarding part of traveling as a couple?
Hands down, the most rewarding part of traveling as a couple has been seeing the Earth's beauty and savoring her inhabitants' food. Everywhere we go and everything we eat, we do together, so that all those experiences are forever linked to the other person and part of who we are together.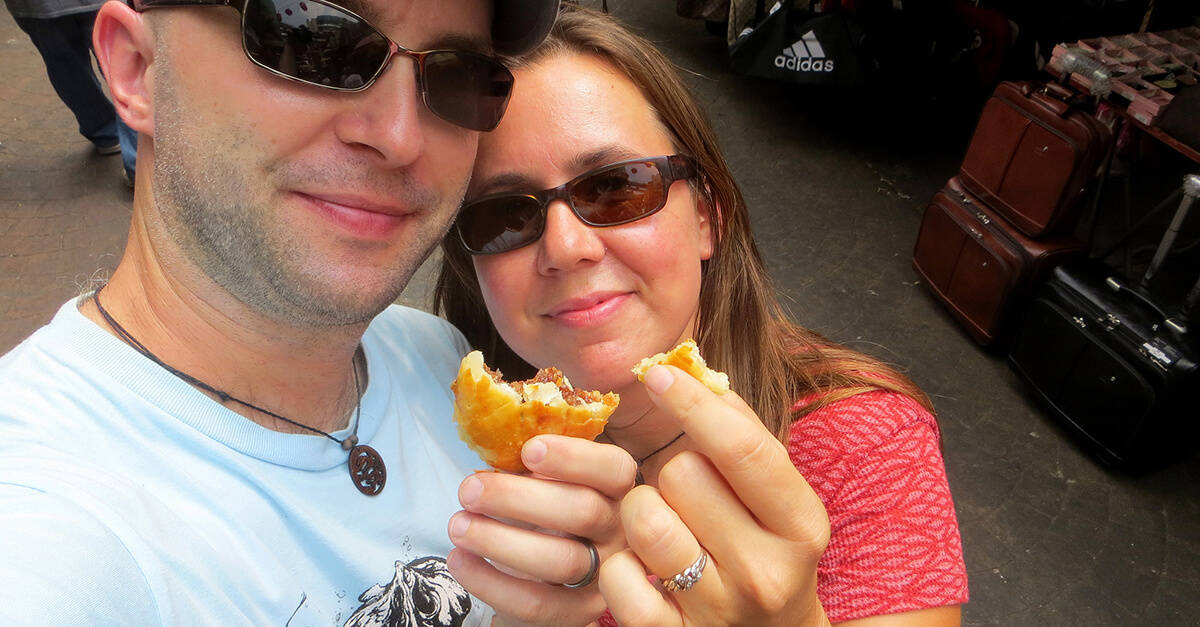 What has been the most challenging part of traveling as a couple?
Being together nearly all the time. There were some bumps along the way, but once we figured it out (see next question), it became less of a challenge and more of a benefit.
Have you ever had a fight on the road/while traveling, and how did you handle it?
We aren't big fighters, mostly because we only have each other while traveling so it makes little sense to get or stay mad at the one person who is your support. We tend to resolve disagreements quickly, sometimes in recognition of that fact, other times with the help of others.
On a tour to Valle de la Luna in San Pedro de Atacama, we were mad at each other for one reason or another. At the first stop, a lookout over the valley, the tour guide took photos of everyone standing on a rock that jutted out from the cliff, with hundreds of feet of dropoff just a step away. We reluctantly stood next to each other (no doubt with various thoughts going through our heads), and when the guide said, "Smile" we did — and our quarrel was over.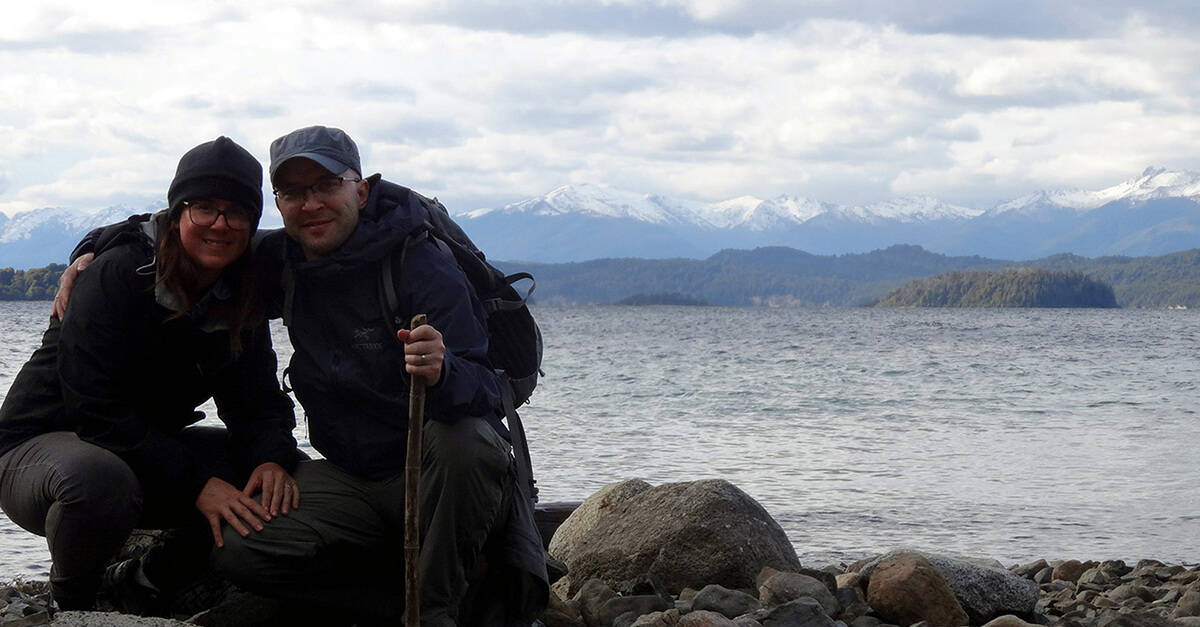 Can you share your funniest, most humorous experience traveling together?
We are total dorks, and we laugh at the silliest things that are probably only funny to us.
While we were trekking Colca Canyon, we stepped outside a lodge at night to look at the stars. Some sheep were still out and in a photo one of them looked like a monster. That ovine is forever called Night Sheep, and we laugh whenever either of us mentions it.
In Ao Nang, a pickup truck would drive by our bungalow hostel, blaring "Muay Thai" from large loudspeakers well into the night. It was annoying, but since then we don't enter a Thai restaurant without saying "Muay Thai" first.
Shopping for groceries in Istanbul, we showed the okay sign (thumb and index finger forming an O) to an elderly worker who asked us something in Turkish. We were quite puzzled when he seemed insulted. Little did we know the gesture is a rude thing to show to a man there. Since then, the gesture brings an embarrassed smile to our face.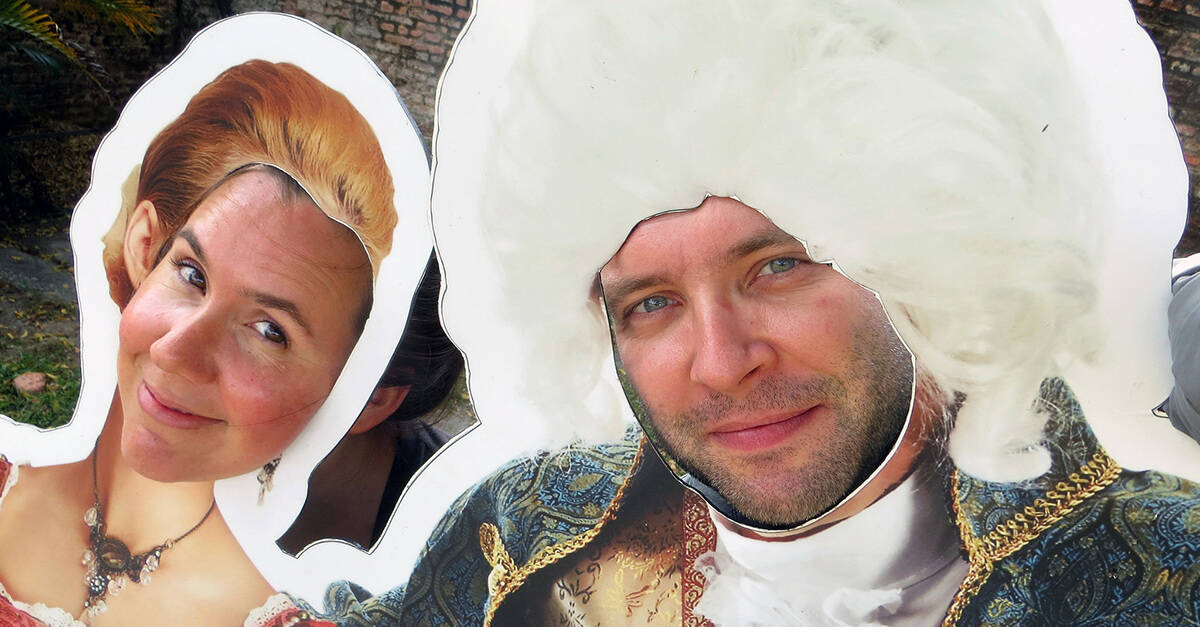 Where have you been that you would recommend as the top destination for couples travel?
We can't pick one. We loved Greece, Thailand, and Malaysia. Incidentally, we happened to love the food the most in those three countries.
How long have you two been together?
We have been together since May 4, 2002. May the Fourth be with us!
Do you think your relationship would be different if you didn't travel?
We would not have a relationship if we didn't travel. Having met traveling, travel is in our relationship's DNA. On the road, we're the most content and the closest to our potential as individuals and as a couple.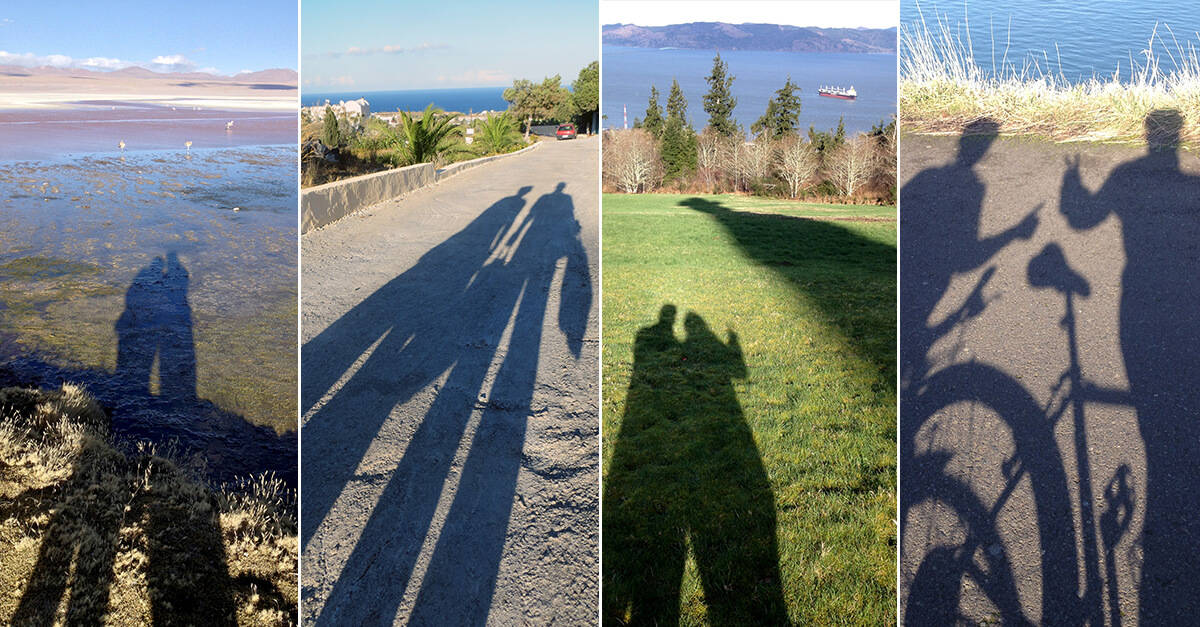 How do you define love?
Why reinvent the wheel Shakespeare perfected?
Let me not to the marriage of true minds
Admit impediments. Love is not love
Which alters when it alteration finds,
Or bends with the remover to remove:
O, no! it is an ever-fixed mark,
That looks on tempests and is never shaken;
It is the star to every wandering bark,
Whose worth's unknown, although his height be taken.
Love's not Time's fool, though rosy lips and cheeks
Within his bending sickle's compass come;
Love alters not with his brief hours and weeks,
But bears it out even to the edge of doom.
If this be error, and upon me prov'd,
I never writ, nor no man ever lov'd.
What do you think is the glue that keeps relationships together?
In our case, it is travel. It brings the best out of each of us, so that together we can accomplish anything we set our minds to. If we were to generalize, it would be to say the glue that keeps relationships together is that which makes each person the best they can be in the other's company.
What advice do you have for couples considering traveling together?
Assuming your life partner is your ideal travel partner, take breaks from each other. Traveling together means being together a lot. It is important to have some alone time, so you can stay a couple to "the edge of doom."
We do what we call Angel Days. In Wim Wenders's movie "Der Himmel ueber Berlin" / "Wings of Desire", two angels, Damiel and Cassiel, roam around the city observing and listening to the residents' thoughts. At the end of each day, they reconvene and share their findings. This is what we do, too. Every now and then we go out exploring on our own, typically in pursuit of our individual interests, and then share our experiences over dinner.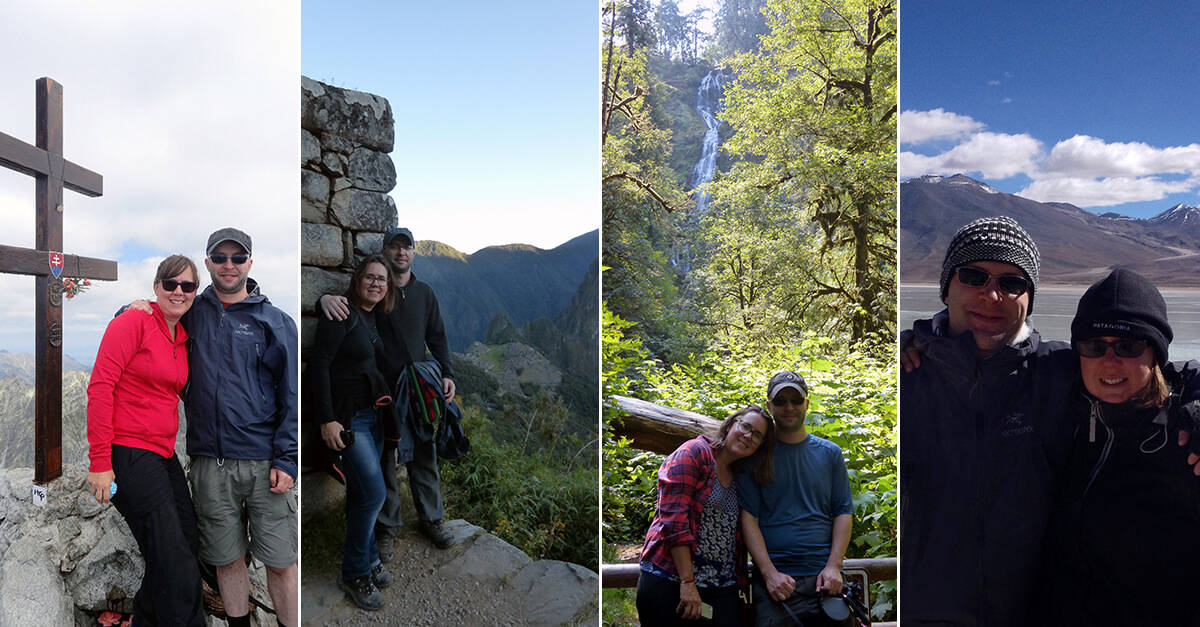 ---
Be sure to keep up with Peter & Lindsay on social media:
---
Check out some of our other couple interviews!
Love on the Road: Cally & John
Love on the Road: Ridima & Parit
Love on the Road: Gemma & Craig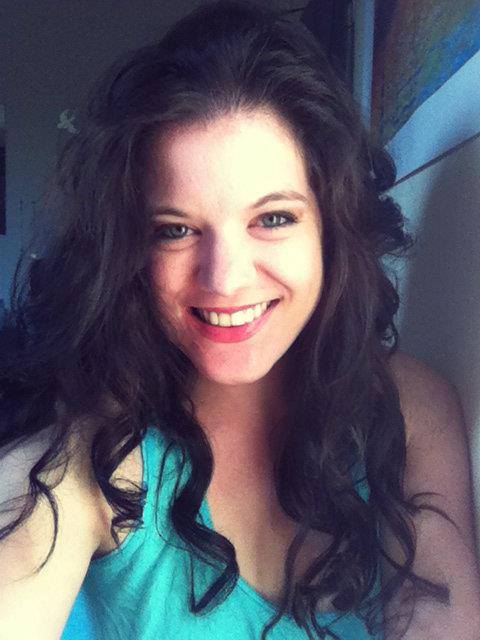 Amy Hartle is the author of Do You Love Me? How To Stop Seeking Reassurance in Relationships, a book on reassurance seeking and relationship anxiety. Both her book and this blog are born of personal experience; Amy shares expert relationship advice from the lessons learned during her own 10+ years with her husband, as well as couples travel tips and romantic getaway recommendations, all gleaned while traveling the world together.