This post may contain affiliate links. Read our disclosure page for full details.
While those with wanderlust in their hearts are researching their next destination or affordable flights, many are also pondering an important question: how can I even afford to travel the world? While they might hold deep within a burning desire for adventures, they may fear that the cost of travel is too prohibitive. Many people believe that travel has to be expensive, and haven't explored the many ways to see the world on a budget. There are many ways to travel the globe, and when it comes to affordable travel there are indeed countless options for traveling long-term, turning travel into a lifestyle, and even for frequent travel alongside a full time job overseas.
In a recent blog post, we shared our own story of how we afford to travel the world together. Now, we are bringing you the tales of other traveling couples, and sharing how each funds their amazing journeys. With a huge array of methods, approaches, and clever ideas, each of these couples has made travel a priority in their life, and they show that it is entirely possible to travel longer and more (even with a full time job). Read on to be inspired on how these couples afford world travel, and take notes—you could be next!
Saving, income from novels, keeping costs low
Hi there! We're Sam and Toccara from ForgetSomeday.com. What started as a website to keep family and friends informed of our occasion travels has turned into a full-blown resource for travelers that we add to every week! Prior to taking off full-time to see the world, I (Toccara) worked as a high school counselor in California. Long story short… though I loved my job working with students, multiple pay cuts and an increase in my case load (twice) forced me to start looking at other options. More work and less pay wasn't exactly enticing me to stay.
Because we traveled so much during school holidays, and simply couldn't get enough of life on the road, we started considering ways to travel full-time. We cut back on unnecessary expenses (cable TV, eating out, gym memberships, expensive hair appointments, etc.) and started saving! With zero debt to pay off, we put everything we could into savings and had quite the nest egg to easily fund at least the first year of our travels. In June of 2015, I left my job as a high school counselor and Sam and I set off to see the world! Sam works as a fiction novelist and can work from anywhere so long as he has his laptop and some inspiration! Basically, he just took his already-established job on the road.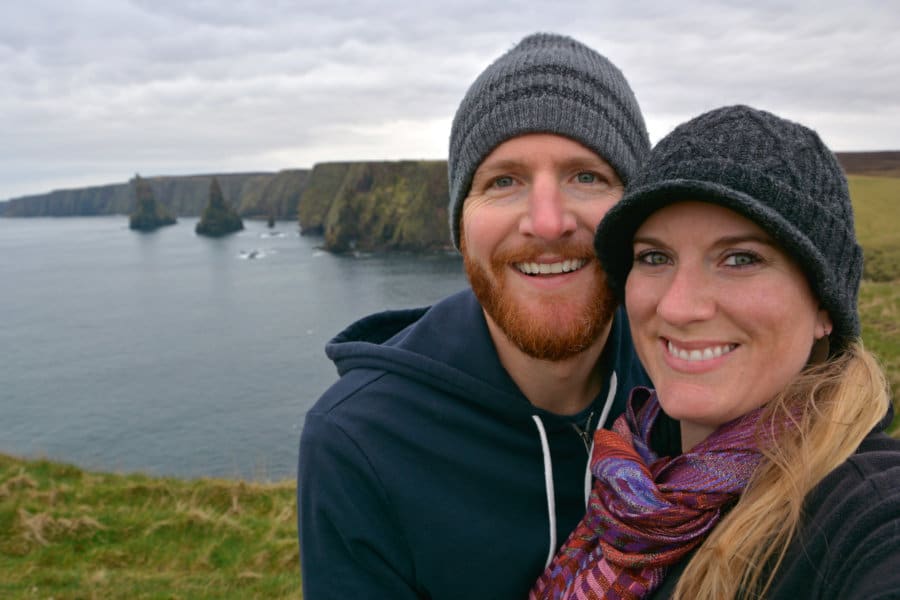 The truth of the matter is, though I've been focusing more on our blog since we left the U.S. 17 months ago, it hasn't been a huge source of income for us, because it hasn't had to be. Because of the work we do on our blog to help promote destinations around the globe, we partner with companies to promote their accommodation, town, cruise line, etc. in exchange for promotion on our blog. This helps keep the cost of travel down somewhat, though we still spend much of our own money while traveling. We've been living off of the money we saved, as well as sales from Sam's books. He's a speculative fiction author (sci-fi, supernatural, action, horror) and while we can't live off of his books sales alone, it's enough to supplement our savings and keep us on the road… for at least another year.
We're currently looking at ways to increase his books sales (marketing, producing new content, etc.) and I'm researching ways to make money from our blog, along with other revenue streams (freelance writing, niche sites, etc.). We keep the cost of travel down through working with companies and destinations as we travel, housesitting (we're currently staying rent-free in the UK for 3 months), and choosing budget-friendly travel options and accommodations in fairly inexpensive destinations. Eating out every day isn't really an option for us and we hardly ever spend money on souvenirs (frankly because we don't have the space). I keep a spreadsheet of every penny we spend, so we can keep track of our expenses and cut back even more when necessary. It's worked so far and we're loving our location independent lifestyle!
–Sam & Toccara of Forget Someday
Traveling frequently with full-time jobs
Jacob (my other half!) and I both work full time in our careers. We started dating while traveling together as virtual strangers before making the decision to move abroad as expats working in our careers after both getting our graduate degrees (Ph.D / Masters). Although having a full time job doesn't seem COOL, we are all about traveling as much as possible (without a trust fund!): 13 countries this year alone.
For us, saving for travel is more about making choices to minimize our impact on the planet and creating a life that is satisfying by saving at home. We're all about cooking (and being inventive) at home, going over friend's houses for dinner/drinks/games, being conscious about our lifestyle by minimizing clothes, buying used whenever possible [flea markets are fun!], and having a cozy night in with cocktails/Gluhwein instead of going to a bar.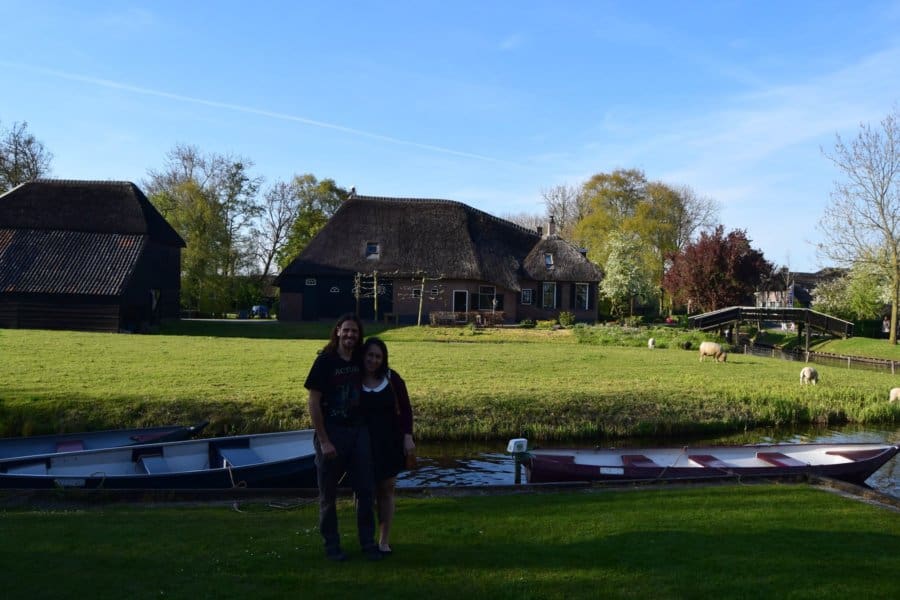 We're also huge travel hackers. We're all about taking advantage of inexpensive airfare around the world by following Vacation Pirates/Secret Flying, getting discount codes for Airbnbs, and being aware of sales. We also try to take advantage of making vacations around work conferences somewhere interesting. (Hello Japan and Israel/Jordan!)
Although I have a travel blog, our funding comes the boring way: 9-5 jobs. The key is to save your money and be aware of your spending on a daily basis. The first time I started tracking my spending, I was shocked how much I would spend at the drugstore (!) and on clothes. I've tried to cut these categories out entirely besides once every few months and instead of sitting at home wishing that I could travel more, I've been able to make it a reality.
Although many prominent bloggers may say quit your job, I find the stability and life that we've carved ourselves has been a reward in itself. The hardest thing about working full time is finding the time off with limited days, but with a bit of creativity, you can travel plenty.
-Karen & Jacob (Wanderlustingk)
Digital nomads with diverse income sources
We are Max and Oksana, the duo behind the blog Drink Tea & Travel. We are still fairly new to the full-time travel lifestyle. It's been over a year since we quit our jobs to travel the world, but it feels like it was just yesterday that we had $100,000 in debt , $0 in savings, and nothing more than a dream to travel.
It took us 2.5 years of hard work and many sacrifices to pay off debt, build up some savings, make some investments, and set up a few businesses that would keep funds coming in while we traveled. Today, we live a location independent lifestyle, traveling to 8-10 new countries a year and working on the road everywhere we go.
Today, we support our lifestyle with a number of income sources.
First is our travel blog, Drink Tea & Travel which brings in about 20% of our income that comes from affiliate links, sponsored posts, branded campaigns, press trips, and more.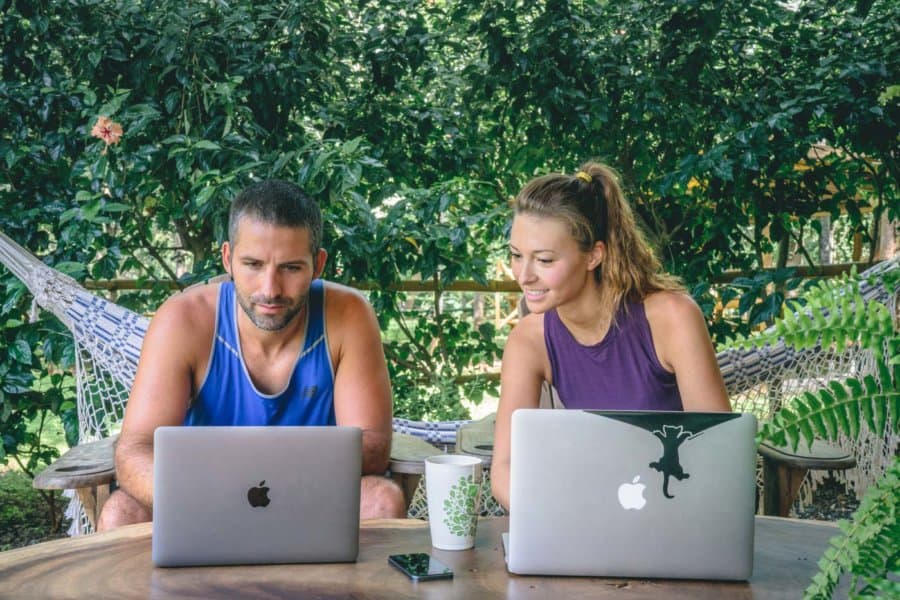 We also run a small digital marketing agency called O&M St John Creative Solutions that we started mid last year just as we were transitioning from our 9-5 lives to the life of digital nomads. We offer small business and start-ups an opportunity to tap into our expertise to help develop, build, and executive digital marketing strategies for their businesses.
We also have a stake in a small host travel agency in Canada called Sunrise Travel, which brings in another 20% of our income. We run the agency's website, provide systems support, and oversee a team of customer service reps that assist agents in dealing with vendors and technical issues. And last but not least, we supplement our work with income from investment properties and Airbnb management in US and in Costa Rica.
If it sounds like we are doing a lot, it's because we are. Staying afloat while traveling can be a challenging feat, but we are happy to report that just 16 months after we quit our 9-5 jobs, we now make enough to travel and put away a bit into our savings. We've got more exciting projects on the way in 2017 that we can't wait to share with our readers.
-Oksana & Max of Drink Tea & Travel
54 countries and counting – from savings, social media management, and more
Alex and I have been travelling for the last 11 years. We are a married couple who share a love of travel. In November 2016, we set off on our 4th extended trip (over 6 months), to date we've visited 54 countries and hoping to see another 20 on this one. This is our most ambitious trip yet as it takes in more challenging places like Ethiopia and Mozambique.
We have paid for these four adventures in a range of different ways. The first trip was back in the housing boom in the UK, and we bought a flat, did it up and sold it on. This covered the cost of our first 9-month trip.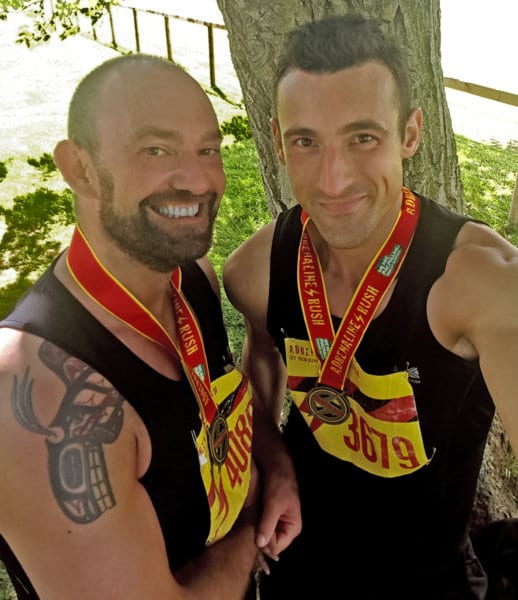 The second trip, 2.5 years later we saved like crazy. We didn't go out, said no to invites from friends and stowed away every penny. The aim for this trip was to train as diving instructors, this way we would have a means of extending our adventure.
We did this in Mexico after travelling through Central America for a few months first. We know that many people love teaching English as a means of paying for extended travel, but we only managed two weeks doing this in Thailand during our first trip and decided this wasn't for us.
Once qualified as diving instructors, we had a means of travelling and working, and we ran our own dive shop on a tiny Indonesian Island for nearly two years.
At the end of that adventure, we came home, saved again and headed off 2 years later for South America, and at the end of this trip, again taught diving.
During these three trips, we had slowly been working on our blog and general travel writing. I had been building my social media and web design skill, and by the end of the third trip, we had a pretty decent 'brand' developing.
Over the years, back in the UK, Alex trained and honed his abilities as a pastry chef, this meant that whenever we did return to the UK, he was able to get a job super quickly, which did help setting back up when we got back to England. When we returned in 2015, we agreed that rather than me just going back into a full-time job, I would find something 3 days a week and keep working on the travel blog/social media. We agreed that once we had an income of over £1000 a month, we would set off travelling again. Six months before we were due to set off I took a 4 day a week job and kept working on the increasing social media contract (managing people's social media for them) – this meant that I worked 6 and 7 day weeks, but it was a case of needs must.
We put away everything from the 4 days a week job, and this meant that we now have some savings, around £6k, and income from the blog and managing social media. This will be the first time we've gone away and had to carry on working, which is an exciting time for us as we are now officially digital nomads. We're not entirely sure how being a digital nomad is going to work in some of the obscure places we're visiting this time but if you follow our blog you can find out for yourselves.
-Alex and Dante (DanteHarker.com)
Building an online guide and blog in a great travel niche
Over 350 days on the road, 200+ accommodation providers hosting us, and 300+ activity providers taking us for a spin. How did we get to travel around New Zealand for free, you ask?
When we arrived in New Zealand, it was love at first sight. The country is a backpacker's paradise, with adventures around every corner and breathtaking scenery every half-hour on the road. We had to make the most of it! Living in only one country does not mean we stop travelling. We've spent the better part of the last 3 years building BackpackerGuide.NZ that quickly became New Zealand's #1 online guide for backpackers with over 600 in-depth articles and the biggest job board of its kind.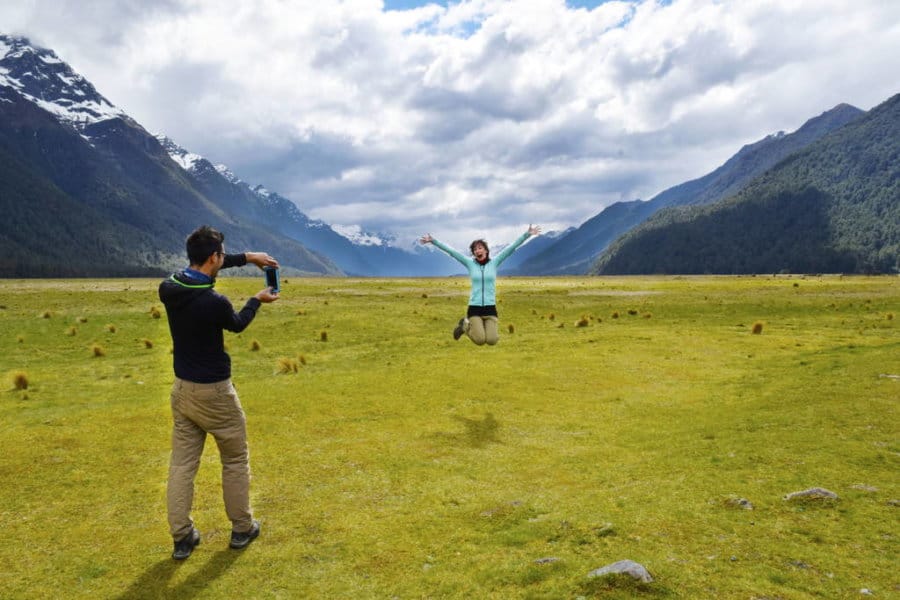 The more our platform grew, the more contacts we made in the industry and the more our reputation improved. We were known for our hard work and steady stream of quality content. We became a reference in the country and created a whole new standard of what an online guide could be.
A couple of years in, it was clear that we were a force to be reckoned with. After reaching over a million unique visitors, we started toying with the idea of starting a blog on the site to feature our everyday adventures and give a more personal touch to our guide. So we made a plan – a very tight one with a daily schedule, a day-to-day itinerary locked in 6 months in advance, and media kits tailored for each type of activity or accommodation provider. They would get a ton of perks for hosting us on top of being featured on the #1 platform of its kind. Who could refuse that?!
Plus, most of them already knew us from our previous work on the guide so as soon as we got the word out, it spread all across the tourism industry in New Zealand and it took off. New Zealand's Biggest Gap Year has now made history as the more exhaustive blog of New Zealand with daily blog posts of our activities. 365 days: 365 activities. It's 5am to 10pm every single day for us on the road and we love every second of it.
So how did we get to travel around New Zealand for free you ask? Hard work, tight planning and unconditional dedication to a country we love so much.
-Robin & Laura of New Zealand's Biggest Gap Year
A couple of house sitting, slow traveling creative freelancers
Originally from New York, we came from humble beginnings as travelers — our initial savings could be described as meager! We didn't work high paying corporate jobs nor did we have property that we could sell, but we were determined to up and leave our situation and travel indefinitely. We had to get creative right from the beginning, so we spent significant time and effort exploring our options.
As animal lovers, we had already been pet sitting for family and friends here and there. Upon realizing that we could travel via housesitting, we signed up for a housesitting website and began contacting owners. Ultimately, we secured our initial three month housesit in Salt Lake City and discovered the tremendous benefits and fun of housesitting. Traveling this way gives us a comfortable (and free!) place to stay, cute pets to cuddle with, and time to devote to our creative pursuits, like blogging, writing, photography, and filmmaking.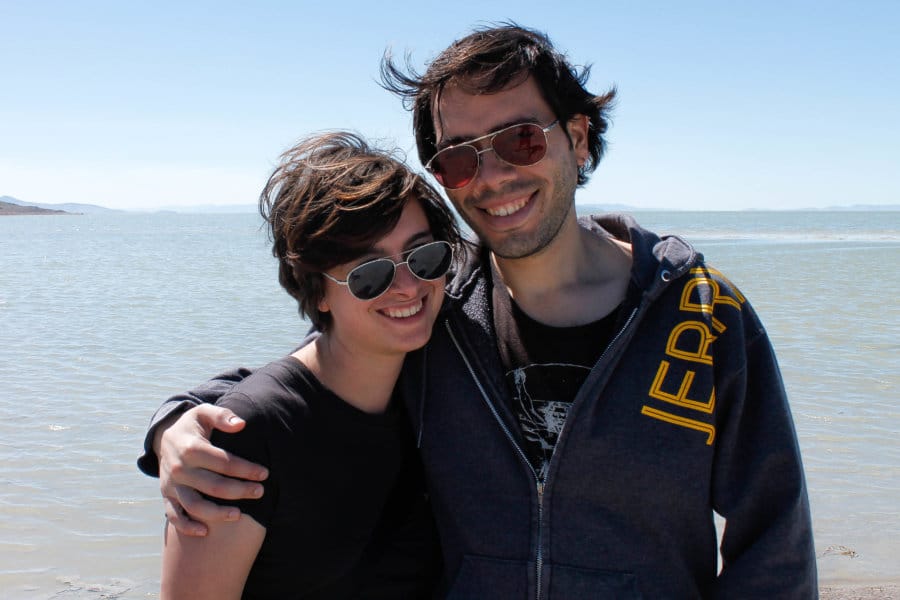 Since our blog doesn't support us financially (yet), Sam makes money as a freelance editor and Veren finds short or long-term gigs teaching. Our approach to sustainable travel means staying longer in each place and being open to going anywhere an opportunity presents itself. Not only does this mentality give us a better and richer perspective on actually living in each place, but it cuts down on our costs as well. We pay for transportation between cities less frequently and can stock up to prepare meals from home more often. Eating out is still an important part of our travels as we compile our vegan city guides to help others find delicious plant-based food while traveling.
Focusing on our individual strengths has been key to traveling together for so long. Veren loves to cook tasty, affordable meals, while Sam hashes out all the nitty gritty travel details. When we're out exploring, Sam is the one with the list of all the historical and cultural places to visit, and Veren makes sure that we're prepared and sit down every once in a while to truly soak in our surroundings. While we always leave room for flexibility, we've found it helps keep to a rough schedule so we can balance staying active with time spent behind the computer working on Alternative Travelers!
-Sam & Veren of Alternative Travelers
How they fund their travels: saving, brand collabs, & social Media
Before we turned into full-time travelers, our travels were afforded through our full-time jobs as a Writer/Producer (Collette) and a Chemical Engineer (Scott). Once we quit our jobs as desk jockeys and went full-time wanderlust quenchers in June 2015, we had to be a little more crafty. We are big believers in the small things adding up. Whenever we save, we think of the destination the money saving is going to get us to. If we save $300/month by cooking at home and not eating out, we're not losing out on good times, we're gaining a few weeks in Thailand. If I don't go out and buy those new shoes, that means we can eat at the sushi market in Japan. Thinking about the pay off makes the tedious save up period much easier to digest.
Prior to full-time travel, we were already saving for a second home. Instead, we used that money for the base start to traveling. We initially left our jobs for a 7-month travel trip, looking to return to "normality" after our jaunt. We started our blog when we left because we wanted to keep our family and friends updated, not because we wanted to start a business. However, we quickly realized that our blog was taking off and that we wanted to stay out longer than 7 months. We started strategizing about the business of our blog ~7-8 months into our trip and then made a business plan.
Now that we've turned traveling into our full-time job as travel influencers and social media experts, we make money in a variety of ways. First and foremost, we make money through travel content creation where we film, photograph, and write for various travel brands, airlines, and tourism boards around the world. We also write and photograph freelance for various media outlets. Lastly, as social media experts, we consult, strategize and manage other peoples social media accounts.
–Collette & Scott of Roamaroo
Travel like millionaires for less
We are Bertaut and Alexis of World Travel Adventurers and we love to experience luxury travel for less. We make travel a priority for our family because we think it's so important for our children to experience the world at a young age and because our kid-free vacations keep our marriage strong, which is needed with two energetic preschoolers. We spend money responsibly when we aren't traveling, which leaves more in our budget for bucket list vacations. We also use credit cards to pay for most purchases (and then make sure to always pay the balance in full on time) to accrue tons of points for traveling. Bertaut travels for work often so he racks up airline miles and more credit card points and then gets to reap the benefits for personal travel. Once in awhile we even bring the whole family along on his work trips (or just wifey) since many of the expenses are already covered. We fly on airline miles when flying internationally so only have to pay for taxes. When flying domestically and to some international destinations, we always fly Southwest Airlines. We have both earned the Companion Pass which allows us to bring along a companion for free. This means that if we travel as a couple, Bertaut makes me his companion. If we travel with our two children, we make them our companions.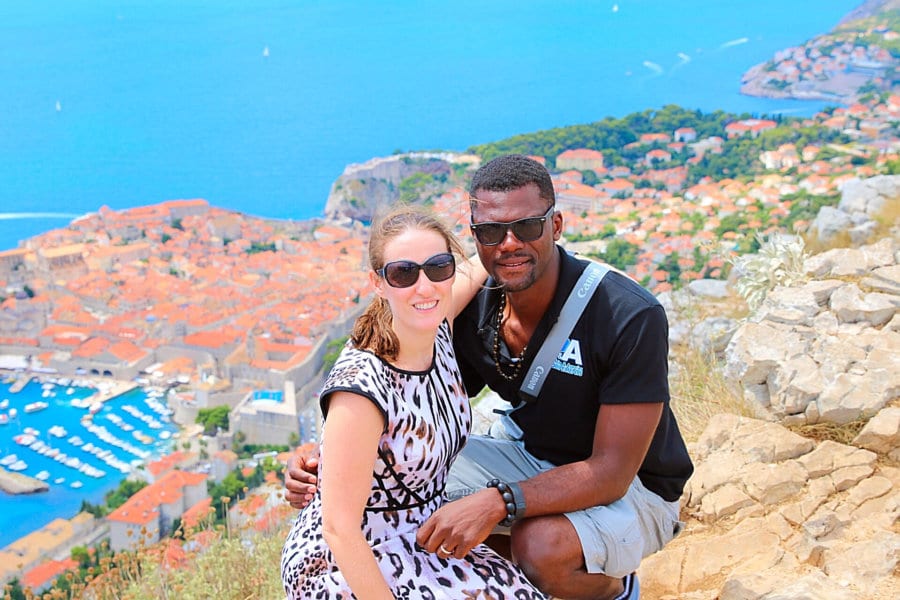 On top of that, we have so many southwest points that we only have to pay taxes for our flights which makes for very affordable family vacations. We also have thousands of hotel points and elite status which gets us free or deeply discounted hotel stays, free upgrades, free breakfast, and welcome gifts at some of the most luxurious hotels around the world. Since traveling is our passion, we find a way to do it as often as we can even with young children and full-time employment. We squeeze in vacations at every chance we get- weekends, holidays, school breaks, or just whenever we get that itch. Who said travel has to stop when you have little kids? We hope we have inspired you to travel more because it is possible, and it doesn't have to cost a fortune if you know how to do it right.
-Bertaut & Alexis of World Travel Adventurers
Saving money before and while on the road
Craig and I (Gemma) credit our ability to afford to travel to our outlook on life. Neither of us are hot for labels or the latest gadgets. I buy from charity shops, for financial and environmental issues. I also love vintage clothes but not vintage prices! Craig and I saved £20K to travel around 16 countries in 17 months; selling our crap at car boot sales, avoiding the high street, cutting down on partying, and complaining were our best strategies. Companies like to make a profit and unless you voice your opinion, it's unlikely you are getting the best deal.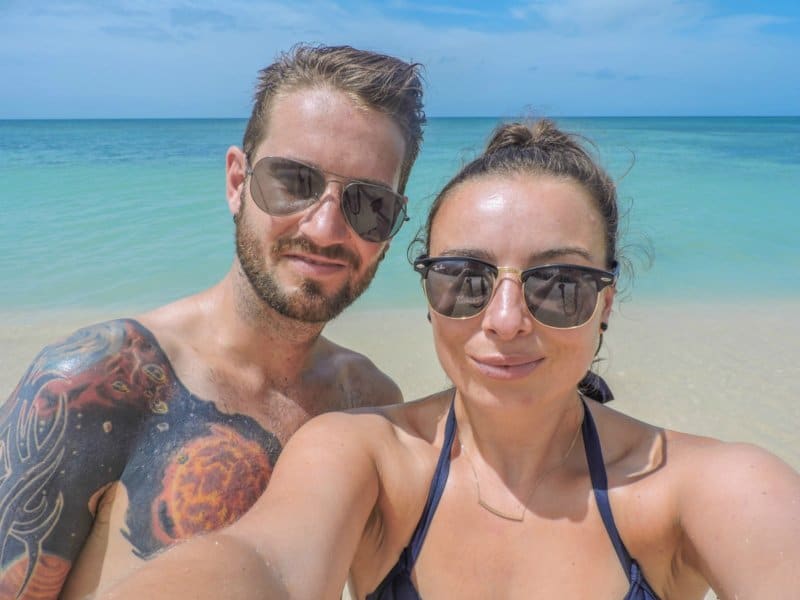 We prolonged our travel trip by travelling and working; volunteering our skills through Workaway. The travel blog also saved us thousands; reviewing accommodation and tours in exchange for comped stays and places (I stress, this is not free work, I put a power of work into our brand and blog).
Did we get on each other's nerves? At times, especially when Craig messed up with Google maps but we got through it. We even got hitched on the road so travelling definitely works for our relationship!
–Gemma & Craig of Two Scots Abroad
From taking any job necessary to full time blogging!
Before we were a couple, Alesha and I had been backpacking around the world as solo travellers. After a chance meeting in a Vancouver hostel in 2008, we quickly joined forces and started travelling the globe as partners and best friends.
For the first few years we funded our adventures by picking up any job we could, anywhere we could. This ranged from working in hostels and bars, to cleaning hotel rooms or slogging it away on construction sites. For a while we crewed on a private catamaran in the Caribbean, aiming to prolong our journey in Central America and explore a new way to travel.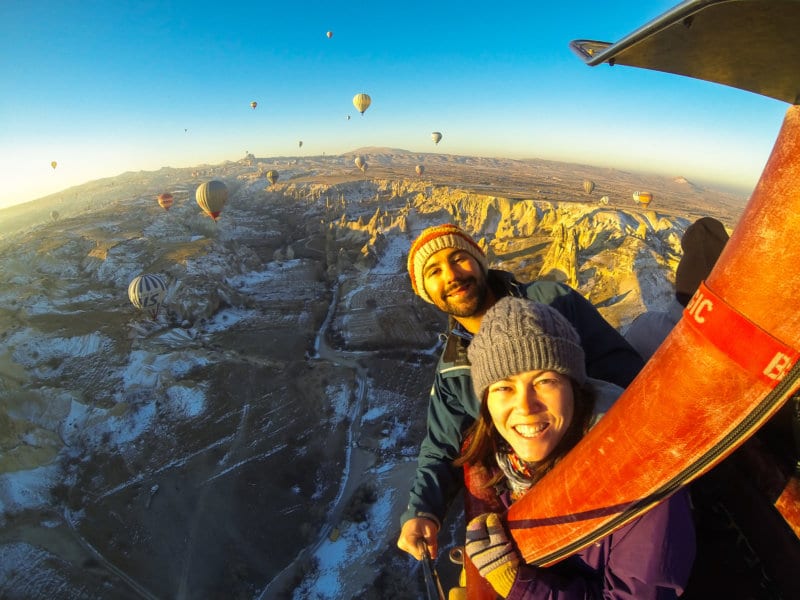 Our last "real" jobs were in Australia back in 2013. I worked at a gas plant on an island off the west coast of Australia operating heavy machinery and Alesha was a waitress in a pizza restaurant. These job were always just a means to an end – to get back out and continue our travels!
Once we had some savings in the bank again we hit the road at the beginning of 2014, landing in Thailand and attempting to backpack to South Africa by land, without taking a single flight. For this we decided to start a blog to document our experiences and have a place to put our stories and photos. About 6 months into our trip we started earning some money from freelance travel writing, and decided that we could maybe use that as a way to fund our trip. Soon afterwards we got our first paycheque through our blog, and figured we should give travel blogging a proper go.
Fast forward to the end of 2016 and we have now grown NOMADasaurus to be a full-fledged business. It's no longer just the two of us running things, and we have expanded to have four more people on our team. Our income comes from a variety of places such as writing, photography, sponsored campaigns, content and social media management and affiliate marketing. Our trip to South Africa without flying was put on hold after full-time travel took a bit of a strain on our relationship, which we talked about in this viral post entitled "Behind The Scenes". But by changing our styles and outsourcing a lot of our work we have come out of this a lot stronger, and finally tied the knot just a couple of weeks ago after 8 years together. We can't wait to see where the future will take us!
-Jarryd & Alesha of NOMADasaurus
The right income/output balance
I'm Sonal and I travel with my husband, San. I'm from India and he is from Germany. He is a chef and I am a digital nomad. We're able to afford long-term travel by doing three things. The first is keeping an eye on our savings account balance, the second – cutting costs and the third is making a little money on the road. The first point is the most important one because if it wasn't for our initial savings, we wouldn't have been traveling long term right now. Before starting long term travel, we were living in New Delhi, which is a very expensive city. We had plans to save our money by selling my car and San's motorbike before leaving the city but unfortunately my car got stolen. We did eventually get some money from insurance but the total figure was lower than our expectation. This resulted in our plans getting delayed by six months. During that time, we monitored our expenses and realized we were spending a lot of money in restaurants and bars. During a typical week, we were eating at least four meals outside. From that moment, we started eating every single meal at home and realized what a big impact it made. Even a simple thing as making our own coffee instead of buying one from a cafe made a lot of difference. These few months taught us to be extremely frugal, which is what helps us travel long term.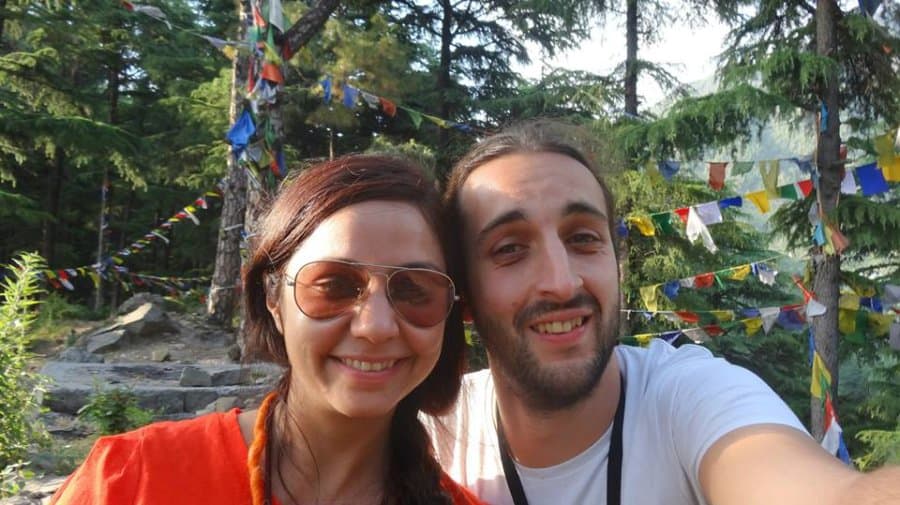 While we travel, we usually cut our living costs by volunteering. At the moment, we are volunteering in Goa where we have a free place to sleep and two meals. We found this opportunity through workaway.info. At times, San works as a chef and makes some money on the road. I'm making a little money from my blog – Drifter Planet and also as a social media influencer. I make this money by submitting articles to some news / travel media websites, through sponsored posts and running social media campaigns as an influencer. The only way we're able to make it work is by keeping our living costs at least three times lower than our income.
-Sonal & Sandro of Drifter Planet
A simple style of living yields massive savings for travel
Cameron and I have been traveling the world together for three years now. We met at a bar (romantic I know) in college. I told Cameron that I was leaving for Europe and that he was more than welcome to join me – and he actually did. Our love for travel ignited and we made it our goal to live a very basic life so that we could travel more.
After that first trip we moved to New York City and got "regular" jobs. Our goal was to save as much as possible for the next year. We cooked all of our meals in, skipped out on morning coffee and going to the bar, we shopped at second-hand stores, and basically lived a very basic life. We ended up saving over $50,000 that year combined and thought that it was enough to leave the country with.
We sold every last thing from our apartment together. Now all of our remaining clothes and keepsakes reside in the attics of our parent's home. We are fortunate though as neither of us having any debts, no kids, no mortgage, no car, and not even a cell phone plan anymore. Our expenses are what we accrue while we travel and there is nothing left back in the United States to be paid for.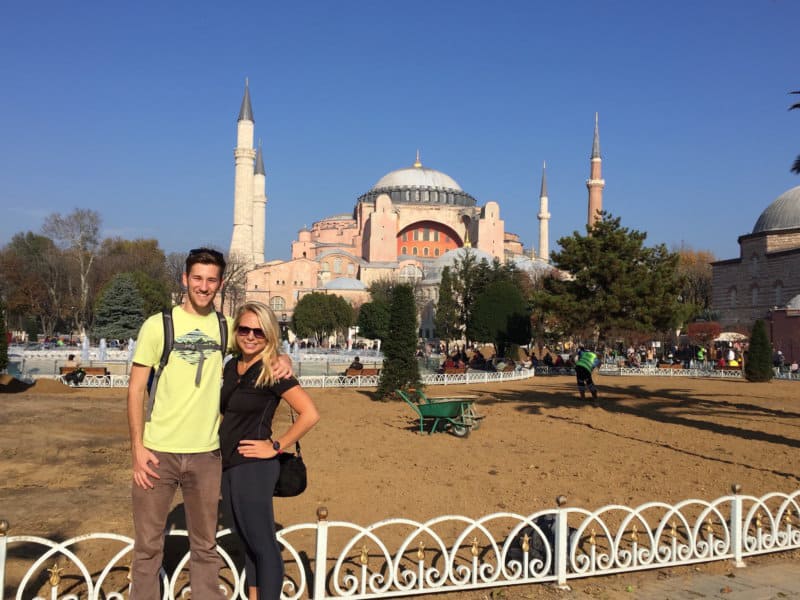 Since leaving our lives in New York City we now work anywhere with a stable WiFi connection on our blog, The World Pursuit. We travel continuously and fund our experiences with online work. We work with brands for paid partnerships, as well as by advertising products we believe in on our site. Our biggest source of income is actually through affiliate sales though. Anytime we recommend a product or hotel on our site and our reader goes on to purchase said product we get a small commission – at no extra cost to them!
Currently, the two of us have bought a car in South Africa and we are driving it around the African continent. Along the way, we are working with African lodges and companies that believe in our "Hashtag Africa" trip and want to partner with us! Everyone has their own way to save and make money, but for us, the number one piece of advice I can is to live a basic life below your means.
–Natasha & Cameron of The World Pursuit
The 'Netflix & chill' money-saving secret
How do we afford to travel the world? Saving, saving, saving. And a bit of prostitution.
Okay, okay, joking on the prostitution part, but the saving was serious! While living in the Netherlands, we each saved around $12,000 in the span of a year—no mean feat in one of the more expensive countries in Europe. The key was to put away as much of our paycheck as possible into a savings account the second we received it. But that's a tip you've all heard before. In the meantime, what did we do to survive a year of frugal AF living?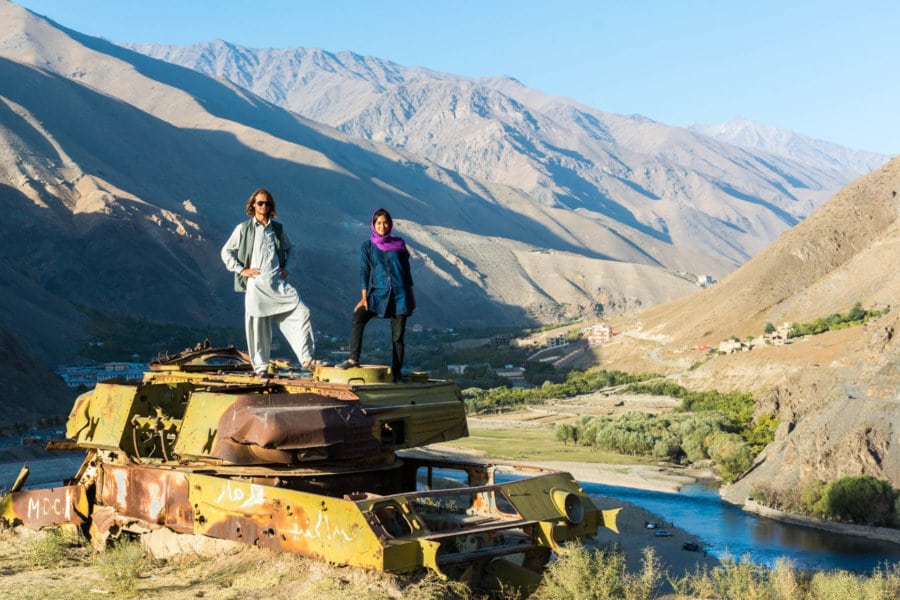 Saving means resisting unnecessary spending as much as possible, which generally means avoiding outings unless they involve walking around in nature and/or drinking cheap wine in a friend's house. The key to avoiding expensive outings: Netflix and weed. (It's semi-legal in the Netherlands, don't worry.) Netflix, as you all know, is the ultimate way to waste large amounts of time at once, and weed puts you in a mindset suitable for rejecting invitations out and watching an entire series in one sitting. A month of Netflix is equal to about two beers in the Netherlands, so it definitely qualified as a cost-effective use of our limited funds, and weed in our town wasn't too expensive if you bought it from the coffee shop in large quantities.
The only pitfall was the insane amount of munchies we suffered. We lost a decent chunk of money to delivery pizza and expensive candy and ice cream, but we eventually learned to sate our cravings with bags of cheap fruit from the weekend market. Our wallets (and figures) appreciated it.
Sad as a year of Netflix and (literal) chill might sound, the money we saved has gotten us far. We've been on the road for 9 months, covering countries like Iran, Pakistan, and Uzbekistan, and have only spent around half of our savings, despite an expensive few weeks in Afghanistan and a weakness for real coffee. You gotta do what you gotta do, right?
-Alex & Sebastiaan of Lost With Purpose
How they afford travel: English teaching, blogging, & YouTube
Steve and I travel multiple times each year, with an increasing number of our trips being romantic luxury getaways. We fund our trips through our income as English teachers, living cheaply, our savings, sponsored stays, and the money we earn from our blogs and Youtube channel.
Roughly a year ago we decided to move to China and teach English. The money is great, and because it's so cheap to live in Asia we're able to save a large amount. In a year you can easily save USD 10,000-20,000 for travel. Also you can go on cheap weekend trips to the surrounding areas as often as you like.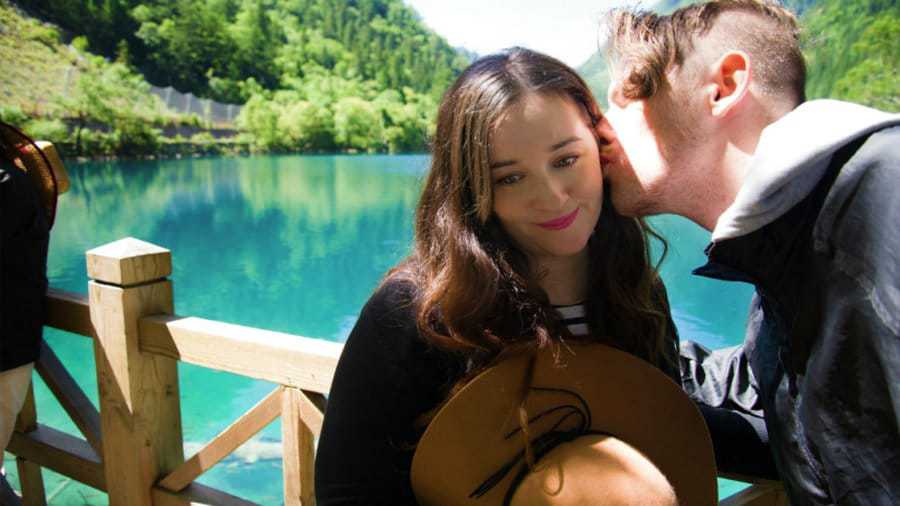 The money we make through our two blogs is from sponsored posts and affiliate links, and through adsense on our YouTube channel. We have a decent sized audience so working with brands also lowers our costs. We spent a month in Europe in September and by collaborating with companies we saved just over $5000 dollars, and did some amazing things we wouldn't have been able to afford otherwise. If you have a decent sized audience I would recommend reaching out to companies, if not English teaching is a great alternative.
When we went on our first trip we saved over 30,000 dollars in two years during university. No one believe we could do it, but we had a goal and we stuck to it by cutting out non essentials 90% of the time. We used that money to travel all through Central and (parts of) South America and it was the best thing we've done so far.
So many people see travel as a luxury but while they're out spending 5,000 dollars on a car (or buying their daily coffee) we're spending it on our travels instead. Instead of splurging in everyday life we live very cheaply so we can afford to travel more often (and in a comfortable way). Another tip that is not so much about funding, is to choose cheaper countries to visit so you can travel for longer or more comfortably. We love traveling to destinations in Asia or Central America where our money lasts longer.
-Steve & Lexi of The Trouvaille
Building an online business together
We are Oli & Bap, a french/swiss couple traveling around the world as digital nomads. About almost a year and a half we left everything we had behind in Switzerland, an appartement, stable jobs and our social life, to go on an adventure.
We had no idea on how to create an online business while traveling the world. So for about half a year we saved as much money as we could, renting our flat on Airbnb and even living in a water mill in South of France for a few months to develop our first online business. Our journey abroad started in Chiang Mai, Thailand and all around Asia where we travelled during 9 months straight. During our trip we met a lot of interesting people living as digital nomads, experienced loneliness on the road and painful days setting up our business but also discovered the real definition of freedom, lived big adventures and feeling more alive than ever. From the very first day we knew that we were made for this lifestyle, whatever the difficulties we might encounter.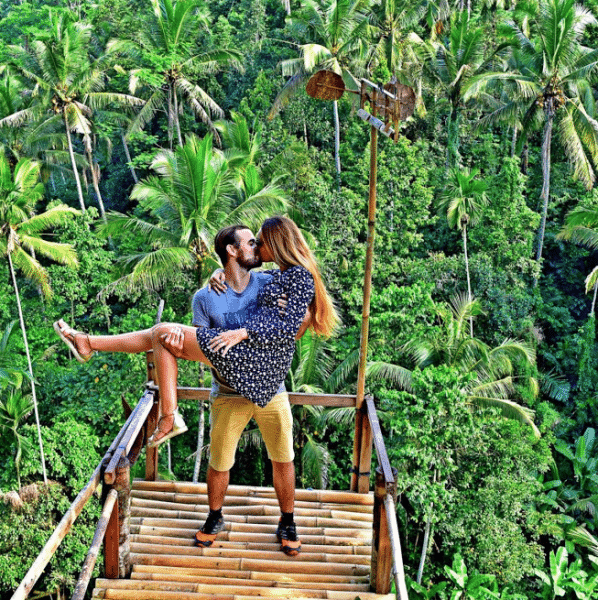 Traveling and working together as a couple can be very challenging and is actually the best way to know if you're meant to be together or not. In our case, it only reinforced the fact that we are strong together and can't imagine leaving apart: we are now a couple and business partners.
For us, the most challenging part was creating a business that allow you to be 100% location independent. During the first months, we talked with as many digital nomad as we could, starting our day listening to podcasts, reading blog posts & books and trying new things. It took us 4 months to find the business we loved and 3 others months to make a living from it. This business is an online publishing house that allows us to edit and publish books from anywhere in the world. We do everything from scratch by ourselves and now work from time to time in collaboration with writers and artists for some special editions.
We are now at a place where there are many possibilities to grow this business but we also want to diversify our income. Being constantly together is great and allows us to be very proactive and effective in business but we also believe that it is important to have our own thing on the side. It is crucial to be able to take your mind off of what you do everyday. Therefore Olivia is starting to grow an Instagram account where she shares her travels and lifestyle – while I am more into film making and have started a YouTube channel on which I show our travels. We are dreamers and think that with hard work, everything is possible.
-Oli & Bap
A yearlong honeymoon, then travel with full-time work
What happens when two individuals who love travel become a couple and eventually get married? They take a year long honeymoon around the world of course!! After 2 spectacular years spent living in New York City we saved up all our paychecks, quit our jobs and sent our belongings on a one way ticket to Ireland while we got hitched and spent the next 12 months wandering around Asia, New Zealand, Australia and the Middle East.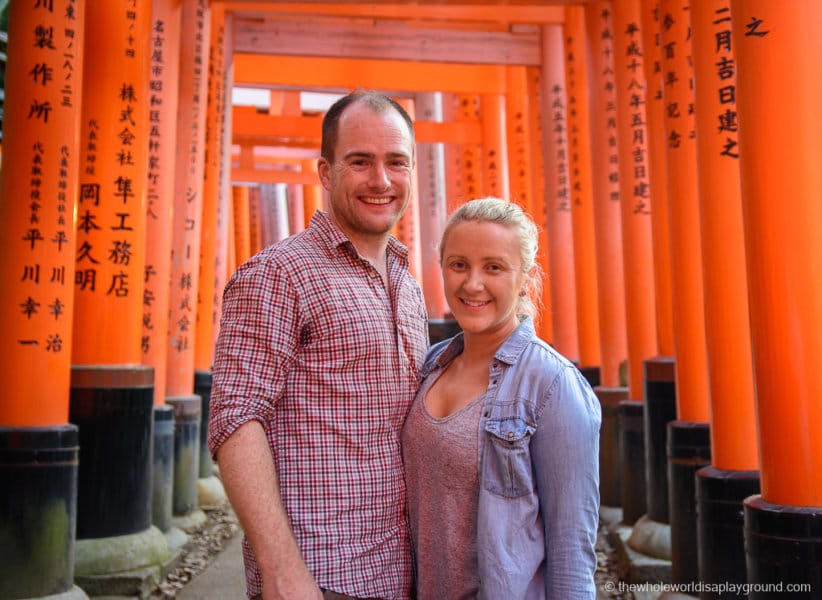 After our incredible year of adventure came to an end we returned to Ireland and our careers but the love for travel had turned into an obsession and we had to figure out a way to combine our careers with seeing the world. With awesome jobs in the finance industry (actuary and analytics, we're the best fun at dinner parties we promise!!) we opted to travel as much as possible while working full-time, with 18 countries under our belt in 2015 and 23 so far this year we're doing ok. Finding the time is easy, planning the trips is a whole other story…!!
-Elaine & David of The Whole World is a Playground
Travel blogging full time!
Over the last 5 years Christine and I have done many things to keep ourselves on the road. In the beginning, before we started blogging, we worked really hard back home in order to save up for our travels. This meant sacrificing those weekends away with friends, or that new pair of shoes, in order to keep our eye on the prize… travel! We knew that at the end of the day there is no way one night out in the city, or one fancy dinner, was ever going to compare to hiking active volcanoes in Central America or zipping around on scooters in Southeast Asia.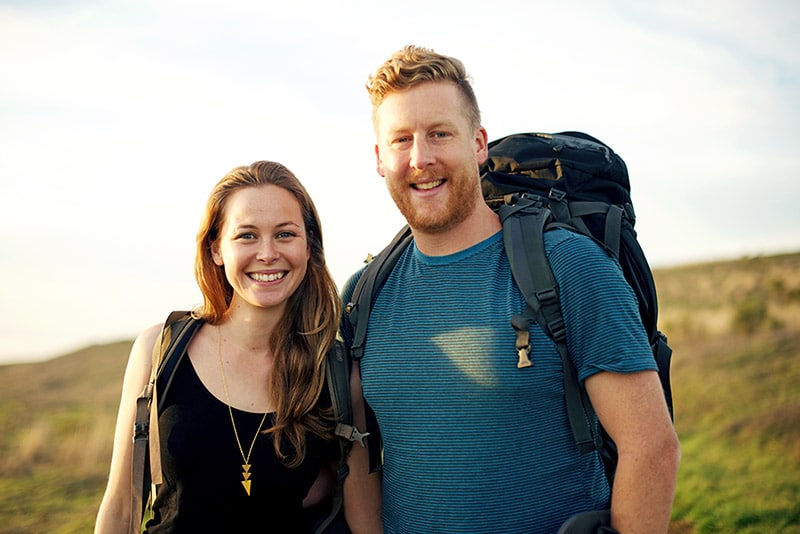 When traveling long-term we had to rough it on a budget, but it was a fun way to extend our trip and put off going back to the 'real world', so to speak. We also volunteered our time in non-profits, which started out as a passion and has since turned into a career for both of us. It's also around this time that we also decide to start a travel blog, which over the three years, has now grown into a full-time job. Our travel blog, Don't Forget To Move, allows us to travel the world while making money, while having incredible adventures and living the life that we want to live.
However, it's not all gorgeous Instagram shots and cocktails by the beach, there is a lot of work that goes into running a full-time travel blog. There are many times where we need to camp put in our sweats and pull all nighters to get work done, but the best part about working online is that we can do that from anywhere. Whether it's a beach villa in Indonesia (the plans for 2017), or a cute little apartment in the middle of Bulgaria. Its still work, but we're complaining too much! 2016 saw us visit 4 continents, 15 countries and have some incredible life stories. We can't wait to see what 2017 brings us!
–Jules & Christine of Don't Forget To Move
---
With a little ambition and a lot of hard work, it's clear that couples (and individuals) of all kinds can discover ways to travel more and travel longer. How do you fund your travels? Share with us in the comments below!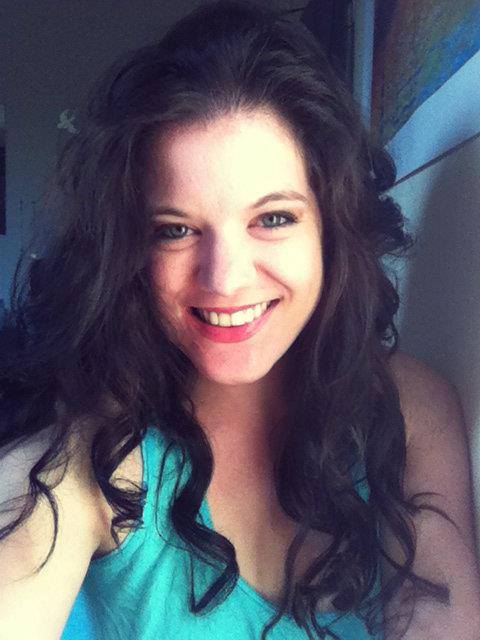 Amy Hartle is the author of Do You Love Me? How To Stop Seeking Reassurance in Relationships, a book on reassurance seeking and relationship anxiety. Both her book and this blog are born of personal experience; Amy shares expert relationship advice from the lessons learned during her own 10+ years with her husband, as well as couples travel tips and romantic getaway recommendations, all gleaned while traveling the world together.