This post may contain affiliate links. Read our disclosure page for full details.
This is a guest post from Penelope of The Flyaway Girl
I consider myself to have a pretty intimate knowledge of the best coffee shops in Bath, UK. Why? Because I have lived there (on and off) since 2013 and have a minor major obsession with coffee. (It's pretty clear the Two Drifters love coffee, too!) So here is my round-up of my favourite coffee shops in the city!
TL;DR If you're in need of a Bath coffee fix NOWWWW, scroll to the bottom for a mini round-up of the best coffee shops in Bath
Independent Coffee Shops
Colonna & Smalls
(6 Chapel Row, Bath, BA1 1HN)
Colonna & Smalls is the 'fancy' coffee of Bath. This is where you go if you are a true connoisseur of coffee – I got confused after they asked me what espresso I wanted in my coffee. Uhhhh, the normal one? Penelope 0, Coffee 1.
If you're looking for science lab combined with coffee shop (in the best possible way), then Colonna & Smalls is the place for you. The coffees change weekly so you will always be able to try something new, and you can always see the detailed tasting notes on a chalkboard above the brew bar.
Negatives: I was overwhelmed by just reading the options. #MuchCoffeeMuchChoice #SendHelp
Coffee – 6/5 [No words needed.] Atmosphere – 5/5 [This coffee shop has a really cosy feel and the staff are great. Also if you look confused, they will come to your aid. –What type of coffee do you like? –Uhhhh, coffee coffee? Hot coffee? Not decaf?] Workability – 4/5 [Well, I wrote a pub quiz here with two PhD students and my mum, so it's a pretty decent workspace! And yes, totally normal thing to do in your spare time.]
–> Check out this Bath itinerary for some suggestions on things to do & see in between lattes! <–
(19 Kingsmead Square, Bath BA1 2AE)
My definite winner for Bath coffee shops with food is Boston Tea Party. They have a really extensive menu and it's SO good. Plus bonus points for lots of veggie and vegan options (as well as dishes that you can make vegetarian or vegan if you want) and they're really good at showing what allergens are in dishes (ALL HAIL ALLERGENS ON MENUS).
I love BTP for brunch with friends – serious food porn and Instagram #onthetable goals. They also have a great selection of drinks and cakes (including some vegan and gluten free cakes) for eat in and take away. They are a small chain and there is another Boston Tea Party in Bath on Albert Road, near the Assembly Rooms and The Circus, but the main BTP in Bath is directly opposite Society Café (anyone for a coffee shop crawl?).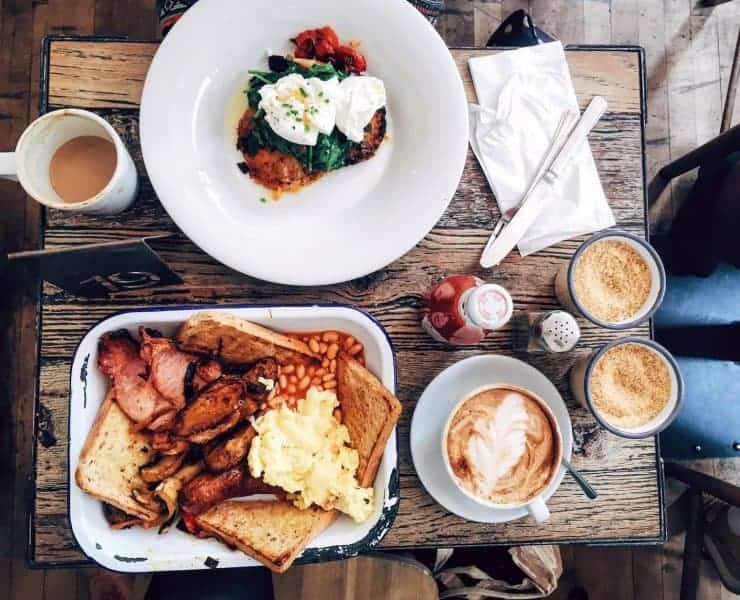 The one on Albert Road apparently has nice marble tables that are way better for Instagram flatlays though… #priorities guys!
Negatives: Fairly small and there are doors pretty much opposite each other so it can get a little draughty and chilly.
Coffee – 4/5 [a wide range of choices, plus a delicious chai latte. Plus an impressive range of tea if you're that way inclined but this is about coffee so we won't discuss that because MOAR CAFFEINE] Atmosphere – 4/5 [in the city centre but not in the super busy areas, bonus points for nice staff] Workability – 3/5 [not many plug sockets, WiFi can be a little sketchy and I usually end up connecting to Society Café's WiFi from across the street #ImGonnaStealYoWifi]
(1a, Forum Buildings, St James's Parade, Bath BA1 1UG)
This Bath coffee shop is my normal go-to place, especially if I have some work to do and it is still fairly early in the day. I love the staff here and even when I come back after being away for a few weeks (or months!) they recognise me and ask me how I'm doing and often also what countries I've been to (hehe they know me well).
They do a variety of drinks and my usual choice here is a soy caramel latte or a soy vanilla latte (£3). In the summer, their smoothies are SO good and gloriously refreshing on a hot day (and my personal favourite is the Green Reviver – mmmm refreshing AND healthy)!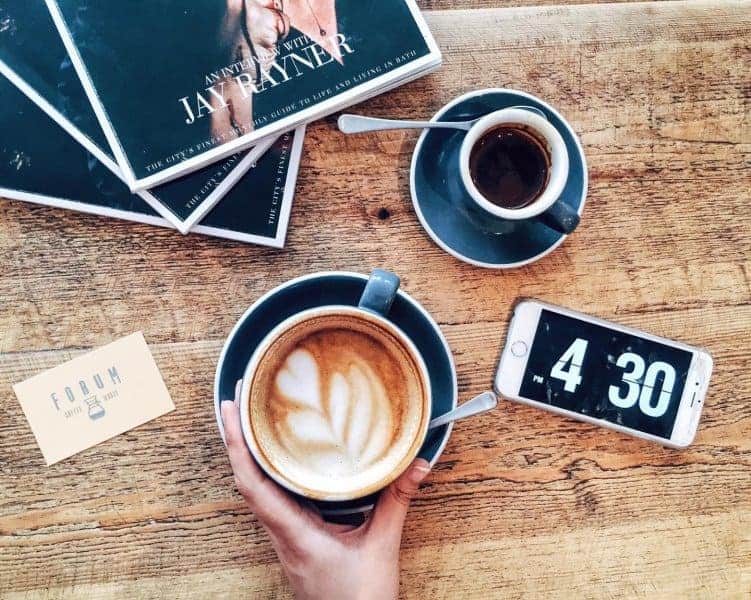 They also have a great selection of food, including avocado on toast, soup, a variety of sandwiches and a variety of cakes and other baked goods. I don't tend to eat there as there's not a huge selection of dairy-free food (hello, lactose intolerance, you suck) but they are quite happy to adapt their dishes if they can when you ask them!
Negatives: Closes too early! It's definitely a weekend or during-the-day place as it usually closes around 5/5:30pm.
Coffee – 4/5 [great number of options, pretty good coffee and amazing latte art!] Atmosphere – 5/5 [normally not too loud, staff are great – it is connected to the next-door church so sometimes it can be really quite busy] Workability – 3/5 [WiFi is readily available and works well but there aren't many plug sockets *cry*]
–> Click here for more suggestions of things to do in Bath <–
Society Café
(Kingsmead Square, Bath BA1 2AB)
There are now two Society Cafés in Bath, one in Kingsmead Square and one on the High Street. I prefer the one in Kingsmead Square so I will talk about this one and then mention the High Street branch (do you call it a branch? Sounds like a bank…) at the end.
My first year at university, my halls were just down the road from Society Café. Oh, what an expensive place to live… mostly due to easy access to good coffee and great cake. Oops!
Society Café was my favourite of the coffee shops in Bath for a long time and they still do really good cake. My main reason for making other places my 'go-to' cafés (usually Forum Coffee House or Starbucks, depending on the time of day and my mood) was the staff, as I found it much easier to chat with the staff at Starbucks and the Forum, as they always remember me and say hi and ask me how I'm doing. I love being able to walk back into one of the coffee shops after not being in Bath for a while and be greeted like I was there a few days ago! Really makes me feel at home.
However, Society Café is my favourite of Bath's best coffee shops for cake. Their vegan banana and chocolate bread is to DIE for and I don't even want to think how much of this I have eaten over the past few years! They recently started making a few more varieties of vegan cake (and they also do gluten-free brownies, although sadly there aren't any brownies for us vegan/lactose intolerant lot), such as chocolate and pistachio and some muffins.
My usual order at Society Café is an almond milk latte (£2.70 for a latte, I think it's extra for soy/almond milk) and a slice of vegan chocolate and banana bread (£2.20). Yum!
Negatives: None really! Apart from it's often super full.
Coffee – 4/5 [really smooth coffee and amazing latte art, no syrups for those with a sweet tooth so you have to have sugar like a normal person *guilty as charged*] Atmosphere – 3/5 [not too loud, often quite busy at weekends, staff are friendly but tend not to remember you even if you go aaalllll the time] Workability – 5/5 [WiFi is great, lots of plug sockets available, big table on the ground floor that is great for group work]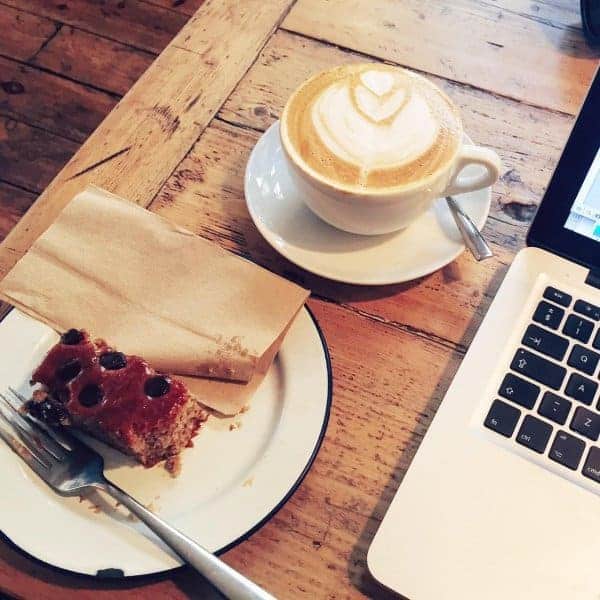 Society Café [High Street]
(19 High Street, Bath, BA1 5AJ)
The second Bath Society Café is much more of a 'grab & go' place than the one in Kingsmead Square. However, it's great to sit at the window and people watch! They serve the same as the Kingsmead Square café but the smaller High Street store has a slightly more minimalist and Scandi style compared to the Kingsmead Square's cosy and homely style.
Negatives: Not much space to work.
Coffee – 4/5 [as the other Society Café] Atmosphere – 3/5 [right in one of the most touristy areas but I do really like the style of the store] Workability – 3/5 [see the negative! The other Society Café is better for working, the High Street one is great for grabbing coffee on the go.]
(9 Saracen St, Bath, BA1)
The staff really know their coffee and can advise you if you aren't sure exactly what you want. They also have a neat selection of baked goods, plus a few vegan and gluten-free goodies. (Bonus points for their super cute red cups).
Picnic is located close to the Hilton Hotel and isn't far from the city centre (about a minute not-far-from-the-city-centre sort) but is usually not too busy. The tables are great for working at and the red cups and wooden tables look particularly glorious in flatlays (priorities, man). These elements make this one of the top Bath coffee shops for sure.
Overall, their coffee is of excellent quality and so is their latte art!
RE: Burton Street – Picnic Coffee used to have two Bath locations, but sadly the Burton Street branch closed down in August 2016 as it was located above a shop (with amazing views down the main shopping street) and the store closed down, meaning you then had to walk through an empty shop to get to it. We will miss you, Burton Street branch!
Negatives: I wasn't a fan of their one dairy-free bake that was available when I visited, but that's mostly because I don't like fig. And I ordered the fig granola bake. I was hungry, don't judge. However, my parents (who DO like fig) said it was delicious!
Coffee – 5/5 [I legitimately have no complaints about their coffee – great taste, staff are super knowledgeable and they have dairy alternatives too!] Atmosphere – 4/5 [lovely staff, nice and light/airy space and not too busy] Workability – 4/5 [good WiFi and the tables are a decent size to work on, not 100% sure about number of plug sockets, though!]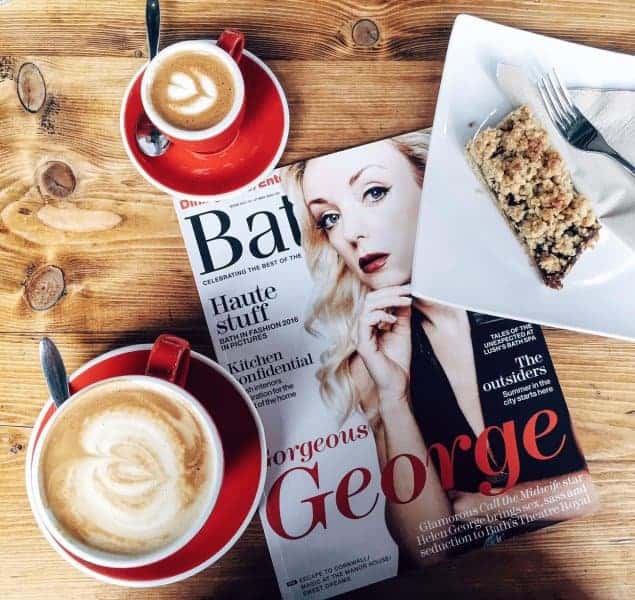 Mokoko is a teeny-tiny coffee shop on Dorchester Street, just across from the bus station and the train station. I used to occasionally grab a coffee here on my way to work when I commuted from Bristol to Bath for about two weeks this summer (#thatinternlife, guys). Mokoko has SO many coffee-making gadgets that I felt like I'd walked into a Lakeland store specialising in coffee (if there isn't one in the UK, there should be, K?) but it never felt pretentious or over-the-top. I went for my standard order of a soy latte because I had zero idea what most of the things were I am a creature of habit and soy latte is bae.
There isn't much seating (aside from a small bar counter with stools and also some outdoors seating) so it's not the best place to work. But it is great to get a coffee before you go to the train station or after you arrive in the city by bus or train.
Update December 2017: Mokoko has added a second location in the Abbey Churchyard!
Negatives: Not remotely convenient for sitting down and getting some work done.
Coffee – 5/5 [I don't know what half of the things they offer are, but they taste great. Yaaaaaay!] Atmosphere – 4/5 [pleasant staff, lovely minimal design and they also have 'guidebooks' to coffee, AKA the South West Independent Coffee Guide] Workability – 1/5 [I mean, you could work here at a push (maybe outside if it's summer), but it's not really the most convenient option!]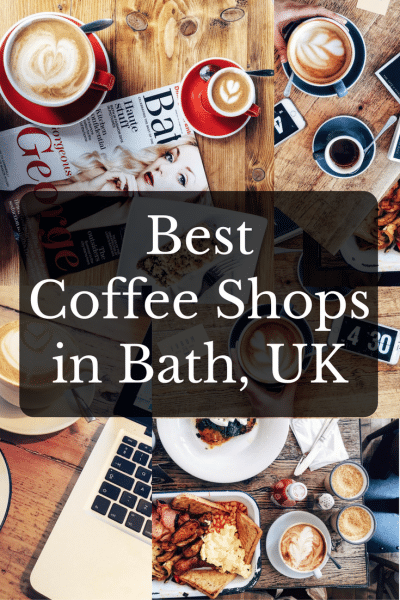 Chain Coffee Shops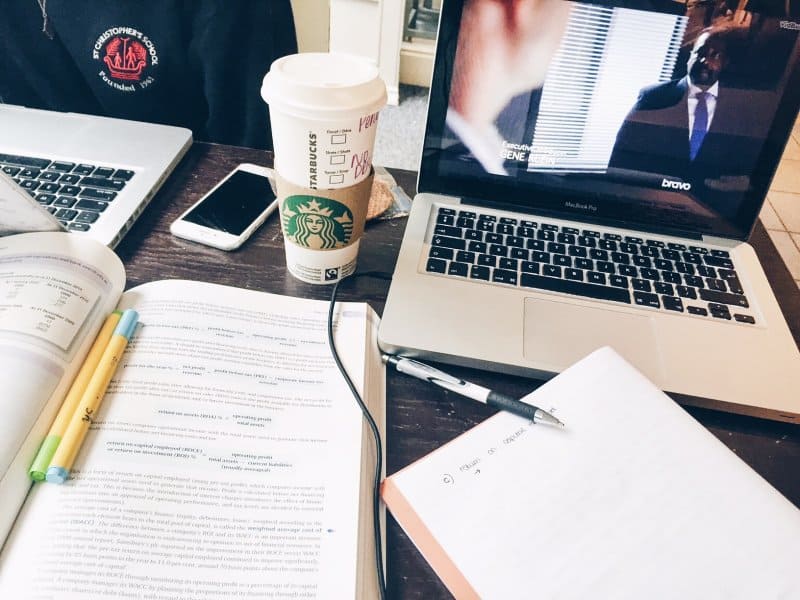 Starbucks [High Street]
(13-14 High Street, Bath, BA1 5AH)
When it comes to the many amazing coffee shops Bath has, I am only going to include one 'chain' as I think it's so much better to shop local and go to the awesome independent coffee shops. However, I do feel I need to mention this one Starbucks and it's entirely down to the lovely staff!
This is my personal favourite Starbucks in the city (aside from our uni Starbucks because STUDENT PRICES GUYS) and it's all down to the staff. Anyone who follows me on Instagram or Snapchat will know that I have a minor Starbucks obsession (well, it's my go-to chain choice at least) and one of my hobbies is taking photos of the best (AKA worst/weirdest/WTF-est) ways my name has been written on Starbucks cups. My recent favourite was 'Pinelope', which made me feel like a pineapple. #allthempineapplefeels
Anyway, I digress. At this Starbucks, I never have to worry about misspellings of my name. Why? Because they always remember my name. It's such a good feeling to be able to walk into a café and have the baristas recognise you, say hi and remember your name (and your usual order!).
Negatives: As it's a chain and in the centre of the touristy area, it can get SUPER loud. Seriously. I have developed an immense dislike of large school groups, particularly the French and Italian groups. They just always seem to be louder… *headphones on full volume*
Coffee – 3/5 [Great choice of dairy alternatives, decent coffee, good range of syrups/extras] Atmosphere – 4/5 [Amazing staff! Unfortunately a touristy place and so often quite busy and loud… Sigh.] Workability – 4/5 [WiFi is sometimes a little sketchy but there are quite a few plug sockets (opt for the tables with the benches against the wall, that's where the sockets are, wooooo). Also, the upstairs room is huuuuuuge and is perfect for working, especially with the giant table for group work!]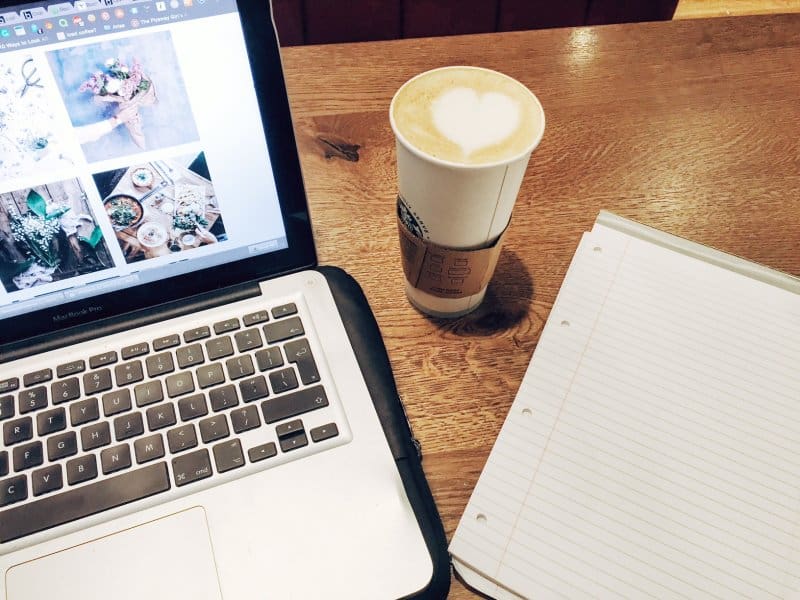 In Summary…
Or if you got bored and skipped to the end, boooo… okay please continue.
Coffee Rating:
Forum Coffee House – 4/5
Society Café – 4/5
Society Café [High Street] – 4/5
Boston Tea Party – 4/5
Picnic Coffee – 5/5
Mokoko – 5/5
Colonna & Smalls – 6/5
Repack Espresso – 6/5
Starbucks – 3/5
Atmosphere Rating:
Forum Coffee House – 5/5
Society Café – 3/5
Society Café [High Street] – 3/5
Boston Tea Party – 4/5
Picnic Coffee – 4/5
Mokoko – 4/5
Colonna & Smalls – 5/5
Repack Espresso – 5/5
Starbucks – 4/5
Workability Rating:
Forum Coffee House – 12/15
Society Café – 5/5
Society Café [High Street] – 3/5
Boston Tea Party – 3/5
Picnic Coffee – 4/5
Mokoko – 1/5
Colonna & Smalls – 4/5
Repack Espresso – 4/5
Starbucks – 4/5
Overall Rating & Standing:
1st – Colonna & Smalls – 15/15
1st – Repack Espresso – 15/15
Picnic Coffee – 13/15
Forum Coffee House – 12/15
Society Café – 12/15
Boston Tea Party – 11/15
Starbucks – 11/15
Mokoko – 10/15
Society Café [High Street] – 10/15
I really hope you guys enjoyed this round-up of the top cafes and the best coffee in Bath and I hope you get the chance to visit some of them soon! Bath is an incredible city and I definitely recommend a visit (it's only a 2h train journey from London).
Ciao for now!
–Penelope
Follow The Flyaway Girl on social media!
---
Read Next: