This post may contain affiliate links. Read our disclosure page for full details.
Punta Cana is a popular destination for couples' getaways and honeymoons in the Dominican Republic. Unlimited sunshine, endless beaches and high-quality resorts are some of the main attractions, but there is much more you can experience when on a romantic holiday in Punta Cana. Join me on an exploration tour through this beautiful paradise and check out the 10 most romantic things to do in Punta Cana.
Walk along Punta Canas' beaches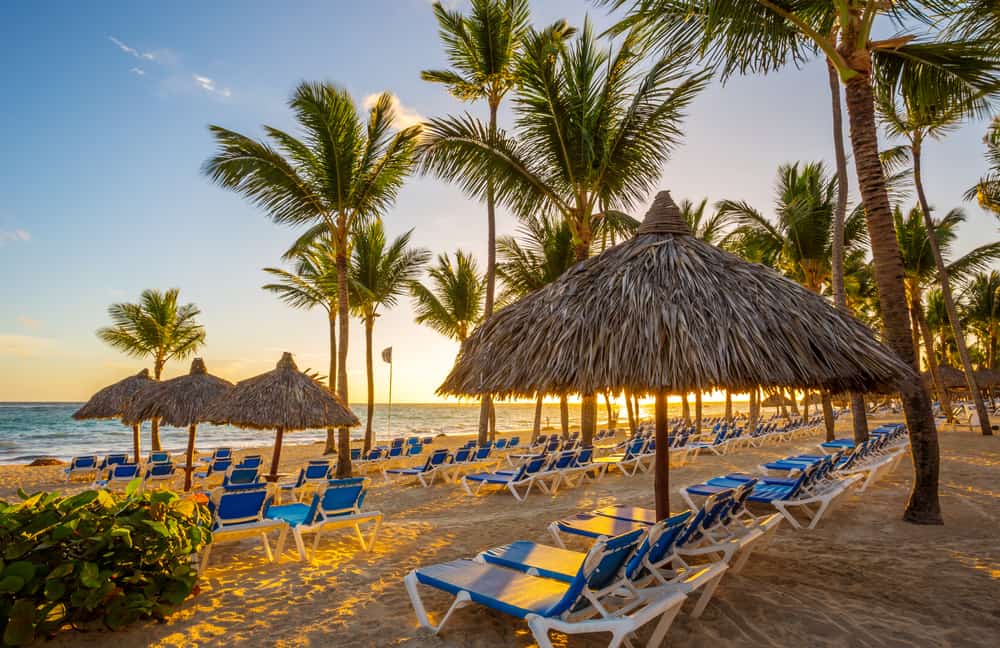 That's probably one of the most romantic things to do in Punta Cana: walking hand in hand along the beach. The special thing in Punta Cana is that you can walk with your feet in the sand forever, as the main Bavaro Beach is an uninterrupted stretch of beach for 12 miles. Furthermore, you can enjoy stunning scenery, have a dip into the blue ocean or stop to take photos at various instagrammable places along the beach. If you fancy a break, you can have a drink or a snack at one of the various beach bars and if you are tired, simply turn around and walk back to your accommodation.
Cost: Walking along Punta Canas' beaches is free.
How to get there: Most accommodations in Punta Cana are located right at the beach, so chances are that you can walk right from your accommodation. If not, take a taxi or a rental car and head towards Bavaro Beach. You can access it through Cortecito or Corales.
Photo Shooting at the beach
A great option for memorable holiday photos, especially as a couple, is to hire a professional photographer. Particularly with the phenomenal backdrop of a turquoise ocean, swaying palm trees and an endless stretch of sand, professional photos are some of the most romantic souvenirs you can bring home from your holiday in Punta Cana. You can book a photographer online or check with your hotel, they usually can recommend someone. Make sure to take clothes with matching colors to the shooting and bring some accessories.
Cost: Usually, the price for a couples' photoshoot starts at 270 USD per couple. Make sure to compare prices and included services.
How to get there: Most photographers will come right to your accommodation and go with you to the beach from there.
Have a day in the spa
Once you are back from an exciting day at Punta Canas' beaches, why not relax a bit and have a day at the spa! Nearly every all-inclusive resort in Punta Cana has a huge spa area. And while spa treatments usually are not included within most all-inclusive plans, it's worth paying a little bit extra as you are getting some romantic quality time with personal attention here which might be missing otherwise with thousands of other travelers around. Spas in Punta Cana are offering all kinds of treatments you can wish for and are – thanks to their spacious wet zones – a perfect thing to do for couples.
Cost: Prices vary widely but count from 50 USD per person onwards. For a couples' massage, expect to pay 150 to 200 USD.
How to get there: if you are staying in an all-inclusive resort, chances are high that your resort offers a spa as well.
Have a sunset drink at the beach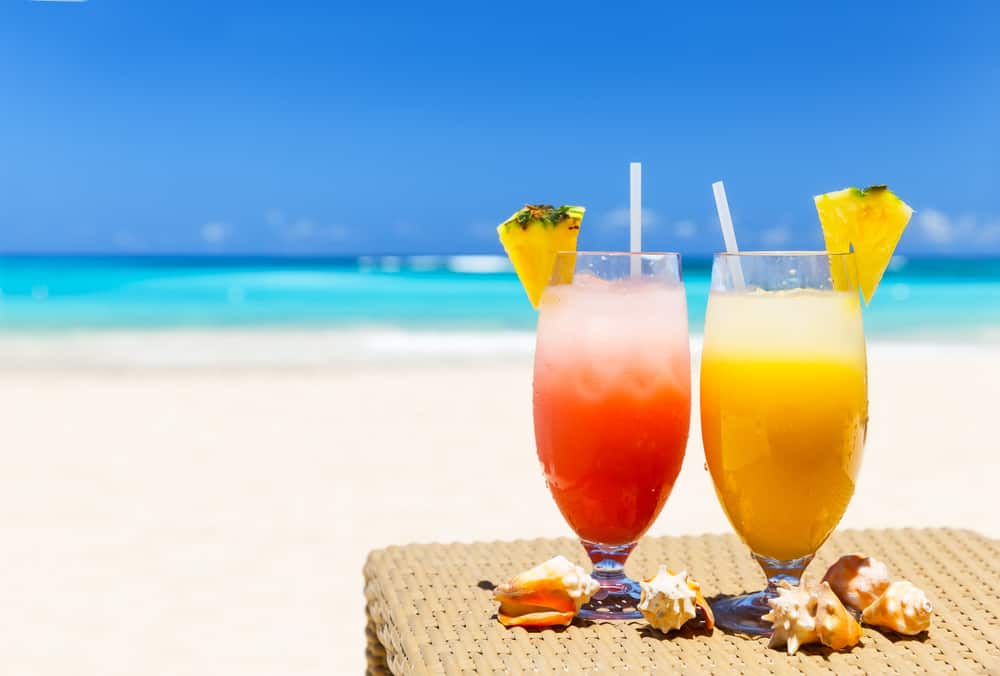 Once an exciting day in Punta Cana comes to an end, make sure to head to the beach to watch the sunset, accompanied by a delicious tropical cocktail, such as a Piña Colada (served in a pineapple) or a Coco Loco (served in a coconut). Even you won't be able to see the sun setting right in the ocean because Punta Cana is located on the east coast, you still will be the witness of a beautiful color show, when the sky is turning red and the clouds are changing their appearance every 5 seconds. Relax in a comfy chair and watch this spectacle happening.
Cost: A cocktail at a beach bar should set you back at approx. 4 to 8 USD per drink.
How to get there: just choose the closest place to your accommodation and head there walking along the beach.
Have dinner at the beach
A vacation in Punta Cana is not perfect without having dinner while your feet are playing in the sand. An evening meal at the beach is one of the most romantic things to do in Punta Cana. Most all-inclusive resorts offering candlelight dinners at the beach, but many of them are quite pricey. Better head out to one of the beachfront restaurants where you can sit right at the beach and order a delicious Dominican meal. Some recommendable spots include Jellyfish Beach, Soles Chill Out Lounge and Pearl Beach Club.
Cost: a dinner with two starters, two main dishes and two glasses of wine should cost around 50 USD per couple.
How to get there: check out the restaurant recommendations mentioned above or ask your hotel for a dinner at the beach.
Visit Isla Saona
Isla Saona is the most popular natural attraction in the Dominican Republic. Every day dozens of tours are visiting this wonderful island around an hour away from Punta Cana. While this doesn't sound that paradisical if thousands of tourists are visiting every day, it is still absolutely worth it and will be one of the top memories from your vacation in Punta Cana. Just imagine you are sitting with your partner on a catamaran, sipping a glass of Cuba Libre and watching the gorgeous scenery of the island passing by while feeling the ocean breeze in your hair? Exactly that's what an excursion to Isla Saona looks like. Furthermore, you can enjoy the stunning beaches of the island and swim in the turquoise water of the Caribbean Sea. If this sounds too good to be true, don't worry, this is Isla Saona!
Cost: an all-inclusive excursion from Punta Cana usually costs between 70 and 100 USD per person.
How to get there: tours to Isla Saona usually include pick-up from your accommodation.
Charter a yacht in Punta Cana
If you don't want to share a boat with dozens of strangers or simply want to live a very exclusive moment with your partner, you can also charter a catamaran or a luxury yacht and cruise along the coastline of Punta Cana. You'll have the boat all on your own, get served some bubbly champagne and can make impressive photos posing on the yacht with a tropical backdrop and some turquoise ocean – doesn't this sound like a very romantic thing-to-do in Punta Cana? Most of these tours can also be customized according to your needs. If you ever wanted to be part of the rich and famous for at least a day, this is your opportunity.
Cost: Yacht charters in Punta Cana are already starting at 500 USD per tour which is quite affordable considering that you have the entire boat on your own.
How to get there: Boat charters are usually starting along Bavaro Beach or in the marina of Cap Cana – ask the crew beforehand where to go in case pick-up is not included
Attend a cooking class in Punta Cana
Something different, but no less romantic, is to attend a cooking class in Punta Cana. The way to a man's heart is through his stomach, so get ready for this unique experience in Punta Cana. The Dominican Republic is not known to have a world-class cuisine, but the country does have many different flavors, which are unknown to most westerners. It doesn't matter if fruits, spices, vegetables, fish or some exotic ingredients, there is a lot to discover in Dominican cuisine.
Usually, a cooking class in Punta Cana includes a visit to the market, so you get some local and authentic experiences as well. Once you bought all the ingredients with your chef, you start cooking them and learn a lot about preparing stuff you are not used to from home. In the end, you can enjoy a tasty meal and be happy with your partner to have mastered a new mutual adventure.
Cost: Cooking classes in Punta Cana start at 60 USD per person
How to get there: Usually the chef or guide picks you up at your accommodation.
Visit a waterfall in Punta Cana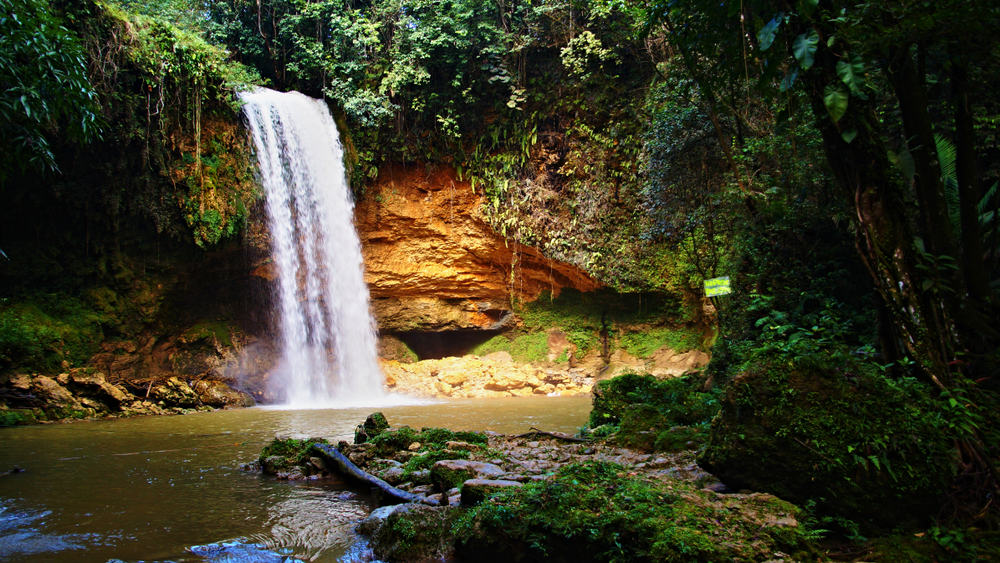 If you are looking for some romantic things to do in nature, why not visit a waterfall, where you can swim in a natural waterfall pool you have completely on your own? Punta Cana is not famous for having tons of waterfalls, but surprisingly enough there are around a dozen waterfalls you can reach in under three hours.
One of the closest options is Cascada Blanca, which is a 2-hour drive from Punta Cana and a less than 1-hour hike through dense vegetation. It is so much off-the-beaten-track that I nearly can guarantee you that you will have this waterfall on your own. Another option is Salto de la Jalda, the highest waterfall in the Dominican Republic, which is an arduous 5-mile hike, but absolutely worth it when you are seeing this stunning beauty. And if you want to have it easier, you can head to Salto Socoa which is right next to a highway and requires just a 10-minute walk.
For whatever option you decide, you will enjoy a special piece of nature and can cool down in the refreshing streams.
Cost: Most waterfalls are for free or just cost a minimal fee of 1-2 USD. However, for some places such as Cascada Blanca or Salto de la Jalda, you should go with a guide (starting from 35 USD and up).
How to get there: Depending on which waterfall you'd like to visit, you can either go by a guided excursion, taxi or rental car
Go on a road-trip
While a road-trip per sé is not a particularly romantic thing-to-do in Punta Cana, it will reward you with the most possible experiences, which will be, in the long run, your best and most long-lasting memories. Punta Cana is a beautiful area to relax, enjoy the beach and feast on some very delicious food and drinks, but to explore the proper and authentic Dominican Republic, you should rent a car and explore the country at your own pace.
There is so much to discover that you can easily fill 2 or 3 weeks, among them secluded waterfalls, soaring mountains, pristine beaches, small fishing villages, a welcoming culture, the only desert in the Caribbean, turquoise rivers, dense jungles, amazing hikes, unique outdoor activities and so much more. The Dominican Republic is like an enormous adventure playground that is yet to be explored. Take your time, rent a car and share adventures you will never forget.
Cost: a rental car usually is around 50 USD per day incl. all insurances. Traveling in the Dominican Republic is not cheap, but very affordable, and prices in the rest of the country are lower than in Punta Cana.
How to get there: Check out these itineraries for some ideas on how to organize a road-trip in the Dominican Republic.
Romantic Places to Stay in Punta Cana
Punta Cana has an amazing array of exclusive hotels and all-inclusive resorts so that it is hard to recommend THE best place to stay in Punta Cana. If you are looking for romantic accommodation, you shall check out Excellence El Carmen, which is one of the most favorite honeymoon hotels in Punta Cana. If your budget is more limited, you can have a look at Royalton Punta Cana or TRS Turquesa Hotel. In case you prefer a hotel without all-inclusive The Westin Punta Cana or Eden Roc Cap Cana are romantic hotels to consider in Punta Cana.
——————–
About the Author: If you'd like to know more about Chris and his second home country, the Dominican Republic, check out his website Punta Cana Travel Blog. After traveling through all parts of the world, he is living in this beautiful and underrated country since 2015 – mostly in Santo Domingo and Punta Cana. Chris knows all the pristine beaches and secluded waterfalls you can explore in Punta Cana and the entire country and loves it if visitors leave their all-inclusive resort to discover the beauty, diversity, Caribbean smiles and Latin vibes the Dominican Republic has to offer. On his blog, you can find all the useful information and personal recommendations for a unique holiday in Punta Cana & beyond. Chris also offers travel coaching and can set up a personalized itinerary for your vacation in the Dominican Republic.
Social Media:
Facebook: https://www.facebook.com/puntacanatravelblog/
Instagram: https://www.instagram.com/puntacanatravelblog/
Pinterest: https://www.pinterest.com/puntacanatravelblog/
---
You might also like:
---