This post may contain affiliate links. Read our disclosure page for full details.
Long beloved as a honeymoon destination, Bermuda is full of romantic things to do for couples at any stage of their relationship.

Whether you're planning to visit the island nation on a romantic cruise, or via a quick flight from the East Coast of the United States, you'll find plenty of options to connect (or reconnect!) with your partner.

Bermuda's lush subtropical foliage, stunning pink-sand beaches, and sparkling azure water make a lovely backdrop for your vacation. But Bermuda doesn't attract couples to its shores just because of its good looks—there are so many activities to enjoy there, made for two.

You'll find the ultimate in relaxation on a trip to Bermuda, sporty couples' activities, and everything in between! Let's take a look at some of the most romantic things to do in Bermuda.
Have a picnic by the Unfinished Church
In St. George's Town, just a quick walk from King's Square, stand the remains of the Unfinished Church. Construction began on this picturesque Gothic structure in 1874, but the church was never completed.

Without a roof or floor, and surrounded by verdant lawns and greenery, the haunting bones of the church call to mind an eerie European ruin.

Although you can't visit the inside of the structure for safety reasons, you can pack a picnic lunch for two and enjoy it on the grass outside.

Your best bet to pick up lunch provisions is at Somer's Supermart on York Street. Their hot and cold bars feature some yummy Bermuda specialties, and they also have salads and sandwiches.

Although you may want to include a nice bottle of wine in your romantic picnic basket, don't chance it. Bermuda has strict laws regarding drinking alcohol in public places (on the beaches it's a bit more lenient, though).
Lounge on the pink sand in a secluded cove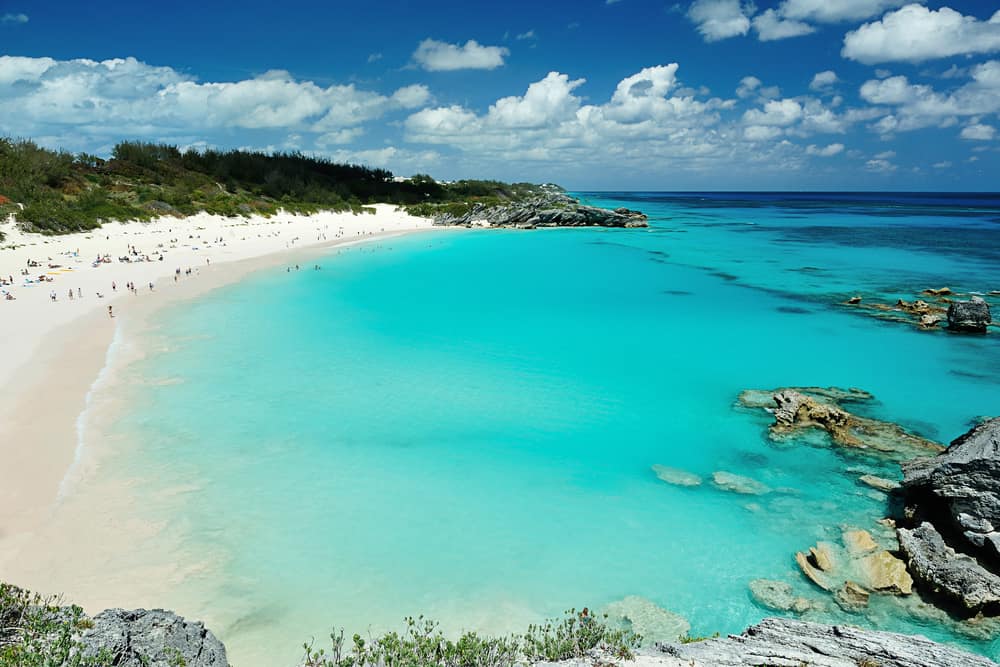 Bermuda's famous pink sand beaches are a must-see for many visitors, but some (especially beautiful Horseshoe Bay Beach) can get very crowded. Not exactly ideal for romance!

But just past the crowds at Horseshoe Bay are several secluded coves. You can relax on the soft pink sand with your special someone, and pretend you're the only ones on earth.

I visited on one of Bermuda's busiest holidays when two cruise ships were in port, and despite the main beach being packed, the pretty little coves were empty!

Take the grassy trail that runs parallel to the main beach, and soon you'll find four tiny hidden beaches, each surrounded by tall rock formations. Or, walk the length of the beach and climb in between the rocks to access the coves (just be sure to wear water shoes if you take this more adventurous route).
Take a horseback ride on the beach
Ambling along the shore side-by-side on horseback while the waves gently roll in. Trotting right into the water for a refreshing dip after a scenic trail ride together. Doesn't that sound wonderful? You can do this in Bermuda, even if you don't have any prior equestrian experience!

Bermuda has several stables that offer beach and trail rides for two, and you can pick a custom itinerary or time of day that works best for you, from early morning to sunset. Some of the top stables are Mike Watson's in Warwick Parish and Moran Meadows in St. George's.

Bermuda does have strict laws about horseback riding in public areas, so you won't be able to just rent a pair of horses and take off on your own. You'll need a local guide to tag along just to ensure everyone's safety, and perhaps to point out some local points of interest.
Kiss under a moongate
Bermuda's famous moongates are a charming feature of the country with a romantic story attached. According to legend, newlyweds who step through one of these stone archways hand-in-hand will enjoy a lifetime of happiness together.

Even if you're not a newlywed, stepping through a moongate with your beloved and sharing a kiss is a romantic tradition in Bermuda.

Although many of Bermuda's moongates are on private property, visitors can also find them at Tobacco Bay Beach, Shelly Bay Beach, Somers Gardens, the Bermuda Botanical Gardens, or Par-la-Ville Park. Several of Bermuda's resort hotels also feature their own moongates.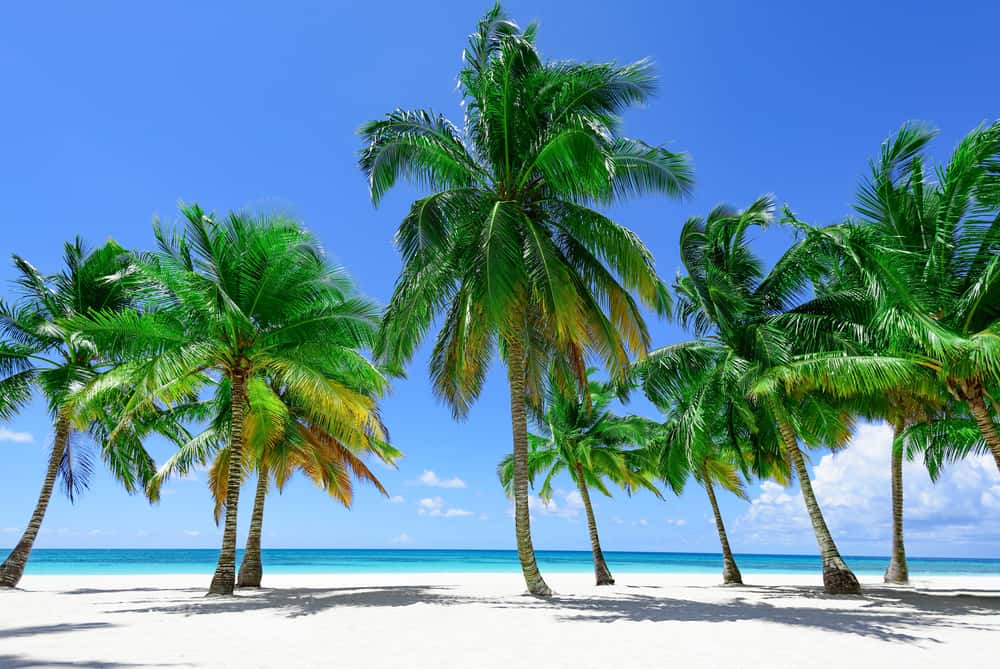 Enjoy a romantic dinner by the beach
A leisurely dinner with your partner is always romantic, but what about taking it to the next level and dining alfresco right next to the beach?

Bermuda's beautiful beaches provide the perfect scenery for a memorable meal, especially when you can enjoy warm breezes and listen to the waves breaking on the shore.

Two of the best places in Bermuda for a romantic seaside dinner are Coconuts at The Reefs resort, and the Ocean Club at the Fairmont Hotel, both in Southampton.

Both restaurants feature elegant patio dining overlooking the beach. But if casual dining is more your style, try the Sandbar (right next door to Coconuts) where you can eat with your toes in the sand.
Play a seaside round of golf for two
Are you both golf fanatics? Then the Port Royal Golf Course's challenging course with its stunning ocean views is a must-do when you visit Bermuda.

The 18-hole course, designed by Robert Trent Jones, hosts the annual Bermuda Open and is one of Jack Nicklaus' favorite courses.

If you're cruising to Bermuda, be sure to ask for the cruise ship special when booking your tee time to take advantage of a significant discount. You'll just need to show your cruise card and ID when you arrive.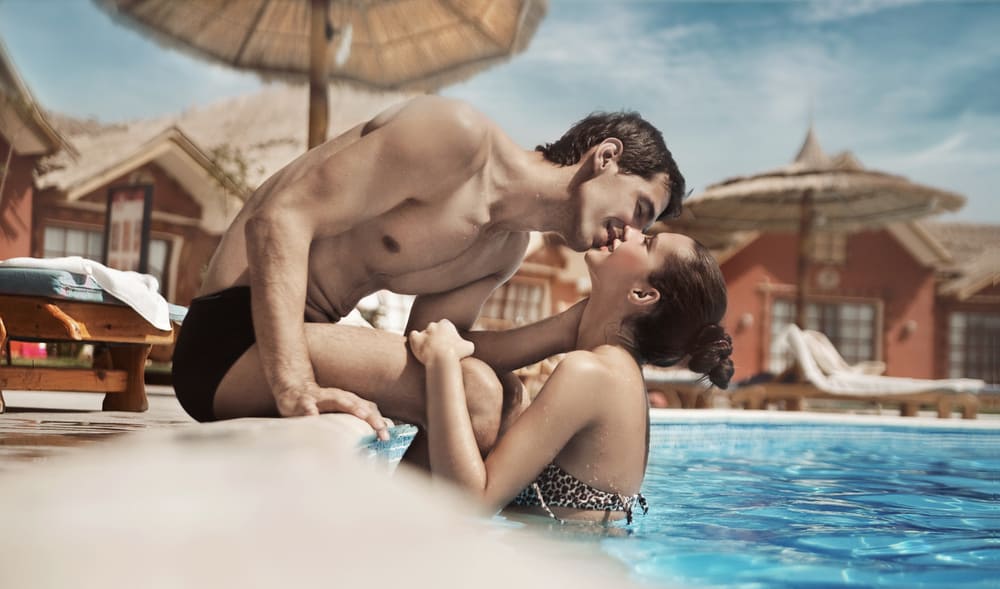 Luxuriate at the spa
Shake off any last remnants of real-world stress during your vacation by booking a relaxing couple's massage or spa day.

Indulging in a bit of pampering à deux is a luxurious way to enjoy your vacation together, and Bermuda's spas won't disappoint.

For a little extra relaxation, try the Swedish massage at the Newstead Spa & Salon in their luxurious Couples Suite.

Or try the three-hour Rum Swizzle Ritual at Elbow Beach Spa. You'll both enjoy a foot treatment, full-body scrub and bath, and a complete body and scalp massage. Also included is a Rum Swizzle, often called Bermuda's national drink.
Explore a wildlife sanctuary together
If enjoying nature as a couple is your favorite way to connect, head to the southeastern tip of Bermuda in St. George's Parish to explore Cooper's Island Nature Reserve.
The 12-acre reserve is perfect for hiking and wildlife spotting on the extensive walking trails. This gorgeous island is home to a variety of animals including native seabirds, giant land crabs, and even the endangered Bermuda skink, one of the rarest lizards in the world!

You can also enjoy a peaceful swim or snorkel from one of several secluded beaches accessible from Cooper's Island.

Be sure to climb the observation tower for a breathtaking panoramic view of the reserve and the ocean beyond.
Cycle the Bermuda Railway Trail
Want to experience some of the most beautiful scenery in Bermuda together? The Bermuda Railway Trail's eighteen miles of scenic trails run from Somerset, through Hamilton, and then along the North Shore to St. George's.

You can rent bicycles for the day at various locations around the island, including Oleander Cycles at the Dockyard if you're visiting on a cruise. Many hotels around Bermuda also offer daily rentals.

Be sure to specify that you want pedal bikes or push bikes if you're reserving ahead of time. "Bikes" usually refer to motorized scooters in Bermuda, and you might end up with something altogether different than what you expected!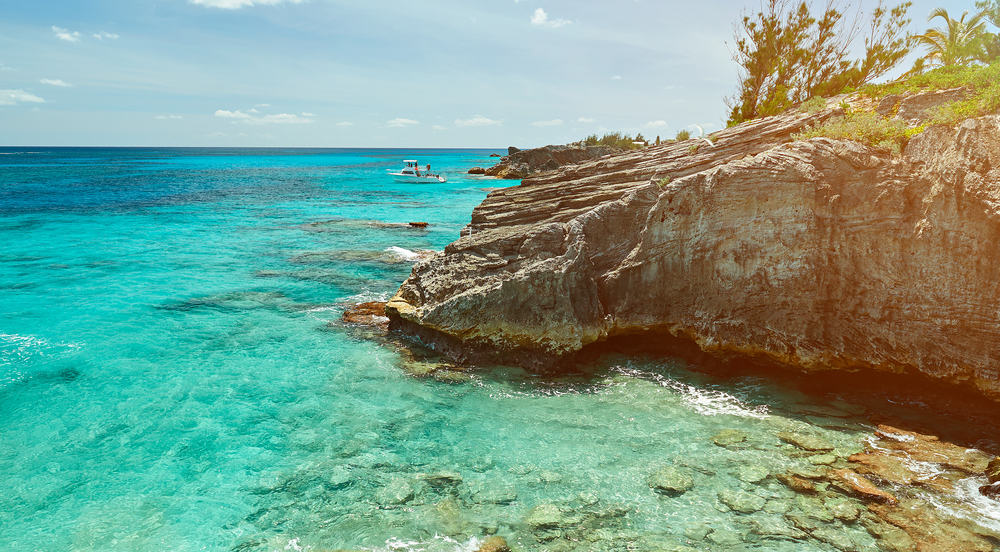 Swim together in an underground cave
Nestled in Tom Moore's Jungle in Hamilton Parish is Blue Hole Park, an idyllic spot featuring a lagoon, wet and dry caves, and the shockingly-turquoise Blue Hole itself.

You can cliff jump and swim in a former dolphin lagoon, explore jungle trails (native plants growing in the jungle ward off mosquitoes—bonus!), or squeeze into a limestone cave formed over millions of years.

But for the most romantic experience, head to Causeway Cave, an ocean-fed grotto where you can swim beneath stalactites in the shade.

A perfect escape from Bermuda's sun, swimming in this cool, peaceful cave is a unique experience you'll never forget.
Charter a yacht to sail around Bermuda's islands
Does sailing around Bermuda sound like the ultimate luxury experience to share with your partner?

You don't need a boating license or your own sailboat to experience this! Bermuda has several charter companies that can provide you with a sailboat, catamaran, or yacht, along with an experienced captain to steer you around the islands.

You might want to kayak over shipwrecks, snorkel off the side of the boat, or have lunch on a secluded island beach. Sip a cocktail at sunset and enjoy dinner under the stars—it's up to you.

Top yacht charter companies are Sail Bermuda or Bermuda Wind Sail Charters, both in Hamilton, and True Bermuda Charters in Sandys.

Chartering a yacht in Bermuda isn't cheap, but it's such a romantic way to enjoy being together for a special occasion like your honeymoon or anniversary. Or maybe just because!

_______________________________

About the Author: Carrie Ann Karstunen is the founder of Should Be Cruising and a lifelong travel fanatic. A former flight attendant, she now prefers cruise ships over airplanes and spends several months each year cruising and exploring cruise ports. When she's not on a ship, she's usually exploring New England from her home base in the Lakes Region of New Hampshire.
---
Read these next:
---