This post may contain affiliate links. Read our disclosure page for full details.
Planning a trip to California wine country and looking for the most romantic things to do in Napa Valley? Add these 8 romantic experiences to your itinerary for the perfect getaway with you and your plus one.
This article and photos were contributed by Ashley Friemel of Abroad With Ash.
Whenever my husband and I are craving a romantic getaway, Napa Valley is always at the top of our list. It's the perfect place for a weekend of quality time and memorable experiences.
The restaurants are outstanding and warrant returning over and over again. Think farm to table ingredients, intimate patios strung with twinkle lights, incredible wine lists, and award-winning chefs. Few things are as romantic as spending the day jetting from one wine tasting to the next where you will enjoy incredible views of the vineyards, taste a variety of top-quality wines, sip bubbles on a sunny patio, and learn about the winemaking process from the experts. Add quaint bed and breakfasts, charming Yountville, and one of a kind experiences like a hot air balloon ride above the valley and you've got yourself one memorable weekend for the books.
I'm sure once you experience Napa, you'll find yourself returning to explore this region again and again…whether it's to revisit old favorites or explore deeper. Without further a due let's dive into 8 romantic things to do in Napa Valley! Pair this list with my Napa Valley guide and you'll be set with your itinerary planning.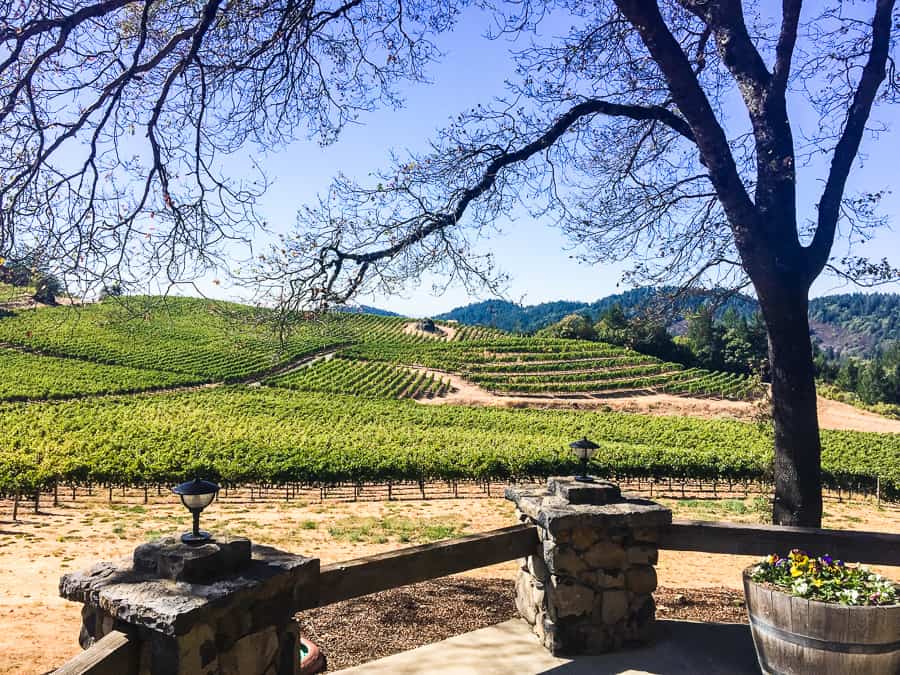 8 Romantic Things to Do in Napa Valley
Get Cozy at a Bed and Breakfast
Wine country and bed and breakfasts seem to go hand in hand. You can stay at a hotel anywhere in the world but finding a destination that has the B&B game down is special. Napa Valley is the perfect place to swap out your typical hotel room for a charming bed and breakfast.

Staying at a restored historic home, lighting the fireplace in your cozy cottage, enjoying a made fresh breakfast each morning, having the front porch or backyard to yourself on a sunny afternoon…these are things you just can't get at the standard hotel.
My absolute favorite B&B is the Inn on Randolph. This is actually the first bed and breakfast Jake and I ever stayed at and it exceeded all expectations. We have returned several times since…and have honestly booked a trip to Napa just to stay here.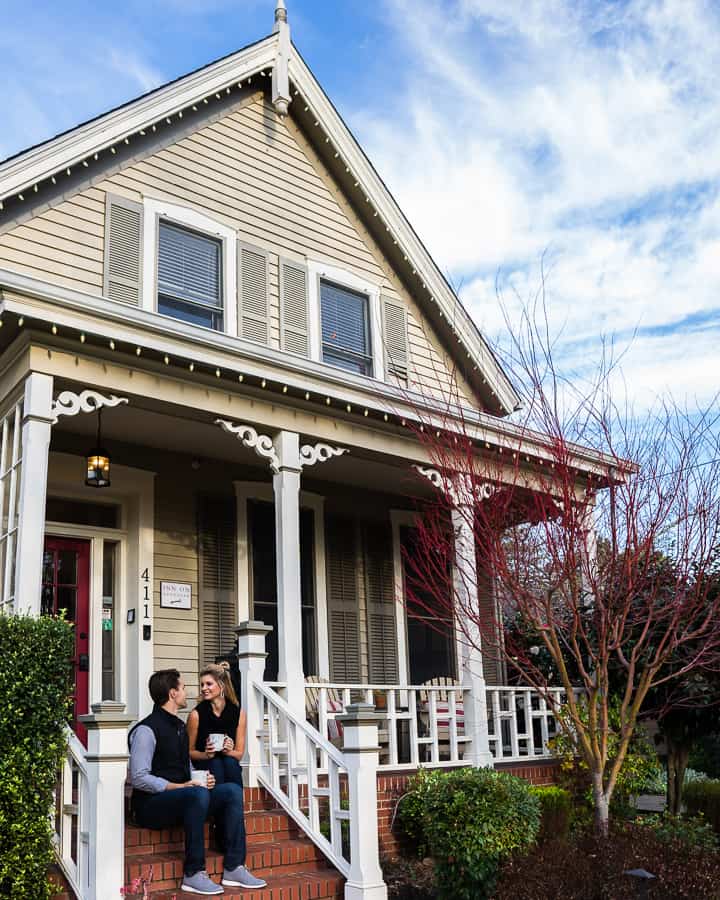 Relax at Spa Solage
Few things say romance like an intimate couples massage followed by a soak in a private tub. Spa Solage goes a few steps beyond your average spa. You have the opportunity to learn about and mix your own aromatherapy blend before starting a full menu of spa treatments. Fancy a detox? Book a treatment that includes the mudslide. Paint your partner in Calistoga mud, shower each other off, and finish with a relaxing soak in geo-thermal mineral waters. Want complete privacy? Go for the Starlight at the Bathhouse option where you have the entire spa to yourself.
Spa Solage is a 20,000 square foot property that is made up of cottages, treatment rooms, relaxation areas, and pools. It truly feels like a nature and wellness escape. There are several pools ranging in temperatures from freezing to 103 degrees. Arrive early before your treatment so you can fully enjoy the pools and facilities.
Float Above the Valley in a Hot Air Balloon
A hot air balloon ride above one of the most beautiful areas in the country…sign me up! This is an experience to remember and is perfect for a special occasion or surprise. There are several companies to choose from. I personally recommend Balloons Above the Valley. Packages include roundtrip transportation from your Napa or Sonoma hotel. All the guests gather at Model Bakery (one of my favorite bakeries in Napa Valley) for a pre-flight pastry and coffee.
The balloons take flight at sunrise when the wind is calmest. This is perfect for photographers as you'll get some amazing "golden hour" photos. Prices start at $189 per person. The balloon baskets vary in size fitting 10, 12, 16, or 22 passengers. I appreciate that Balloons Above the Valley zone the basket off so each person/couple gets a corner and no one is stuck in the middle. Wear comfortable clothes and dress in layers as it will be pretty chilly in the morning when you're on the ground but warms up as the burners keep the baskets toasty.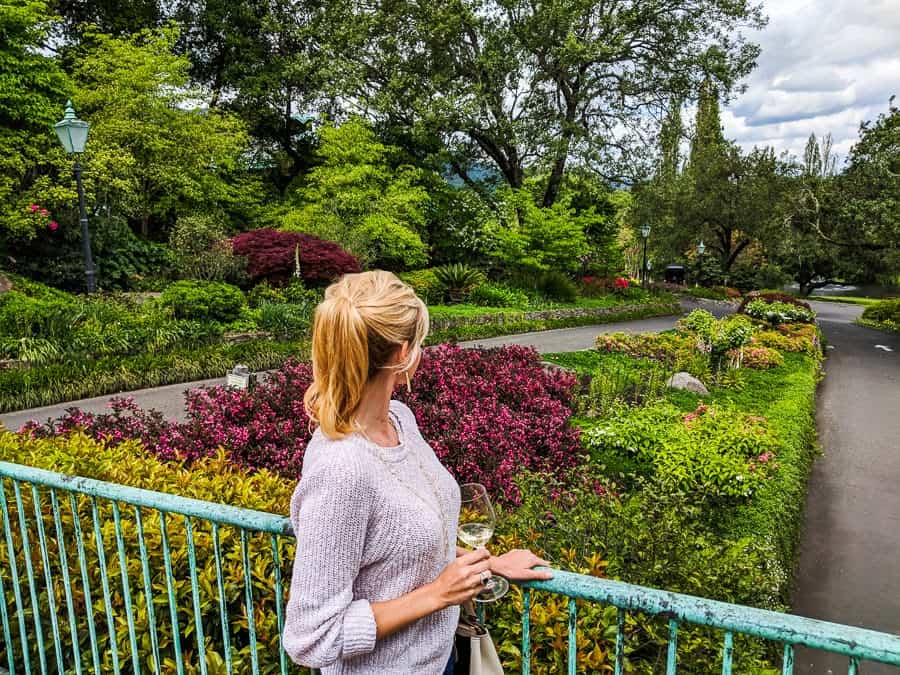 Sip Bubbles in a Cave
After ten visits to Napa Valley and more wine tastings than I can remember, the Schramsberg cave tour and tasting remains one of my favorite experiences. Tours are limited to 10 to 12 people and take you through caves that are 125 years old. The experience ends with a candlelit tasting in the caves. I learned a lot about the method of producing sparkling wine on this tour and really appreciated the small group size.
Schramsberg continues to be one of my favorite American brands for bubbles. It's no wonder these sparkling wines have been served at official State functions by every U.S. Presidential administration since President Nixon.
Tours start at $70 per person and last around 1.5 hours. Book your tour online as soon as possible. Reservations are required and time slots can sell out weeks in advance.
Take a Stroll Through Charming Yountville
Napa Valley consists of four small towns; downtown Napa, Yountville, St. Helena, and Calistoga. Stopping at each town and exploring the main street is a must. My favorite town to explore is Yountville. It's the most picturesque and has a European feel to it. Yountville holds the unofficial title of "culinary capital of Napa Valley"…which means there are plenty of top restaurants to choose from. Some of the most popular names include The French Laundry, Bouchon, Ad Hoc, and Redd Wood.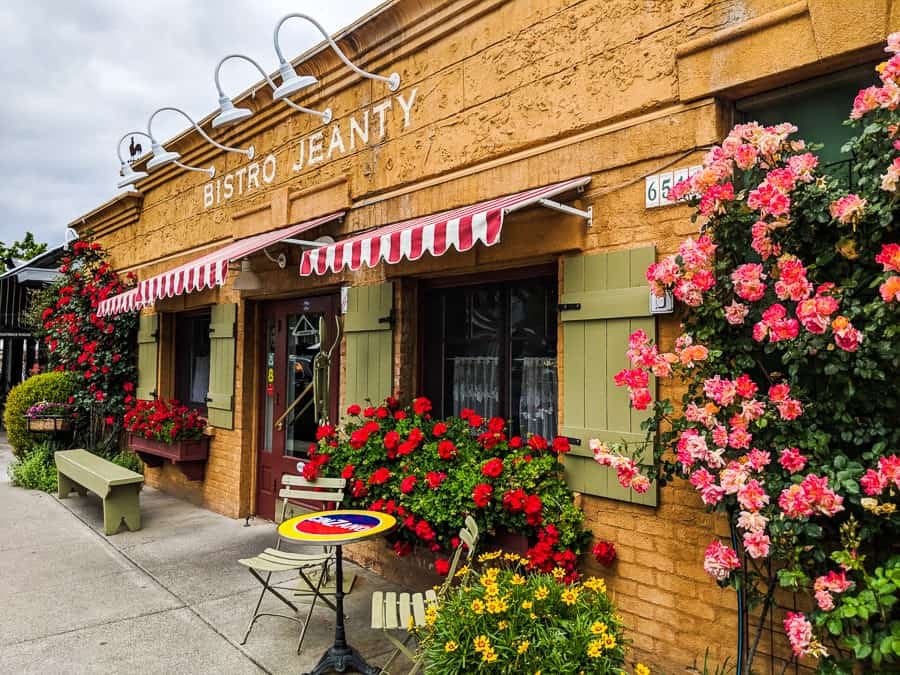 One of my personal favorite spots for dinner is Bistro Jeanty, a charming bistro serving French classics like Boeuf Bourguignon. A new addition to Yountville is the Restoration Hardware restaurant and wine vault. The restaurant is a stunning indoor/outdoor setup featuring crystal chandeliers, fountains, and live oak trees. The look is beyond Instagram worthy. Enjoy a wine tasting, glass, or bottle of vino inside the two-story historic wine vault or at one of the many outdoor living room spaces. Restoration Hardware went above and beyond in the overall décor and vibe. The space is romantic and chic.
Grab a coffee from Southside café and a pastry from Bouchon bakery on your way out!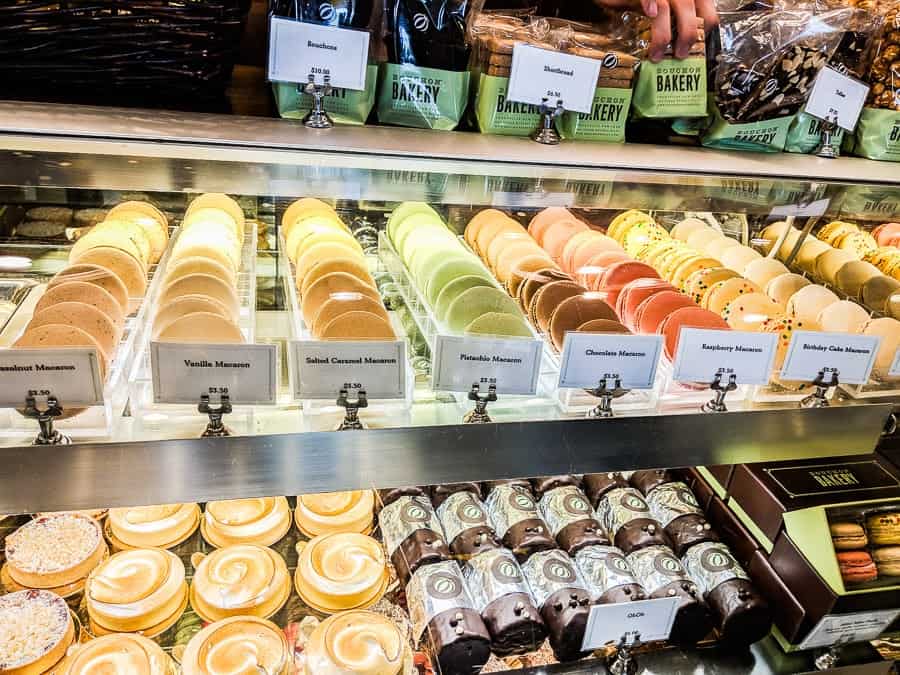 Splurge on a Multi Course Michelin Star Dinner at Auberge du Soleil
Auberge du Soleil was Napa Valley's first fine dining establishment founded in 1981 and has earned a Michelin star award for the past 13 years. Choose from a three, four, or six course tasting menu. Prices range from $125 to $170. Try the local spiced lamb, bacon wrapped veal, or Japanese wagyu. Not a meat eater? Try the sunchoke risotto or potato gnocchi with wild mushrooms.
If the weather is nice go for the patio which has breathtaking views. Try to book your time slot during sunset for an extra romantic experience.
Try the prix fix lunch if you want to experience Auberge du Soleil and skip the $100+ price tag. A two course meal is $37 and the three course is $43. An a la carte menu is available if you don't like the prix fix options. Breakfast will be a lower price point as well. Go for the Auberge omelet for $18, a basket of fresh pastries for $14, or the duck confit hash for $22.
Whichever meal you choose you will be rewarded with exquisite cuisine, pristine service, and stunning views.
Visit the Most Beautiful Napa Valley Wineries
A visit to Napa Valley is not complete without some stellar wine tastings. Sip top quality wines as you enjoy views of the valley or reserve a private tasting paired with bites. Book a variety of experiences to keep things interesting. I personally recommend one winery or cave tour paired with two or three tastings a day if it's your first time in Napa Valley. Booking too many winery/cave tours becomes a bit redundant after the second or third tour…not to mention expensive.
Don't overdo it and fit more than four tastings into one day, which many first-time visitors do. If you do more than that I feel you really don't have time to appreciate each property/experience.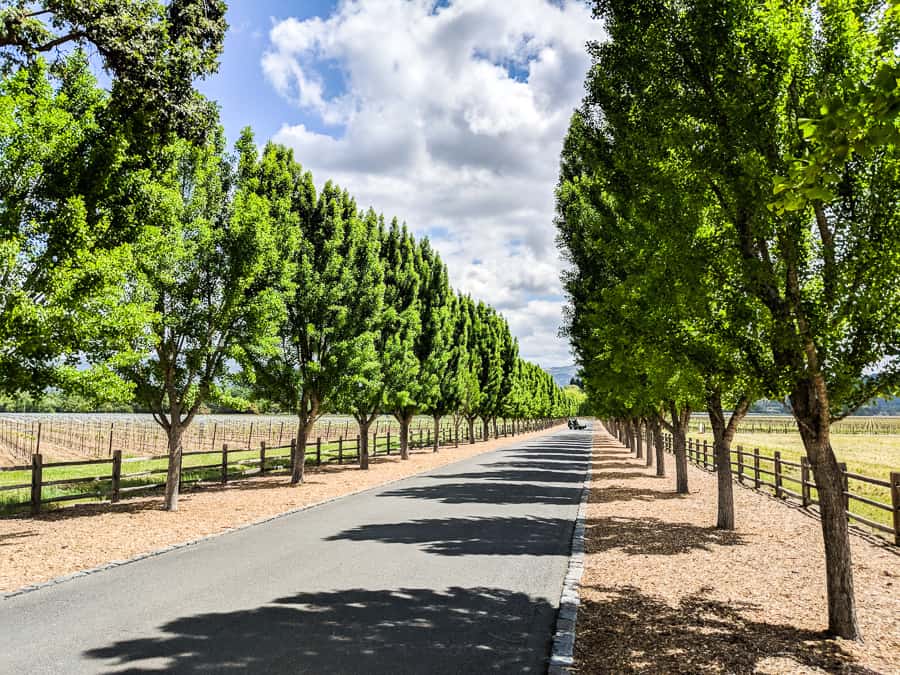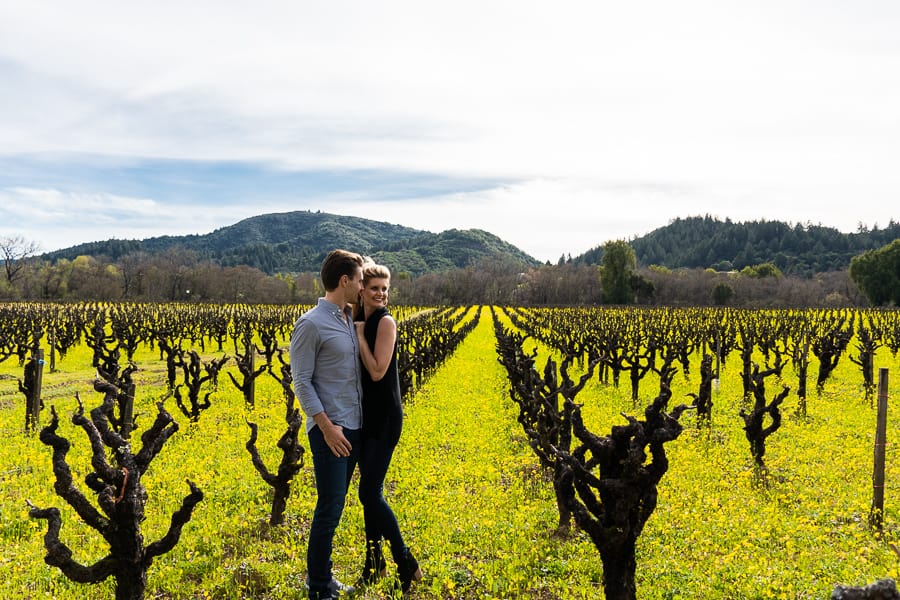 It's important to research which wineries you want to visit beforehand. Many wineries require reservations in advance, especially during busy season (learn the best times to visit Napa here) . Another reason to research is that some wineries, usually the more popular or expensive ones, require you to do a tour. They do not offer regular tastings. Save your winery/cave tours for the wineries that only offer tours. Leave the rest of your itinerary open for regular tastings. Do a mix of group tastings, private tastings, and food and wine pairings depending on what type of experience you want. A bonus of the regular tastings is that you can often split them with your plus one.
Traveling with your canine pal? Don't miss these dog-friendly wineries in Napa!
I've listed a few of my favorite wineries that I return to again and again. If you don't have a designated driver or you want someone to do the work for you on picking which wineries to visit, consider hiring a driver. I recommend Platypus Tours, Napa Private Tours, and Savor Napa Tours.
Mumm – relaxing patio and very chill

Chateau Montelana – the winery that put Napa on the radar for quality wines (watch the movie Bottle Shock) and beautiful grounds

Frank Family Vineyards – relaxing patio, one of my favorite chardonnays

Far Niente – some of the most beautiful grounds in Napa

Hall Rutherford – stunning and intimate cave tasting room
Joseph Phelps – large patio with stunning views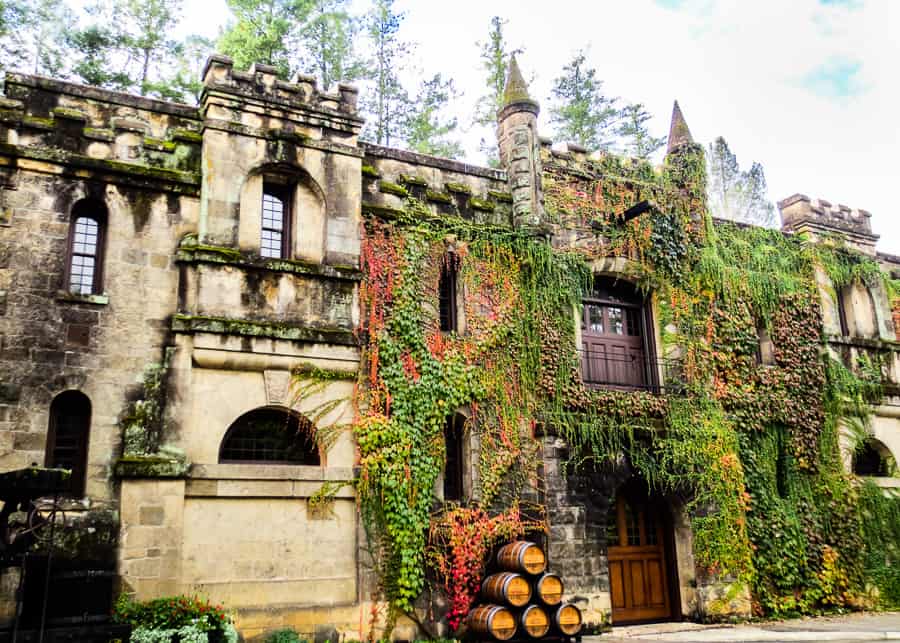 Private Photo Shoot
Now that you've planned this romantic getaway, you'll probably want to take those memories back home! Book a private photo shoot to guarantee you'll have photos to use for your annual Christmas card or display on your bookshelf. Ask your hotel or B&B to recommend a photographer or use Flytographer which will pair you with an established photographer. If photos are important to you this is a must! Having a photographer not only makes it easy to capture those special moments, but they will also know the best spots for incredible backdrops.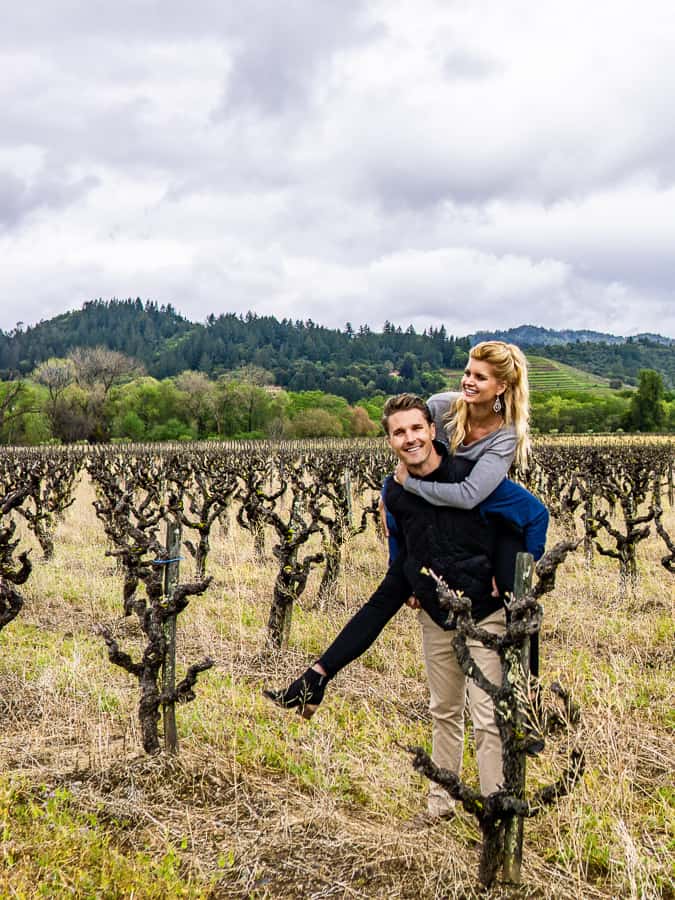 Romantic Napa
Napa Valley is truly one of the most romantic getaways in the United States. Jake and I visit at least once a year to get some quality time together. The combination of stunning wineries, beautiful views, romantic dinner spots, and charming towns makes this the perfect trip for couples. Whether you're celebrating your 50th wedding anniversary, planning a surprise engagement, or just a last-minute trip to slow down and enjoy each other, Napa Valley is sure to deliver that romantic experience.
If you enjoyed your time in Napa, I highly recommend visiting Willamette Valley (where I'm from). This weekend itinerary is great for first time visitors and is perfect if you're looking for something less expensive and crowded than Napa Valley.
---
About the Author: Ashley is the owner and creator of Abroad with Ash. After leaving a career in finance, Ashley began focusing on her travel blog where she provides beneficial advice and insights through firsthand experience, itineraries, city guides, and top 5 lists to help others plan their next adventure. She currently resides in Texas and has a healthy obsession for coffee shops, travel deals, gelato, and Harry Potter.
---
You might also like:
---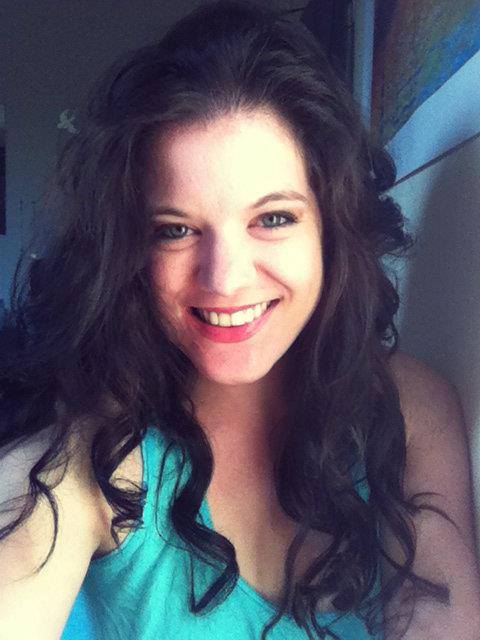 Amy Hartle is the author of Do You Love Me? How To Stop Seeking Reassurance in Relationships, a book on reassurance seeking and relationship anxiety. Both her book and this blog are born of personal experience; Amy shares expert relationship advice from the lessons learned during her own 10+ years with her husband, as well as couples travel tips and romantic getaway recommendations, all gleaned while traveling the world together.