This post may contain affiliate links. Read our disclosure page for full details.
What comes to mind when you think about Fort William? It's a superb base for a holiday or short break on the western side of the Scottish Highlands. It's also within easy distance of Ben Nevis and various lochs, including Loch Linnhe, Loch Eil, and Loch Lochy.
Of all the words you could use to describe the area, romance isn't top of the list. Don't be fooled though – there are plenty of ways to celebrate an anniversary, ask that all-important question, or even just enjoy a day in each other's company. Whether you want to be active or just to find somewhere to be together, there are some fabulous options available.
I've put together a few suggestions for romantic trips using Fort William as a starting point. Whatever you want to do, you should find something here that works for you.
Take the Jacobite steam train to Mallaig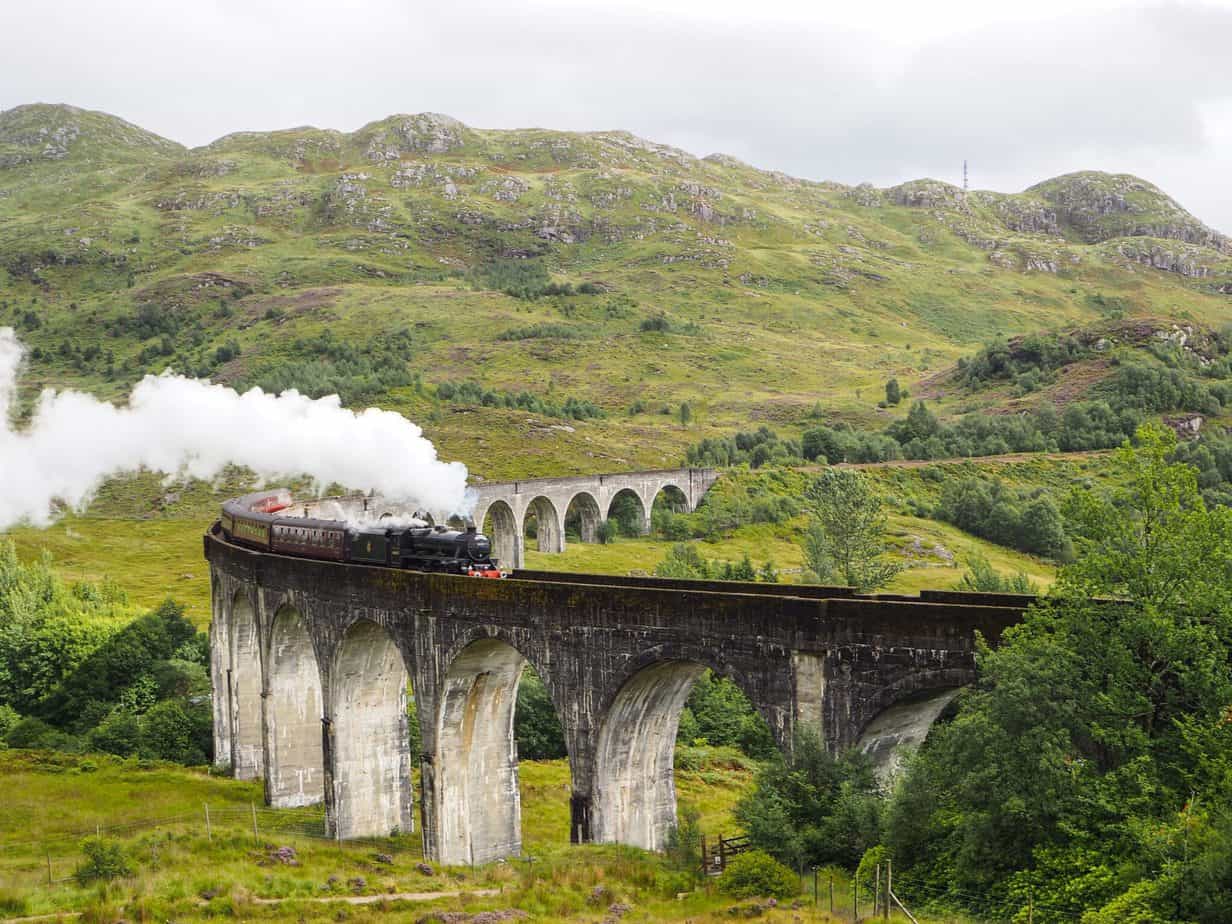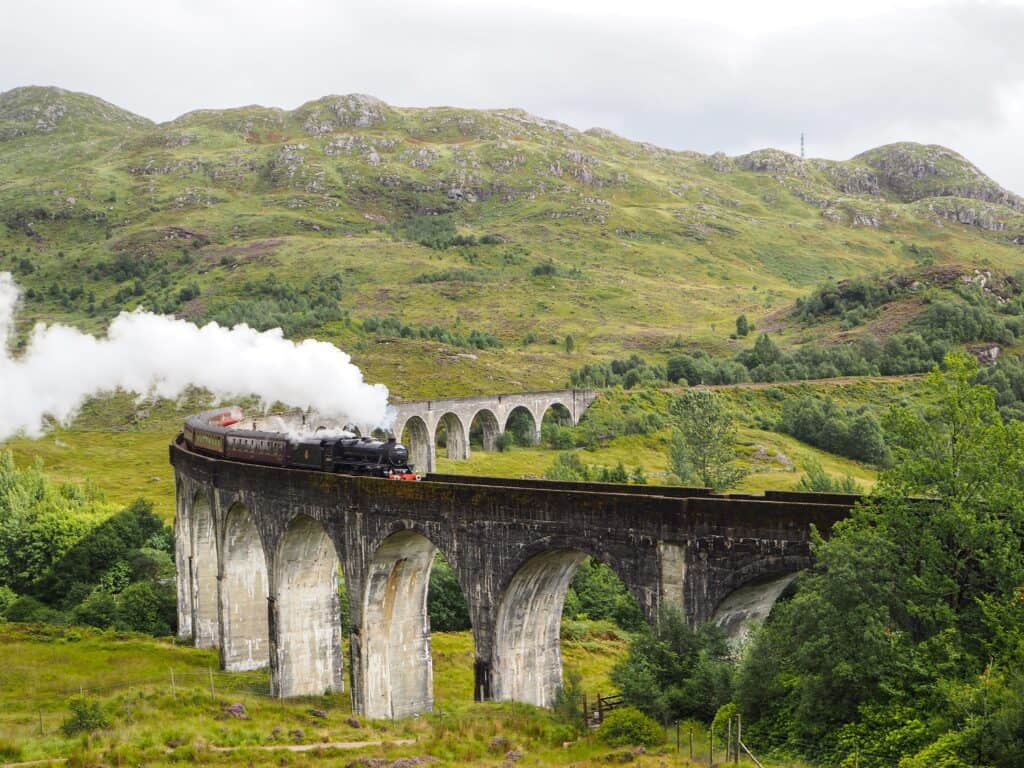 How could I not start with this? The journey is regularly listed among the finest railway journeys in the world. The Jacobite steam train offers the best and most stunning way to get from Fort William to Mallaig. This is a small town and port looking out to Skye and Rum.
If you've seen Harry Potter, you may get déjà vu as the train chugs across the famous Glenfinnan Viaduct. This curves around the inland end of Loch Shiel. Views from the train take in the Jacobite monument standing at the shores of the loch. It's quite an experience, although the entire journey is memorable.
You can book extras for your trip as well if you wish. Champagne, chocolates, and flowers are available for celebrating a special day or anniversary. Alternatively, I can personally recommend the cream tea, although it does mean you'll end up foregoing the gorgeous fish and chips you can get in Mallaig.
Perhaps just a bag of chips to share, so you can have the best of all options. Could there be anything more romantic than sharing some chips?
Spend the day in Glen Coe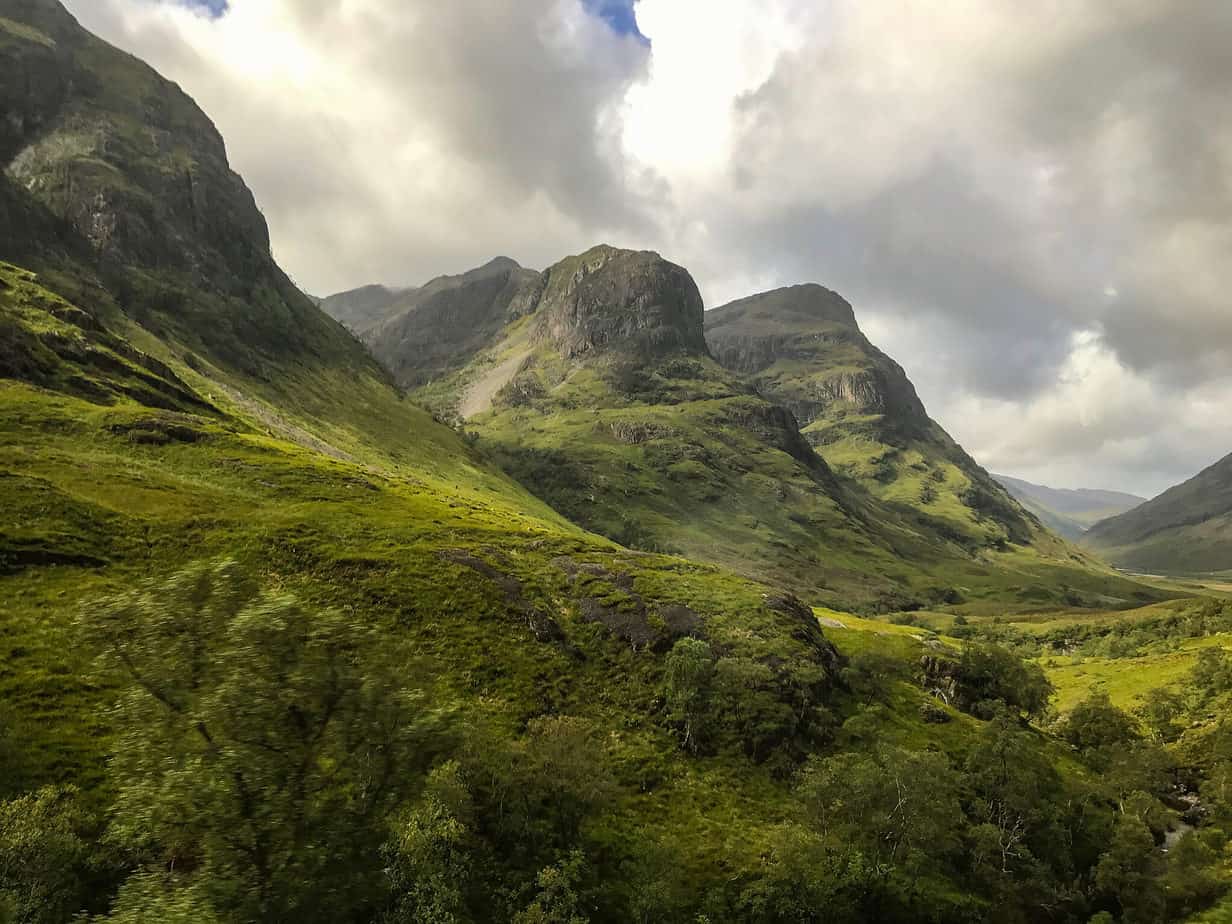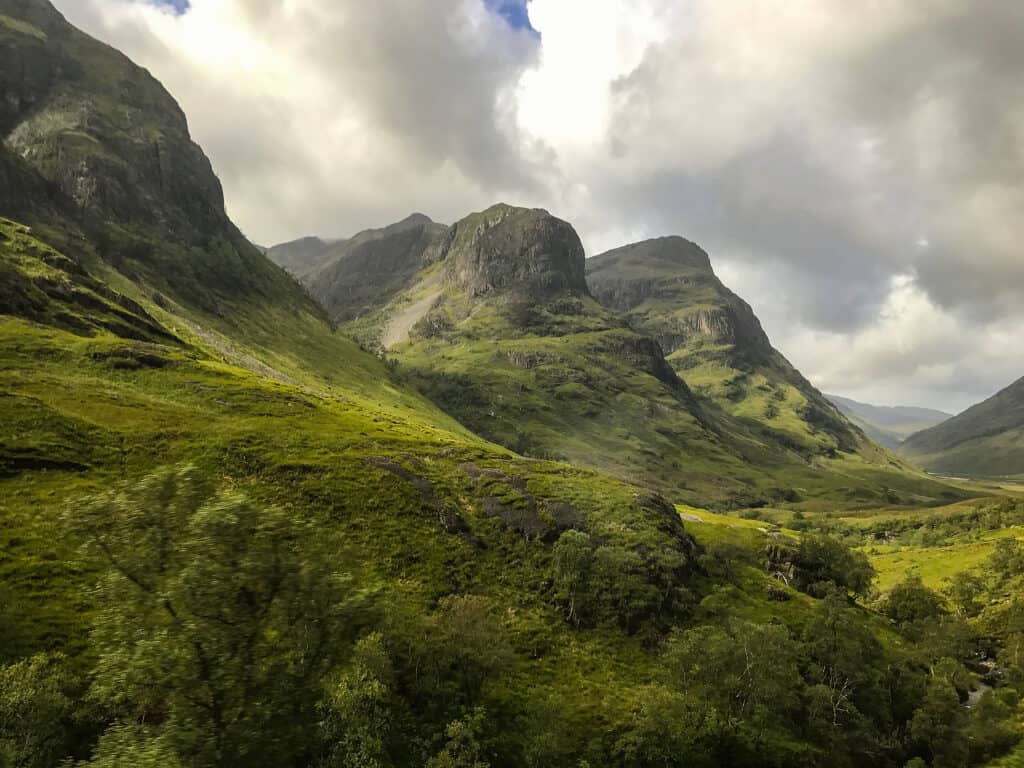 Leaving Fort William via the A82 south west, you can follow that road through stunning scenery until you see signs for Glen Coe village. You'll be there in under half an hour.
The road through the small village takes you out to the Glencoe Lochan Forestry Commission car park. There are three waymarked walks there, all taking you along at least part of the banks of the lochan. It's easy to 'stitch' the three walks together to make a longer circular route too.
There are lots of places to stop for a bit. If you're prepared, you can always take a picnic and blanket on a dry day and enjoy a relaxing and romantic lunch among the redwoods. And for the keen photographer, it's virtually impossible to take a photo and not have a mountain in it.
It's also worth heading out to the Glencoe Visitor Centre while you're in the area. It's only a mile from the village. It's a great introduction to the breath-taking scenery offered throughout the glen.
If you want to get away from it all, there are lots of possibilities in Glencoe to do just that. With plenty of walks and hikes starting from the visitor centre and from various parking spots along the A82, you can strike out and soon be alone, just the two of you.
The Signal Rock car park is easy to find and signposted. This is the start of one of the most famous and best-loved walks in the area. Only a mile and a half long, it offers amazing views of Aonach Eagach, a narrow ridge formation, and finishes by taking you past the Clachaig Inn on your way back to the car. It would be a shame not to drop in while you're passing, wouldn't it?
Visit Eilean Donan Castle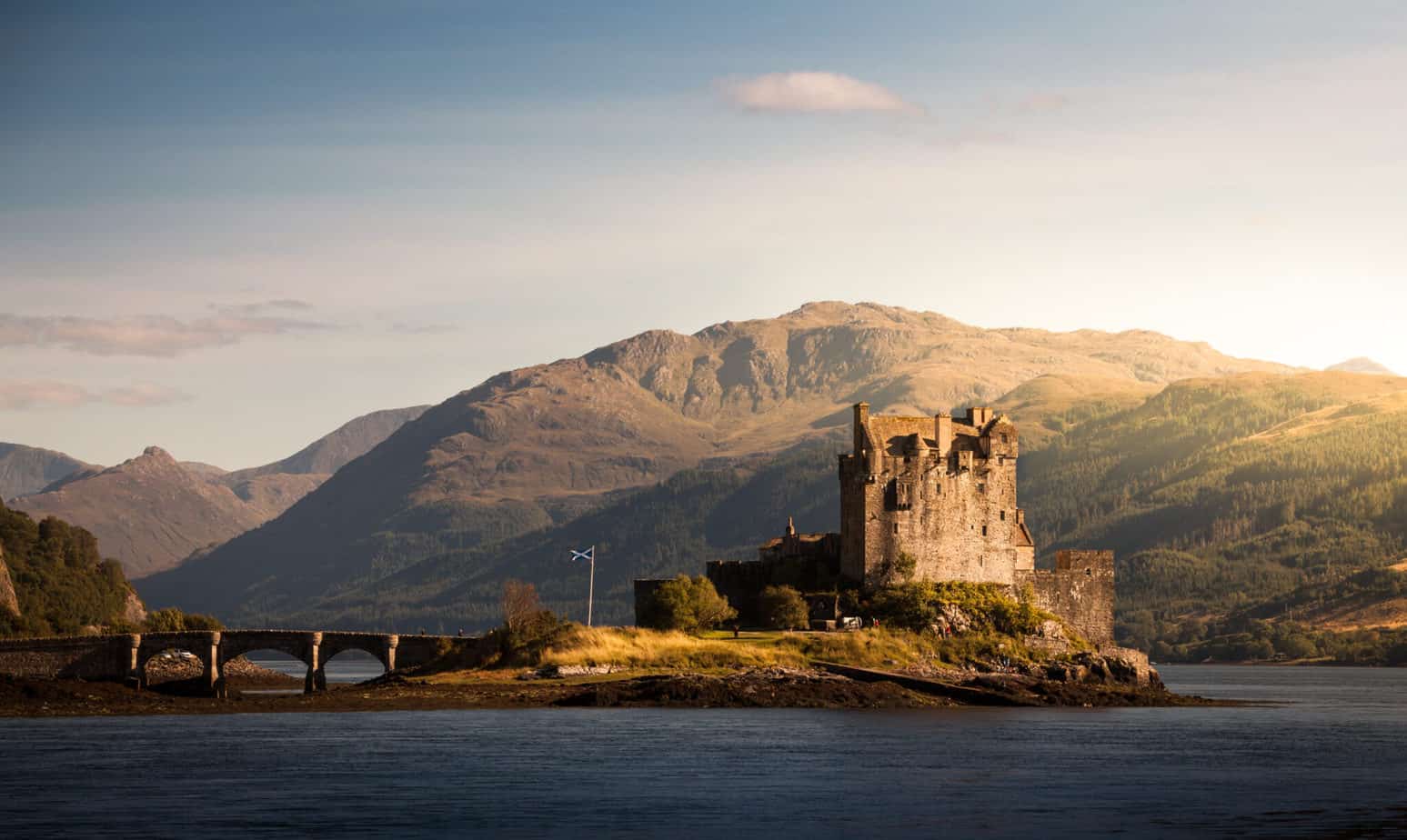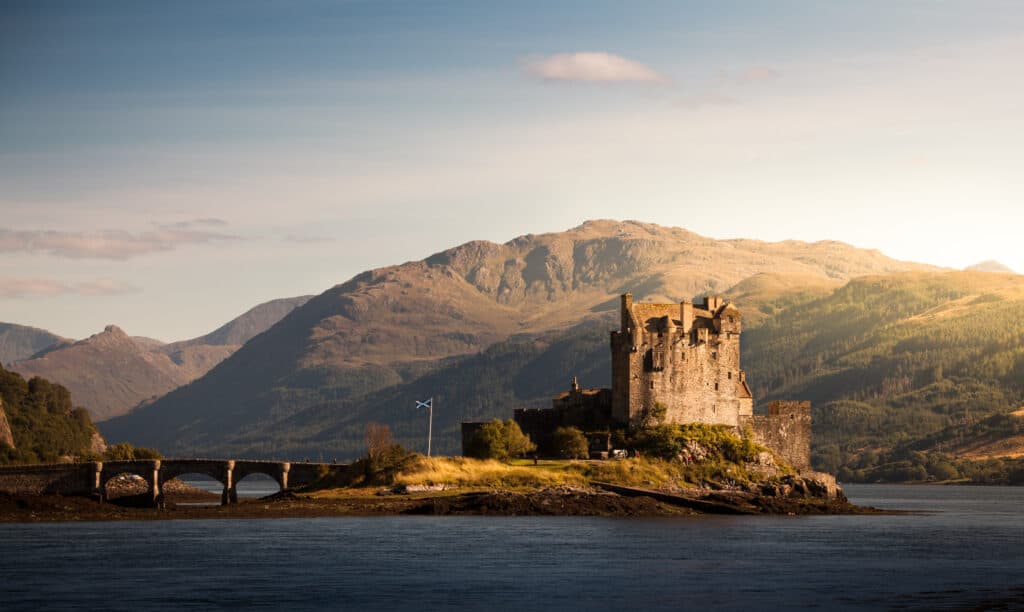 One of the best things about Fort William is how well placed it is for visiting other parts of western Scotland. Don't forget that you're in the heart of some of the most stunning scenery too. It's hard to find words that adequately describe it.
Ben Nevis famously towers over the town, but there are some fantastic routes out of Fort William that you can enjoy for a romantic drive out to some famous tourist spots.
One of these is Eilean Donan Castle, and the route from Fort William is a marvellous one. Around 65 miles from the town, you can take the A82 north-east alongside Loch Lochy. When you reach Invergarry, you turn left onto the A87, past Loch Garry.
There are lots of places to stop along the way for photographs, so expect the journey to take longer than the 90 minutes it would take without stopping. You can tick off Loch Loyne and Loch Cluanie on your loch bingo card too, before ticking off three more on arrival at Eilean Donan Castle.
The castle is at the meeting point between three lochs in the Kyle of Localsh. The island where the castle sits shows signs of being inhabited for around 1,500 years. However, the castle you'll see today is a mere baby, as the first one was built in the 1200s. No one is quite sure whether this is the fourth version or whether there have been others.
Head for the visitor centre when you arrive. The homemade goodies in the café are worth a visit alone, but make sure you wander around the castle and take in its many impressive rooms and historical objects.
If the castle seems familiar, it's because it is one of the most iconic images of the country. It has also featured in lots of TV shows and films, including Highlander and James Bond: The World is Not Enough. It's quite the celebrity.
Take a cruise on Loch Linnhe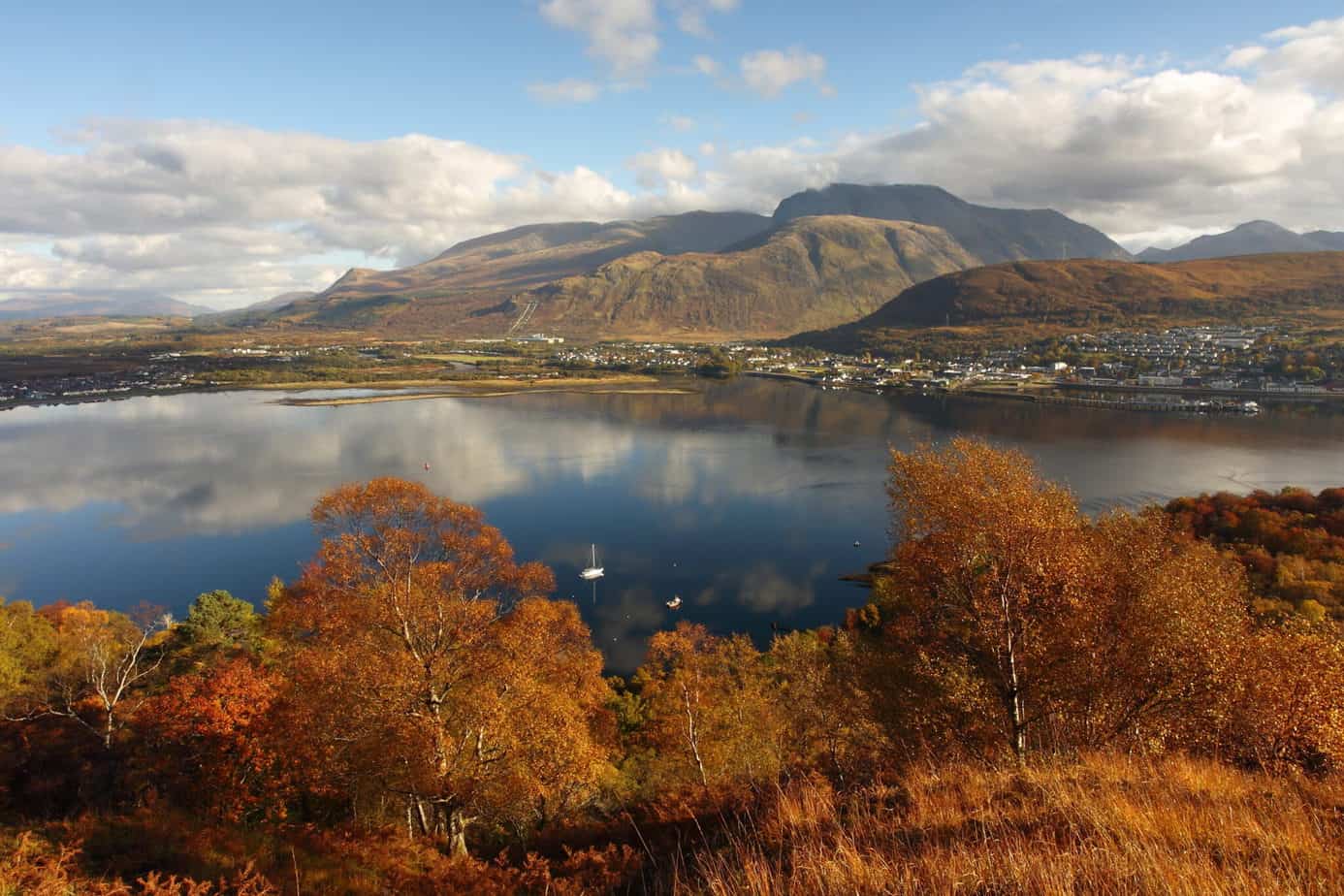 If you're staying in Fort William, you could walk to the town pier where cruises leave to explore either Loch Eil or Loch Linnhe. I've chosen Loch Linnhe as it is larger, but either way you'll enjoy a cosy cruise with views of the famous Ben Nevis and surrounding mountainous scenery.
Cruise times vary, so check their official website to find out what times they sail. During the summer months, they offer evening cruises too, ideal if you fancy watching the sun set.
The Crannog Cruises website also mentions they can arrange a private charter. Perhaps that romantic sunset cruise could be reserved for you and your loved one alone? That would be a superb way to pop any question you have in mind…
See Nevis Gorge and the Steall Falls
Ben Nevis itself is for those prepared and knowledgeable enough to take it on. However, you can still capture much of the beauty of Glen Nevis and the surrounding countryside for a walk described as one of the best of its kind in the whole country.
You'll need to head for the Upper Glen Nevis car park, which is about 20 minutes outside of Fort William and seven miles from the town centre. The road takes you past the Ben Nevis Visitor Centre and the Lower Falls Car Park further along the route. Be careful as it's a single-track road, although there are passing places.
Eventually, you'll come to a car parking spot where the route begins. Make sure you wear sturdy walking boots and take extra care – there is a sign warning that fatal accidents happen in this area, so don't discount the risk. However, if you do decide to walk to Steall Falls, you'll be rewarded with stunning views.
In good weather, there are a few safe places where you could unpack a picnic and enjoy the views of the waterfall. The mountains rise around it and the water rushes past, further building the dramatic scenery. No other picnic will feel quite the same after this.
Try a spot of Nessie hunting!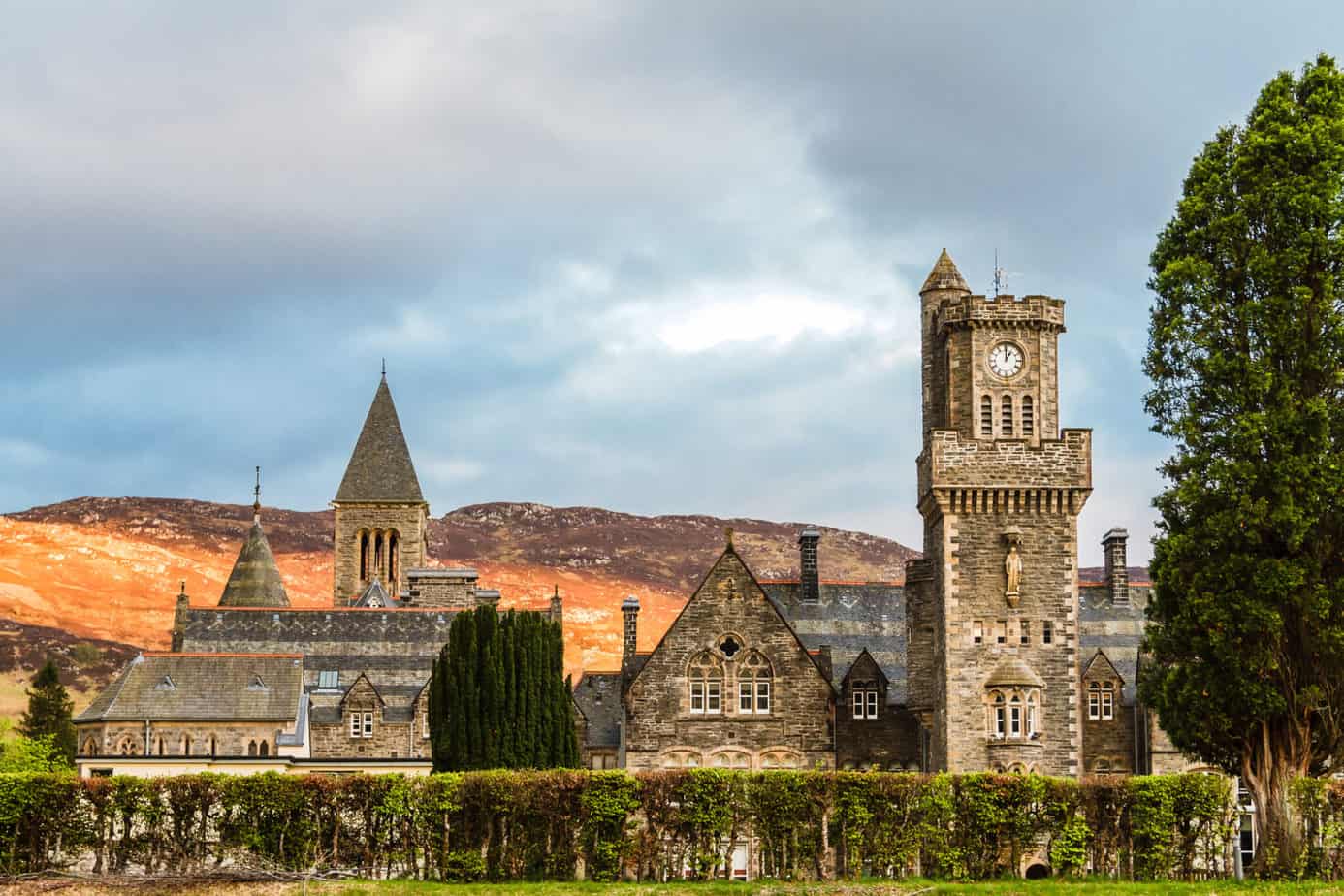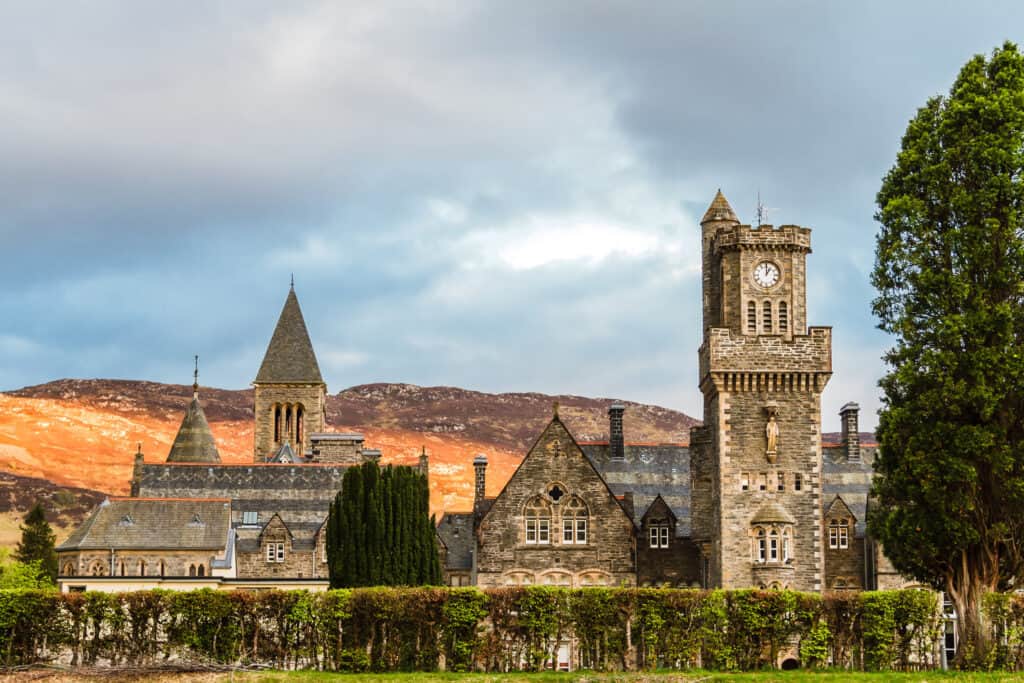 How could I finish without mentioning the 50-minute drive through marvellous scenery that lands you at the southern end of Loch Ness? Fort Augustus is the ideal starting point for discovering the loch.
While monster sightings aren't guaranteed, you can learn more about the creature by hopping on board one of the many cruises that depart from Fort Augustus. These don't run all year round but frequently depart during the busier season.
Alternatively, if you're both keen to speed things up a bit, you could book a trip on a Beastie Boat. This is a RIB boat departing Dochgarroch Loch that speeds across the water and takes you on a whirlwind tour of Loch Ness in 80 minutes.
Nessie sightings aren't guaranteed, but you can snuggle up on board a boat together and learn more about the history of the monster and the loch it supposedly lives in.
To complete your day in the area, head for a meal at The Boathouse Lochside Restaurant. There are other great picks in the area, but this one offers a wide-ranging menu including the obligatory haggis and Scottish salmon. Whatever you choose, you can enjoy your meal looking out over Scotland's most famous loch.
Fort William – the ideal base for a romantic break
I've given you several great options for romantic trips from Fort William. It's easy to escape into the wilds of Scotland from here without taking too long to get there.
You've also got boat trips, charming towns and villages, great restaurants, and plenty of atmosphere. Castles, waterfalls, gorges, and Harry Potter… well, the famous viaduct anyway.
Where are you going with your loved one when you reach Fort William?
About the Author: Graham Grieve is a Scottish travel blogger based in Glasgow, with family in Fort William. Graham has spent the last 27 years exploring the Scottish Highlands and some of the more hidden places in Scotland. You can keep up to date with him at his blog My Voyage Scotland.
---
Read these next:
---