This post may contain affiliate links. Read our disclosure page for full details.
Searching for a location that's the perfect romantic getaway destination? Looking for romantic travel recommendations within the States? A romantic getaway in Charleston, SC is your answer. Without a doubt, Charleston is one of the best weekend getaways in the South.
My husband and I spent four days in Charleston last year for our five year anniversary, and I would highly recommend it to anyone! Voted the #1 destination in the world by Travel & Leisure four years running, it's the perfect romantic getaway weekend destination.
From walking down Charleston's charming streets to its delicious food scene and multiple plantations and gardens right outside the city, there's something for everyone in Charleston. Keep reading for recommendations where to stay and itinerary ideas for your next romantic weekend in Charleston.
Photos and article by Melissa Laverty.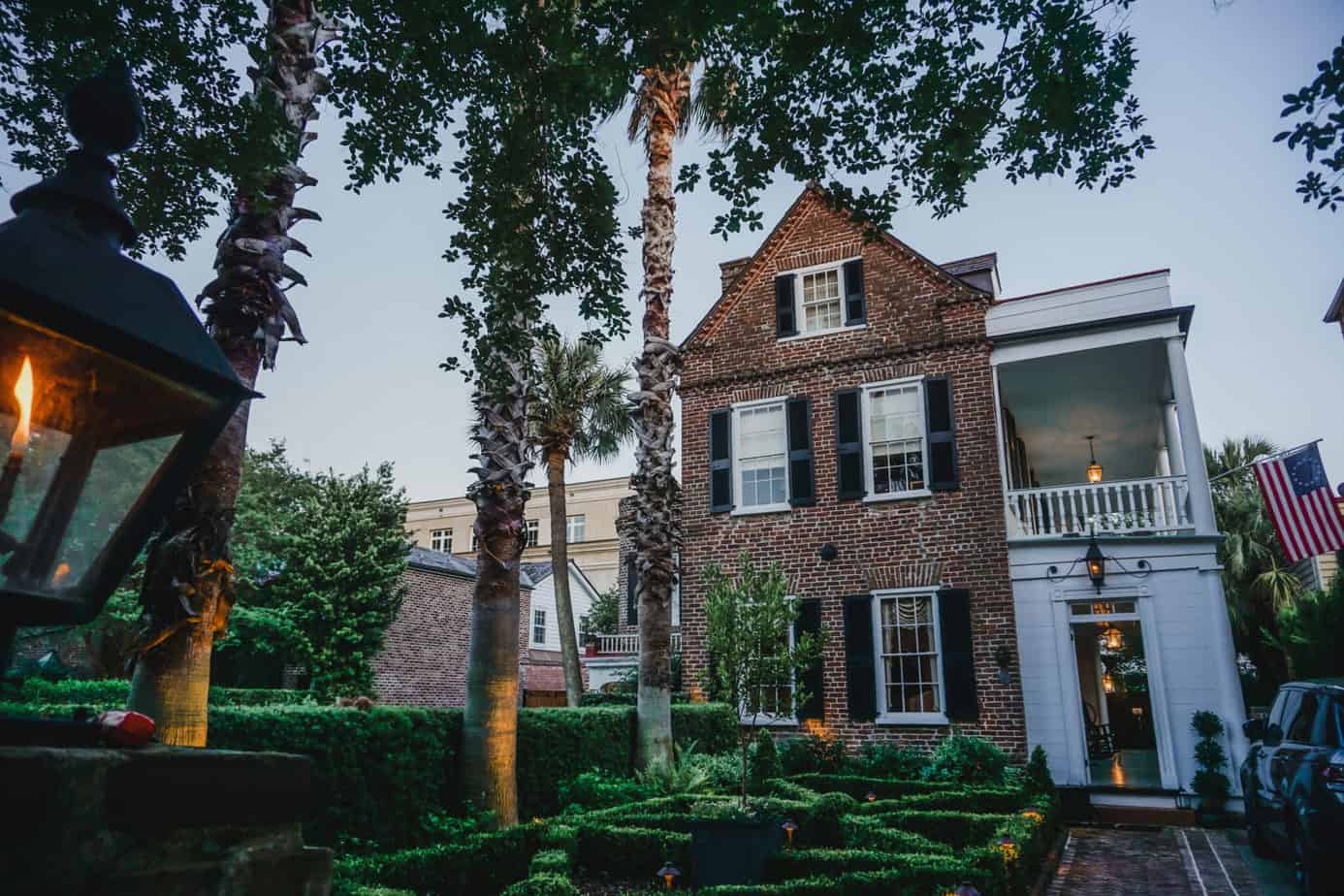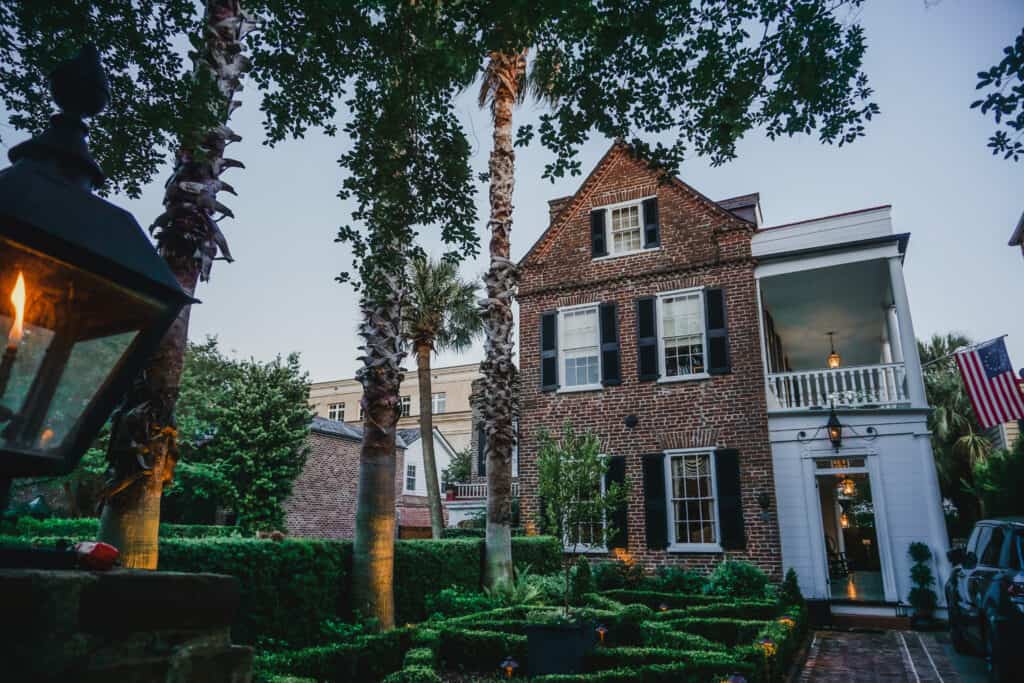 Where to stay for a Romantic Getaway in Charleston Downtown
If you're staying in Charleston for a long weekend and can afford to splurge, Hotel Bennett, The Vendue, and Zero George will not disappoint. My husband and I splurged for two nights at the Vendue, and then stayed a night at the Inn at Middleton Place. The Inn at Middleton Place is a bit outside Charleston, connected with the famous Middleton Plantation. Staying at this unique architectural spot includes admission to the Middleton Plantation, which is the most visited in Charleston. Other recommendations for reasonably priced accommodations are the Francis Marion Hotel and The Mills House, which is probably the most instagrammable hotel in the city!
PS: Also check out this list of sweet Charleston Airbnbs!
Hotel Bennett- The newest addition to the Charleston hotel scene, Hotel Benett is described as opulent, sparking, and grand by Conde Nast. It features a dreamy pink champagne bar and rooftop pool.
The Vendue- Known as Charleston's 'art hotel,' this trendy spot is in an ideal location in the French Quarter. My husband and I stayed here for two nights and you can't beat the location! Walk a few blocks to Waterfront Park and Battery Park in one direction, and the popular restaurant Husk in the other. This spot also offers complimentary beach cruiser vehicles; Charleston is a perfect city to see by bike.
Zero George Street- This 1804 renovated building screams Charleston charm and is located two blocks from the harbor. This was our second choice of where to stay in Charleston, but is a popular spot with only sixteen guest suites so make sure to make your reservations early! Over the years this hotel has expanded a bit with adjacent buildings, but from the outside, you could easily miss it walking in the neighborhood. Click here for more information on the interesting story of this historical home.
Francis Marion Hotel- This hotel was our third choice for Charleston and won't break the bank, a traditional room in the summer runs less than two hundred per night. One of the few buildings that reaches twelve stories, if your budget allows book a room with a view of Charleston's skyline.
The Mills House- Located on two iconic Charleston's streets, Queen St and Meeting St, The Mills House is one of the most instagrammable spots in the city. Located directly across from a favorite Charleston restaurant, Poogan's Porch, this iconic hotel will not disappoint!
Psst! Grab some cute dresses to wear in Charleston at Melissa's shop!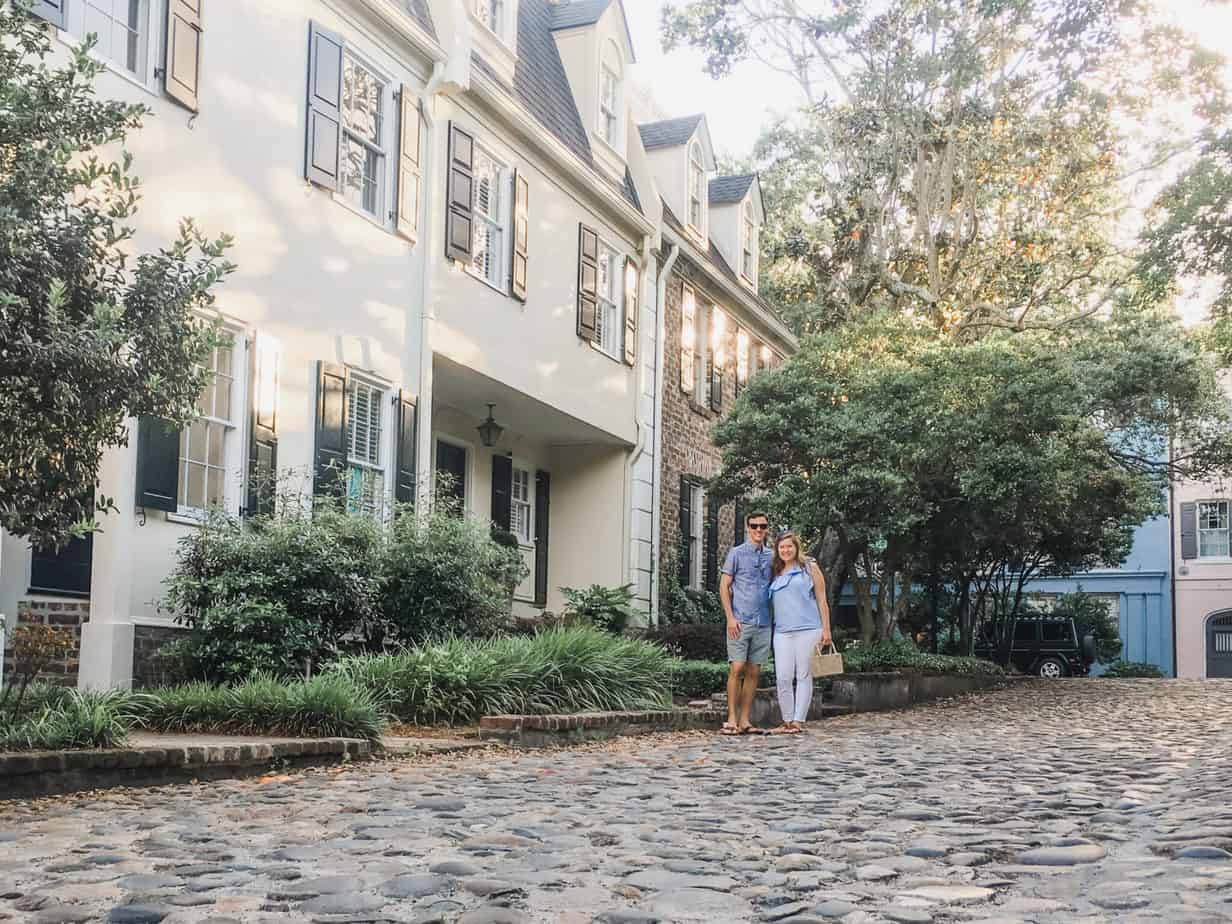 Spend a romantic night or two at The Inn at Middleton Place
If you're willing to venture out of Charleston a bit, I would highly recommend staying here, it's right down the street from Magnolia Plantation and Gardens! The Inn will include admission to Middleton Place, including the Gardens, House Museum, and Plantation Stableyards.
The Inn sits on 100 acres and offers 55 rooms within multiple architectural award-winning buildings. All the rooms feature wood paneling throughout and sunlit floor to ceiling windows. I had the best time relaxing by the pool, but if you're looking for a bit more activity, they offer kayaks to rent; The Inn overlooks the Ashley River.
There are a few different types of room at The Inn. The Grand Rooms are the largest rooms at The Inn and feature either a queen or king bed with views of the Ashley River. The Courtyard Rooms have either one king bed or two twin beds and overlook the courtyard.
The Riverside Rooms are the most popular and allow the most flexible options, the least expensive being quite affordable at $169/night. You can book either one king or queen or two twin beds. These rooms over varying views of the surrounding acres of woodlands, the marsh, or Ashley River.
The finest room to book at The Inn is the Ashley River Room. This room features a king bed and large living space, the best part being a wrap-around balcony. If you're wanting to book this room you must book early, it is already booked for quite a few dates next summer!
The Middleton Place Restaurant is a good farm to table dining option while staying at The Inn. You can reserve a table for dinner or lunch here while enjoying views of the Rice Mill Pong and Azalea Hillside. For a more casual dining option, The Lakehouse offers a Southern comfort breakfast menu. There are also picnic tables near this building if you would like to take your breakfast and sit outside in the morning. The views of the Ashely River are stunning!
(On a romantic New England getaway? Check out Meliss' recommendation for a romantic New England restaurant here).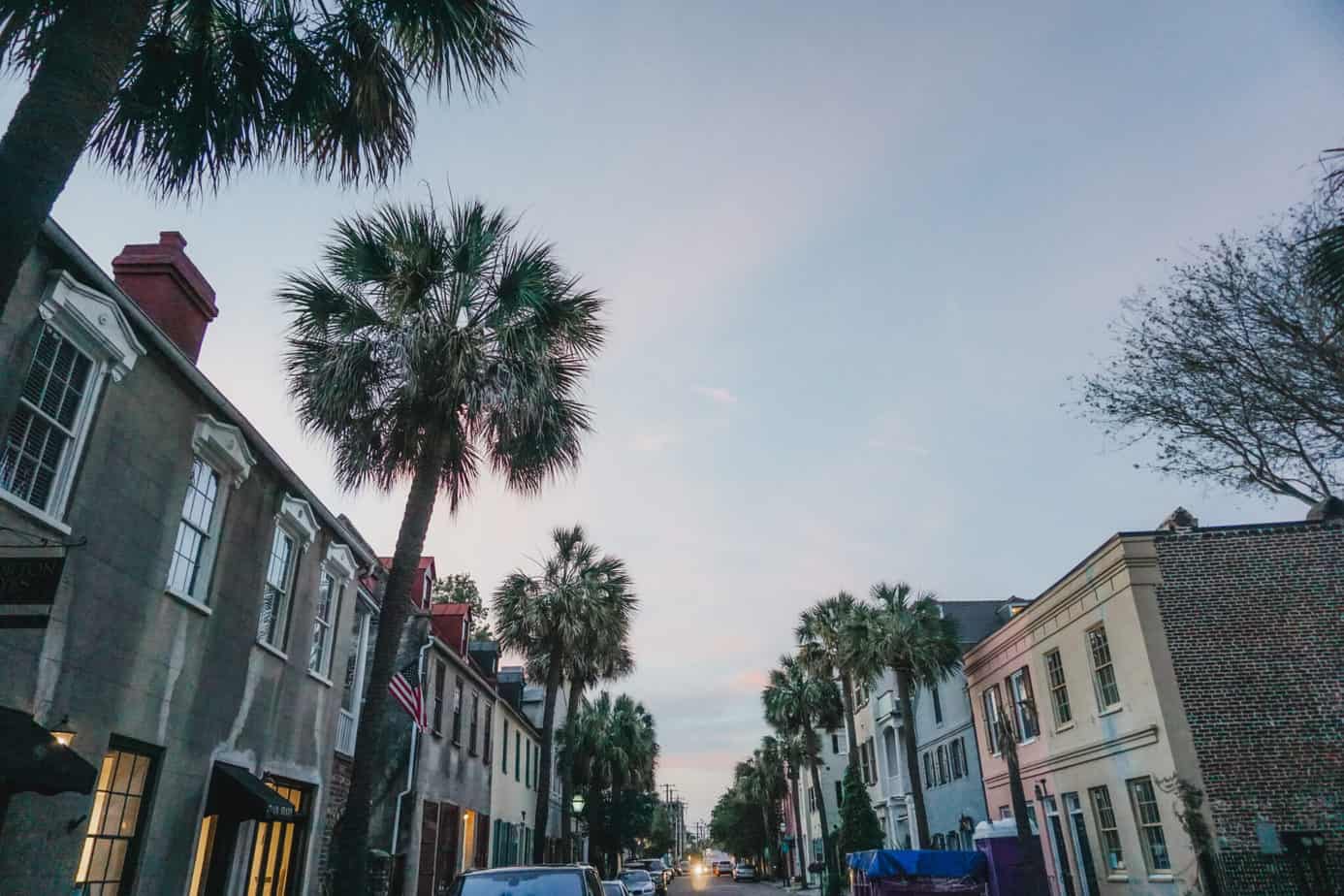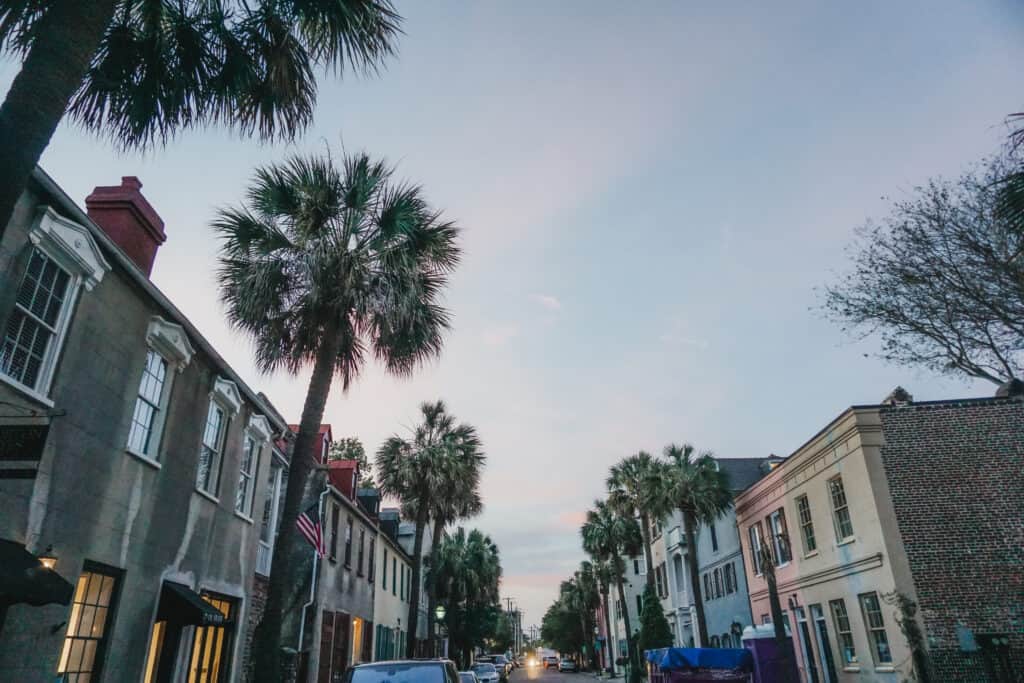 Visiting Charleston plantations
If you're only staying for a long weekend in Charleston, you're probably going to have to decide which plantation you want to visit, or by all means, visit them all if your time permits!
---
A note from Two Drifters: Visiting plantations in the Charleston area is a popular activity. Visitors love to see the ornate buildings and sprawling grounds of a bygone era. But we think it is so important to remember that these properties were largely built on the backs of Black slaves. When possible, seek out those plantations to visit that prioritize including in their tours information about their darker history. Learning about the reality of plantations is one way to respectfully honor the lives of the Black people who were enslaved there.
---
The Middleton Plantation is the highest rated plantation in Charleston due to its extensive and beautiful gardens. Middleton Plantation is unique in that it offers tours of the still-standing Middleton House and Stableyards, which recreate plantation life with costumed craftsman and historic animal breeds.
Boone Hall Plantation is one of American's oldest working plantations. If you're a hopeless romantic, I'm sure you've seen the movie The Notebook. Boone Hall was actually used for multiple scenes of the Hamilton's summer house. (When you're in downtown Charleston, make sure to visit American Theatre on King Street for another filming location for the movie).
Don't forget your camera when visiting Boone Hall Plantation, and capture "Avenue of Oaks," the iconic oak trees along an almost one-mile drive to the house, for yourself!
Last but not least, Magnolia Plantation is known as America's oldest garden founded in 1676. Magnolia Plantations and Gardens is the most visited plantation in Charleston, it is no surprise since there is so much to explore on this estate. With your admission ticket you will receive a map of the entire estate including the plantation and different garden areas.
Plan to visit for at least a couple hours to experience all the winding stone pathways, different floral gardens, and finding the other hidden points of interest on the map. My favorite spot was the iconic white bridge; don't sweat if you had a hard time finding it, we did too!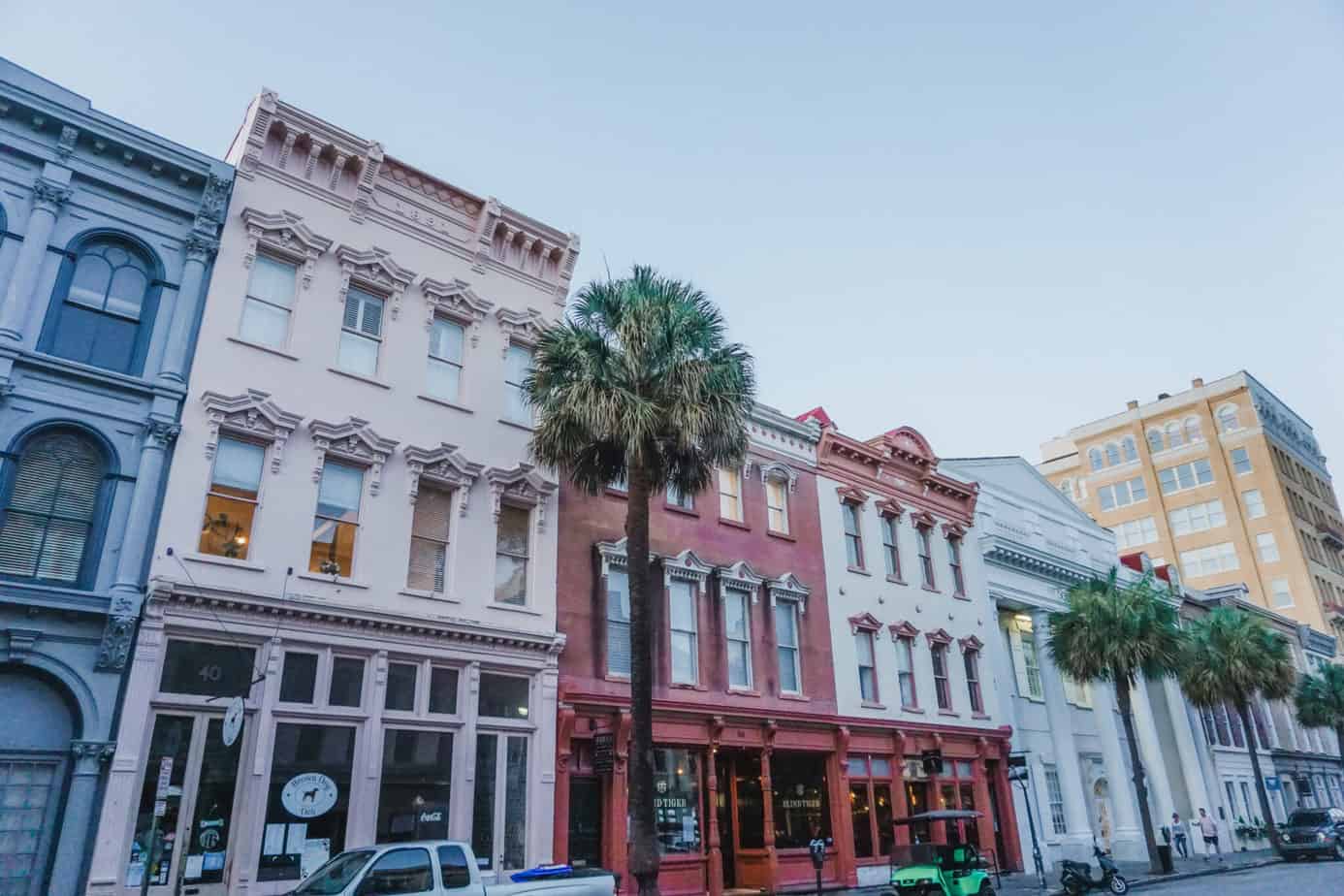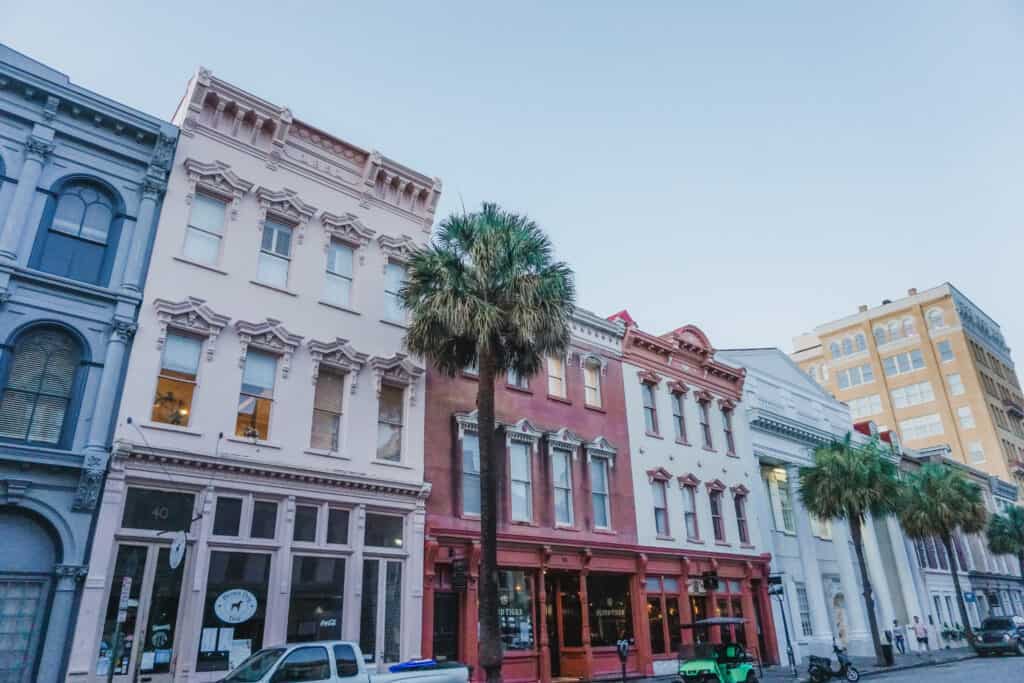 Take a romantic stroll in downtown Charleston
Charleston is best explored by foot or bike, depending on how much ground you want to cover in a day. Keep reading for a list of what to see during your stroll in Charleston.
Waterfront Park- Don't miss the famous pineapple fountain in Waterfront Park. This park is right along the coastline, and features romantic swings on the boardwalk. If you're thinking of staying at the Vendue, this park is only a few blocks away!
Rainbow Row- The iconic Rainbow Row is a must see in Charleston. These Georgian-style houses are located between 79-107 East Bay Street.
Battery Promenade- the most romantic spot to catch a Charleston sunset
Church St- One of the many streets to wander down in Charleston, try to find the large oak tree overhanging in the street. We wandered this street during the day and I was able to capture the most stunning photo with the light through the trees. The romantic horse drawn carts pass by this street often, another option for exploring Charleston!
Broad St- We actually took some of our engagement photos on this street. Can you find the famous house with this blue door? I have seen it in other photos when searching for Charleston, see if you can find it when you're there!
Take a trip to Folly Beach- About twenty minutes outside Charleston, take a long walk on Folly Beach. We rented a car from downtown since we spent a night at The Inn at Middleton Place, but you could easily take an uber or taxi as well if you're not planning on renting a car.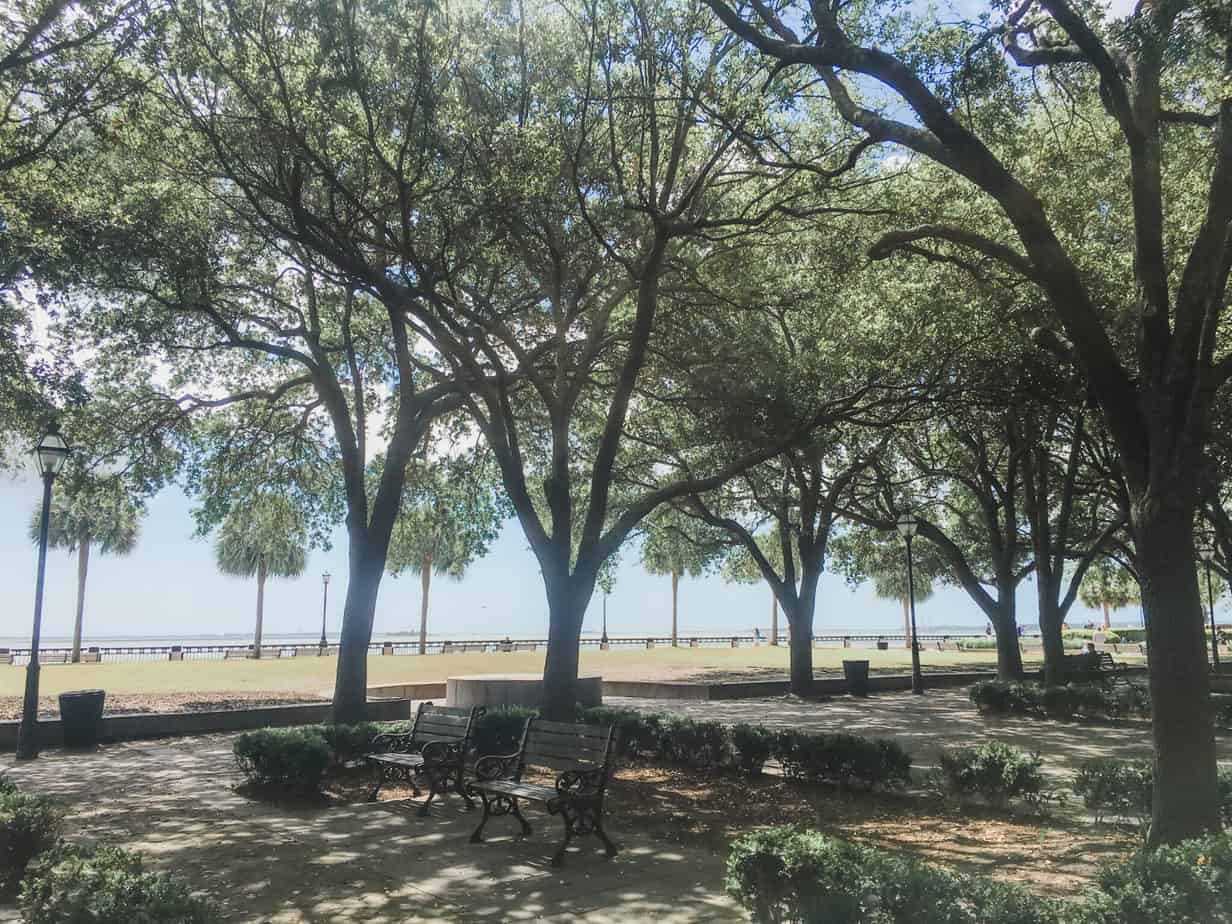 Enjoy a romantic meal in Charleston
If you're looking for a spot for a romantic dinner in Charleston, book a table at Husk or Halls' Chophouse
For our five year wedding anniversary dinner we had a reservation at the popular Husk. We sat on the second level porch that overlooked the front terrace. The menu we were given said 'Happy Anniversary' and even had our names on it, something we were not expecting. I can't even remember what I ordered, but it's probably in the top ten list of best dinners I've ever had!
This next recommendation, in my opinion, is a must do! We made a reservation for a Sunday gospel brunch at Halls' Chophouse, and the Vendue arranged a pedicab for us to get there. I can't sing (literally) enough praise for this restaurant; the entertainment was enjoyable, the food was delicious, and the service was fantastic. The owner of the restaurant even came over to check on us a few times as we mentioned we were celebrating our anniversary, and they gifted us with complimentary champagne! The friendly, local couple sitting next to us asked how we found this place, as they said it is usually not a spot for tourists. They said they visit the restaurant every Sunday, and it is one of their favorite spots in the city. What can I say, my husband does his research well!
About the author: Hey all! My name is Melissa, but everyone calls me Meliss. Wisconsin natives, my husband and I moved to the big city Boston, Massachusetts on a whim about five years ago and have loved every minute. We didn't start traveling internationally until moving to Boston, and once we started we have not wanted to stop! Our favorite countries to travel to have been New Zealand and Japan. Even though I work full time as a nurse, I spend a lot of time working on my blog and traveling around New England when we're waiting to travel to our next international destination. You can read more about me at melissmeetsworld.com!
---
Read these next:
---