This post may contain affiliate links. Read our disclosure page for full details.
Have you always dreamed of getting snowed in while staying in a cozy Vermont cabin? Do you have visions of finding the most beautiful fall foliage in the US? Perhaps you grew up watching the classic movie White Christmas and you know that Vermont is a place that invites magic and romance. And maybe you're just ready for a couples getaway in a gorgeously scenic place. Well, we've found the perfect romantic cabins in Vermont that will make your dreams come true.
It should come as no surprise that there are a lot of cabins in VT. These range from lakeside cottages to mountain cabins to super off-the-grid, rustic cabin rentals in Vermont. There are tiny house cabins, huge, elegant cabins, and everything in between.
Well, we've scoured the web to find those Vermont cabin rentals that are the most romantic. These options are ideal for two people looking to spend some special time together while enjoying all the fun winter things to do in VT.
You cannot get more magical or romantic than these beautiful Vermont vacation rentals. (Vermont honeymoon cabins, anyone?)
Romantic Cabins in Vermont
---
How about a gorgeous A frame cabin in the Vermont woods? Situated on 7 acres, you'll have tons of space to explore and with Mt Snow and Stratton just a few minutes up the road, there's plenty of fun to be had at this beautiful VT cabin.
A hot tub, a fireplace, and the gorgeous floor to ceiling windows really go the extra mile to give this A frame cabin all the ingredients it needs to be one of the best Vermont rental cabins!
---
For simple, no frills log cabins in Vermont, Stowe Cabins in the Woods are a lovely option. These are very simple, but will provide everything you need for a cozy stay. Most importantly, they've got woodstoves and fireplaces inside. There's nothing more romantic than cuddling up in front of a crackling fire with the one you love.
The location is also great. Waterbury is just a stone's throw from Stowe, which is one of the absolute best towns to visit in Vermont. It is 100% charming and has so much to do throughout the year.
These cabins are considered no frills, so these may not be your top choice if you're looking for luxury. But with kitchens, jacuzzi tubs, and some pet-friendly cabins, these could make for an awesome stay for couples traveling in the area.
---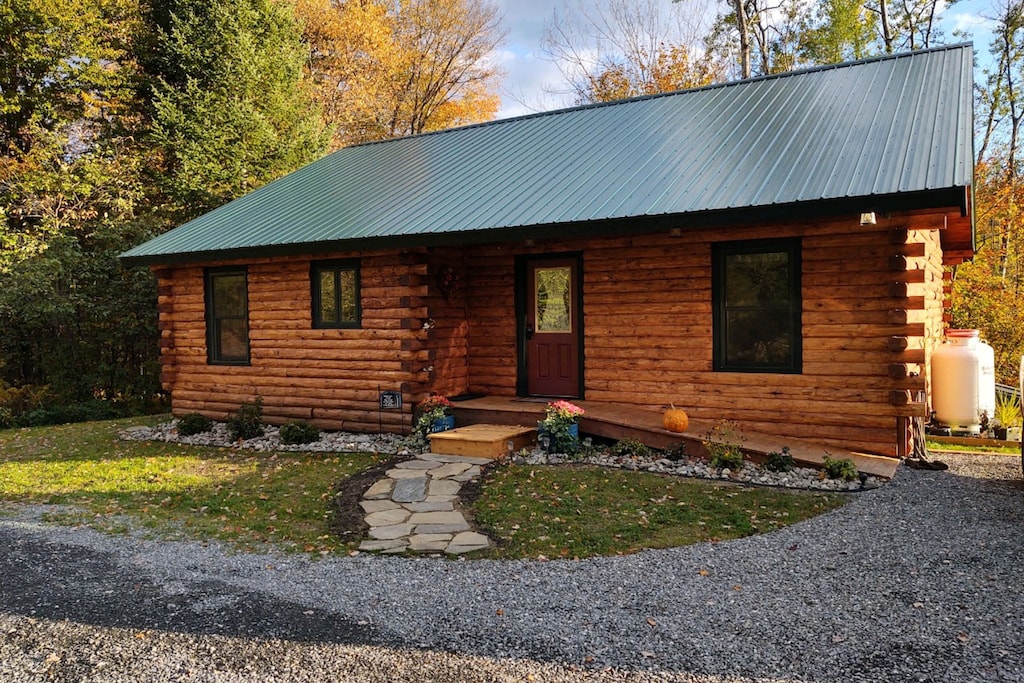 Are you looking for an Instagram-worthy Vermont cabin rental? Hi, you've found it. This place is beyond cool.
Not only is it a stunning Vermont log cabin, but there's a nearby outdoor hot tub under a covered pavilion for you to use as well. When it comes to Vermont VRBOs that are both convenient enough to be close to anything you might need but still help you feel like you're really getting away from it all, this cabin is perfect because you're just up the road to all the yummy Stowe restaurants and fun Stowe things to do.
You'll be experiencing a sense of hygge in this cabin, with a very comfortable, homelike decor that makes it a perfect place for a drama free romantic getaway in VT!
---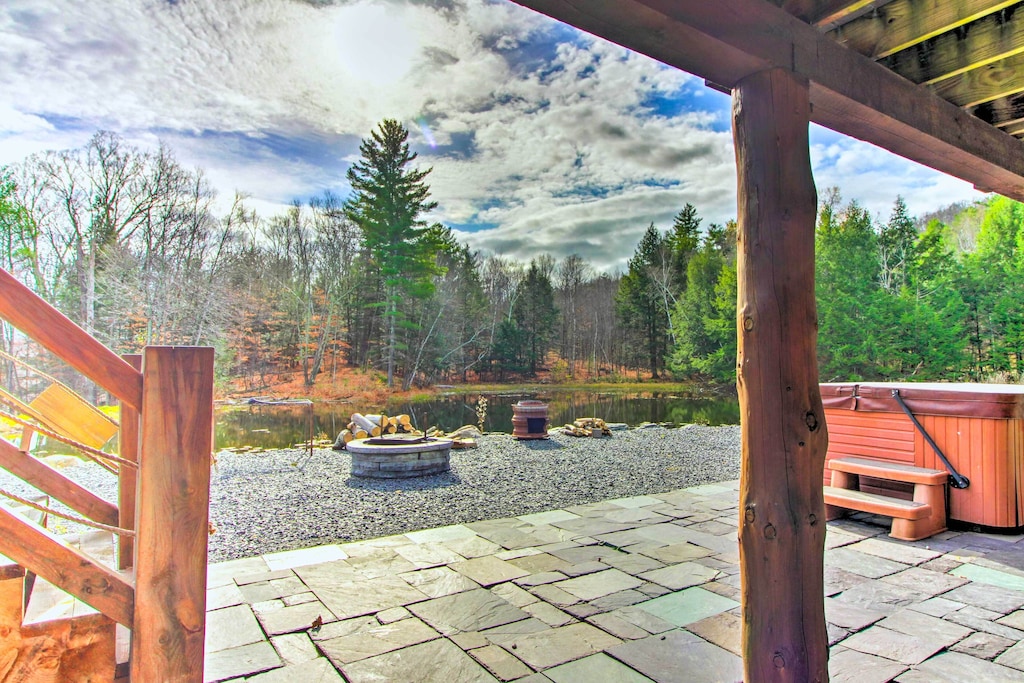 This is one of those Vermont cabins that has all the amenities a couple might need during a weekend away together, with beautiful views to boot. At 3000 square feet, it's not quaint, but it is cozy, and would be great for either a private romantic getaway or a fun couples trip with you, your love, and your favorite couples friends.
If you're looking for Vermont cabins with hot tubs and plenty of indoor and outdoor space, this one is perfect.
---
Near the Vermont/New Hampshire border, this adorable cabin is the perfect place for couples looking for outdoor fun on their romantic getaway.
Not only is there everything you need onsite to have a good time, but you've got ski resorts, state parks, hiking trails, and quaint towns with attractions like museums and covered bridges within easy driving distance, as well, so this is the perfect Vermont cabin for couples who like to get out and explore during their vacation.
---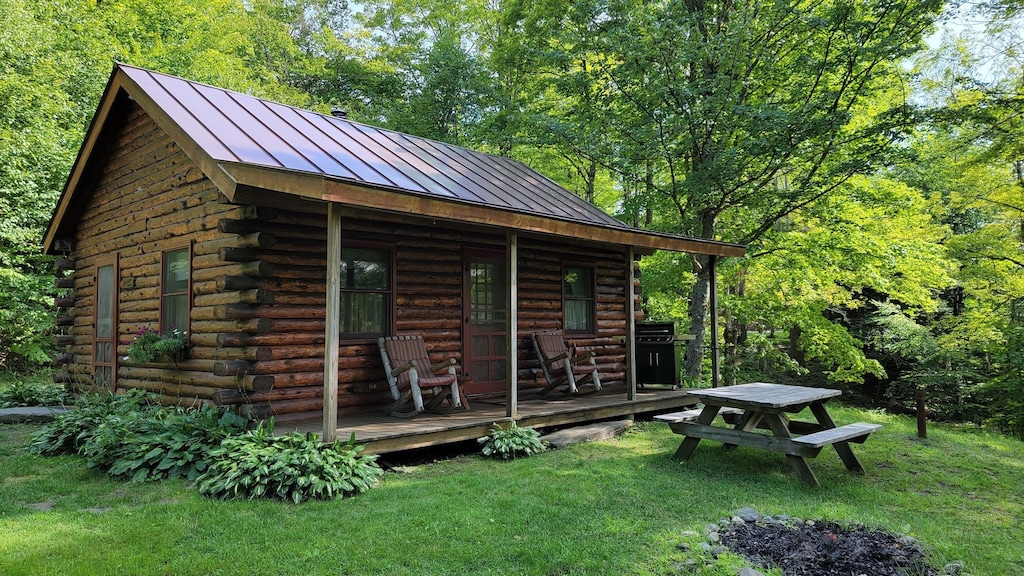 Photo via VRBO.com; this is a classic log cabin, complete with rocking chairs on the front porch!When you think of quintessential log cabin, this is the kind of image that comes to mind, right? These Birch Meadow cabins sit on 230+ acres of countryside, and they are the perfect idyllic setting for a romantic couples trip in Vermont.
You can hike the woodland trails together, meander down to the pond and enjoy some time out on the paddleboat, or just rock away on the front porch together as you sip on your favorite beverages and enjoy that crisp Vermont air.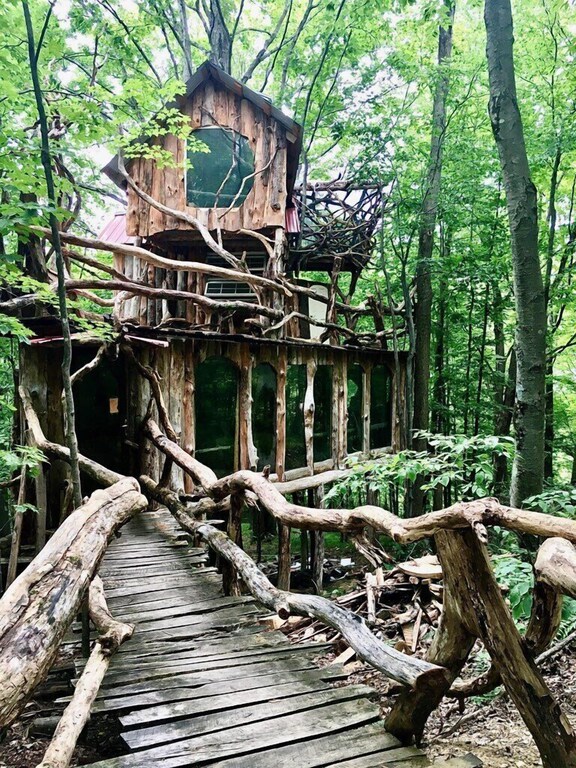 Dreaming of your own private retreat in the woods where you can literally get away from it all and have the perfect romantic weekend together? This woodsy treehouse is just what you're looking for, and there are actually two treehouses here, so if you're looking for a couples getaway in Vermont with friends, this is perfect!
Snuggle up and keep warm by the fire pit, prepare your meals in the lovely covered, open air kitchen, and enjoy the lulling sounds of the forest as you drift off to sleep each night. This is one of those romantic Vermont cabins that's only available during the warm weather months, so plan your couples trip accordingly for this one.
---
---