This post may contain affiliate links. Read our disclosure page for full details.
Have you always dreamed of getting snowed in while staying in a cozy Vermont cabin? Do you have visions of finding the most beautiful fall foliage in the US? Perhaps you grew up watching the classic movie White Christmas and you know that Vermont is a place that invites magic and romance. And maybe you're just ready for a couples getaway in a gorgeously scenic place. Well, we've found the perfect romantic cabins in Vermont that will make your dreams come true.
It should come as no surprise that there are a lot of cabins in VT. These range from lakeside cottages to mountain cabins to super off-the-grid, rustic cabin rentals in Vermont. There are tiny house cabins, huge, elegant cabins, and everything in between.
Well, we've scoured the web to find those Vermont cabin rentals that are the most romantic. These options are ideal for two people looking to spend some special time together while enjoying all the fun winter things to do in VT.
You cannot get more magical or romantic than these places. (Vermont honeymoon cabins, anyone?)
Do you want to be in the ideal location between the Green Mountain National Forest and the Champlain Valley? This classic log cabin is exactly what you want. Not only is it in a very convenient spot close to the town of Middlebury, it's also incredibly cute inside.
Located on a farm, you might be surprised with some special gifts from the hosts (such as fresh eggs and maple syrup). In the colder months, cozy up to the gas fireplace with a book and some wine, and in warmer seasons, enjoy the grounds surrounding the cabin.
---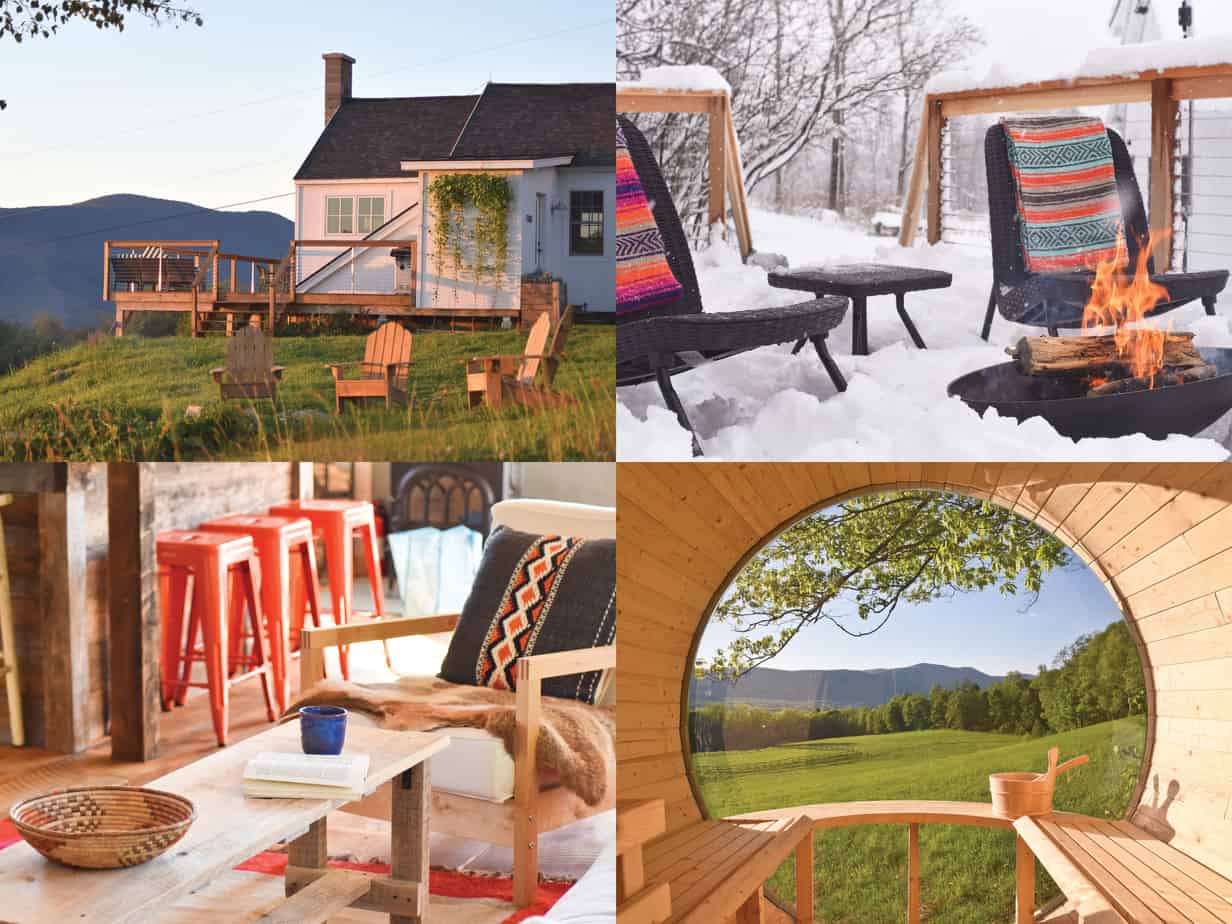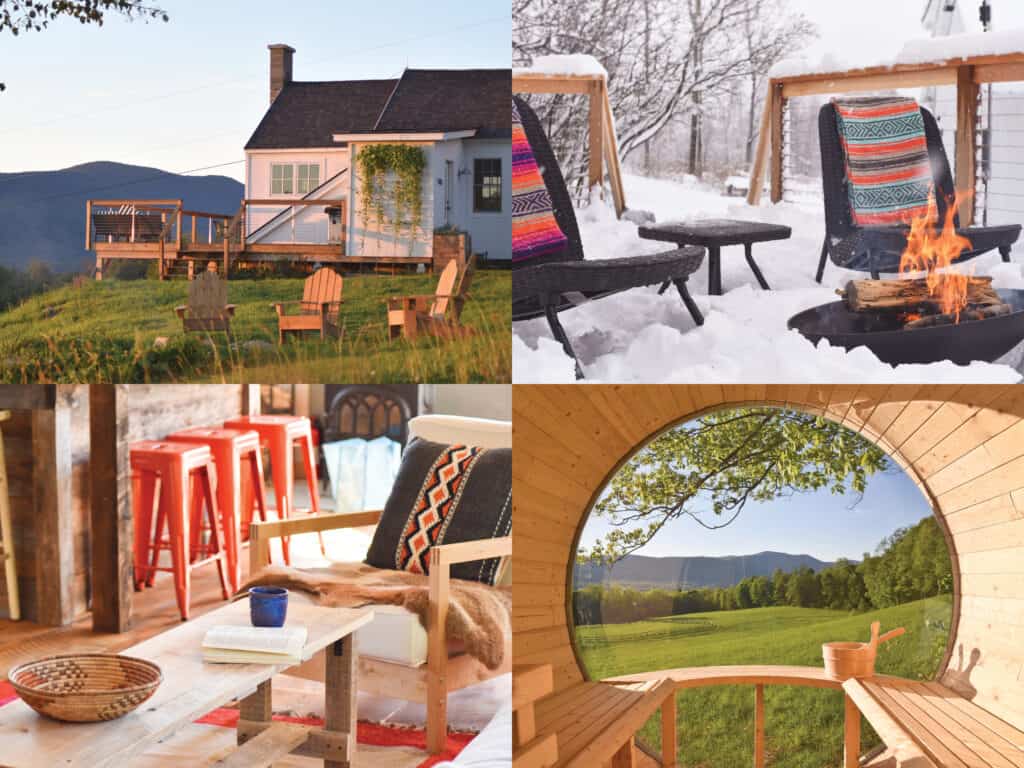 We love this Vermont cabin rental so much we've mentioned it before, in our article on Amazing AirBnbs in New England. Clearly the highlight of this great property is that sauna with its epic views over Vermont's Green Mountains. This is one we want to stay in soon ourselves!
---
Stowe Cabins in the Woods, Waterbury
For simple, no frills log cabins in Vermont, Stowe Cabins in the Woods are a lovely option. These are very simple, but will provide everything you need for a cozy stay. Most importantly, they've got woodstoves and fireplaces inside. There's nothing more romantic than cuddling up in front of a crackling fire with the one you love.
The location is also great. Waterbury is just a stone's throw from Stowe, which is one of the absolute best towns to visit in Vermont. It is 100% charming and has so much to do throughout the year.
These cabins are considered no frills, so these may not be your top choice if you're looking for luxury. But with kitchens, jacuzzi tubs, and some pet-friendly cabins, these could make for an awesome stay for couples traveling in the area.
---
Are you looking for an Instagram worthy Vermont cabin rental? Hi, you've found it. This place is beyond cool.
Not only is it a stunning Nordic inspired cabin, but there's a nearby sauna for you to use as well. This Airbnb is situated approximately half an hour from Montpelier, Vermont's quaint and quirky capital city. But it is in a secluded woodsy area that will feel like wilderness.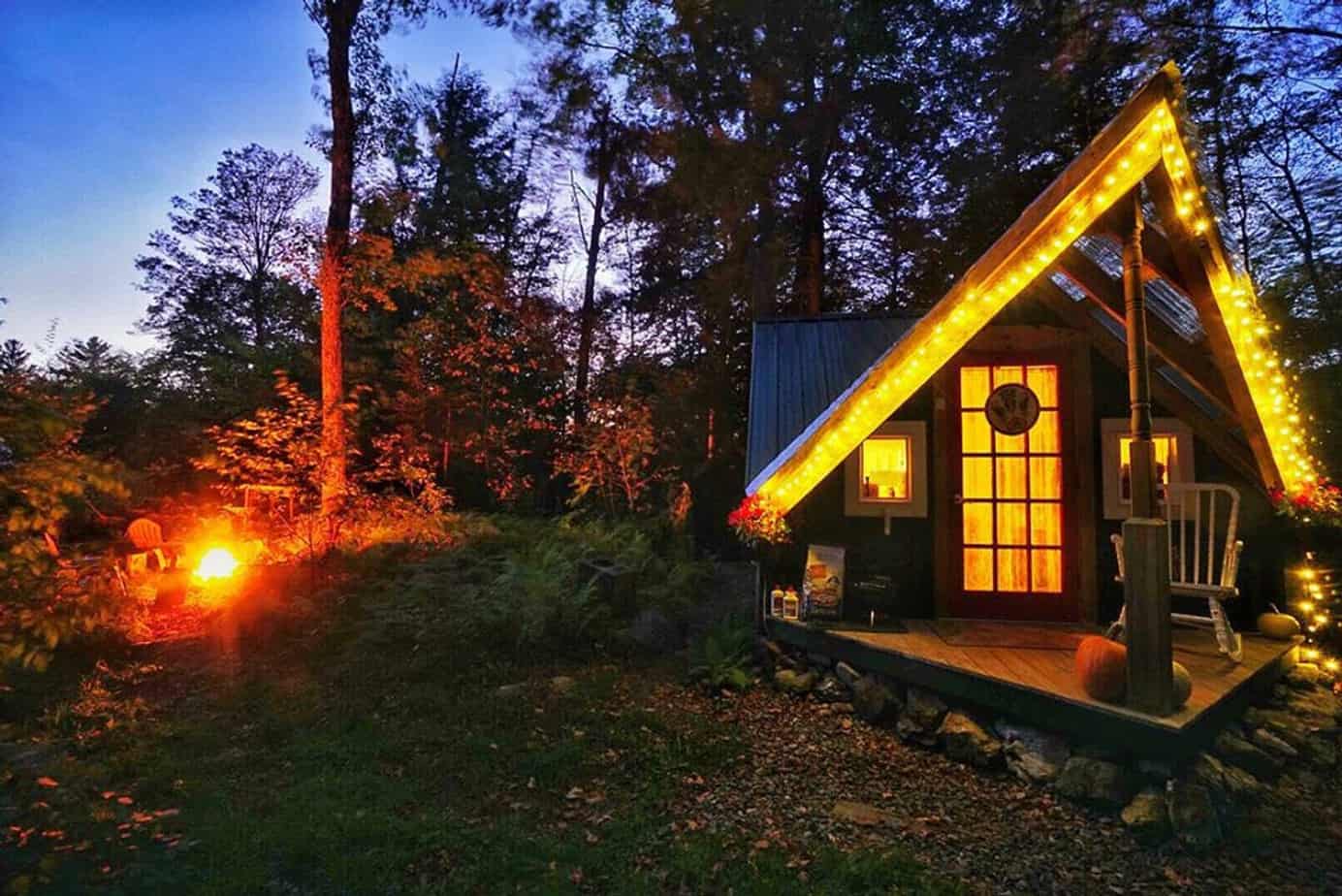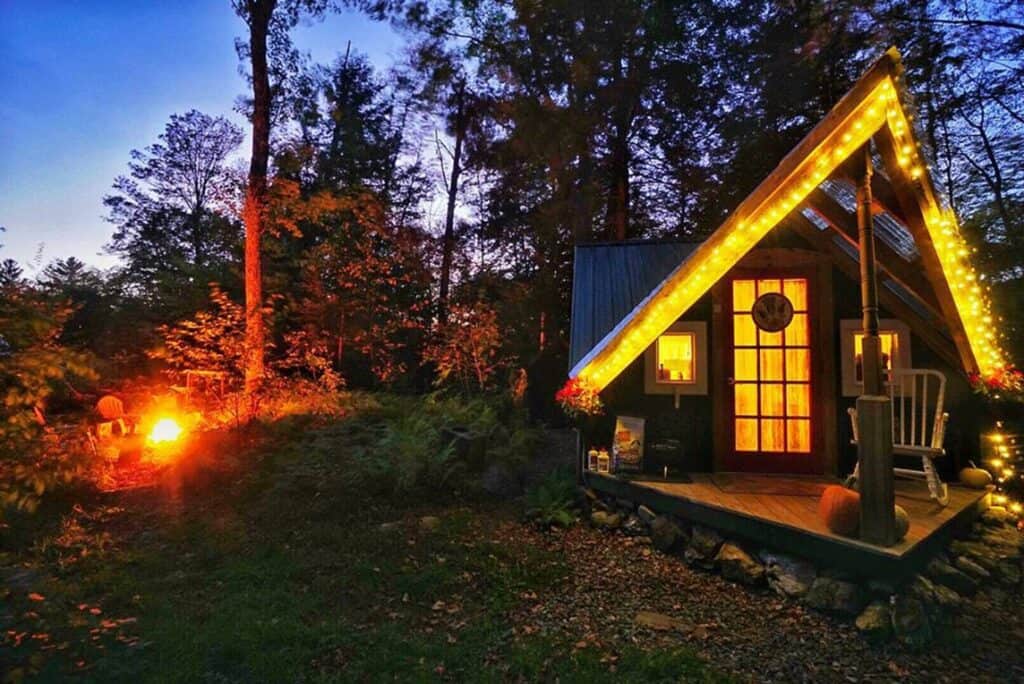 You'll be experiencing a sense of hygge in this cabin, which the owner describes as a "rustic romantic hobo hideaway." With virtually zero light pollution in this part of Vermont, you'll have stunning stargazing opportunities. Nicely furnished this place looks super cozy, but definitely a rustic getaway. Check it out!
---
Are there cabins in Burlington VT? Since Burlington is a city, it can be tough to find true cabin accommodation right in Burlington. If you want to be downtown, you might have to opt for something like this Cozy Attic Loft. But if it's cabins you're after, here's one that's a mere 10 miles from Burlington!
The Alder Brook Cabin is clean and cozy, and has a small screened porch off the back. This is a tiny space that will envelop you and your partner in nature.
One downside to the cabin is that there are only two bunk-style beds. That might not be ideal for couples, but if you're like us, you may have no problem tucking into the bottom bunk together. And the whole cabin is so light and bright that you will be more than happy with the surroundings.
Pop on over to the nearby firepit when the sun goes down for a romantic fireside cuddle.
---
Maybe you're looking for a cabin experience that also offers the amenities of a hotel? You'll swoon over The Highland Lodge. The lodge offers a selection of Vermont cabin rentals on the lake; Lake Caspian in Greensboro, VT, to be exact. Surrounded by the countryside and scenic views, you'll find that this place brings up a serious feeling of nostalgia. It is like an untouched vintage summer resort. With its own private beach for you to use, this is a spot worth considering for your couples trip to VT.
They also offer special couples packages, which can make your romantic getaway even better. Take a look!
---
When searching for romantic getaways in Vermont with cabins, Birch Meadow should absolutely be high on your list. Here we've got traditional log cabins that are ideal for your mountain getaway.
When you think of 'classic cabin' this is likely what you envision: stacked logs filled with the coziest of furnishings, and plenty of bear and moose decor to remind you that you're in the country!
Pets are welcome at this Brookfield VT property (with a one-time pet deposit). Although just one cabin is listed on Airbnb, there are more cabins available, and you can find them on their website. Ready to enjoy 200 scenic acres of Vermont's wilderness? Get plannin'!
---
---
The Casablanca Hotel in Manchester, Vermont is adorably vintage. With dozens of cottages placed neatly along a grassy knoll, you've got your pick of these sweet Vermont cottage rentals. These little red and yellow buildings are everything you need for a cozy stay.
Each cabin is well-appointed and extremely homey. You'll love it for a quick romantic weekend. Or for a family trip, you can book multiple cottages! Check out our article on the best things to do in Manchester to help you plan your trip!
---
Very chic, Town and Country-level decor is found in this Southern Vermont cabin. This property is convenient to skiing on nearby mountains Stratton and Mt. Snow. But the area is lovely in summertime as well.
This is an extremely modern and clean home, but you'll have old-timey surroundings. With woods all around you, this VT cabin rental feels like getting back to nature. Set on 1.5 acres, there's lots to do both on the property and nearby. Of course, you may never want to leave this beautiful cabin.
---
There's something very European about this cabin in Norwich, Vermont. Perhaps that's because of its name Solheim, which means "sunhouse" in Norwegian.
If you're seeking a romantic Vermont getaway that will bring you close to nature, this could 100% fit the bill. You're within easy reach of miles of trails for walking, biking, and more, including the Appalachian Trail.
There is no running water in the cabin but basic amenities are available and you can also use facilities in the main house, which is a short walk away. This includes full indoor showers and a unique outdoor shower for the warmer months.
Visiting in the winter? You and your sweetheart will need to keep stoking the cozy wood stove, as it's your only source of heat. Of course, you can always make your own heat, if you catch our drift.
---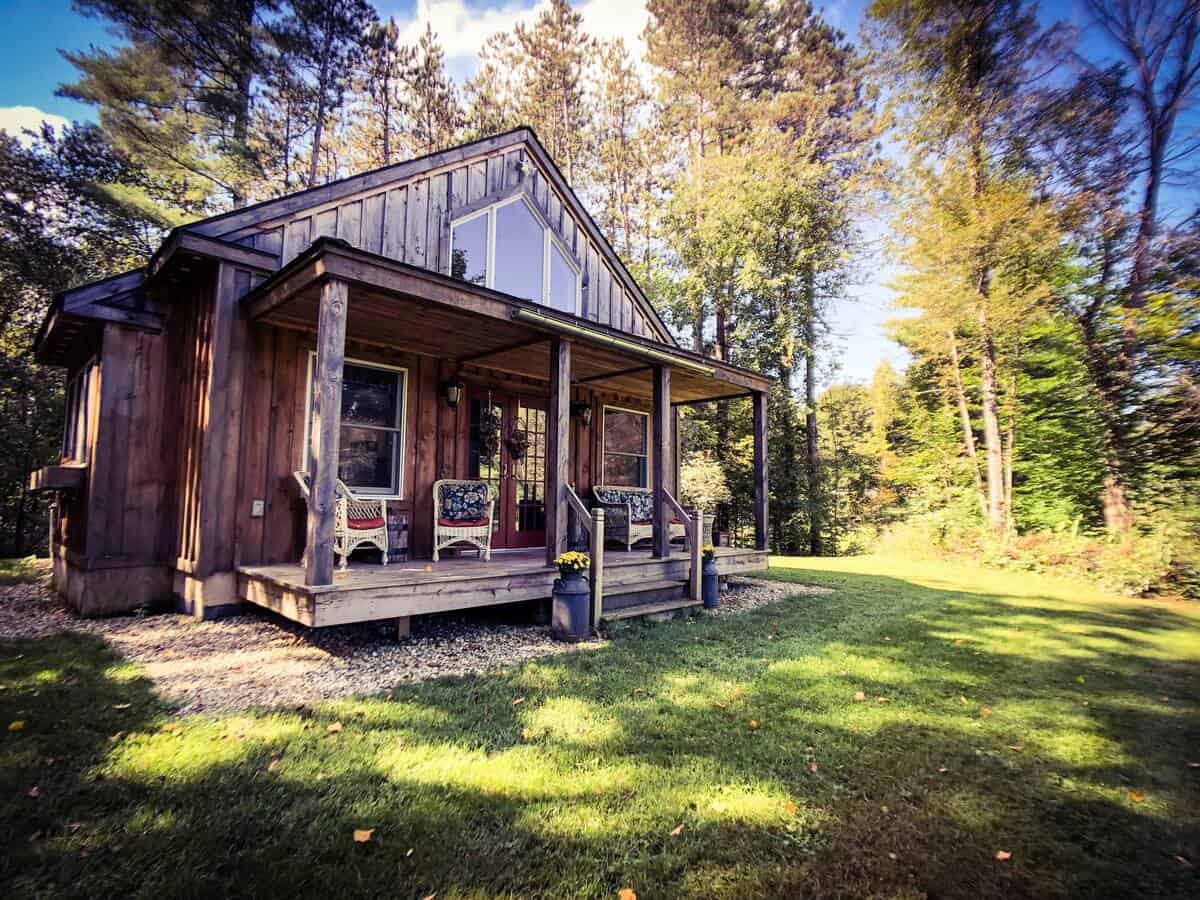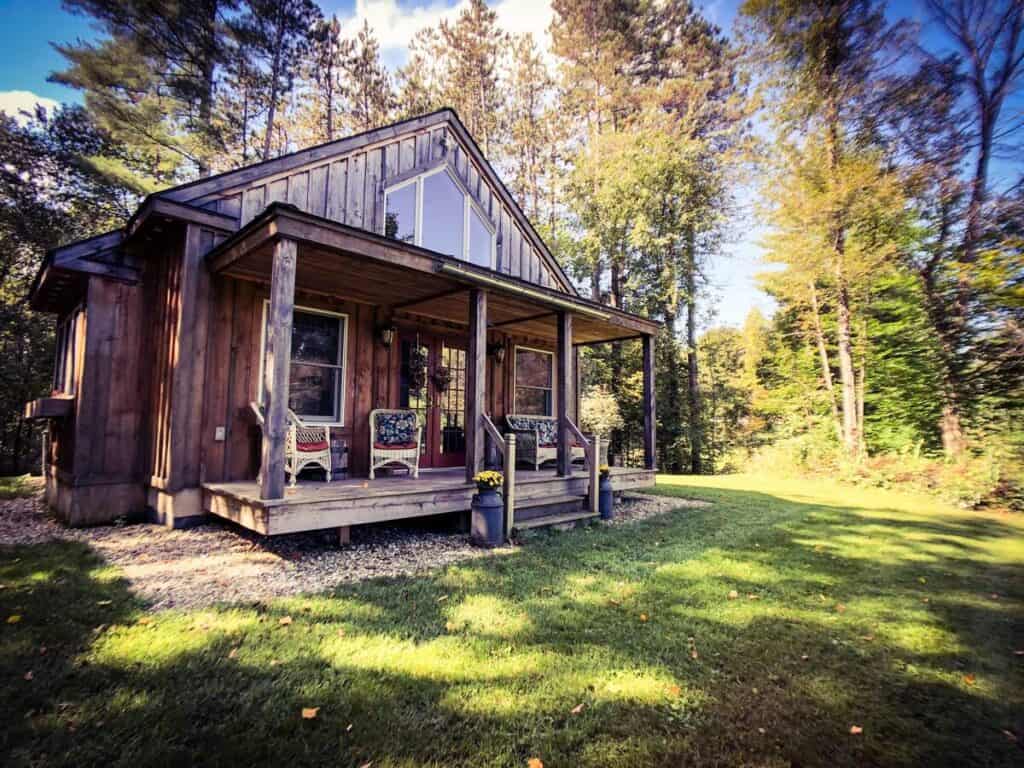 This spot is totally ideal for a romantic VT retreat. The Bennington, Vermont cabin is set on its own private lake with a waterfall and even a covered bridge. (it doesn't get much more classic New England than that!)
You'll find all the privacy you need on this quaint, quiet property, and the atmosphere is sure to relax and rejuvenate you and your partner. Nearby Bennington and Manchester also have plenty to do if you are looking to do some sightseeing, shopping, or romantic dining.
---
Searching specifically for Vermont cabin rentals with a hot tub? There's no denying that a jacuzzi or hot tub is a super romantic amenity. Well, many of the cabins at Sterling Ridge Resort offer hot tubs, so you're in luck! Not only that, but this is a fabulous part of Vermont for a vacation, right in the heart of mountain country. We recommend checking out the nearby town of Stowe, a destination with classic Vermont charm.
Make sure to dive in and explore all the welcoming wood-panelled cabins you can choose from at Sterling Ridge Resort. There are options perfect for couples (or for families). You can fish and hike right at the resort, or go skiing at nearby mountains.
---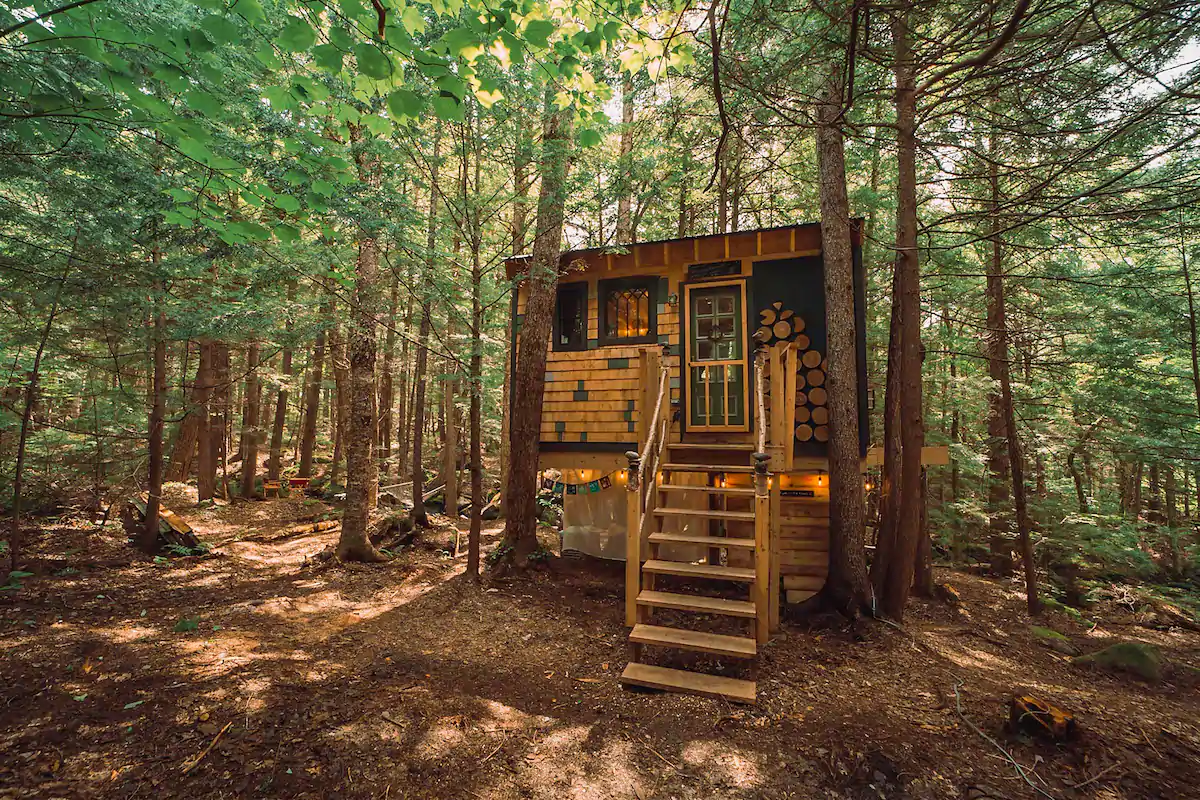 Dreaming of your own private retreat in the woods? The two of you can literally get away from it all and have a weekend focused just on each other. This woodsy treehouse is just what you're looking for.
Snuggle up and keep warm next to the woodstove, sit on the deck overlooking the nearby stream, or build a campfire on the ground. In the cabin, you'll find the necessary amenities so you can prepare your meals. When you're ready to sleep, you'll climb up to the loft, and it's suggested to open the windows when the weather is warm and enjoy the lulling sounds of the forest at night.
---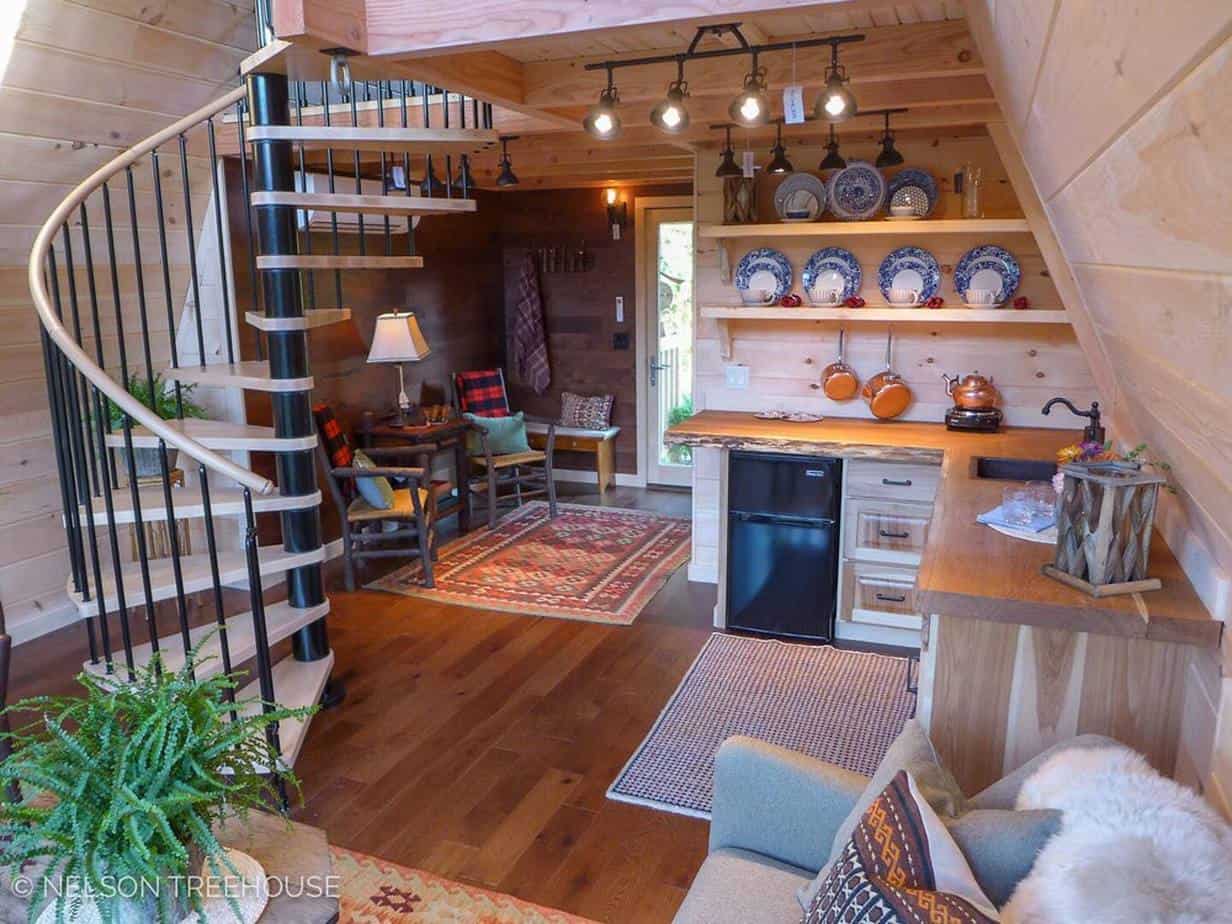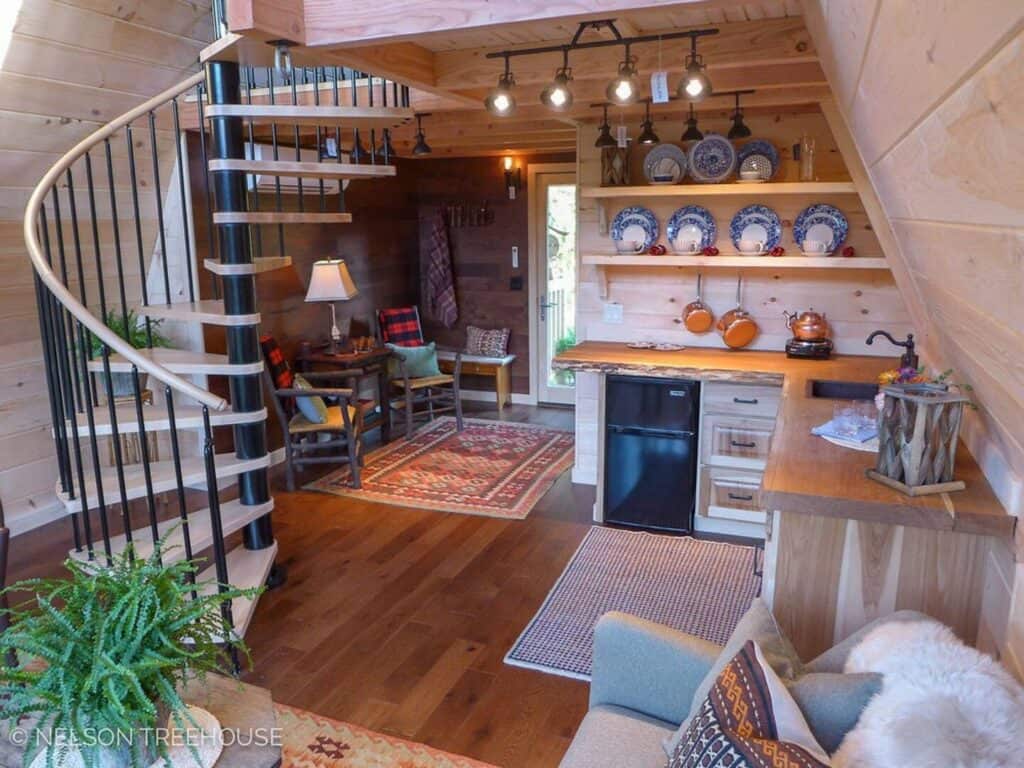 This may be the creme de le creme of Vermont mountain cabin rentals. What a beautiful place, from all angles. One of those places you'll never want to leave, the luxury treehouse is designed for a romantic adventure.
Everything you'll require is right there for you in this amazing treehouse. It's in high demand, though, so you'll want to book in advance! This cabin was featured on Animal Planet's Treehouse Masters and boasts a pond with a fountain, a waterfall, an outfoot bar, and a private campfire area. What a dream!
---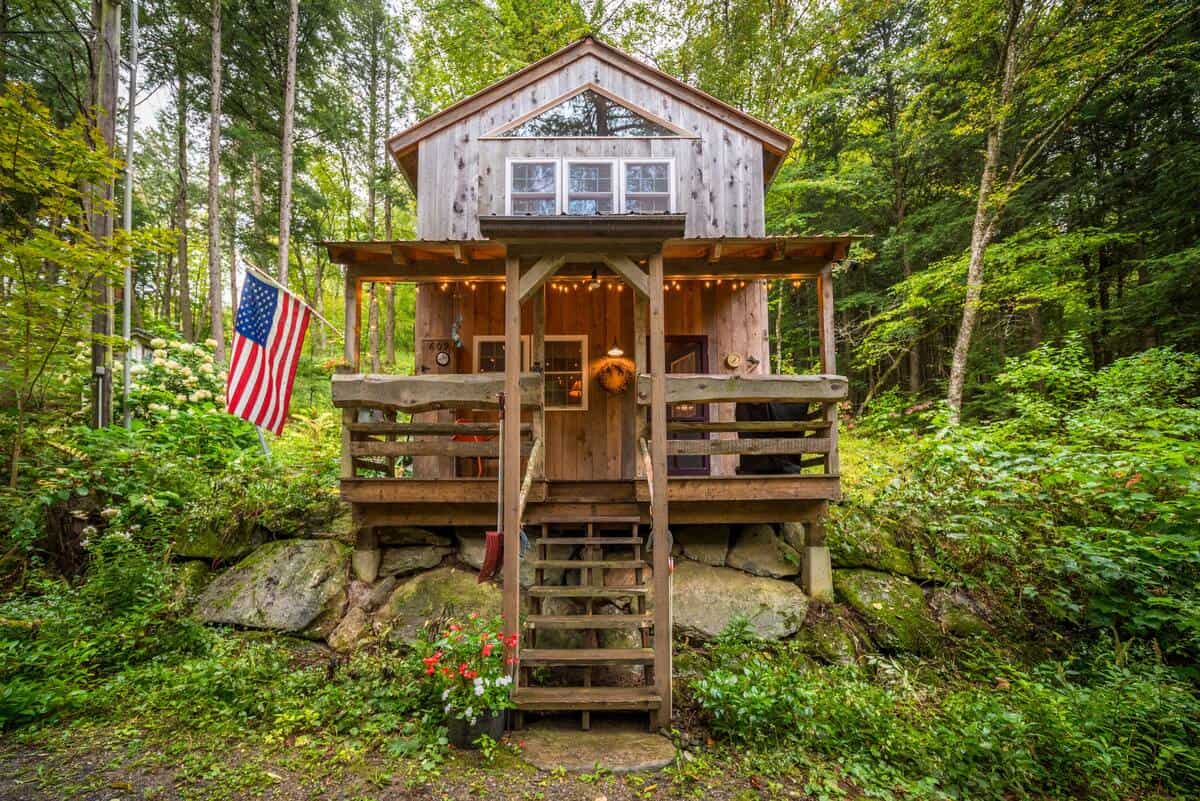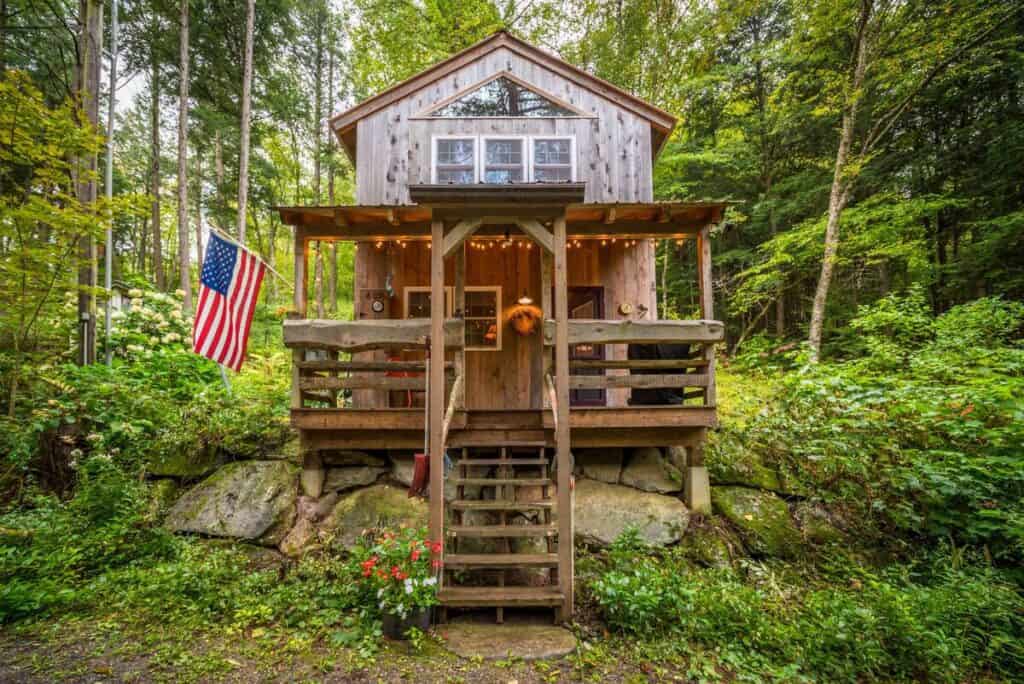 This is one of our favorite vacation cabins in Vermont. There's just something wonderful about a place that is small and cozy and a true cabin. I mean, just look at that picture! I love everything about this place. As the Airbnb listing states, this tiny home is "designed to wrap your soul in flannel sheets." Who's ready to live here forever?!
---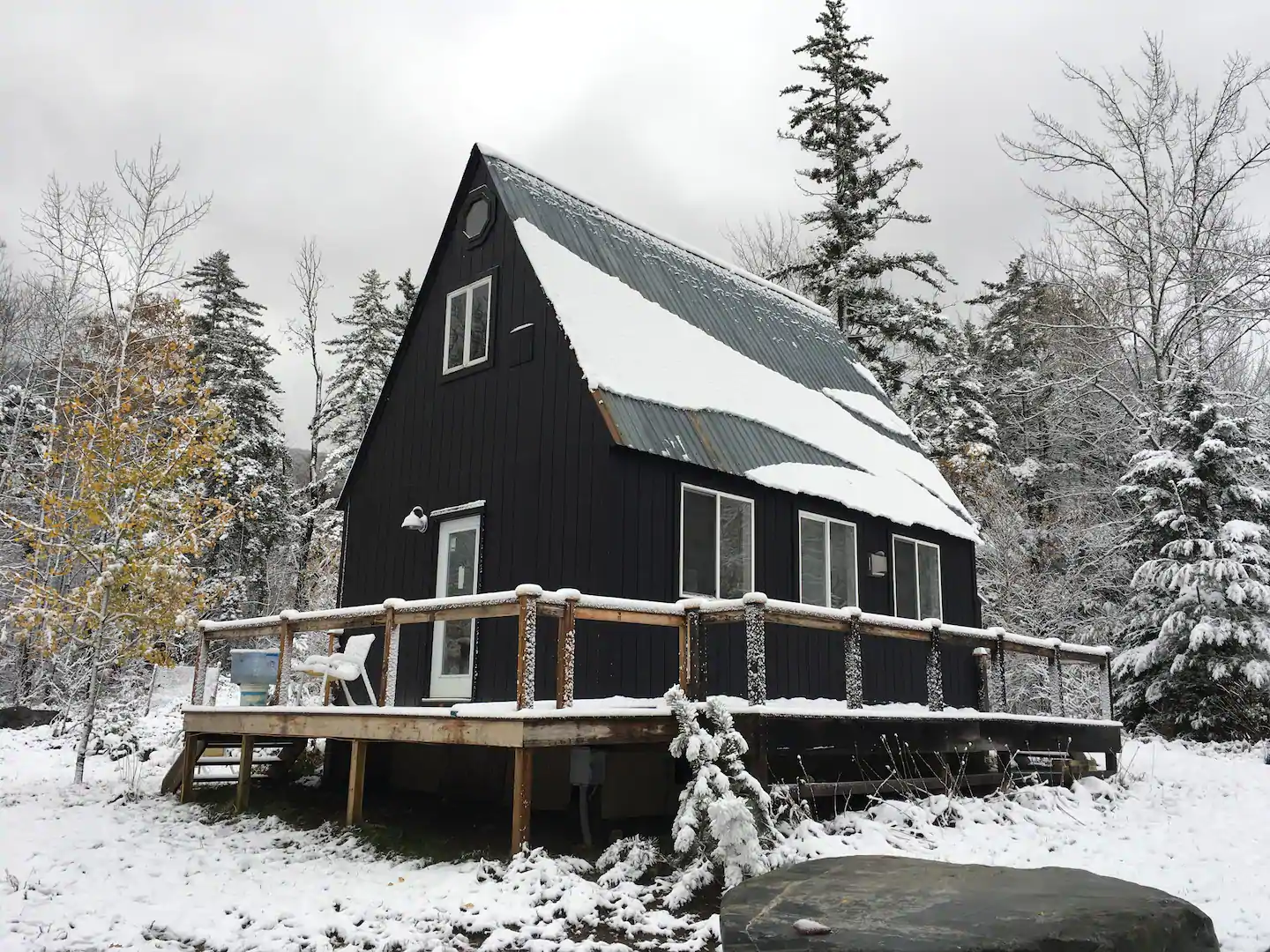 Can we talk about all the amazing luxury cabins in Vermont? This one is epic. Minimalist black and white greets you in Black Haus, a hip eccentric forest house. This pretty space is ideal for those wanting to "get away from it all".
---
Fat Sheep Farm & Cabins
Want to combine a rustic farm stay with the romance of a cozy Vermont cabin? Check out Fat Sheep Farm & Cabins in Hartland. They have 5 cabins set on a beautiful hill that offer the perfect seclusion couples are looking for. And adorable farm animals are right outside!
Check out our experience at Fat Sheep Farm: The Best Vermont Farm Stay.
---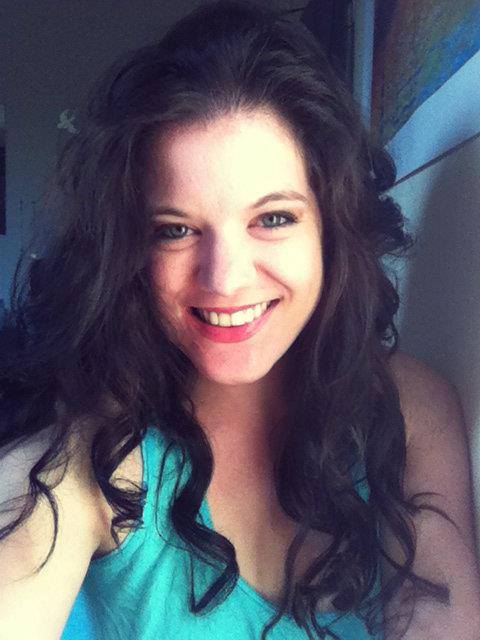 Amy Hartle is the co-founder and owner of Two Drifters, where she blogs about romantic and couples travel, relationships, honeymoons, and more. With a Master's in English and a BA in Musical Theatre, Amy loves to write quality content as well as to entertain, and she hopes to do a bit of both here on the blog! Amy is happily married to her husband Nathan, and when not working on their sites, Amy & Nathan can be found cuddling, reading, and enjoying delicious lattes.