This post may contain affiliate links. Read our disclosure page for full details.
With its rolling hills, green pastures, and vast acres of farmland, Vermont is the perfect place for a beautiful, productive farm. If you want to experience farm life for yourself, you should consider a Vermont farm stay! While there are several different places you can do this across the state, we want to share the most perfect choice with you: Fat Sheep Farm.
Located in Hartland, Vermont, Fat Sheep Farm is a working farm situated on 60 acres. Owners Todd and Suzy founded it just a few years ago, when they left urban Boston together to pursue their farming dreams in the Vermont countryside.
Fat Sheep Farm is in the heart of spectacular Vermont countryside. Set on a large sprawling property, the farm has fantastic views of the sheltering hills by day and unobstructed star views by night.
Here's what you can expect from a Vermont farm stay on Fat Sheep Farm, and what we loved best about our time here!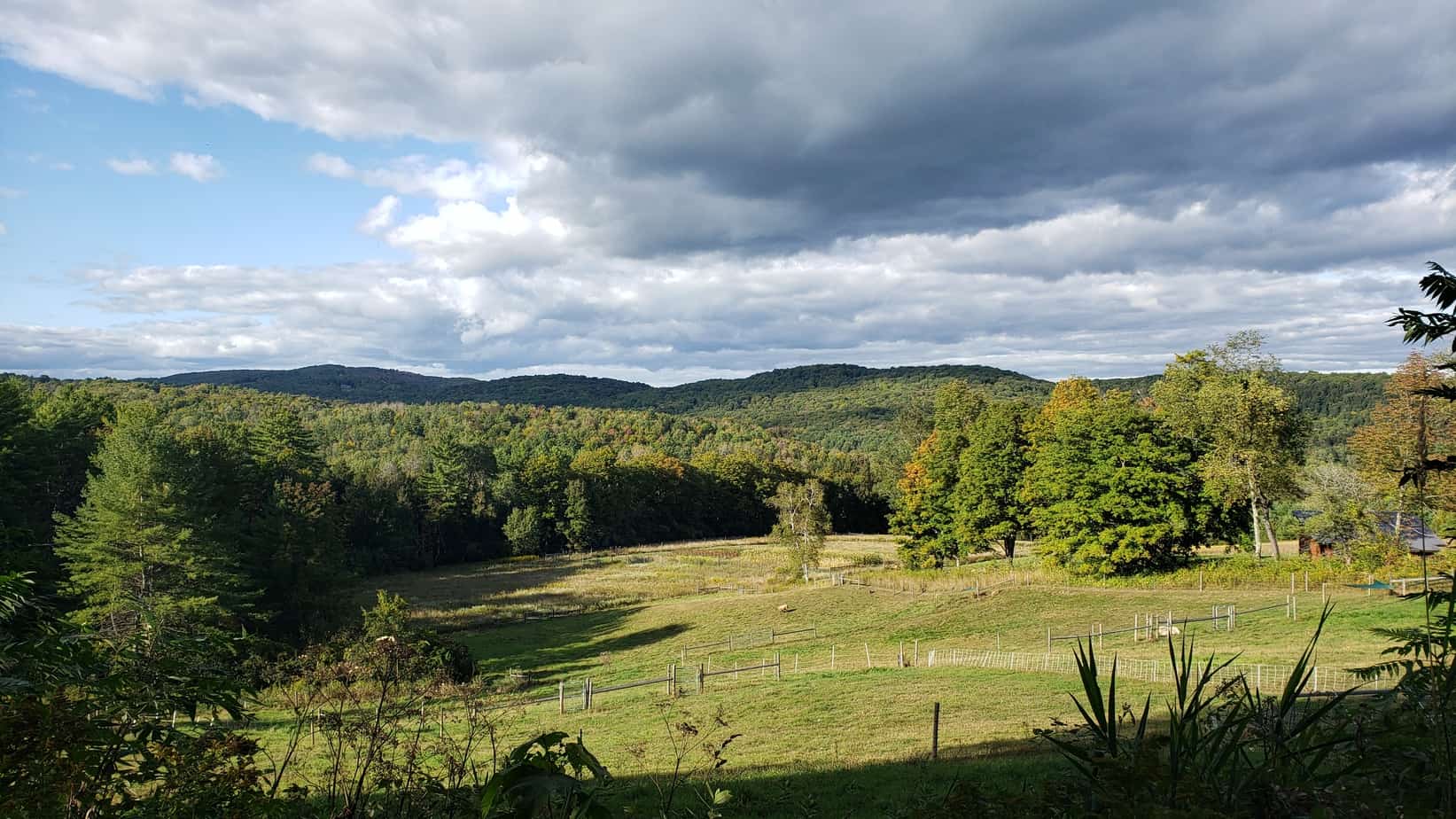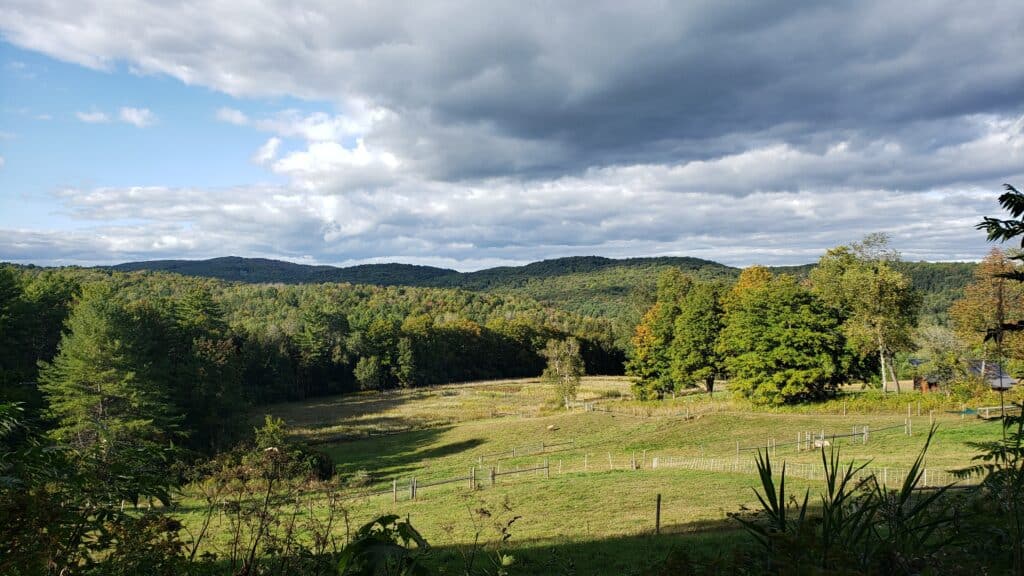 Sweet Animals
Chances are that you're looking to have a farm stay experience because you are attracted to the pastoral idea of farm life. After all, is there anything so peaceful and "back-to-nature" as a farm?
You can find that escape at Fat Sheep Farm. Here things are at their most basic and elemental, and the distractions of technology and busy life fade away. It's all about the animals, the crops, and the land. And the serenity of the outdoors pervades everything. It's really wonderful.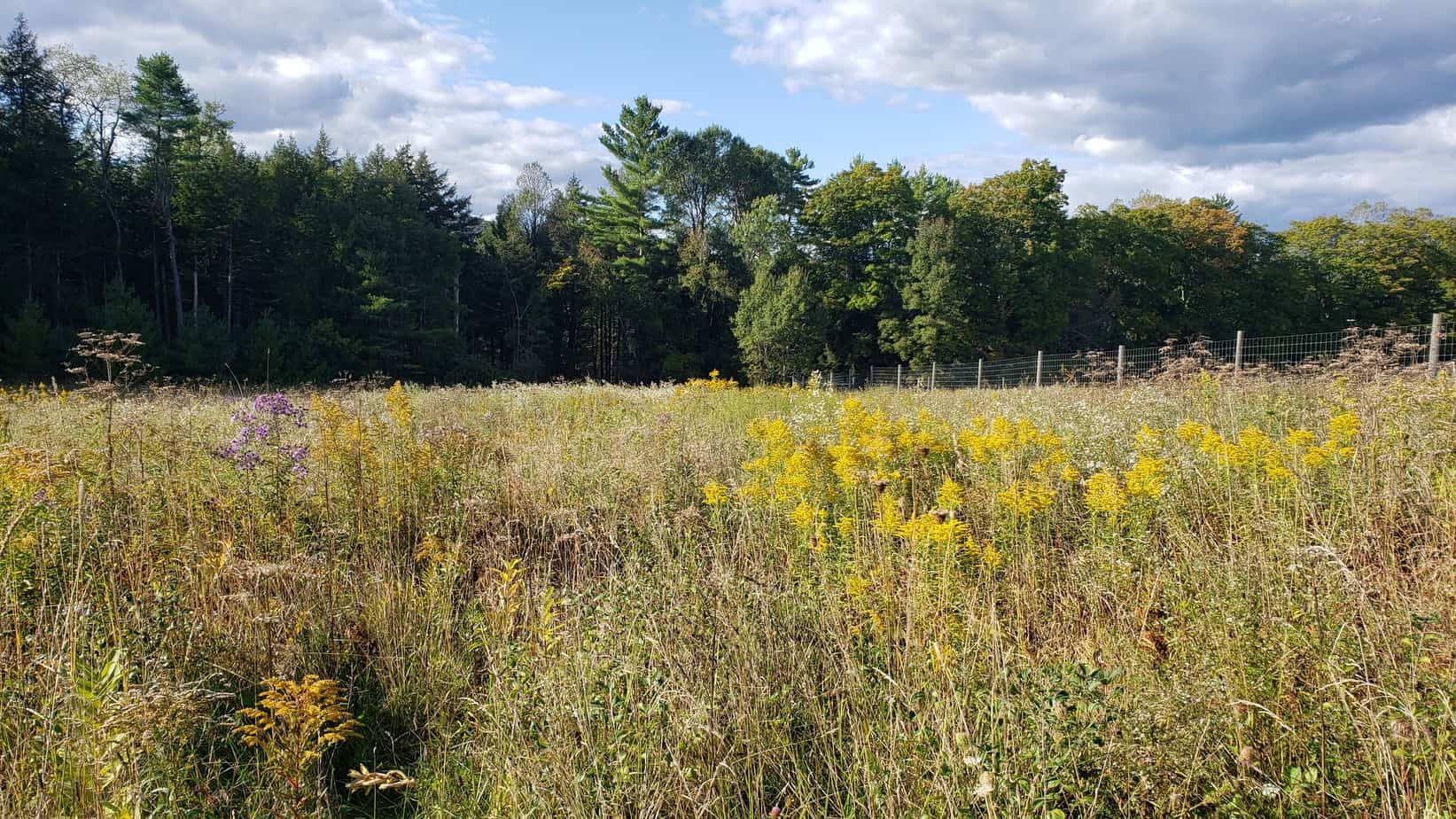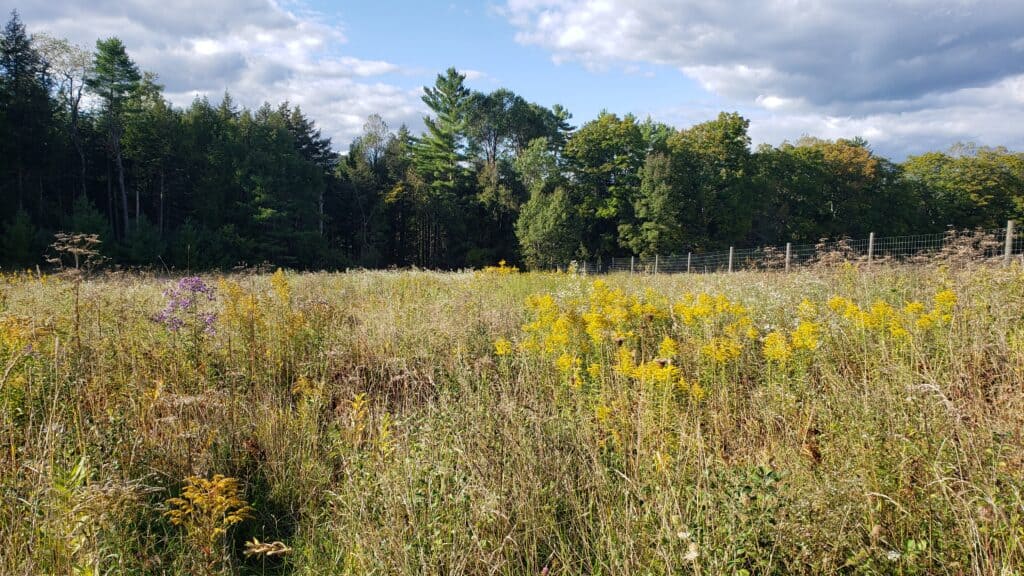 The farm is home to many animals. There are, as you might guess, several sheep of a slightly portly nature. These fuzzy friends have names with a culinary-bent, such as Bleu, Spanakopita, Brie, Apple, and Honey.
We found the sheep to be incredibly sweet (and incredibly patient, as we attempted to help with their milking one morning). They allowed us to give them pats and scratches in the morning and listened fairly well when it came to herding them out to pasture.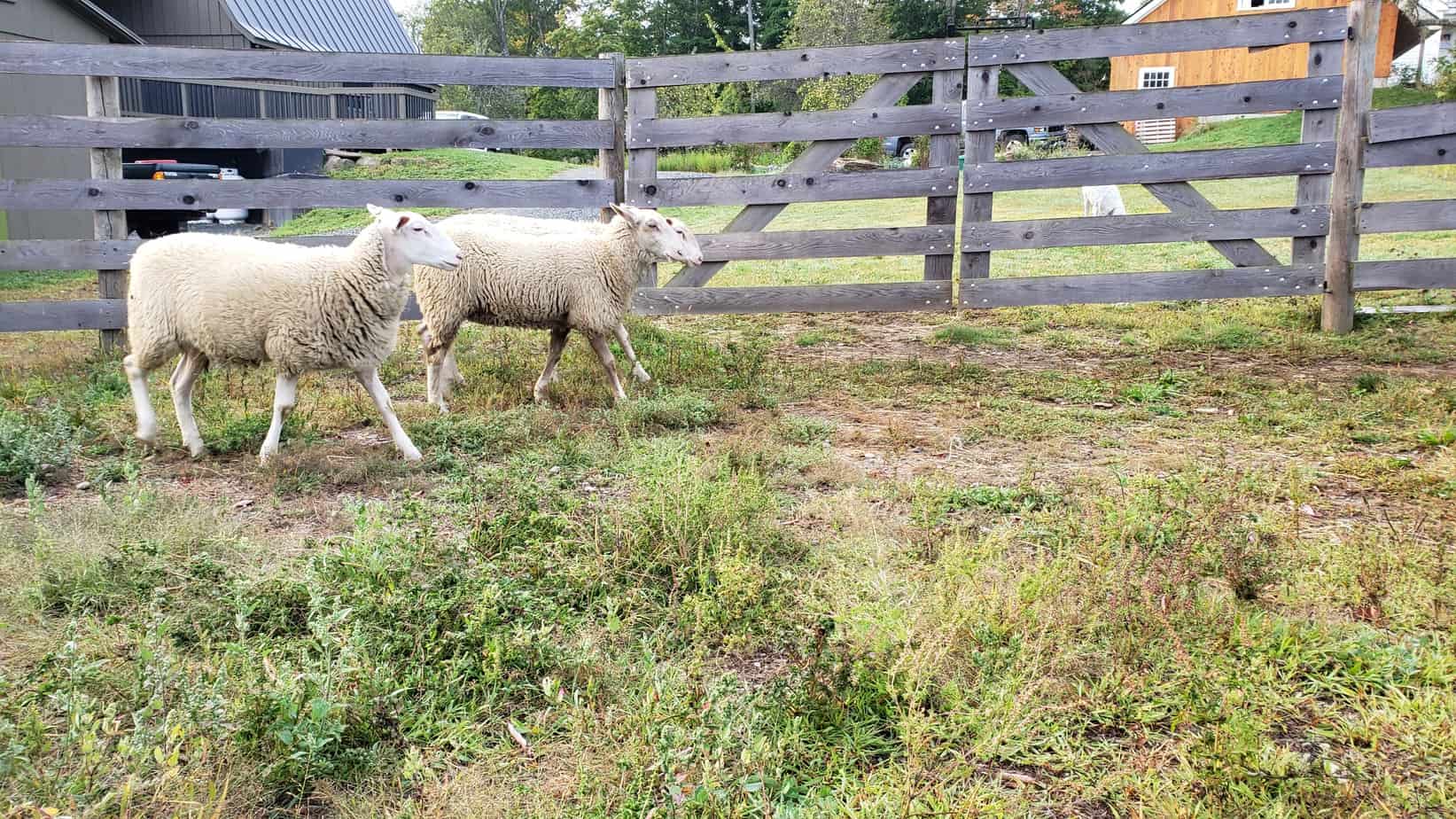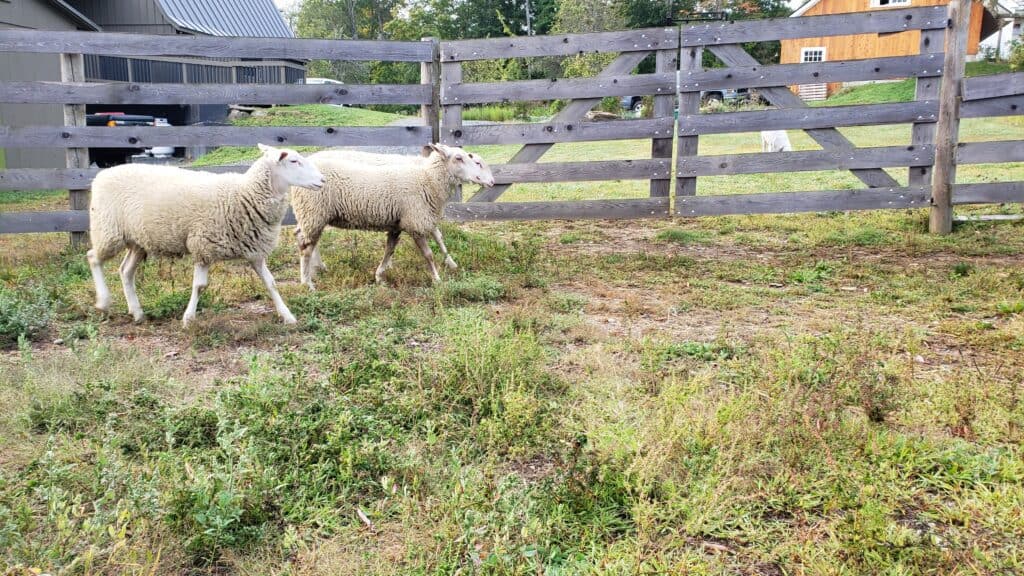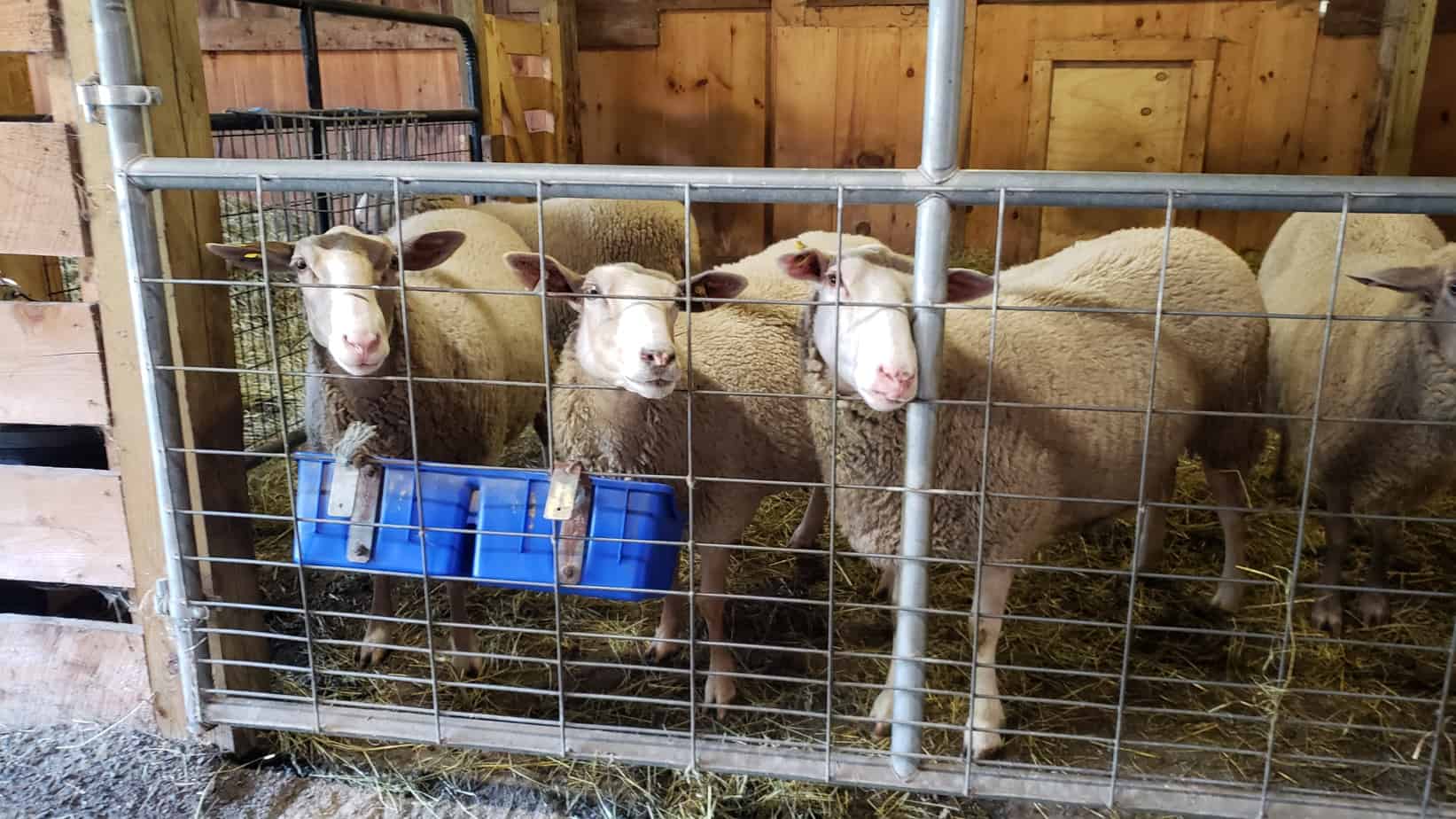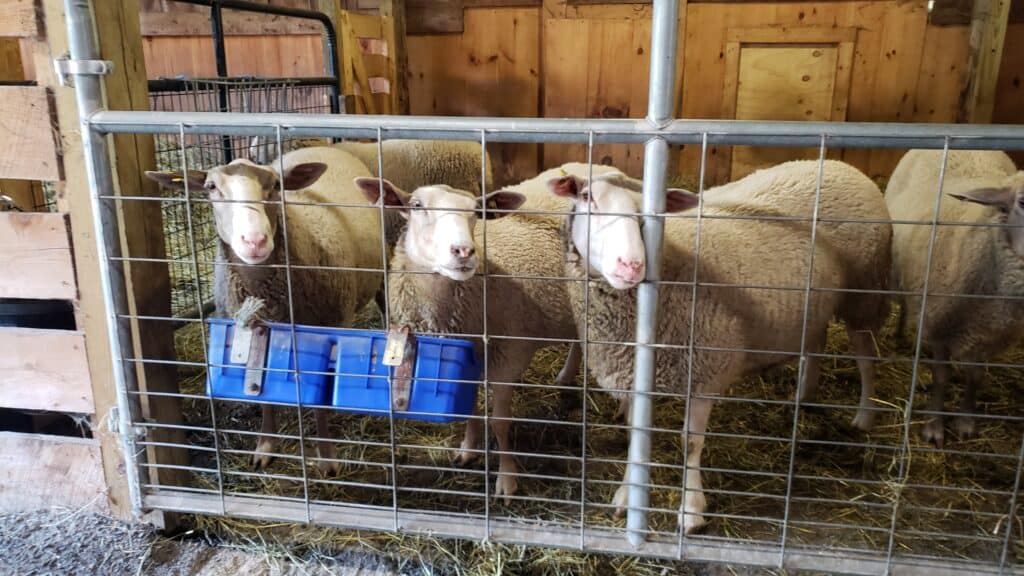 Alongside the sheep, the namesake of the farm, there are other animals, including goats, chickens, and a trusty farm dog named Rocky. While Suzy and Todd don't keep horses on the farm, guests who are traveling with their horses can board them overnight in one of three comfortable horse stalls. This is a great spot to bring your horse as there are many places to ride in the region, and the Green Mountain Horse Association is just 6 miles from the farm.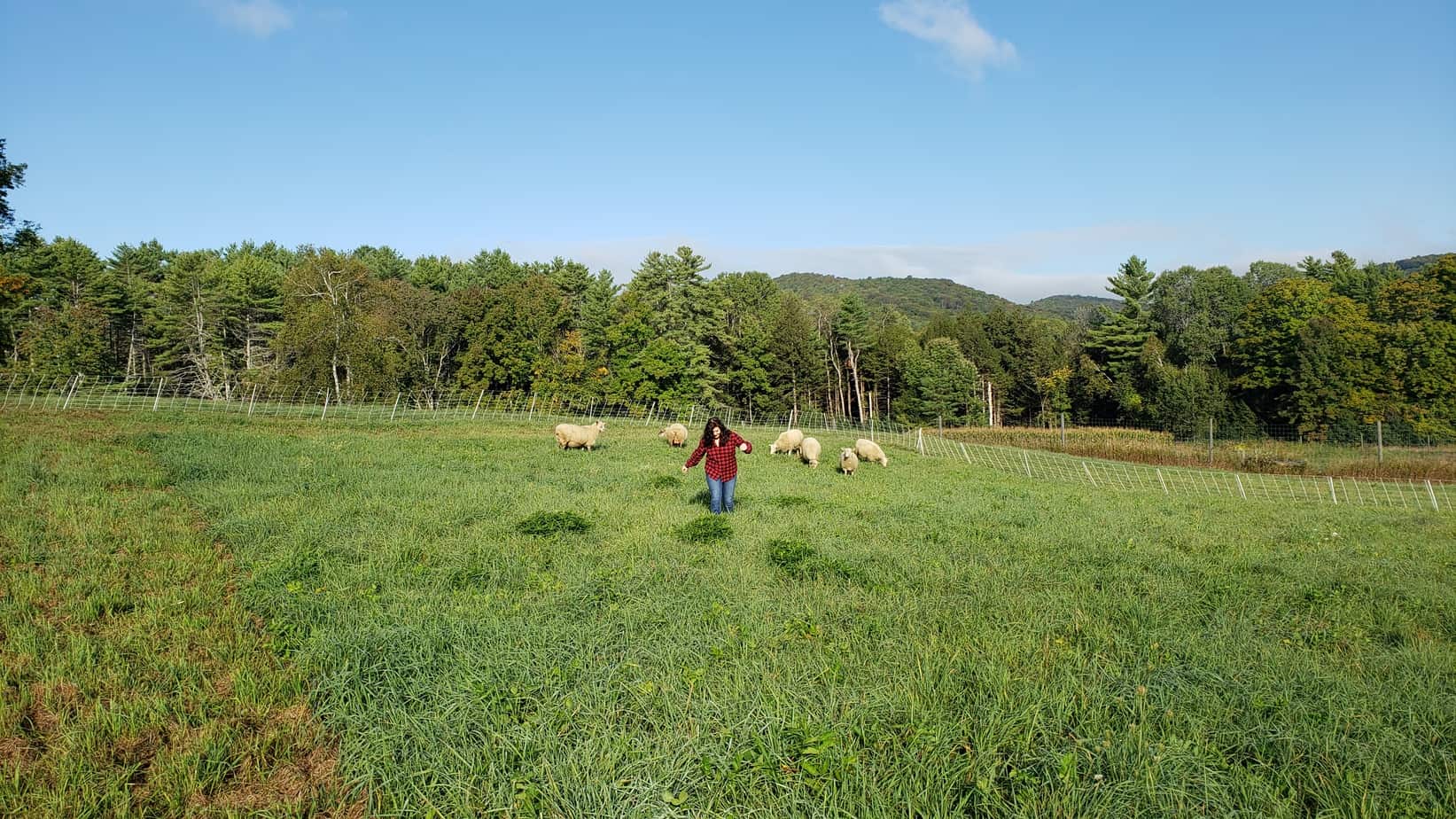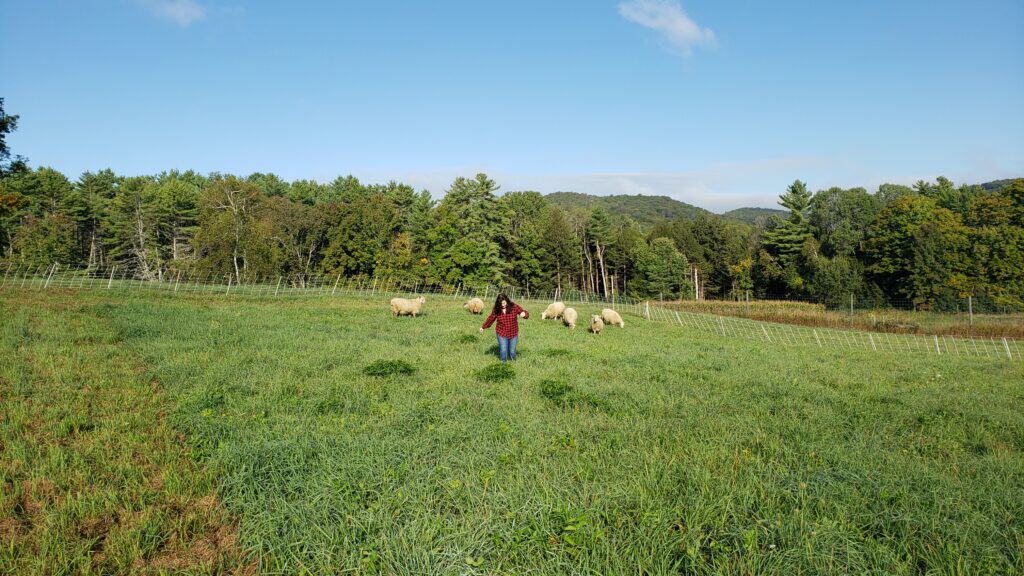 A Real Farm Experience
A farm stay in Vermont should provide ample opportunities to get involved in farm life, and this place certainly does! Every morning, Todd and Suzy are found tackling the farm chores, and guests are invited to join! (There's no pressure to participate in this morning activity, but the majority of guests do opt to join in at least one day during their stay. Farm chores are especially popular with kids.)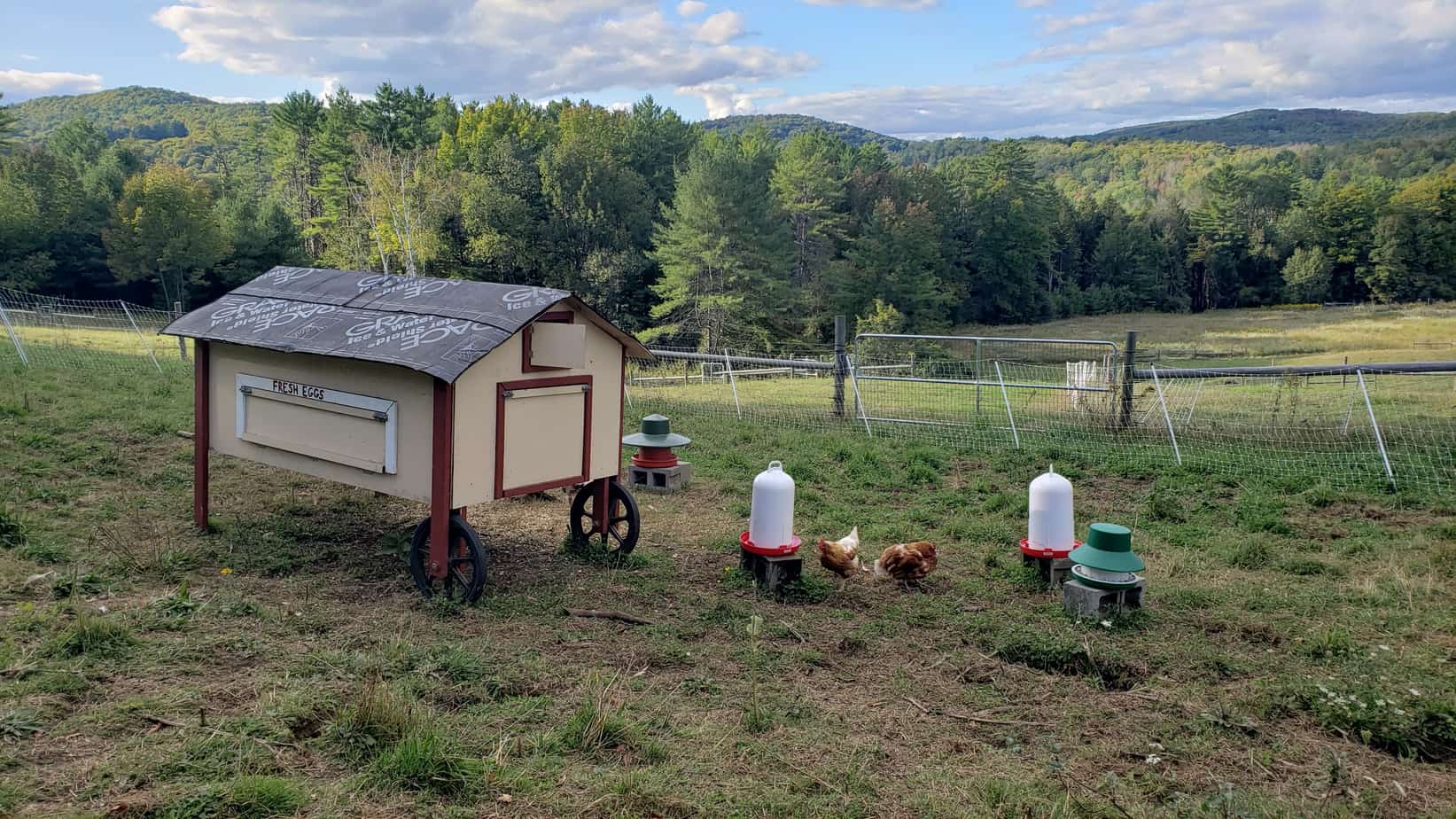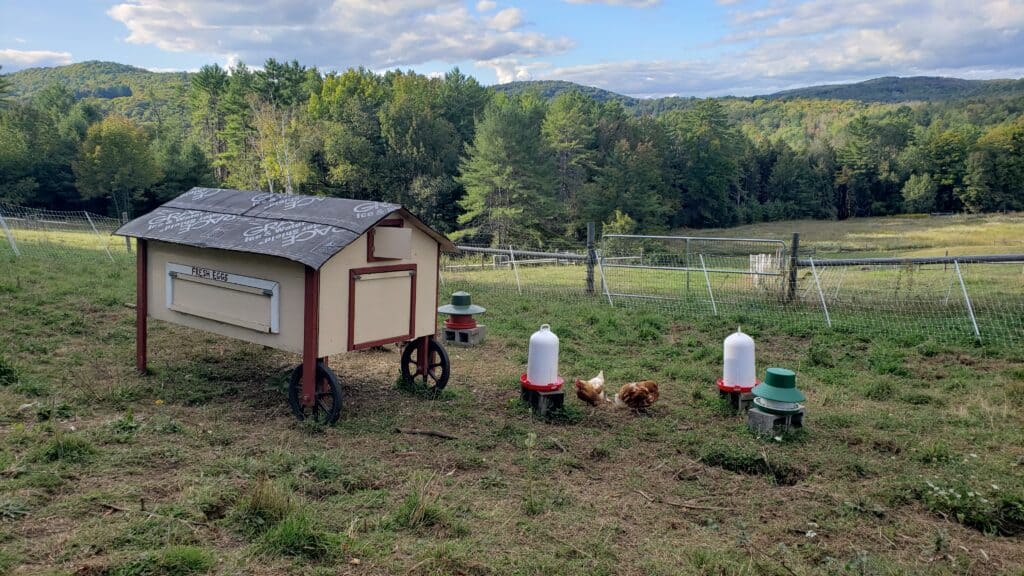 Chores may vary, but while we were there, we had the chance to help bring the sheep and goats out of the barn and to their pastures, collect fresh eggs from the farm's many laying hens, and assist in milking the sheep. Milking was quite a fun experience for both of us, and we appreciated all that Suzy taught us about the milking process and the care of sheep.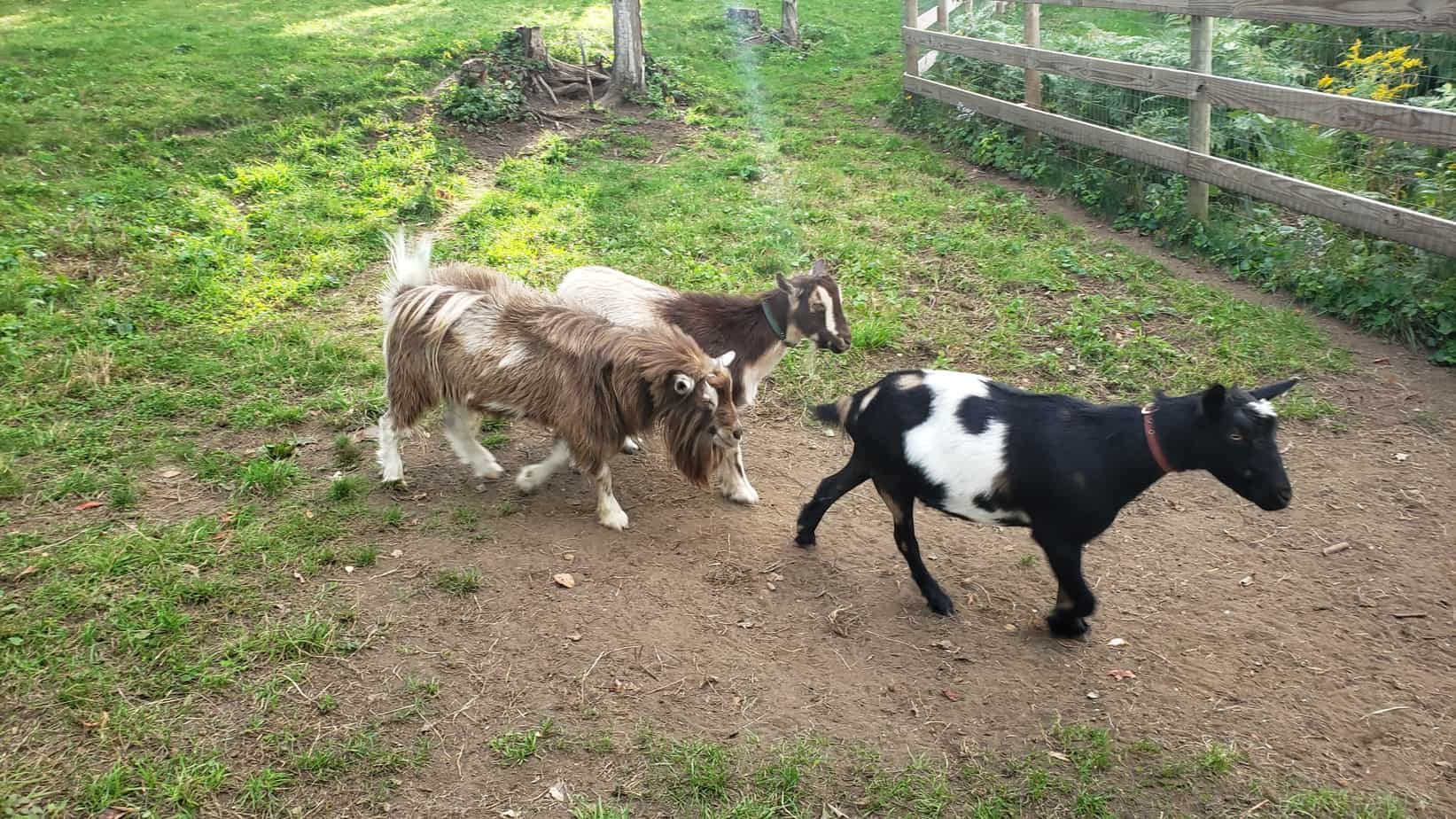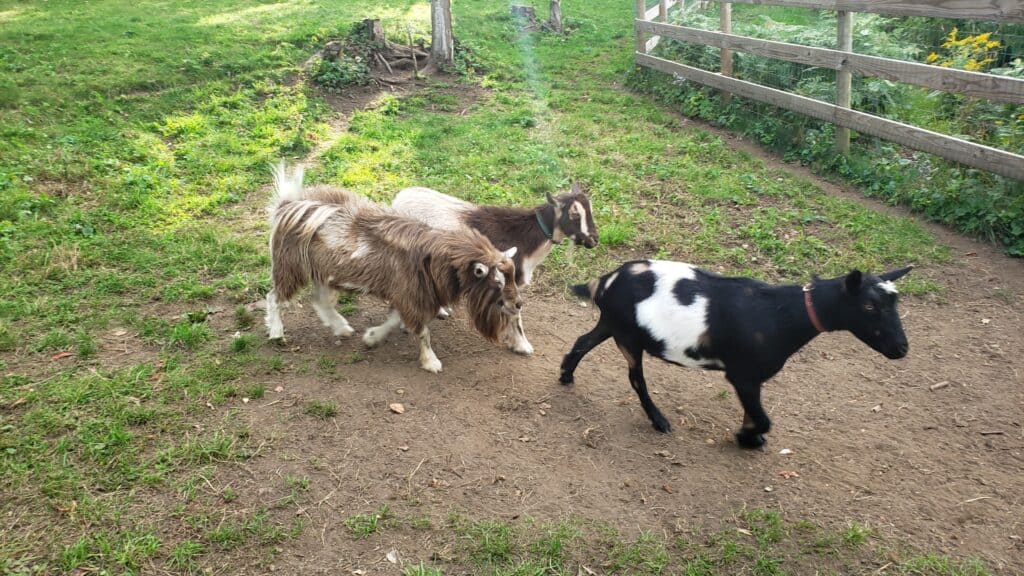 You can see immediately that these animals are well-loved and kindly cared-for. They lead happy lives with all the grass they could want and plenty of visitors around to give them treats and extra love. It seems like the perfect life for a sheep!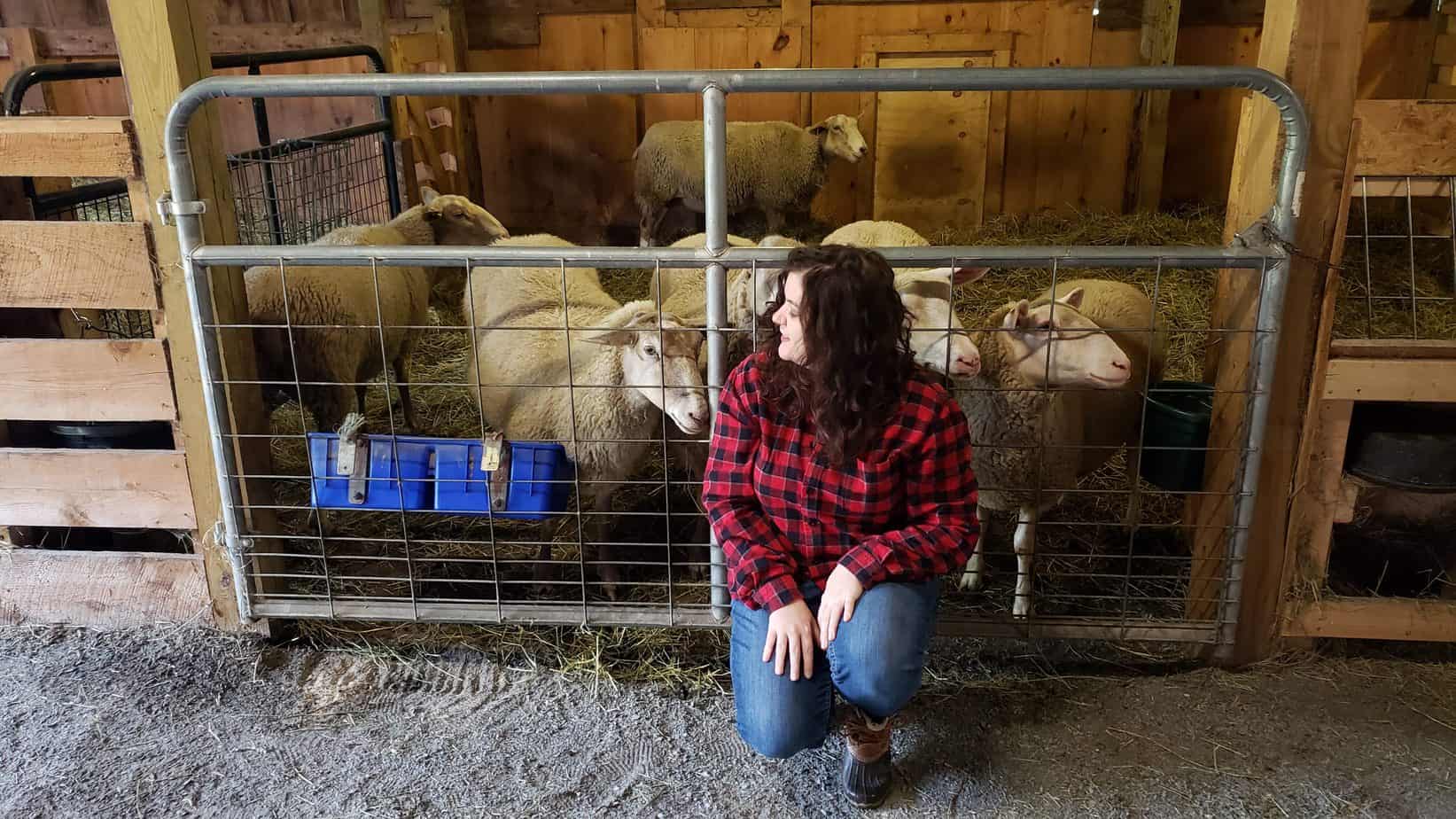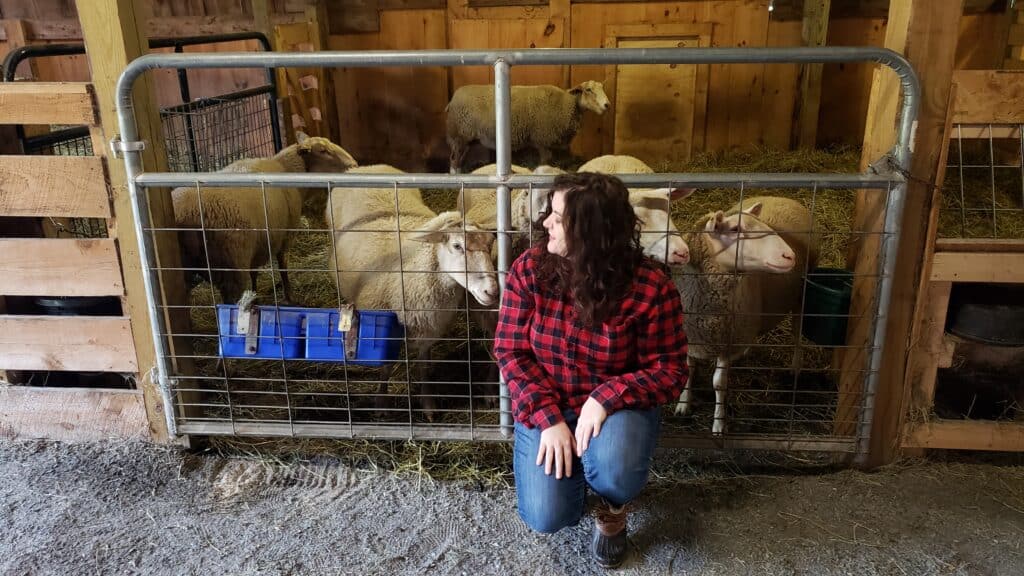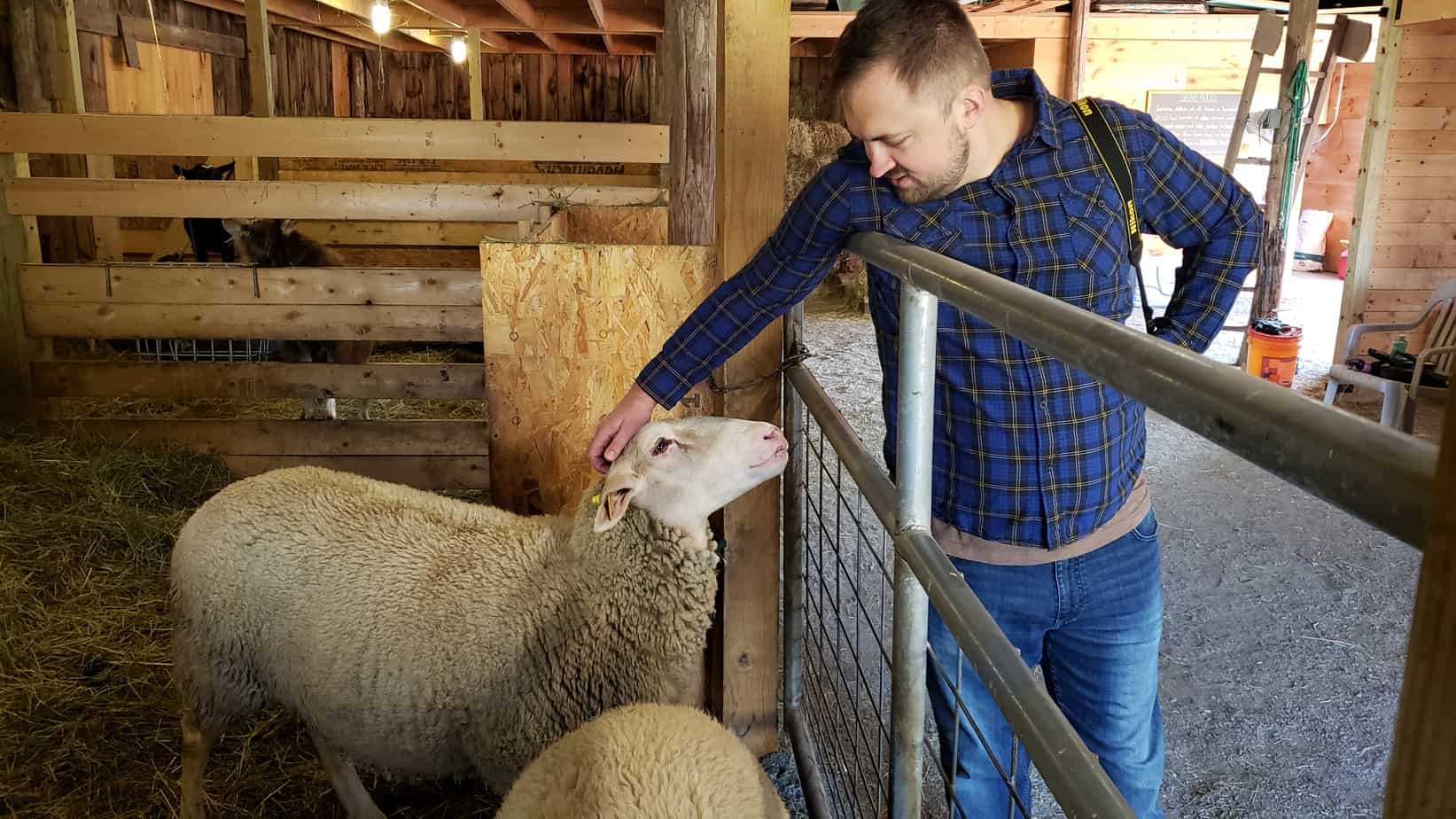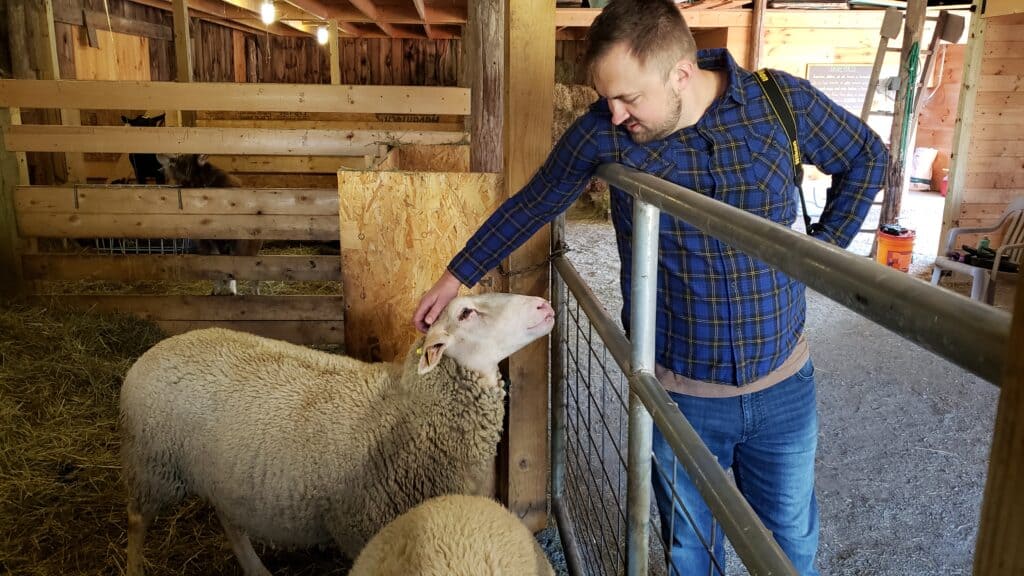 The farm stay doesn't just focus on animal care and animal products. The farm grows plenty of fruits and vegetables as well. Guests can ask to assist in helping with this aspect of the farm if they wish. Produce from the farm is sold at local farmer's markets and to local restaurants, as well as to guests straight off the farm stand.
Although we didn't have time for any cooking education, Suzy offers a few unique options for guests on the farm. There are workshops for cheesemaking and sourdough bread baking. These are tremendous opportunities for those who want to learn the art of cheesemaking right on the farm or who want to find out how to bake a perfect sourdough loaf.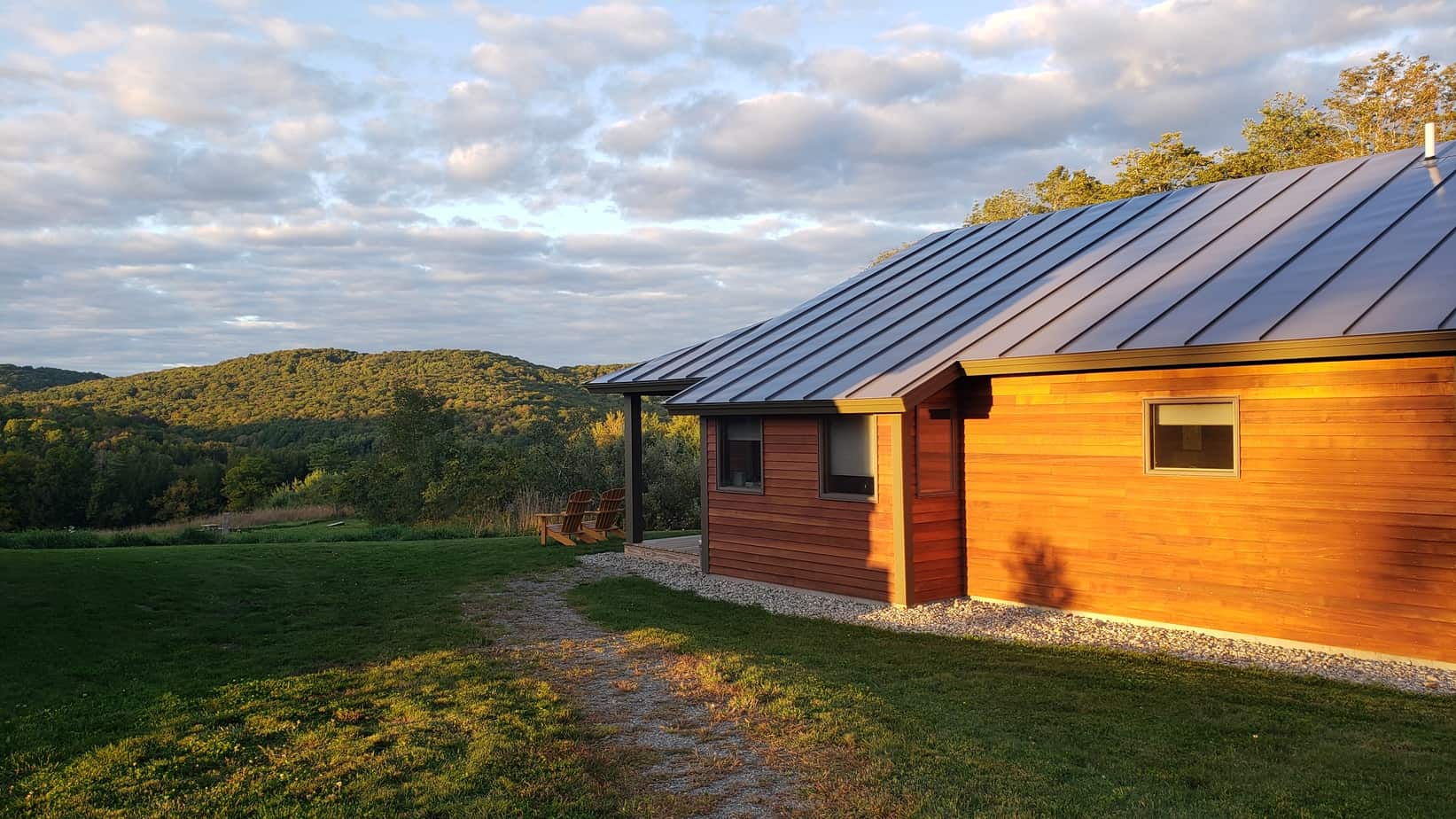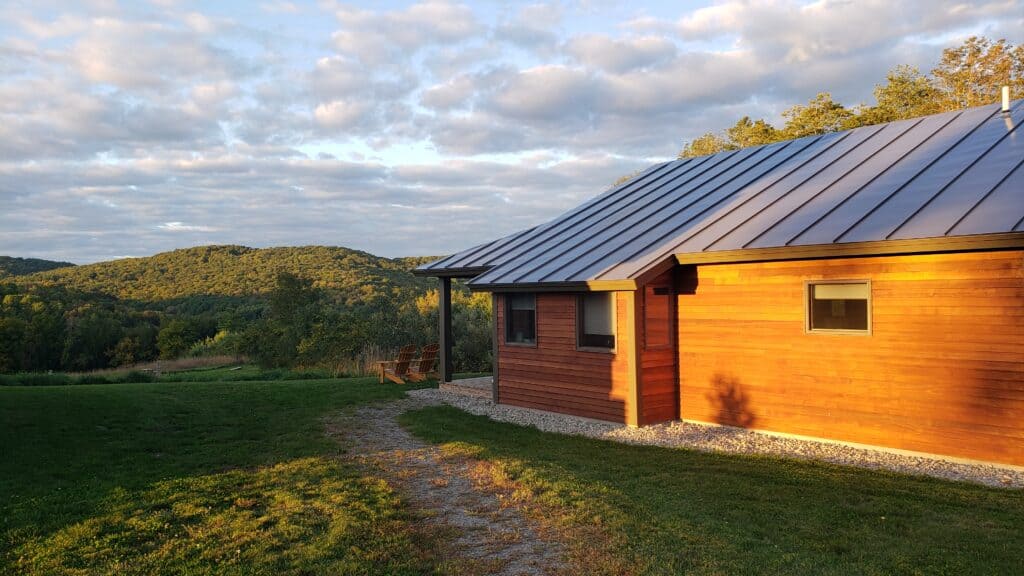 Cozy Cabins
When you're not helping out on the farm, you can relax in your cozy, modern cabin. There are 5 cabins on the property, some which can accommodate two guests and others that are just right for 3 or 4. Several of the cabins are pet-friendly, including the one we stayed in the Sunrise Cabin.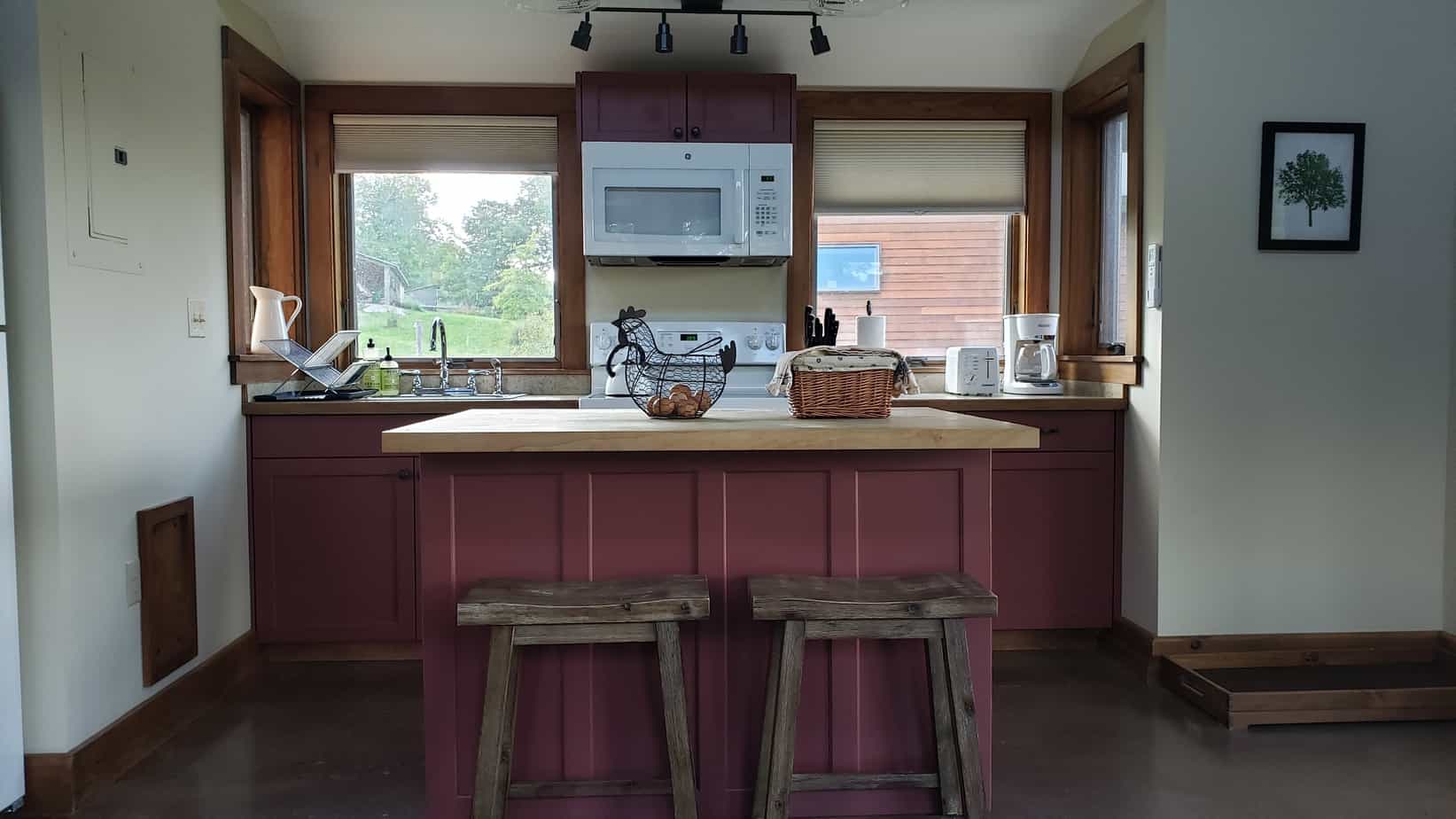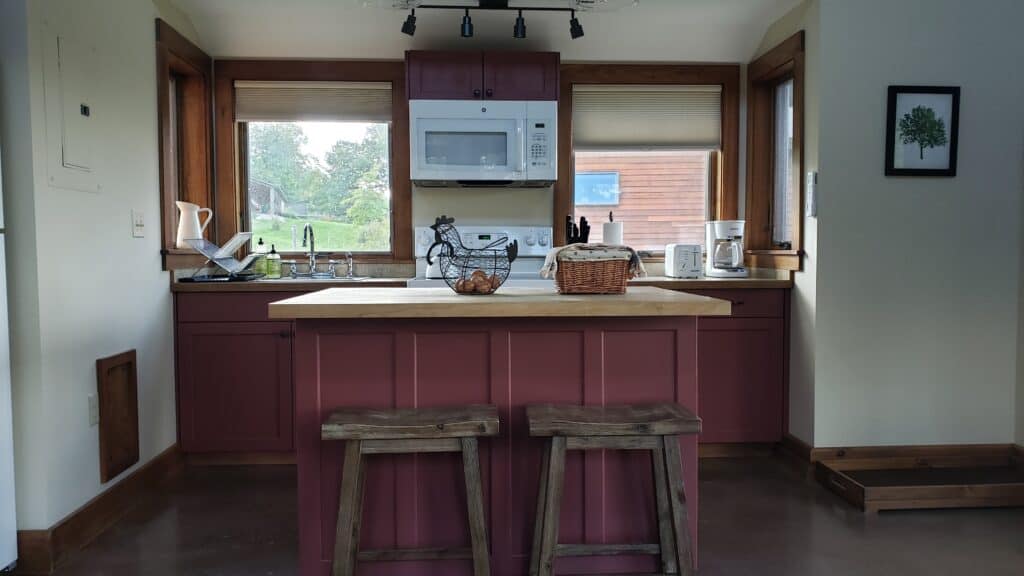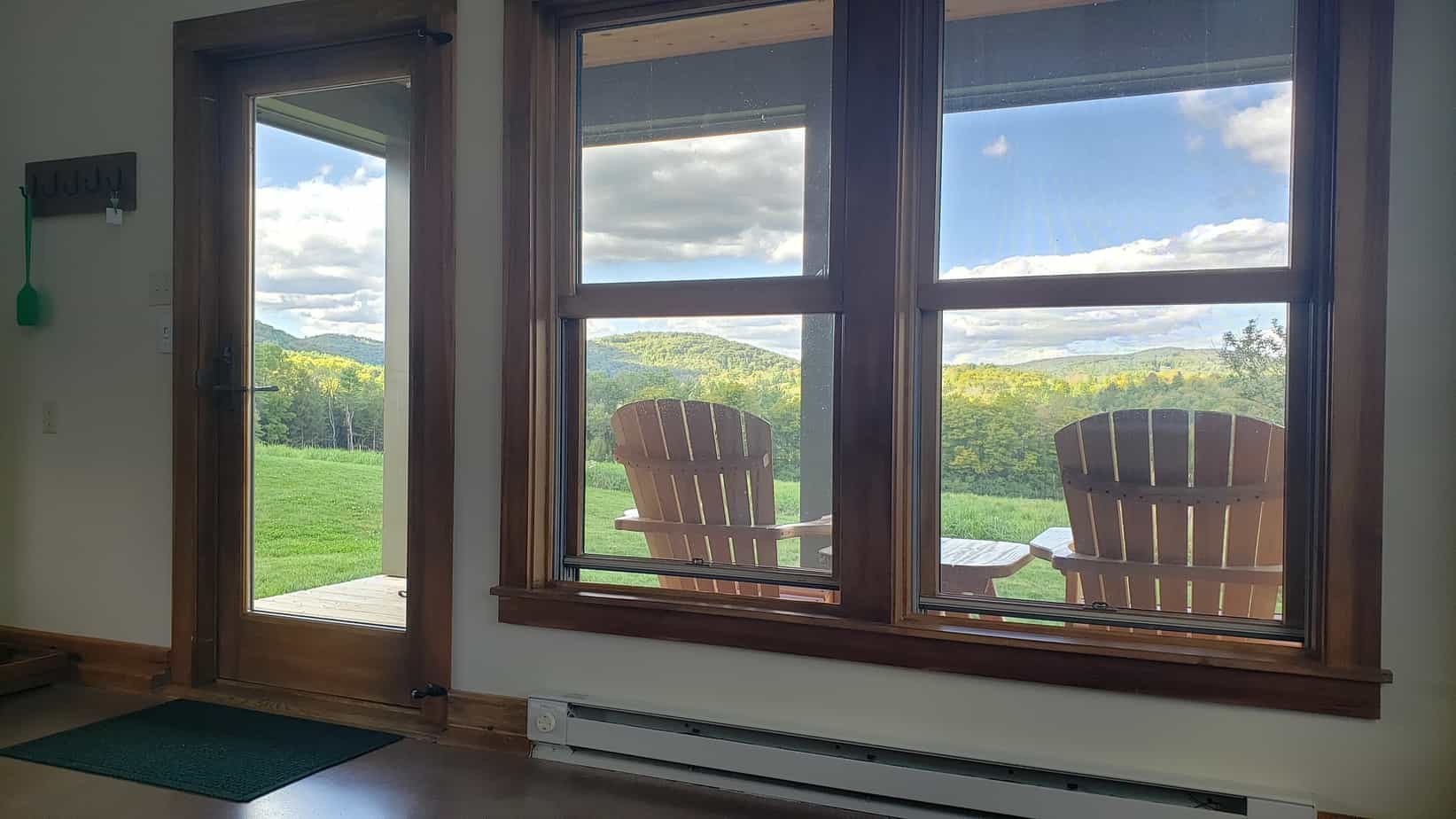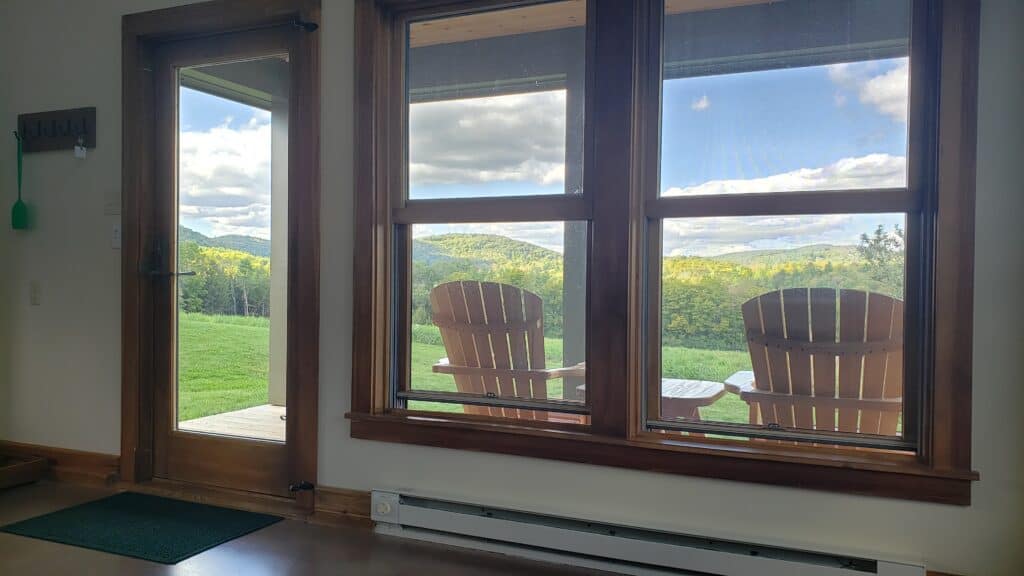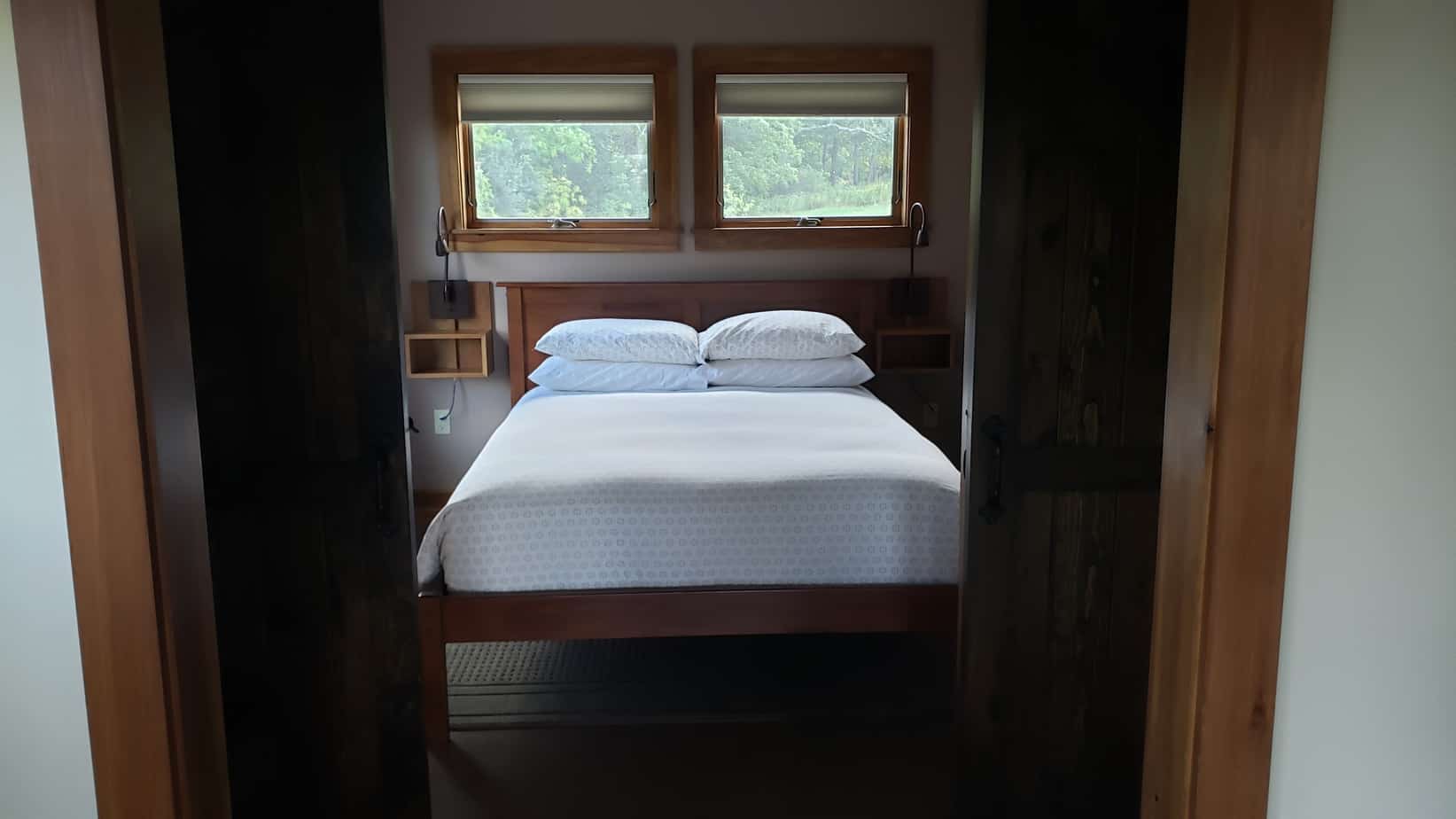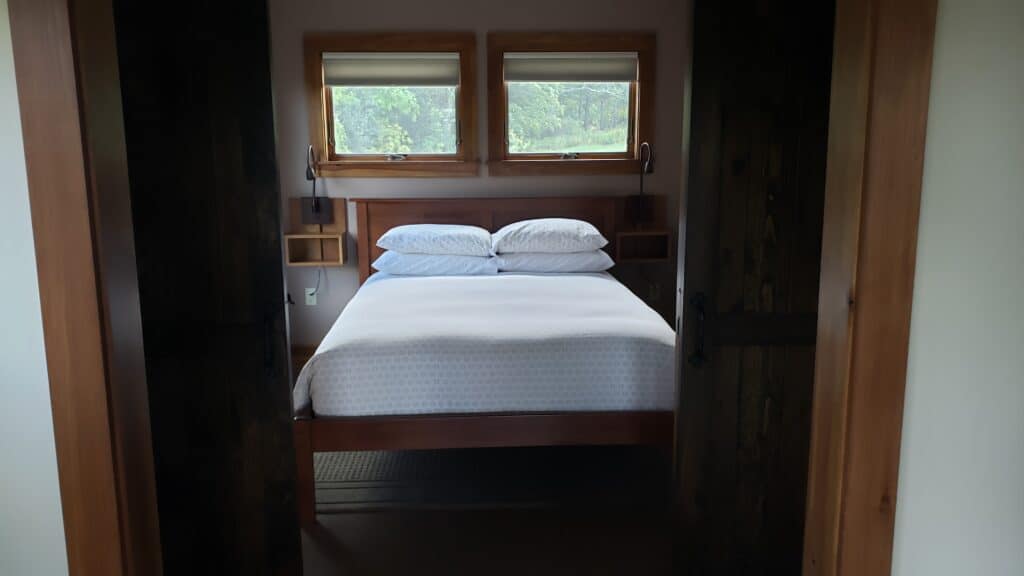 These cabins are lovely. From a well-equipped farm kitchen to a bathroom with subtle sheep elements, they make a great spot to lay your head for a couple of nights. And lay your head you will—our cabin had an insanely comfortable bed which gave us an excellent nights' sleep!
When you arrive for your VT farm stay, you'll be greeted with a basket of farm fresh eggs and some homemade baked goods, like these blueberry scones. Delicious!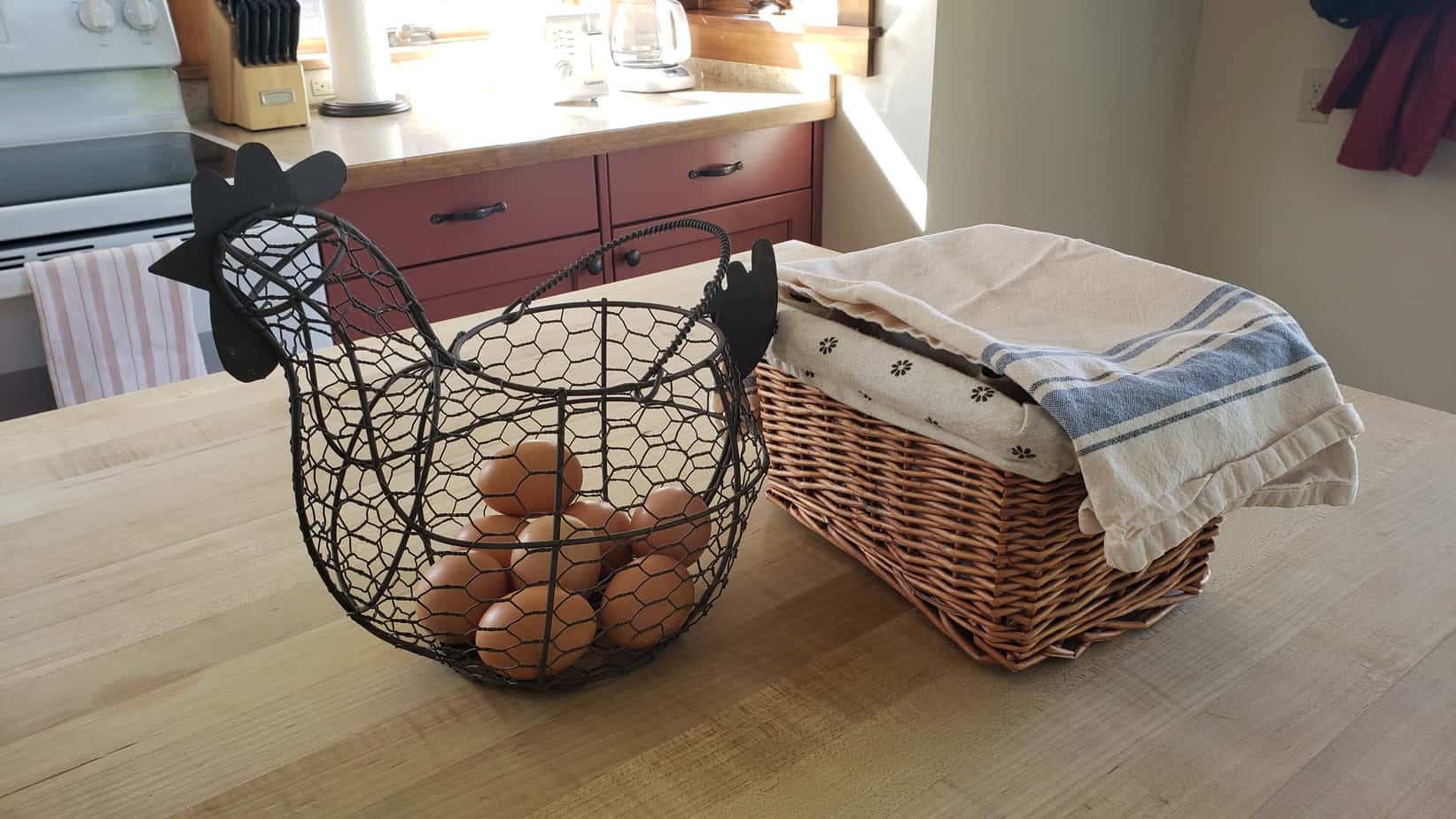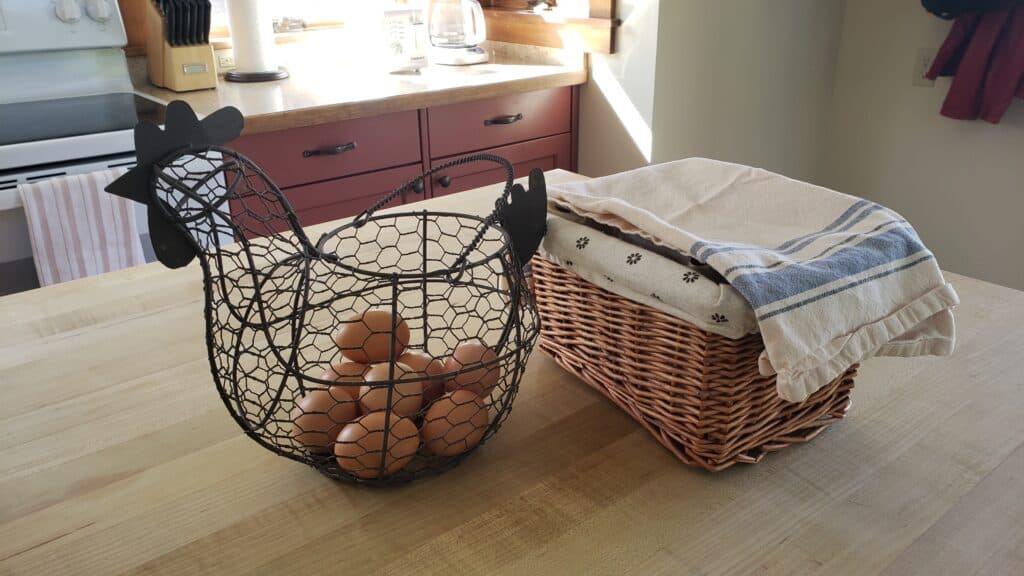 The cabins are set at the edge of the farm, with the mountains framing the distant scenery. The cabins have tons of windows, too, which not only lets in golden natural light but allows for panoramic views.
We especially loved the night sky experiences we had at Fat Sheep Farm. With almost no light pollution out here in rural Vermont, we were able to see a canvas of thousands of stars above.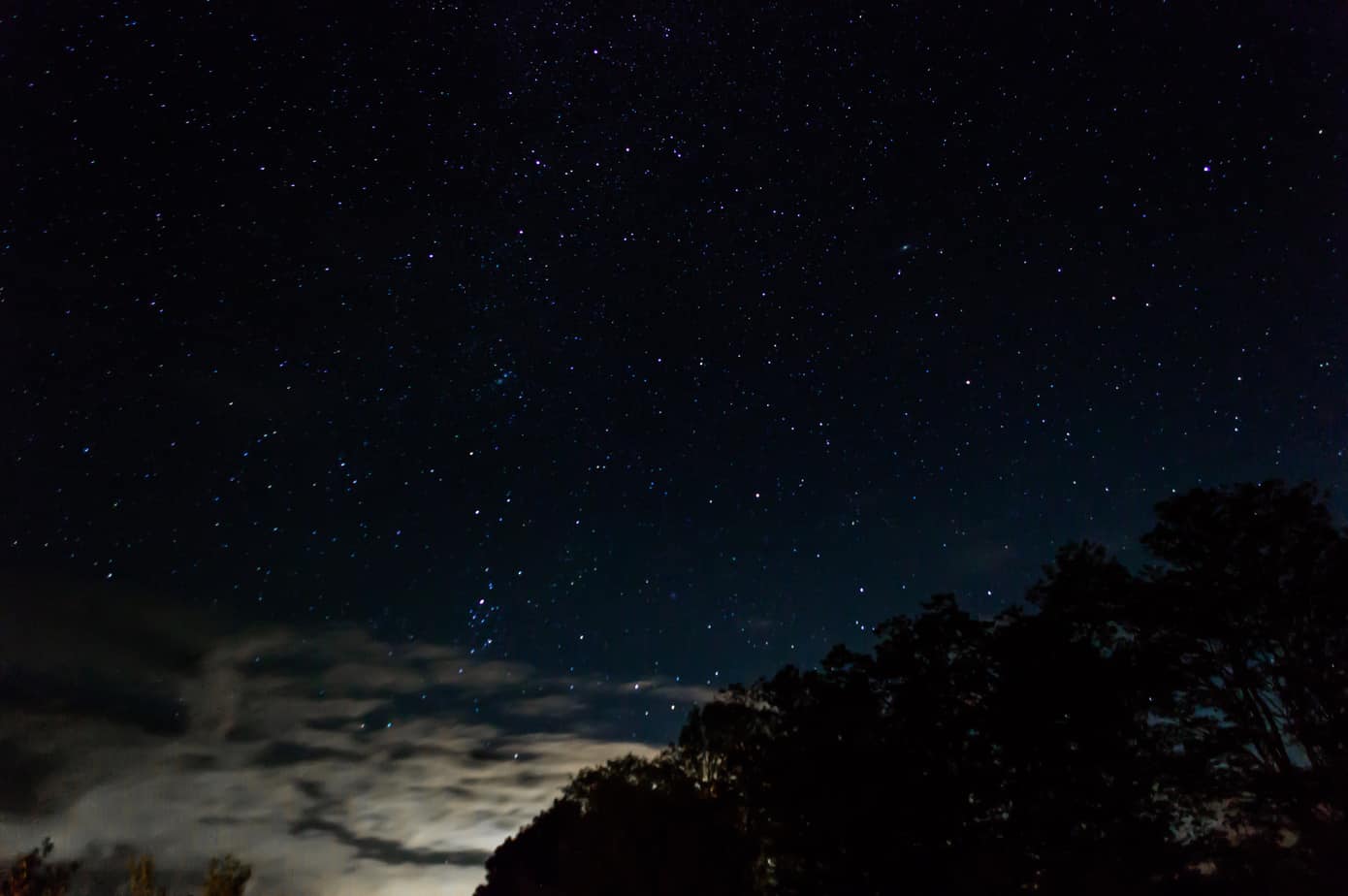 A Perfect Balance
One of the best parts of this farm stay is that you can create the experience you want! While there are plenty of opportunities to participate in farm activities, you can also take time to simply relax. There is a big stone fire pit on the farm that Suzy or Todd can light for you. This is perfect for gathering together with friends and fellow travelers in the evenings. S'mores anyone?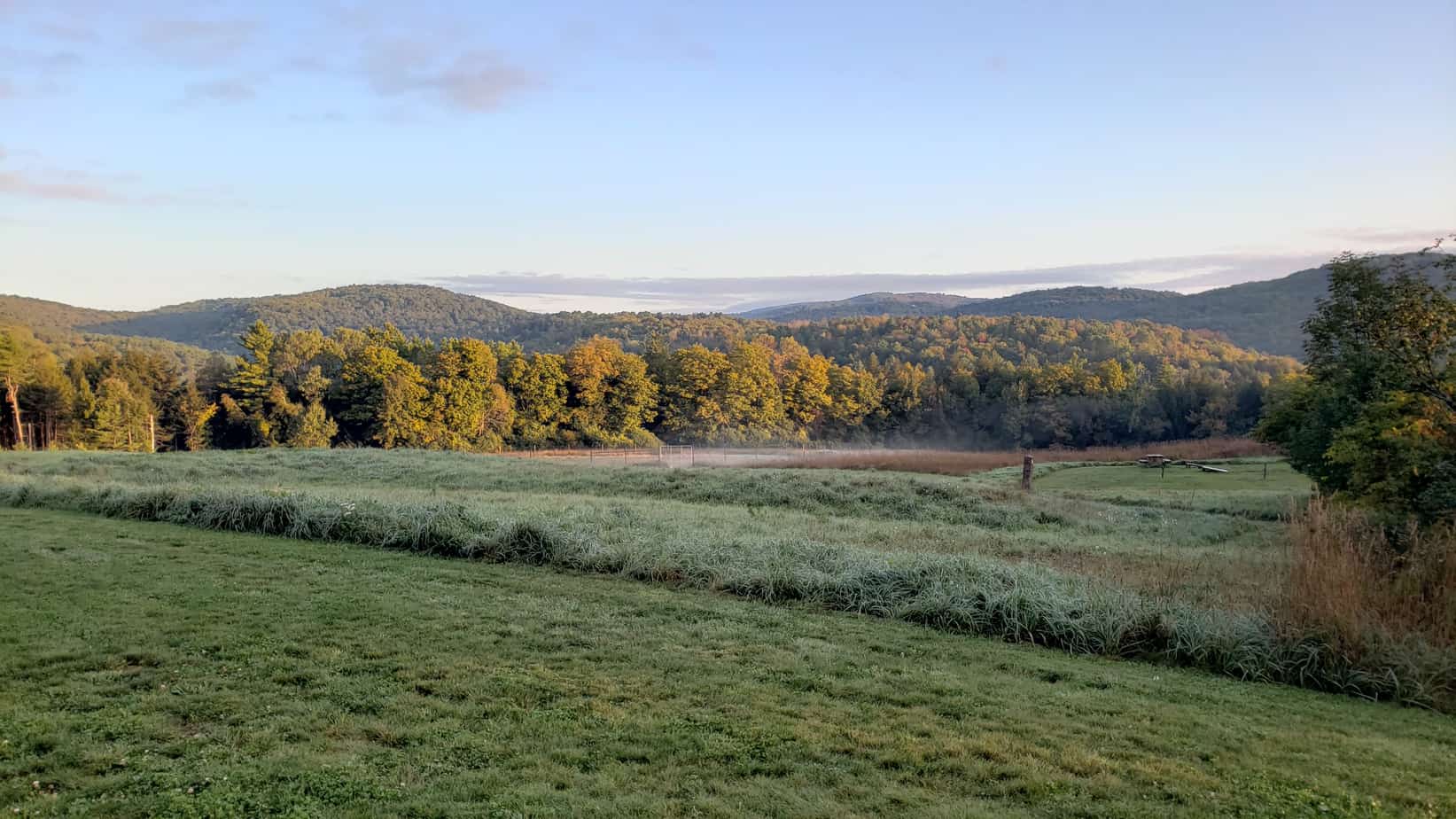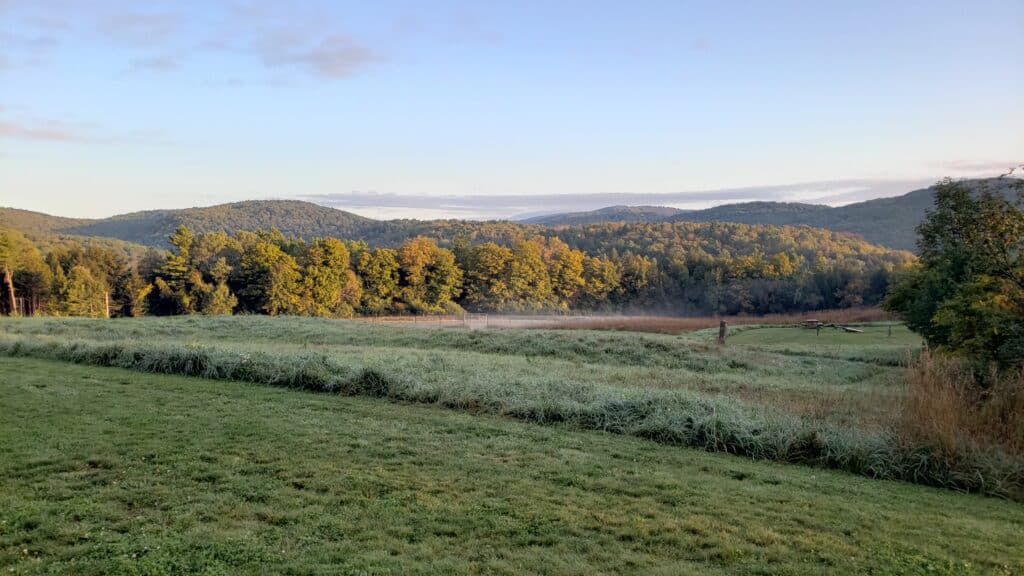 You can also go for a long, leisurely walk around the perimeter of the farm. There is a path called Rocky's Road that is very scenic and takes you all around the property.
Want to get off the farm and check out some local activities? You're in a wonderful location.

A Great Vermont Location
Hartland and the Fat Sheep Farm is just 20 minutes from the town of Woodstock, Vermont, where there is plenty to do that is oh-so-Vermonty! You can do things such as view classic covered bridges, shop in a charming small-town Main Street, visit Vermont's oldest general store, and sip beer at local breweries.
When the day is done, you can come back to the quiet solitude of magical Fat Sheep Farm and wake in the mornings to the sound of roosters crowing. Sound like bliss? You should book your stay now!
---
We visited Fat Sheep Farm as hosted guests. As always, all opinions are our own and reflect our true experiences.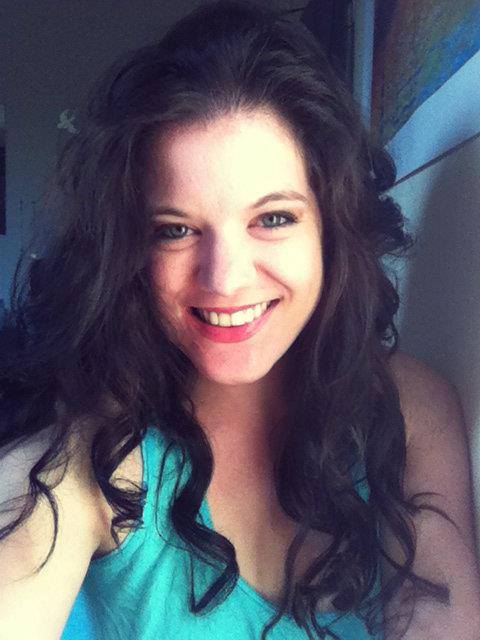 Amy Hartle is the Editor behind Two Drifters, and author of Do You Love Me? How To Stop Seeking Reassurance in Relationships, a book on reassurance seeking. While her name often is found beside the title of "Relationship Expert", she knows that becoming an expert on love and relationships will be a lifelong challenge. But, she is a passionate student of the subject, fully dedicated to learning all she can about relationships, connection, and intimacy, and nurturing her own marriage along the way.
Amy lives in North Carolina with her husband Nathan, and son Malcolm. When not working on websites or traveling the world, the Hartles can be found cuddling, reading, and hanging out with their cats.