This post may contain affiliate links. Read our disclosure page for full details.
We Two Drifters love couples travel (I mean, obviously!) and we also get so happy when we discover other adventurous couples out there in the world. We celebrate their spirit and their relationship. Our latest couples interview is with Darren & Shelley. Take it away, friends! Meet Darren & Shelley of Finding Beyond
Please introduce yourselves!
Hi! We're Darren and Shelley, a travel obsessed couple from London, England. We've been travelling on and off for the past 11 years. We regularly leave our comfortable British lives behind to live the nomadic lifestyle for a year at a time. There's nothing we love more than quitting our jobs, packing our bags and flying to the other side of the world without much of a plan. Not having a plan allows us to travel more freely, slowly and without commitments.
We're now on our new and epic one way ticket adventure to Asia but it won't stop there. The only plan we have that's different to previous trips is to try and make some money along the way, so our travels can last as long as we wish them to. We're chasing our digital nomad dream. We'd love you to join us at FINDING BEYOND to see how in pans out and maybe give us some suggestions on where to go next!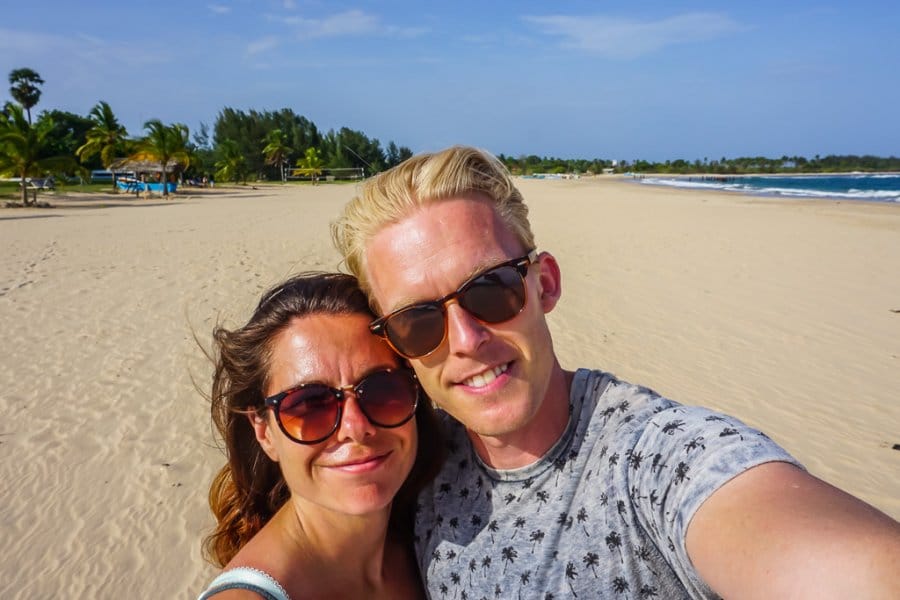 When did you first start travelling together?
We first starting travelling together in 2005. After graduating from University, we spent a year saving so we could fly to Austraila on a working holiday visa. We stayed in Australia for one year, working for a few months in Brisbane and Sydney, then spending the rest of that time travelling everywhere in the country we could. We also stopped in south-east Asia for six weeks on the way home. It was this year away that started our travel obsession and we've been travelling ever since.
How would you describe your travel style?
Until recently, it's been fast paced and on a budget. We'd spend a year at a time travelling from destination to destination with no stops longer than three or four days. It was exhausting, but we loved it. These days we've slowed down. There are still times when we move fast, you have to when you have just 30 days on a visa with so much to see, but we now enjoy stopping in locations for longer periods of time. To soak up the lifestyle, get to know the locals and experience what it's like to live somewhere in complete contrast to home.
We still travel on a budget but we've recently started a mission to earn an income online while we travel the world. We want to become Digital Nomads! If we succeed then we hope we can start to splash out now and then. Regular air conditioning would be nice 🙂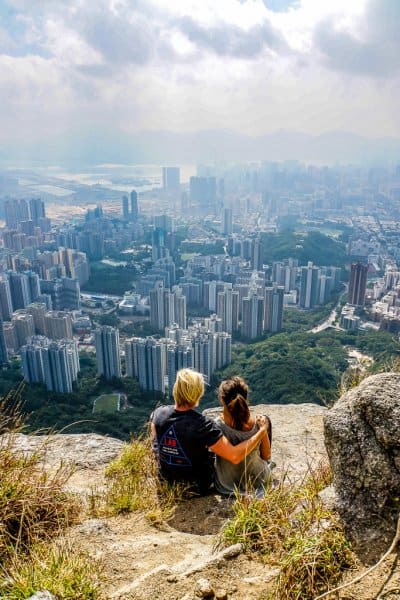 What has been the most rewarding part of travelling as a couple?
We're lucky to have a shared passion for travel. There's nothing both of us love more and we're quite aware of how rare that is. Being able to see this awesome world together is, for us, as rewarding as it can get.
What has been the most challenging part of travelling as a couple?
Running our travel blog. It's a real game changer as we're no longer able to travel the way we used to. No longer can it be an epically long vacation. No longer can we have a siesta in the middle of the day when we're tired. No longer can we spend some of the time doing nothing if we want to. There's always something to do, so when we're not travelling, on a tour, hiking, exploring, eating or whatever, we get back to working on the blog.
The blog is always in the back of our minds but we wouldn't have it any other way. It just takes some time management and a few sacrifices. Running the blog together creates a bit more stress and therefore more arguments but it's all for the bigger picture.
Have you ever had a fight while travelling, and how did you handle it?
Yep, we've had fights, but nothing serious. We're generally a very laid back couple so we're good at not holding grudges for too long. It's no fun being annoyed at each other when we spend so much time together, so we try to make up quickly and move on. Obviously addressing the issue as well but like we said, it's rarely anything serious.
Can you share your funniest, most humorous experience travelling together?
Travelling in India for nine weeks was a humorous experience. Regularly having a line of locals queuing up to take a photo wth you, everyone wanting to be friends with you on Facebook, dodging cows and their shits in the streets, wedding parties dancing down the street to Justin Bieber, crazy overcrowding and the hilarious scam attempts. Travelling in India comes with its ups and downs but it's important to laugh about the downs, otherwise, you'd go crazy and want to leave!
Where have you been that you would recommend as the top destination for couples travel?
We'd definitely recommend Sri Lanka for couples. Everywhere is very low key and relaxed without the very young drunk backpackers that you find in eastern Australia and Thailand. There are lots of other travelling couples in Sri Lanka so it is easy to meet like-minded people to share a beer with. It's also very cheap which helps when you have to pay for everything twice 🙂
How long have you two been together?
We got together at University in 2003 and got married in 2015. So around 13 years.
Thanks for making us feel old 🙂
Do you think your relationship would be different if you didn't travel?
That's a hard question. If we didn't travel we'd probably be all grown up like the rest of our friends back home. This is crazy talk but we may even have children! We'd definitely have a dog, that's for sure. And maybe a cat or two.
How do you define love?
When you care for that person more than anything else in the world, you can't imagine living without them and you want to share everything.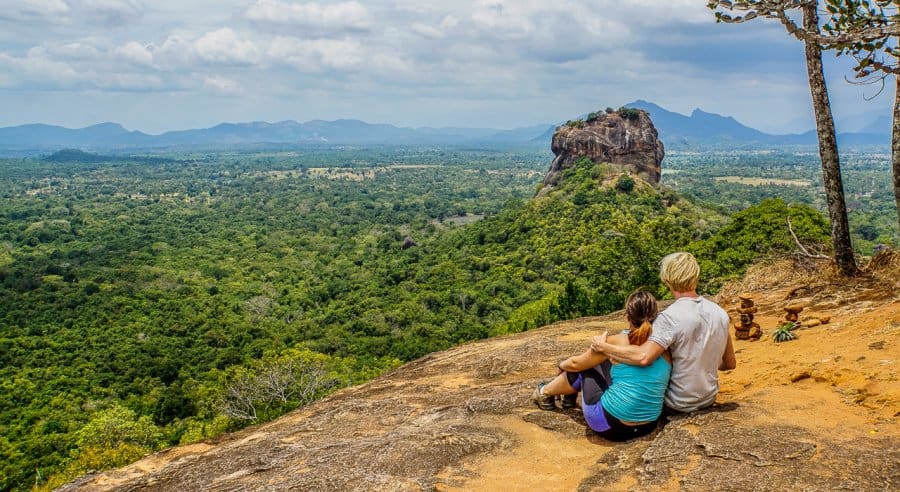 What do you think is the glue that keeps relationships together?
Honesty, communication and affection. Shelley wants to add kisses and snuggles 🙂
What advice do you have for couples considering travelling together?
Be prepared to spend ALOT of time together. If you're the type of couple who argue easily and like regular time apart then travelling together probably isn't going to work. You need to be the best of friends and able to deal with your problems together as you won't have family and friends there with you to help or let off steam with.
Keep up with Darren & Shelley's adventures on social media:
---
Don't miss our best advice for traveling as a couple. Plus more of our interview series: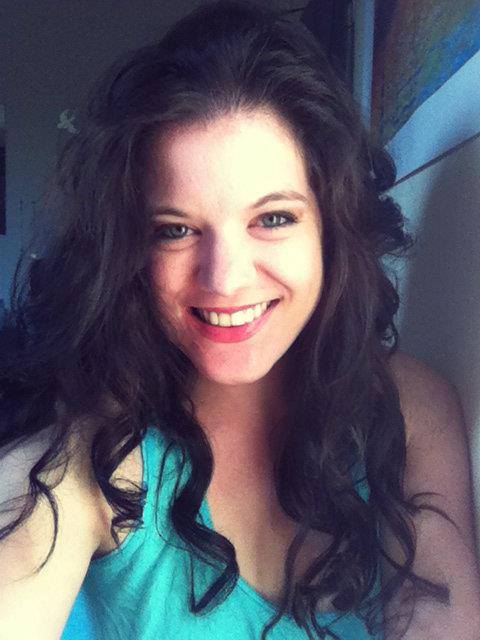 Amy Hartle is the co-founder and owner of Two Drifters, where she blogs about romantic and couples travel, relationships, honeymoons, and more. With a Master's in English and a BA in Musical Theatre, Amy loves to write quality content as well as to entertain, and she hopes to do a bit of both here on the blog! Amy is happily married to her husband Nathan, and when not working on their sites, Amy & Nathan can be found cuddling, reading, and enjoying delicious lattes.