This post may contain affiliate links. Read our disclosure page for full details.
Every few weeks, you'll see a brand new interview on Two Drifters introducing you to a new traveling couple. This series is so much fun for us because we get to delve into the adventures of other travel lovers just like us. Every story is different, and each pair approaches travel, romance, and exploration in their own unique way. This series is called Love on the Road. Meet Kavita & Pete!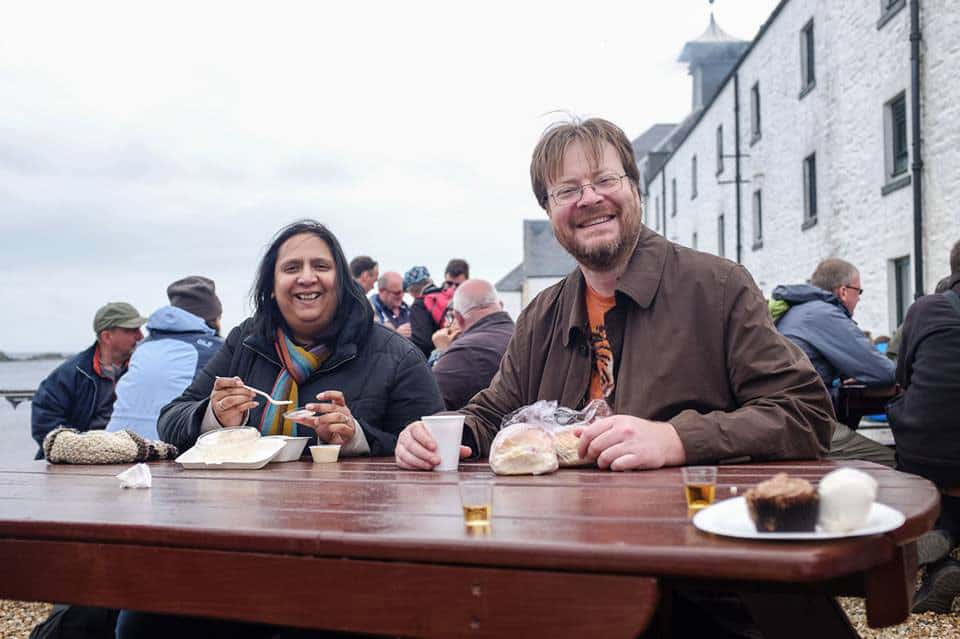 Hello! Please introduce yourselves!
K: I'm Kavita, known to most as Kavey. And I'm replying to this interview with my husband Pete.
Potted history time? Both of us were born in London, me in the North and him in the South, and we met as students of Warwick University, in Coventry. We got married as soon as I graduated, and we've lived in North London ever since. Pete's a software developer and I'm a business analyst. Blogging is a sideline for both of us. I started kaveyeats.com in spring 2009. Pete started writing PeteDrinks.com in 2010, first as a guest poster on my blog and then on his own site soon after. Kavey Eats started out as mostly food with a little travel but these days the travel content rules.
We don't have kids, so we have a lots of flexibility to travel at any time of year, and also to take longer trips than average. I always try to take a few months off between contracts so we can fit in extra trips. That said, we've never taken on the nomadic lifestyle of continuously travelling / living overseas. Never say never, though! Recently we both took up pottery as a hobby, first me, after being enthused by a pottery lesson I took in Japan last year, and Pete several months later when I tempted him to the magic of clay. We have a teeeny tiny Etsy store where we sell some of our efforts.
How long have you two been together?
K: Twenty-five years this May. We've been together for more than half of our lifetimes!
When​ ​did​ ​you​ ​first​ ​start​ ​traveling​ ​together?
K: I'd travelled internationally throughout my childhood but Pete didn't have a passport until we were dating. We were still university students when we took our first trip together. My degree obliged me to spend most of the summer break in France (not a hardship!) So I arranged for Pete to meet me in Paris. It was one of my favourite cities and I was keen to share it with him!
P: Because Kavey was already in France it meant my first ever flight and airport experience was on my own, which was a little daunting, but it was fine and we had a great time. We visited Paris quite often back then, especially once Eurostar opened and it was even easier to get there.
K: Other destinations in those early years included Sorrento, Nice, Barcelona, Brussels… many of these trips were with friends, back in the days before many of them started their families, and were as free to travel as we are!
P: We also did that trip to New England with your parents, I was billed as Son-in-law-to-be!
K: Oh and we started taking the car to France too, we did lots of French self-drives in the early years, initially within a few days' journey of Calais but eventually exploring further afield in France and Belgium. We should do that again soon actually, it's been a while…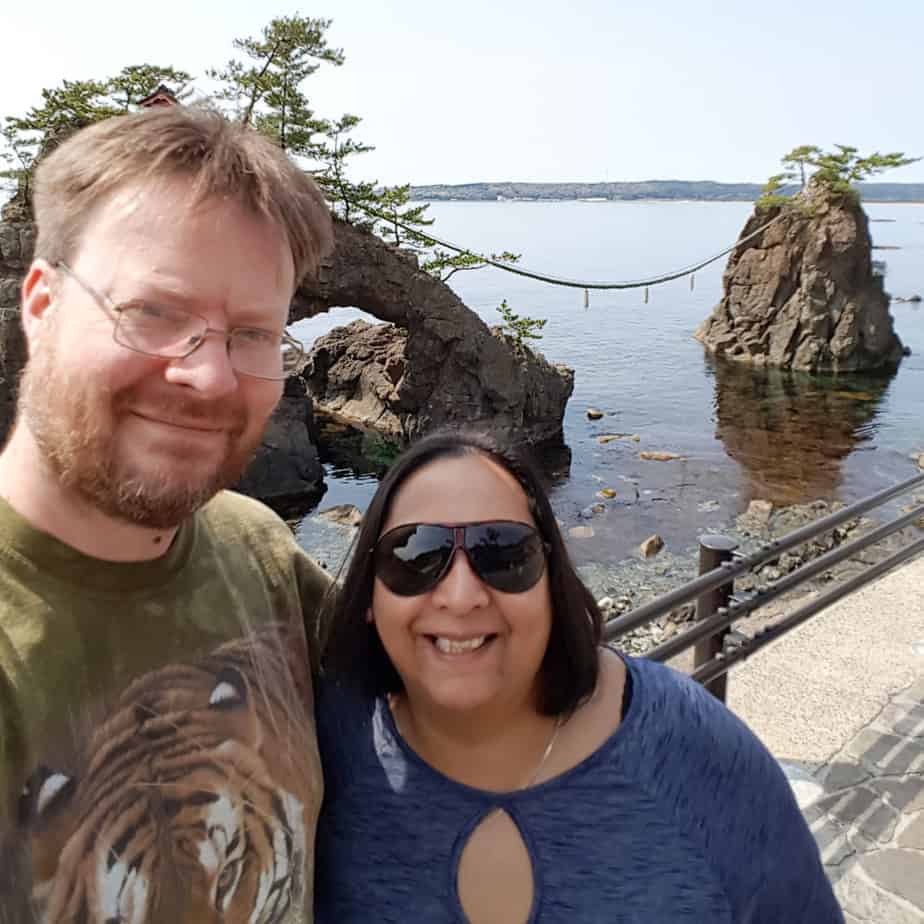 How​ ​would​ ​you​ ​describe​ ​your​ ​travel​ ​style?
K: Independent…
P: Adventurous – not in a wrestling tigers way but in terms of our choice of destinations and that we like to create our own itinerary, book it and do it on our own. Like most travel enthusiasts we know, we aren't really into organised group tours or package holidays.
K: We enjoy a fairly eclectic range when it comes to the types of holidays we like – city break, safari, self drive, country house hotels…
P: Comfortable… not cheap, not extravagant.
K: Well… occasionally extravagant but that's usually only when the a place is expensive to reach or a particularly great safari camp charges a lot because its capacity is tiny and it's in high demand… we tend not to chase super luxe accommodation for luxury's sake.
P: Leisurely, not rushed… we would rather spend week in one city than visit seven for a day each.
What​ ​has​ ​been​ ​the​ ​most​ ​rewarding​ ​part​ ​of​ ​traveling​ ​as​ ​a couple?
P: Kavey does all the planning, I find that very rewarding!!!
K: Actually, that's a plus for me too because I looove that side of it and take huge pleasure in it, whereas Pete is happy to trust me. I will often throw him some choices to narrow down if I get Analysis Paralysis but otherwise it's my job. Obviously, I know what things we both enjoy and I always plan in some things specific to our individual interests such as brewery and winery visits for Pete, and local crafts and food markets for me.
P: It's fun to share excitement about our experiences and each others excitement when it's one of the experiences that's more for one or the other.
K: I like that we create more and more wonderful shared memories and references and in-jokes! Same as life at home in that respect but everything's more intense on holiday isn't it?
P: Even if things do screw up you've got someone to sort it out or get through it with.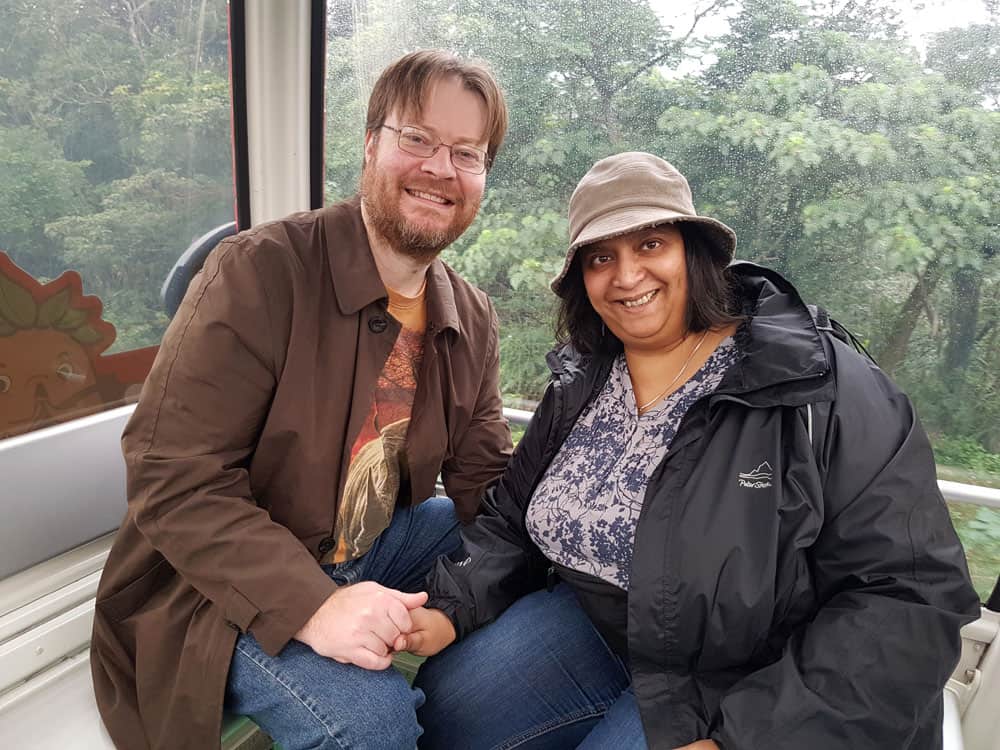 What​ ​has​ ​been​ ​the​ ​most​ ​challenging​ ​part​ ​of​ ​traveling​ ​as​ ​a couple?
[This one keeps getting left blank until K insists we try and answer it]
P: If you're really compatible travel partners as we are, travelling together makes the good bits better and the worst bits easier. No downsides!
Have​ ​you​ ​ever​ ​had​ ​a​ ​fight​ ​on​ ​the​ ​road/while​ ​traveling,​ ​and how​ ​did​ ​you​ ​handle​ ​it?
K: No, we actually haven't!
Can​ ​you​ ​share​ ​your​ ​funniest,​ ​most​ ​humorous​ ​experience traveling​ ​together?
K: Last year we spent 4 weeks in Japan, our third trip to a country we find utterly captivating. It was our first springtime visit, with the intention to enjoy the sakura season, so we particularly enjoyed the beautiful parks and gardens of Japan. One of the most lauded of these is Kenrokuen in Kanazawa, which we quickly discovered deserves all the epithets! As we walked around we encountered a group of several elderly ladies also exploring the park. They were collectively teeeny tiny. And Pete is 6 foot 6 inches (2 metres) tall. As they approached, I could see their obvious fascination with his height and I suggested (through the art of mime) that I take a photo of them and him together. One lady in particular seemed thrilled with this idea and quickly positioned herself with Pete, taking his hand in hers.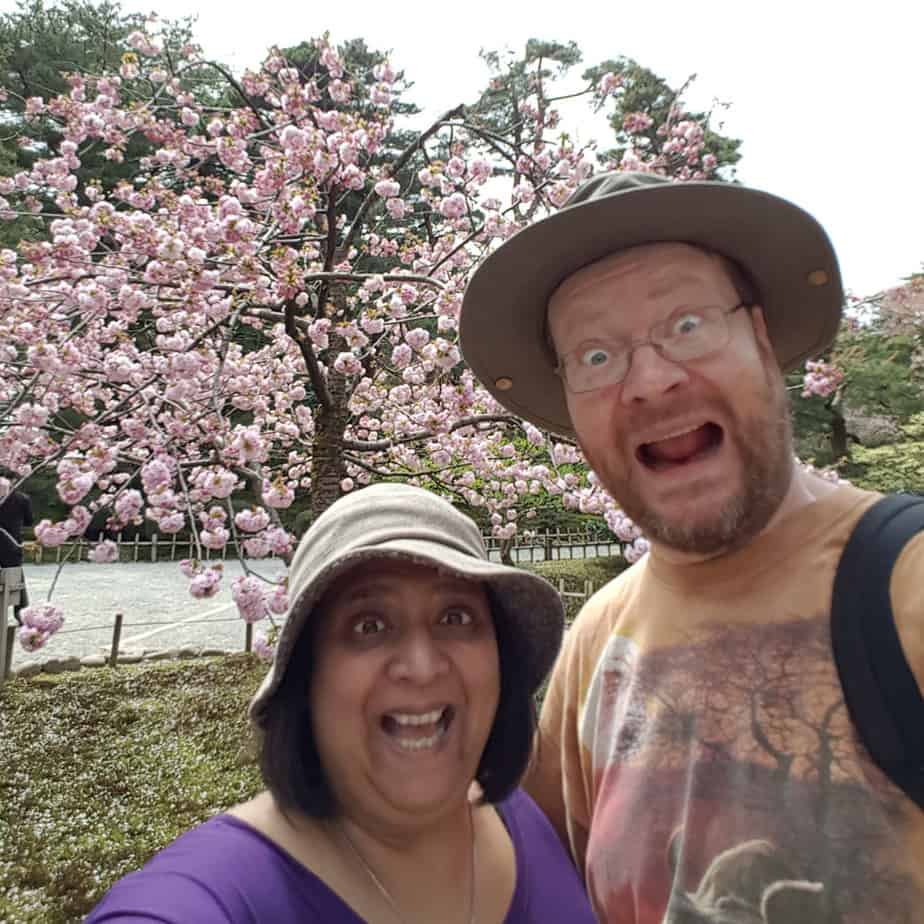 Just after I snapped a shot she got cheekiest gleam in her eyes, raised her eyebrows at me while cupping her hand over his genitals and giggled at me! It was more of a mime than a manhandle but I was in hysterics! I started laughing so hard I couldn't even walk straight! The entire pack of ladies were also guffawing, and a little wide-eyed at the naughtiness of their friend. The whole thing only lasted a few minutes but was so hilarious I was sniggering for ages afterwards!
Check out our post: 20 Things Not to Do When Traveling as a Couple
Where​ ​have​ ​you​ ​been​ ​that​ ​you​ ​would​ ​recommend​ ​as​ ​the​ ​top destination​ ​for​ ​couples​ ​travel?
P: The obvious answer is to pick the type of activity and holiday that both enjoy… though that applies to anyone travelling with friends or family so it's a bit vague isn't it!?
K: We don't do beach holidays which is the classic one, I guess… but holidays with time to wind down and relax spring to mind. For us that might mean a trip with lots of slow, leisurely and delicious meals… and time to sit in cafés enjoying the vibe, the view and people-watching… citybreaks can be great for travelling alone but the ones with a stronger focus on food are nicer to share. Fly drive holidays are also great as a couple; you spend a lot of time on the road with little external company until you hit your overnight stop and even then it may be a remote camp, so it's the kind of trip where having great company with you is important. I love the combination of being able to explore a whole region and setting your own pace for sightseeing stops, meals, confort breaks, everything…
Sometimes we talk for hours and hours, about what we are seeing and doing, about world politics and the recent news, about friends and work stuff, about shared hobbies, about things we are planning (including future travel), everything and anything. Other times we put on some great music and chill in companionship.
P: Wolwedans Dune Lodge in Namibia is a great example of somewhere we loved visiting as a couple. It's a safari camp in the Namib Rand desert, safari being one of our favourite types of travel, but the pace is far more relaxed than a classic wildlife safari. The camp and tents themselves are gorgeously romantic, not least for the views from your bed over the red desert for sunrise.
K: Not to mention the astonishing night sky, I never knew there were that many stars… you can see the milky way, you can even see other galaxies, it's a sky full of sparkle! Your days are spent exploring the landscape, and the desert-adapted flora, bird and animal life but there's no hard search for the next big sighting. It's gentle and beautiful and inspiring.
P: We first went in 2001 and we went back to renew our wedding vows in 2004, that was our ten year anniversary.
K: It's totally time to go back…
(At this point, conversation descends into planning the next trip…)
Do​ ​you​ ​think​ ​your​ ​relationship​ ​would​ ​be​ ​different​ ​if​ ​you didn't​ ​travel?
P: Yes! But it's so hard to define… we'd be completely different people!
K: I agree, travel is so much a part of who we are for both of us, that I can't actually imagine us not travelling.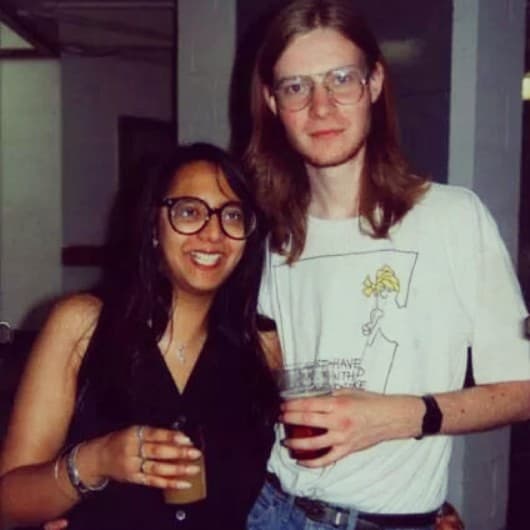 How​ ​do​ ​you​ ​define​ ​love?
P: I don't even try! I genuinely wouldn't even know where to begin in trying to answer that!
K: That thing when the disparate dreams each of you dream merge into a joint dreamscape for the two of you together, a commonality of goals and wishes. That emotional landscape where the other person's happiness and well-being becomes the most important thing in the world to you, much more than your own, and it's 100% mutual. That inner bedrock where your partner helps you to be a better version of you, even when you are not physically side by side – you have this grounding in life, this confidence, this strength that comes from knowing someone not only has your back but your everything. And that thing when you never have to hide your true self, your true thoughts and feelings, your true silliness.
What​ ​do​ ​you​ ​think​ ​is​ ​the​ ​glue​ ​that​ ​keeps​ ​relationships together?
P: It depends on the relationship. Don't be a dick, understand that there are two of you.
K: Compromise, and willingly so.
P: And the thing is, it doesn't really feel like a compromise, because you are happy to make choices based on what the other person might want or feel or think.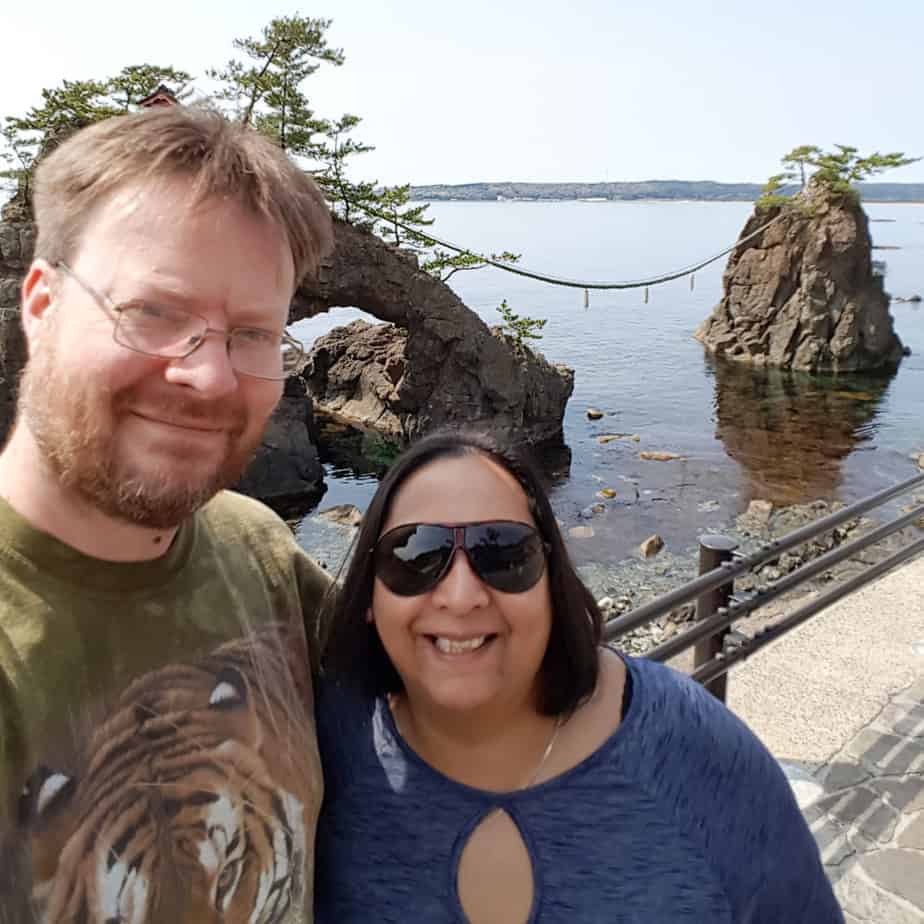 What​ ​advice​ ​do​ ​you​ ​have​ ​for​ ​couples​ ​considering​ ​traveling together?
P: Pick a place that will appeal to both of you… that's easy for us because we have reasonably well-aligned interests and travelling styles.
K: Yeah, as the planner, I always look for and plan activities against both of our interests, so for example I'll include breweries and wineries for Pete and browsing food markets and flea markets for me. It's the compromise word again!
P: I know it must be harder if you have wildly different travelling styles…
K: If one person wants to sit on the beach and chill and the other wants to trek through jungles and climb mountains, that's going to be harder to compromise on! It's just as well climbing mountains isn't one of Pete's dreams because I'd really struggle to do that with him!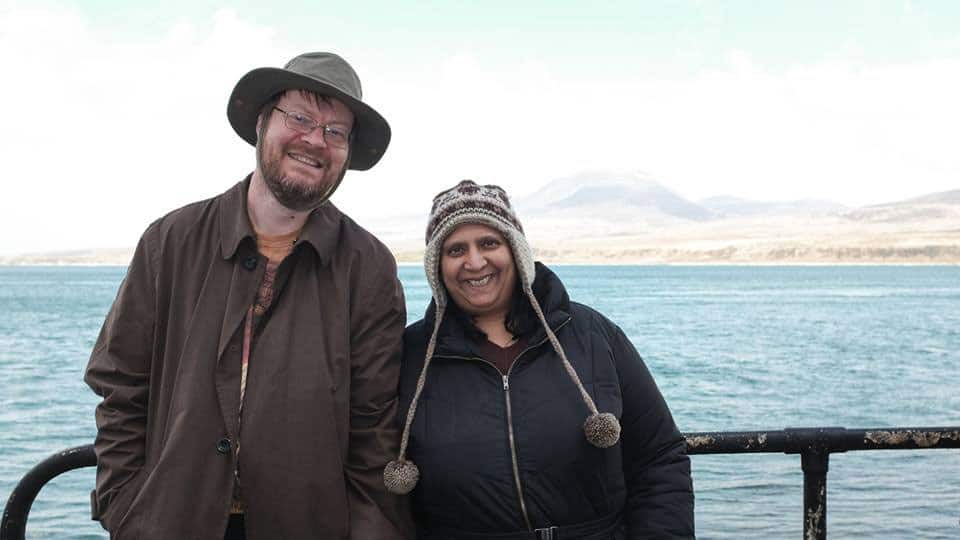 Be sure to keep up with Pete & Kavey on their blogs & social media!
---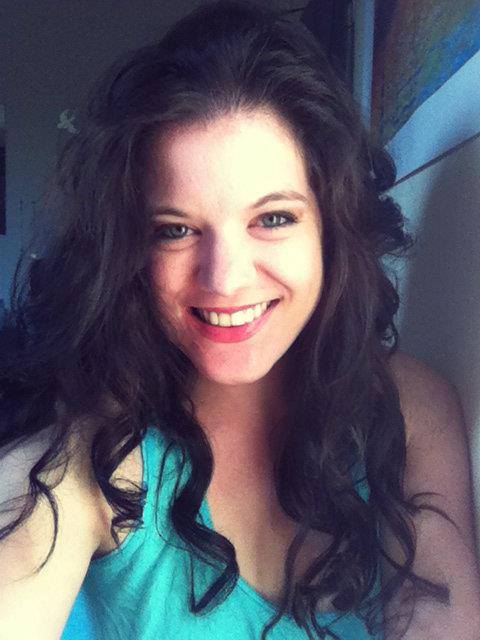 Amy Hartle is the co-founder and owner of Two Drifters, where she blogs about romantic and couples travel, relationships, honeymoons, and more. With a Master's in English and a BA in Musical Theatre, Amy loves to write quality content as well as to entertain, and she hopes to do a bit of both here on the blog! Amy is happily married to her husband Nathan, and when not working on their sites, Amy & Nathan can be found cuddling, reading, and enjoying delicious lattes.