This post may contain affiliate links. Read our disclosure page for full details.
Cincinnati is a hot spot for small coffee shops and locally sourced beans. I've lived in Cincinnati all my life, but only became a coffee drinker about 5 years ago. Since then, coffee has become a bit of an obsession (including a short stint as a barista), and I love scouring the city for the best spots.
If you're looking for a place to get a great cup of coffee or espresso and a nice place to relax or get some work done, here is my list of best coffee shops in Cincinnati, Ohio. Each one has free WIFI and plenty of outlets.
This is a guest post by Addie of Traveling Mrs.
Pssst: Check here if you're looking for coffee outside Cincinnati.
This Cincinnati coffee shop is one of the best places to meet up with a friend or spend an afternoon on your laptop. Brick has a mission to build community, and whether it's your first time or tenth, you feel like you're a part of that community when you walk in the door.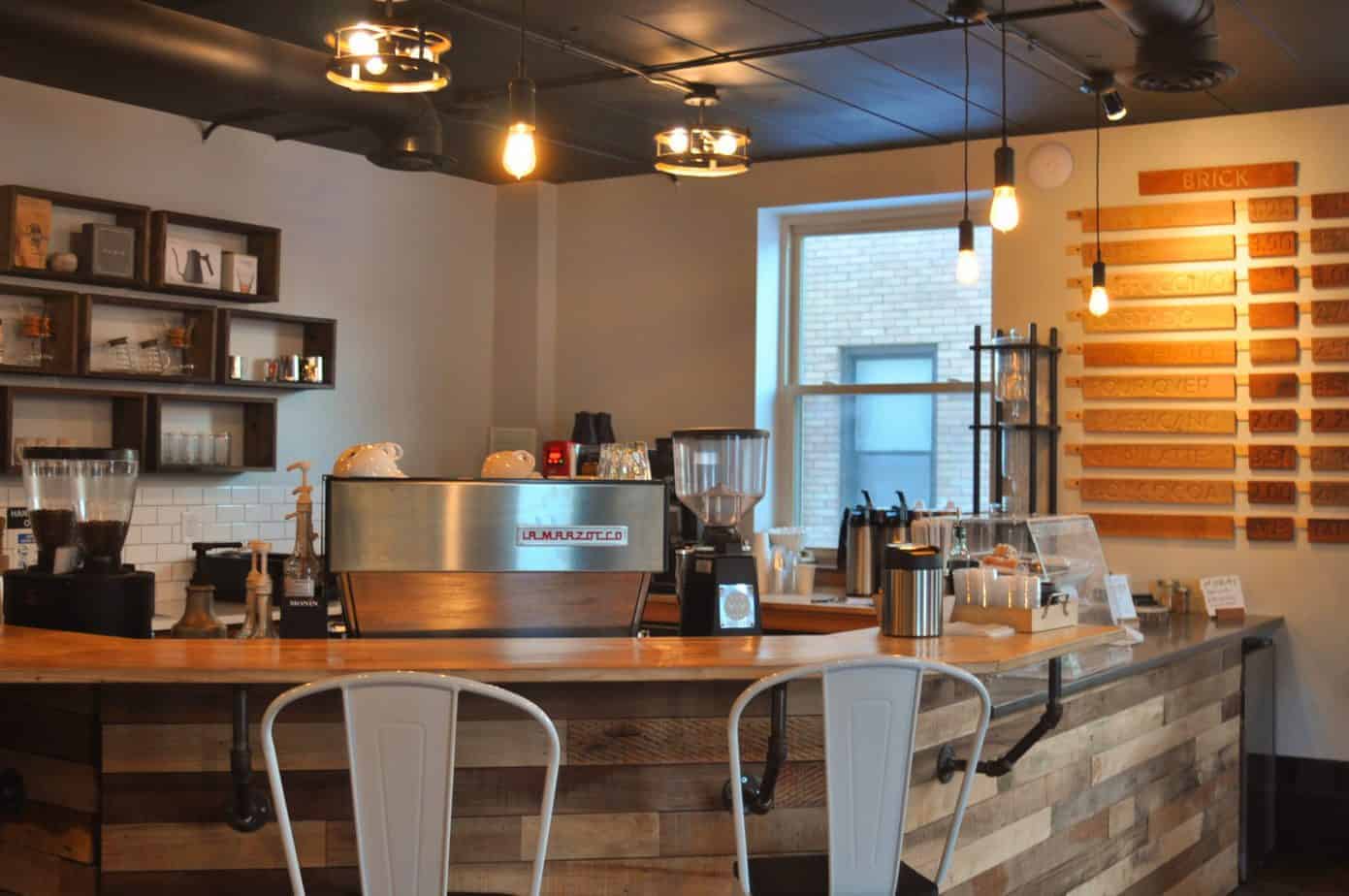 Brick is a rustic coffee shop with a chill environment and the baristas are very friendly and easy going. The coffee is great, and they also serve delicious pastries from local bakeries (although they can be a bit pricey).
If you're in the mood for a fancy drink, Brick makes an excellent cortado and chai latte. The cinnamon roll is to die for.
Neighborhood: Norwood (4424 Floral Ave, Norwood, OH 45212)
Coffee Emporium is a Cincinnati coffee shop staple. Boasting a great selection of coffee, and serving other local merchandise. There are 2 locations both with a different feel, but the espresso is very smooth no matter which location you choose.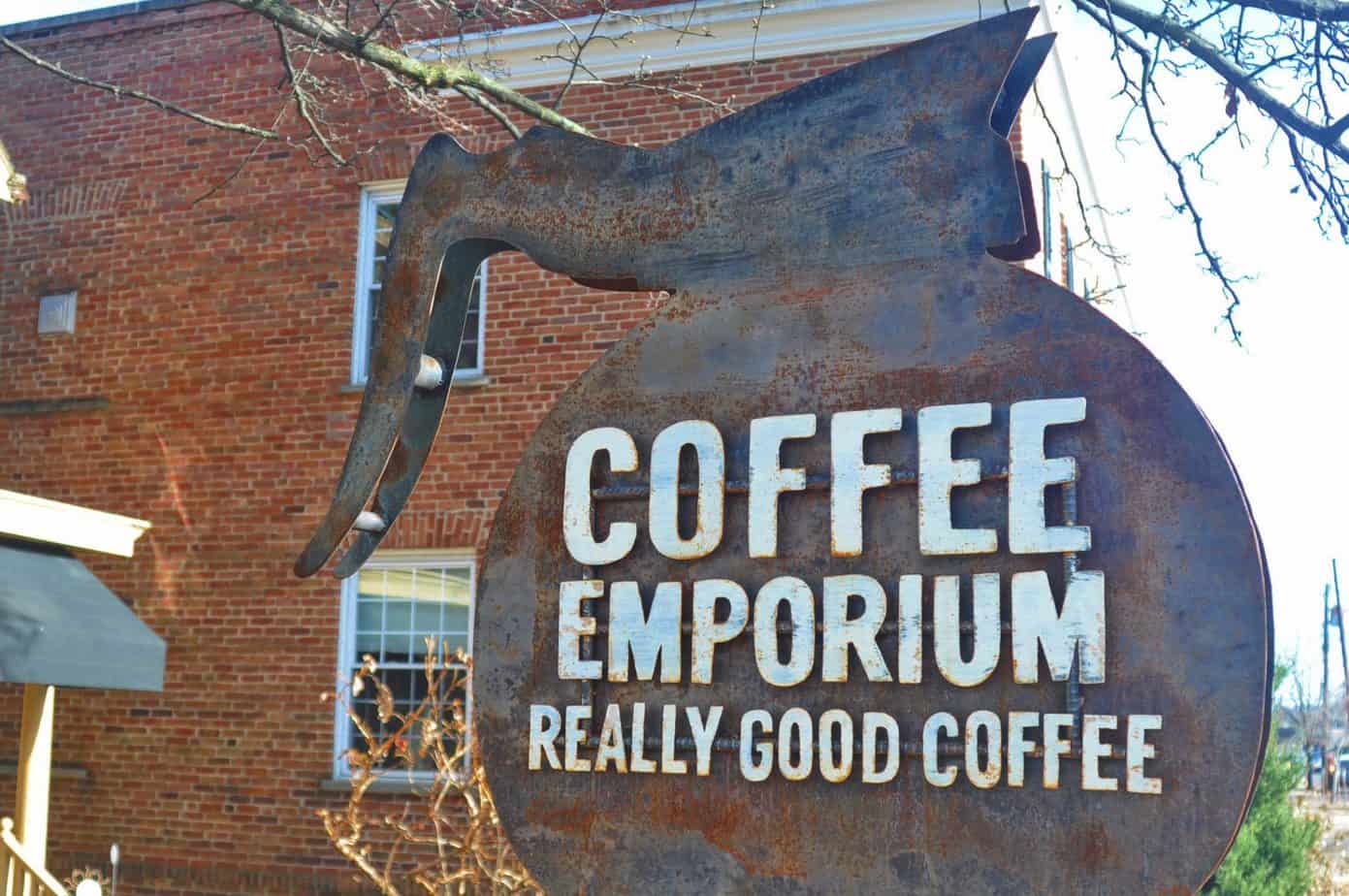 OTR – This coffee shop is fast-paced with great lunch options. I'd recommend a salad! It's a great meeting spot, but it can be a bit loud which might not make it the best place to get work done. If you like to people watch, it is the place to be. There is not much personal interaction between the baristas and customers.
Hyde Park – This location is slow and relaxing (it might take you a couple minutes to get your drink, but it's worth it). You'll find a great shaded outdoor seating area with an outlet at every table – a staple for the summer months. They also have a seating area upstairs that is comfortable and a great place to read a book.
Neighborhood: Hyde Park (3316 Erie Avenue, Cincinnati, OH, 45208) and Over-the-Rhine (110 E. Central Parkway, Cincinnati, OH, 45202)
A hipster's paradise with really good drinks, Deeper Roots is definitely a Cincinnati coffee shop that you'll want to try. They have a large selection of their own roasted beans, and are the bean distributor for many of the other coffee shops in the Cincinnati area. They also offer toasts and a few pastries to go along with the coffee. It's a warm and inviting shop, and a good place to get work done. Although it's a bit more expensive than some of the others, it's worth the 50 cents.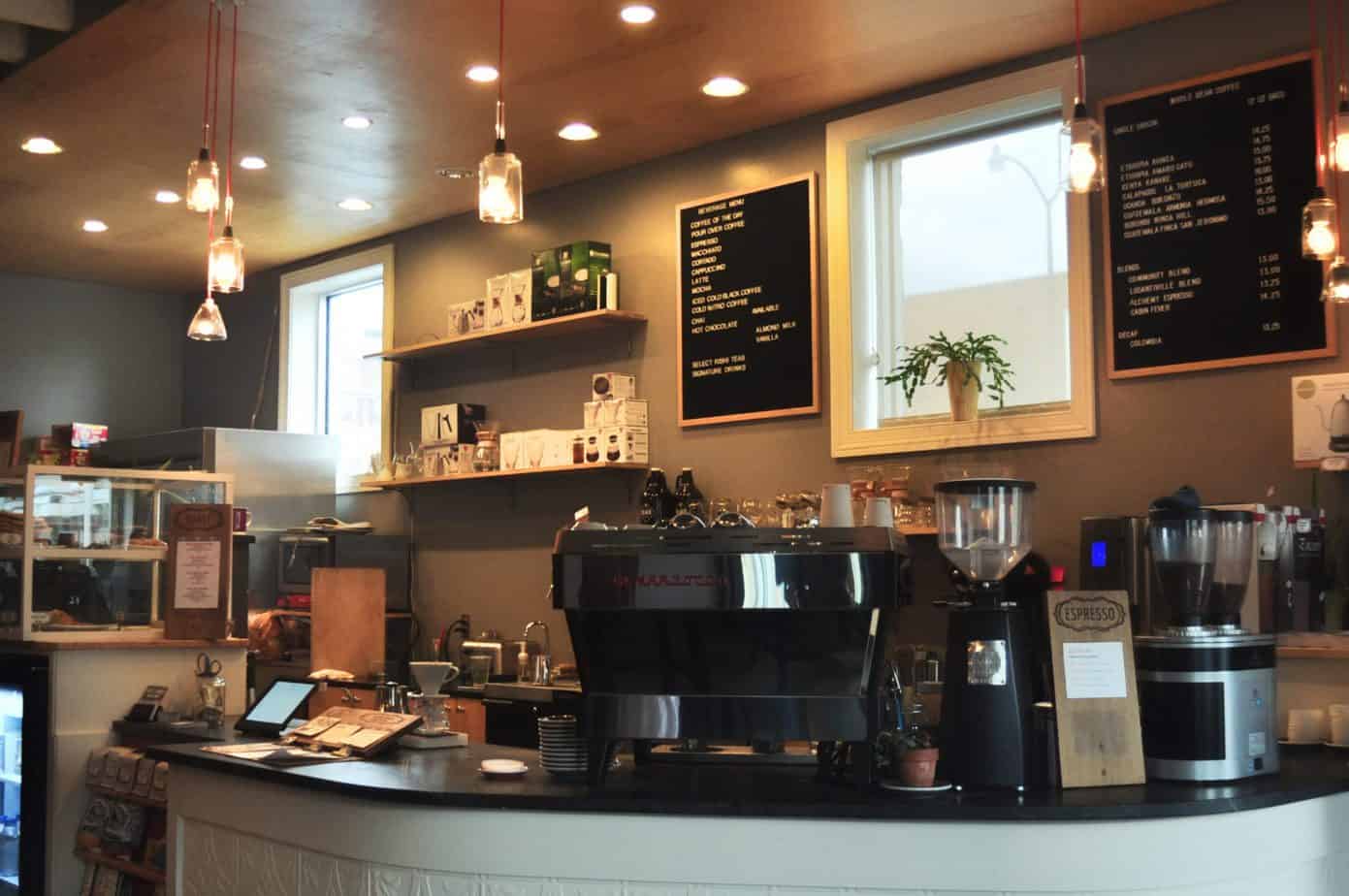 I'd recommend the geisha espresso, a pour over, or their hydro cold brew. The ricotta and honey toast is my favorite – so yummy!
Neighborhood: Oakley (3056 Madison Rd, Cincinnati, OH 45209) and Over-the-Rhine (1814 Race St, Cincinnati, OH 45202)
**Local Tip – Just nearby there is an excellent place for brunch, Symphony Hotel
Red Tree is a unique and open concept Cincinnati coffee shop with a comfortable and relaxed ambiance great for any occasion. You'll find business meetings going on at the large table, studying at the bar nooks, and fun conversation on the couches and tables. They have great baristas always with smiles on their faces, and a lot of local merchandise for sale.
One of the greatest things about this coffee shop is all of the local art that is displayed on the walls. It rotates every so often and is available for purchase. The drip coffee is good and fairly cheap, with a couple of different options to choose from. You can also find café style light bites to eat.
Neighborhood: Oakley (210 Madison Rd, Cincinnati, OH 45209)
Urbana is a fun coffee experience, especially if you get it from their Vespa truck. The Vespa goes around to different places near downtown Cincinnati and is a cool, blue novelty. Urbana serves Italian style coffee and the relationship between barista and customer is key. The storefront has a low key hipster vibe and serves delicious pastries. My favorites are the toasts, pop-tarts and scones. The espresso is excellent and what I would recommend.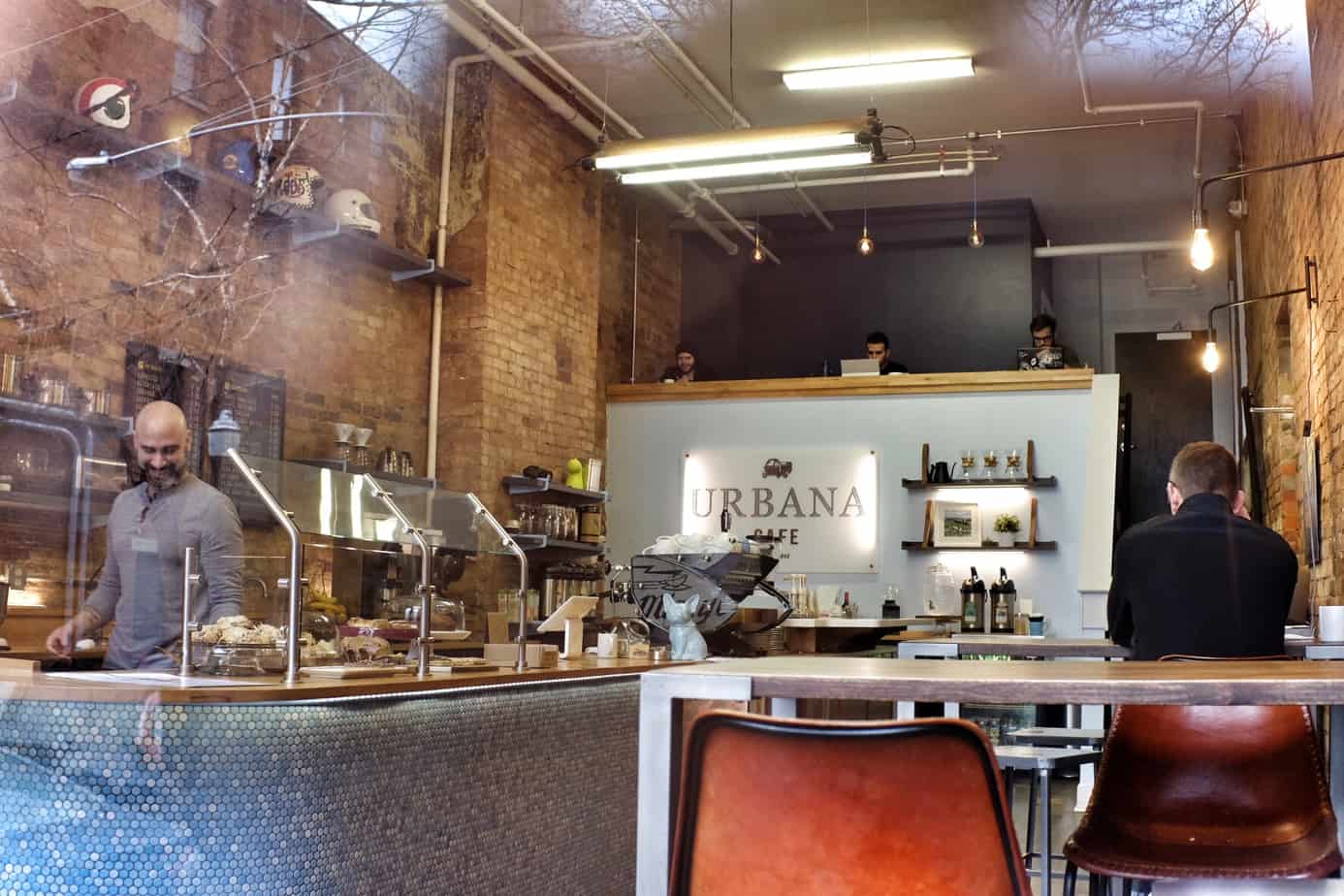 Neighborhood: Over-the-Rhine (Storefront 1206 Broadway St, Cincinnati, OH 45202 & Findlay market 1801 Race Street, Cincinnati, OH 45201. The Vespa truck is often at Findlay and around OTR).
This Cincinnati coffee shop is family owned and run serving fresh homemade quiche and $1 pastries made daily. It is a place where locals gather to socialize and have a quality cup of coffee. They specialize in all different fun kinds of lattes – the buckeye is my favorite.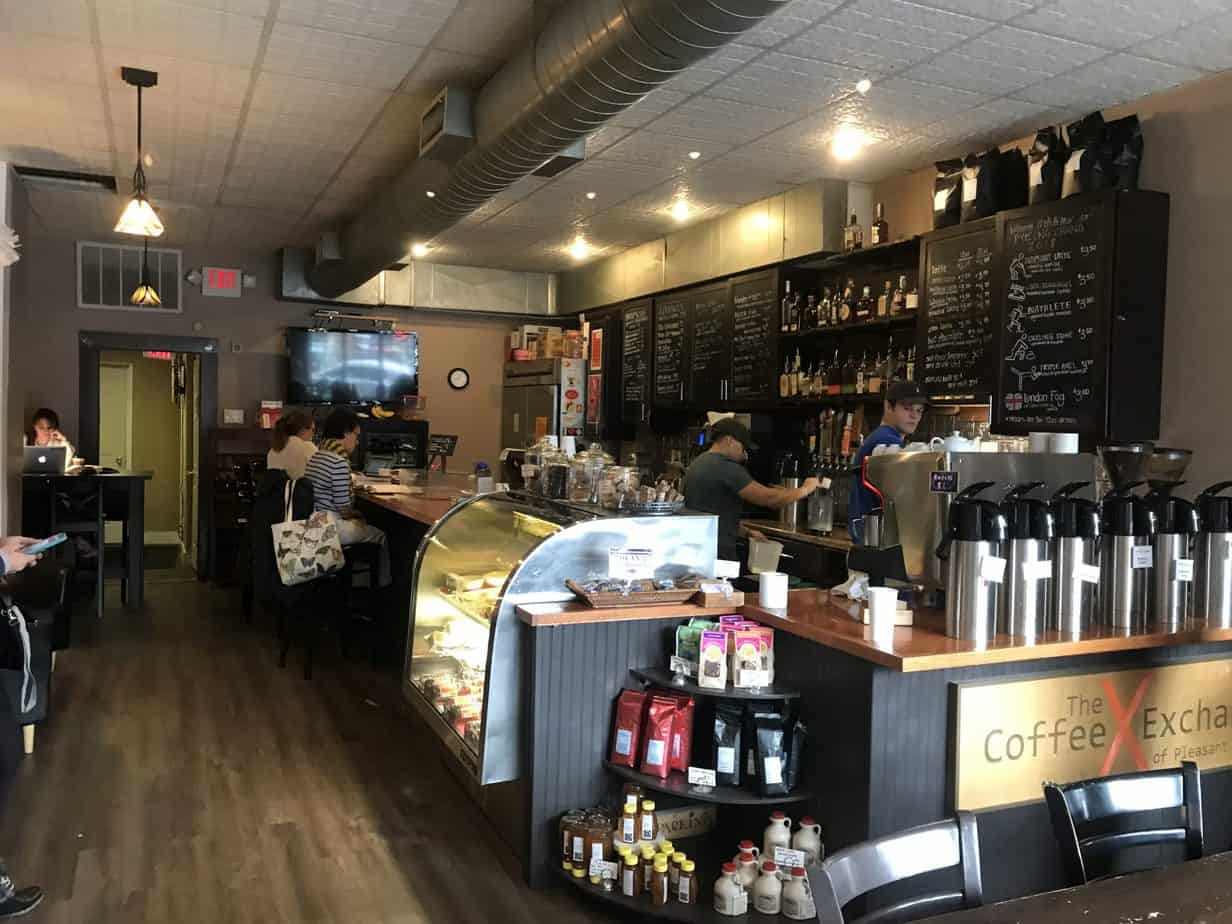 You'll often find that the owner is your barista, and one of the nicest people you'll meet. The blended drinks with espresso are my all time favorite, and the coffee cake is out of this world. The shop also serves beer, wine & liquor if you decide you want to switch drinks after an hour.
Neighborhood: Pleasant Ridge (6105 Montgomery Rd, Cincinnati, OH 45213)
A cozy intriguing Cincinnati coffee shop in the heart of OTR. The inside is covered with books, records and local artwork. It's a wonderful place to relax, read a book, or work on your laptop. There is a lovely back patio area shaded with vines and surrounded by urban development. It is a great place to meet locals and get tips on the neighborhood.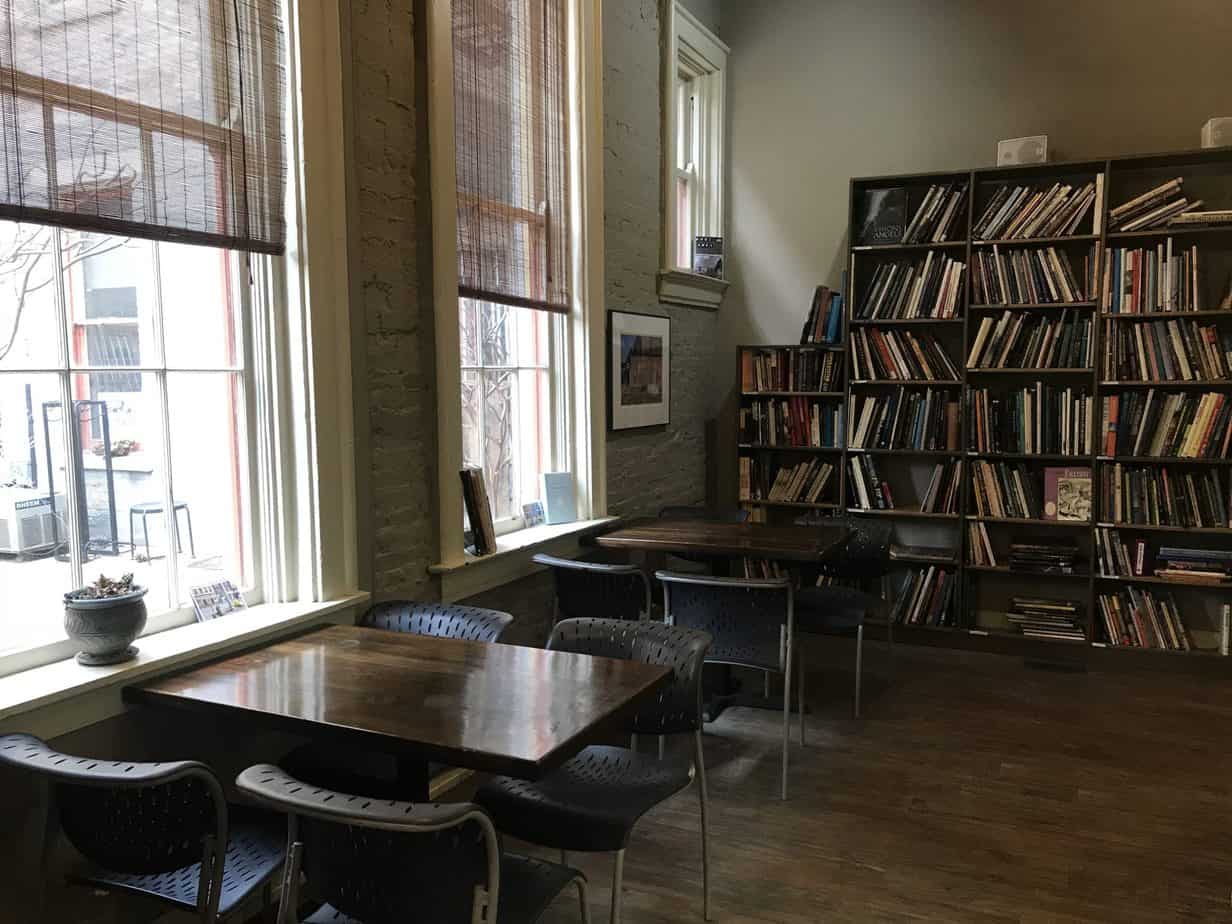 They serve local coffee which is great and they serve fresh food which is even better. I love the tempeh salad sandwich!
Neighborhood: Over-the-Rhine (1331 Main St, Cincinnati, OH 45202)
This Cincinnati cafe is a great place to escape the hustle and bustle of normal coffee shops. It is never crowded so it is a great place to get some work done. Outside they have a beautiful garden with a greenhouse that boasts beautiful colors spring – fall. Inside is also a floral shop, so the smells of coffee and fresh flowers delight your senses. I'd recommend the tea.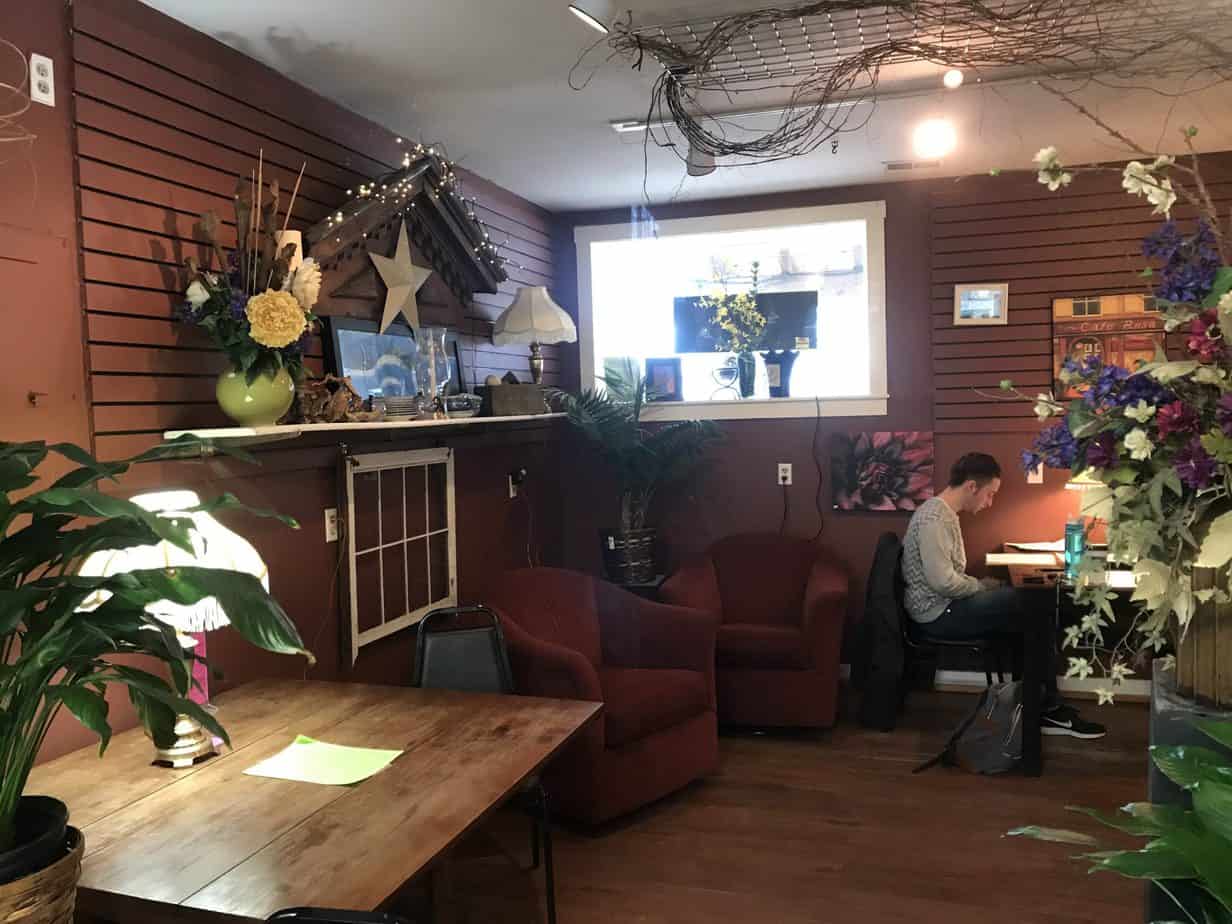 Neighborhood: Hyde Park (3660 Michigan Ave, Cincinnati, OH 45208)
—
There are so many other good coffee shop options in Cincinnati, but if I had to choose my favorites it would be these. I hope you get a chance to try one someday!
Author Bio: Addie from Traveling Mrs. is slowly making her way around the world. She travels with her family and aims to inspire others to take a trip of their own.
---
Pin this post to save for later!