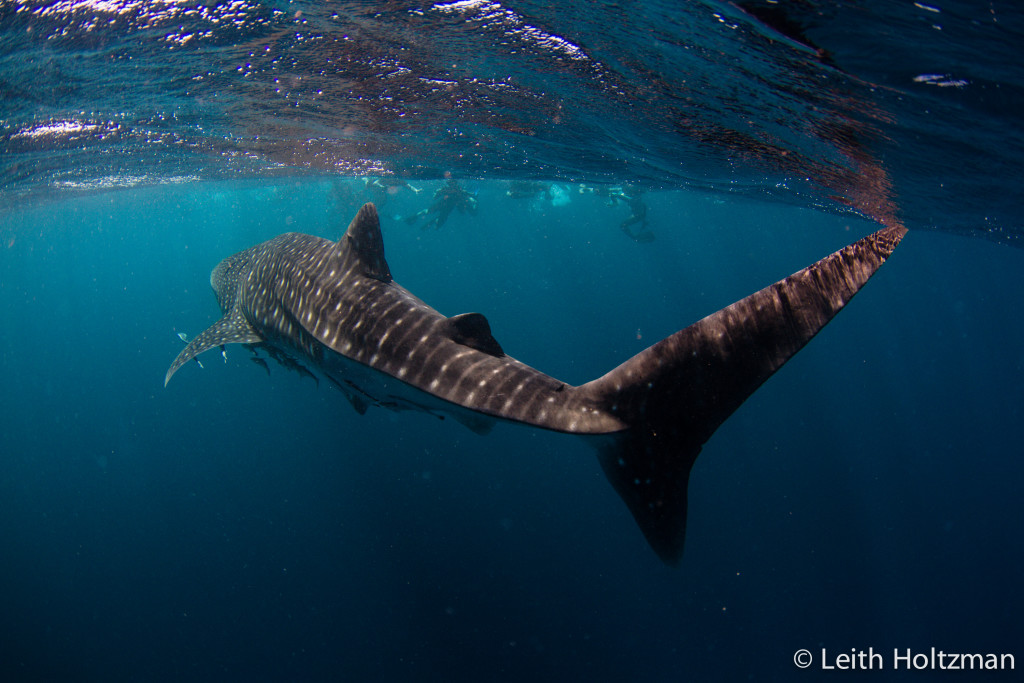 We Two Drifters were lucky enough to spend seven amazing months last year in the vast country of Australia. From the Red Centre to the Great Ocean Road, we saw an incredible amount on our 5,000+ mile Australian roadtrip. But even with the spectacular desert vistas and stunning Indian Ocean sunsets, the highlight of our Australian adventure had to be swimming with whale sharks: one of the largest animals in the world!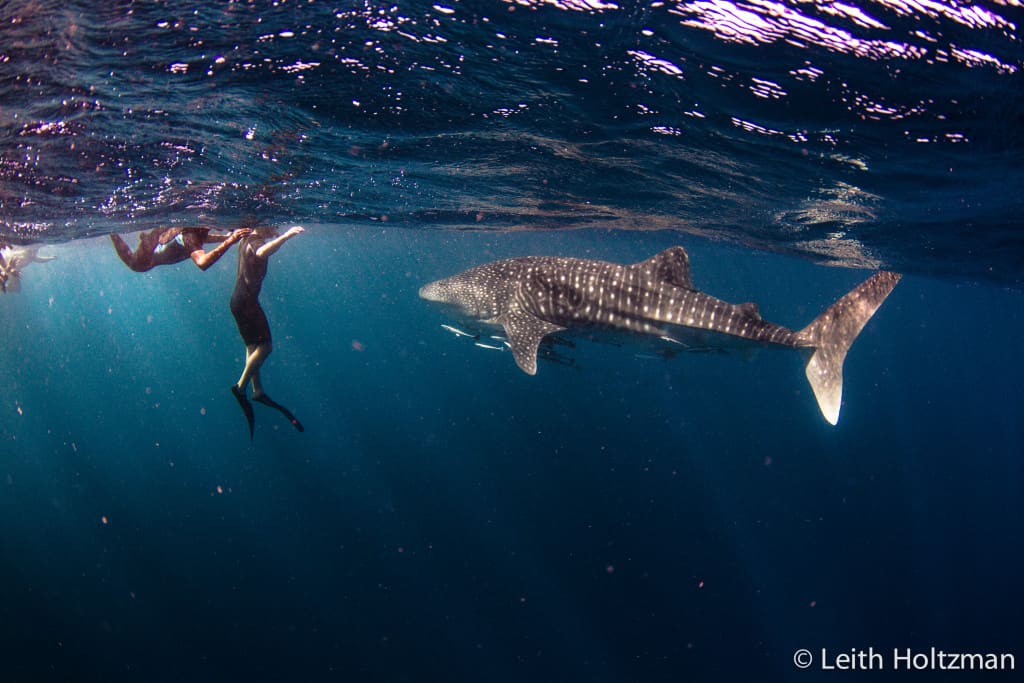 In July 2014, we were in the midst of the Western Australia portion of our road trip. If you are traveling in Australia, we highly recommend exploring the west coast. This is an often overlooked destination, with the majority of tourists and visitors staying in Sydney, Melbourne, and along the east coast. But Western Australia is much less crowded, very rugged, and absolutely breathtaking.
Our road trip in WA took us north from the capital city of Perth, all the way up to Exmouth in the far northwest. Exmouth is a small coastal town nestled right along the Ningaloo Reef. There's not much to do there that doesn't involve the ocean. (On your way to Exmouth, be sure to check out the wonderful beaches at Shark Bay, Coral Bay, and Monkey Mia). The central activity in Exmouth is swimming with whale sharks. And that's what we were there for.
There are a range of tour operators to choose from, but we went with Kings Ningaloo Reef Tours. Not only do they have stellar ratings on TripAdvisor, but we contacted Captain Bill directly with a question and he was so helpful, we knew immediately this was the right company. Kings has 25 years of experience delivering superb whale shark adventures in Exmouth, and we knew we'd have a great time. And we certainly did!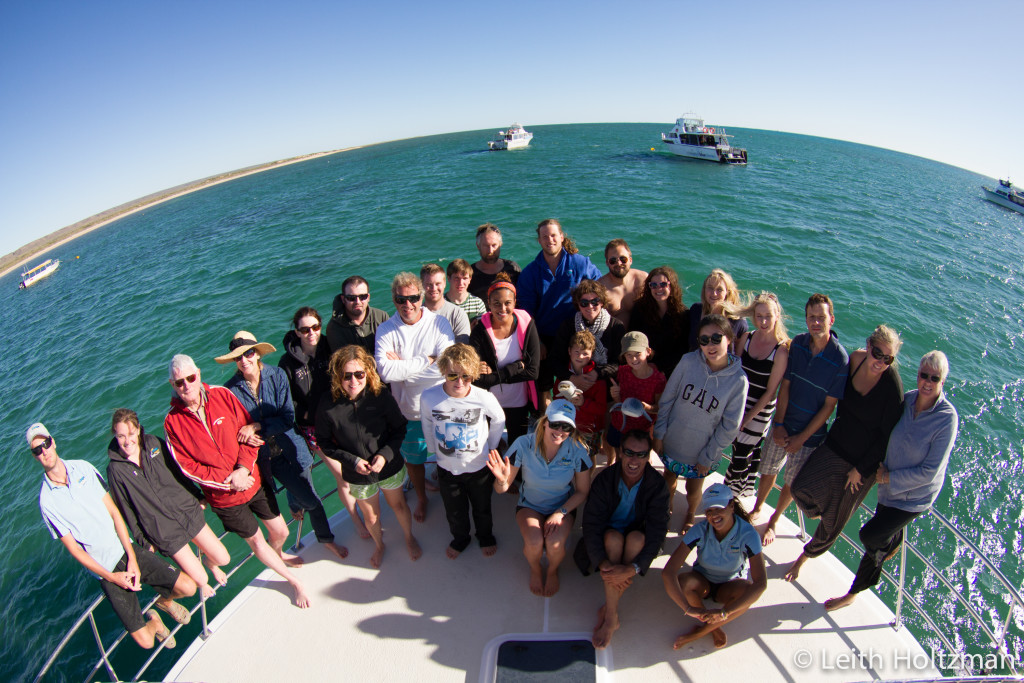 Your whale shark tour begins early, around 7am when your friendly and boisterous tour guides pick you up right from your accommodation. On the 45 or so minute ride out to the boat launch, our guides told us a huge amount of information on whale sharks and what we could expect that day.
I am not going to lie…I (Amy), was pretty nervous. I really appreciated that the tour guides took the time to find out who had some anxiety about the swim and helped us feel more comfortable. They offered assistance any time we needed it. That was perfect for me, someone who enjoys a little extra support in oceanic situations!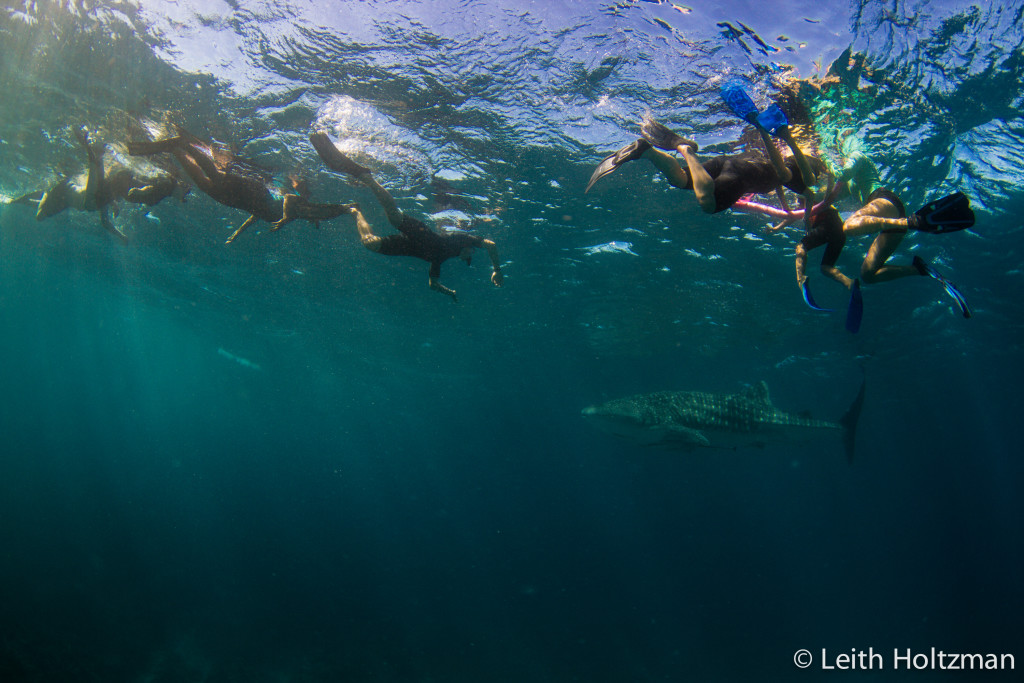 We boarded our vessel and headed out to sea.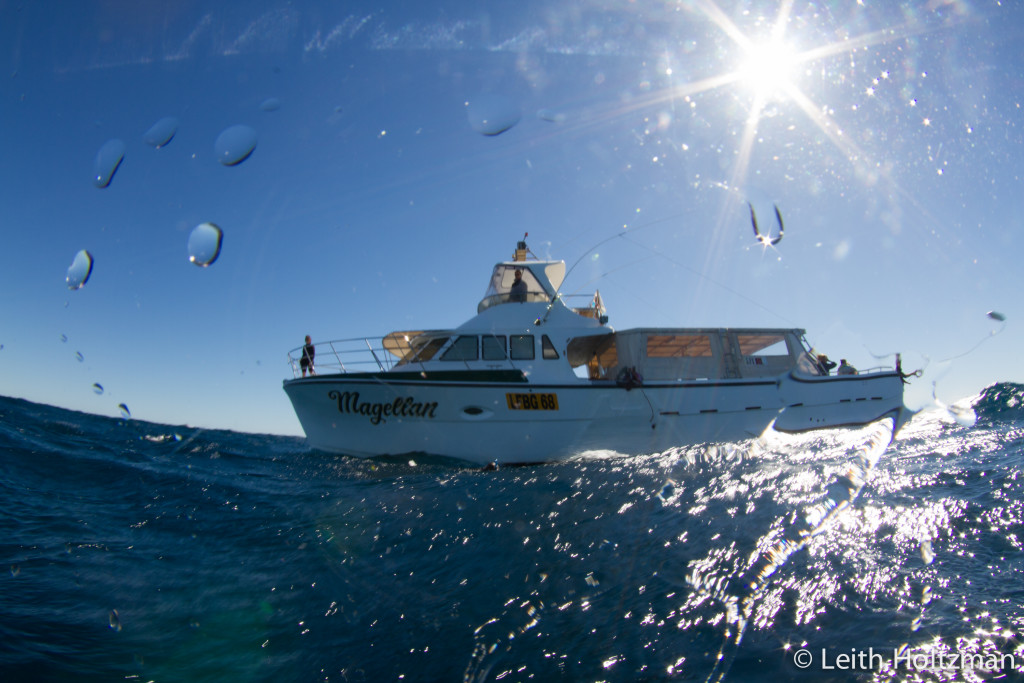 We were given extensive instructions on how to enter and exit the water, how to properly signal our guides, and other useful information. After being fitted with wet suits and snorkel equipment, we took to the waves. You can see in the photo below my reluctant thumbs up.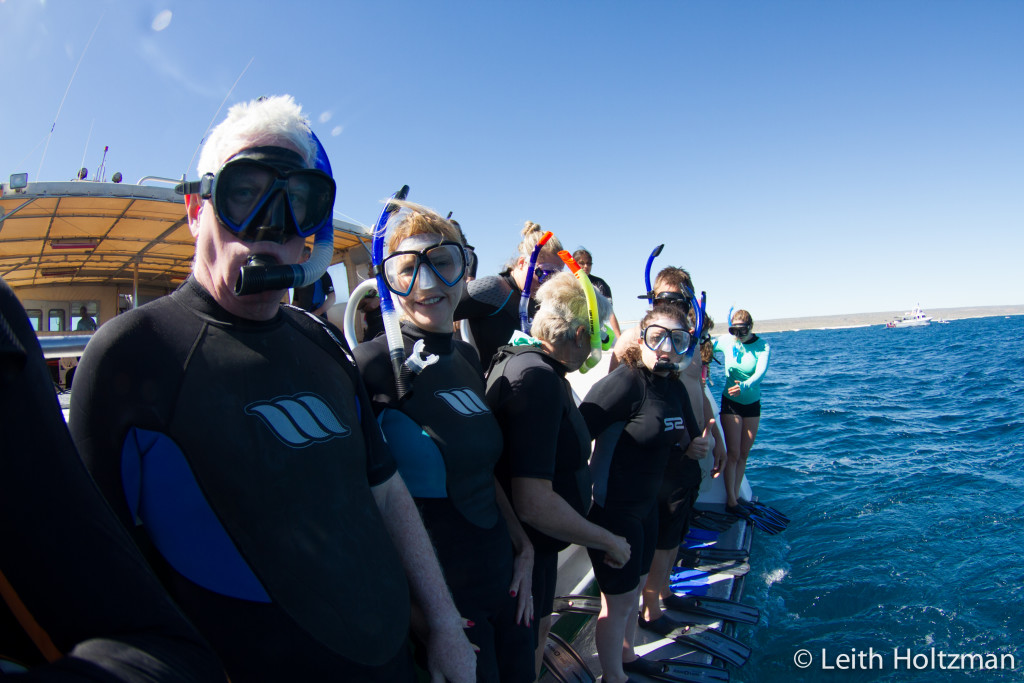 When entering the water, you're meant to jump in with your flippers parallel to the water. Me, being the nervous Nelly that I am instead opted to slide into the water from a seated position. (Eventually I got the courage to jump in properly!)
We spent about 20 minutes just exploring the water and getting used to our snorkel equipment. The reef was beautiful! You could clearly see to the bottom and there was an abundance of fish and even a few turtles. This was the first time I'd really snorkeled, aside from renting cheap and leaky basic snorkel gear. Honestly, the right equipment makes a huge difference. I found I could manage the mask and tube with no problem and it was great. The flippers were also high quality and enabled us to swim quite swiftly: a must when trying to keep up with the massive whale shark.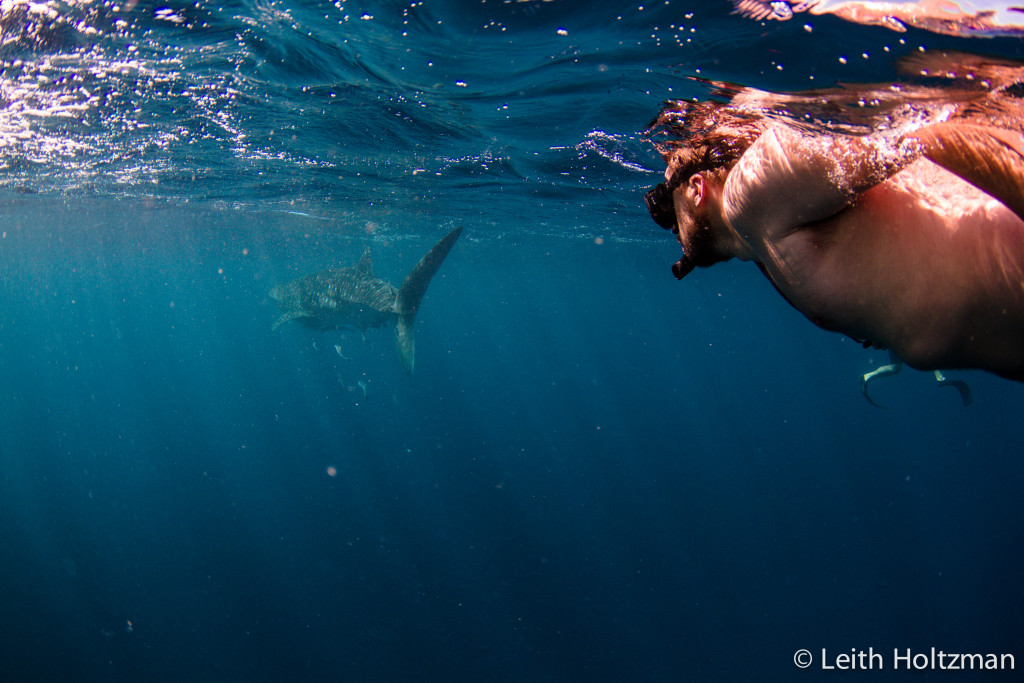 After our first practice snorkel, we set out in search of the whale shark.
A bit about the whale shark
The whale shark is the largest fish in the sea, capable of growing as big as 12 meters (40 feet) in length! The whale shark we swam with was only about 5 meters…small as whale sharks go. These animals live in temperate, tropical waters, often swimming near to the surface. Though the name "shark" might spark a bit of fear, whale sharks do not have teeth, and are docile creatures. Instead of teeth, whale sharks dine as filter feeders. They swim throughout the ocean with their gaping mouths open wide as if in a smile. As they move, their food enters their mouth cavity to be consumed, filtering out what isn't needed, somewhat similarly to the baleen whale. In the Ningaloo Reef area near Exmouth, one of the whale shark's favorite treats, plankton, thrives in great numbers.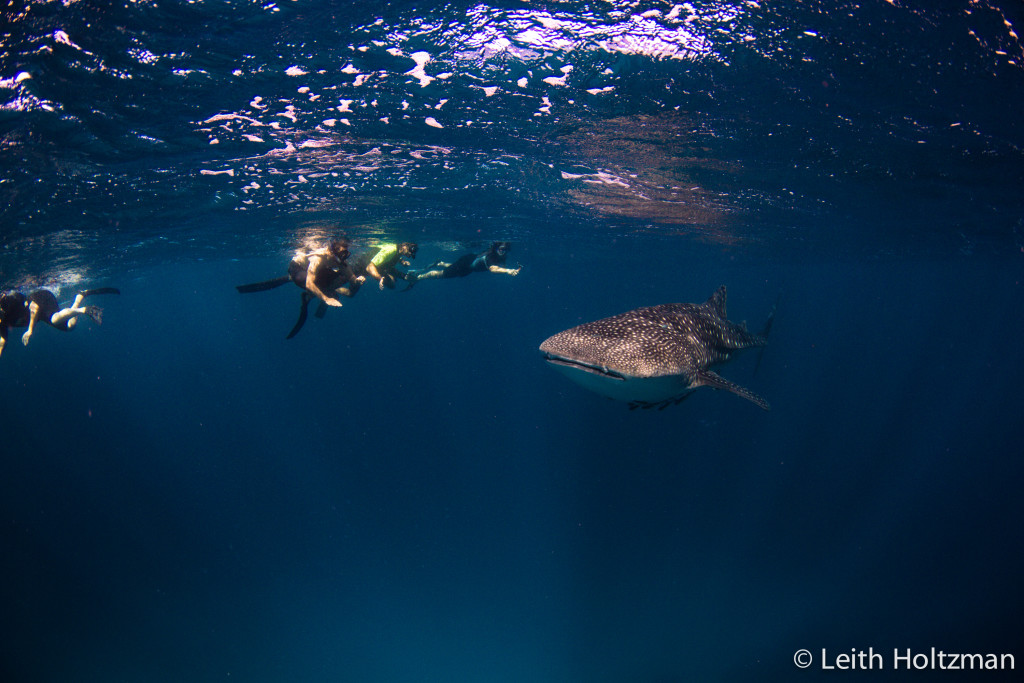 Once our whale shark was spotted, it was time to swim with her. In two groups, we and our fellow snorkelers leapt en masse into the water and swam in a line parallel to the whale shark. From above, these creatures seem to move slowly through the water, lumbering gently. However, when you, a tiny human, are swimming alongside them in the sea, they are really zooming! Our guides told us to stop swimming if we couldn't keep up with the whale shark.
In we went. It was surreal to put my mask into the water and see the whale shark not 50 feet from me. I felt almost as if I were not next to a real live animal at all, but merely watching it on a screen. My heart was thumping as I kicked and paddled to keep up.
The whale shark seemed so kindly and sweet, much like a marine grandmother. Was she aware of us watching her? I couldn't tell, but if she was, she appeared to be enjoying our company. This is probably the gentlest sea animal you could swim with. My group had to work hard to keep up with her, and I quickly fell behind. In a few minutes, she had swam too far, and we returned to the boat.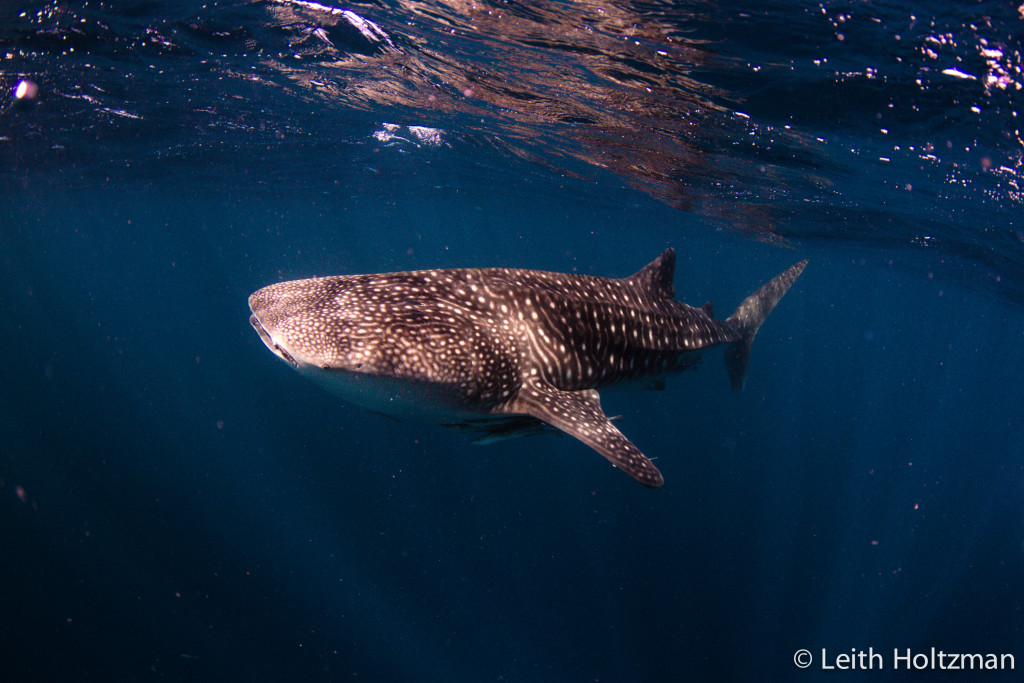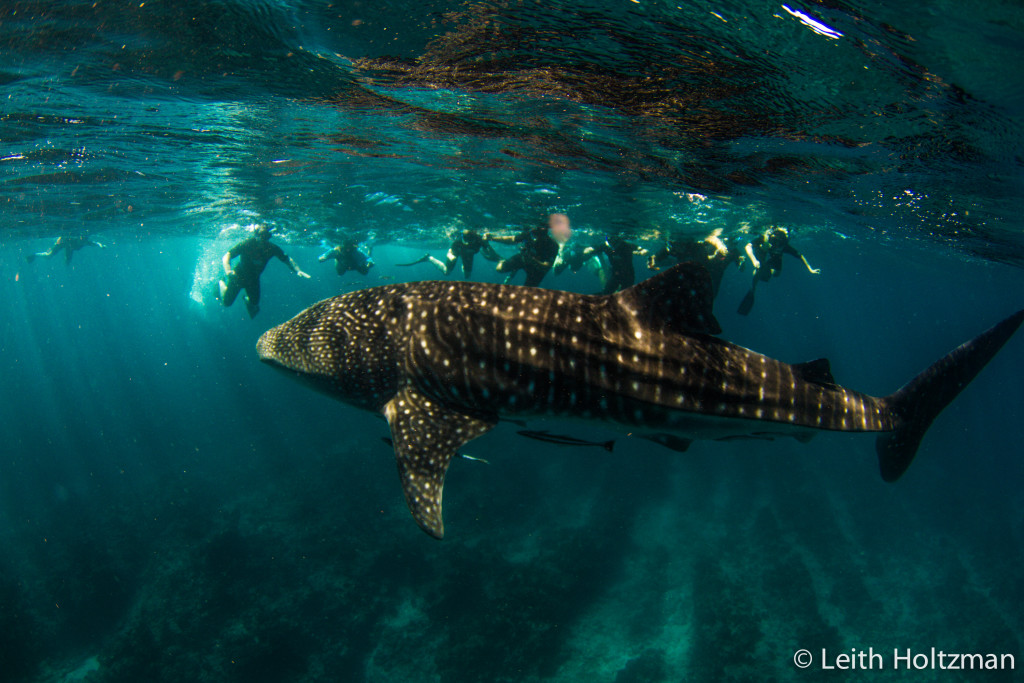 Once I'd clambered back aboard, I noticed that the seas had grown quite choppy. It was then that seasickness overtook me. I had never felt nauseous on the water before, so I had failed to prepare myself properly. (On this year's whale watch in Massachusetts, I knew better.)
Needless to say, I had to retire from snorkeling for the rest of the day. Fortunately, Nathan had brought some Dramamine, and I felt rejuvenated within an hour or so. He and the rest of the passengers had the opportunity to swim 3 or 4 more times with the whale shark, including once with giant manta rays. In the end, I'm not sure I could have mustered the energy to jump back in. My adrenaline had been pumping so much for that first whale shark swim that afterward I felt quite depleted. But I was not disappointed. I was proud that I had done something that few people can say they've done, and thrilled that I'd seen such incredible wildlife right up close. I felt truly fulfilled.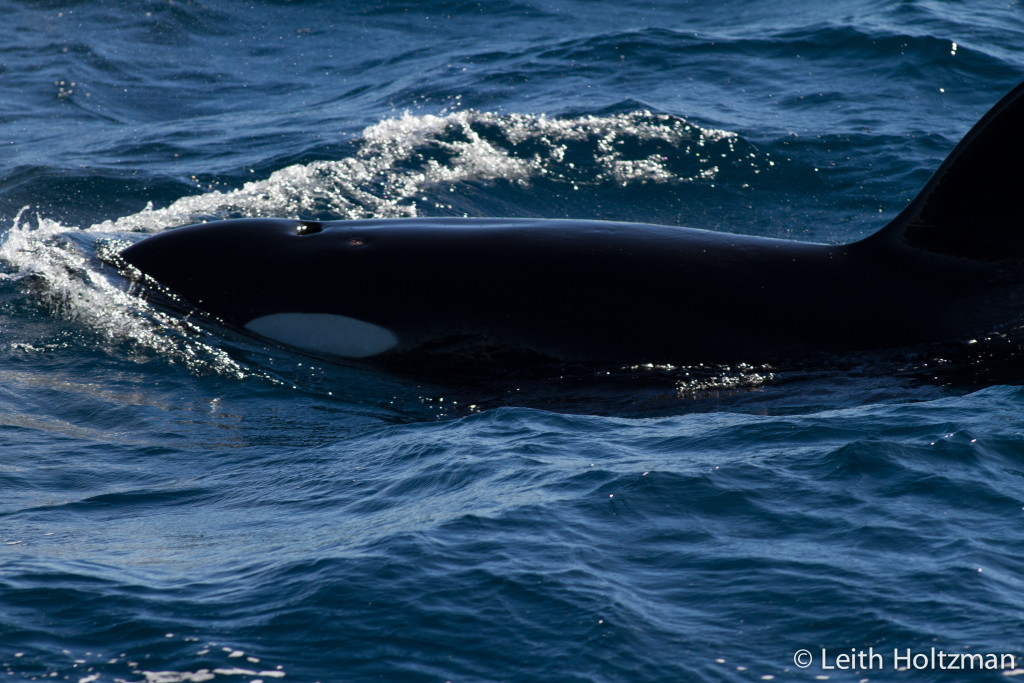 Our captain and tour guides made our trip truly special. Not only did Captain Bill find us a whale shark, but we also spotted humpback whales and orcas, pictured above. The Ningaloo Reef in Western Australia is a spectacular place. If you get the opportunity, visit this region and don't miss the chance to swim with the biggest fish in the sea!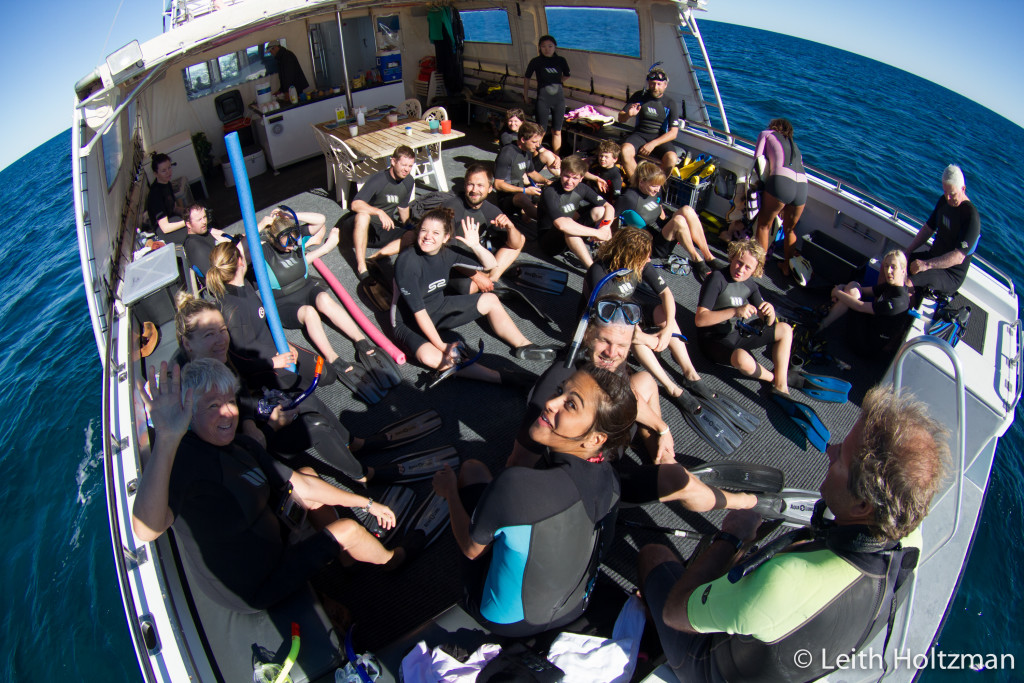 All of the above photos in this post are Copyright of Leith Holtzman of Indian Ocean Imagery and have been provided courtesy of Indian Ocean Imagery and Kings Ningaloo Reef Tours, Exmouth, Western Australia.
Leith has recently published a book called Ningaloo Reflections on the Reef featuring his stunning aquatic photographs. If
To connect with Indian Ocean Imagery, head to their website or Facebook page.
And if you're ever in Exmouth, Western Australia, make sure you visit the Ningaloo Reef and swim with the world's biggest fish: the WHALE SHARK!
Cheers, Amy & Nathan
Like the post? Pin this photo to your Pinterest board!
Original photo Copyright Kennosuke Yamaguchi via https://creativecommons.org/licenses/by-sa/2.0/
Edits made by Two Drifters