This post may contain affiliate links. Read our disclosure page for full details.
This post has been sponsored by 23andMe. All opinions, as always, are our own.
I've always been very interested in genealogy. In my early teen years, I dug into the Internet and found the existing information on my Dresser family lineage. A distant relative had traced it back, way back, and shared their findings online. I found out that one branch of my family tree came directly from England. My 15 year old self was pretty excited.
What was even stranger was the fact that so many of my more recent ancestors had been born and lived in the New England area, and in particular in the state of Vermont. What made this unusual was the fact that my Florida-based family decided abruptly in 2001 to visit Vermont for the first time. Soon after, we moved there for good. We had no previous connection to Vermont. What was it that drew us to that state? One could argue that we were somehow following in the footsteps of our ancestors. Perhaps Vermont called us home.
Since the early 2000s, genetic research has grown by leaps and bounds, and today it is easier than ever for anyone to discover information not only about their ancestry, but about their genetic makeup. It's truly amazing. When Nathan & I were recently offered the opportunity to receive DNA tests of our own, we jumped at the chance. And as travelers, we were keen to know whether our genetics have played a role in our travel desires.
Testing Our DNA with 23andMe
Our DNA test kits were courtesy of 23andMe. We received our kits in June and eagerly completed the test. Testing your DNA is as simple as providing a saliva sample. Each kit comes with a tube and detailed instructions on how to supply your sample. Basically, get ready to spit for up to 5 minutes! Once your saliva tube is filled to the line, pack it up (in the same packaging it arrived in) and head to the post office. Then, it's on it's way and you can start speculating about the results!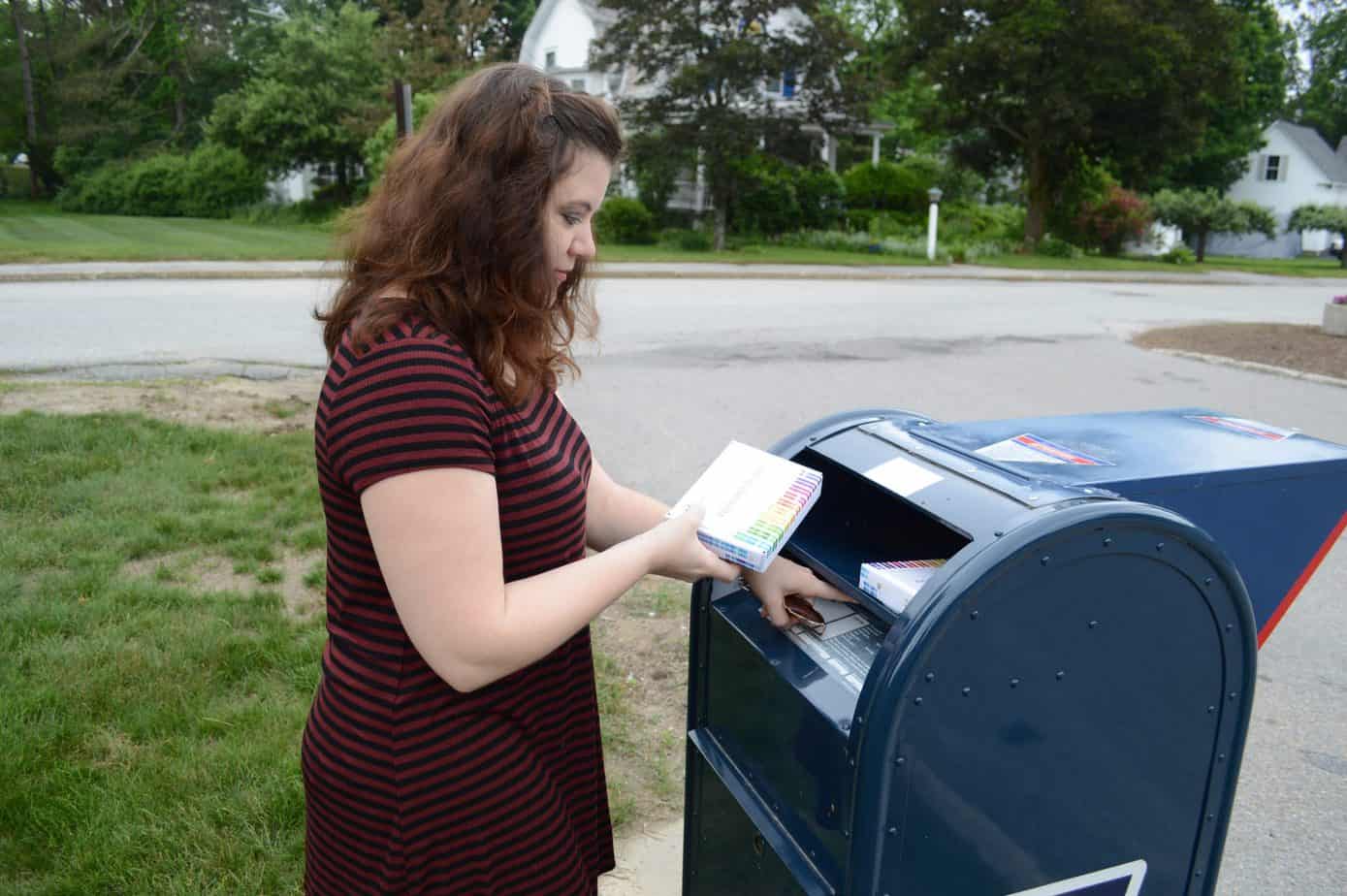 How 23andMe Works
I admit, the science of DNA is somewhat confusing to me. Luckily, 23andMe lays it out pretty clearly and does a good job of explaining how they obtain their results. The name, 23andMe, is based on the 23 pairs of chromosomes found in all human DNA. When your saliva sample is processed in the lab, the DNA is analyzed for thousands of variants. These small variants are what make us each unique. Though human DNA is roughly 99.5% identical from person to person, we each have variants, which can be linked to ancestry groups. Your 23andMe kit provides a high quality DNA analysis that will share with you the unique story of your ancestry.
Drumroll…Our DNA Results
We received our results back a week or so ago (average processing time is 6-8 weeks). And it was an exciting day!
Before we read our results, we expected the following, based on what we'd been told by parents and relatives.
Amy: I am English, Swedish, German and Danish, with a little bit of Cherokee.
Nathan: I am German, Scottish, French, and a little bit of Native American.
Were we right?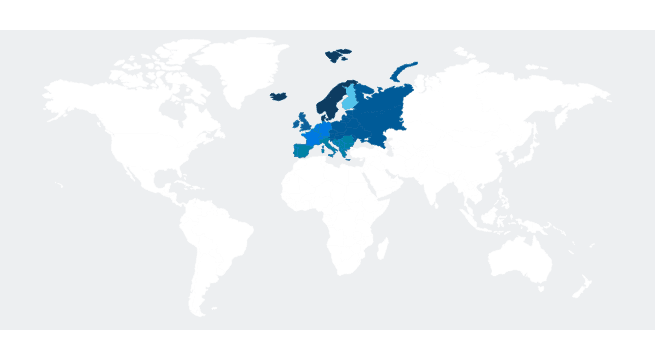 It turns out that I, Amy, am 100% European! My most significant ancestry is British/Irish at 46.8% with Broadly European as my second (31.8%) and French/German coming in 3rd at 10.7%. The "broadly" definition indicates that "a piece of DNA matches a regional population but cannot be assigned to a more specific population."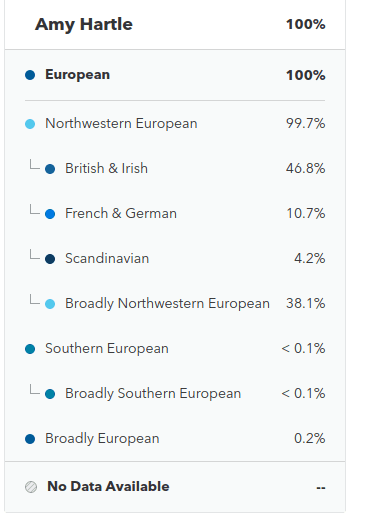 Nathan, on the other hand, is also 99.9% European, but has a whole lot more going on!
His largest sectors were French & German (32.9%) and British & Irish (24.1%) but he has several tiny surprises: some Southern European, some Eastern European, some Ashnekazi Jewish, and some North African!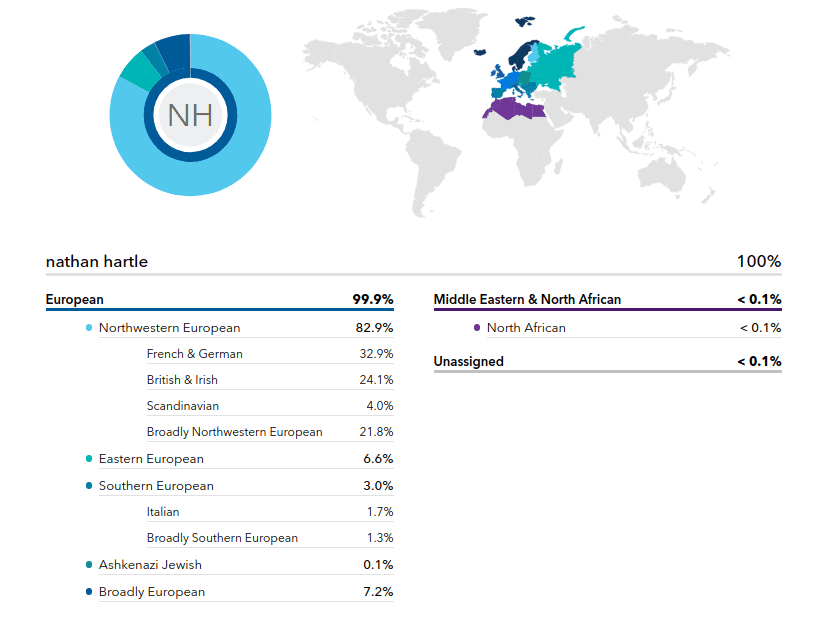 Neither of us were shocked by our results; they were relatively in line with what we were expecting. (I've always said I was "super English"). But we were a little surprised that the Native American ancestry we thought we had was missing. Digging further into 23andMe's information, we found this: "It is important to note that even if an individual in your family tree was considered to be Native American, your own DNA may not reveal the Native American ancestry because evidence is lost each generation." It seems that we may still have Native American ancestry, but it is not revealed in our DNA.
I was also somewhat surprised that my Scandinavian DNA was only around 4%. My grandmother was always telling me about all of our relatives from Sweden and Denmark. Guess not too much of that DNA ended up in my genome!
Is Travel in Our Genes?
What's the link between genetics and travel? It's not about the idea that there's a genetic trait for wanderlust (though there has been some talk of that in the news recently). No, the link between genetics and travel is that ancestry tourism is more popular than ever! It's not uncommon to go on a trip based off genetic results or ancestral information. Many travelers are heading to their countries of origin to connect with the past. In some cases, there might be distant relatives still living in an area! That would certainly be an amazing experience.
For me, if I hadn't already been to the UK, I would absolutely be drawn to visit there. The presence of UK ancestry would an interesting aspect of the trip. But I had always wanted to travel to the UK anyway.
England was the first place I landed when I went abroad for the first time, and I had dreamed for years of visiting London and the rest of the UK. I got my wish. I have now visited the UK multiple times, and I've loved every single experience. What was it that drew me to visit this region? Was it all the literature I read growing up about misty moors and mysterious London alleyways? Was it a genetic love for tea with milk? Or did I just know I was heading back to the place of my forefathers, as I did with Vermont? Chances are it's all just coincidence, but it's definitely very cool to know I was visiting the place where much of my ancestry came from.
Want to discover your own ancestry?
If you want to have your own DNA tested, we highly recommend it! It's lots of fun delving into your genetic history, and who knows where it may take you. 23andMe is currently hosting a DNA travel contest, The Golden 23SM Sweepstakes. 23 winners will receive a trip to experience their DNA around the world. Contest ends August 3rd, 2017. No purchase necessary. Visit page for Rules.
---
*This post contains affiliate links. Should you make a purchase through one of these links, we may receive a small commission from the sale, at no additional cost to you. This helps keep Two Drifters drifting, and we thank you for your support!
---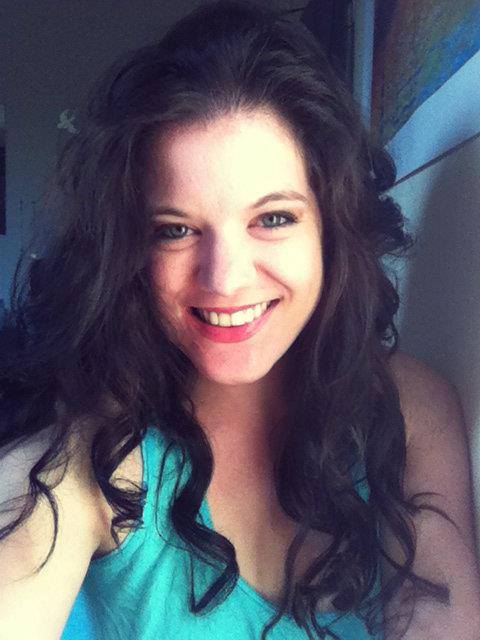 Amy Hartle is the co-founder and owner of Two Drifters, where she blogs about romantic and couples travel, relationships, honeymoons, and more. With a Master's in English and a BA in Musical Theatre, Amy loves to write quality content as well as to entertain, and she hopes to do a bit of both here on the blog! Amy is happily married to her husband Nathan, and when not working on their sites, Amy & Nathan can be found cuddling, reading, and enjoying delicious lattes.