This post may contain affiliate links. Read our disclosure page for full details.
If you're traveling down under, you may be wondering where to swim with whale sharks in Australia. We can't stress enough what an amazing experience this is, and if you're visiting Australia, whale shark swimming is a must. The best place to do it? We recommend swimming with whale sharks in Exmouth, an incredible location on the Ningaloo Reef.
First of all, the only way to swim or snorkel with whale sharks is through a local tour operator. You're unlikely to come across a whale shark in your normal swimming activities (and let's face it, you'd probably be pretty freaked out if you did!) But going with a whale shark tour is imperative because these pros know exactly how to find these impressive creatures, and they know how to safely, ethically interact with them. Hint: it's with total respect, and it's from a distance.
About Whale Sharks
In Ningaloo Reef whale sharks are seen from March through August. These months comprise the whale shark season in Exmouth. Most tour providers run in the height of the season, from April through July, which makes whale shark sightings far more of a guarantee.
Whale sharks are AWESOME.
They are sharks, yes, but they are different from what we traditionally think of when we picture "sharks." There's no sharp teeth and these aren't scary. As filter feeders who dine on plankton and krill, whale sharks are gentle giants who move gracefully about the sea with their wide mouths set in something of a 'smile.' This allows them to feed as they move through the water.
And giants they are indeed! Whale sharks typically grow to reach between 18 and 33 ft in length. Weighing in at approximately 41,000 pounds, the adult whale shark is nothing to sneeze at. In fact, these creatures are the largest fish in the sea.
The whale sharks Ningaloo welcomes generally number as many as 600 per season. They come to these waters as part of their annual migration. It's a spectacular site to see the gigantic whale shark. And swimming with them is something else entirely.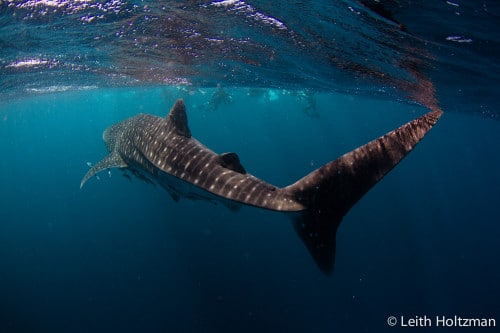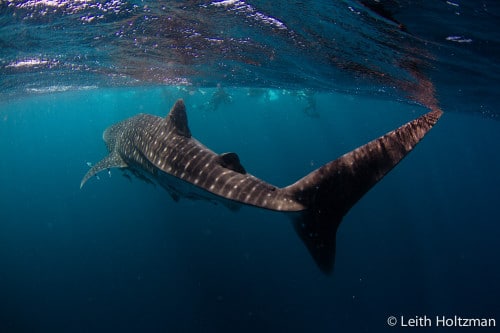 Where to Swim With Whale Sharks Australia
Australia is a huge country with so much to offer. But it is only in the upper northwest corner, here in the Exmouth region, that you can find and swim with whale sharks.
We Two Drifters were lucky enough to spend seven amazing months last year in the vast country of Australia. From the Red Centre to the Great Ocean Road, we saw an incredible amount on our 5,000+ mile Australian roadtrip. But even with the spectacular desert vistas and stunning Indian Ocean sunsets, the highlight of our Australian adventure had to be swimming with whale sharks: one of the largest animals in the world!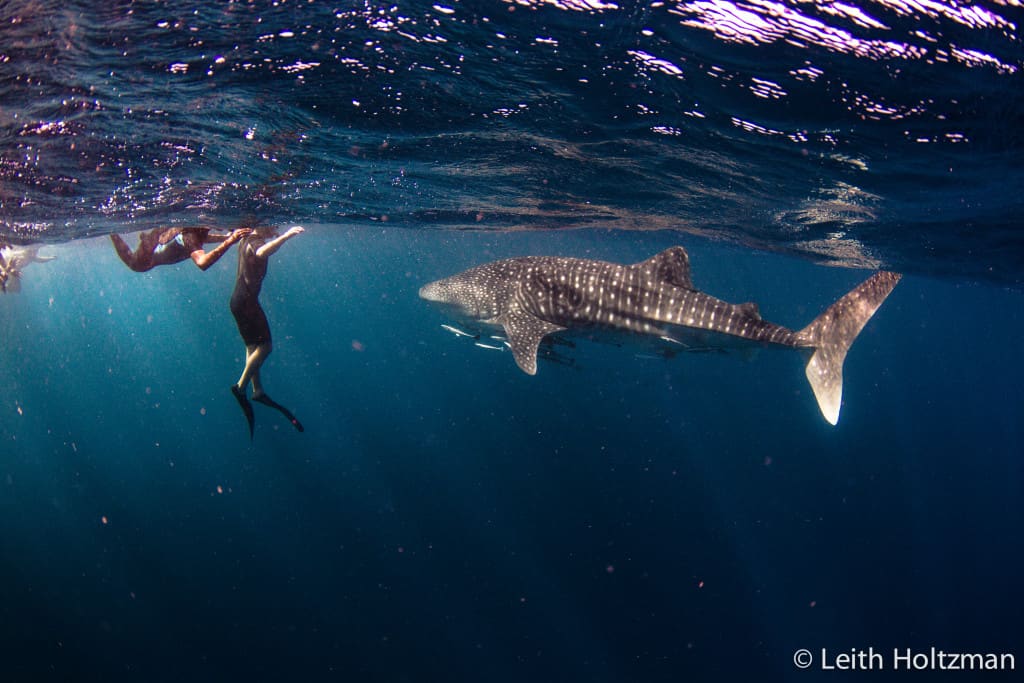 We're so glad we spent so much time in Western Australia, especially, where it is much less crowded, very rugged, and absolutely breathtaking.
Our road trip in WA took us north from the capital city of Perth, all the way up to Exmouth in the far northwest. Exmouth is a small coastal town nestled right along the Ningaloo Reef. There's not much to do there that doesn't involve the ocean. (On your way to Exmouth, be sure to check out the wonderful beaches at Shark Bay, Coral Bay, and Monkey Mia). The central activity in Exmouth is swimming with the Ningaloo Reef whale sharks. And that's what we were there for.
Now we want to help you have the same incredible experience. First, which whale shark tour should you choose?
The Best Whale Shark Tours Exmouth
There are a range of tour operators to choose from, but we went with Kings Ningaloo Reef Tours. Not only do they have stellar reviews on TripAdvisor, but we contacted Captain Bill directly with a question and he was so helpful, we knew immediately this was the right company.
Kings has more than 30 years of experience delivering superb whale shark adventures in Exmouth, and we knew we'd have a great time. And we certainly did! [Click here if you're ready to book the best whale shark tour in Exmouth!]
One of the first whale shark tour companies in Exmouth, Kings remains a leader in the industry. They prioritize being an eco-friendly tour, which is incredibly important when it comes to working with wildlife and the environment. Kings is ECO Certified by Eco Tourism Australia, which means that their tours meet the organization's best practices and standards for environmentally responsible tourism.
The company strives to be sustainable and energy-efficient in every area of the business possible. This includes utilizing solar energy panels on their vessel, The Magellan, using only natural, non-toxic sunscreens for all crew members, and using a gas emission-controlled engine. With this tour, you can feel confident you're choosing an eco-friendly option that helps leave the oceans just the way we found them.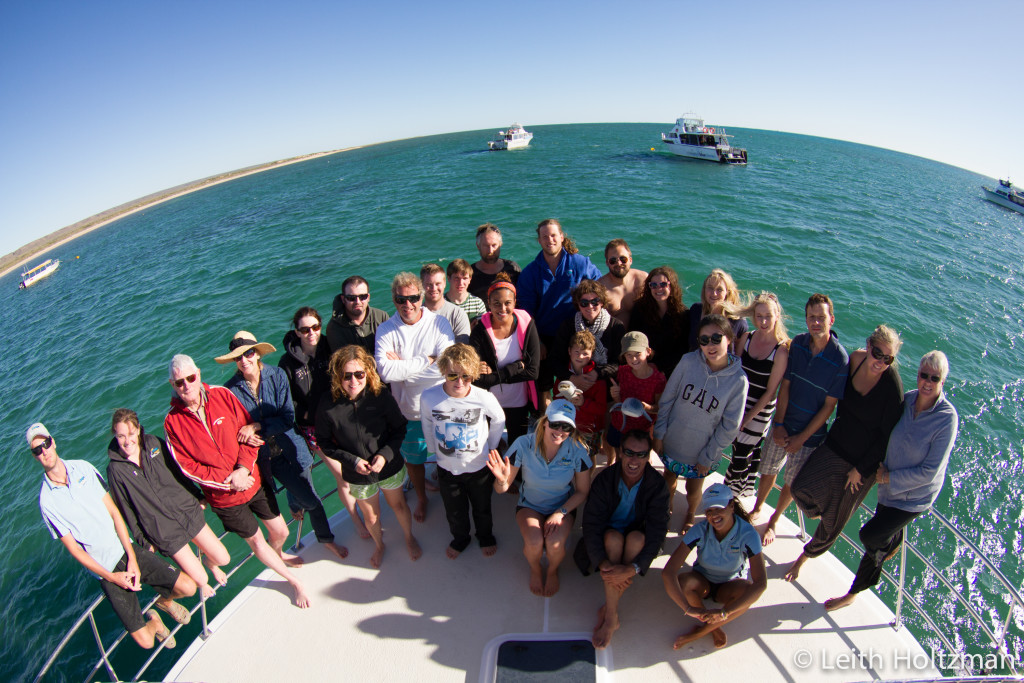 In addition to its merits in sustainability, Kings has extremely friendly staff who clearly love their jobs passionately, and are deeply supportive of shark research and conservation.
What to Expect on Your Whale Shark Snorkeling Adventure
Time to head off for the adventure of a lifetime.
Your whale shark tour begins early, around 7am when your friendly and boisterous tour guides pick you up right from your accommodation. On the 45 or so minute ride out to the boat launch, our guides told us a huge amount of information on whale sharks and what we could expect that day.
I am not going to lie…I (Amy), was pretty nervous. I really appreciated that the tour guides took the time to find out who had some anxiety about the swim and helped us feel more comfortable. They offered assistance any time we needed it. That was perfect for me, someone who enjoys a little extra support in oceanic situations! Every guide was warm and welcoming, so I felt comfortable asking for help whenever I needed it.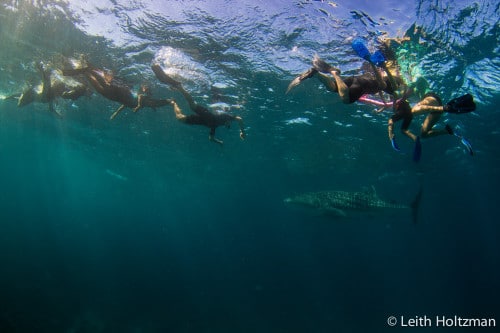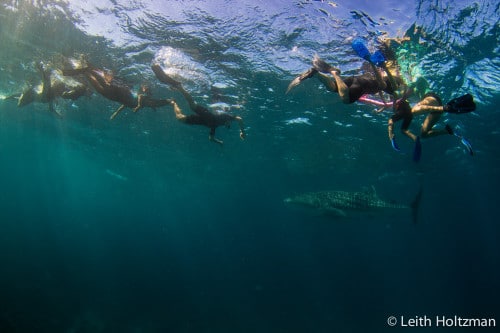 Tours depart from Tantabiddi Boat Ramp. We boarded our vessel, the spacious Magellan, and headed out to sea. We moved to deeper waters, but still in sight of the pretty Australian coast.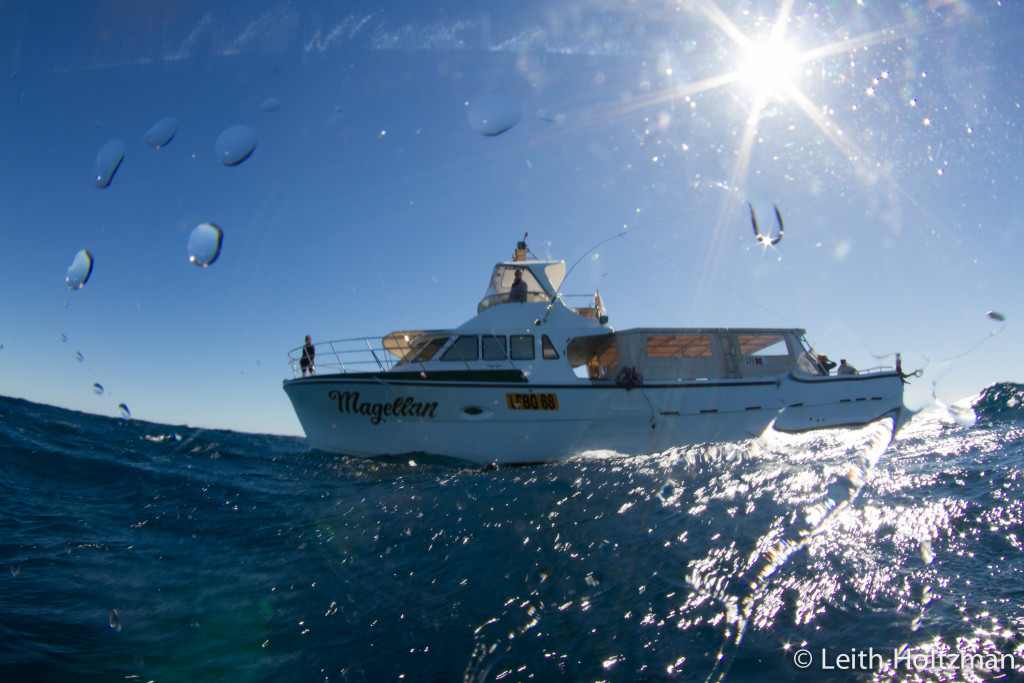 To get started, we were given an orientation, which included extensive instructions on how to safely enter and exit the water, how to properly signal our guides, and other useful information. After being fitted with wet suits and high-quality snorkel equipment, (the company provides everything you need) we took to the waves. You can see in the photo below my nervous thumbs up!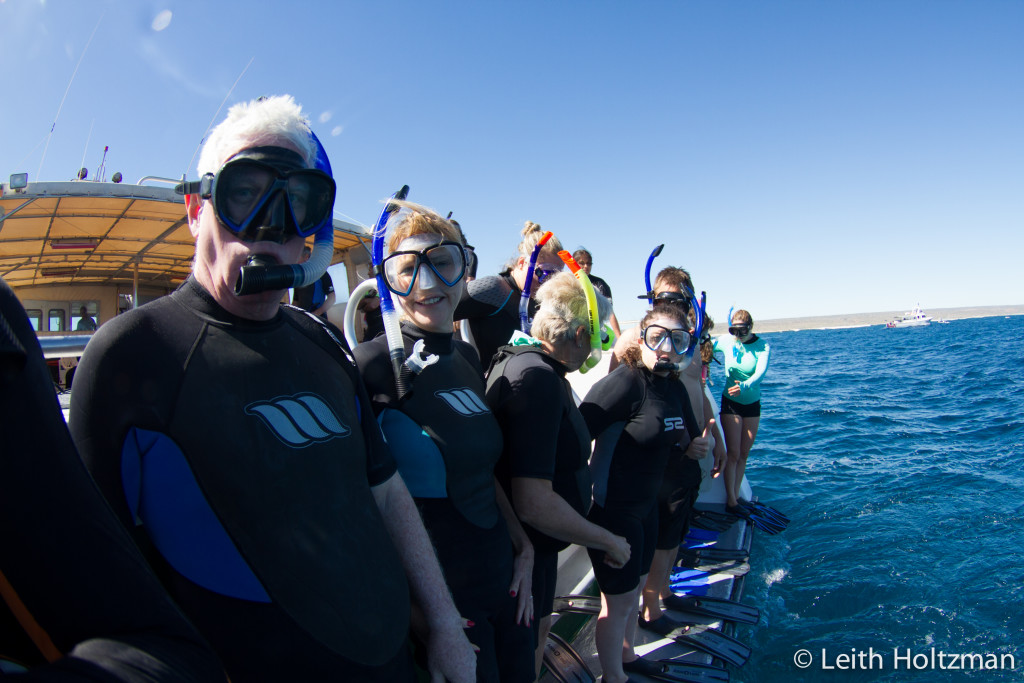 We spent about 20 minutes just exploring the water and getting used to our snorkel equipment. The reef was absolutely beautiful! You could clearly see to the bottom and there was an abundance of fish and even a few turtles.
This was the first time I'd really snorkeled, aside from renting basic cheap and leaky snorkel gear. Honestly, the right equipment makes a huge difference. I found I could manage the mask and tube with no problem and it was great. The flippers were also high quality and enabled us to swim quite swiftly: a must for later on, when trying to keep up with the massive whale shark.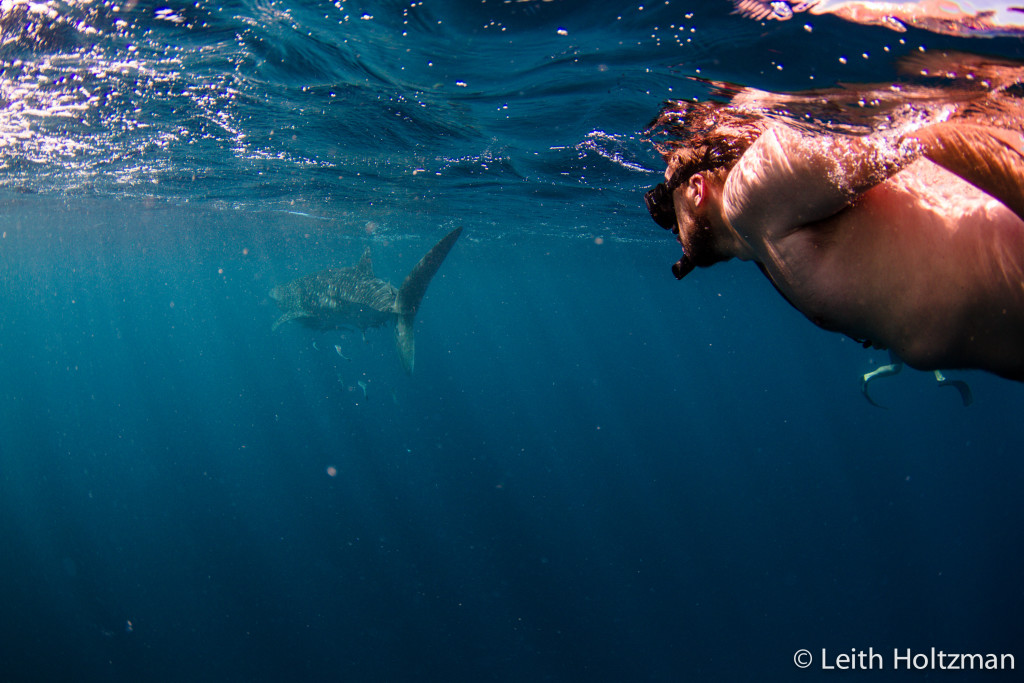 After our first practice snorkel, we set out in search of the whale shark.
The Magellan's captain interacts with an airborne spotter plane to help locate the elusive whale sharks. Once a whale shark has been spotted, the boat makes its way to the location and your whale shark adventure begins.
Now it's time to swim alongside the whale shark. The crew instructs you on exactly how to do this. Basically, you swim parallel to the whale shark from a relative distance. That first time you jump in and see the whale shark next to you is breathtaking. What an insane experience!
You have to be a fairly fast swimmer if you want to try and "keep up" with the whale shark. From above, these creatures seem to move slowly through the water, lumbering gently. However, when you, a tiny human, are swimming alongside them in the sea, they are really zooming! Our guides told us to stop swimming if we couldn't keep up with the whale shark.
In we went. It was surreal to put my mask into the water and see the whale shark not 50 feet from me. I felt almost as if I were not next to a real live animal at all, but merely watching it on a screen. My heart was thumping as I kicked and paddled to keep up.
The whale shark seemed so kind and sweet, much like a marine grandmother. Was she aware of us watching her? I couldn't tell, but if she was, she appeared to be enjoying our company. This is probably the gentlest sea animal you could swim with. My group had to work hard to keep up with her, and I quickly fell behind. In a few minutes, she had swam too far, and we returned to the boat.
Morning tea, afternoon tea and a full buffet lunch are included with your tour, and rest assured you will be well-fed. There will be further opportunities to swim if additional whale sharks are spotted, or as time allows. We got to jump back in and swim with turtles and manta rays. On our tour we also spotted some orcas from the deck. The abundance of wildlife was fantastic.
The tour ends in mid-afternoon. You'll be heading back to your accommodation at around 4pm.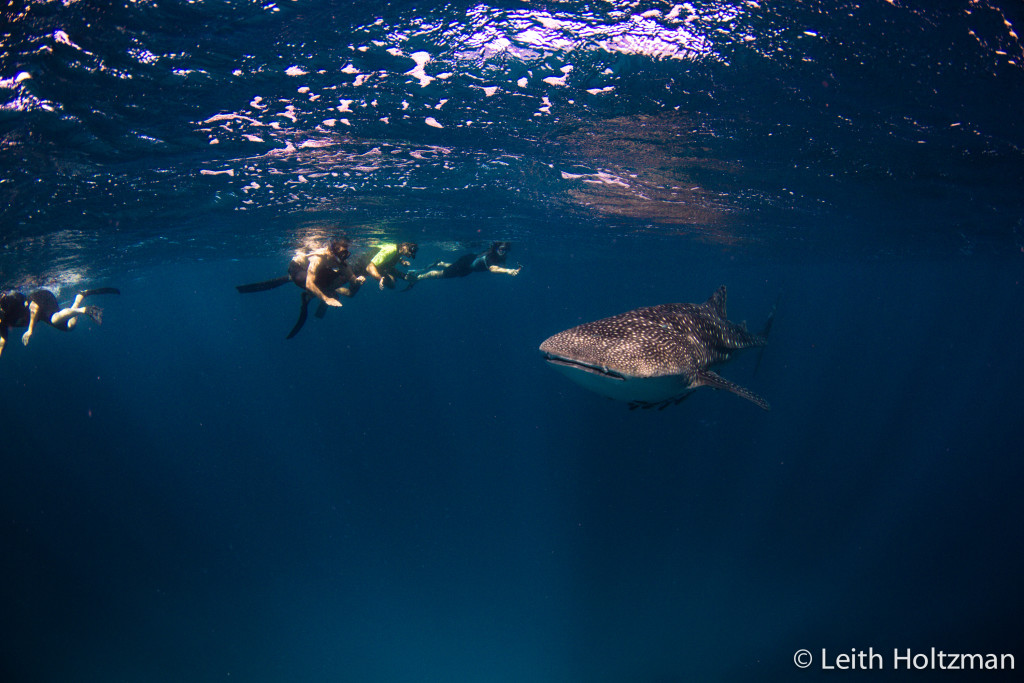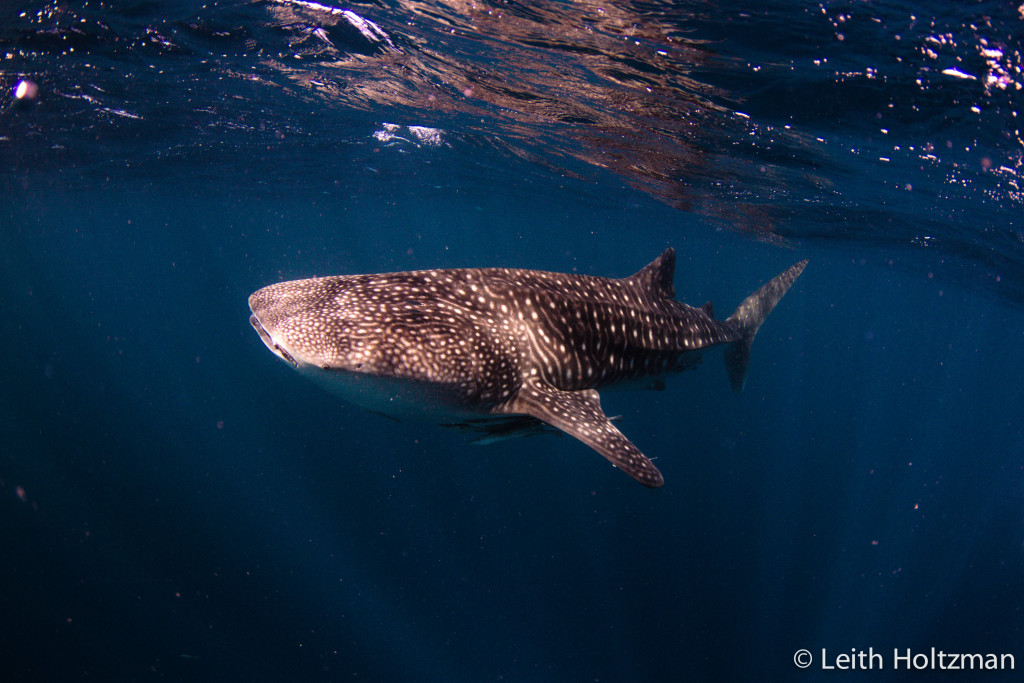 While I was initially pretty nervous to swim with the whale shark, in the end, it was a fabulous experience. I was proud that I had done something that few people can say they've done, and thrilled that I'd seen such incredible wildlife right up close. I felt truly fulfilled.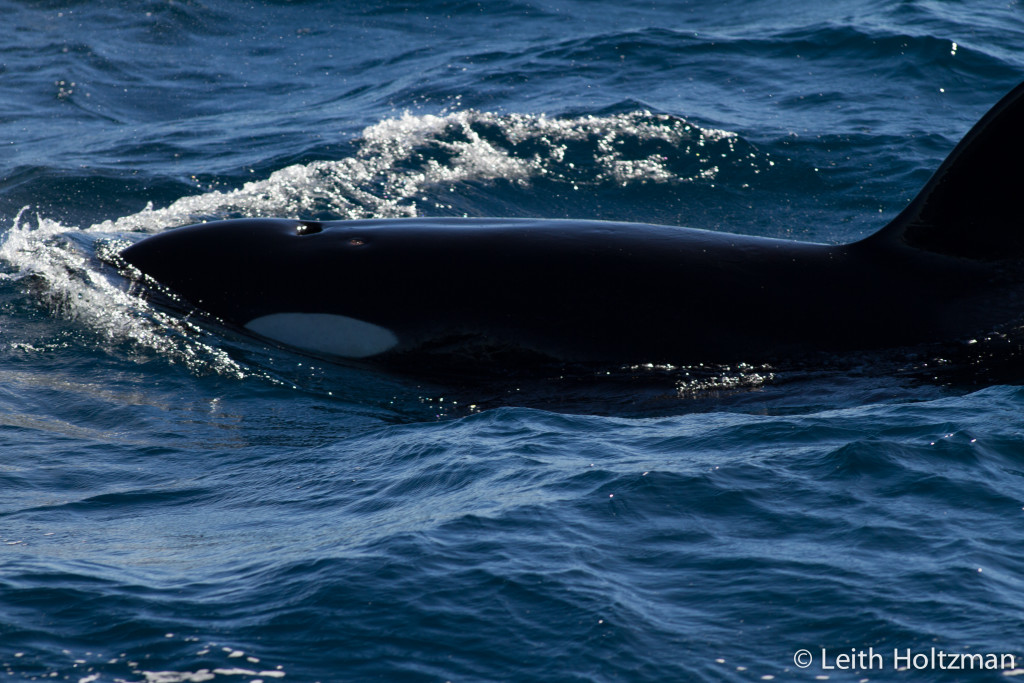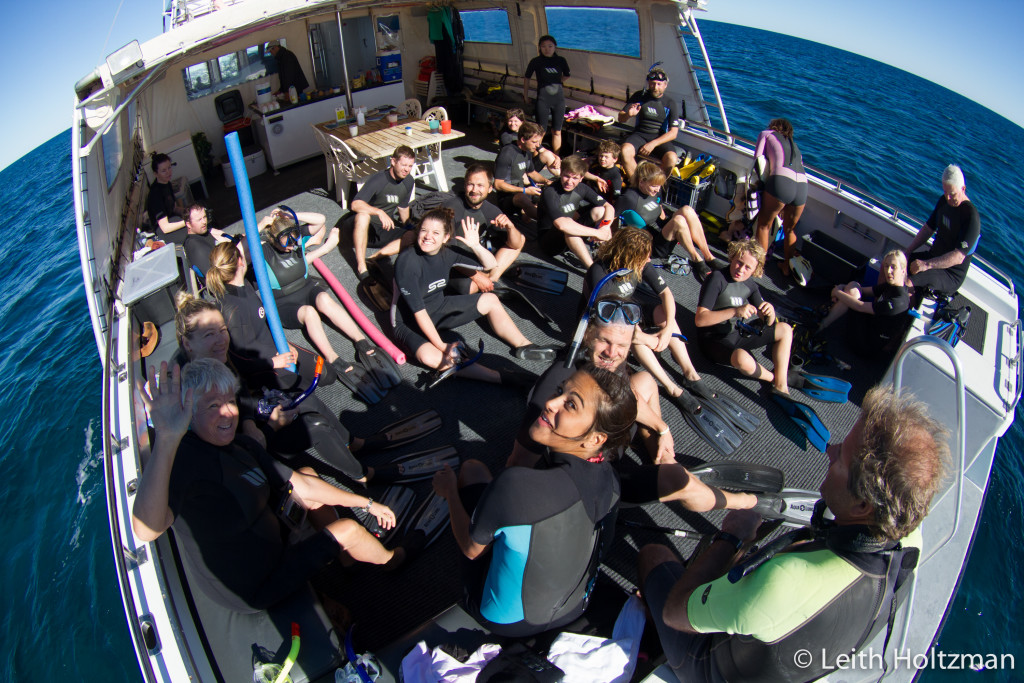 Are you planning a visit to Australia? Don't miss a chance to swim with the biggest fish in the sea! The Ningaloo Reef is the place to do it and Kings Ningaloo Reef Whale Shark Tour is the one to take.
---
All of the above photos in this post are Copyright of Leith Holtzman of Indian Ocean Imagery and have been provided courtesy of Indian Ocean Imagery and Kings Ningaloo Reef Tours, Exmouth, Western Australia. To connect with Indian Ocean Imagery, head to their website or Facebook page.
---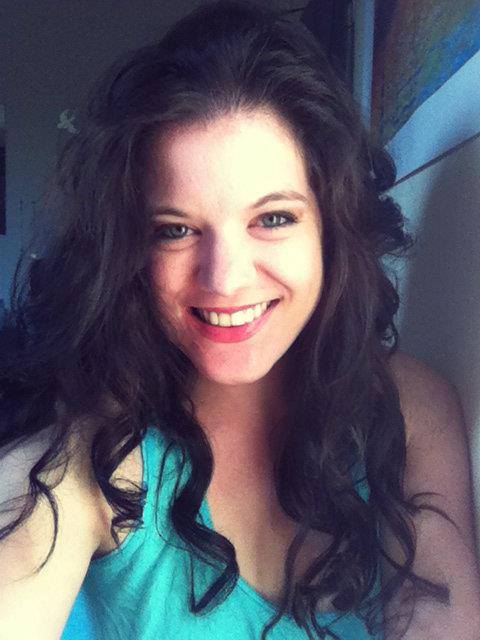 Amy Hartle is the co-founder and owner of Two Drifters, where she blogs about romantic and couples travel, relationships, honeymoons, and more. With a Master's in English and a BA in Musical Theatre, Amy loves to write quality content as well as to entertain, and she hopes to do a bit of both here on the blog! Amy is happily married to her husband Nathan, and when not working on their sites, Amy & Nathan can be found cuddling, reading, and enjoying delicious lattes.