This post may contain affiliate links. Read our disclosure page for full details.
Merida, Mexico, located in Yucatan state in the Yucatan Peninsula, is one of the most up-and-coming travel destinations in all of Mexico. Known for its gorgeous homes and Airbnbs with colorful, colonial architecture, laid back tropical style and delicious food, Merida makes the perfect romantic getaway.
Not far from all the big name Yucatan destinations, Cancun, Riviera Maya and Tulum, Merida feels like it's a world away. Not yet on all tourism radars, Merida maintains its small town charm and authentic culture. In fact, it's considered the epicenter of Mayan culture in the Yucatan Peninsula — wrapped up in one of the most Instagram worthy Mexico destinations.

Besides all that, Merida has been called the safest city in Mexico, and one of the two safest on the entire Americas continent by CEO World magazine. This makes nighttime strolls through lively-yet-quaint Centro Historico (Historic Downtown) an every-night romantic activity; though that's just the beginning!
While there's no shortage of things to do in Merida, there's also an abundance of amazing Merida day trips within two-hours of the city. From swimmable cenotes to rooftop dinners, historic haciendas to Mayan ruins, Merida, Mexico is an ideal destination to make lifelong memories in this unique Yucatan city.
By using this guide, you'll have enough knowledge of where to stay, what to do and eat, and everything you need to know about traveling to Merida. Let's start with how to get to Merida, and then what to do and where to stay.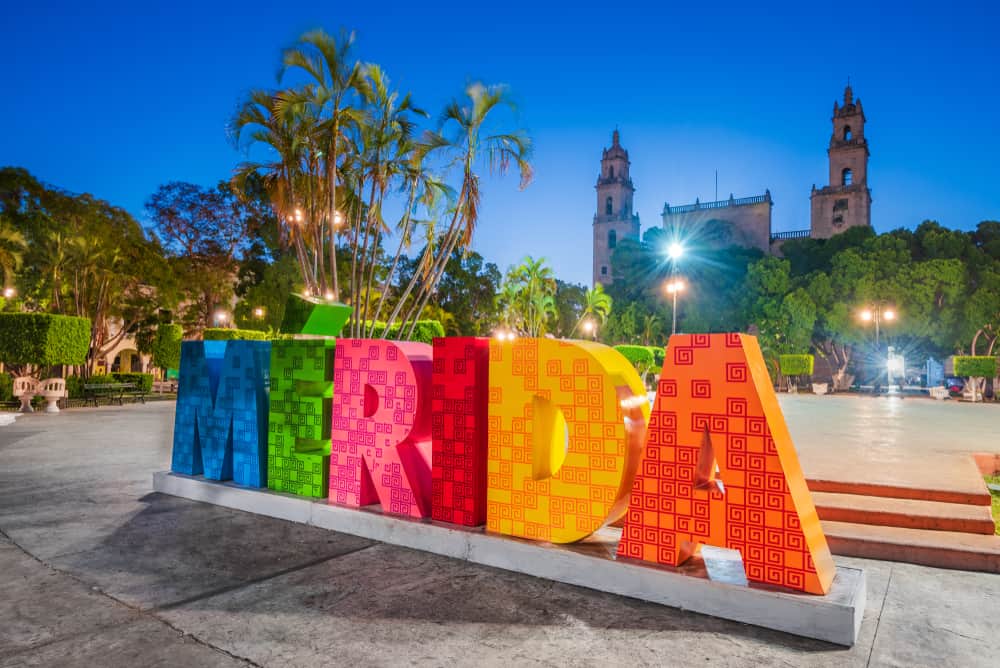 How to Get to Merida
Merida has a smaller, regional airport, Merida International Airport (code: MID). There is an expansion project underway to expand the airport and the number of flights Merida accepts, but for now, there are international direct flights only to/from Miami, Houston and Oakland.
For those not coming from one of those cities, you can take a connecting flight to Merida from Mexico's major airports — Mexico City, Guadalajara, Cancun, Monterrey and Tijuana. Upon arrival in Merida, there are rental cars, taxis, and Uber available to you for the short 25 minute ride from the airport to Centro Historico (Historic Downtown).
As Merida is a completely walkable city, if you plan to just explore the city itself and the surrounding areas, don't bother with a rental car. Uber is a great, inexpensive option in Merida; prices vary, but Uber is about 25% the cost in Mexico as the U.S., plan for about $5 for a 30 minute Uber ride.
Best Time to Visit Merida
As Merida is located in the tropics, the weather is best from November to March, when there's not much humidity and little to no rain. During the summer months, Merida is very hot and humid, with May known to be the hottest month.
December and January are particularly fun months to be in the city, not only for the weather, for all the festive celebrations. In January, there's Merida Fest, a city-wide cultural festival and celebration with music, theatrical and dance productions.
During December, posadas and parties are common throughout Mexico, both in homes and at businesses. Merida also hosts Noche Blanca (White Night), which basically turns the entire downtown into one giant street party for an entire weekend.
Best Merida Neighborhoods & Areas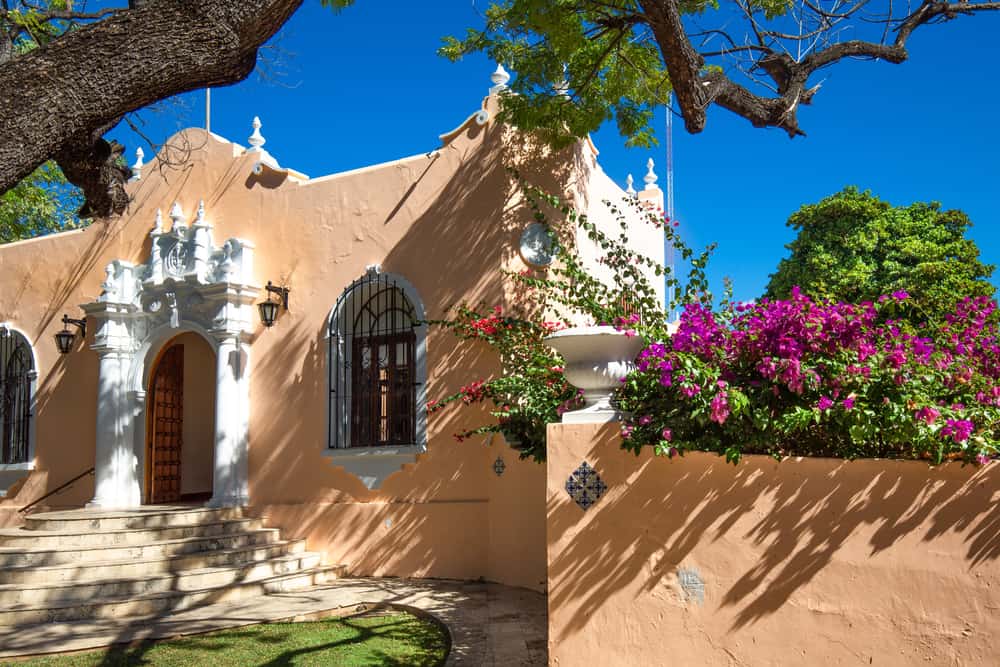 For first time visitors, Merida's best neighborhoods to explore when getting to know the city are Centro Historico and Paseo Montejo. These two are right next to one another, so they are both easy to see. Centro Historico is where you'll find all of Merida's historic sites, great parks, artisan shops and amazing restaurants and bars.
Paseo de Montejo is Merida's most beautiful street. It is a two-mile-long, tree-lined street where old meets new. Along Montejo, you'll find historic monuments, hip bars and sidewalk cafes, and Merida's historic, European-style mansions built in the 1900s.
Now that you know how to get to Merida, when to visit, and where to stay, it's time to discover the most romantic things to do in Merida, Mexico!
Romantic Things to Do in Merida
Stroll Centro Historico & Paseo de Montejo
One of the best ways to get to know Merida is by just casually strolling around. If you'd like to supplement your knowledge of the city, Merida's Tourism Office offers free, one-hour, daily walking tours with English speaking guides. Tours depart at 9:30am from Palacio Municipal in Plaza Grande.
Plaza Grande, or Main Plaza, is located in the center of the city. Here, you'll find a beautiful park, the famous Yucatan Sillas Tú y To (You and I Chairs), several beautiful, historic buildings, and the San Ildefonso Catedral de Merida, the oldest church on the Americas Continent.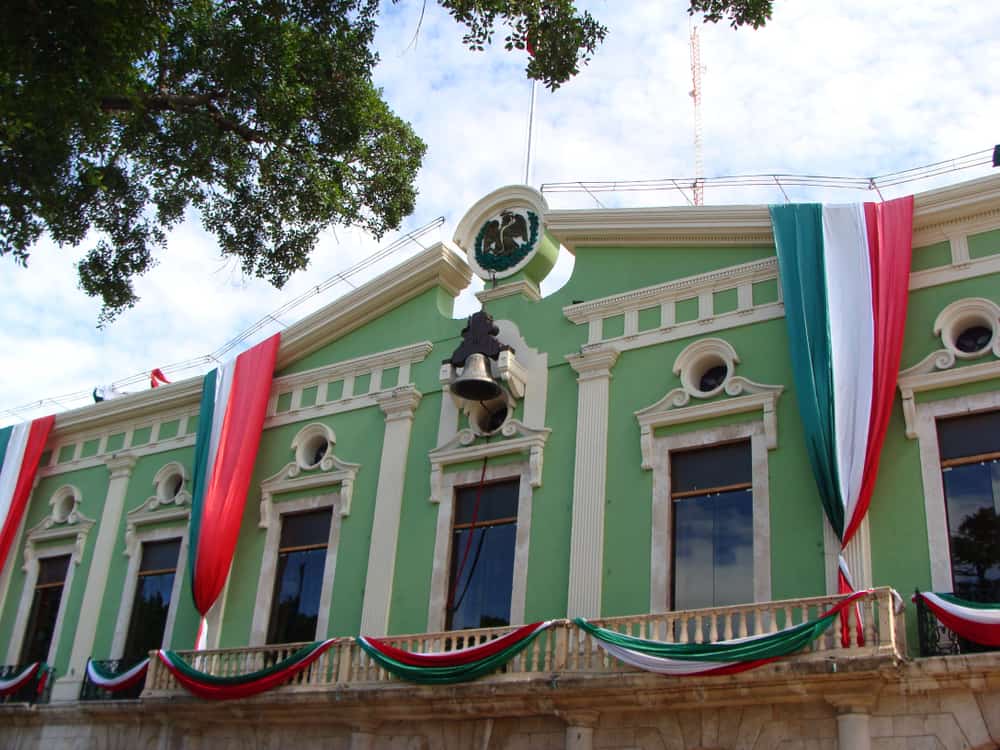 Don't miss the bright green Palacio de Gobierno (Governor's Palace), home to the Yucatan state's government offices, and several beautiful murals by local Yucatecan artist Fernando Castro Pacheco. Across the street, you'll find the Museo Casa Montejo (Montejo House Museum), one of Merida's best museums.
As Paseo Montejo is just two-miles-long, spend some time walking the whole thing because there are quite a few things to see. At the northern end, there's the gorgeous Monumento a la Patria (Monument to the Fatherland), featuring more than 300 hand-carved figures. Walking south, don't miss Merida's gorgeous classical European mansions-turned-museums — Palacio Canton, Casa Montejo 495 and Quinta Montes Molina.
Horse-Drawn Carriage Ride
At night, take a romantic horse and carriage ride through Merida to see anything you might have missed while walking around during the day. Head to the cathedral in Plaza Grande and hop on one of the calesas (kaal-ess-as), or buggies, sit back and enjoy Merida's beauty by night.
The 45-minute/$20 calesa tours start in Plaza Grande, pass by all the downtown parks, continue onto Paseo de Montejo and end at the Monumento a la Patria. After the tour, grab a nice dinner at Ku'uk, one of Merida's top restaurants, located right next to the monument.
Dinner al fresco at Parque Santa Lucia
One of Merida's best parks, Parque de Santa Lucia, is worth a visit both during the day and at night. During the day, head there to see the giant white Sillas Tú y Yo (You and I Chairs), 8-foot-tall chairs that are one of the city' top photography spots, and for nighttime dining.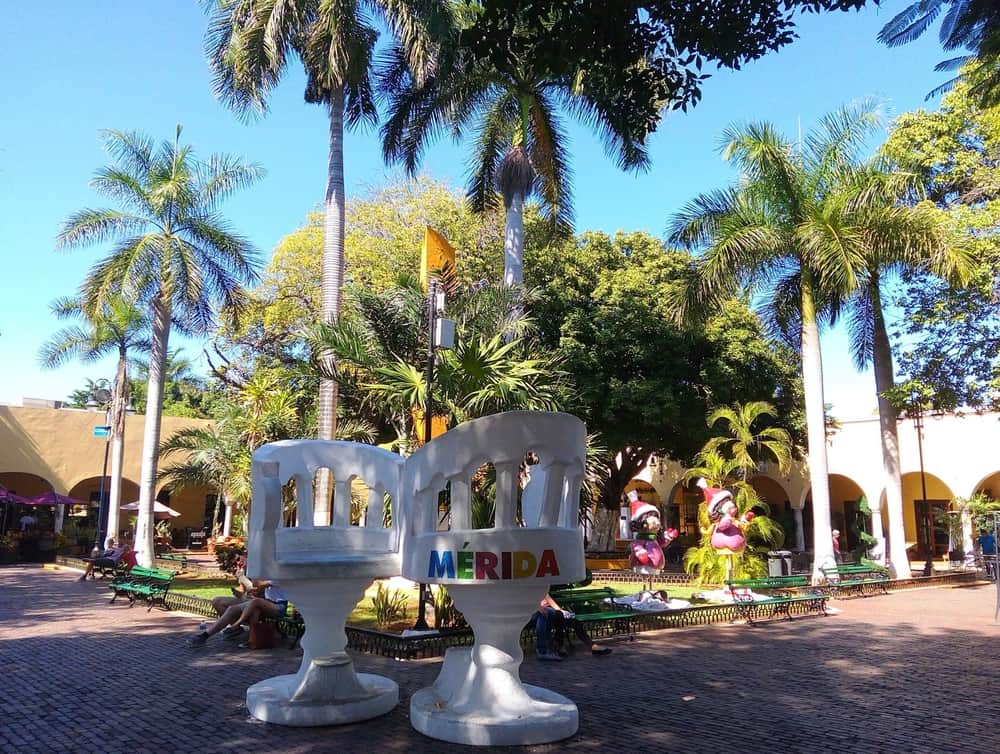 When the sun goes down, the park comes alive and all the restaurants open for al fresco dining, and often live music and dancing. There are several restaurants at the park, with big comfy outdoor seating, pretty patio lights strung across the entire park, and romantic ambiance.
Rooftop Dinner & Drinks at Picheta
Picheta is one of the most romantic and best restaurants in Merida. Though the inside of this 350-year-old building is gorgeous, make a reservation to sit outside on the terrace overlooking Plaza Grande and the cathedral, to enjoy the amazing downtown Merida views while eating.
Enjoy traditional-yet-innovative Yucatecan cuisine, and creative cocktails at this casual fine dining restaurant. At Picheta, you won't find tacos on the menu, but what you'll find are local ingredients, unique flavors from the Yucatan and romantic ambiance.
Beach Day in Puerto Progreso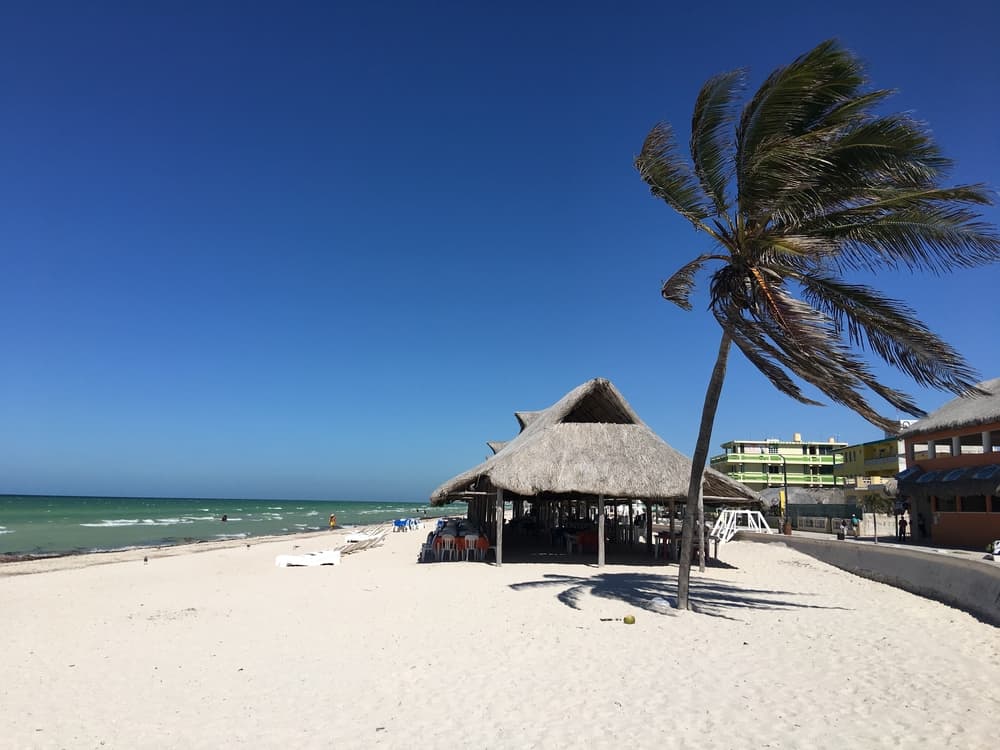 The closest beach to Merida is Puerto Progreso, located 40 minutes north of Merida. This quaint beach town makes a nice day trip, for both a beach day and a sunset dinner. To those looking for a little adventure with their romance, Progreso is one of Mexico's best windsurfing and kitesurfing beaches, with a few schools giving lessons.
Once you arrive in Progreso, take a leisurely stroll down the Malecon (walkway), and stop for a quick bite to eat some ceviche or fish tacos, and get a better feel for the town. Then, head to an inviting spot on the beach and rent a beach chair, or head to one of Progreso's best beach clubs, El HaGuay and Silcer Beach Club.
Take a Day Trip to Campeche City
Located about two-hours from Merida, colorful, historic Campeche City, in Campeche state, is a wonderful place to spend the day and watch the sunset. Located right on the Gulf of Mexico, this UNESCO World Heritage Site is a walled city that attracts everyone from photographers to history buffs.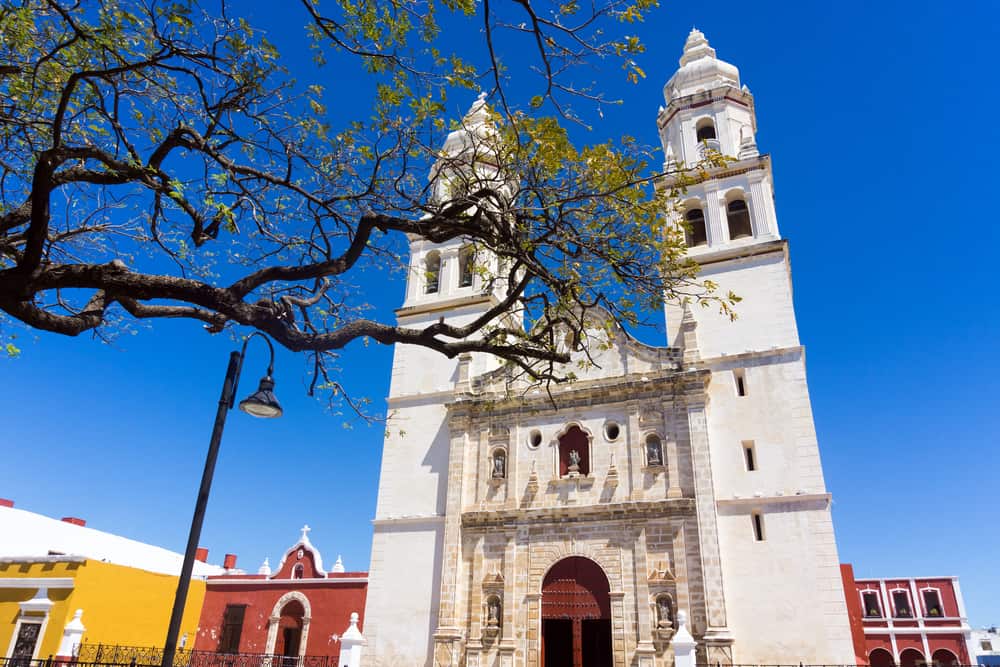 Easily accessible by both car and bus, walk the ramparts and explore Campeche's forts, take the city tram tour, and snap some beautiful photos of the historic churches and colorful buildings. When the sun starts setting, head to La Palapa del Tio Fito and Restaurante Malecón Campeche for dinner and sunset views over the Gulf.
Visit the Yucatan's Magic Towns
Mexico has about 140 pueblos mágicos, or magic towns. These special pueblos (small towns) all have certain unique characteristics including natural beauty and unique folkloric traditions, and earn the prestigious pueblo mágico distinction from Mexico's Secretary of Tourism.
Within the entire Yucatan Peninsula, there are seven magic towns, with four in Yucatan state. These towns, Valladolid, Izamal, Maní and Sisal, are all located within 1.5 hours of Merida. Maní, a charming Colonial city, and Sisal, a small beach town, are newcomers to the pueblo mágico list, joining the lists in December 2020.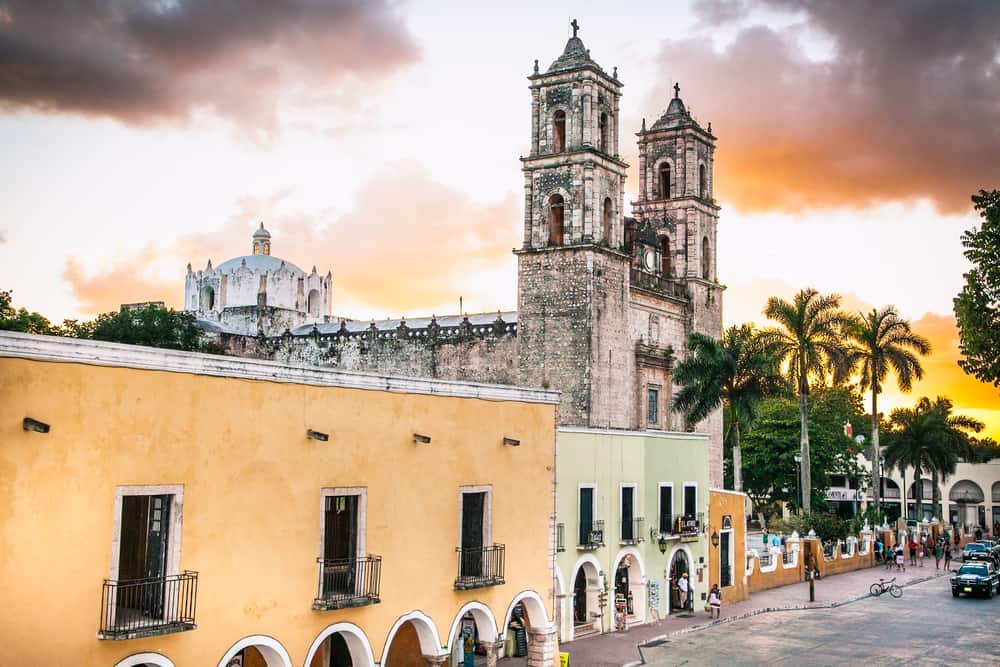 Valladolid and Izamal have been pueblos mágicos for some time, and are two very popular Merida day trips.
Izamal is known as the Yellow City, because the entire downtown is painted yellow! It is truly a unique thing to see. Head to the zocalo (town square) to see the San Antonio de Padua Convent and take one of the calesa (horse drawn-carriage) tours to see the town.
Valladolid is known as one of the most beautiful towns in Yucatan state. There are many charming streets to walk down, like Calle de los Frailes and Calle 50, with colorful papel picado (bunting flags) and gorgeous buildings to photograph. After working up an appetite, head to La Casona de Valladolid, and make sure to check out the gorgeous, large talavera tile fountain on the patio.
Explore Chichen Itza & Cenote Ik-Kil
Located not far from Valladolid, Chichen Itza, one of the Seven Wonders of the World, probably needs no introduction. Located about two-hours from Merida, it makes for a great day trip from Merida to explore this UNESCO World Heritage site and ancient Mayan city.
After touring Chichen Itza for several hours, as it's a large site, head to Cenote Ik-Kil less than 10 minutes away by car. The Yucatan is home to about 6,000 cenotes, or swimmable sinkholes, and among the most beautiful is Cenote Ik-Kil, which looks like a tropical jungle swimming pool.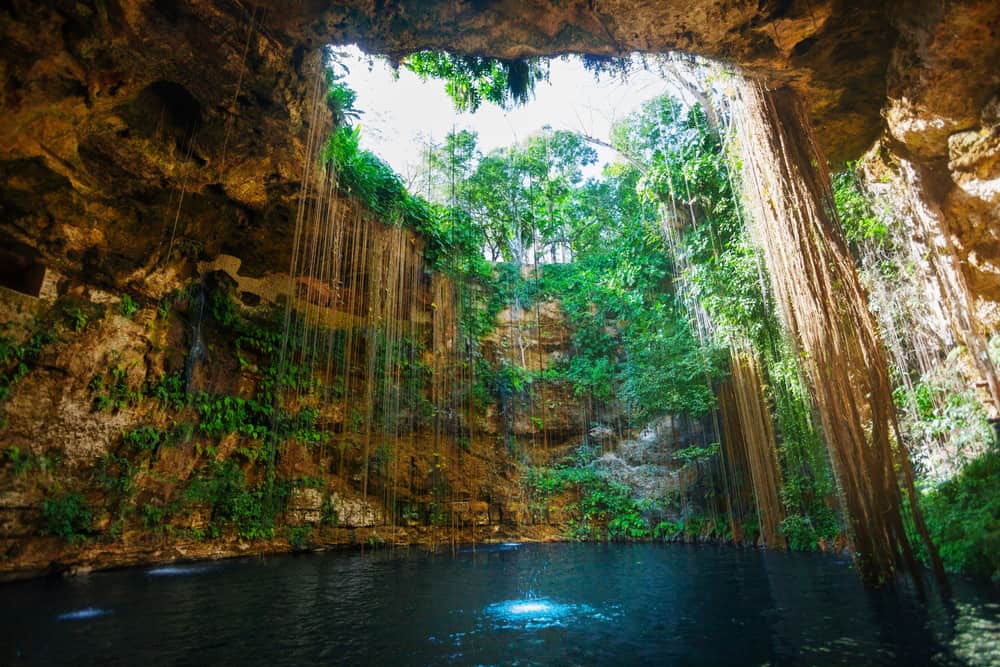 Cenotes Hacienda Mucuyché
Beyond cenotes, Merida and the Yucatan are also known for their gorgeous haciendas. These sprawling estates are located all over the Yucatan Peninsula, some in shambles, and some fully restored and used mostly for weddings and private parties.
Among the most beautiful cenotes in Merida, is Cenotes Hacienda Mucuyché. This hacienda has been somewhat restored to welcome visitors, but also left somewhat untouched to add to its vintage charm. Head there to tour the hacienda, and then cool off in the two picturesque cenotes on the property.
Visit the Flamingos in Celestun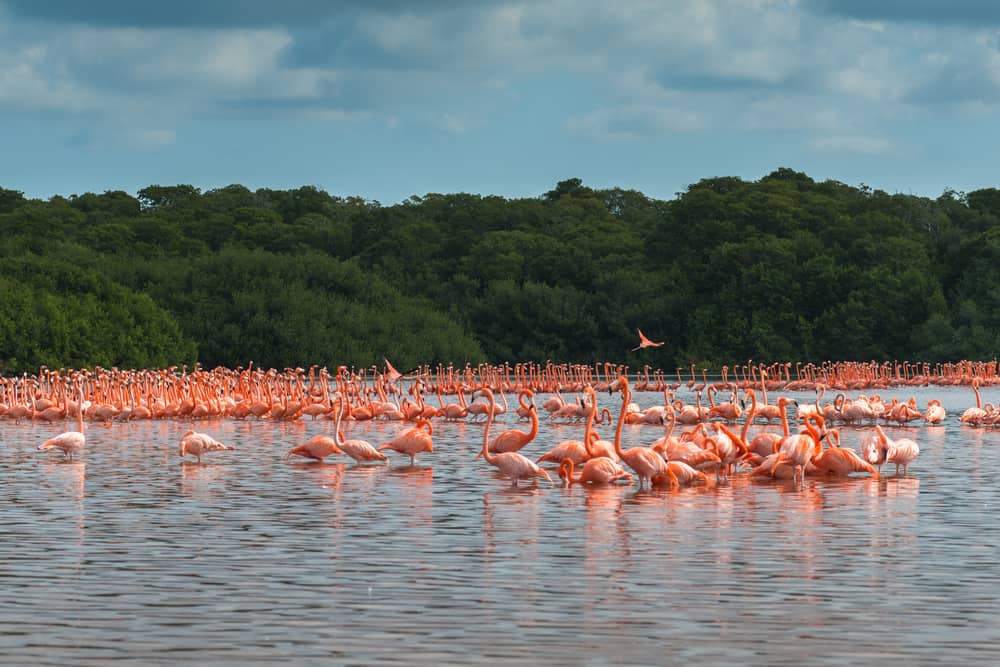 Located in the small fishing village of Celestun, the Ría Celestún is a UNESCO Biosphere Reserve and home to some of the Yucatan's most famous residents — a flock of about 30,000 wild flamingos. The flock visits different parts of the Yucatan during different months of the year, but they congregate in Celestun in large numbers from November to April.
There are boat and kayak tours that go through the mangroves, where you'll see a variety of wildlife, in addition to the flamingos. This is also a well-known place in Mexico for bird watchers and naturalists, even if the flamingo flock is elsewhere.
Uxmal & the Ruta Pucc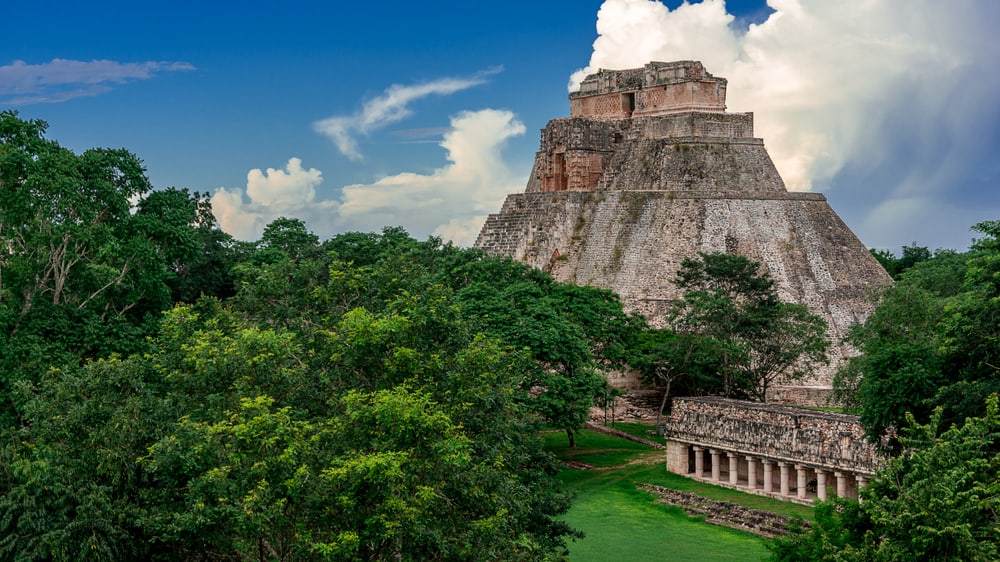 While Chichen Itza has more name recognition, Uxmal has one thing going for it Chichen Itza does not — You can climb the pyramids at Uxmal. It is also a UNESCO World Heritage Site, so has much of the same historical significance, though not the large crowds.
Uxmal is one of five Mayan architectural sites on the Ruta Pucc, along with Labna, Kabah, Sayil and Xlapak. These sites along the 19-mile-long Puuc Route all have similar stone carvings on their massive ancient structures, common of the Puuc-esthetic style.
Most Romantic Hotels in Merida, Mexico
While having a wide variety of amazing things to do, see and eat during the day is great, without a nice hotel to rest your head at night, the vibe of a vacation goes downhill quickly. Fortunately, Merida has quite a few gorgeous, romantic hotel options that are quite affordable compared to other bigger name destinations in the Yucatan.
Rosas & Xocolate
Merida's boutique Rosas & Xocolate hotel is one of the city's most gorgeous places to stay. Located on Paseo Montejo, the bright pink building welcomes guests into a private tropical paradise. The design is part artistic bohemian jungle, part luxury hotel, and there's a spa, restaurant and cocktail lounge onsite. For those lucky enough to reserve one of the only four rooms at Rosas & Xocolate, you're in for an unforgettable experience.
Casa Azul
The hacienda-style Hotel Casa Azul (Blue House Hotel) is a 19th century building, and national historic monument. The light blue and white colonial architecture exterior is just as gorgeous as its interior courtyard, pool, and classical decor. The rooms have lush, modern amenities, amidst abundant vintage charm. Located one-block from Paseo de Montejo, on the edge of Centro Historico, Hotel Casa Azul's location can't be beat.
Hacienda Santa Cruz
Located outside of downtown, Hacienda Santa Cruz makes a nice spa day getaway, or place to stay in Merida. This authentic hacienda provides a great place to get away from the touristic areas, which are only about 20 minutes away and easily accessible with a short and inexpensive Uber ride. The sprawling, lush grounds feel like an oasis in the Yucatan, and the pool and spa facilities are top notch.
______________________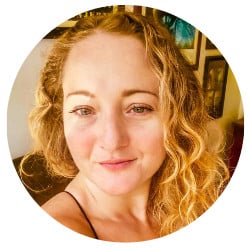 About the Author: Shelley is a former Miami travel magazine editor who ditched the office for the world! After traveling solo to 14 states in Mexico, she decided to live in Merida, Mexico full time. Shelley now helps other women cross Solo Travel and Mexico Travel off their bucket list through her Travel Mexico Solo blog and Dream To Destination podcast.
---
You might also like:
---