This post may contain affiliate links. Read our disclosure page for full details.
Are you wondering where to take your partner for this year's vacation? Consider Las Vegas. Though this sunny paradise is more often associated with wild nights and casino escapades than romance and love, Vegas has the potential for much more. Nevada's most vibrant city is the perfect place for you and your significant other to connect and spend some quality time together. Check out the five most romantic things to do in Vegas, so you'll know how to plan your trip.
Zip Line Over Fremont Street
Fremont Street is the quintessential Vegas party street. The seven blocks that make up this street are full of amazing sights, sounds, and smells. From colorful street performances to eclectic food stands, you're sure to find something to entertain you for the entire night.
You could walk down Fremont Street, of course, but why walk? Go ahead and try zip-lining over it if you're down for a real romantic adventure. You can book a tour with the SlotZilla zip line company, which will shoot you out of an 11-story-high zip line to sail your way across Fremont Street from high above.
You can choose to ride this slot-machine-inspired zipline from 77 feet high halfway down Fremont Street or from 114 feet high and go all the way down. Couples who choose to will ride together through the city, experiencing a whole new world in a bird's eye view. The whole adventure is sure to knock your socks off, providing you with the experience of a lifetime and a great story to tell your friends when you get back home.
Cost:

$20-$49 per person, depending on which level you choose to fly from and what time you go.

Open:

Sunday-Thursday 12 p.m.-1 a.m., Friday-Saturday 12 p.m.-2 a.m.

Time Needed:

Give yourself at least two hours for the whole experience, even if you book your tickets ahead.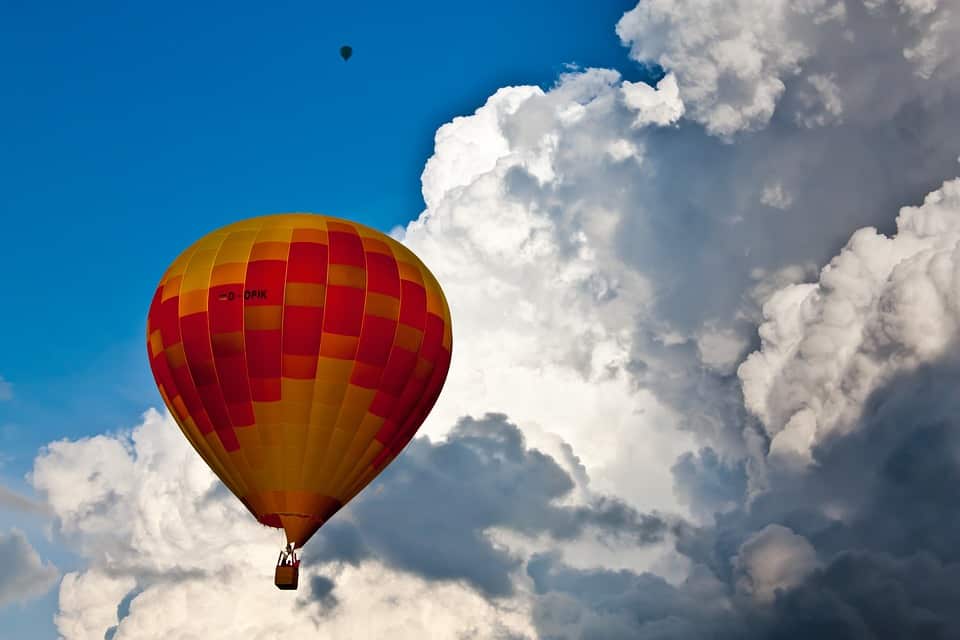 Source: Pixabay Licence: Pixabay License
See the View from Above in a Hot Air Balloon
Is zip-lining not cutting it for you? Take a hot air balloon ride instead. This perfect couples' experience is best booked through Vegas Balloon Rides where you'll have the option to book a private ride or one with other tourists like yourself.
You'll begin at dawn's first light and be off in the sky before you know it. The next hour is yours. Prepare for a heart-stopping experience as you soar through the clouds, high above the stunning city and the surrounding red stones of the desert. Remember that champagne comes with your ride, as is a full sit-down breakfast at PT's Pub once you land.
For balloon rides, make sure to follow the advice of U.S. News & World Report for visiting Vegas. Go during the off-season and wait until the summer months are over. A hot air balloon ride is a magical experience, but you may not like it so much at 100 degrees Fahrenheit.
Cost:

$145-$259 per person, depending on whether you're down to share the balloon with other couples.

Open:

All balloon rides begin when the sun rises, and the whole experience will last between three and four hours.

Time Needed:

Make sure to give yourself four hours for this experience.
Hit the Tables and Play Some Craps Together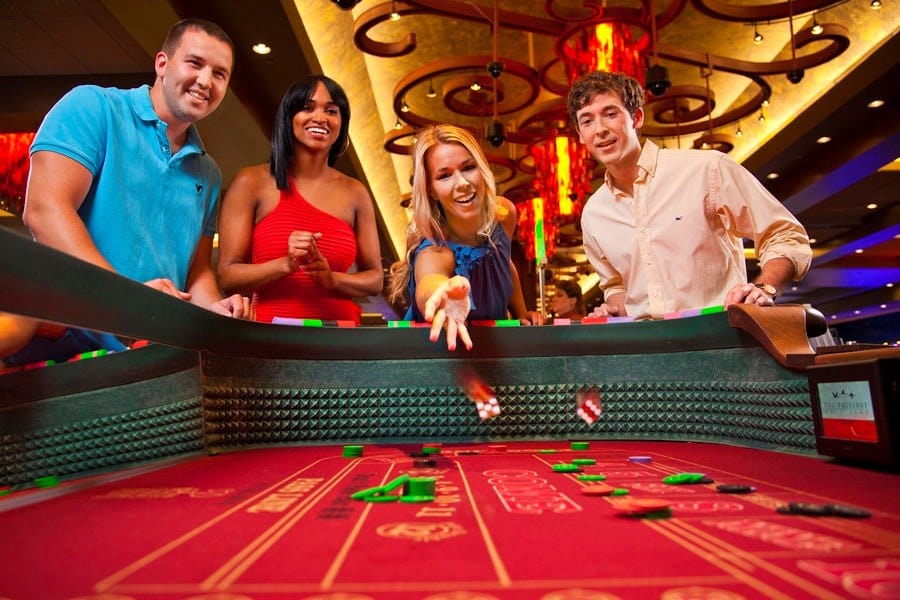 Image Credit: Flickr / CC BY
Even though you're on a couples' vacation, you're still in Vegas. So, you've got to hit the Strip at least once and try your luck at everyone's favorite Vegas casino game, craps. It will ensure that the two of you get the most out of your Vegas vacation while still having the chance to come into some luck and win something.
There's no doubt that craps are the most exciting game in the casino, so you need to get in on the action. But just because you and your significant other approach the table together, it doesn't mean you're guaranteed to win. It takes preparation to be successful. You'll need to learn how to play craps before you hit the Strip if you want to try your hand at this iconic dice game. So, take some time to familiarize yourself with the basic rules as well as the somewhat intricate betting system.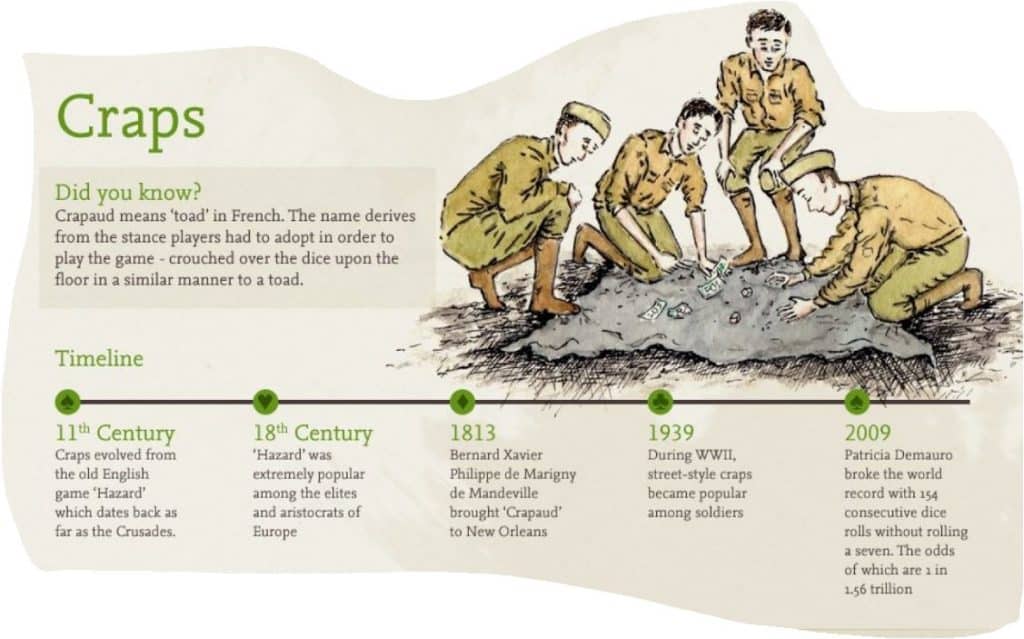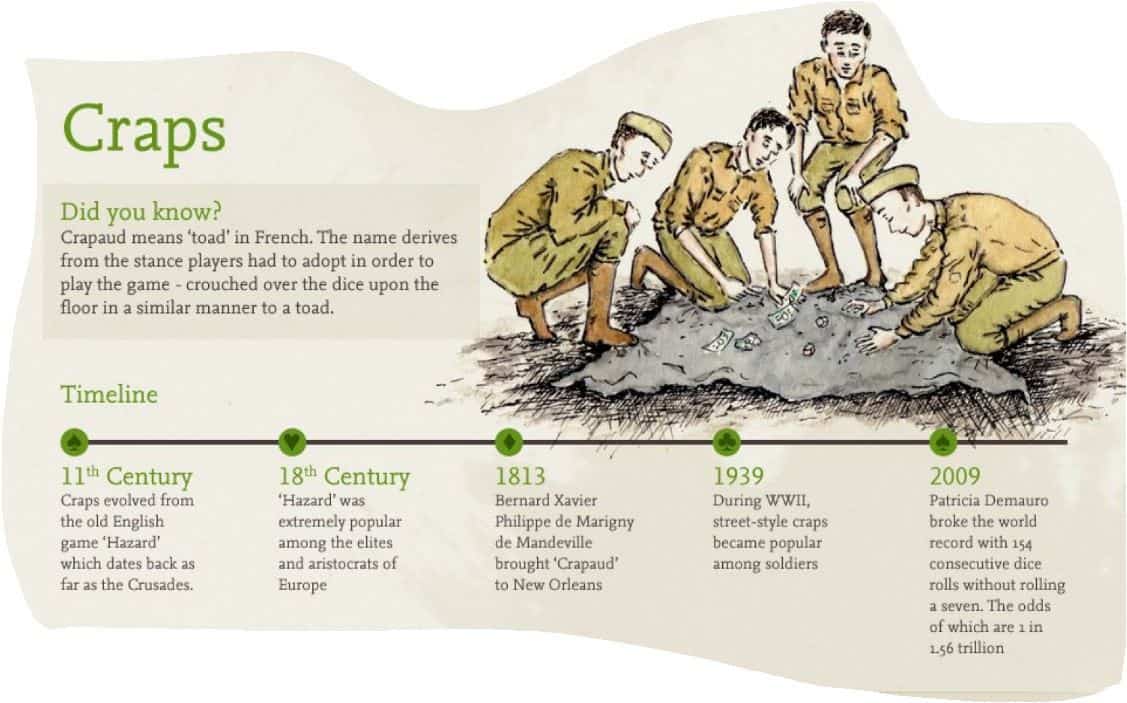 Infographic Credit: Royal Vegas Casino
When you do get around to playing, dress to the nines. You'll have infinitely more fun if you look good, even if you haven't quite mastered craps strategy or memorized the betting system. Don't worry, though. People who gather around the craps table are friendly, jolly and usually happy to help.
Cost:

Craps buy-ins and bets depend on your personal preferences, where you choose to play and what the table minimum is.

Open:

Vegas casinos are open all night long.

Time Needed:

How much time you need for craps depends only on your bankroll and how long you can stand the excitement.
Take a Gondola Ride Through Venetian Canals
They say Italy is one of the most romantic destinations in the world, but we say, Las Vegas beats it out. That's because it brings everything you've ever wanted in a vacation — including the Italian experience! For example, you can take a gondola ride at the Venetian to relax while floating through a picturesque canal. It doesn't get much better than this.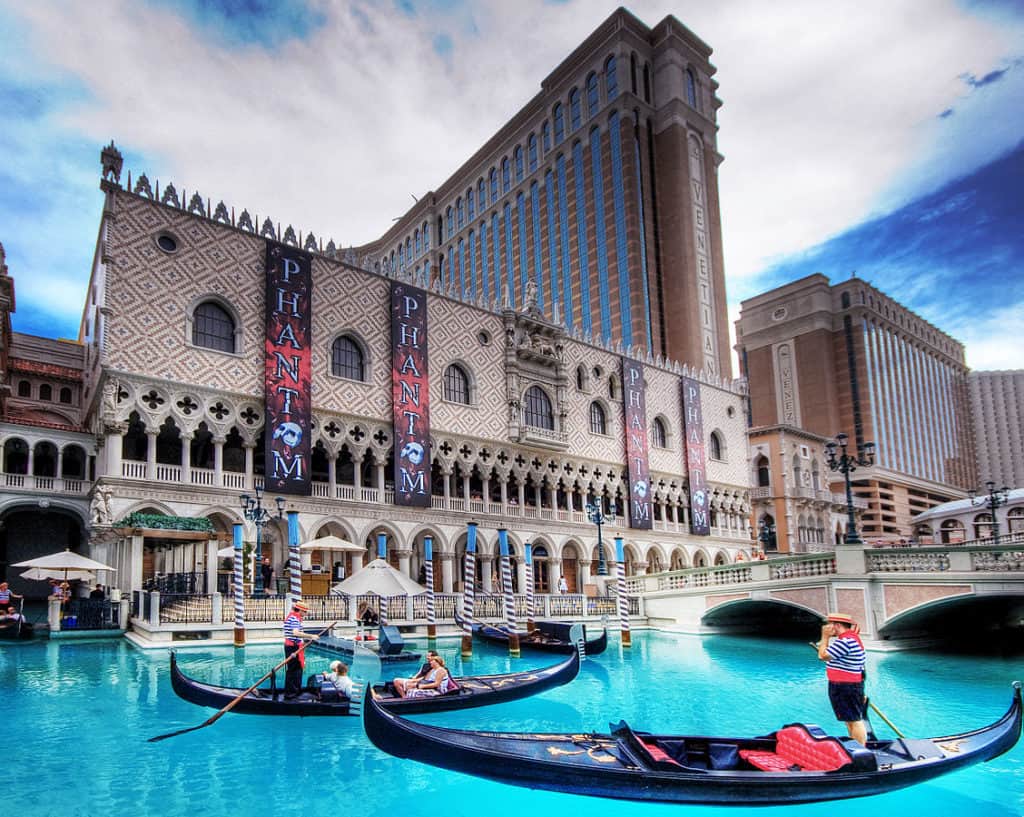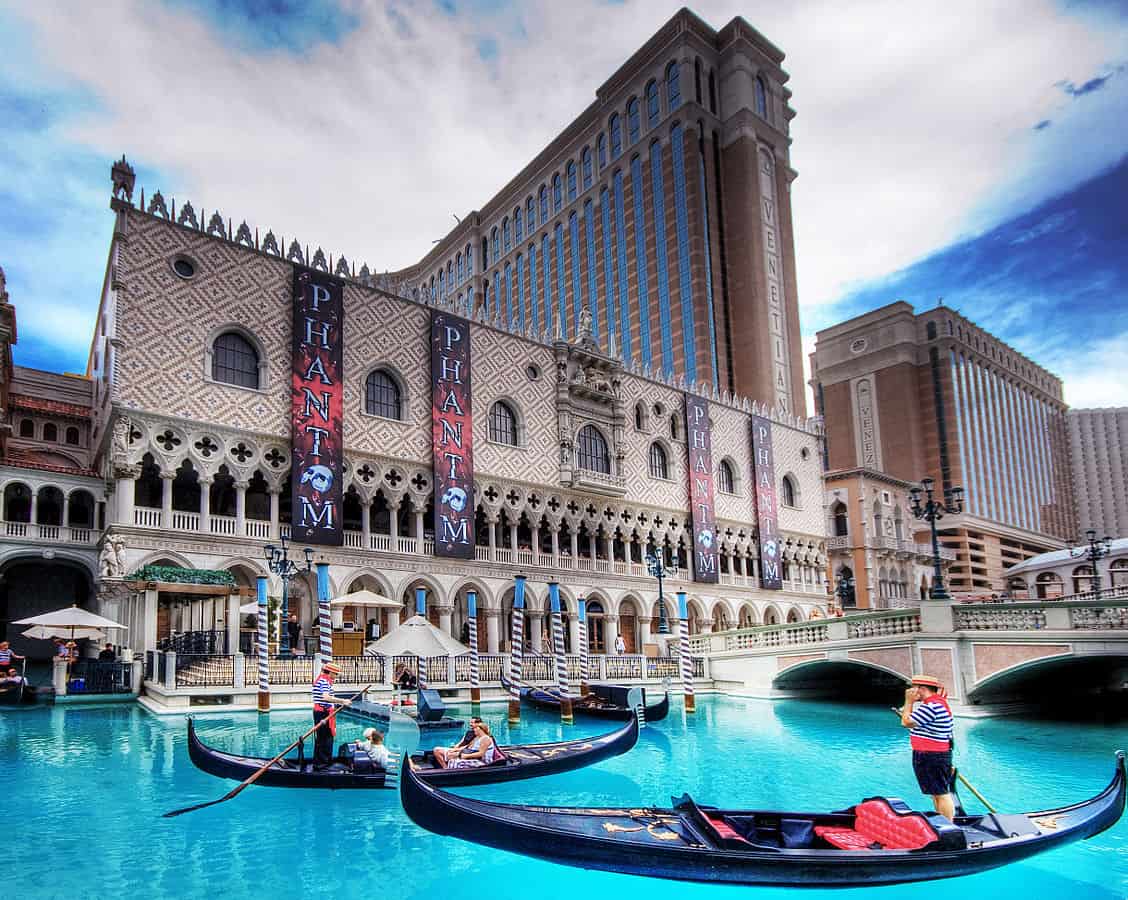 Image Credit: Wikimedia / CC BY
Taking a ride through the canals is one of the most romantic things to do in Venice. It's also one of the most romantic things to do in Vegas. That's because the Venetian hotel has a friendly and knowledgeable staff of gondoliers — some of whom are even from Italy. They'll sing, laugh and tell jokes to entertain you on the ride or leave the two of you alone to snuggle in the boat.
You can choose to take your ride through the outdoor canals or have the gondolier gently rock you through the indoor canals. Either way, you'll get to kiss under the Venice-inspired bridges, which is what matters.
Cost:

$29 per person sharing a gondola with another couple, $116 for a private gondola for two.

Open:

Sunday-Thursday 10 a.m.-11 p.m., Friday-Saturday 10 a.m.-12 a.m.

Time Needed:

You'll need 15 to 20 minutes to complete the gondola ride.
See the Famous Cirque du Soleil
Nearly everyone has heard of Cirque du Soleil. If you haven't, here's a clue: this award-winning performance is one of the most popular in Vegas, with its shows attracting over 9,000 people every night. That means that 5 percent of tourists who visit the exciting city incorporate a Cirque du Soleil show into their plans. You should, too.
That's because these dynamic performances feature some remarkable acts. You'll be stunned by aerial acrobatics, entranced by pyrotechnics, and awed by seemingly impossible feats of every type under the sun.
Source: "The Late Late Show with James Corden"
Check out a miniature performance by cast members to see what kind of fun this circus can bring.
Las Vegas is home to several permanent Cirque shows. See the resident "Ka" performance at the MGM Grand, an entrancing story show that incorporates puppetry, automation and emotion to tell a rich tale. Or choose a more abstract and artistic performance like "Mystere" at the New York-New York Hotel (despite the name, this hotel is in Vegas).
Cost:

Cost varies significantly depending on which show you want to see. Expect to pay at least $50 or $60 for tickets, with certain shows at peak times topping out well over $100.

Open:

Showtimes are generally in the evening, though children's shows and specials may show earlier.

Time Needed:

Show length varies but expect to spend at least two or three hours on this activity.
Are you ready to hit the Strip with your honey and take on one of the most iconic cities in the world? With this ultimate guide to romantic Vegas activities, it won't be hard to get started.
---
Featured Photo Source: Flickr Licence: CC BY 2.0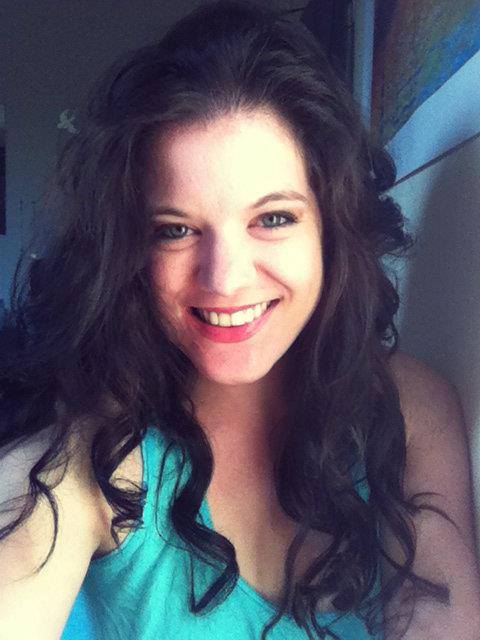 Amy Hartle is the co-founder and owner of Two Drifters, where she blogs about romantic and couples travel, relationships, honeymoons, and more. With a Master's in English and a BA in Musical Theatre, Amy loves to write quality content as well as to entertain, and she hopes to do a bit of both here on the blog! Amy is happily married to her husband Nathan, and when not working on their sites, Amy & Nathan can be found cuddling, reading, and enjoying delicious lattes.