This post may contain affiliate links. Read our disclosure page for full details.
Visiting Cuba with my husband, a Havana native, has always been an adventure for us. Like anyone visiting their hometown, it can sometimes be filled with mundane details like shopping for vegetables at the market for dinner, or long bus rides across the city to help Mom install her TV. However, nothing is ever boring in Havana, and as we prepare to relocate to Cuba, we've learned the secrets to the most romantic spots and getaways across the city.
Havana is one of the most romantic cities I've visited, not only because of its inescapable charm with antique details and historic buildings at every turn, but because finding its quirky beauty around every corner is the ultimate discovery. Discovering new things together has bonded my husband and I, the serial travelers that we are, and is always a romantic adventure.
Whatever may bring you to Havana, there is plenty to see and do that will take your breath away, but spending time discovering new things with your partner may be the most breathtaking of all. Coupled with our guide to travel in Cuba for planning support and local recommendations, this list of our favorite romantic things to do in Havana will make you ready to dive in.
Wake Up in Old Havana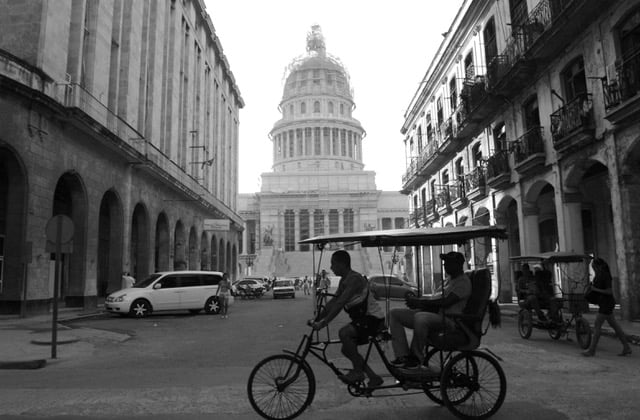 Taking the morning for a romantic brunch date is one of my favorite way to start the day.
The morning is the best time to discover and explore Havana's streets together, as the city is waking up and starting to put on its charm. You'll escape the afternoon heat and be able to delight in seeing vendors setting up their wares on carts selling flowers and fruit, kids in their uniforms rushing off to school, and neighbors enjoying a morning coffee in their front windows.
Starting the day with brunch at El Café is the best way to start a romantic morning, with delicious options for food and some of the best cappuccinos and iced lattes in the city, all from a cozy corner in a restored colonial building. Don't miss out on the tropical fruit juices, and make sure to try something with their famous sourdough bread.
Continue your morning tour of the city by strolling hand in hand through the colonial streets and among the old churches. You won't want to miss the Plaza de San Francisco, with its centuries-old church with an incredible view from its spire.
Stroll Hand in Hand on the Malecón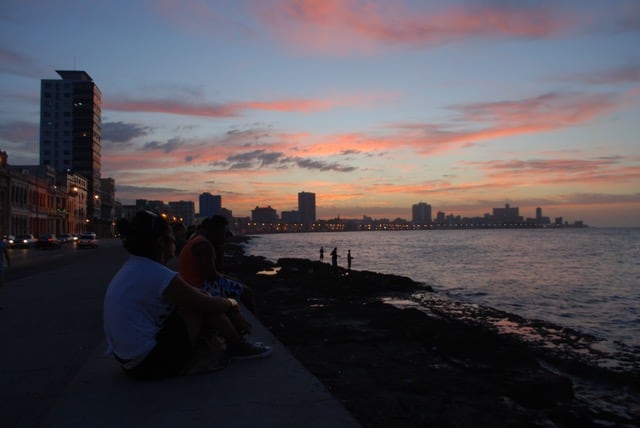 Taking a walk on the Malecón – the wide sea wall arching from the Havana harbor and extending miles along the city's entire coastline – is one of the most typical and emblematic dates for couples in Cuba and visitors alike. How many Cuban couples have had their first kiss here? Countless!
More than just a sea wall, the Malecón transforms into a gathering place in the evening with friend and couples finding spots to sit on the wall, listen to music, share drinks and enjoy each other's company. Vendors sell snacks, ice cream, and rum to groups and couples gathered along the miles-long stretch of wall to enjoy the ocean scenery and the energy of the city. Or, come prepared with your own food and find a spot to enjoy a picnic and reflect together on a day in Havana.
Finish the night by strolling up the bustling 23rd Street from the Malecón to Coppelia, the most emblematic, 1960s ice cream parlor in the country, for one of their delicious ice creams – another one of the most popular dates for Cubans. While each day they offer new flavors, try the tropical fruit flavors if you get a chance, like pineapple or orange.
Drinks and Dancing at Fábrica de Arte Cubano
The Fábrica de Arte Cubano is an innovative mixed-use art space that blurs the lines between an art gallery, bar, and concert venue all at once. It is one of Havana's must-see spaces, and the world is taking notice – in 2019, Time Magazine named it as one of the World's 100 Greatest Places. Internationally renowned singers and DJs have graced the stages and Anthony Bourdain was an early fan – even Michelle Obama has visited.
The energy and excitement of this innovative venue makes it the perfect place for a romantic and exciting date with your love, and one of my personal favorite ways to spend an evening in Havana. Grab a drink at one of the several bars spread throughout the venue and explore the art installations on the second and third floors while you wait for one of the evenings performances. Every night is something new, from fashion shows and major documentary premieres to world-famous DJs or Cuban salsa bands, which rotate on stages rooms scattered among this rescued and restored former factory.
Take in Sunset Over the city at the Cristo de la Habana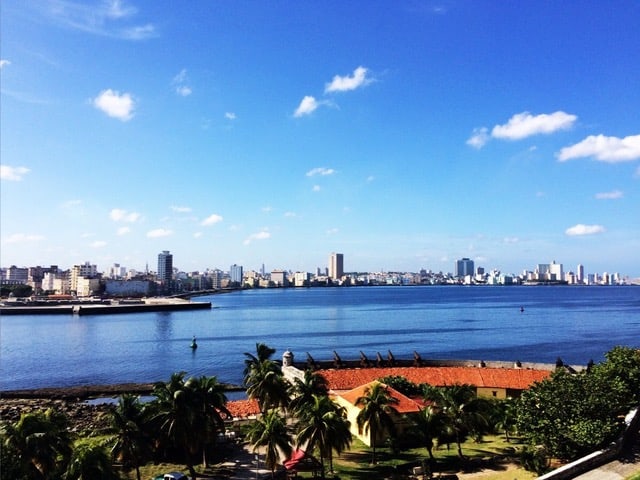 What is more romantic than a sunset view over the ocean? One of the most incredible vantage points over the city – for sunset or otherwise! – is across the Havana harbor from the old town, overlooking the bay and perfectly framing the entire city in the sunset. Hop on the Lanchita de Regla, a quick and inexpensive ferry from Old Havana, and take the short ride across the Havana harbor, to the Cristo de la Habana.
From below Christ statue (a lookalike of Rio de Janiero's Christ the Redeemer) you'll find space to spread out in the park for a perfect view. From the hill there is space to spread out and explore the park and bask in the view while the sun starts to set. You can continue your stroll together towards the ocean from there to find the centuries-old fortress, city walls, and even more to experience.
Spend a Day on the Beach at Varadero Cuba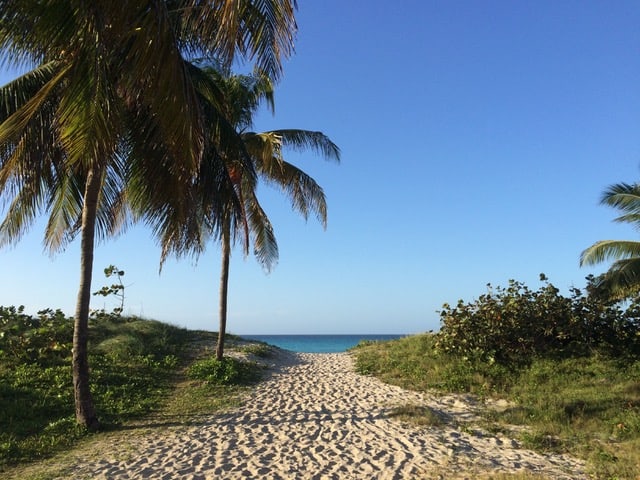 Cuba is known for its beaches – they're the dreamy, white sand beaches with crystal clear water you picture when you think of the Caribbean – so a romantic beach getaway from Havana is a must! Just over two hours east of Havana is Varadero, one of the most beautiful beaches in the country and consistently rated one of the best in the world. Resorts and hotels dot the coast for a romantic stay, but the long 18km stretch of white sand has plenty of public entrances too, and you can easily find private, quiet sections to spread out, of beachfront cabanas to rent for the day.
While making Varadero a day trip is certainly doable – get a classic American car from the 1950s to take you! – making your trip to Varadero a romantic weekend getaway is even better. There are plenty of resort and hotel options in Varadero, including the ultra-modern Melia International Varadero and the tropical Royalton Hicacos, but for even more privacy, rent a private apartment or bungalow right on the beach. Varadero is also known for its plentiful and inexpensive seafood – you won't want to miss the lobster at La Rampa!
Make sure to check out my ultimate guide to Varadero, Cuba for even more recommendations on where to eat, where to stay, and what to do in Varadero during your getaway – it's one of our favorite getaways from Havana and one of the most romantic spots in Cuba.
Take a Mixology Class
Cuba is known for being the home of the daiquiri and mojito, and the world's best rum, making it the best place to try some next-level cocktails. Better than just taste-testing and bar-hopping across the city, taking a mixology class on a rooftop bar with a professional bartender makes for an unforgettable date.
Just like taking a cooking class – another idea for a romantic date in Havana if you're not a big drinker – a mixology class is a perfect date for couples looking for something different after too many of the typical dinner-and-a-movie excursions. You'll learn something new together and of course, you can taste your handiwork! Plus, you'll be able to remember your trip when you're able to craft the perfect Cuban mixed drink at home for your love.
Photoshoot in Old Havana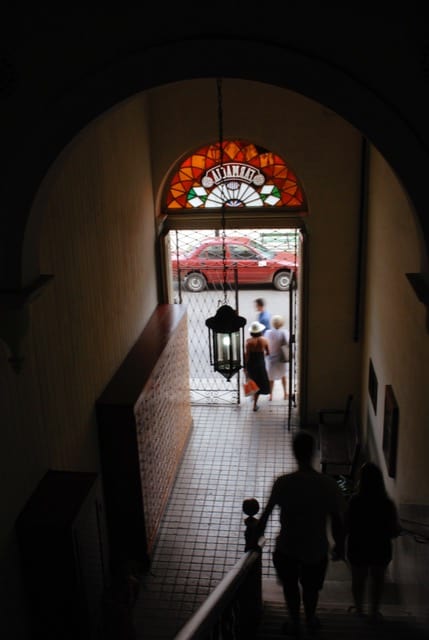 While every social media influencer these days is sharing their tips for getting the perfect travel shot, there is nothing like having a professional step in, especially when it comes to photography for couples! Letting a professional guide you as you get close and strike a pose in some of Havana's most photogenic spots will let you experience a new side to the city and build lasting memories with your love.
Short photography sessions offered through Airbnb Experiences are increasingly popular in Havana, and are highly recommended – plus, you'd be surprised how inexpensive a private photoshoot can be. Not only will you have a priceless souvenir to take home with you, you'll be guided around the city to some of the most beautiful, hidden spots by a local who knows their stuff.
Rooftop Drinks at Sunset at the Gran Hotel Manzana Kempinski
One of the newest luxury hotels in Havana and one of the best places to stay in Havana, the Gran Hotel Manzana Kempinski, not only makes for an incredible stay in Havana, but also boasts one of the most romantic date spots in the city at its rooftop bar. Overlooking some of the most emblematic features of the Havana skyline like the Capitolio, Parque Central, and the ornate concert hall, the Gran Teatro de La Habana, the views from the rooftop bar are breathtaking.
While taking a break from exploring the city is great here at any time of the day, it's best to come as the sun is setting, both to escape the heat and to take in the sunset over the city. This is the place to try a delicious mojito if you haven't yet since arriving in Havana, and the snacks and appetizers at the bar are delicious and creative. Their piña coladas and rum selection are incredible as well, and make sure to check out the cigar bar on one of the lower floors before you leave.
The rooftop infinity pool is stunning, too, and a fantastic place to escape for a few hours. Even if you're not looking to stay in the Gran Hotel Manzana Kempinski during your time in Havana, there are pool passes for purchase that will let you enjoy the hotels amenities for a few hours.
---
About the author: Carley Rojas Avila is founder of Home to Havana, a travel blog dedicated to inspiring transformational travel in Cuba and beyond. She and her husband, José, launched Home to Havana as way to share their story of moving from the United States back to Cuba, and inspire travelers to transform their own travel dreams into reality. When not obsessing over creating inspirational online content she can be found trying to befriend street cats and personally taste-testing every pizza in Havana.
---
You might also like:
---