This post may contain affiliate links. Read our disclosure page for full details.
A few weeks ago, I spent one night enjoying the lovely Samoset Resort, located in Rockport, Maine, just over from Rockland. Rockport, Rockland? I know…it can be confusing! Fortunately, these towns are only a few miles apart so the area is quite united. The Samoset is in a beautiful part of the region, situated directly along the coast. But aside from its great location, the resort has a lot to offer its guests.
Nautical-Themed Rooms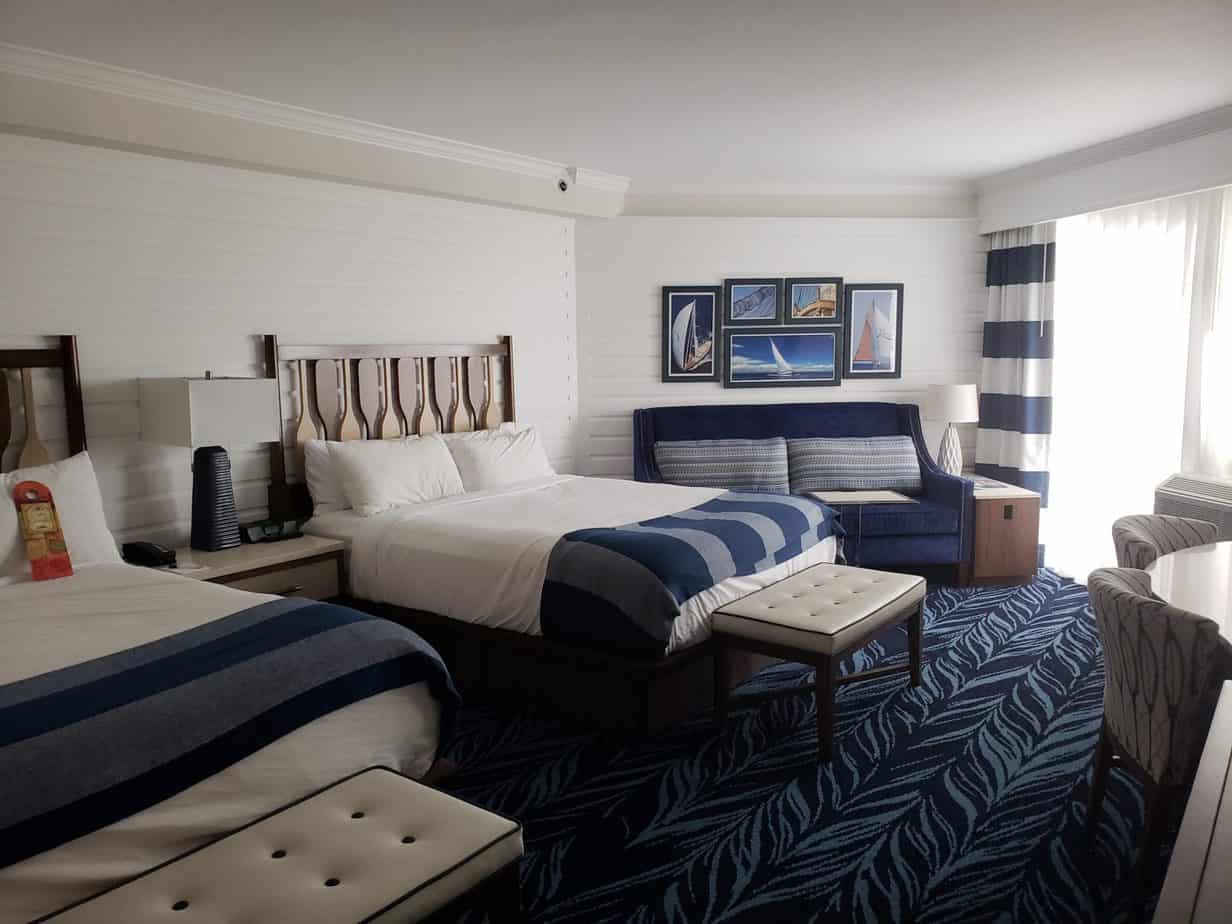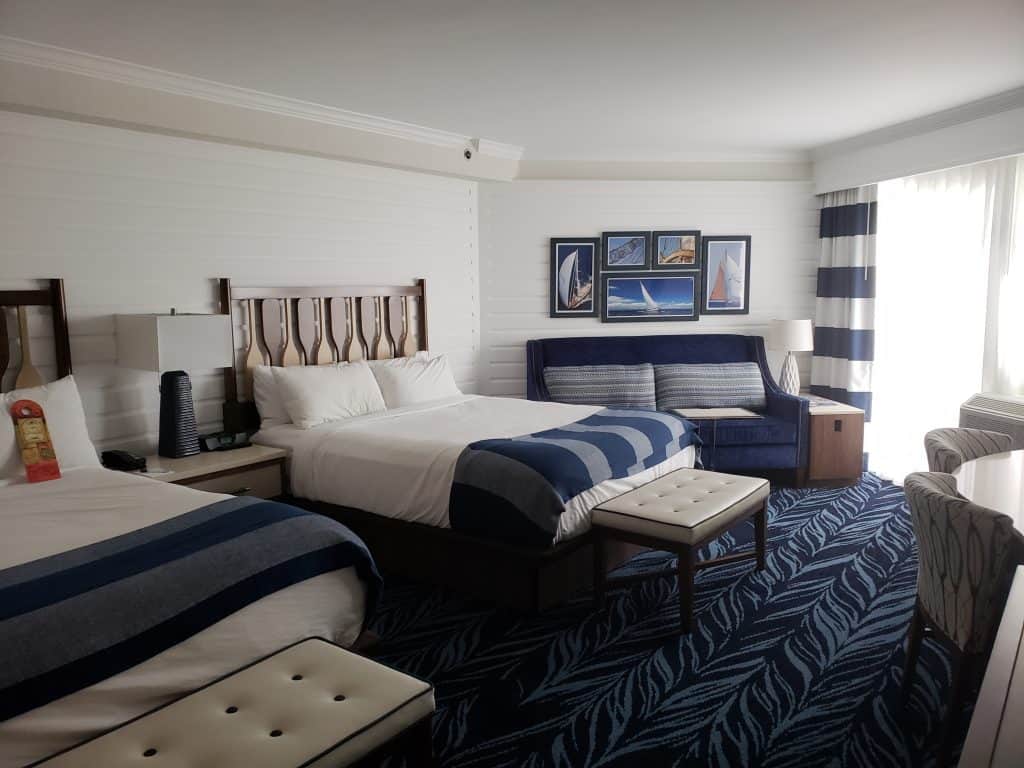 I stayed at the Samoset in one of their newly designed rooms. It was awesome! The decor was blue, white, and utterly Maine-themed. I didn't get to see what the older decor scheme looked like, but this is perfect for a coastal hotel in Maine.
Photos of ships and sealife adorned the walls and blue and white stripe curtains finished the look. While this particular room didn't have a direct ocean view, there are plenty of rooms that do at the Samoset. If you're staying in Rockland Maine accommodations, you'll want to opt for an ocean view whenever possible, so you can gaze out over the beautiful Penobscot Bay.
Good Food
Do you like to eat? You're in good company; food is the best!
Samoset Resort has several on-site restaurants so you can dine in style during your stay. There's even a poolside Splash Pool Bar, so you don't have to leave your favorite summer spot in search of refreshment.
Room service is always an option, too, and as couples travelers, that's often our go-to, especially for a romantic morning in bed. This breakfast platter was fabulous. Note the fresh Maine blueberries and Maine maple syrup.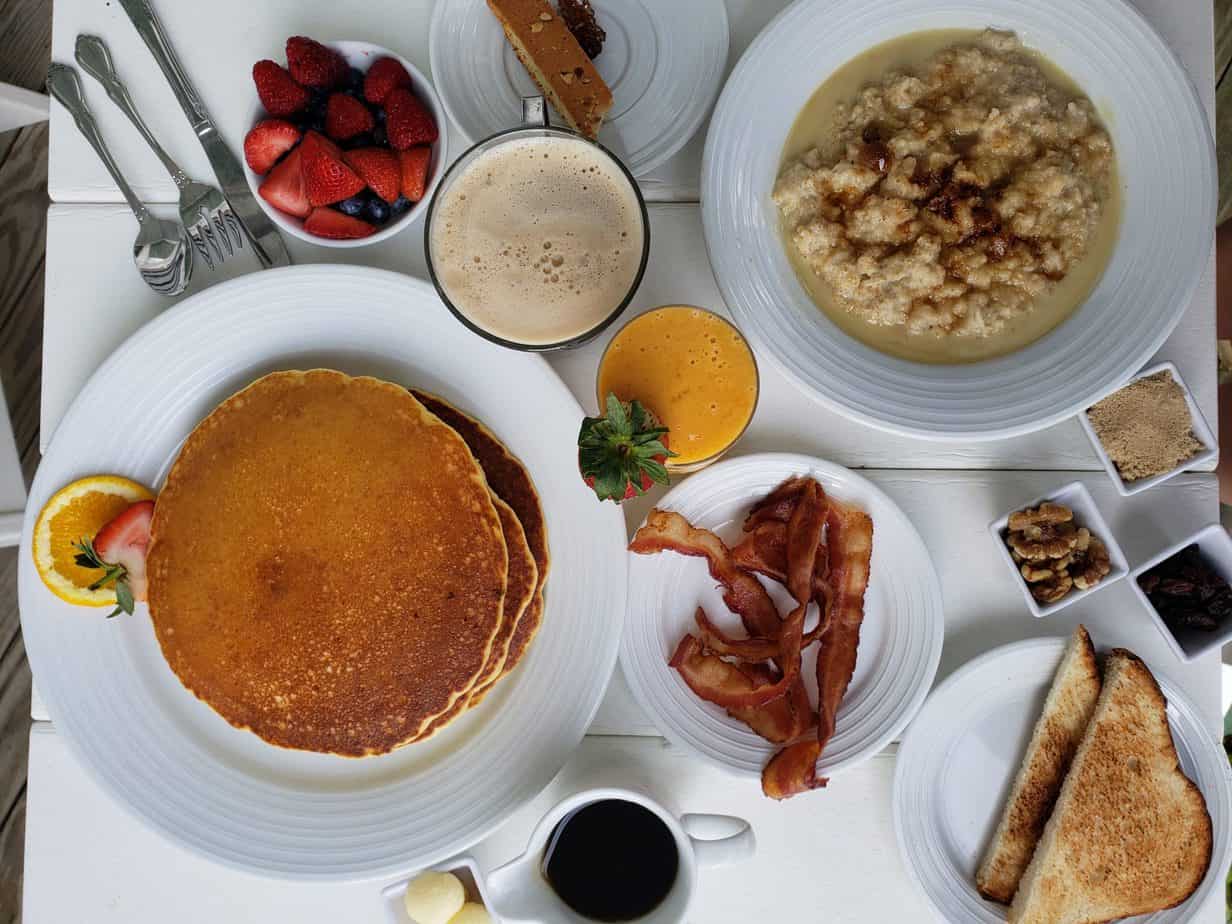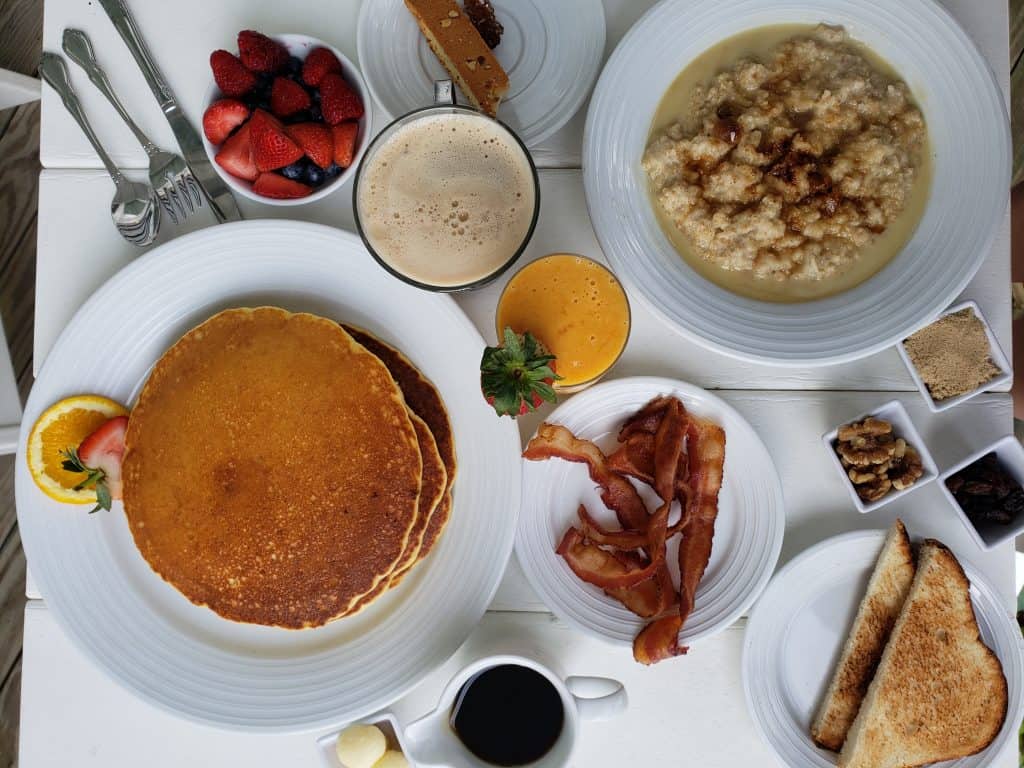 A Luxurious Spa
Staying only one night at the Samoset, I didn't get an opportunity to try out the spa. It looks like a serene, stunning environment with an array of body treatments. You can spend time relaxing both indoors and outdoors, with ocean views of course.
If I get the chance to visit again, I'd probably opt for the Ocean Ritual, a spa day package that includes 4 different "Ocean Inspired services" including a mani/pedi, restorative facial, and an Ocean Body Polish.
A Great Location
The Samoset Resort is well-located. It is away from the hustle and bustle of downtown, but still close enough to be convenient. A car is helpful to have when visiting, but you could easily take a taxi or Uber from the hotel to downtown Rockland, just a few miles away. It's really terrific to be right on the water and the spacious grounds of the resort make it feel like a true retreat.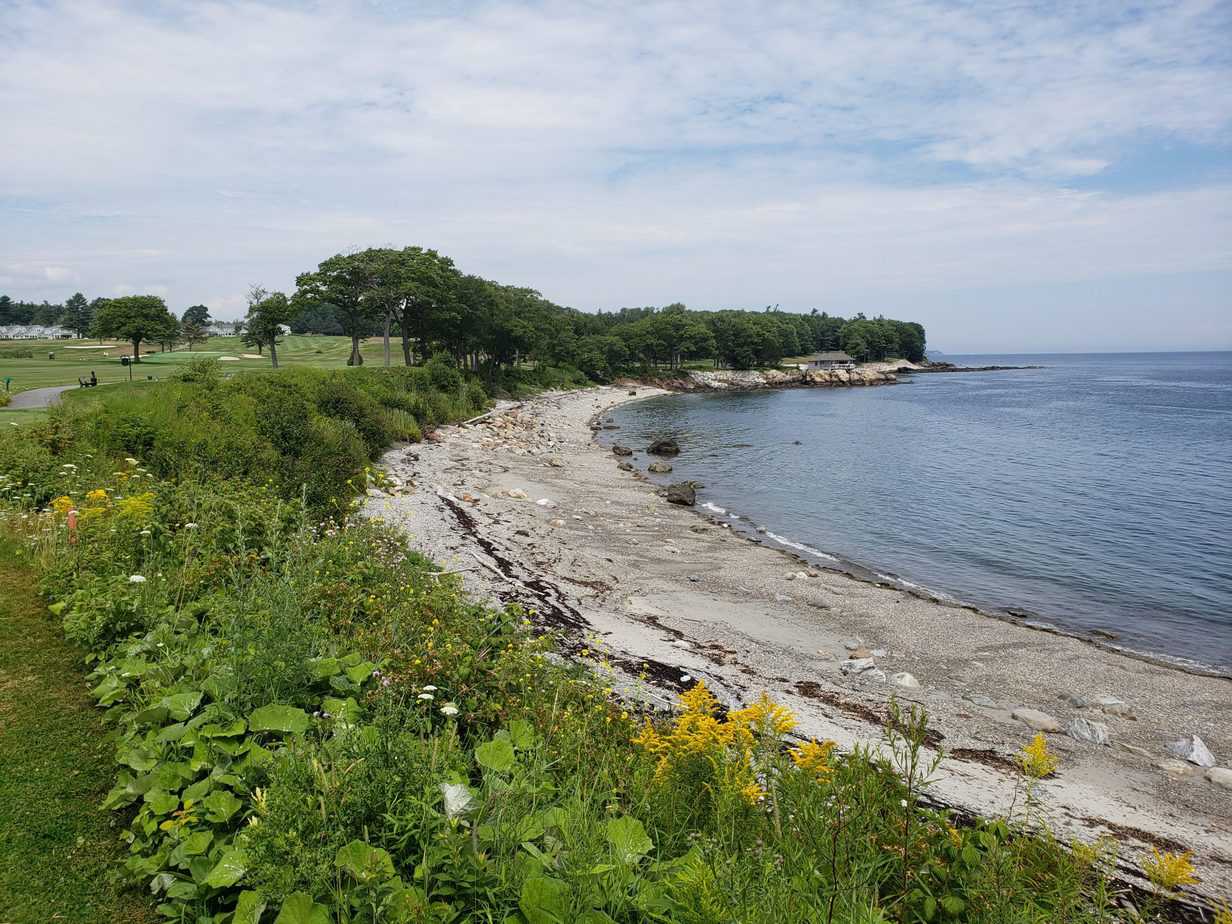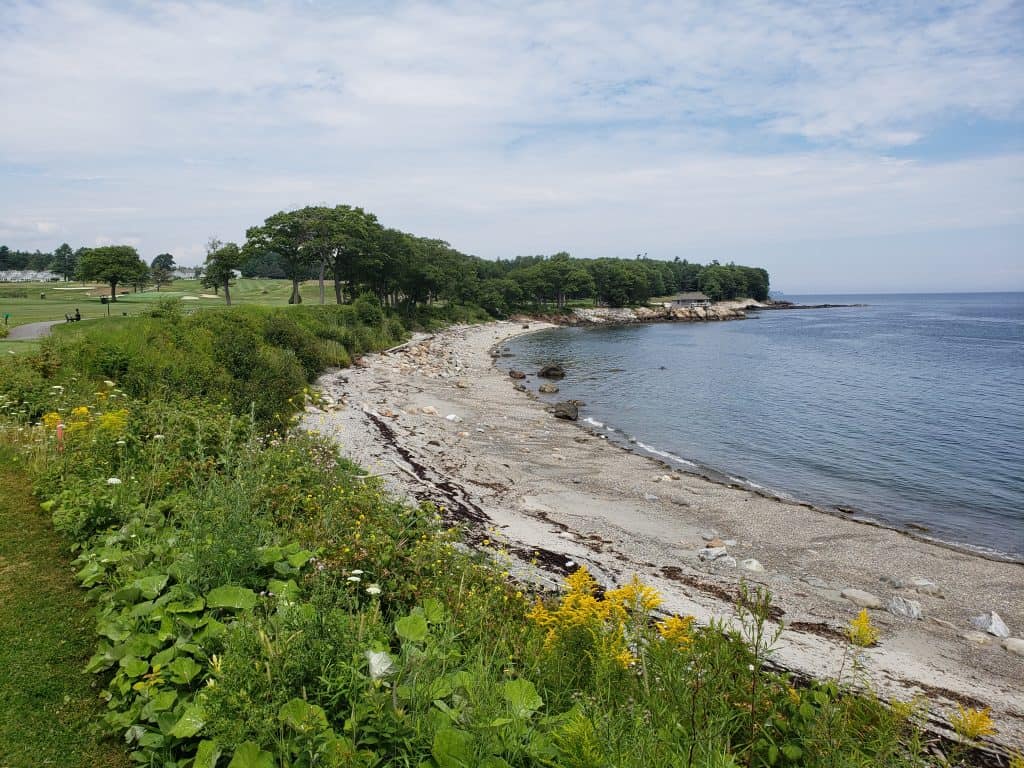 Lots to Do
If you're into golfing, Samoset is definitely for you. Their award-winning golf course is really beautiful. And while I know literally nothing about golf…it looks like a great place to play, with some holes (tees?) overlooking the water.
If golfing isn't your thing, you needn't worry. There's plenty to do in Rockland and the surrounding area, and even onsite you'll enjoy the swimming pools, tennis courts, disc golf course, and a whole lot more.
I stayed at the Samoset as a guest of the resort. All opinions are, as always, my own and reflect my true experience.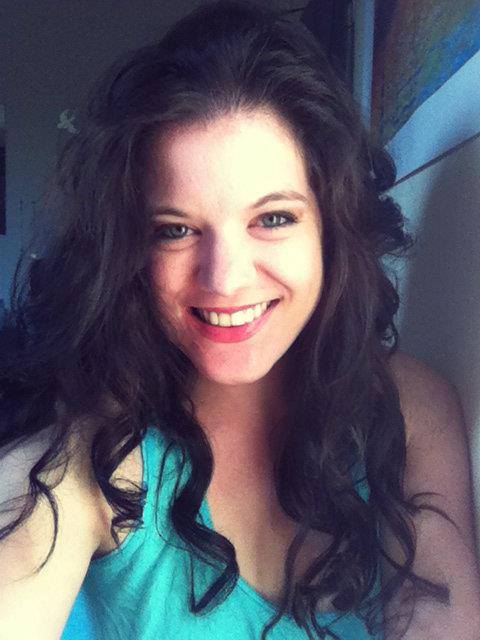 Amy Hartle is the author of Do You Love Me? How To Stop Seeking Reassurance in Relationships, a book on reassurance seeking and relationship anxiety. Both her book and this blog are born of personal experience; Amy shares expert relationship advice from the lessons learned during her own 10+ years with her husband, as well as couples travel tips and romantic getaway recommendations, all gleaned while traveling the world together.