This post may contain affiliate links. Read our disclosure page for full details.
Our experience sailing on Navigator of the Seas was sponsored by Royal Caribbean. As always, all opinions are our own and reflect our true experience.
Are you a fan of cruising? Nathan and I just became converts to this fabulous way to travel on our recent trip with Royal Caribbean. We spent 4 days aboard Navigator of the Seas and had an absolutely wonderful time.
Look for more cruise-related content on Two Drifters in the future, as we think this is a great type of vacation for couples.
Whether you're an avid cruise junkie or someone who has never cruised before, we wanted to tell you all about what you can expect on Navigator of the Seas. Royal Caribbean has a whole fleet of exciting ships, but so far, this has been our only ship and we think it ticks all the boxes.
Ready to see what makes the Navigator so special? We've got 7 things we loved about our cruise, and that you are sure to love, too.
The Energy
If you want to have FUN on your vacation, we strongly recommend a cruise. There is so much energy and excitement on board, but especially on a ship like Navigator. We felt like there were great vibes everywhere you went on the ship and all the guests (and staff) seem to be having so much fun.
And everything is an explosion of color!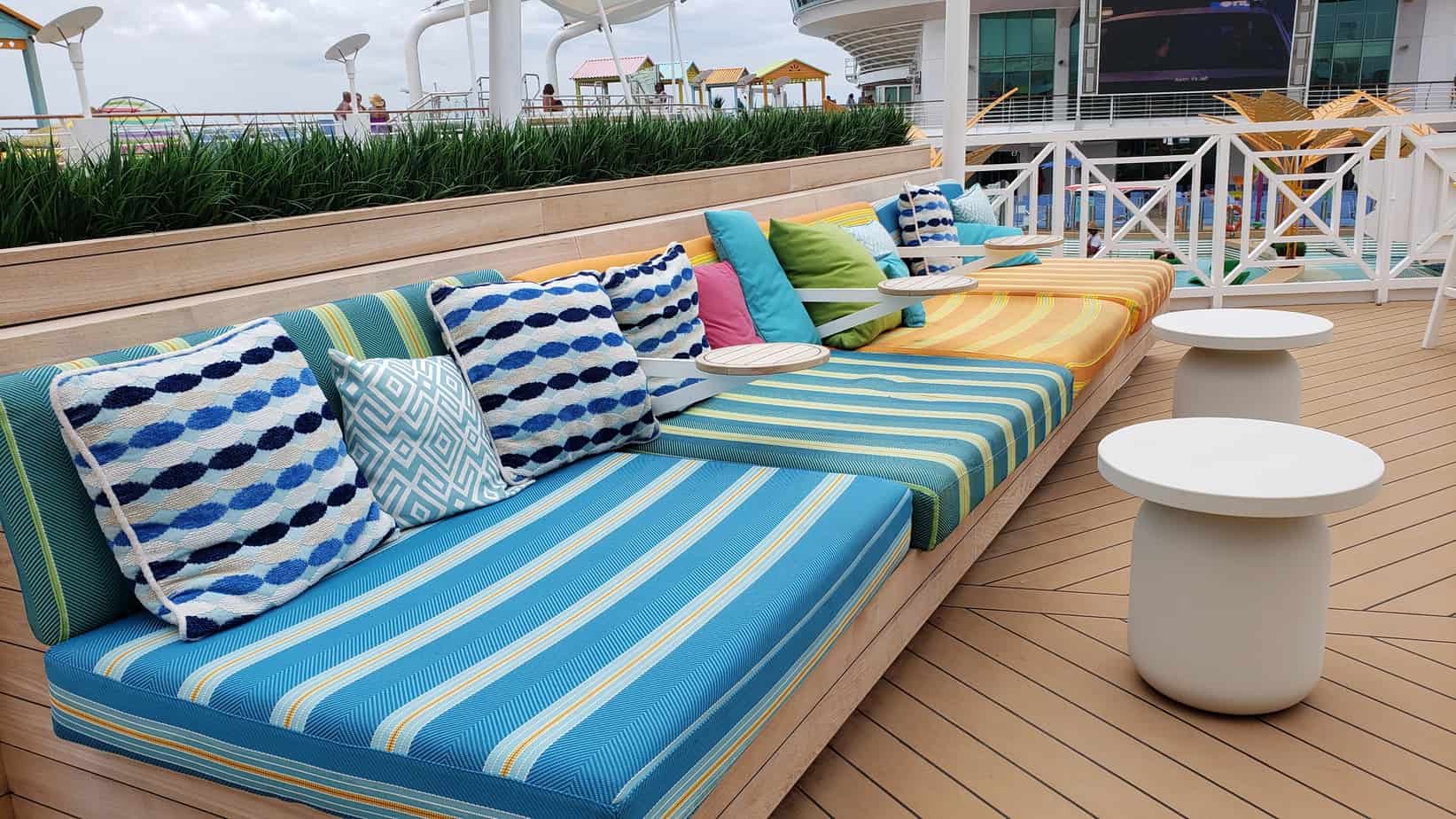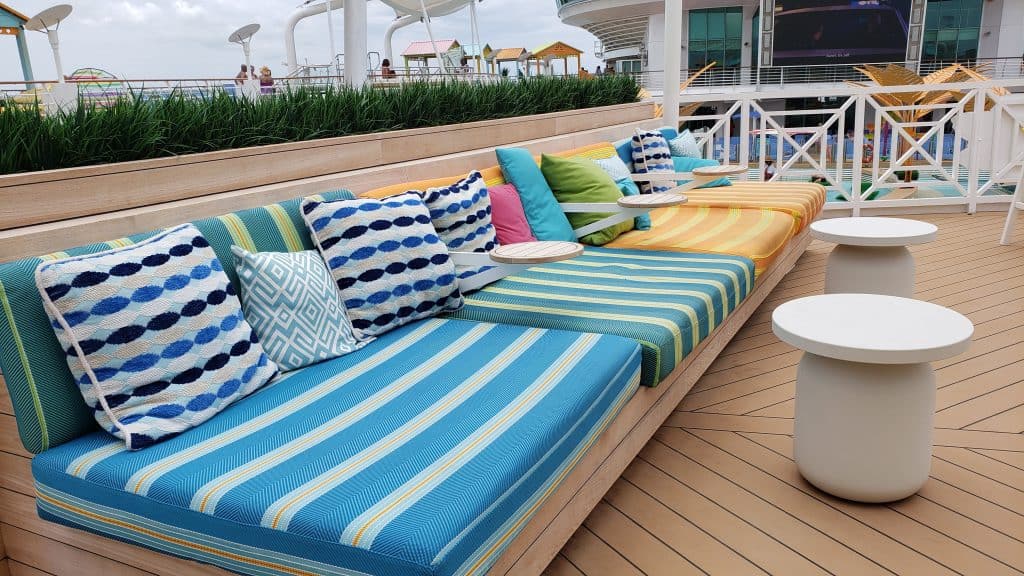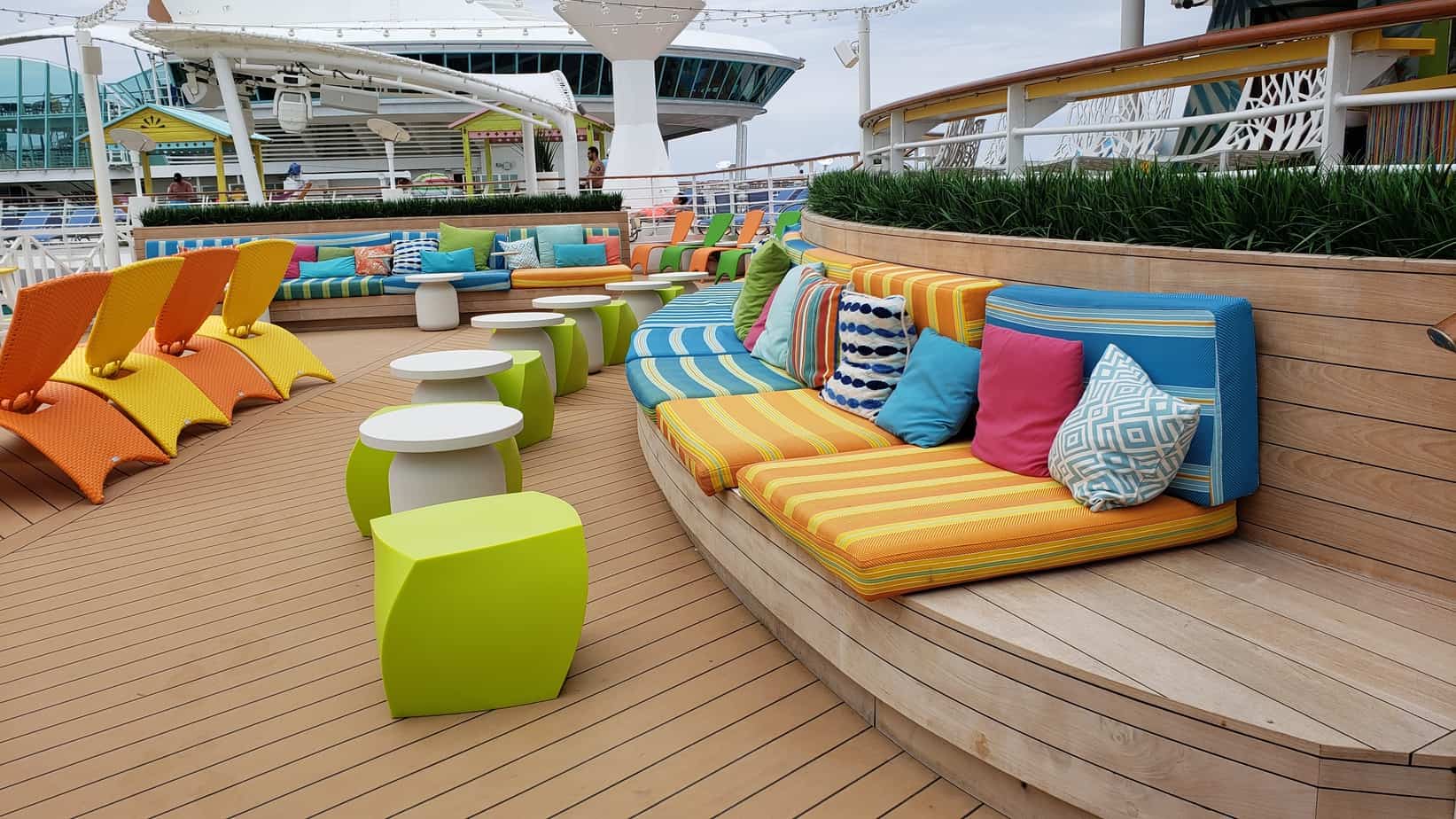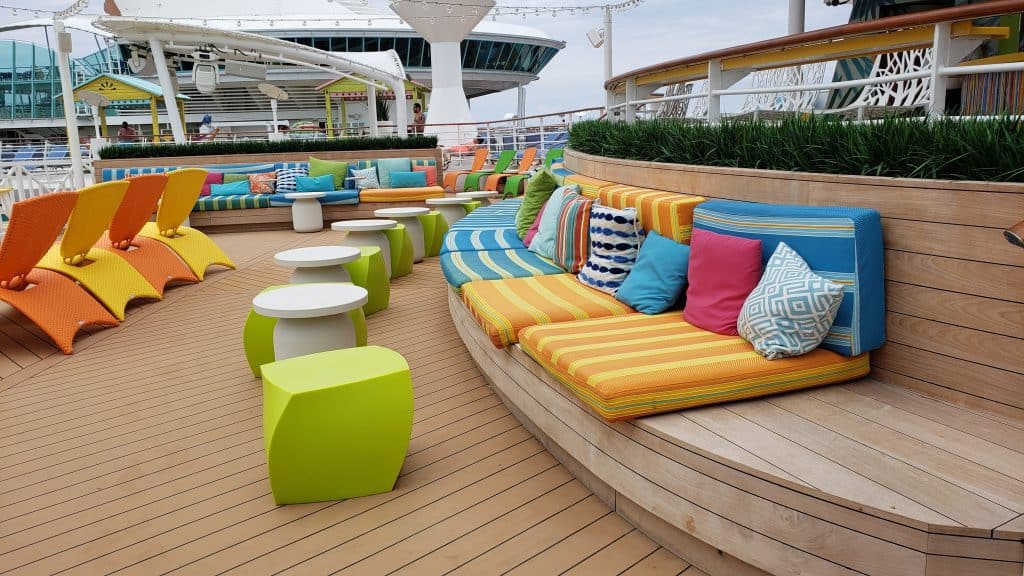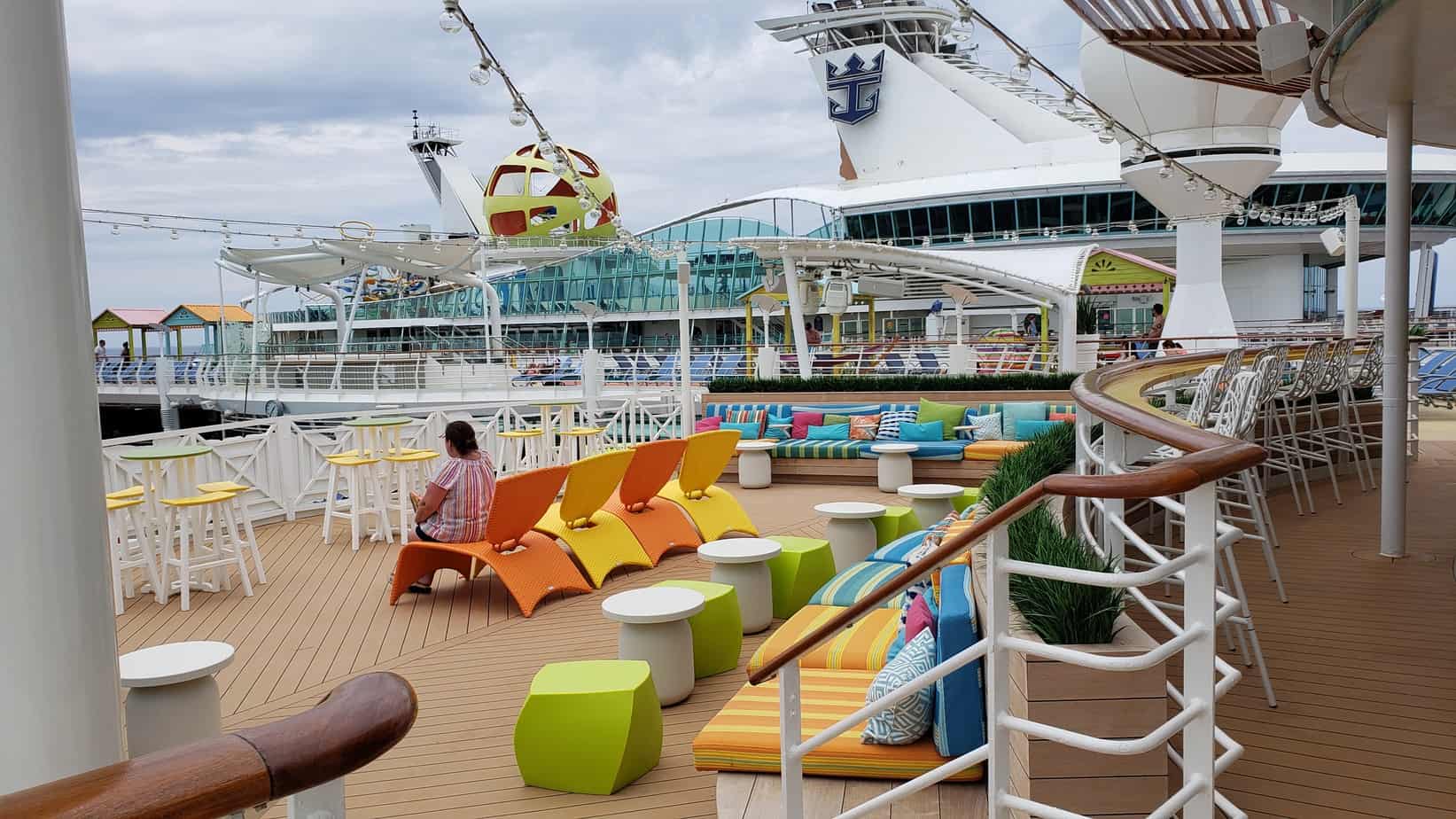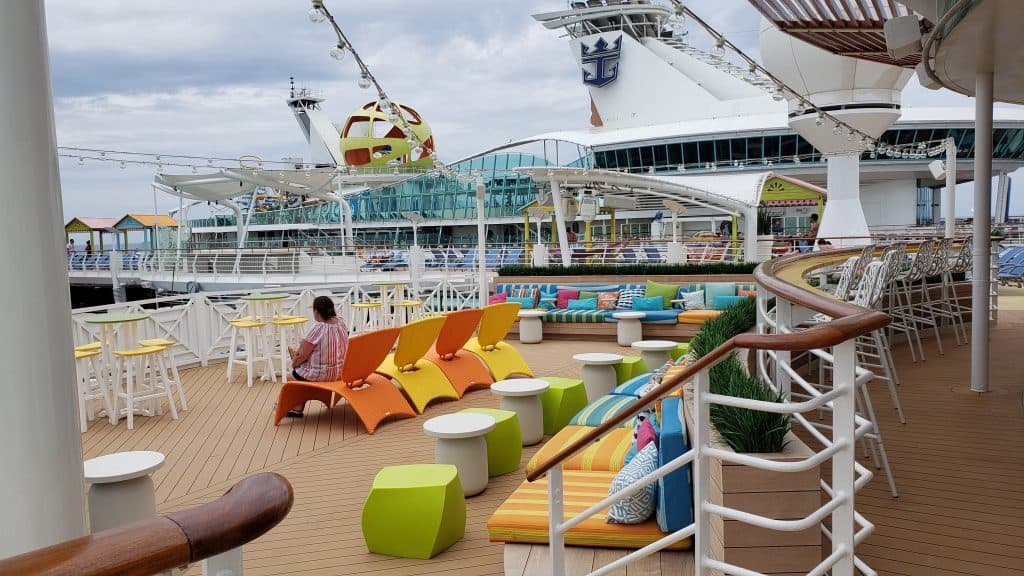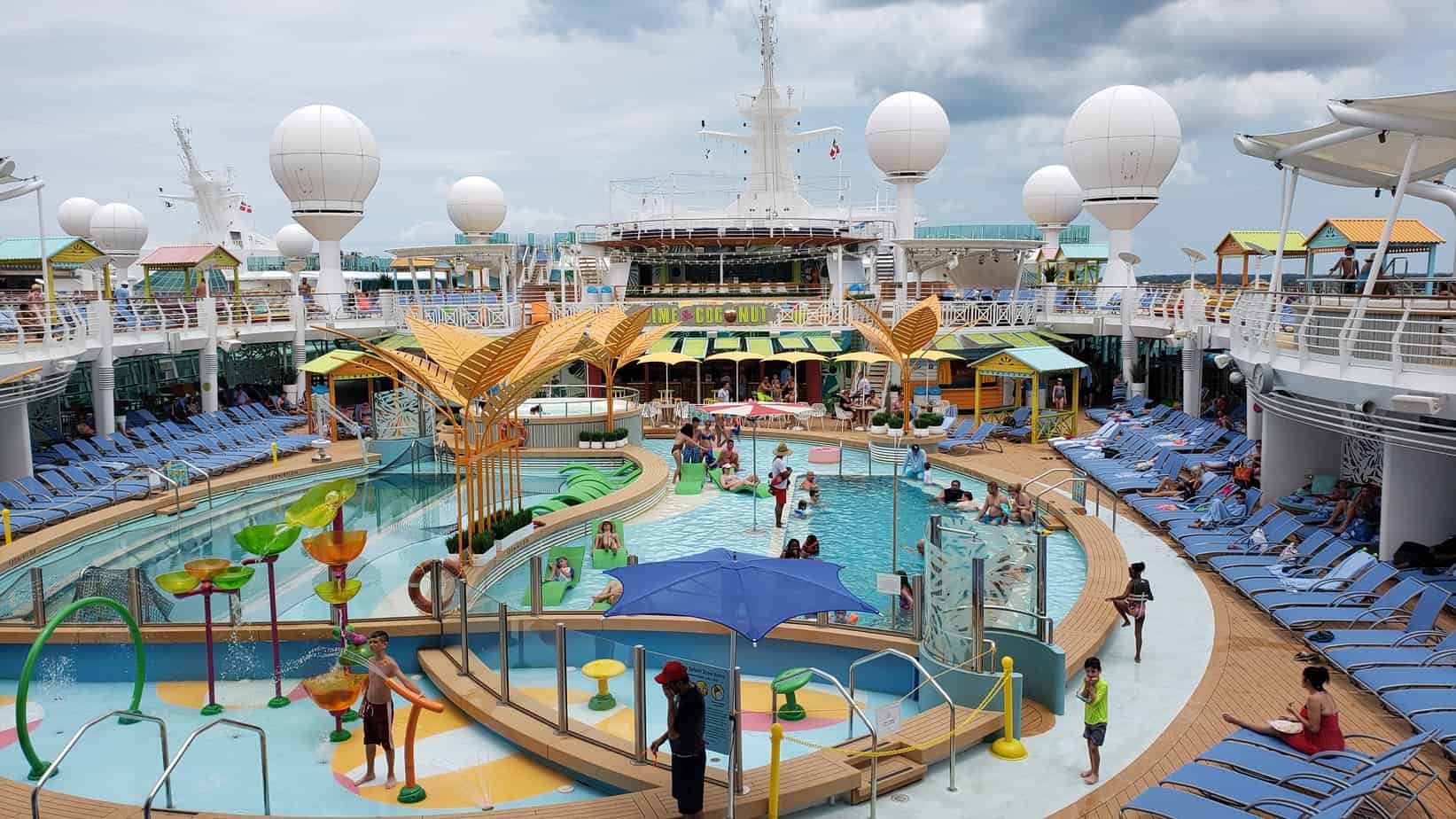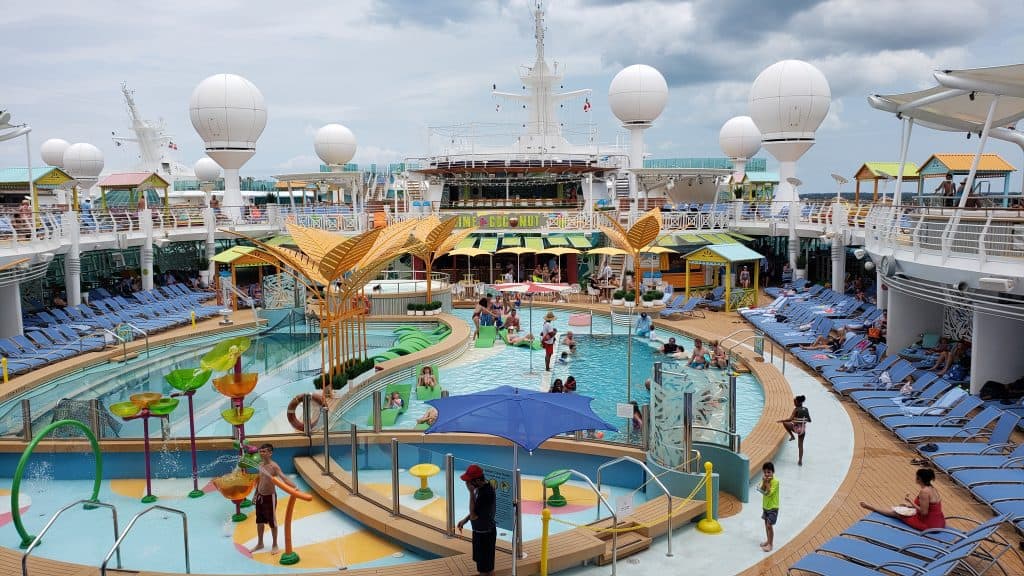 There is always something going on, too, which adds to the party atmosphere. But of course, you can also escape the constant activity if you'd prefer. Not only are there certain areas of the ship which are quieter and more relaxing (may we suggest the spa?) you will also find that your guest cabin is a cozy retreat from the busy decks.
We recommend booking a room with a private balcony, as it just gives your cruise experience an added taste of luxury, and there's really nothing so nice as looking at the sea while you're falling asleep at night.
The Dreamy Cocktails
If you watched our Instagram stories during our cruise, you might have noticed that we always seemed to have a drink in our hands! Well, how could we not when they were SO. DAMN. DELICIOUS?
The bartenders on Navigator of the Seas are amazing: fast, efficient, friendly, and creating beverage deliciousness. Personally, we couldn't get enough of the piña coladas, but there are dozens of tropical cocktails as well as traditional mixed drinks, beer, and wine to suit your tastebuds.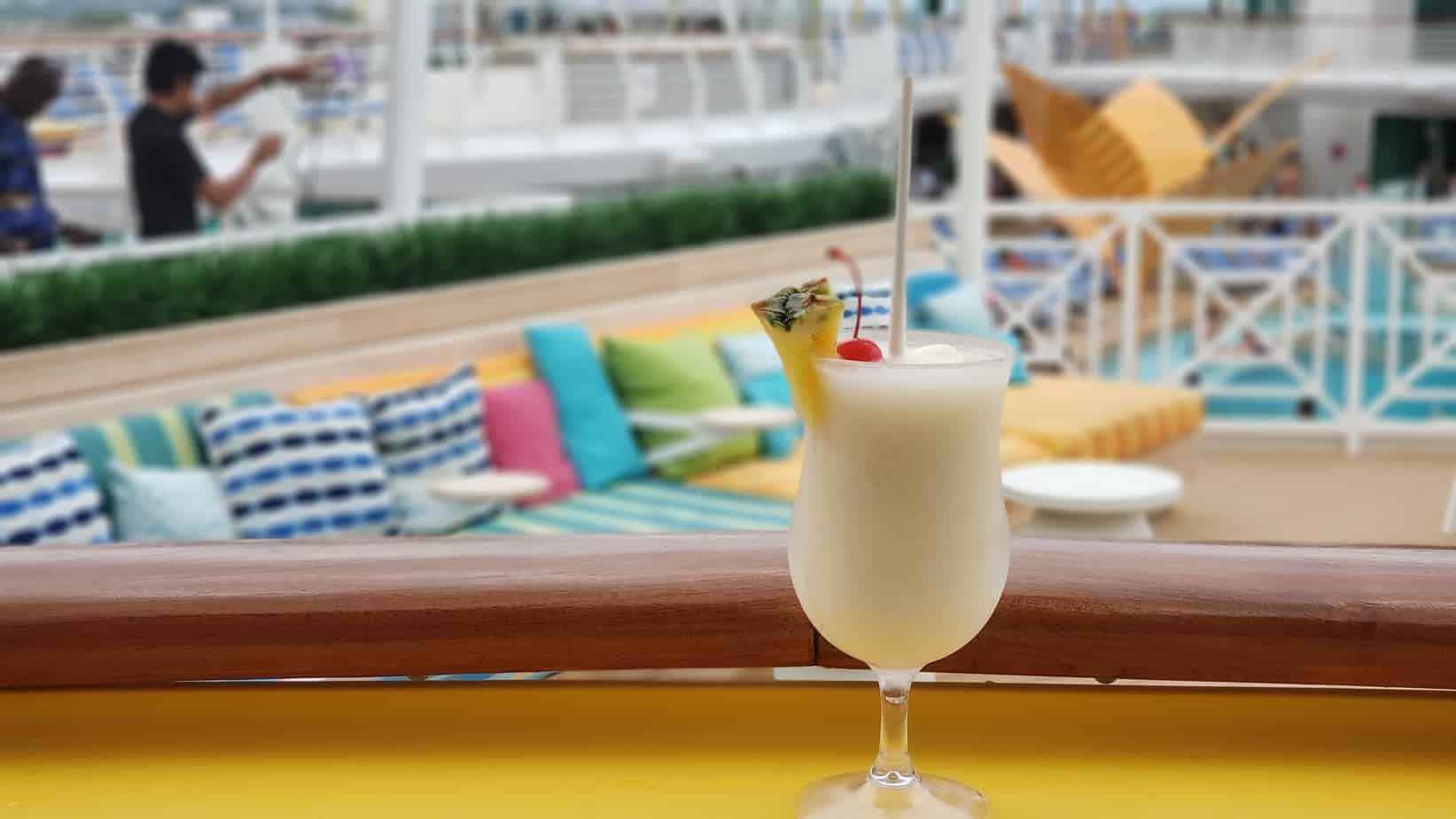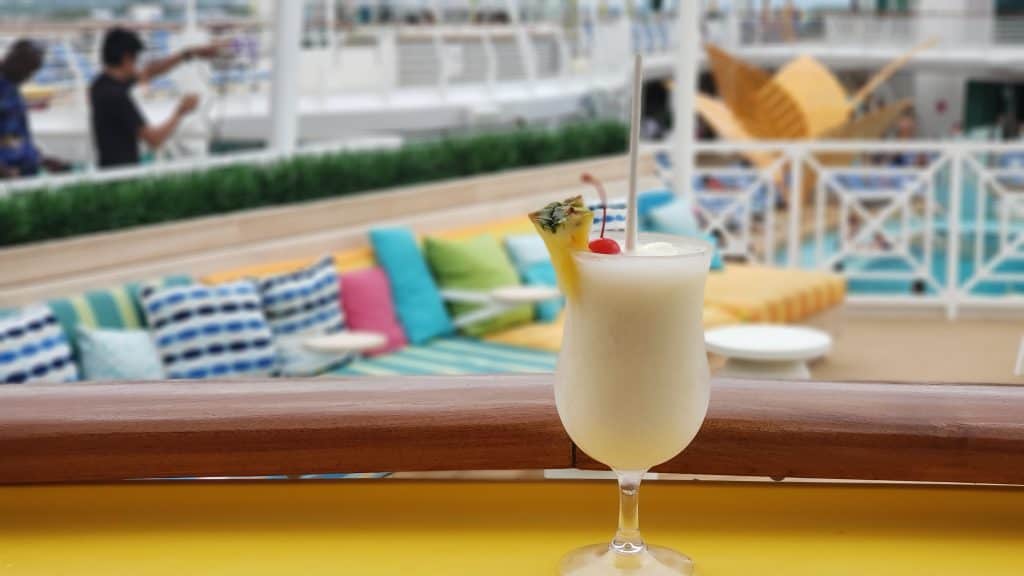 If you're sailing with Royal Caribbean, we recommend getting their Deluxe Beverage Package, which includes unlimited drinks of all kinds throughout your cruise. For 2019, the pricing for this unlimited package runs between $63 and $70 per day. At first glance, this package might seem a bit expensive, but when you run the numbers, it's really an amazing deal. Given that an individual cocktail (like a piña colada) costs around $13, you can see very easily how your bill might rack up quickly.
If you're the kind of traveler—like us—who really loves to kick back and enjoy a cocktail (or a few) during your vacation, this package is a steal. Especially when you're on a tropical holiday! That calls for lots of frozen drinks with umbrellas in them, and maybe even a drink served in a pineapple. Well, this package is ideal because you don't have to worry at all about what your tab is going to be, and you can enjoy your cruise even more.
The Epic Escape Room
Several of the Royal Caribbean ships are now home to escape rooms, an activity that's exploded in popularity in recent years. On our cruise, we were psyched to try out the escape room, as it would be our first escape room experience.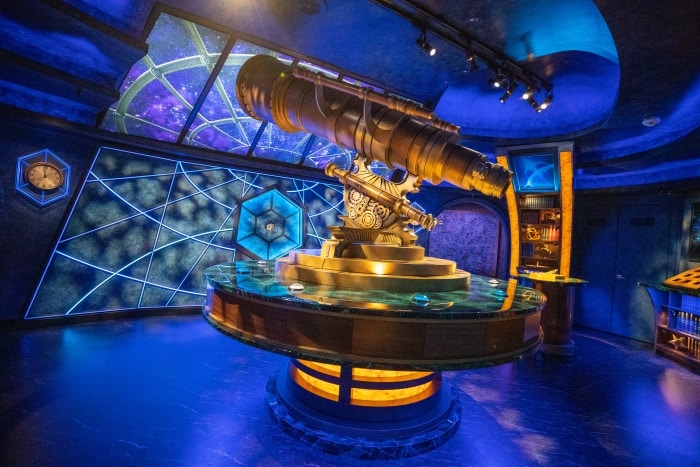 Navigator of the Seas has one of the toughest escape rooms in the whole fleet, the Observatorium. Do you think we escaped it?
Located at the top of the ship, this is a fantastic group activity that requires communication, patience, and smarts to crack the code. Together with your teammates, you'll figure out how to restart time and effectively save the world. You have an hour to succeed…or to fail.
The Incredibly Friendly Staff
One hallmark of a good travel experience is friendly staff members. This is especially important when you're on a cruise—it's essentially a floating hotel!
Well, Royal Caribbean really wins in this area. Every single staff member we encountered was super friendly and welcoming. Everyone always says hello and greets you with a smile. It's a nice part of the overall experience.
Hugo was our cruise director on Navigator of the Seas, and he was a fun, lively personality! At first, we heard him only over the intercom, and he had such a flawless speaking voice, we were sure he was a recording! But then we saw him in action as the host of a game show onboard, and he was as likeable and charming as we imagined.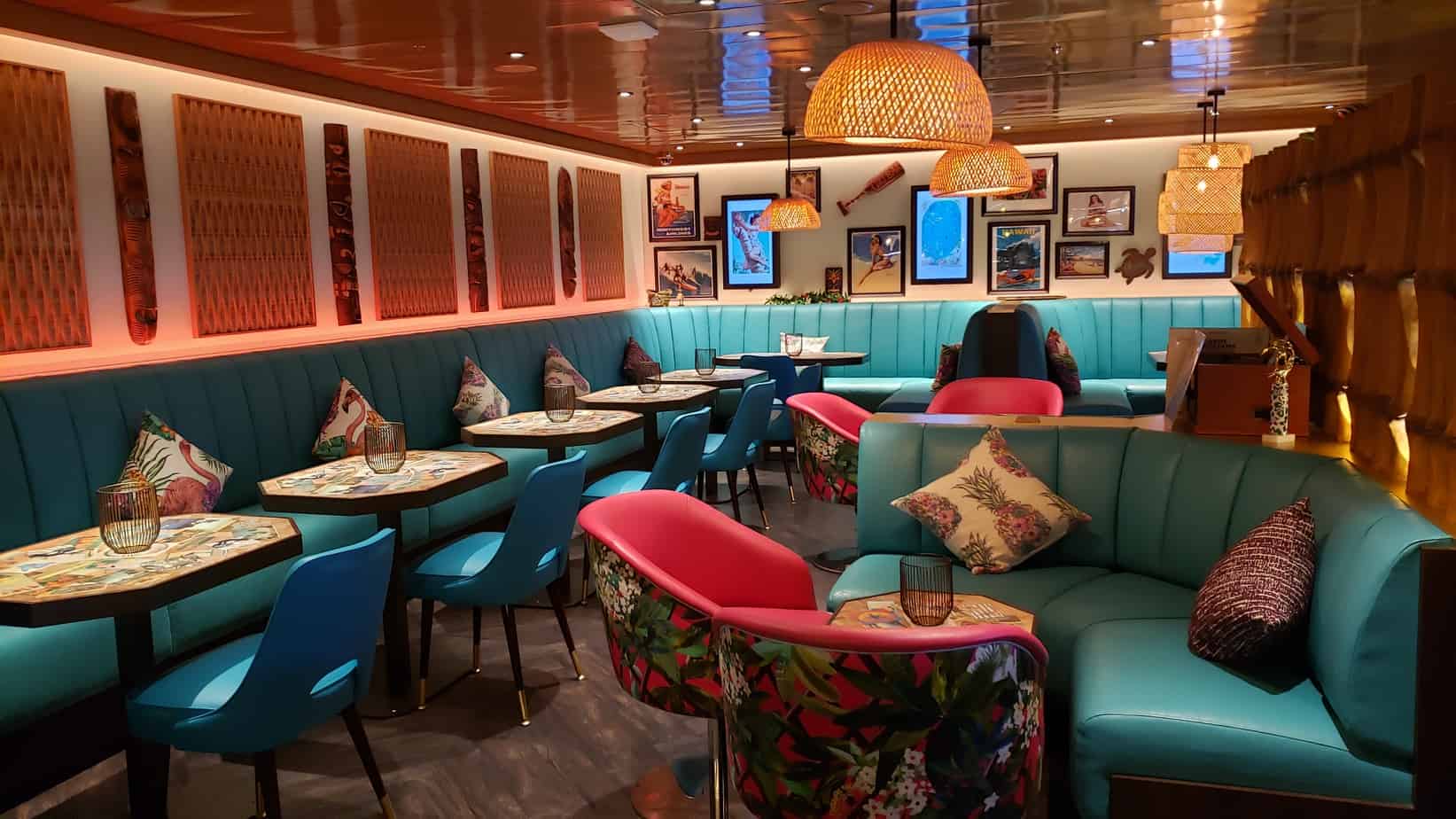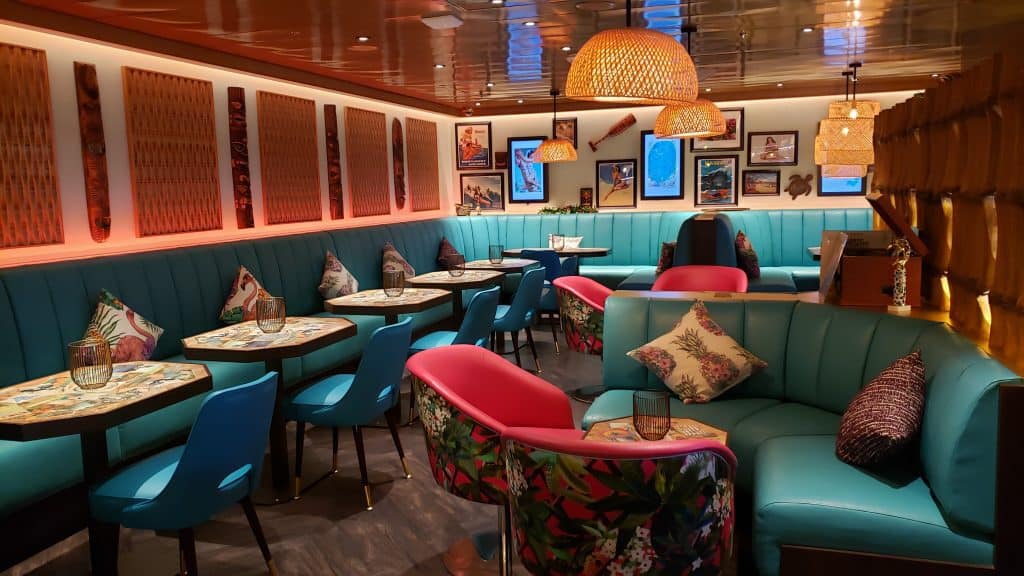 The Views
Without a doubt, one of the best parts of cruising is stopping at the ports of call. But even if you opted never to leave the ship, you'd still be treated to amazing views of the surrounding ocean.
There is something so serene and surreal about seeing nothing but open sea around you. And, of course, there are plenty of opportunities to glimpse spectacular sunsets and sunrises.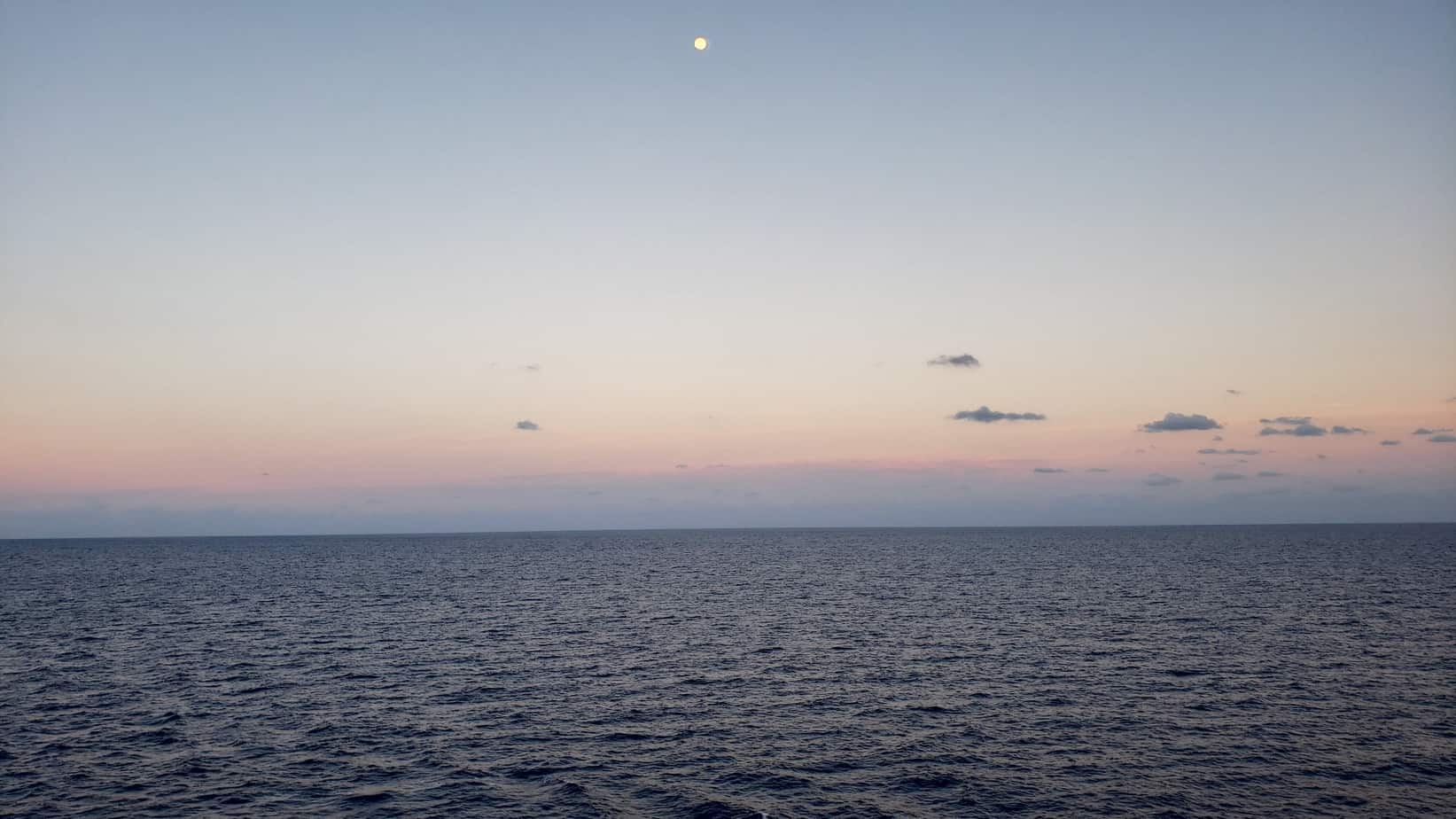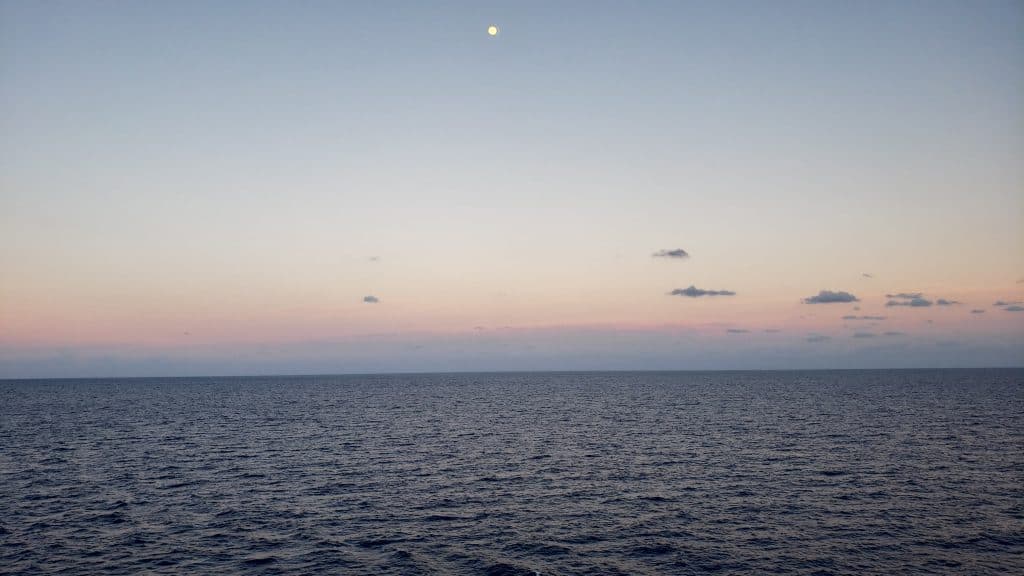 The Endless Array of Choices
One of the most delightful (and unexpected) elements for us on this cruise (Nathan's first and my second in 20 years) was just how much there is to do each and every day.
In the evenings, you'll get the next day's itinerary and activity list delivered to your guest cabin. We're not exaggerating when we say the list goes on for 3 pages. Basically, no matter what kind of activities or hobbies you're into, there's definitely going to be something to do onboard the ship.
And you can always choose to do nothing! Just sitting by the pool and relaxing is a fine itinerary as well. Although, for a bit of adventure, if you do go on a Navigator of the Seas cruise, we recommend trying out some of the waterslides on the aft side of the ship. There's one that two people can ride in together, and we had a blast on that slide (which even goes out over the side of the ship a bit to provide you with some awesome views of the ocean).
All of your choices just got even better with the recently opened Perfect Day at CocoCay. We stopped at CocoCay on the second day of the cruise and it was a total dream. This private island in the Bahamas underwent a $250 million renovation to create an island experience like no other. From exciting waterslides and ziplines to the chillest, loveliest sandy beaches, it's a day of paradise at this port.
Read all about our CocoCay experience here.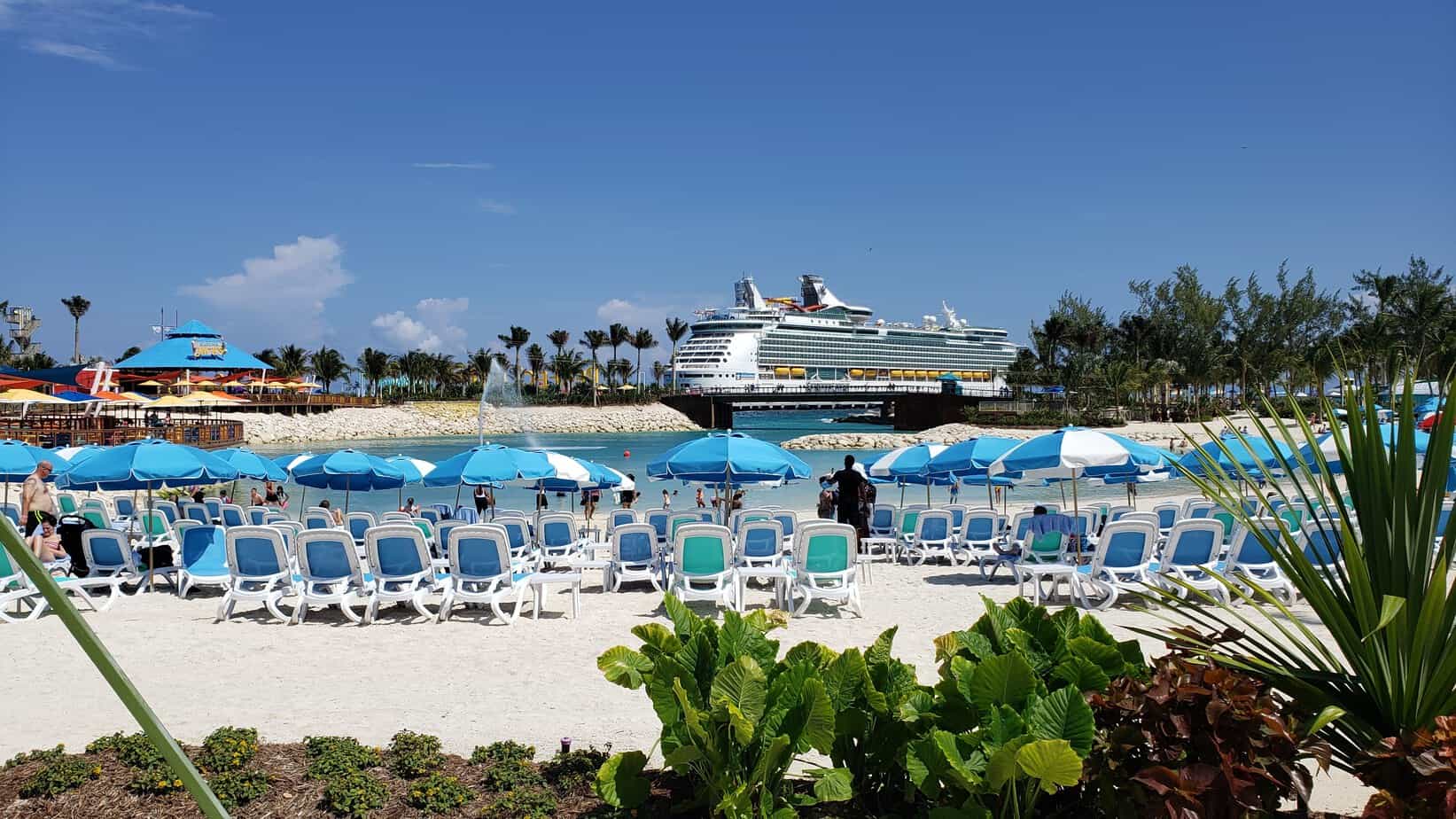 The Romance
Finally, we're big believers in romantic travel (and honestly, in discovering how to make any trip more romantic). There are plenty of opportunities for romance aboard Navigator of the Seas.
We enjoyed simply spending time together talking on our private balcony. We liked dining in the regal dining room (where you are welcome to dress up, especially on fancy nights!) We had an amazing time dancing till late at one of the nightclubs. And we laughed together as we tried our best to win at Harry Potter trivia.
All in all, this was one of the best trips we've been on together. And we're not saying that because it was a press trip; this was our real opinion of our cruise! In fact, sometimes press trips can be stressful and overwhelming. You feel like you're not getting to actually experience a place or have any downtime. You lose the travel part of travel blogging.
But this was totally different for us, and it was the best. We mixed work with play and had a ball. And we totally suggest you consider a cruise for your next romantic getaway!
---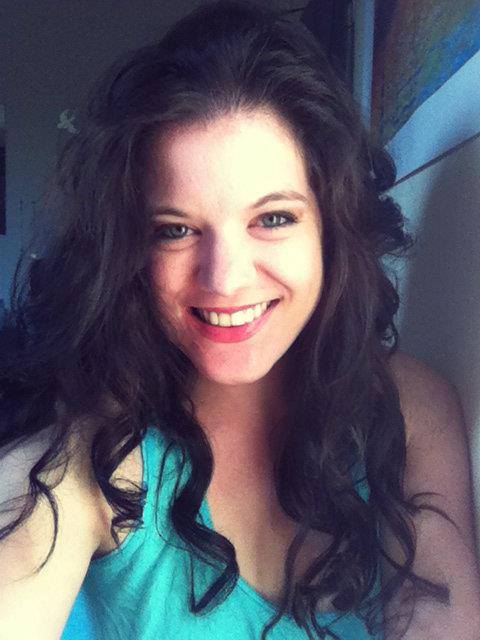 Amy Hartle is the co-founder and owner of Two Drifters, where she blogs about romantic and couples travel, relationships, honeymoons, and more. With a Master's in English and a BA in Musical Theatre, Amy loves to write quality content as well as to entertain, and she hopes to do a bit of both here on the blog! Amy lives in North Carolina with  her husband Nathan, and son Malcolm. When not working on their sites or traveling the world, the Hartles can be found cuddling, reading, and hanging out with their cats.