This post may contain affiliate links. Read our disclosure page for full details.
This is a guest post by Danielle of Boston Brunch Guide.
Big cities like Boston have so much to offer. But if you're in town only for a brief visit, and looking for amazing coffee, local Brunch enthusiast Danielle has the answer. Check out her favorites to find some of the best coffee shops in Boston.
George Howell at the Godfrey Hotel
Neighborhood: Downtown Crossing (505 Washington Street)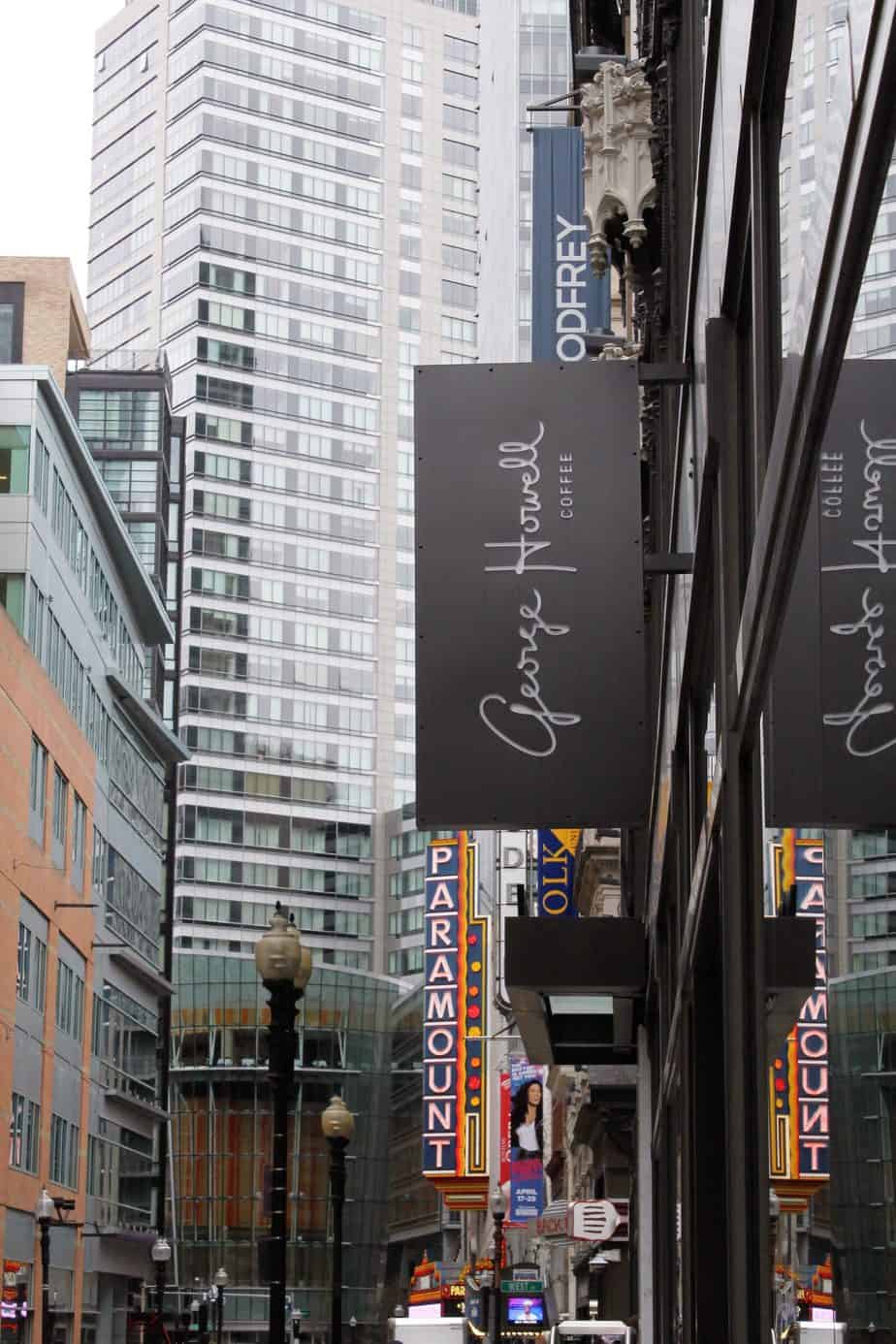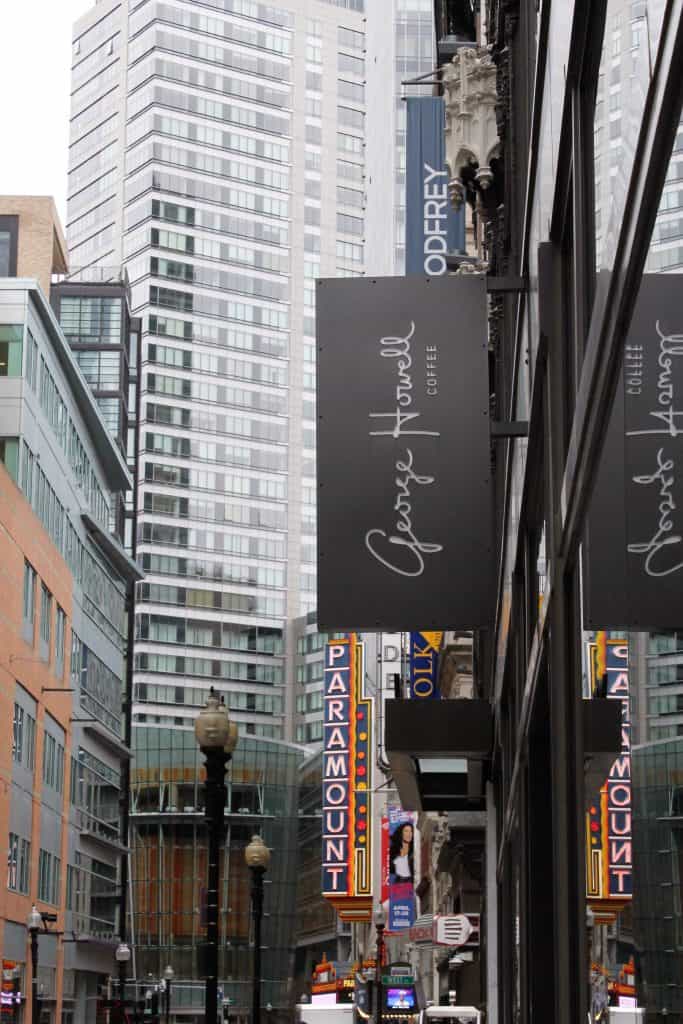 If you are a true coffee aficionado, you must add any one of the George Howell shops to your bucket list. My personal favorite is the one located in the Godfrey Hotel in Downtown Crossing. I visit this shop for a variety of reasons— including their unique shop that has a wide range of brewing equipment.
It is a perfect spot to set up shop and work for the afternoon, offering plenty of space, outlets, and reliable WiFi. The shop has an espresso bar and a large variety of pastries, toasts, and sandwiches. I love trying a different type of coffee each time I'm in there, and they have such an impressive selection to choose from. If you're looking to learn a little bit more about coffee, check out their extensive events calendar.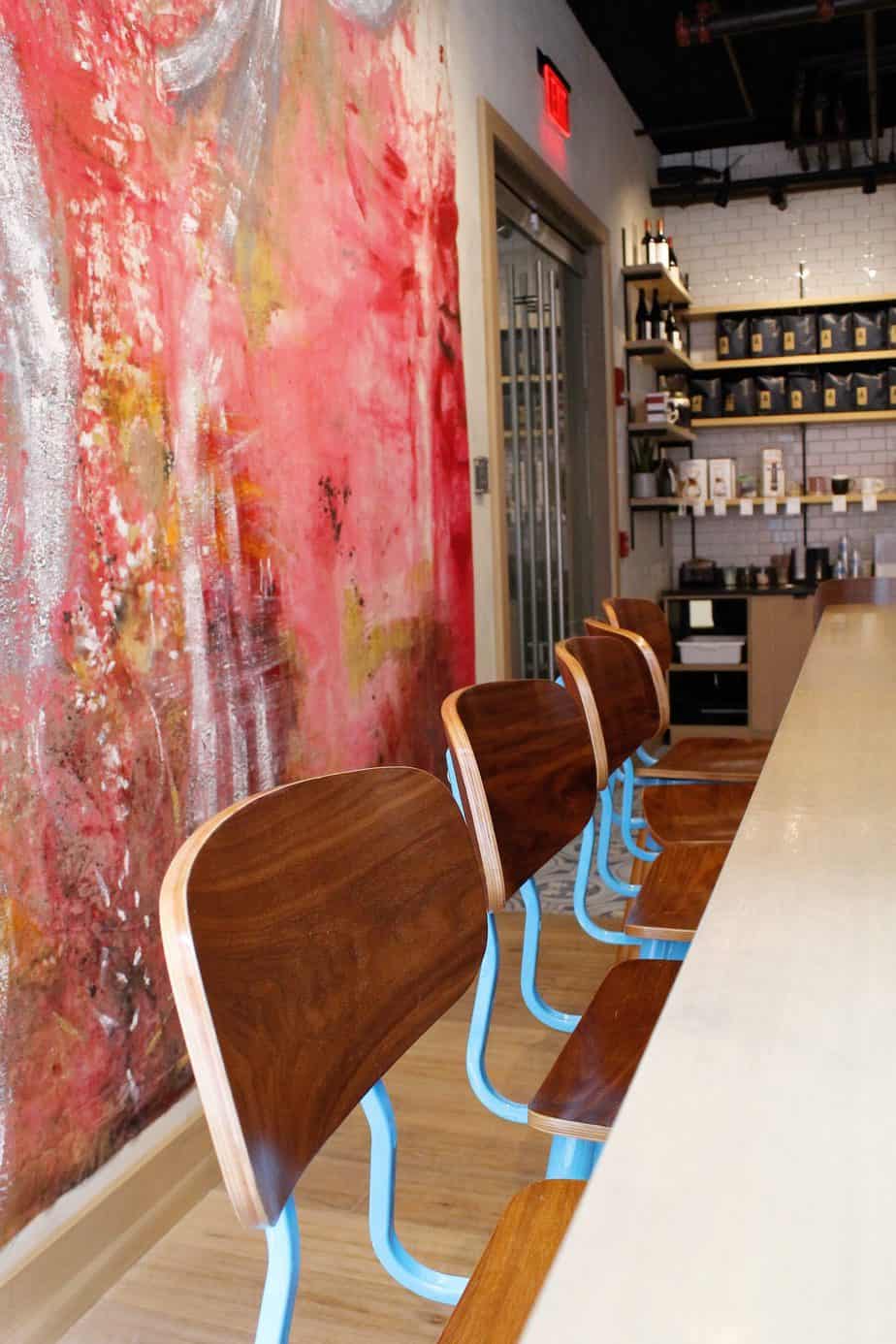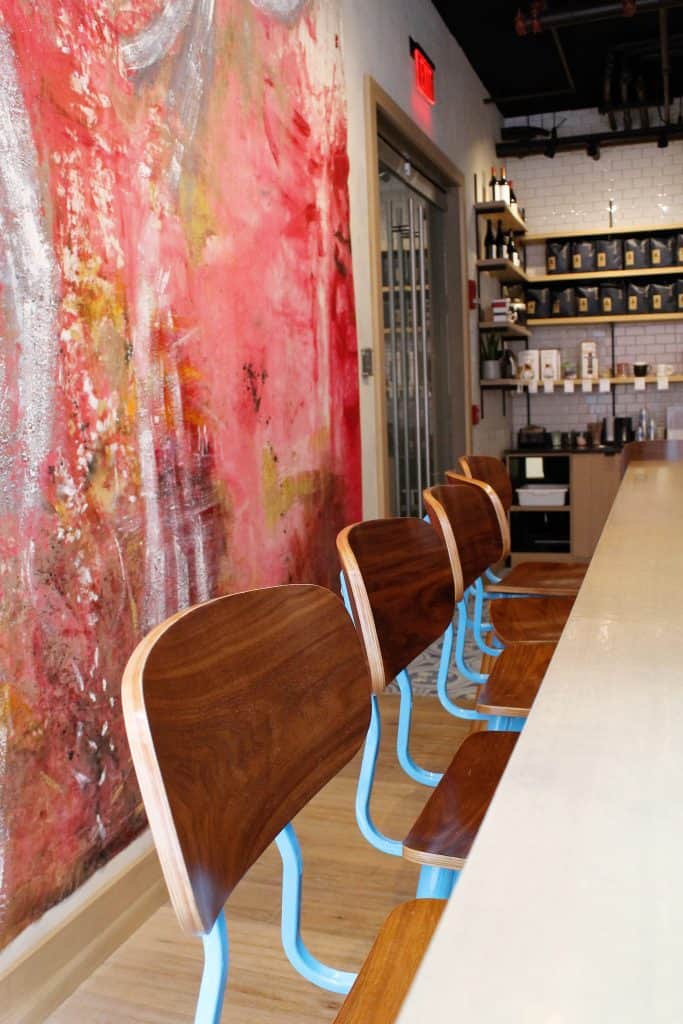 Tatte Bakery and Cafe
Neighborhood: Multiple
Any roundup of Boston coffee shops worth reading has to include the ever-so- photogenic Tatte. Pronounced like 'latte', Tatte opened their first brick and mortar location in Brookline in 2008 and have since expanded to over eight different cafes, and a planned Seaport location is in the works.
You've probably seen Tatte's characteristic floors and picture-perfect pastry displays on your Instagram feed more than once— it is a local favorite for bloggers and photographers alike.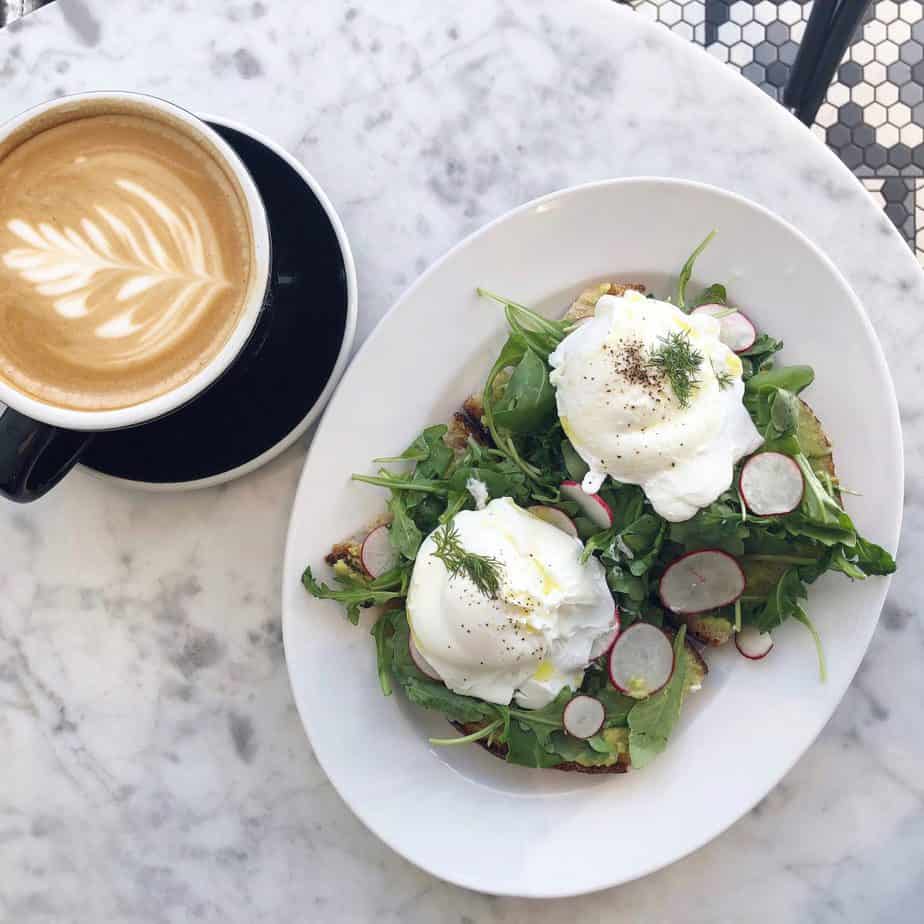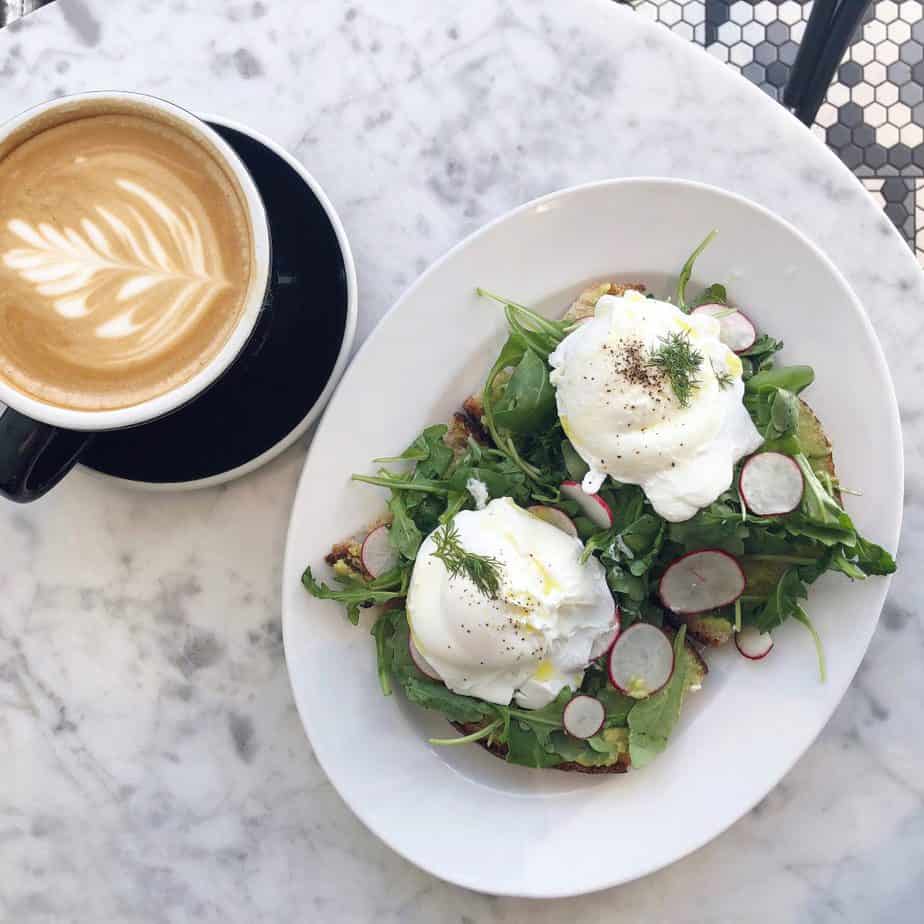 While the pastries are to die for, the cafe also offers an extensive menu of salads, sandwiches, and tartines. They also have a fantastic brunch menu— you don't want to miss out on the Shakshuka! If you like a busier atmosphere, Tatte is a lovely place to settle in and do some work, but make sure you get there early or are patient enough to wait for the perfect table. Tatte tends to be quite busy, especially on the weekends. The WiFi is pretty good, and outlets are available if you snag the right seat.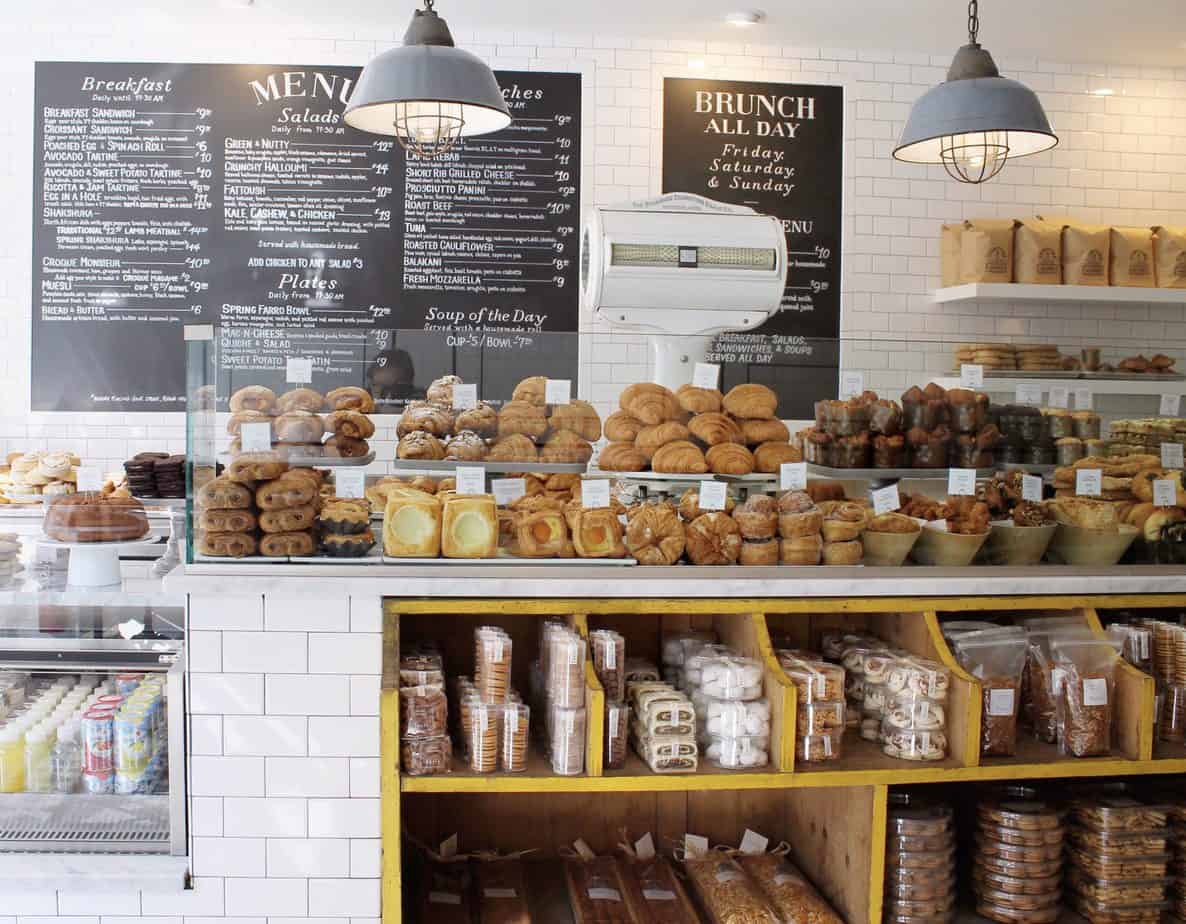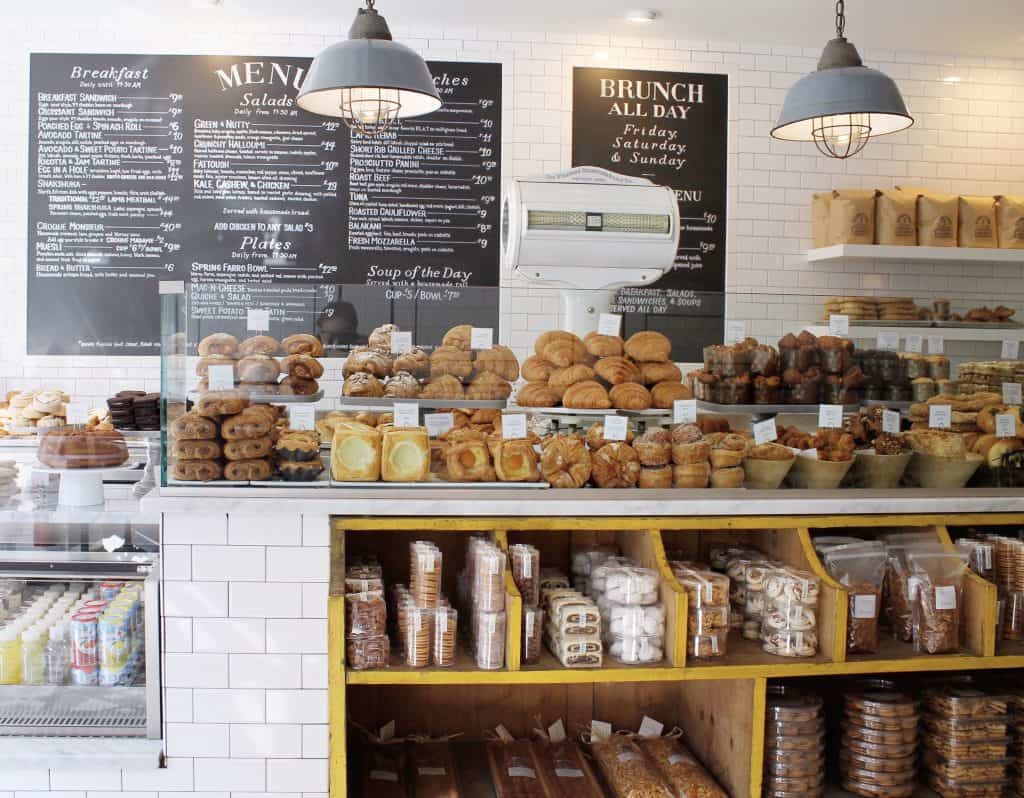 Curio Coffee
Neighborhood: East Cambridge (441 Cambridge Street)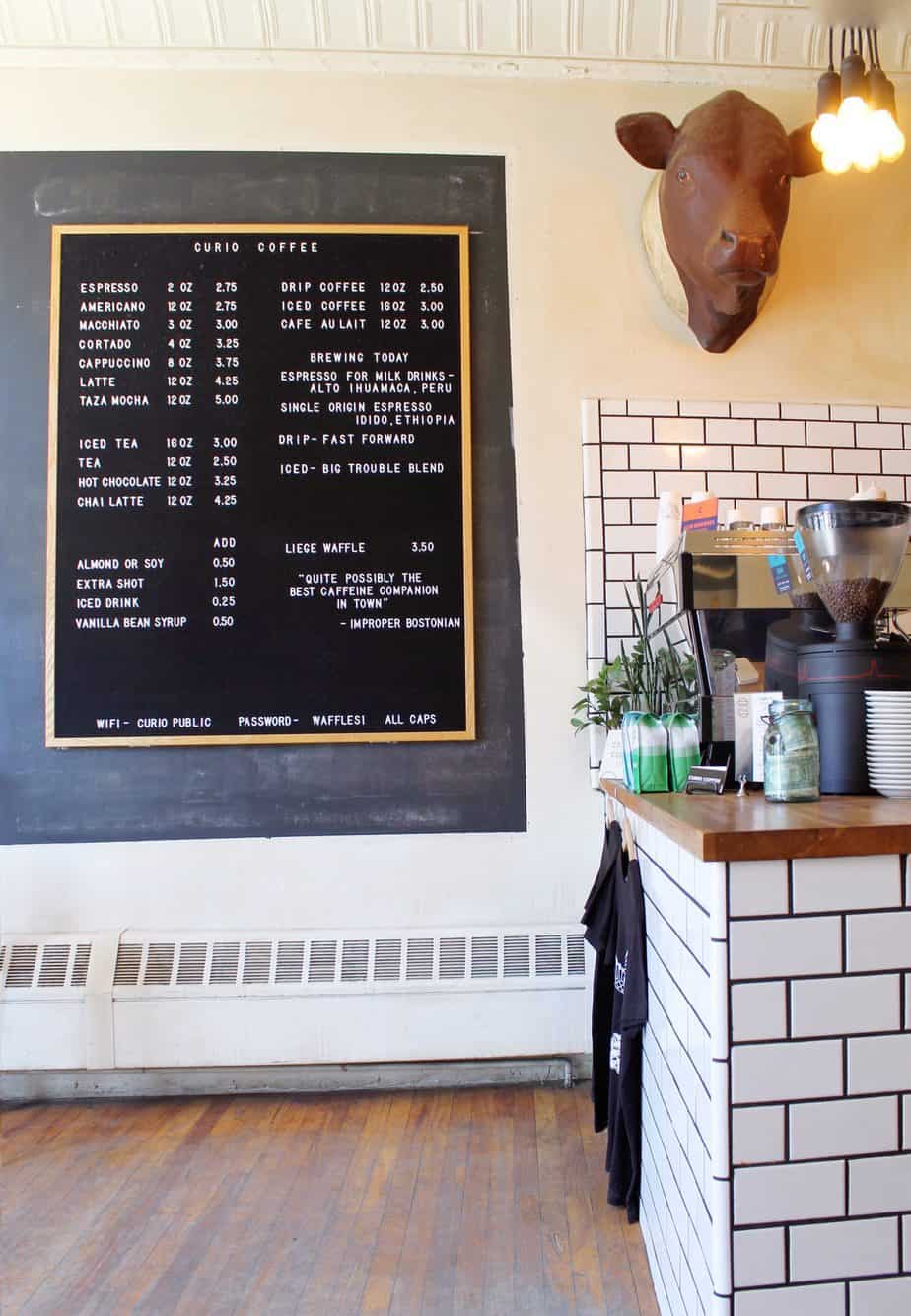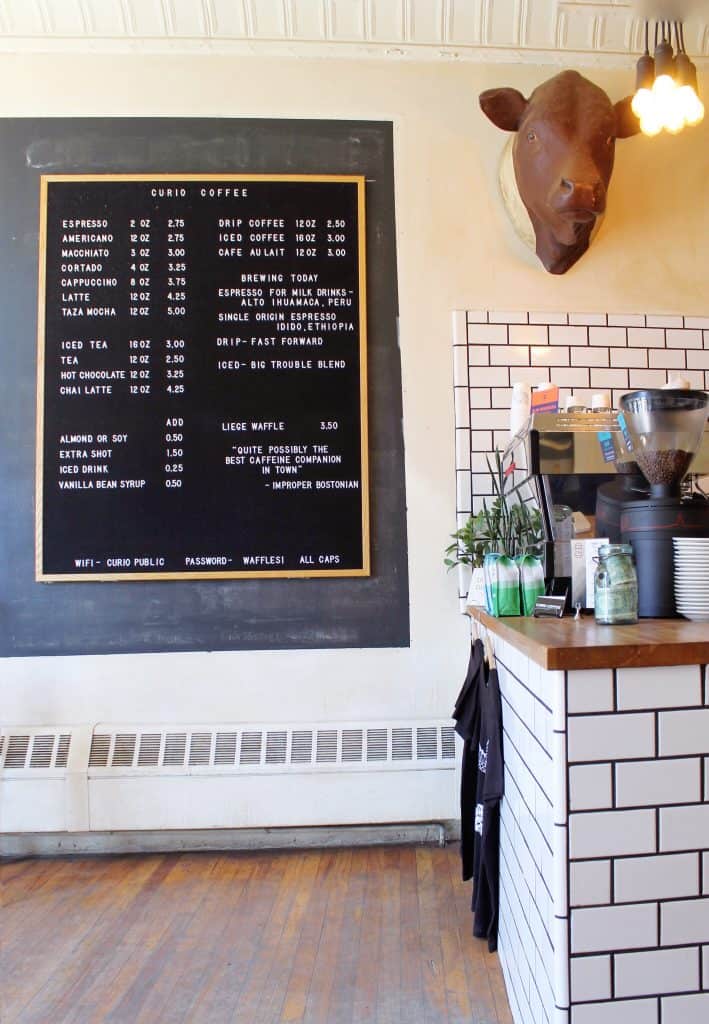 If you're looking for a smaller, quieter shop, Curio is for you— especially if you're a waffle lover. If you visit, make sure you snag one of their made-from- scratch liege waffles in rotating flavors like lemon poppyseed, cinnamon roll, and orange cardamom Earl Grey. Curio makes all your coffee shop staples using Counterculture Coffee. The name stems from the curious collection of items that are used to decorate the space, including a fiberglass cow's head from the former Hilltop Steakhouse and the countertop, which comes from the Lawrence District Courthouse.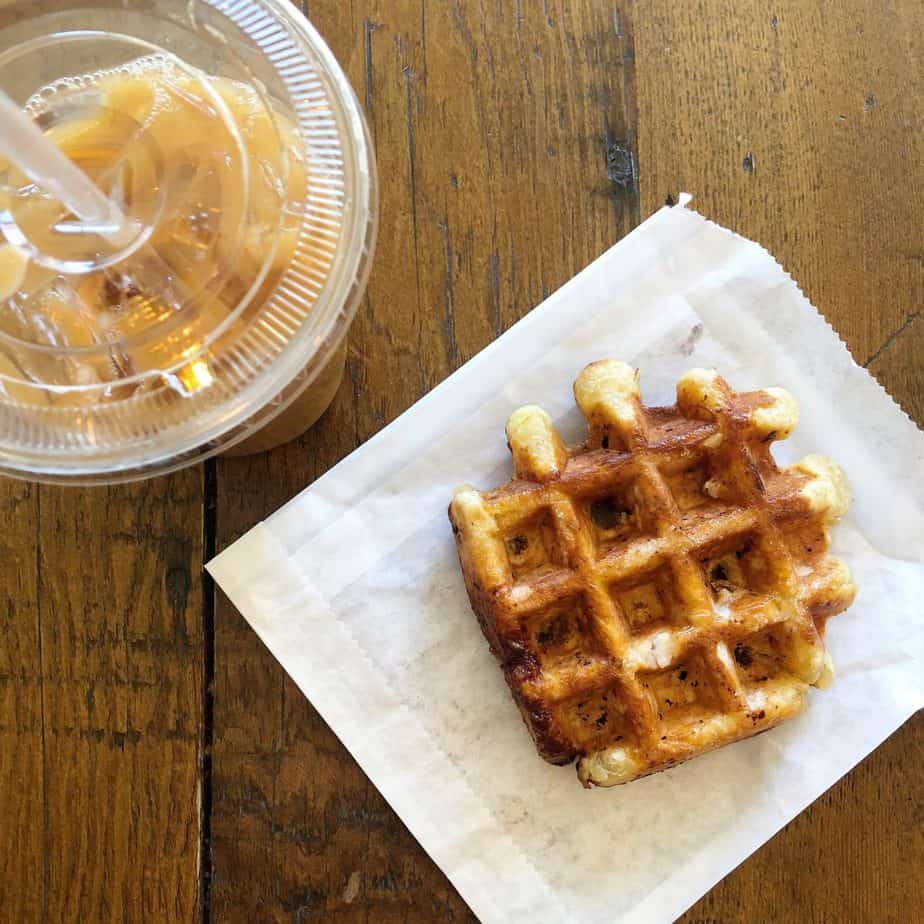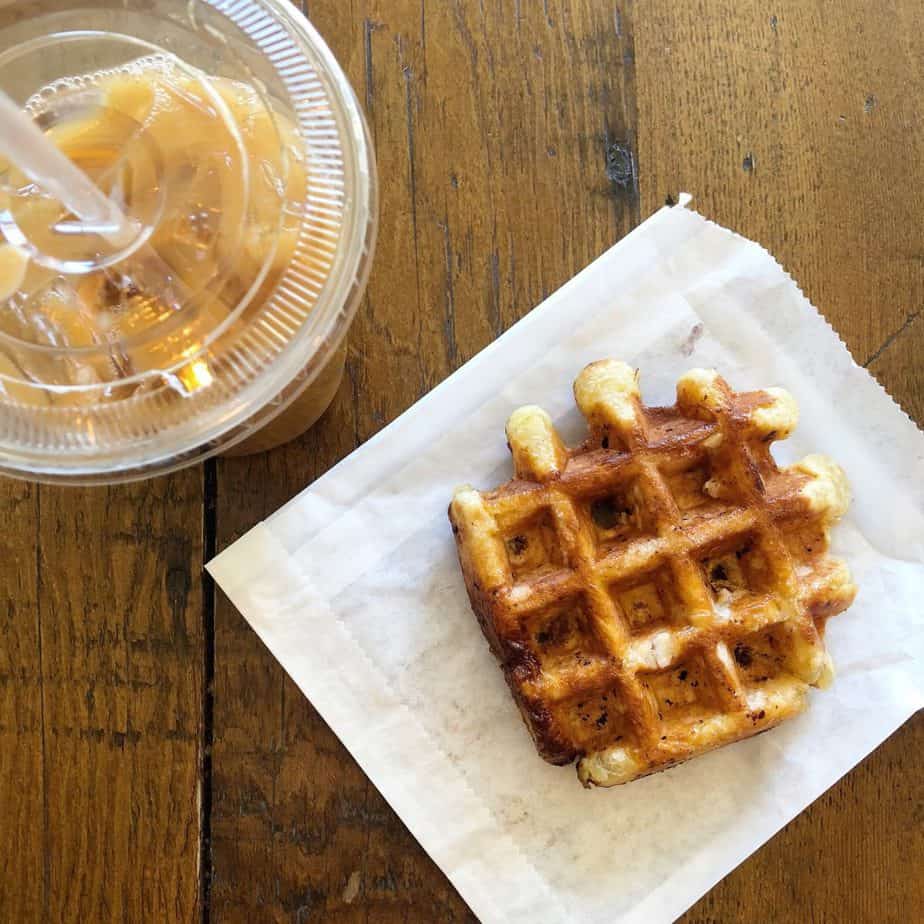 The WiFi is strong and fast, and there are a few outlets available. I tend to visit on weekdays, and have found that you can usually find some street parking close by on Cambridge Street.
Explorateur
Neighborhood: Boston Common (186 Tremont Street)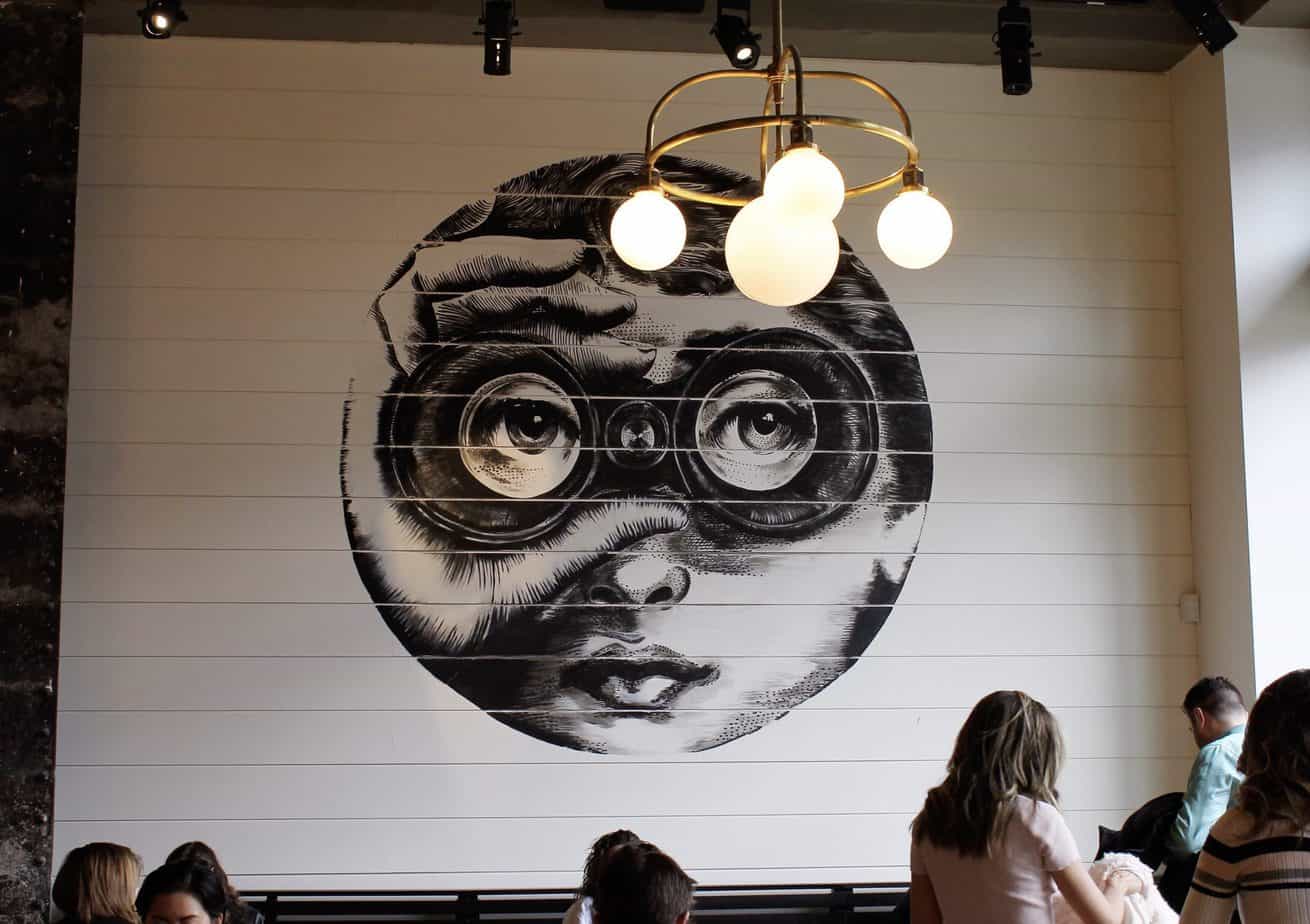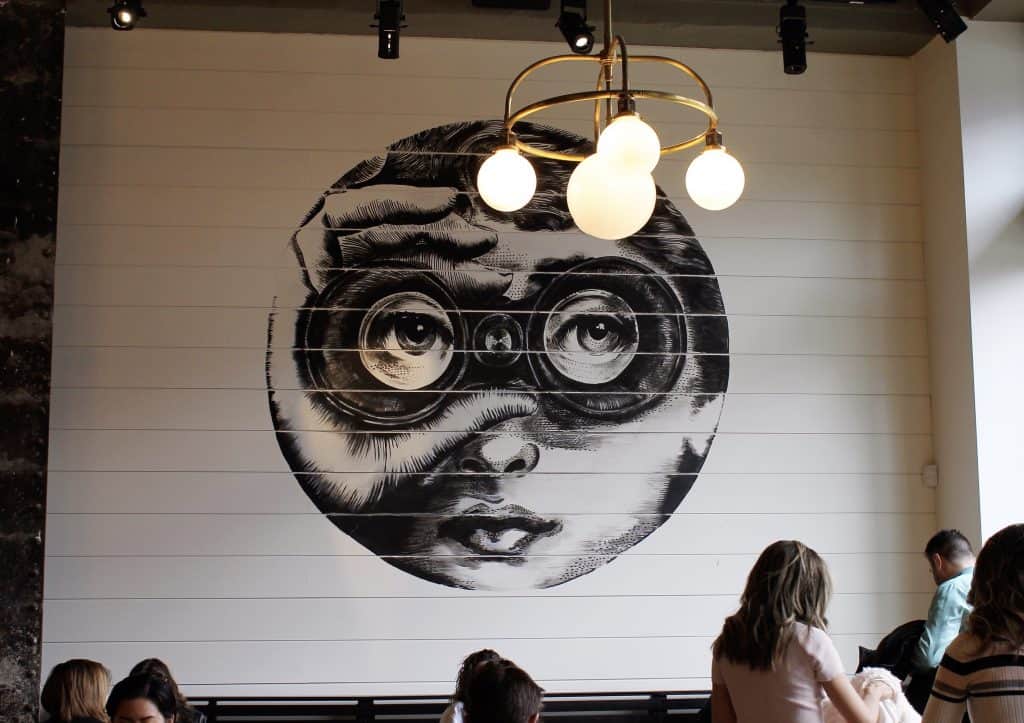 Explorateur is located right off of the Boston Common within the Grand Masonic Lodge building. The cafe section of Explorateur is beautiful and feels almost like you're sitting in the historic Boston Public Library— only with are delicious drinks and snacks. My favorite coffee drink to order is the cafe miel which is light and sweet. Explorateur also has a full service restaurant with a beautiful bar and unique menu if you're in need of something stronger after a day of blogging.
The WiFi here is good quality, and it is easy to find an outlet in the long tables in the center.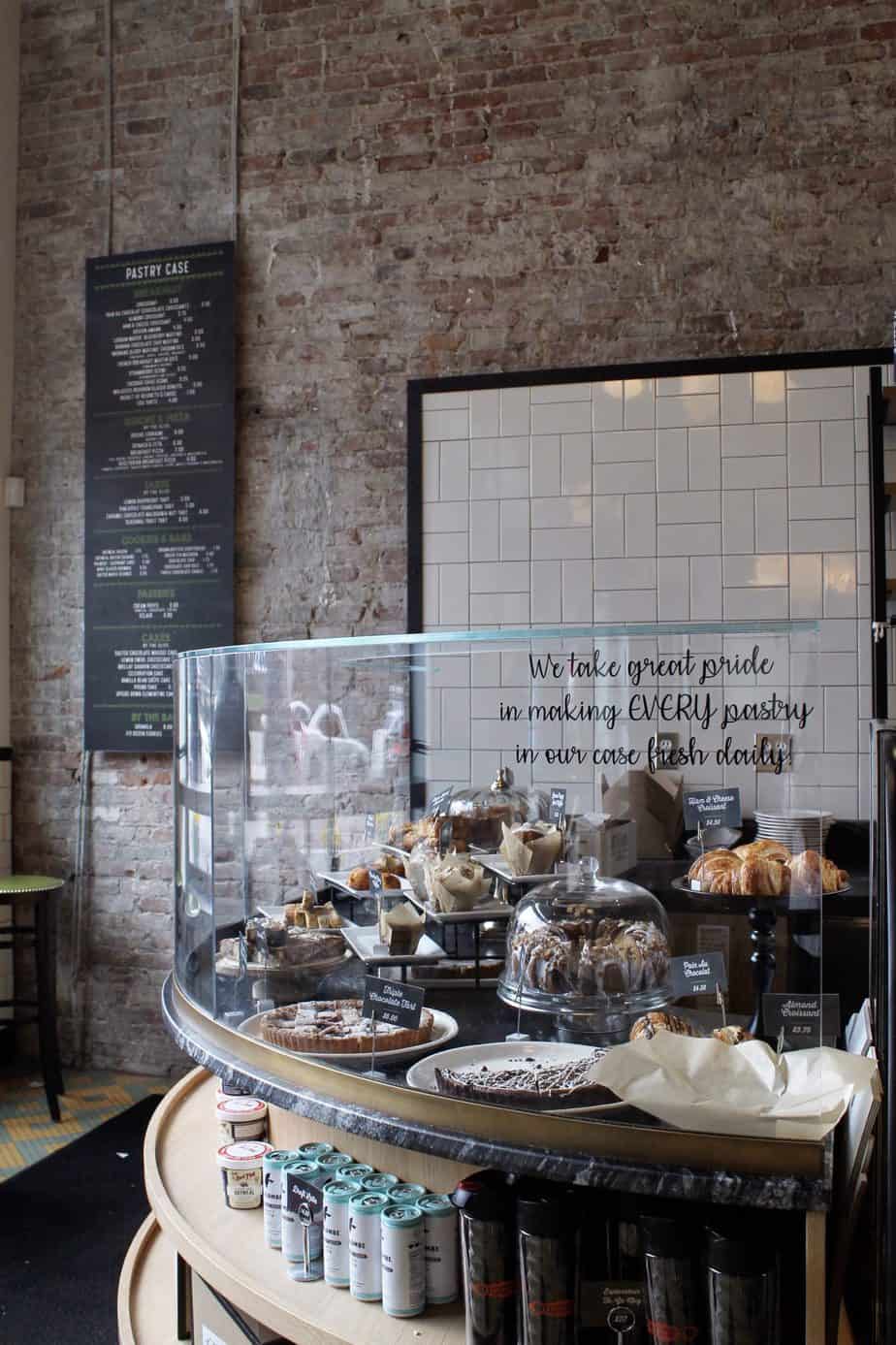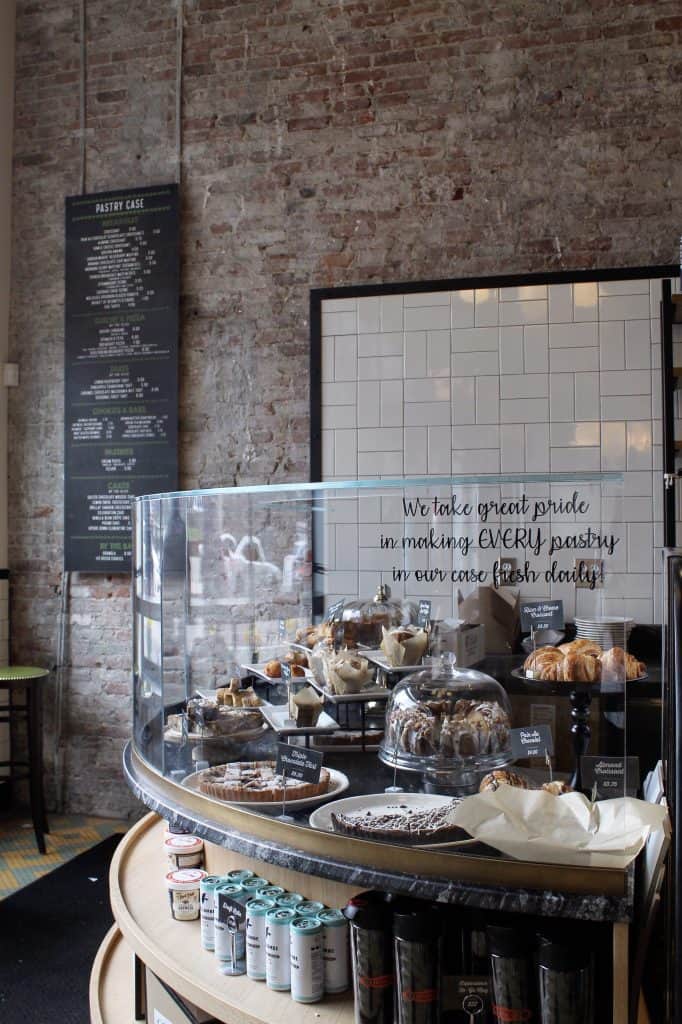 Longfellows
Neighborhood: Cambridge (284 Broadway)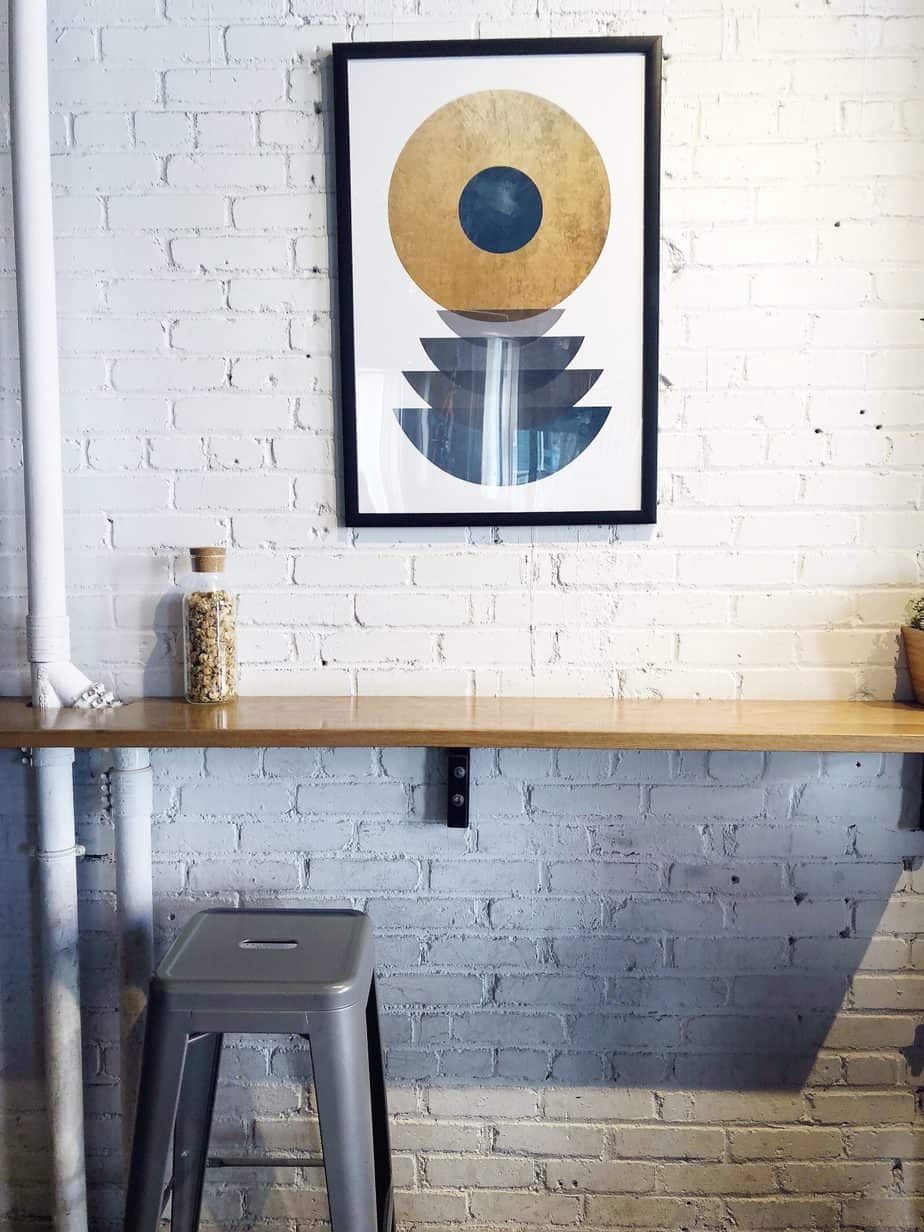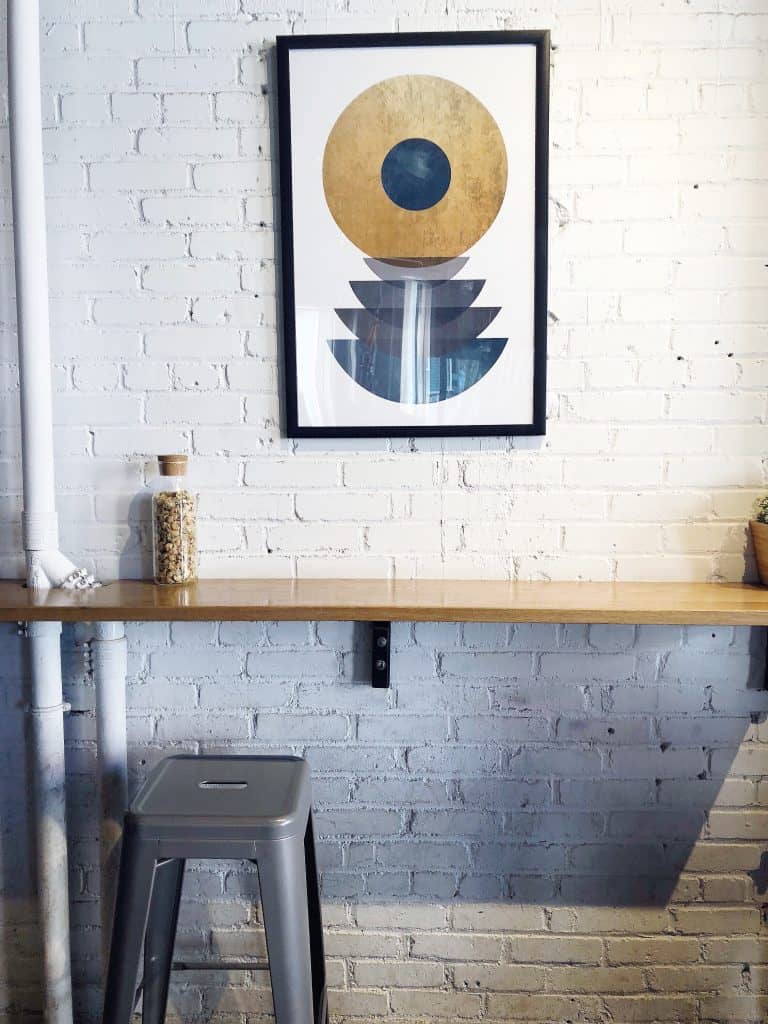 Longfellows is a unique and cozy coffee shop nestled in the Lamplighter brewing space. This little shop truly feels like you're at home, and has a few comfy nooks where you can settle in and get things done. Longfellows has a distinctly local vibe, which is apparently in their menu which features local producers. There is also a large bar and several bench style tables—they've got all types of seating covered! My favorite to order here, especially during the summer, is the flavored iced teas that they rotate. It is always something unique and refreshing. If you like cold brew, they've got you covered with three different kinds on tap. They also serve mini Union Square Donuts and other delicious pastries if you crave something sweet. WiFi is available, as are outlets.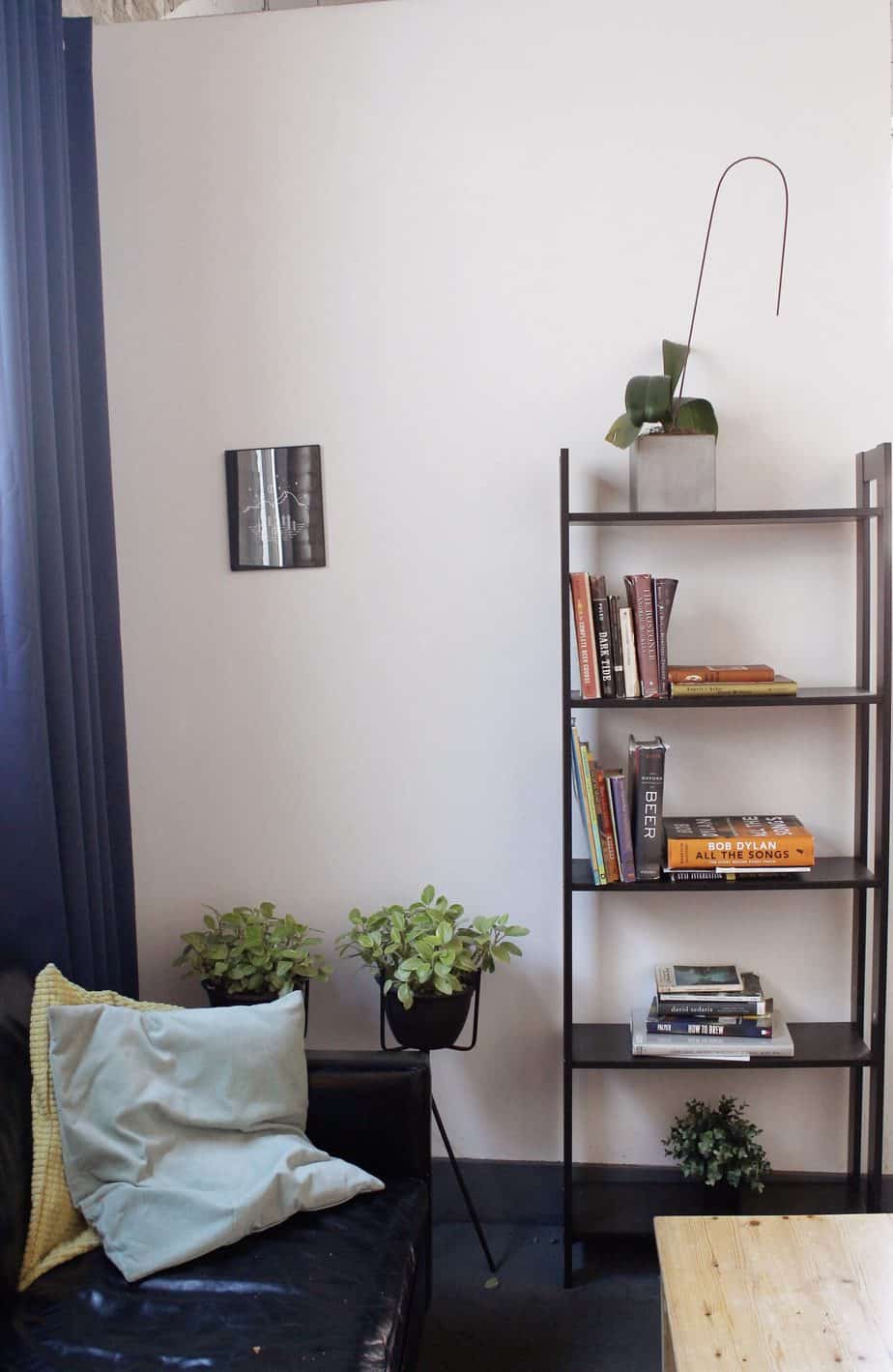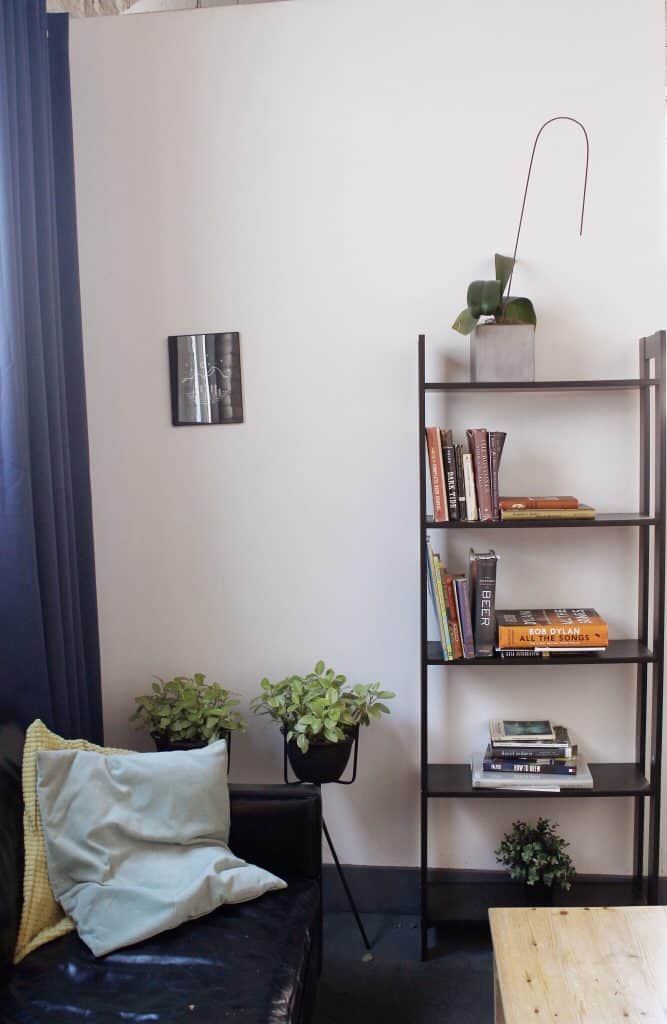 Broadsheet Coffee
Neighborhood: Cambridge (100 Kirkland Street)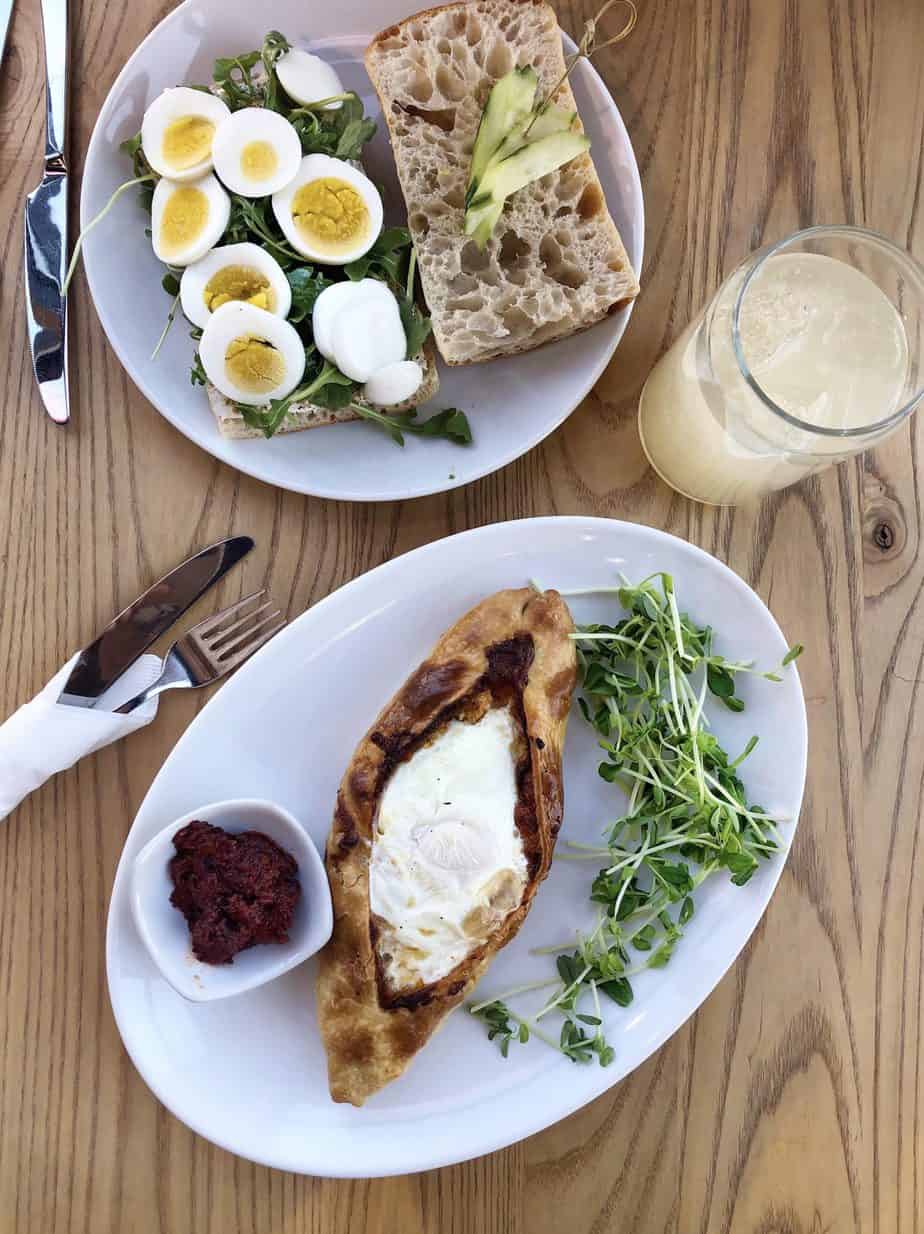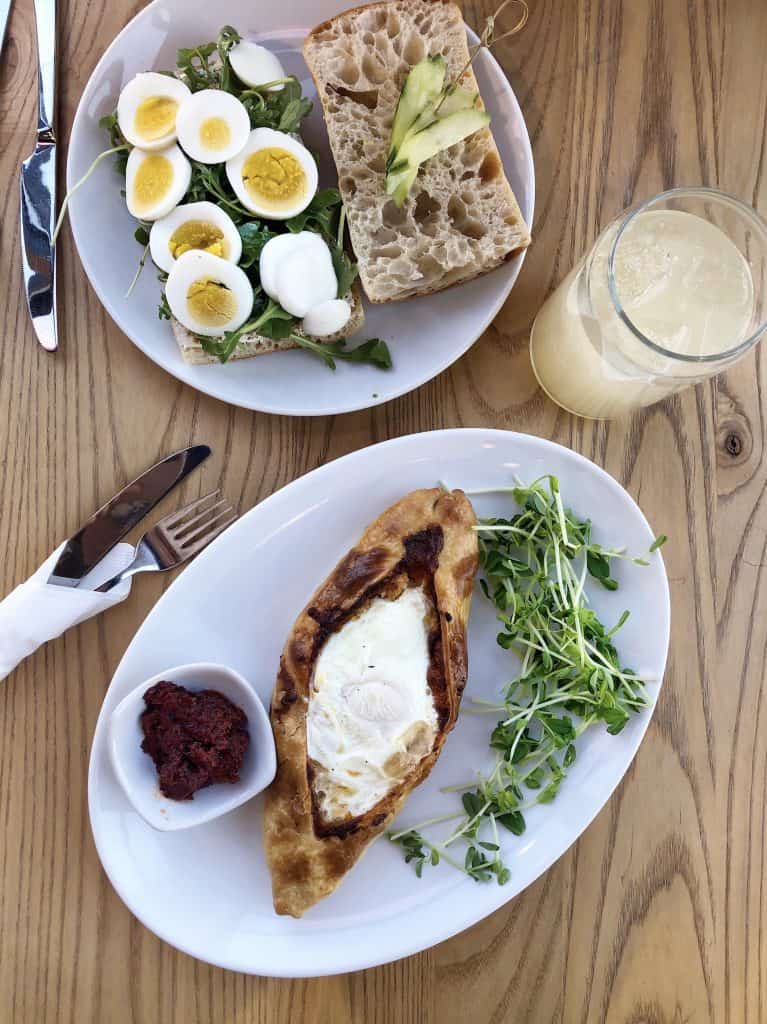 I first discovered Broadsheet through Instagram, where one of my followers tagged me in this beautiful photo of their signature Georgian Egg Boat. The food at this cafe is so good— my favorites include the egg boat of course, as well as the Levant Breakfast Plate. All of their food is made from scratch daily and it shows. They take pride in their coffee, roasting small batches on site in the cafe. The interior of Broadsheet is light and modern, and is a lovely place to meet a friend for lunch or to work on a blog post. They offer free WiFi and have a good amount of outlets available as well.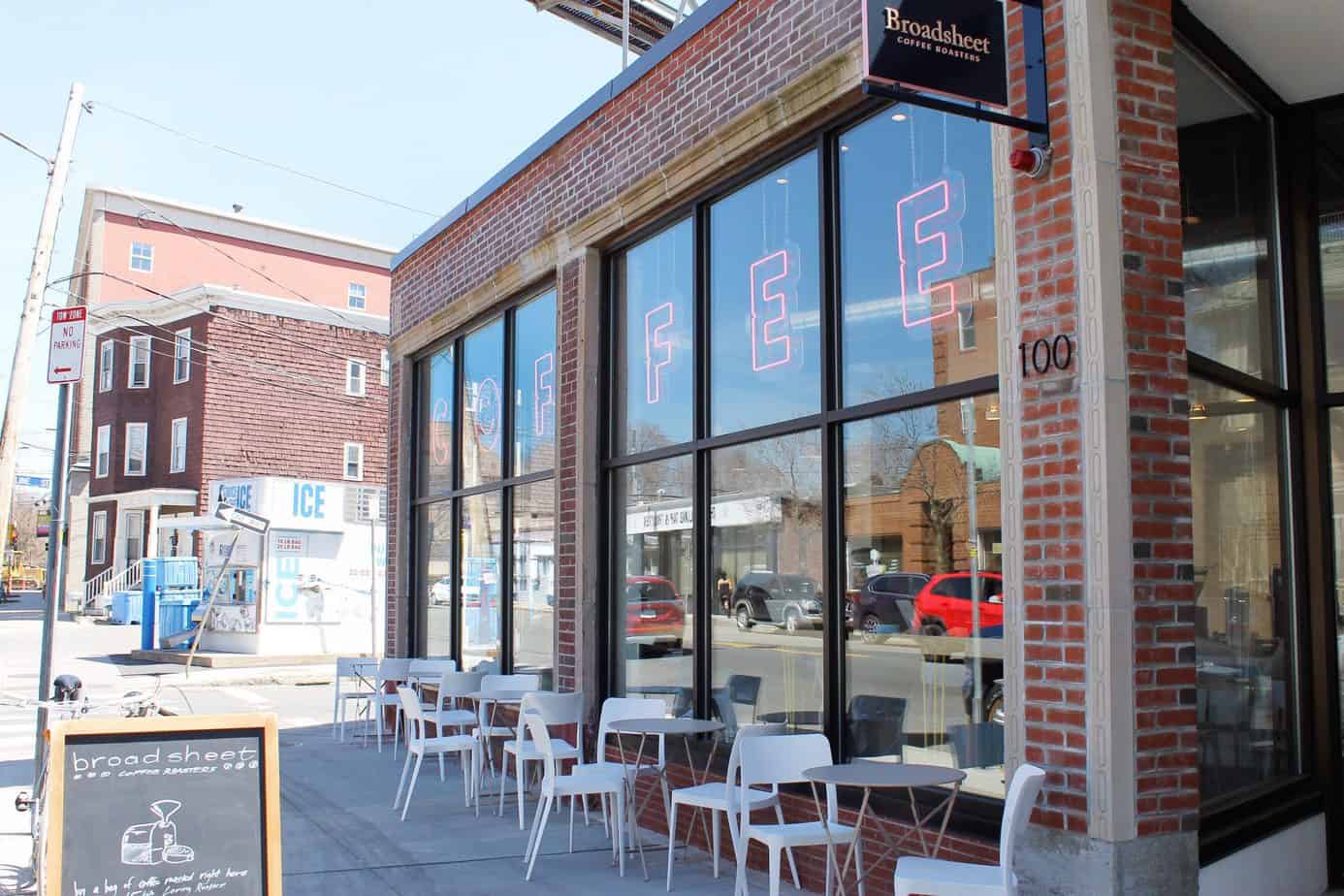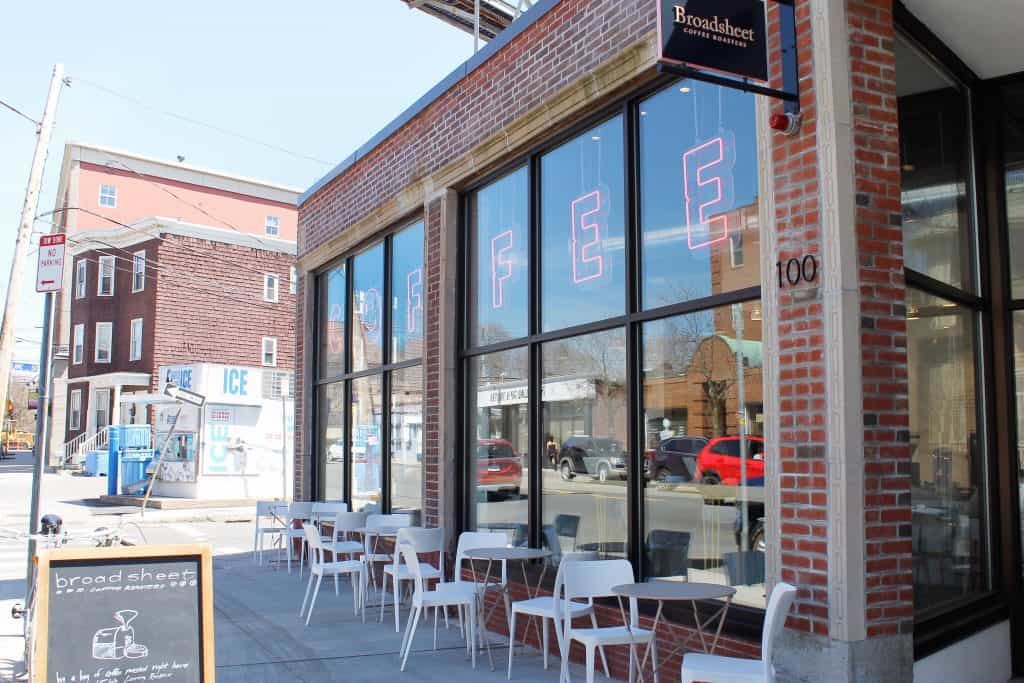 Render
Neighborhood: South End (563 Columbus Avenue)
The South End is my favorite neighborhood in Boston— I lived there for four years and took full advantage of all the shops and restaurants. One of my go-to places was Render, and I still make the trip just to get a cup of their coffee and a breakfast sandwich from time to time. It is also a spot I love to meet up with old friends, because it is a great place to sit and catch up.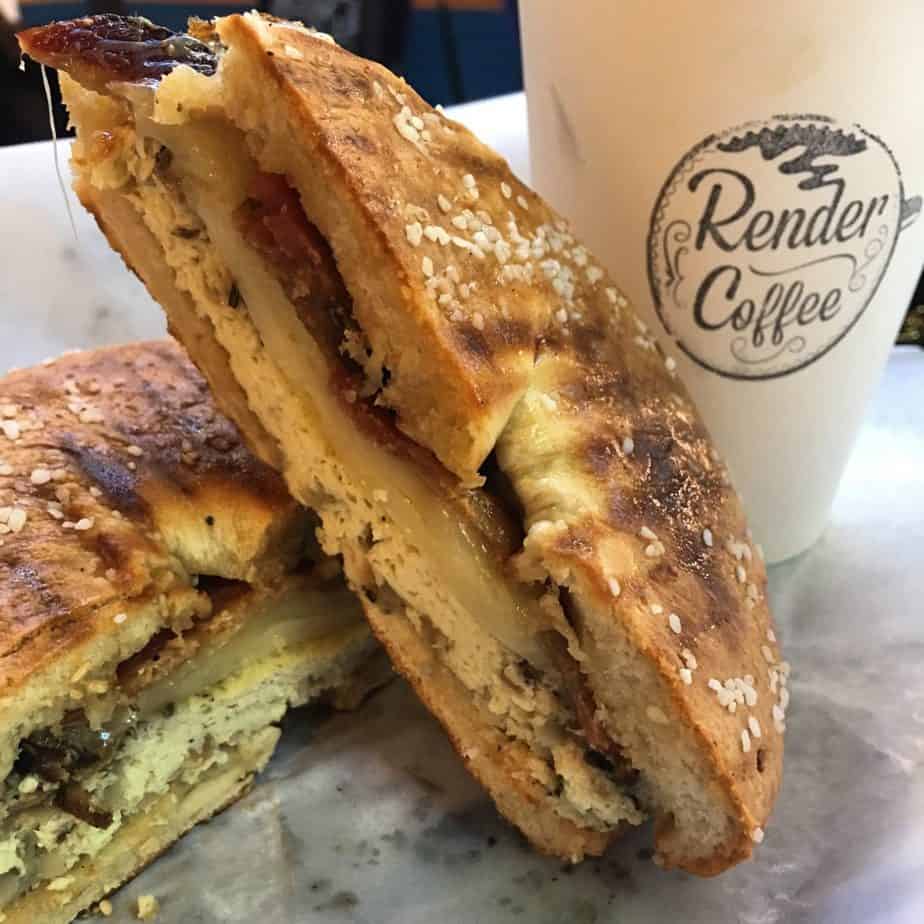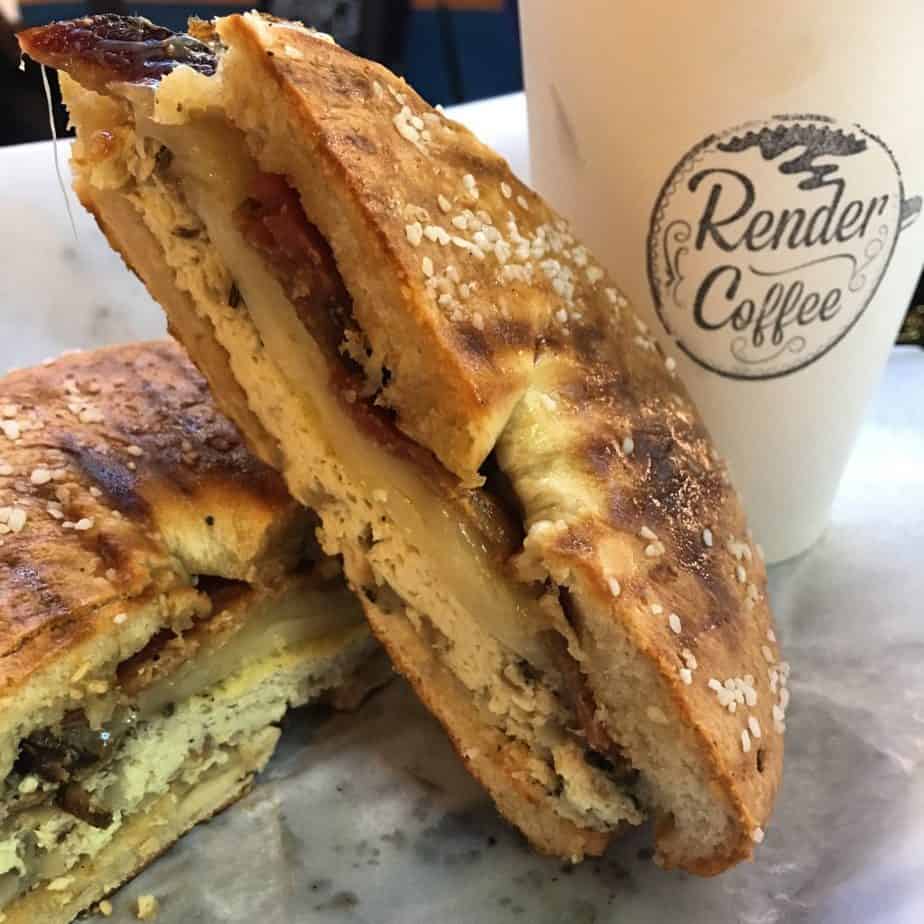 The best place to sit is in the lovely greenhouse, which is almost all windows and drenched in sunlight. My favorite drink to order is definitely the hazelnut latte, which is perfect in the fall. Don't miss out on their breakfast sandwich with the rosemary potato egg.
Which of Boston's coffee shops is your favorite?
Author Bio: Danielle is the blogger behind the popular brunch instagram account @bostonbrunchguide and bostonbrunchguide.com. She highlights the best brunches in the city and where to go beyond Boston by providing inspiration and information for any and all occasions.