This post may contain affiliate links. Read our disclosure page for full details.
Wherever we go, you can be sure we'll be found drinking plenty of coffee (or sometimes hot chocolate, in Nathan's case.) in Romania, coffee is known as cafea, and it is delicious. During the 2+ months we spent in Brasov, Romania, we were abel to delve deeply into the land of espresso.
Because we work online, coffee shops represent more than just a spot to grab a quick cup of coffee, they are warm, inviting places where we savor our lattes and buckle down to get some work done. We're never quite as productive as when enjoying the scents and sounds of a laid back coffee house.
We were psyched when we discovered Brasov has many such places. From typical coffee shops to quaint, hidden cafes, finding the best coffee shops in Brasov wasn't hard: deciding which to include on this list was the tough part.
And with abundant WiFi on super-fast Romanian Internet and really affordable coffee & food prices, almost every Brasov cafe is worth a visit.
Our two months here meant we spent a huge amount of time getting to know the secret spots for grabbing a latte in Brasov. These seven stand out to us as the very best coffee shops in Brasov, Romania.
And for the first time in our coffee reviews, we're also assigning the cafes an informal ranking—saving the very best for last.
The Best Coffee Shops in Brasov
Kafe Pub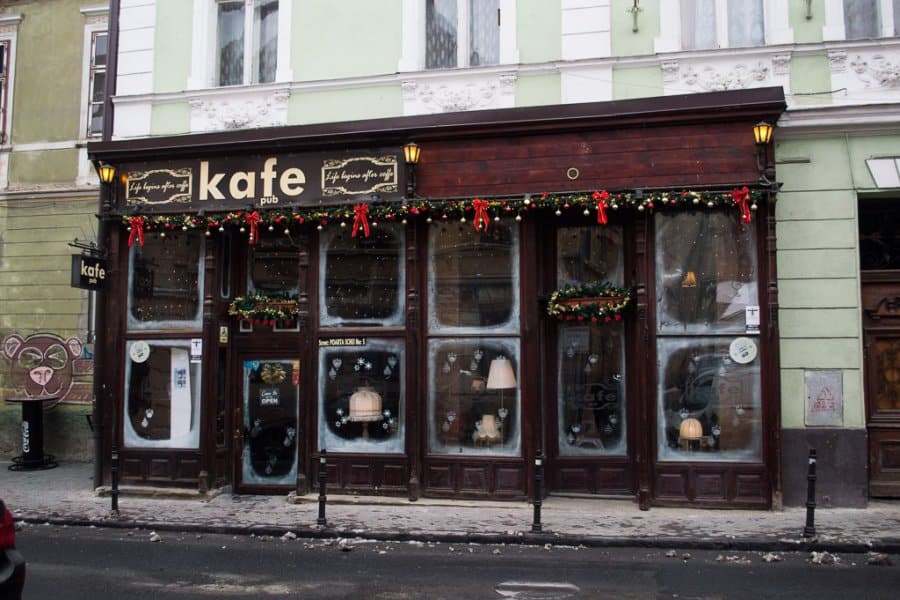 Kafe Pub is the first coffee shop we tried in Brasov. It came recommended by our AirBnb host, and we had high expectations. For atmosphere and decor, Kafe Pub gets a great score. It's very unique inside, with quirky vintage items on the walls and displayed in the windows.
The wood panelled exterior is very inviting, and in the Christmas season, this place is especially perfect. Located on Strada Poarta Schei, Kafe Pub is one street over from the Piata Sfatului, the main square of old Brasov. When you sit in Kafe Pub facing the large windows, you can spot the famous Black Church across the way.
While Kafe Pub made our list of favorites, it doesn't quite merit the number one spot. Sorry Kafe Pub! Your wonderful style and laid back atmosphere kept us coming back time and again, but there are a few areas in which you lack.
The menu has a fair number of options, but I'd give the coffee a 6/10. The flavored lattes are a touch too sweet and are served in big pint glasses –a bit overwhelming for me. Even the cappuccino failed to fully deliver—it didn't have that smooth balance I look for.
As far as working on our laptops, the WiFi in here works well and it's easy to connect to. Unfortunately there's a dearth of electrical outlets, making it tough to stick around for a longer work period. If Kafe Pub ups its coffee game, it could be a rival for the top spot.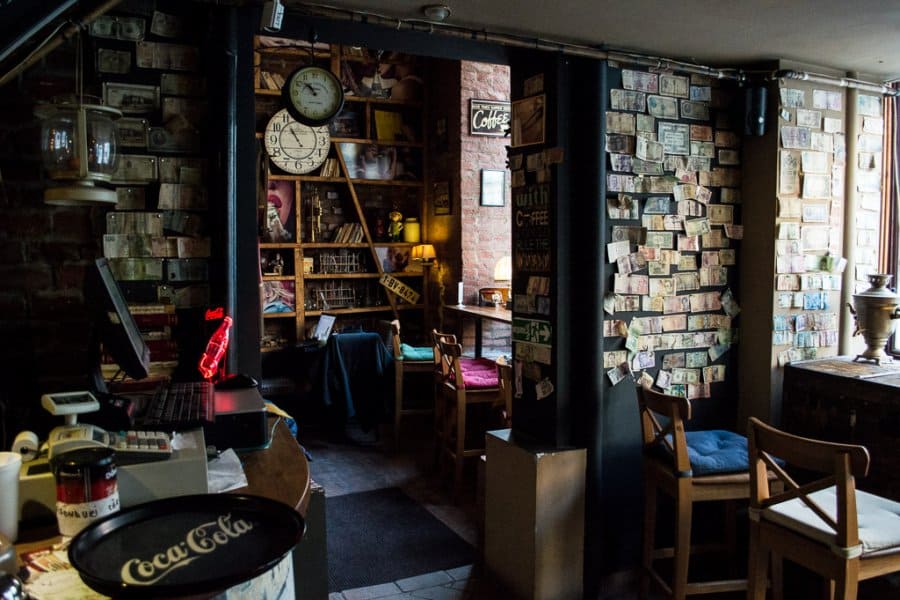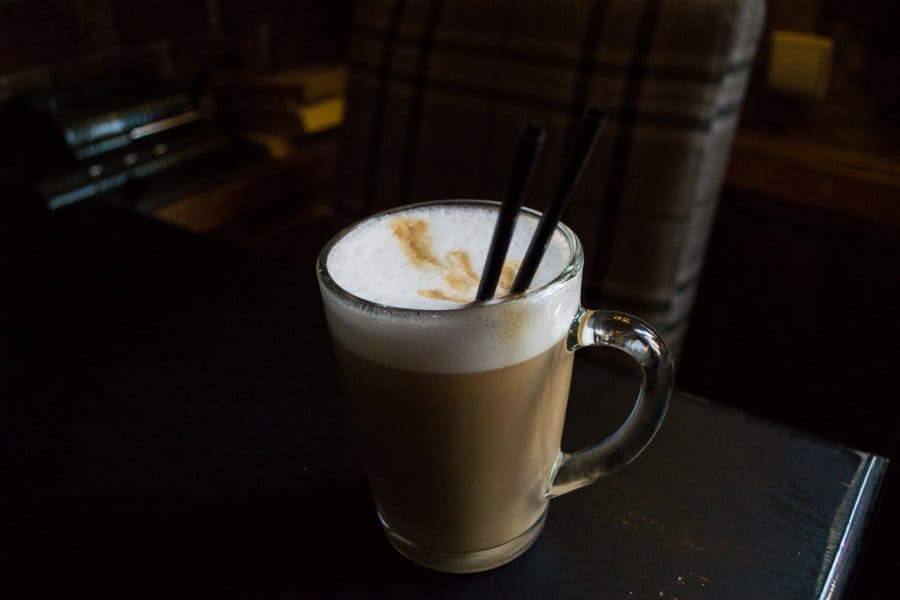 We didn't check out Galleria until our second month in Brasov. This cafe had been suggested to us, but looking at the map, we thought it was further away then it turned out to be.
Galleria is actually an easy stroll from Brasov's Old Centre, and it's just out of the way of the main tourist hustle and bustle–a real plus. We also were initially confused by this cafe's business listing on Google, which seems to have the opening hours mislabeled. From what we read, we thought this place was only open in the mornings.
In truth, it is open from morning until midnight, which explains why they serve not only coffee but milkshakes, smoothies, and cocktails as well.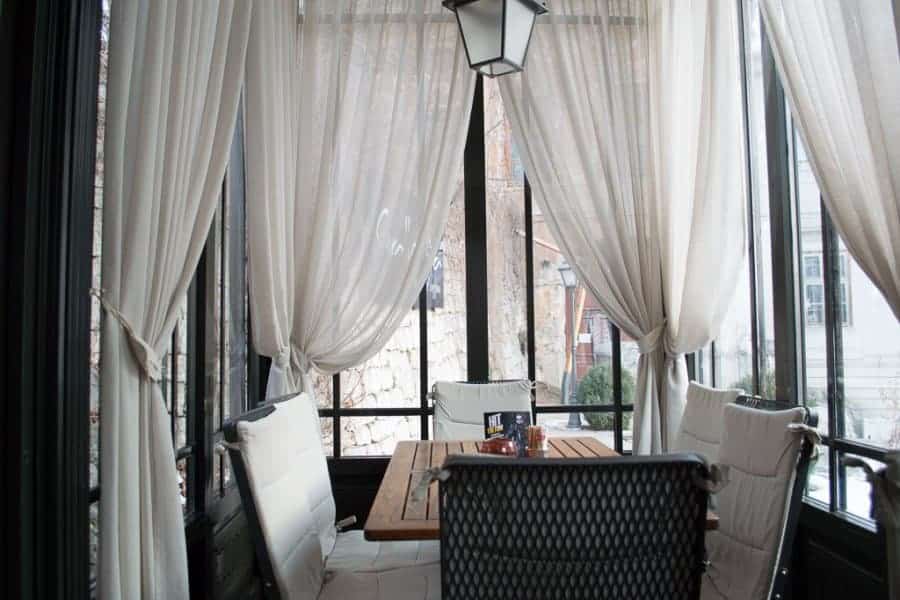 Galleria is really pretty, and different from your usual hipster-inspired coffee shop. It is set up in what seems to be a glassed-in verandah.
Although we were in Brasov over the winter months, it appears that this building is comprised of a series of doors, which we guess are thrown open during the warm days of summer.
The light and airy feeling of Galleria is definitely enjoyable, and they usually play upbeat, pleasant music for the customers to enjoy/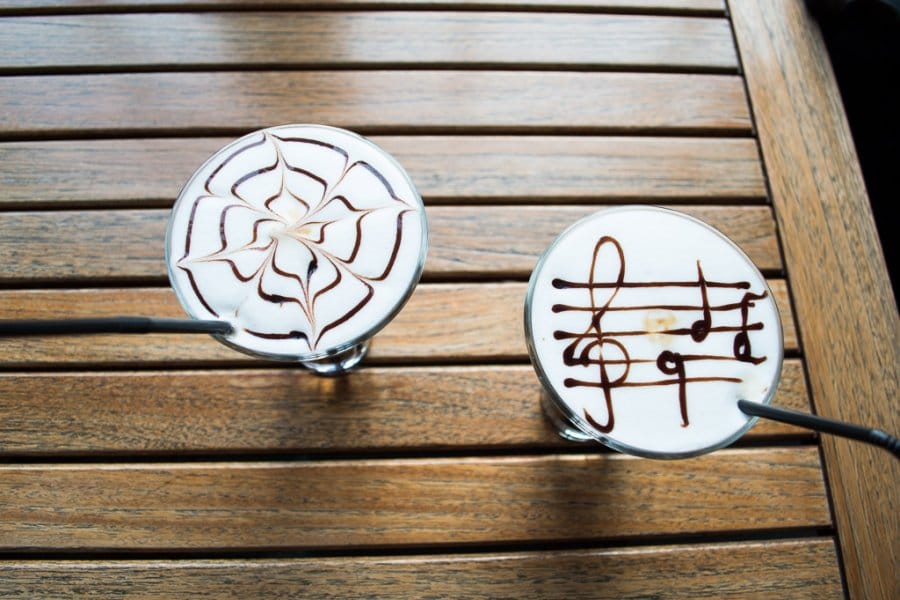 Great coffee, too. The menu is really large and you may feel overwhelmed with choices! We've enjoyed everything we've had there, from basic cappuccinos to fancier mochas and lattes like those shown above. We also really appreciate the fancy latte and chocolate syrup art!
They've got a variety of alcoholic coffees, too, which are particularly delicious. I recently sampled one of their winter specials, containing Kahlua and chocolate alongside the espresso and foamed milk. Yum.
And the prices, like elsewhere in Brasov, are fantastic. Coffee drinks range from around 7 lei – 16 lei. You'll never pay more than $4 USD for a coffee drink in Brasov—another reason we were able to sample many many during our Romanian travels.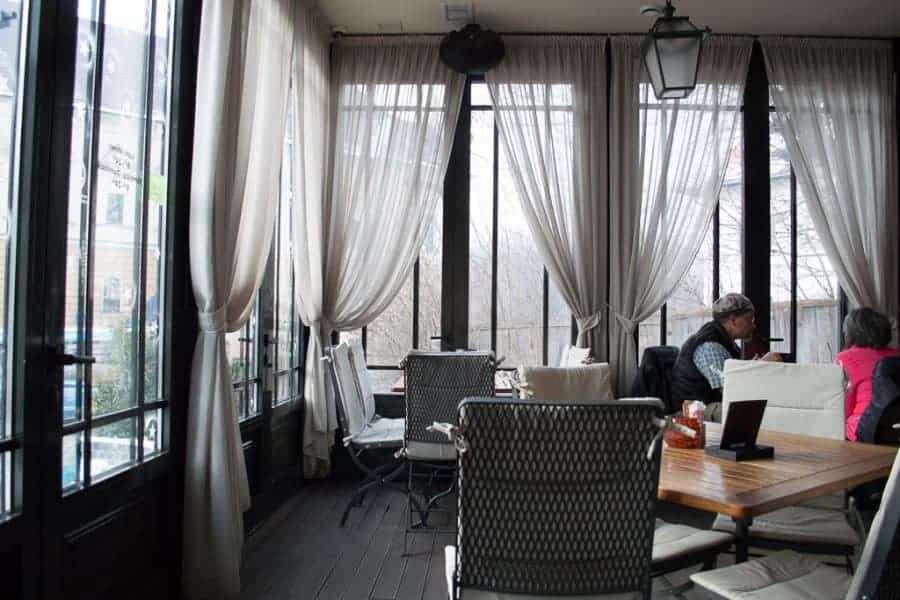 For working online Galleria Art & Coffee could fit the bill. Though it is small, mid-mornings don't seem to be overly busy here.
Sadly, there are no electrical plugs available, but the WiFi is strong and fast. We'd recommend this spot for a nice cup of coffee before heading up to visit the old Brasov fortress.
–> Clearly, the coffee rocks in Eastern Europe. Check out our friend Megan's post on great coffee in Belgrade.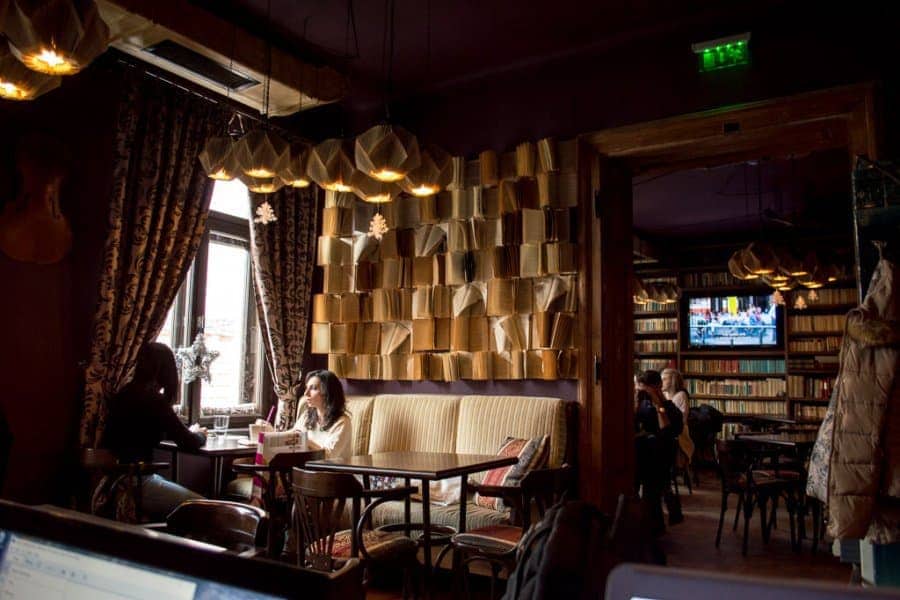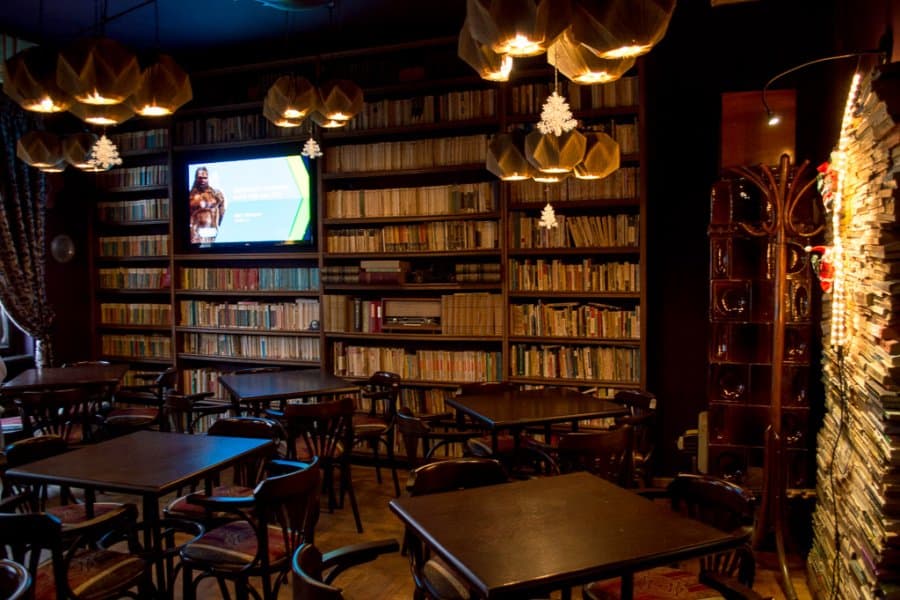 L'etage is another Brasov coffee shop that has amazing decor. Seriously, how cool is this place? The walls are covered in books and sheet music and it's very European and totally magical.
The cafe doesn't seem to be heavily advertised, and I wouldn't have even known it existed if I hadn't seen a photo of it on Instagram! But luckily I did a little research and found where L'etage is located.
It is right on one of the main tourist thoroughfares, Strada Republicii, which leads right to the Council Square. But it is tucked away upstairs and down an alleyway, so keep your eyes peeled for the distinctive piano-themed sign. (I believe they have live music in the evenings, too).
L'etage is very comfortable inside. I could work there for many hours. Aside from tasty coffee, they have lots of wine options and a small selection of sandwiches, so you can easily stick around for several hours. WiFi is swift and reliable (you'll need to ask for the password) and there are a few electrical outlets scattered around the two seating areas.
Some of the best Brasov cafea is to be found at Hof Cafe, a place which is very centrally located just off the main square in the old town. Hof quickly became one of our favorite places for a variety of reasons.
First, the ambiance of the place is delightful. It's big, bright, and spacious, with good tunes and just a nice vibe. Something about it also gives it a slight American feeling, so it reminded us a tiny bit of home.
Second, great service! We became regulars at our favorite coffee shops around Brasov, and the staff here was always very welcoming and friendly.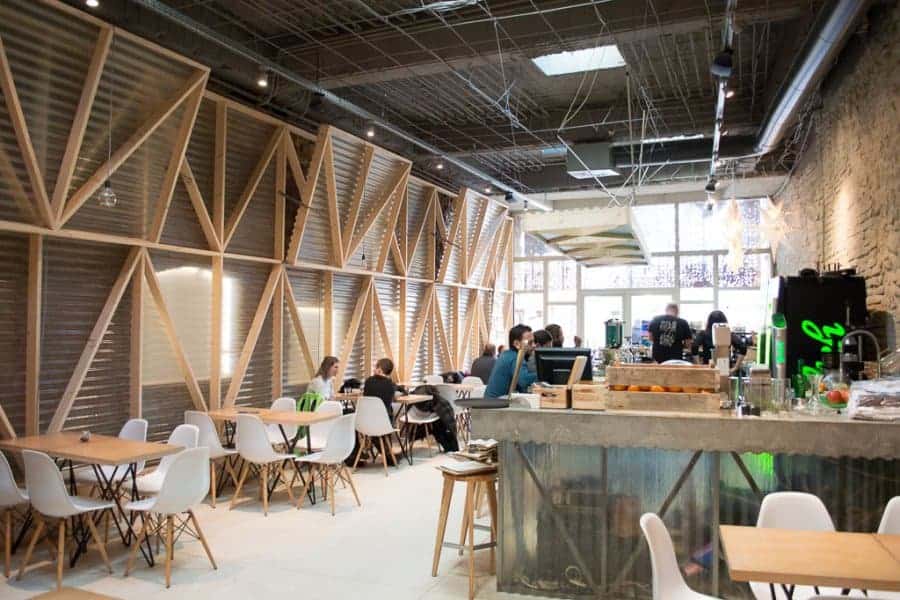 Hof is quite sizeable as you can see above, which meant there was always plenty of room to sit. Nearly all tables are within reach of an electrical outlet: a huge bonus, and great strong WiFi.
But the coffee, you ask? Excellent! This was one of the only places in town that made a latte in the familiar way I like it (a large, deep mug with a signature foam top). There's just something about cupping my hands around a giant mug of happiness that can't be replicated.
Some of the other cafes in Brasov, nice as their beverages are, serve lattes in clear glass with the elements displayed in layers. It looks pretty, but this somehow changes the texture of the drink. Call me super picky, but I like what I like. Hof Cafe does it just right! And they have a few good flavors to boot.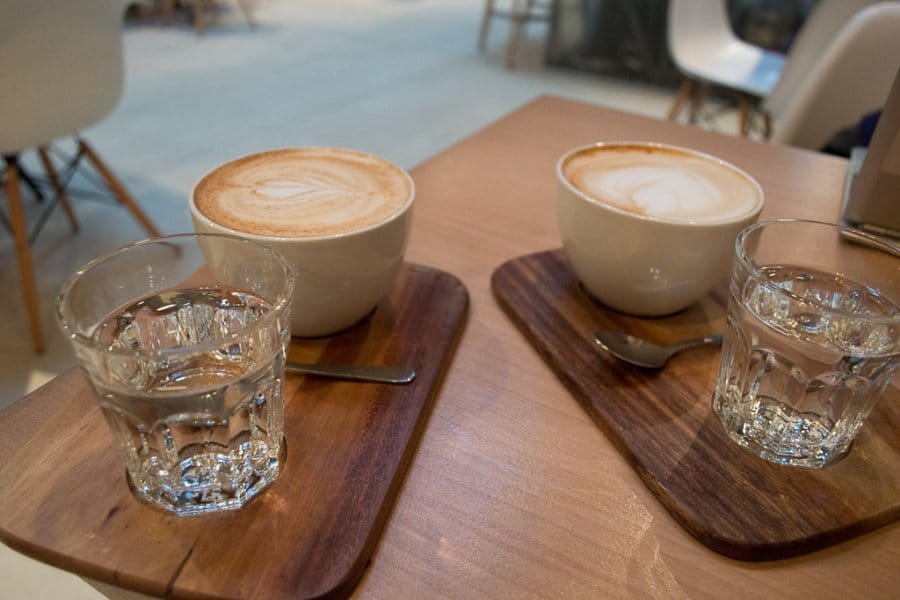 But Hof also offers some other great drinks beyond the traditional coffees, such as smoothies and fresh juices. Please do yourself a huge favor and try the apple lemonade. Why have I never seen this combination before?
The tangy lemonade is perfectly complemented by a tart apple puree, finished with a dash of cinnamon. It's incredibly refreshing and looks swell served in its mason jar.
There's also food! We ended up spending a lot of time at Hof because we not only enjoyed the coffee drinks, but we loved the food as well. Tasty pork sandwiches with some sort of rustic cabbage slaw, hummus and roasted veggies on warm herbed foccacia, delightful pumpkin soup, savory crepes made with spinach and smoked cheese….I can go on.
The food is really excellent at Hof, and the prices are a steal.
Tipografia was one of the first coffee shops we visited in Brasov, and it remained one of our favorites. In fact, this one was merely a 3-minute walk from our awesome AirBnb studio apartment, so it was hard not to go there several times a week!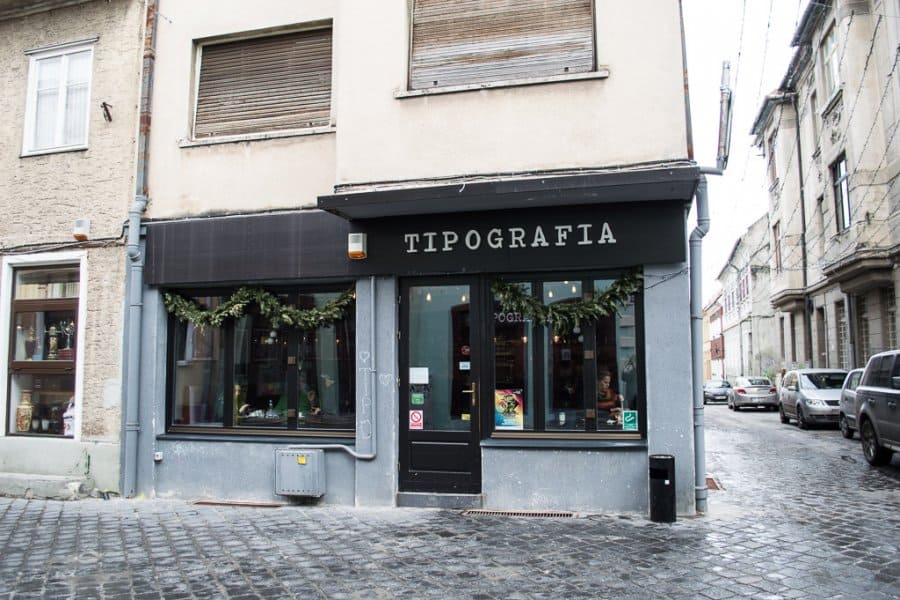 We have to say, Tipografia has the best music of any of the Brasov coffee shops. Very laid back tunes which helps make for a great work environment. And the place is comfortable, plug-friendly, and has a nice atmosphere overall.
What should you order? They make a fantastic cappuccino, but I also recommend getting a breve. The listing in the menu calls this a "classic American dessert," and I'd enjoyed many a breve when I was trying a high fat diet.
Instead of milk, breves are typically made with half and half. The breve made here at Tipografia, though, was in a whole 'nother realm. Likely it contained rich full fat cream, because it was heavenly. It was honestly the best coffee I had in Brasov.
It is worth noting, too, that Tipografia has a massive selection of teas.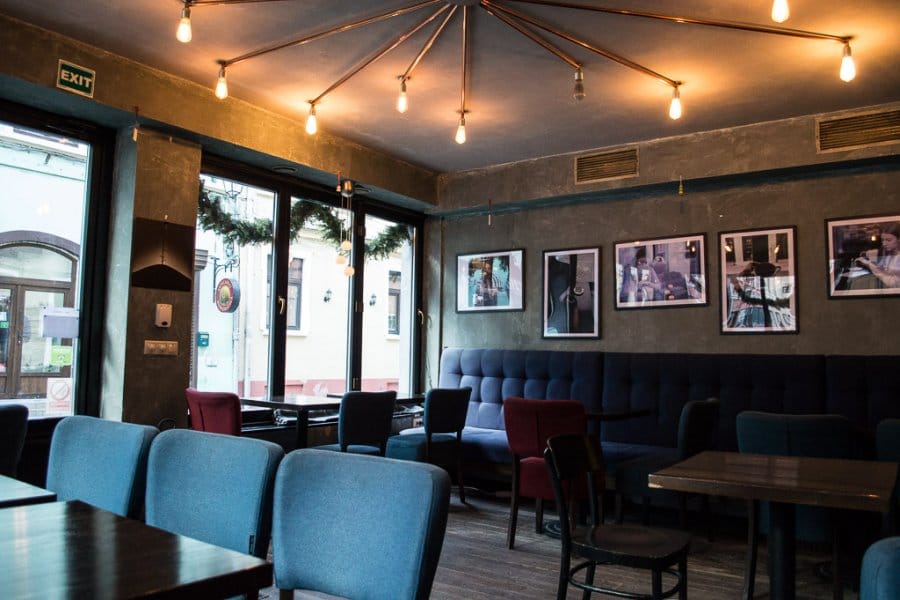 Tipografia also offers delicious food. Huge, healthy salads (so you can feel guilt-free about your breve), fresh sandwiches, bruschetta, and more. Best of all, the staff here is very friendly and accommodating. Such nice people!
This is THE coolest cafe in Brasov. Walking into Dr. Jekelius is like stepping back in time. Set up in an old-fashioned pharmacy, the place has a wonderful atmosphere. They typically play period-appropriate music (think Edith Piaf) and it really becomes an experience. This cafe is tucked away off the main drag of the old town on Strada Michael Weiss.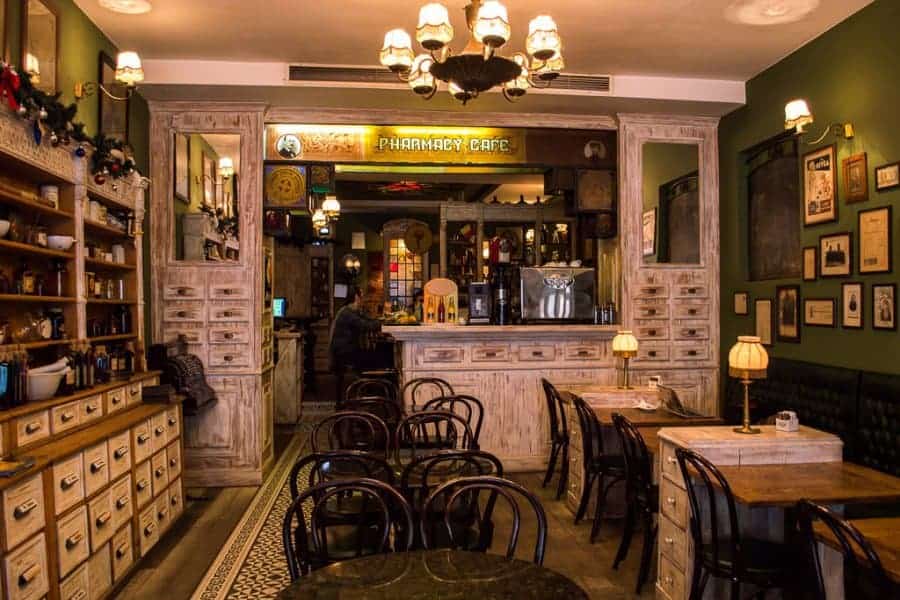 Dr. Jekelius has friendly servers and a big menu. You can choose from cocktails, coffee, tea, or even some "health" tonics. Taking the pharmacy theme to the next level.
Make sure to wander around and check out all the decor inside the cafe, including the area in the back complete with stained glass. Very cool.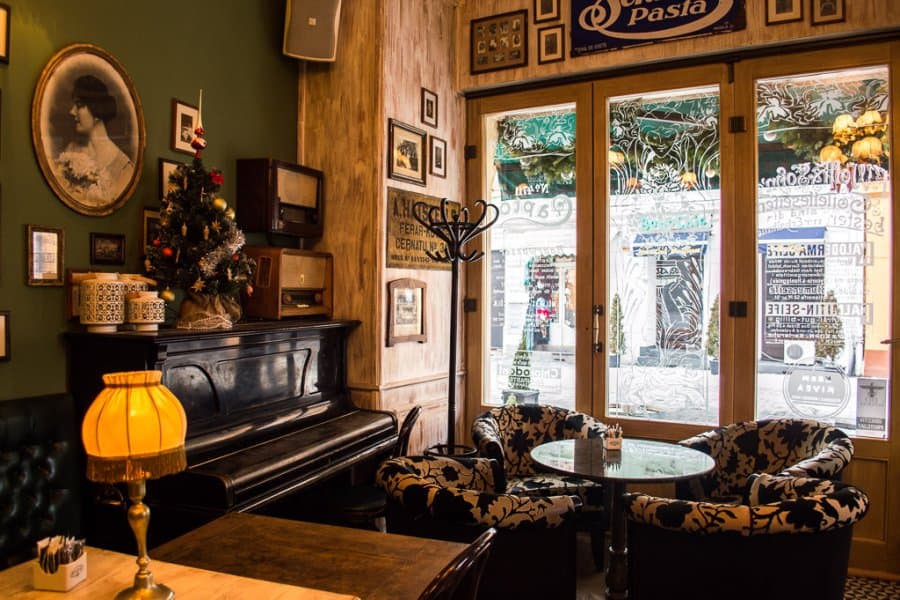 On weekdays, Dr. Jekelius was never super busy, which made it a good place to work for a few hours. There are also a good number of electrical outlets to keep you powered up, and of course, fast, free WiFi. Two Drifters recommend the Festival Coffee: a boozy latte you'll swoon over.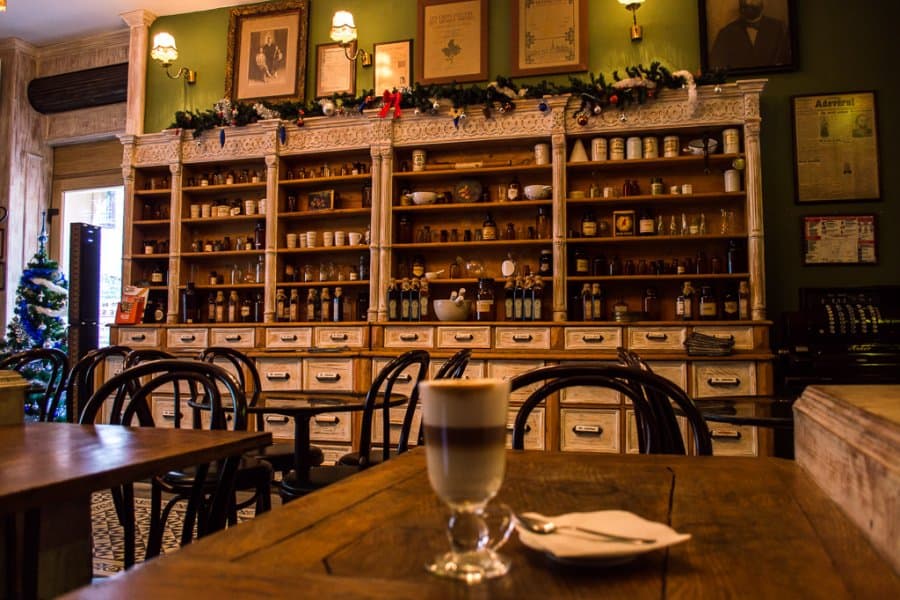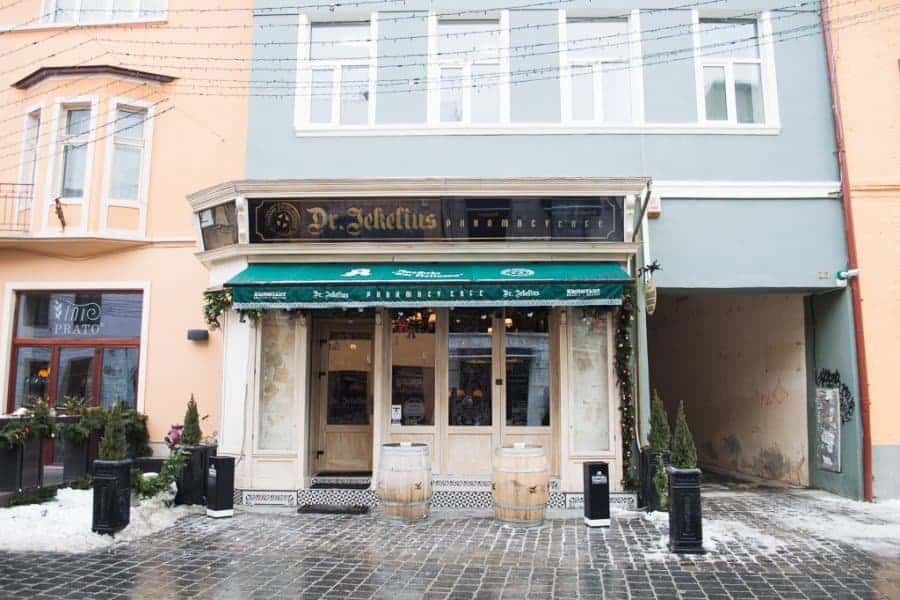 Finally, we've come to our final addition in our list of Brasov's top coffee shops, and this one is truly the very best: Cafeteca. For the tastiest coffee in Brasov, Cafeteca can honestly not be beat.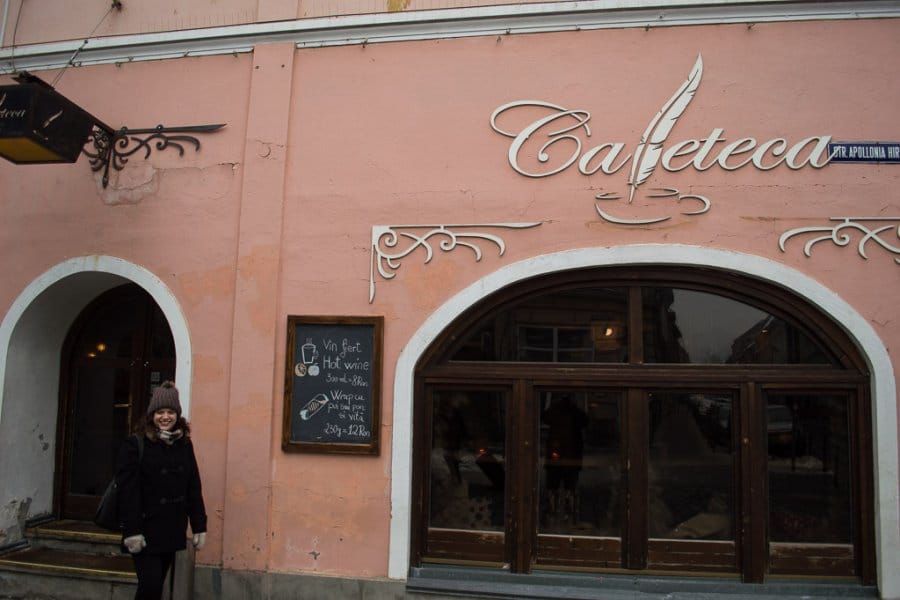 Cafeteca is located a stone's throw from Kafe Pub right in the old centre. Within its unassuming exterior, Cafeteca boasts a warm and cozy atmosphere that attracts tourists and locals alike. This place was always quite busy, and with good reason.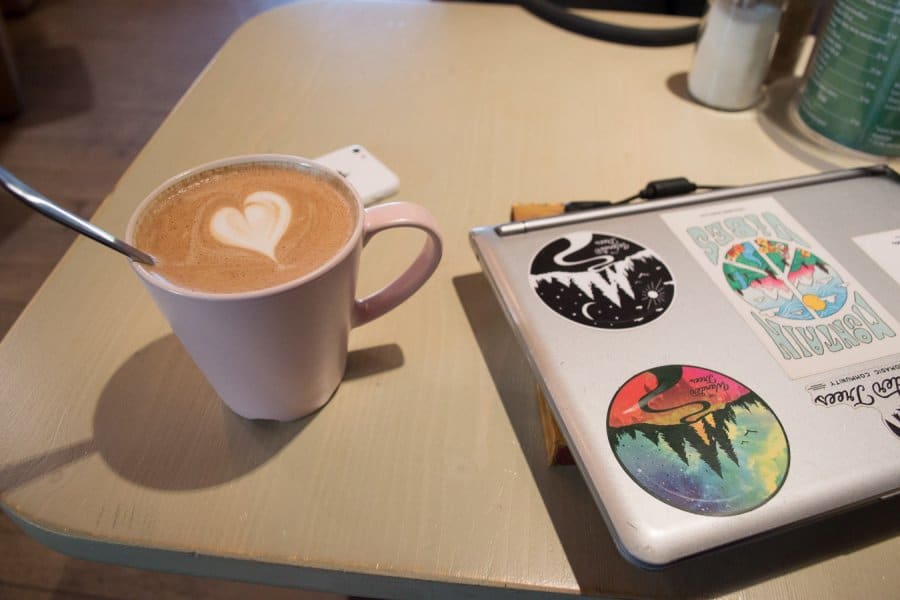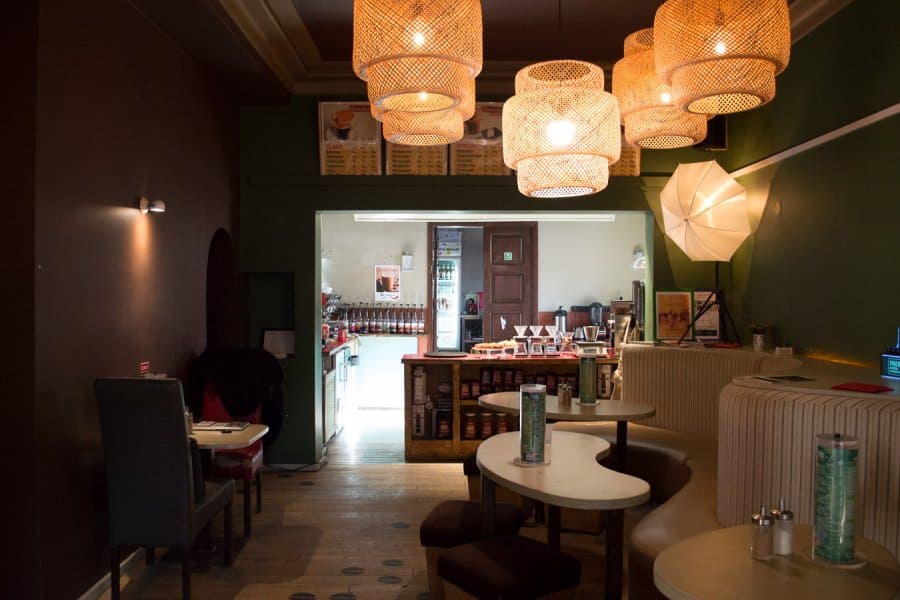 Choose from clever booth-style tables, cushy couches, or seats for one along the windows. Here you can get plenty of work done, while sipping on a coffee made with love. Cafeteca does make an outstanding cappucinno, smooth and perfectly balanced. Sugar definitely not necessary.
But once I sampled the mochachino, I had found my drink. Think a nuanced blend of coffee and hot chocolate that tastes better with every sip. That is the mochachino. In addition to this yummy beverage, Cafeteca has plenty more options for mochas, lattes, and all specialist styles of coffee.
Though Cafeteca may not boast the quirky charm of Dr. Jekelius, or the delicious food options of Hof Cafe, it is hands down the best coffee shop in Brasov.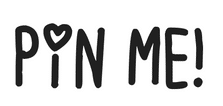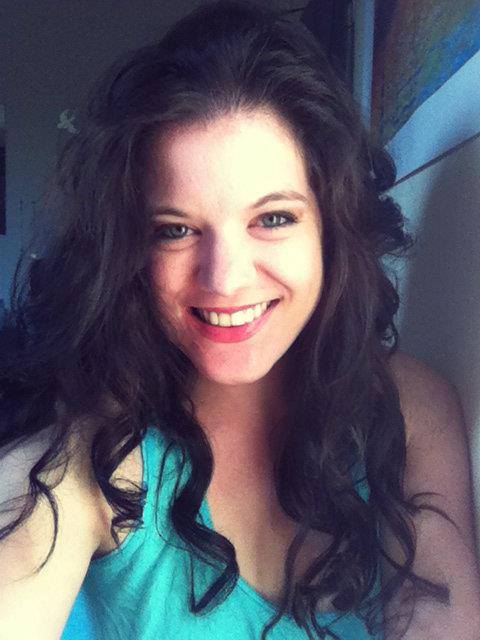 Amy Hartle is the author of Do You Love Me? How To Stop Seeking Reassurance in Relationships, a book on reassurance seeking and relationship anxiety. Both her book and this blog are born of personal experience; Amy shares expert relationship advice from the lessons learned during her own 10+ years with her husband, as well as couples travel tips and romantic getaway recommendations, all gleaned while traveling the world together.